Travel insurance is something you will need on the road. It's the MOST IMPORTANT thing you need. You never know what could happen, and most health insurance plans don't cover you when you travel. Not only does travel insurance cover any injuries or illnesses but it also covers the stuff you take on the road, any accidents that might happen, or trip cancellations that might occur. It's not just about being able to see a doctor on the road — it's about making sure that if you fall into an ocean (like I did), your camera can get replaced at no cost. Here is why I never leave home without travel insurance:
It covers you when you get sick and need to see a doctor.
It covers you if you need to get helicoptered out of somewhere.
It covers you if you need to be sent home.
It covers electronics that break or stolen.
It covers if you have to cancel your trip.
It covers you if your goods are stolen.
It is affordable and offers peace of mind!
It is easy to get (and renew online).
It is a no brainer – because if something goes wrong, it saves you thousands!
For only a few dollars per day, making sure you won't be out any extra money when something goes wrong is the smart and frugal move. After all, good budget traveler is a smart budget traveler. Don't be penny wise and pound foolish. I once had a friend break their arm and had to pay thousands of dollars because she thought nothing could happen to her so she didn't buy insurance. Here are readers who used travel insurance: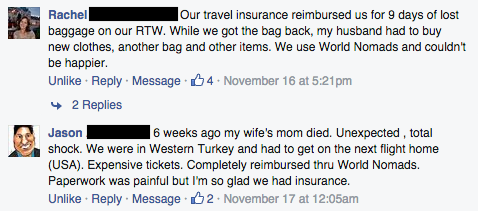 See? It works! Be smart and get it!
Articles About Travel Insurance
Travel insurance is one of the most important things you'll need for your trip. There's a 99% chance you will never need to use the policy you bought, but accidents happen and life on the road is uncertain. In the end, it's better to be safe than sorry!
Getting scammed while traveling happens more often than you think! Unfortunately, there are some people out there who want to take advantage of you not being familiar with your surroundings. But a healthy dose of suspicion goes a long way in avoiding scams. Here's how to identify common scams.
Travel insurance is a must for any traveler. Unfortunately, it can be a confusing topic. Today I want to answer some common questions about travel insurance to make sure everyone knows what to expect from their insurance provider. It may not be a fun topic, but it is a necessary one!
Why World Nomads is My Trusted Insurance Provider
Great coverage for a range of adventure activities
You can buy it online
They offer the best value for your money
You can make a claim online with access to 24/7 phone assistance
You can extend your policy from the road
They support amazing community development projects
They have the most comprehensive coverage for the price
If you want to book with World Nomads, simply use this link to get their travel insurance!