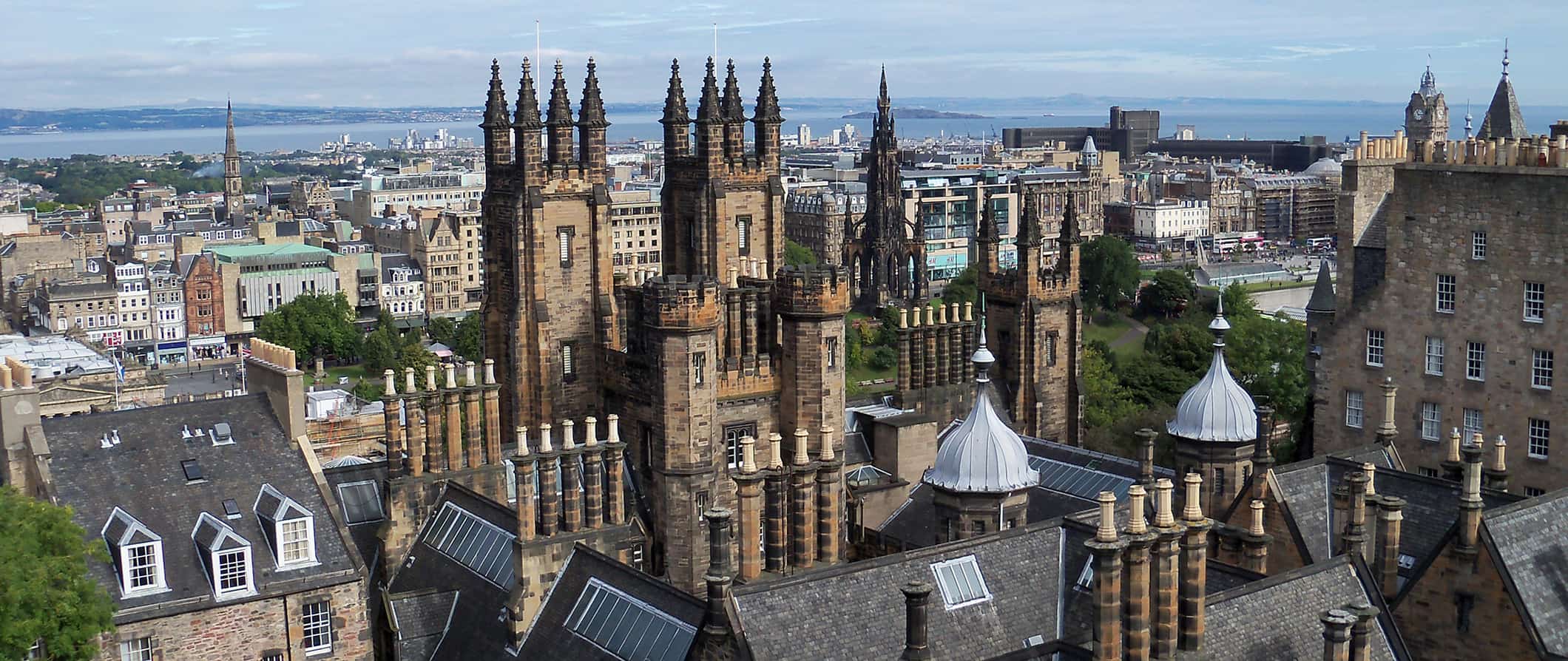 Edinburgh is one of my favorites cities in the world. I love the cobblestone streets, the free museums, the outgoing locals always ready to share a beer, and the insane whiskey to be found! Here you'll find free activities, beautiful walks, stunning buildings, and rich history (and especially a literary history!). There are even resident ghosts (and subsequent scary ghost tours).
I've been here a bunch of times – from my birthday to random visits to new years!
Edinburgh has something for everyone and this travel guide can help you plan the perfect (budget) visit by giving you all the essential information you need.

Edinburgh
Top 5 Things to See and Do in Edinburgh
1. Visit Edinburgh Castle
Built in the 12th century, Edinburgh Castle sits on a hill overlooking the city's Old Town. It's the most besieged place in all of Great Britain. Admission is 17.50 GBP and you can easily spend a hours here exploring and learning about its history (the Crown Jewel exhibit is worth the price alone).
2. Hike to Arthur's Seat
Arthur's Seat is an extinct volcano on the outskirts of Edinburgh. With a height of 251m, it provides hikers with a picturesque panorama of the city. The hike takes an hour each way. If the weather is nice, bring a picnic and spend an afternoon looking out over the city and taking in the view.
3. Walk down the Royal Mile
This pedestrian road lined with pubs, restaurants, and shops. While touristy (it can get crowded in the summer), it's also incredibly beautiful and historic. There are a number of historical monuments and buildings to check out nearby, such as St. Giles' Cathedral.
4. Tour Rosslyn Chapel
This
historic chapel
near Edinburgh was made famous in
The Da Vinci Code
. The chapel is ripe with intricate artwork and symbolism that has spawned many conspiracy theories. Located just an hour from Edinburgh, admission costs 9 GBP and includes a free tour.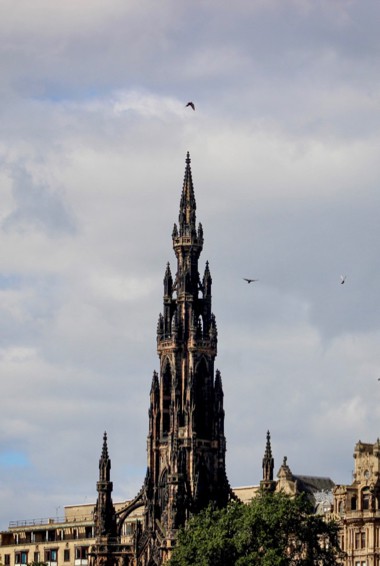 5. See the Scott Monument
Built in 1846, the Scott Monument commemorates the life of Sir Walter Scott, a man who helped put Scotland back on the cultural map. Scott is the author of such famous novels as Ivanhoe and Rob Roy (the latter of which became an award-winning film starring Liam Neeson). The Gothic spire monument was created to honor his works and contributions to Scottish culture as well as to the city of Edinburgh itself. Admission is 8 GBP.
Other Things to See and Do in Edinburgh
1. Take a free walking tour
The best way to get the lay of the land is to take a walking tour. Not only will you get a feel for the city but you'll get to see the main sights while also having a local expert on hand to answer your questions. I always take a free walking tour when I arrive at a new destination. It's the best way to get situated. New Europe has a great free tour that lasts a couple of hours — just be sure to tip your guide!
2. Hang out in Calton Hill
Calton Hill is a quiet place to escape the noise of the city and admire the view. Take a hike to the top of the hill where you can sit and relax in a peaceful park-like setting. You'll also find the National Monument of Scotland here, a memorial to the soldiers who fought in the Napoleonic Wars (which lasted from 1803-1815), as well as the Nelson Monument, a monument dedicated to Horatio Nelson (a famous British Admiral from the 18th century).
3. Explore Princes Street Gardens
For another free outing, spend an afternoon at Princes Street Gardens. Vendors sell food and souvenirs here and you get an excellent view of the castle. At Christmas, the Garden turns into a German-style winter fair, full of stalls selling food, mulled wine, toys, and rides (the Christmas markets usually open mid-November). The garden, composed of two main parks, dates back to the 1770s. It's also home to the massive Edinburgh Wheel, a Ferris wheel that offers great views of the Old Town and the castle. The wheel is open July-September and costs 9.50 GBP.
4. Tour the Museum of Edinburgh
When you're walking the Royal Mile, don't forget to stop at this museum to give yourself a better understanding of Edinburgh's history. The museum is located in Huntly House (a 16th-century building) and offers insight into the city, its past, and the myths and legends that surround it. The museum is home to the National Covenant (an important Scottish Presbyterian document from 1638) as well as some original city plans and a miniature of the Old Town that is several centuries old. The museum is free and makes for an educational follow-up to a walking tour.
5. Visit the National Gallery of Scotland
This impressive gallery is for anyone who can appreciate the great artists of our time — Monet, Rembrandt, Degas, and Vermeer. Opened in 1859 , the gallery was designed to look like an ancient Greek temple. The gallery is free to enter (although some of the temp exhibits have an entrance fee).
6. Attend a Summer Festival
During the summer, Edinburgh is home to the world-famous Edinburgh Fringe Festival. Held in August, this festival brings in performers and entertainers of all kinds — actors, musicians, buskers, and more! The festival lasts three weeks and is the biggest festival of its kind in the world. Keep in mind that during this time, accommodation prices skyrocket and the city floods with people. If you plan to attend, make sure you book your accommodation in advance. The Edinburgh International Film Festival is another big festival worth attending in the summer (it's held in June), while the Edinburgh Jazz Festival is held in July.
7. Take a Ghost Tour
Edinburgh has a spooky history and there are a number of tours that take you around to graveyards and underground tunnels to illuminate the city's eerie past. I got spooked when I went on one (but then again, I'm easily creeped out). Even if you don't believe in ghosts, the tours take you to some old and interesting parts of Edinburgh and are quite educational. Don't miss the Ghost Bus tour as well as a tour of the Vaults (the underground tunnels below the city) — both of which you do at night!
8. Drink some scotch
The national drink of Scotland, Scotch whiskey has a world-renowned reputation. Learn how it's made by touring the Scotch Whiskey Experience. It's part museum, part interactive attraction (there's even a barrel ride where you sit in a fake barrel and learn about the whiskey-making process). There are also some fun interactive exhibits to show you the history of Scotland's famous drink and how it came to hold such a revered place in the culture. Prices vary depending on what type of tour you want but they begin at 15 GBP.
9. Celebrate Hogmanay
Hogmanay is one of the world's biggest and most-famous New Year's Eve celebrations. Tens of thousands of people gather in the city streets to celebrate with torchlight processions, concerts, and fireworks. Prepare yourself for lots of drinking, holiday festivities, live music, and huge crowds. Book far in advance as tens of thousands of people attend the festival.
10. Camera Obscura
Founded in 1835, Camera Obscura is a fun and educational interactive museum. It is home to over 100 exhibits that use light, mirrors, and technology to create stunning optical illusions. It's located right in the heart of the Old Town making it easily-accessible for anyone traveling with kids (or anyone who wants to indulge their inner child). It's part science, part illusion, but all fun. Admission is 16 GBP.
11. Take a Harry Potter tour
If you're a fan of J.K Rowling's epic fantasy series be sure to book a spot on The Potter Trail, Edinburgh's original Harry Potter tour. Tours are held daily and cover all the main sites in the city that relate to the books, including where Rowling wrote some of her early novels and where she found inspiration in the city. The tour lasts 90 minutes and is accessible for both casual enthusiasts as well as die-hard fans. The tour is free, though you'll want to make sure you tip your guides as well.
12. Visit St. Giles' Cathedral
Also known as the High Kirk of Edinburgh, St. Giles' Cathedral is located on the Royal Mile and was originally built in the 12th century. The current building dates to the 14th century and was formerly a Roman Catholic Cathedral (St. Giles' is now part of the Church of Scotland). In addition to the beautiful and austere interior, the cathedral is home to some noteworthy monuments, including one to famed Scottish author Robert Louis Stevenson, who wrote Treasure Island and The Strange Case of Dr. Jekyll and Mr. Hyde. Admission is free, though this is a place of worship so dress respectfully.
Edinburgh Travel Costs
Hostel prices – Most 8-bed dorm rooms in Edinburgh cost between 20-25 GBP, though prices rise a few pounds in the summer and drop a few in the winter. Free Wi-Fi and lockers are standard and most hostels also have self-catering facilities. Free breakfast is rare, however, a few hostels in the city do offer it. Be sure to book those hostels in advance of it's a priority. Private rooms in a hostel cost between 40-60 GBP per night for a twin or double.
Budget hotel prices – For a budget two-star hotel, prices start at 50 GBP per night. These usually include free Wi-Fi. Budget hotels with breakfast included start around 65 GBP per night. A three-star hotel with free breakfast costs around 90 GBP per night.
Airbnb is another good budget option in Edinburgh with prices for entire homes/apartments starting at 55 GBP per night, though most options are 70 GBP and above. For a private room, expect to pay at least 30 GBP per night.
Camping is another option here, especially if you head out to the nearby Loch Lomond National Park. Expect to pay around 17 GBP per night for a basic plot (which is just a flat space for a tent; electricity is generally not included). Most parks close for the winter so availability is limited come late October/early November. If you're in a car or campervan, you can use the app 'park4night' to find paid overnight parking, free overnight parking, and campgrounds.
Food – Scottish meals are hearty, heavy, and filling. They are also delicious. Expect to pay around 10-12 GBP for a basic meal (like a Scottish breakfast or a hearty meal of haggis). For pub food like fish and chips or a filled roll (traditionally filled with meat), prices are usually between 5-10 GBP. If you're looking for fast food (think McDonald's), expect a basic meal to cost around 6 GBP. For a full three-course meal at a mid-range restaurant, prices begin around 27 GBP.
Beer at the bar is 4 GBP (though you can find them for half that price if you buy them at the store so if you want to drink cheap, pre-game before you go to the bars!).
For a week's worth of groceries, you should expect to pay between 40-60 GBP depending on your diet. This will cover basic staples like pasta, vegetables, and some meat. If your accommodation includes free breakfast you can cut this down significantly.
Backpacking Edinburgh Suggested Budgets
On a backpacker budget, you can visit Edinburgh for 48-58 GBP ($60-75 USD) per day. On this budget, you'll be staying in a dorm room or camping, cooking most of your meals, sticking to mostly free activities (luckily, there are a lot) and using public transportation. If you on a tighter budget, you can lower this number by staying in hostels that include free breakfast or by limiting your drinking.
On a mid-range budget of about 95-125 GBP ($120-160 USD), you'll stay in a budget hotel or private hostel room, eat out most of your meals (sticking to a lot of pub foods), do more paid activities like visiting museums or galleries. In short, you'll have the flexibility to do what you want. You're not going to live large but you'll be able to get by without worrying too much about your spending. If you stay in dorms, you can lower this average number or just use the extra money for more food and drink!
On a luxury budget of 210 GBP ($270 USD), you can stay in a 4-star hotel, eat out for every meal, drink what you want, and visit as many museums and attractions as you'd like, take taxis, and do whatever else ya want. This is just the ground floor for luxury though — you can easily spend more if you really want to splash out!
You can use the chart below to get some idea of how much you need to budget daily, depending on your travel style. Keep in mind these are daily averages — some days you'll spend more, some days you'll spend less (you might spend less every day). We just want to give you a general idea of how to make your budget. Prices are in USD.
Accommodation
Food
Transportation
Attractions
Average Daily Cost
Backpacker
$30
$20
$5-10
$5-15
$60-75
Mid-Range
$60-75
$30-40
$10-15
$20-30
$120-160
Luxury
$150-175
$75-90
$20-30
$25-35
$270+
Edinburgh Travel Guide: Money-Saving Tips
While the above prices might seem high, there are lots of ways to lower your costs. Since there's a lot of free activities in the city, you won't to spend money on that. And the city is easily walkable so you can save money on transportation that way too. Here are some quick tips to help you save money in Edinburgh:
Get the Edinburgh City Pass – If you're planning to explore Edinburgh, get the City Pass. For 45 GBP, you'll get access to 22 attractions as well as free transportation to and from the airport. There is also a two-day pass for 55 GBP and a three-day pass for 65 GBP. It's a good choice for anyone planning to see a lot.
Eat in a pub – The best food is often in the pubs and you'll pay a fraction of the price than you would in a proper restaurant. Also, pubs generally give you a true taste of Scottish culture. Scotland is pub-land and you'll find them everywhere.
Visit the free museums – The public museums in Scotland are free – so take advantage! Free attractions include The National Museum of Scotland, Scottish National Gallery, St. Giles Cathedral, the Royal Botanic Garden, and the Scottish National Gallery of Modern Art.
Use buses – If you need to travel to a different city, take the bus. Buses are by far the cheapest way to do so and can get you to the widest range of places on a regular schedule. You can even find tickets for just 1 GBP from Megabus if you book far enough in advance.
Avoid eating and shopping in the city centers – Edinburgh is significantly more expensive the closer you get to the city center/Old Town. There are plenty of good restaurants and quirky shops outside of the center, so go for those. Trust me, you won't be disappointed.
Stay with a local – Couchsurfing is the best way to save on accommodation as it's free! Not only will you save some money, but you'll have access to a knowledgeable local who can help point you to some of the country's hidden gems.
Take a free walking tour – If you want to understand more about the history, architecture, and people of Scotland then be sure to take a free walking tour. They usually last a couple of hours and are a great introduction to the city. New Europe has a great free tour in Edinburgh which covers all the main sights.
Cook your own meals – Food in the UK isn't cheap. Save yourself some money and cook a few meals for yourself. It may not be as fancy as eating out, but your wallet will thank you!
Use BlaBlaCar – BlaBlaCar is a ridesharing app you can use to travel in between cities. It's faster than the bus and usually just as cheap. You'll have to find a ride, which can sometimes be hit or miss, but the profiles are verified and reviewed so it's quite safe. Plus, it's a great way to connect with other locals/travelers.
Where To Stay in Edinburgh
Edinburgh has plenty of hostels and they're all pretty comfortable and sociable. These are my suggested and recommended places to stay in Edinburgh:
How to Get Around Edinburgh
Bus – Buses and trams are the most common forms of public transportation in the city. A single ticket costs 1.60 GBP and go up from there depending on how far you go. Buses take only exact change so you may want to download the "Transport for Edinburgh" app to pay for tickets on your phone instead. You can even use it to buy tram tickets to/from the airport. Day passes can be purchased for 4 GBP (they do not included the airport, however).
The Airlink bus to the airport costs 4.50 GBP for the 30-minute journey while the tram costs 6 GBP.
Taxi – Taxis aren't cheap here so I would avoid them as much as possible. Rates start at 3 GBP and go up by 1.40 GBP per kilometer. Stick to public transportation if you're on a budget unless you don't have another choice/are splitting the ride with someone.
Gett and Free Now are the two most common platforms used for taxis (they are linked to the Google Maps app so you can use that to get price estimates if you're comparing modes of transportation). That being said, Edinburgh has safe and reliable public transportation so I'd avoid taxis and ridesharing unless you have no other options as the prices add up fast.
RidesharingUber is available in Edinburgh, but it's not always cheaper than taxis and there are more taxis available than Ubers so taxis will likely be the better choice for you should you need a private ride.
Car rental – Scotland is a great road trip destination though I would only rent a car if you're leaving the city (or if you need it for a specific reason in the city). You can get cars for as little as 10-20 GBP per day and campers for as little as 20 GBP per day. Getting around the city is easier without a vehicle as the public transportation is reliable so I would avoid renting a car unless you're leaving the city.
Just remember that traffic flows on the left. Most vehicles are manual transmissions as well.
Bicycle – If you want to rent a bike, expect to pay around 3 GBP per day for a basic bike. Just Eat Cycles has bikes all around the city and you can even rent them for as little as 1.50 GBP for an hour if you just need one temporarily. Just remember that traffic here drives on the left.
When to Go to Edinburgh
Summer is the most popular time to visit Edinburgh. In July and August, you'll get warm weather and minimal rain, with temperatures reaching highs of around 20 C (68 F). This is also the busiest time of the year, so expect crowds in the cities and lots of people out enjoying the nearby national parks. The Edinburgh Fringe Festival takes place in August, which is a huge multi-week festival. Be sure to book your accommodation in advance if you're visiting during this time.
September is a rather wet month, though in October you'll get incredible fall foliage. October is a great time to visit — especially if you plan on renting a car or camper and heading into the Cairngorms (Scotland's biggest national park, which is only a couple hours from the city). Seasonal businesses and accommodations start to close mid-October so be sure to keep that in mind when planning. Expect October temperatures to sit around 12 C (55 F) during the day.
The spring is a great time to visit, with April and May offering minimal rain and no crowds. There will be snow and cool temperatures in the highlands, but the city will be lively without being crowded.
Winters in Scotland are cold and dark. December is relatively dry but the temperatures dip close to 0 C (32 F). It's nevertheless a popular time to visit, with many tourists coming to Edinburgh for the huge Hogmanay New Year's Eve celebration (it's one of the biggest New year's festivals in the world).
By February, snow is common so keep that in mind if you plan on renting a vehicle. Unless you're coming to engage in winter sports, I'd avoid a winter visit unless you don't mind the grim and grey atmosphere of the country.
How to Stay Safe in Edinburgh
Scotland is a perfectly safe country and you won't need to worry about much while you're here. In Edinburgh, as in all cities, you'll want to stay vigilant when you're in crowded tourist areas or on public transportation as that is when pickpockets usually strike. But petty theft is quite rare so you needn't worry too much.
Keep in mind that traffic flows on the left in Edinburgh. If you're renting a car you'll want to keep that in mind as most vehicles are manual transmissions and have the gear shift on the left (which is opposite to most other countries). Driving might take some getting used to so drive carefully — especially while going through roundabouts.
Flooding is the #1 natural disaster in the UK and can occur in the city, but it's more common in rural areas so you needn't worry too much. If you are hiking nearby (for example, in the Cairngorms a few hours north) make sure you have the appropriate equipment and that you notify your accommodation of your plans just in case. And if you're hiking Arthur's Seat, expect windy conditions at the summit.
Edinburgh is safe for solo female travelers though women should take the standard precautions when traveling alone at night (don't travel alone intoxicated, keep an eye on your drink, etc.). Taxis at night are safe for solo female travelers, though it's never a bad idea to share a ride with friends just to be safe.
The water in Edinburgh is quite safe to drink here as the country ranks in the top ten when it comes to clean water. You can drink straight from the tap so bring a reusable water bottle with you to save money and lower your environmental impact.
The most important piece of advice I can offer is to purchase good travel insurance. Travel insurance protects you against illness, injury, theft, and cancellations. It's comprehensive protection in case anything goes wrong. I never go on a trip without it as I've had to use it many times in the past. You can use the widget below to find the policy right for you:
Edinburgh Travel Guide: The Best Booking Resources
These are my favorite companies to use when I travel to Edinburgh. They are included here because they consistently find deals, offer world-class customer service and great value, and overall, are better than their competitors.
Momondo – This is my favorite booking site. I never book a flight without checking here first.
Skyscanner – Skyscanner is another great flight search engine which searches a lot of different airlines, including many of the budget carriers that larger sites miss. While I always start with Momondo, I use this site too as a way to compare prices.
Airbnb – Airbnb is a great accommodation alternative for connecting with homeowners who rent out their homes or apartments.
Hostelworld – This is the best hostel accommodation site out there, with the largest inventory, best search interface, and widest availability.
Couchsurfing – This website allows you to stay on people's couches or spare rooms for free. It's a great way to save money while meeting locals who can tell you the ins and outs of their city. The site also lists events you can attend to meet people (even if you're not staying with someone).
Booking.com – The best all-around booking site that constantly provides the cheapest and lowest rates. They have a no money down policy, great interface, and the widest selection of budget accommodation. In all my tests, they've always had the cheapest rates out of all the booking websites.
Intrepid Travel – If you want to do a group tour around Sweden, go with Intrepid Travel. They offer small group tours that use local operators and leave a small environmental footprint. If you go on a tour with anyone, go with them. And, as a reader of this site, you'll get a discount when you click the link!
Rome 2 Rio – This website allows you to see how to get from point A to point B the best and cheapest way possible. It gives you all the bus, train, plane, or boat routes that can get you there as well as how much they cost.
World Nomads – I buy all my travel insurance from World Nomads. They have great customer service, competitive prices, and in-depth coverage. I've been using them since I started traveling in 2003. Don't leave home without it!
EatWith – This website allows you to eat home cooked meal with locals. Locals post listings for dinner parties and specialty meals that you can sign up for. There is a fee (everyone sets their own price) but this is a great way to do something different, pick a local's brain, and make a new friend.
Edinburgh Gear and Packing Guide
If you're heading on the road and need some gear suggestions, here are my tips for the best travel backpack and for what to pack!
The Best Backpack for Travelers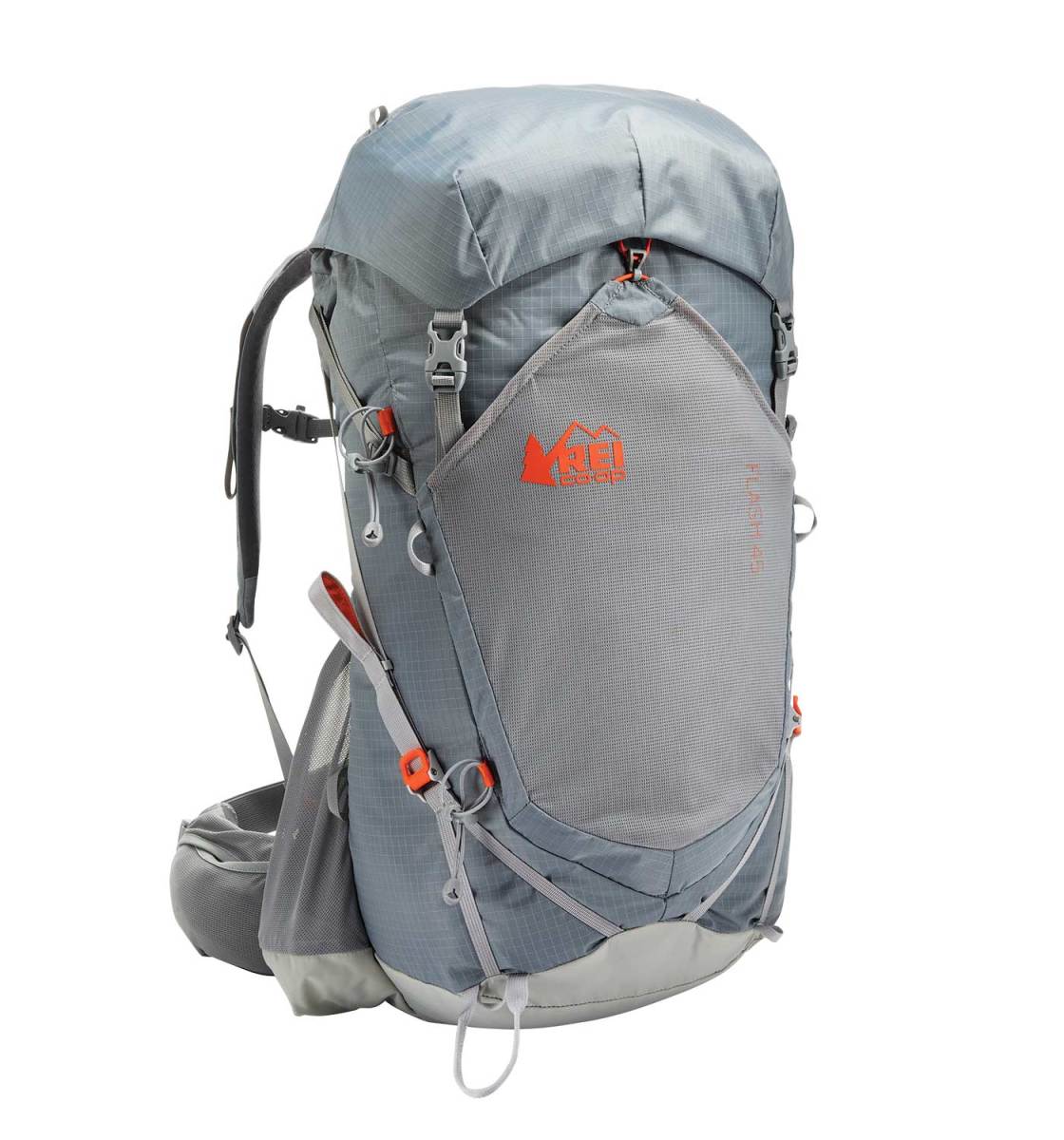 What's the best backpack for traveling long-term? I recommend the
REI Flash 45 Pack
. It's light and comfy, front loading, and fits perfectly in an airplane's overhead bin.
Size:
45-47L
Straps:
Thick and cushy with compression technology that pulls the pack's load up and inwards so it doesn't feel as heavy.
Features:
Removable top lid, large pocket at the front, hydration compatible, contoured hip belt
If you want something different, refer to my article on how to choose the best travel backpack for tips on picking a pack and other backpack suggestions.
What to Pack for Your Trip
Clothes
1 pair of jeans (heavy and not easily dried, but I like them; a good alternative is khaki pants)
1 pair of shorts
1 bathing suit
5 T-shirts (Unbound Merino is my preferred company. If you're a member of NM+, you can get 15% off your purchase)
1 long-sleeved T-shirt
1 pair of flip-flops
1 pair of sneakers
6 pairs of socks (I always end up losing half)
5 pairs of boxer shorts (I'm not a briefs guy!)
1 toothbrush
1 tube of toothpaste
1 razor
1 package of dental floss
1 small bottle of shampoo
1 small bottle of shower gel
1 towel
Deodorant
Small Medical Kit (safety is important!!!)
Miscellaneous
Female Travel Packing List
I'm not a woman, so I don't know what a woman wears, but Kristin Addis, our solo female travel guru, wrote this list as an addition to the basics above:
Clothing
1 swimsuit
1 sarong
1 pair of stretchy jeans (they wash and dry easily)
1 pair of leggings (if it's cold, they can go under your jeans, otherwise with a dress or shirt)
2-3 long-sleeve tops
2-3 T-shirts
3-4 spaghetti tops
1 light cardigan
Toiletries
1 dry shampoo spray & talc powder (keeps long hair grease-free in between washes)
1 hairbrush
Makeup you use
Hair bands & hair clips
Feminine hygiene products (you can opt to buy there too, but I prefer not to count on it, and most people have their preferred products)
For more on packing, check out these posts:
Edinburgh Travel Guide: Related Articles
Want more info? Check out all the articles I've written on backpacking/traveling Scotland and continue planning your trip: