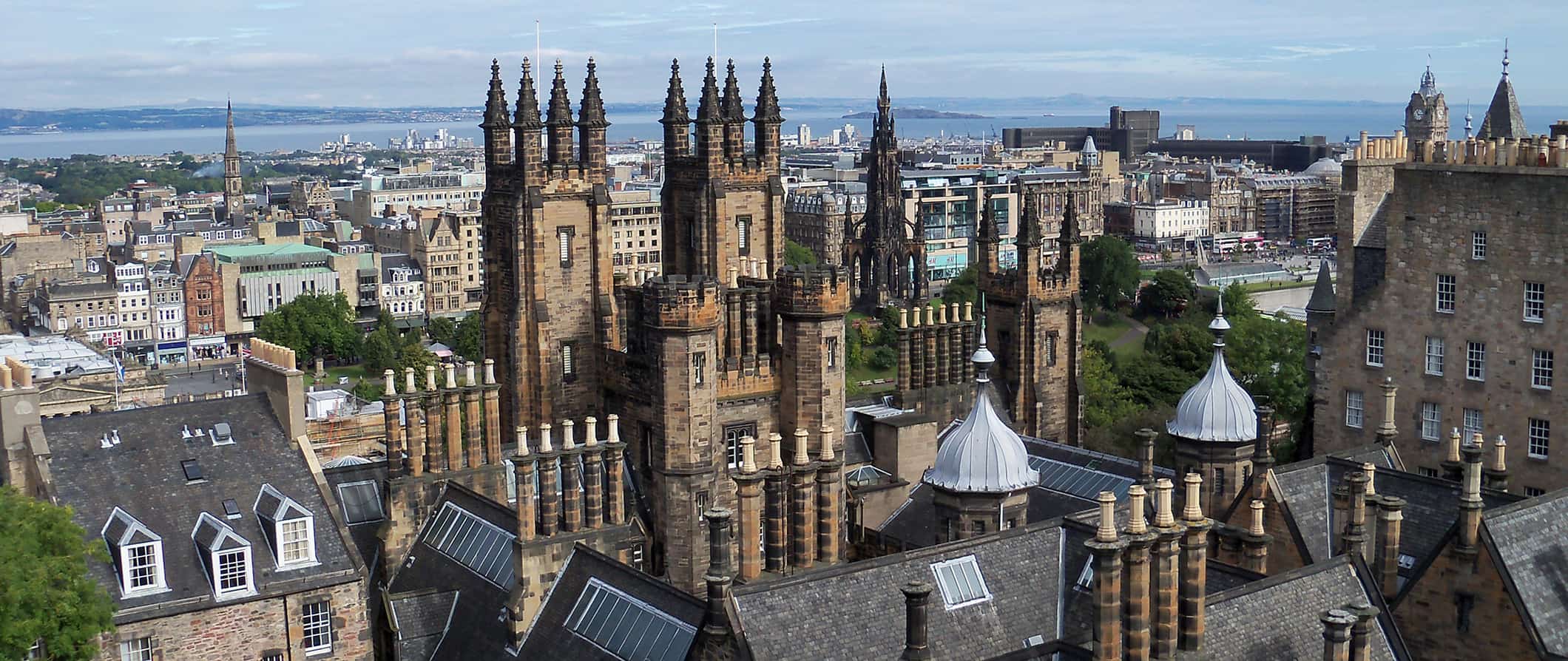 Edinburgh is one of my favorites cities in the world. I love the cobblestone streets, the free museums, the outgoing locals always ready to share a beer, and the insane whisky to be found! The city has many free activities, beautiful walks, stunning buildings, and a rich history (and especially a literary history!). There are even resident ghosts (and subsequent scary ghost tours). Edinburgh is a popular destination for many weekend getaways, pub crawls, and bachelor(ette) parties so to avoid the hordes of throwing up Europeans, come on a weekday! There is definitely an active nightlife here. Edinburgh has something for everyone and this travel guide can help you plan the perfect (budget) visit.
Top 5 Things to See and Do in Edinburgh
1. Visit Edinburgh Castle
The Edinburgh Castle is an important landmark. Although it costs 16.50 GBP to enter, you can spend a good part of the day here, and it's worth it alone just to see the Crown Jewels exhibit. You also get sweeping views of the city. Try to get on the guided tours as they give you more information and context.
2. Hike to Arthur's Seat
Although it can be a bit of a hike, the top of Arthur's Seat provides a spectacular view of all of Edinburgh. Some parts of the hike are rather steep, so bring a picnic and spend an afternoon looking out over the city.
3. Walk down the Royal Mile
The most famous street in Edinburgh, this road is filled with pubs, restaurants, and shops. It takes you from the royal castle to the royal palace. While touristy, there are a number of historical monuments to check out along the way.
4. Tour Rossyln Chapel
If you read the Da Vinci code, you know
this chapel
supposedly helped guard the holy grail. It's a very intricately-designed chapel and there are many mysteries surrounding it (why does it show corn when the New World hadn't yet been discovered? Huh? Huh!). Though small, the carvings in the wall are spectacularly done.
5. Visit the National Gallery of Scotland
This impressive gallery is for anyone who can appreciate the great artists of our time – Monet, Rembrandt, Degas, and Vermeer (who has only 36 surviving paintings in the world). There are a lot of very good paintings here. It is also free, although some of the exhibits have an entrance fee.
Other Things to See and Do
(Click the title to expand the text)
1. Hang out in Calton Hill
Calton Hill is another great place to escape the noise of the city and admire the view from up above. Take a hike to the top of the hill and you can sit and relax in a quiet park-like setting.
2. Explore Princes Street Gardens
For another free outing, spend the day at Princes Street Gardens. Vendors sell ice cream in an immaculate park, and you get an excellent view of the Edinburgh Castle. If you're here at Christmas, the Garden turns into a German style winter fair, full of stalls selling food, mulled wine, toys, and rides.
3. Tour the Museum of Edinburgh
When you're walking the Royal Mile, don't forget to stop at this museum to give yourself a better understanding of Edinburgh's history. There's a lot of good information here and the museum is free.
4. Stop by the Scott Monument
Built in 1846 to commemorate the life of Sir Walter Scott, the man who helped put Scotland back on the map, the Gothic spire monument allows you to climb 200 ft above the city center to enjoy fantastic views. Admission is 5 GBP.
5. Attend a Festival
During the summer, Edinburgh is awash with festivals. Every week there is a new one. By far the most prominent is the Fringe festival, which brings in performers and entertainers of all kinds to the city. Just keep in mind that during this time, accommodation prices skyrocket and the city floods with people. If you make sure to book everything far ahead of time, you should be alright. The Edinburgh International Film Festival is also another big one worth attending.
6. Take a Ghost Tour
Edinburgh has a spooky history and stories of ghosts and ghouls abound. There are a number of tours that take you around to graveyards and underground tunnels. I got spooked. Then again, I'm easily creeped out. Even if you don't believe in ghosts, the tours take you to some old and interesting parts of underground Edinburgh.
7. Drink some scotch
The national drink of Scotland, Scotch Whiskey, has a world-renowned reputation. Learn how it's made by touring the Scotch Whiskey Experience, which comes complete with a "barrel ride." Prices vary depending on what type of tour you want and begin at 14.50 GBP.
8. Celebrate Hogmanay
One of the world's biggest and most-famous New Year's Eve celebrations takes place in Edinburgh. Tens of thousands gather in the city streets to celebrate with torchlight processions, concerts, and fireworks. Prepare yourself for lots of drinking, holiday festivities, a series of colorful customs, and crowds. Book far in advance as tens of thousands of people descend on the city. It was everything I hoped it would be and more!