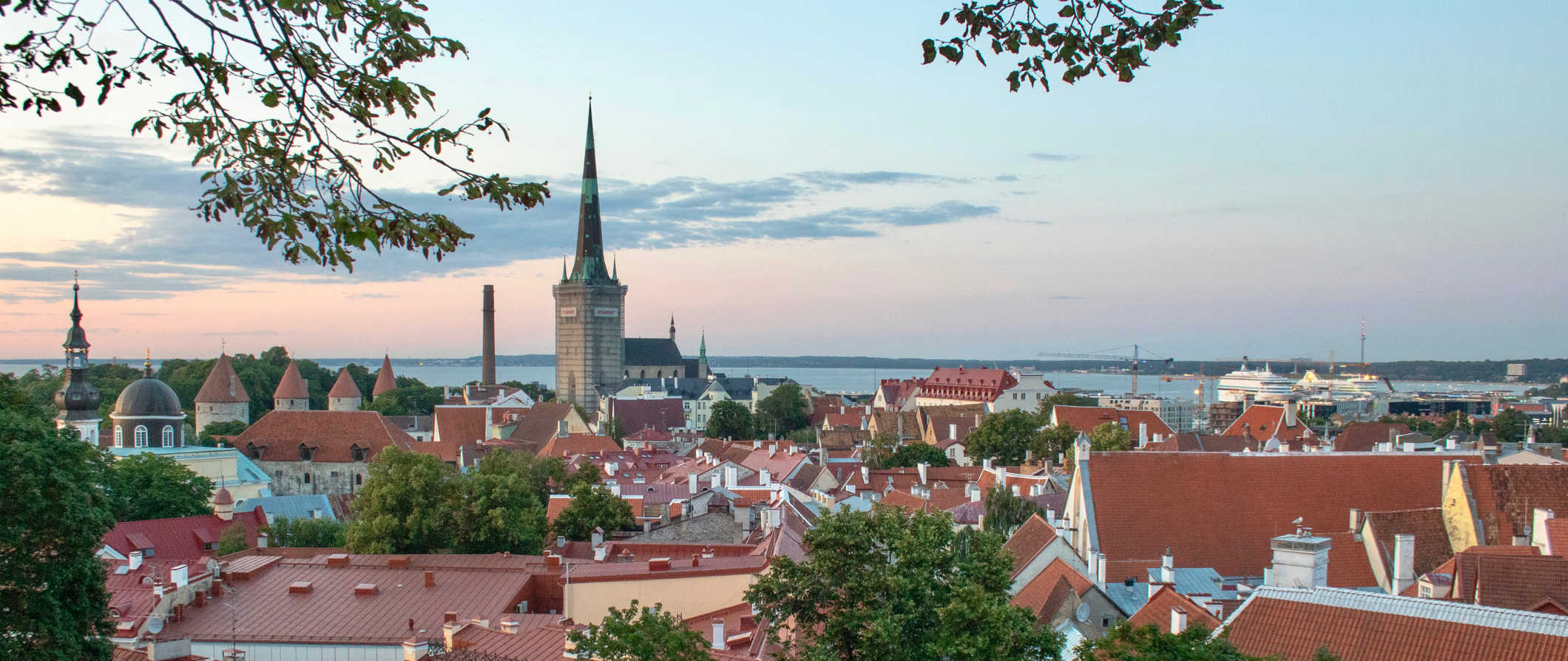 Tucked away in the Baltics, Estonia has become a popular destination thanks to cheap flights, beautiful cities, a wild nightlife, and the country's stalwart support for digital nomads and remote workers (it's also a popular spot for cruisers since many ships stop there as well).
I loved my time here. Unlike the stereotypes many people have about Eastern Europe, Estonia is a modern, organized, and tech-forward country. It has more start-ups than Silicon Valley and everything is done online here.
With more than 1,500 islands, swaths of untouched old-growth forests, and historic castles and churches, Estonia seamlessly blends old and new. Be sure to get out of Tallinn, too. There's more to the country than just its capital.
This travel guide to Estonia can help you plan your trip, save money, and make the most of your time in this underrated European destination!
Top 5 Things to See and Do in Estonia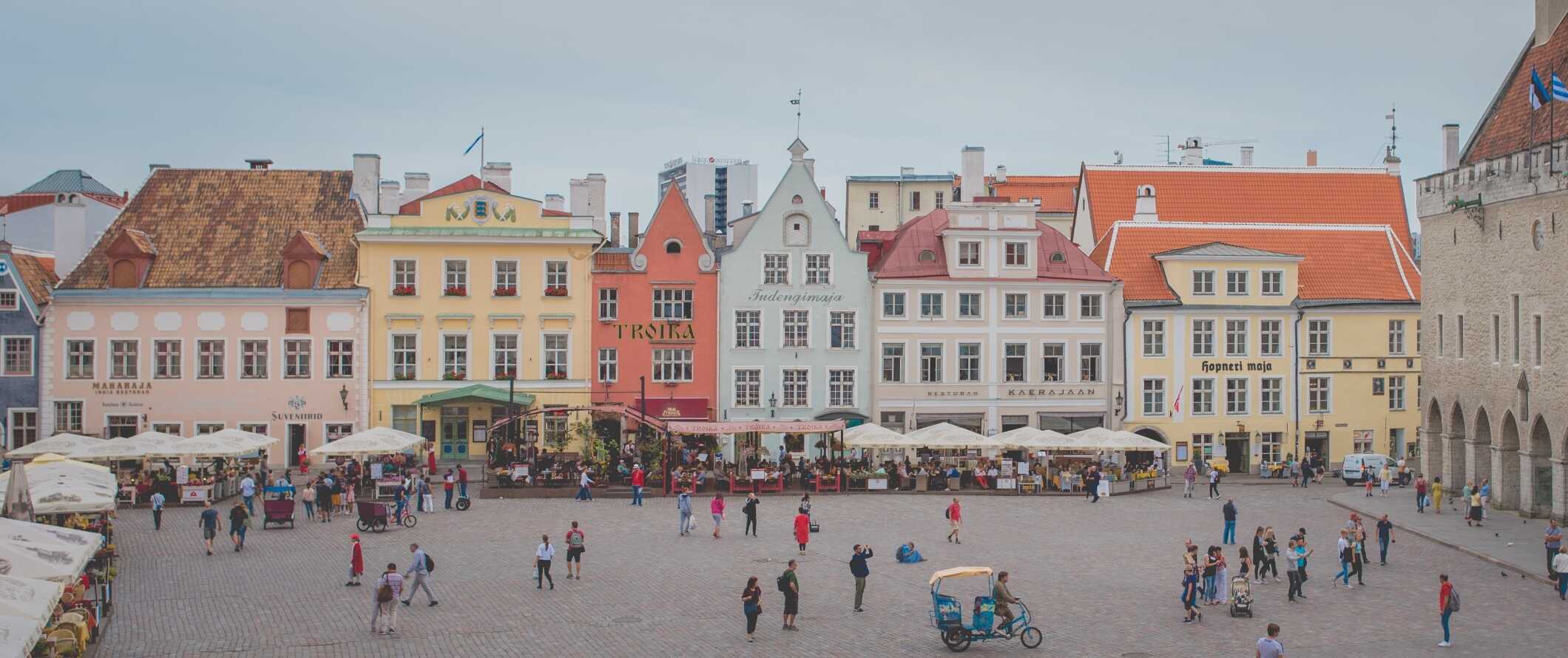 1. Party in Tallinn
Estonia's historic capital city Tallinn is a cultural melting pot on the shores of the Baltic Sea. Here you can explore one of the best-preserved medieval cities in Northern Europe. Wander along the cobblestone streets while taking in historic architecture of the Old Town. While it has a lot of history to offer, it's also ripe with bars, pubs, nightclubs, and cheap drinks. If you love live music, you'll be impressed with Tallinn. There's a vibrant party scene here that's both fun and affordable.
2. Visit Pärnu
Overlooking Pärnu Bay is the resort city of Pärnu. Perched over the Baltic Sea, it's a lovely place to relax for a few days. In the warmer months you can walk 20 minutes from the town center to the expansive Blue Flag beach with soft sand and calm water that is perfect for swimming and sunbathing. It makes for a perfect jumping-off point for anyone wanting to do any sailing while in Estonia. When you've had your fill of sand and saltwater, pamper yourself with a mud bath at the seaside 1920's era spa. Like everywhere in Estonia, there's some incredible historic architecture, like the old Russian style Transformation of Our Lord Church. Divided by the Pärnu River, the city is known for its 19th-century timber villas as well as the relaxing beaches of Pärnu Bay.
3. Get lost in Vanalinn
For the perfect mix of medieval and modern, venture into Tallinn's Old Town, Vanalinn. This part of the city was built between the 13th and 16th centuries and was granted UNESCO World Heritage status in 1997. The original architecture is unbelievably well preserved — even after aggressive World War II bombings. Within the historic town square, you'll find the 13th century Gothic Town Hall complete with a 64-meter-tall (209 feet) tower. It's full of cobblestone streets and gothic architecture and makes for stunning photos and fun people watching.
4. Relax in Saaremaa
Home to the medieval castle Kuressaare (which dates to the 16th century), the island of Saaremaa is a beautiful place for hikers and bird watchers to escape into nature. Saaremaa is known for its beaches and traditional villages. Archeologists believe the island has been inhabited since 5000 BCE. The island is home to Vilsandi National Park, which spans 238 square kilometers (91 square miles) and is home to almost 250 species of birds. The climate makes it a hotspot for all types of flora and fauna. You can also visit the site of the Kaali meteorite strike (which happened over 3,000 years ago) with its huge craters and a unique museum full of chunks of the meteor.
5. Visit Lahemaa National Park
Located one hour east of Tallinn, this park showcases Estonia's incredible natural beauty. The park was established in 1971 to protect the region, and it remains one of the main tourist attractions in the country. Spanning 750 square kilometers (289 square miles), it's a wonderful hiking spot perfect for nature lovers thanks to the many large mammals living in the forests, including deer, wolves, bears, and lynx. About 70% of the park is covered in forest and there are a few incredible hiking trails to explore. Raised bogs are another interesting feature, especially Laukasoo Reserve which is believed to be 7000 years old. Those interested in architecture will love exploring the historic manors within the park, including the famous Baroque masterpiece Sagadi Manor. Admission is free.
Other Things to See and Do in Estonia
1. Spot wildlife in Soomaa National Park
Soomaa National Park is one of the most magical natural landscapes in Estonia. Spread out over 359 square kilometers (138 square miles), the park is home to elk, deer, boar, lynx, wolves, beavers, bears, and more. Located 140 kilometers (87 miles) south of Tallinn, the park is a popular getaway for hikers. The nearby Raudna River and Parnu Basin also offer the opportunity to kayak and canoe. Much of the park floods in the spring, giving you the chance to explore the forests via canoe/kayak. Admission to the park is free. Canoe and kayak rentals cost 27 EUR. Guided tours cost around 50 EUR.
2. Go skiing in Otepaa
A much-loved hiking and mountain biking destination during the summer, in the winter Otepaa transforms into the winter capital of Estonia. There are a couple of kilometers of mountains here and 8 different lifts that offer access. It's one of the most budget-friendly places to ski in Europe. Lift passes cost around 38 EUR. Expect to pay another 35 EUR for a one-hour ski lesson and 15 EUR per day for ski rentals.
3. Explore Kuressaare Castle
Located on Saaremaa Island in western Estonia, Kuressaare Castle is the best-preserved castle in the Baltics. Built in the 14th century, the castle and its moat were constructed on the grounds of the original castle that dated to the 13th century. The current castle was constructed in the late Gothic style and consists of a large square building surrounding a spacious courtyard. A 36-meter (121-foot) defensive tower and traditional medieval portcullis make up the castle's defenses. There's a museum inside that sheds light on the castle's history, including when the Nazis used the castle to execute dissidents. Admission to the castle is free while the museum costs 10 EUR. Bike rentals cost 4 EUR an hour and rowboats cost 10 EUR per hour.
4. Hang out in Tartu
Tartu holds the title of the intellectual (and hipster) capital of Estonia. Located two hours south of Tallinn, here you'll find the country's most prestigious university (University of Tartu), a historic citadel, and the ruins of the city's cathedral (which dates to the 13th century). Be sure to explore Soup Town (a neighborhood composed of old wooden houses), see the 18th-century town hall (which stands out because it's pink and red), and spend some time people-watching at a café in Raekoja Square, the city's historic main square.
5. Visit the Estonian National Museum
Founded in 1909, this museum is located in Tartu. It was expanded in 2016 and moved into a massive new building. There are tons of exhibitions on Estonian history, with a detailed gallery on the Russian occupation of the country (which lasted from 1940-1991). The museum provides a solid historical and cultural foundation to help you better understand Estonia's past and present. Admission is 14 EUR.
6. Visit Kaali Meteorite Crater Field
Located on Saaremaa Island, this site is where a giant meteorite hit over 7,500 years ago. There are 9 craters in total, with the largest crater spanning 110 meters in diameter (360 feet) and reaching depths of 22 meters (72 feet). All kinds of animal bones have been found here and there is a stone wall built around the area (dating to the Bronze Age), leaving archaeologists to surmise that the area was used for some kind of cult or religious ceremonies after the craters were made. Admission is free, though the small museum nearby costs 1.60 EUR to enter.
7. Enjoy an open-air festival in Viljandi
For summer festivals and live music, head to Viljandi. Located in the middle of the country, the town's medieval castle is used for concerts and music festivals (especially traditional folk music). While you're here, be sure to spend some time relaxing at Lake Viljandi where you can swim and enjoy the beach. Lake Võrtsjärv, the largest inland lake in the country, is also nearby.
8. Visit the Alexander Nevsky Cathedral
The Alexander Nevsky Cathedral is in the heart of Tallinn's Old Town. Standing 45 meters tall (150 feet), it was built between 1894-1900 in the Russian Revival style. It was left to decline under Soviet rule, however, once Estonia gained independence it was restored to its former glory. As well as the elaborately decorated bells (the largest weighing almost 16 tons) there are some beautiful religious mosaics inside and incredibly detailed stained glass windows. Admission is free but it's a place of worship so dress respectfully.
9. Try windsurfing
With so much of the country surrounded by water, Estonia is a perfect destination for windsurfing. There are windsurfing shops on the west coast and in the north that offer rentals for 25-40 EUR and lessons from 66 EUR per hour. If windsurfing isn't your thing, you can also enjoy stand-up paddleboarding, wakeboarding, or water skiing. Expect to pay around 20 EUR for those activities.
10. Visit the KGB Museum
Located on the top floor of Tallinn's luxurious Hotel Viru are the KGB's former spy rooms (the KGB was the Soviet Union's secret police). The rooms were discovered after the KGB fled Estonia in the early 1990s. The hotel owners decided to keep the rooms exactly the way they were. Inside are listening and surveillance equipment that looks like something straight out of a vintage spy movie. The museum is only accessible as part of a guided tour that can be booked from the hotel lobby. The tour costs 12 EUR.
11. Go birding in Matsalu National Park
This is one of the best places to spot endangered species like the white-tailed eagle or watch the migrating cranes. Established in 1957, the park was created to protect the nesting and migrating birds. It's located on the west coast of the country, spanning almost 500 square kilometers (192 square miles). Every year, between 10,000-20,000 cranes and upwards of 40,000 ducks visit the park as they migrate. Admission is free.
12. Wander Linnahall
Commissioned by the Soviet Union to accommodate the 1980 Moscow Summer Olympics, Tallinn's Linnahall sports complex is now a giant, imposing, concrete ghost town. An amphitheater that seats 5,000 was unable to be utilized once the Olympic-sized crowds had departed so it now lies crumbling (construction was rushed and was done poorly so the buildings are falling apart). Over 66 countries boycotted the games due to the U.S.'s disapproval of the Soviet-Afghan war. Today, the venue is not in use so you're free to wander and explore. Its location above the city makes it a great lookout spot. It's an interesting place to wander around if you have a spare few hours.
13. Visit the Estonian Open-Air Museum
Hidden amongst the trees and forests just outside of Tallinn, this open-air museum is a reconstruction of an 18th-century rural village. It's home to all kinds of traditional Estonian buildings. There are actors dressed up in historical garb as well as traditional professions on display, such as basket weaving and blacksmithing. There are over 80 wooden buildings you can visit, including a church, school, tavern, and farmhouse. Admission is 10 EUR.
Estonia Travel Costs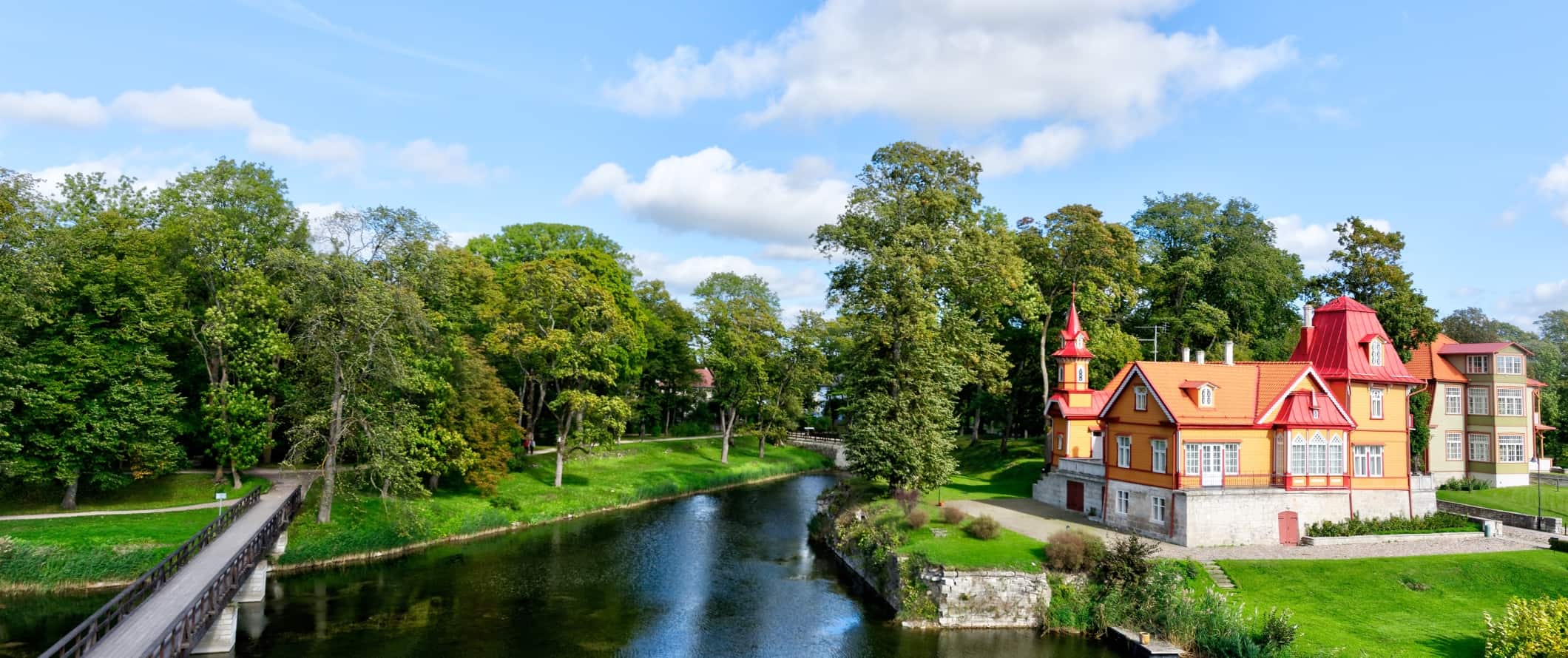 Accommodation – Hostel dorms start at 10 EUR per night for a bed in a 10-20 bed dorm. A smaller dorm with 6-8 beds costs 15 EUR per night. For a private room in a hostel, expect to pay at least 30 EUR per night. Free Wi-Fi is standard and most hostels have self-catering facilities. A few include free breakfast.
Budget hotels start at 40 EUR per night for a double or twin room that includes free breakfast and free Wi-Fi.
Airbnb is available around the country with private rooms starting at 20 EUR per night. For an entire home or apartment, expect to pay at least 35 EUR per night (though prices average double that).
For anyone traveling with a tent, Estonia is one of the best places in Europe for wild camping. Wild camping is permitted on government land (though some of the national parks do have restrictions). Here's a list of the places you can wild camp in Estonia.
Food – Estonian food has a mix of influences from Russia, Germany, and Scandinavia. Dishes are commonly based around meat and potatoes as well as seasonal vegetables. Soups are a common main course as well. Pickled foods like beets, cucumbers, and fish, as well as rye bread and herring, make up the basis of much of the local cuisine. As in Scandinavia, open-faced sandwiches are a quick to-go snack. Verivorst and mulgikapsad (blood sausage and sauerkraut) are two of the most popular national dishes.
For an inexpensive meal at a café or restaurant, expect to pay between 6-13 EUR. A traditional sausage or stuffed pancake costs just under 3 EUR while fast food meals (think McDonald's) cost around 7 EUR.
A multi-course meal at a restaurant with table service costs around 40 EUR, including a drink. Expect dishes like grilled salmon, lamb ribs, and roasted pork or duck. For something like Thai or Indian food (which is only really available in Tallinn and Tartu), expect to pay around 12-15 EUR for a meal.
Beer costs around 5 EUR. A latte/cappuccino is 3 EUR while bottled water is 1.50 EUR.
If you are planning to cook your own food, you can expect to spend around 30-40 EUR for a week's worth of groceries. This includes basic staples like pasta, rice, seasonal produce, and some meat or fish.
Backpacking Estonia Suggested Budgets
On a backpacking budget of 35 EUR per day, you can stay in a hostel dorm, cook your meals, limit your drinking, take public transportation to get around, and do mostly free or cheap activities like free walking tours and visiting national parks. If you plan on drinking, add 5-10 EUR per day to your budget.
On a mid-range budget of 110 EUR per day, you can stay in a private hostel room or Airbnb, eat out at cheap restaurants serving traditional cuisine, drink more, take the occasional taxi to get around, and do more paid activities like museum visits or ski trips.
On a "luxury" budget of 225 EUR or more per day, you can stay in a hotel, eat out anywhere you want, drink as much as you want, rent a car to get around, and do more paid activities and guided tours. This is just the ground floor for luxury though. The sky is the limit!
Accommodation
Food
Transportation
Attractions
Average Daily Cost
Mid-Range
50
30
15
15
110
Estonia Travel Guide: Money-Saving Tips
Estonia is a perfect destination for anyone on a budget. It's not as cheap as it was years ago but there's still a lot of value here — and still plenty of ways to reduce your costs! Here is how to save money during your visit:
Take a free walking tour – Tallinn offers a handful of free walking tours which are great ways to get familiar with the city and the culture. Most hostels offer them and there are even some that have a special focus (such as the city's Communist past). Just be sure to tip your guide at the end!
Wild camp – If you really want to save money in Estonia, bring a tent. Wild camping is legal here so you can pitch your tent on public land throughout Estonia. Just make sure to pick up your trash when you're done.
Cook your own meals – Many hostels have kitchen facilities so you can cook your own meals. Buying your own groceries may not be as glamorous as going out to eat but it does save you money.
Stay with a local – Staying with a local via Couchsurfing will get you a free place to stay while connecting you with a local who can share their insider tips and advice.
Walk everywhere – All the major cities in Estonia are walkable so skip the public transportation if you want to save a few extra euros.
Enjoy the free spaces – There are plenty of free parks as well as many free hiking trails around the country. If you're on a tight budget, enjoy the outdoors.
Bring a water bottle – The tap water in Estonia is safe to drink. Bring a reusable water bottle to avoid having to buy single-use plastic. LifeStraw is my go-to bottle as it has a built-in filter to ensure your water is always clean and safe.
Get the Tallinn Card – This card provides unlimited use of public transportation, free admission to more than 40 attractions, as well as other discounts. It comes in 24-, 48-, and 72-hour passes for 34 EUR, 51 EUR, and 62 EUR respectively.
Where to Stay in Estonia
Budget accommodation in Estonia is plentiful. Here are some of my favorite hostels in Estonia:
How to Get Around Estonia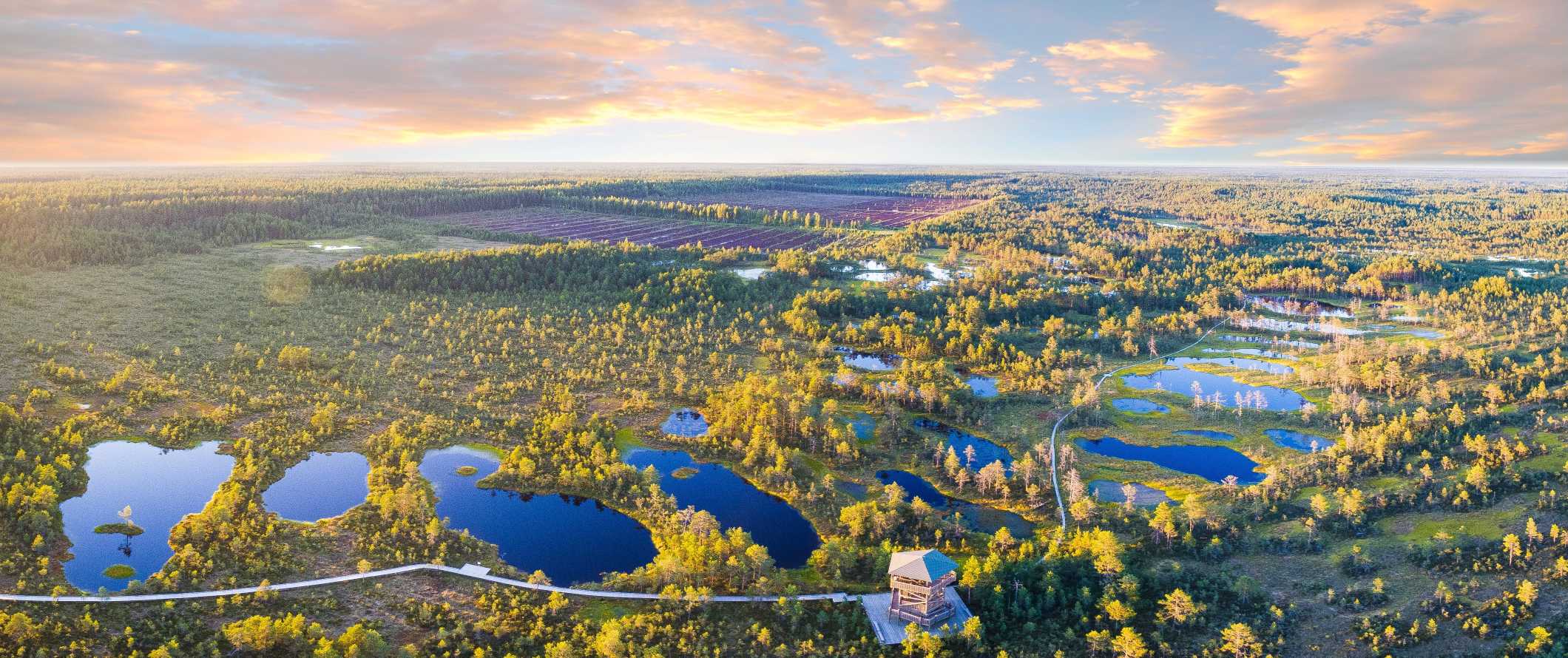 Public transportation – In most smaller towns and cities in Estonia, it's possible to walk everywhere. However, in larger cities like Tallinn, you may want to use public transport to get around. In Tallinn, you can purchase QR-code tickets or load money onto a Smartcard (a pre-paid bus card). There is an extensive network of trams, trolleys, and buses that service the city and surrounding suburbs.
Public transportation prices vary by city but expect to pay around 1.50 EUR for a standard 1-hour adult ticket.
Train – The trains in Estonia are reliable, cheap, and fast. Many even have free Wi-Fi. You can take an express train to Tartu from Tallinn in just two hours for 8-12 EUR each way. The two-hour journey from Tallinn to Viljandi is 10-12 EUR while the seven-hour train ride from Tallinn to Riga, Latvia starts at just 15 EUR.
Bus – Many people favor train travel over bus travel in Estonia because the prices are similar and, in many cases, the trains are faster. However, there are more scheduled buses per day than trains so the bus might better fit your schedule.
Buses start at just 5 EUR. To get from Tallinn to Tartu takes 2.5 hours (just 30 minutes longer than the train) and costs around 10 EUR. The bus from Tallinn to Saaremaa Island takes around 4 hours and costs 11 EUR while the journey from Tallinn to Viljandi takes just over 2 hours and costs 9 EUR. Expect to pay around 16 EUR for the 5.5-hour bus to Riga, Latvia.
Flying – Although there are domestic flights within Estonia, they're prohibitively expensive and won't save you any time as a high-speed train is almost as fast when you include check-in time. Skip flying.
Car rental – Car rentals cost as little as 28 EUR per day. You need an International Driving Permit (IDP) in order to rent a car here. For the best car rental prices, use Discover Cars.
Hitchhiking – Hitchhiking in Estonia is safe and relatively common. If you stick to major roads and use a sign you shouldn't have to wait too long for a ride. Hitchwiki is the best website for additional hitchhiking info.
When to Go to Estonia
The summer months of June-August are the busiest of the year (though busy in Estonia is far less busy than cities in Western Europe). During this time, the days are longer and the temperatures hover around 20°C (68°F). Almost all of Estonia's festivals are held during these months.
To beat the crowds, visit between April-May or September-October. During these months, the temperatures are cooler, making it the perfect time to get outdoors and camp or hike. Plus, the peak tourist season is over so the crowds are thinner and things are a little cheaper.
During the winter, temperatures plummet and the country is blanketed in snow. Visiting Estonia during the winter can be a magical experience if you are interested in skiing or Christmas markets. Be warned though — temperatures can drop to -10°C (15°F).
How to Stay Safe in Estonia
Estonia is a safe country with a low crime rate. Within Tallinn, petty theft (including pickpocketing) is possible in the heavily-touristed areas, as well as on crowded public transportation and in busy bars/clubs. Keep your valuables out of sight and watch out for people (especially younger children) trying to distract you.
Solo female travelers should generally feel safe here, however, the standard precautions apply (never leave your drink unattended at the bar, never walk home alone intoxicated, etc.).
If you're heading out to enjoy Tallinn's famous nightlife, leave your valuables at home. Avoid walking alone at night and stick to the main roads. Muggings are rare, but they can occur. Travel in pairs or groups if possible and avoid walking alone at night if intoxicated, just to be safe.
One thing to be aware of is that reflectors are required by law to be worn by pedestrians at night. You can pick them up in most supermarkets cheaply and you just need to attach one to your jacket or bag when out after dark.
Scams here are rare but you can read about common travel scams to avoid here.
If you do experience an emergency, dial 112 for assistance.
The most important piece of advice I can offer is to purchase good travel insurance. Travel insurance protects you against illness, injury, theft, and cancellations. It's comprehensive protection in case anything goes wrong. I never go on a trip without it as I've had to use it many times in the past. You can use the widget below to find the policy right for you:
Estonia Travel Guide: The Best Booking Resources
These are my favorite companies to use when I travel. They consistently have the best deals, offer world-class customer service and great value, and overall, are better than their competitors. They are the companies I use the most and are always the starting point in my search for travel deals.
Skyscanner – Skyscanner is my favorite flight search engine. They search small websites and budget airlines that larger search sites tend to miss. They are hands down the number one place to start.
Hostelworld – This is the best hostel accommodation site out there with the largest inventory, best search interface, and widest availability.
Booking.com – The best all around booking site that constantly provides the cheapest and lowest rates. They have the widest selection of budget accommodation. In all my tests, they've always had the cheapest rates out of all the booking websites.
HostelPass – This new card gives you up to 20% off hostels throughout Europe. It's a great way to save money. They're constantly adding new hostels too. I've always wanted something like this and glad it finallt exists.
Get Your Guide – Get Your Guide is a huge online marketplace for tours and excursions. They have tons of tour options available in cities all around the world, including everything from cooking classes, walking tours, street art lessons, and more!
The Man in Seat 61 – This website is the ultimate guide to train travel anywhere in the world. They have the most comprehensive information on routes, times, prices, and train conditions. If you are planning a long train journey or some epic train trip, consult this site.
Rome2Rio – This website allows you to see how to get from point A to point B the best and cheapest way possible. It will give you all the bus, train, plane, or boat routes that can get you there as well as how much they cost.
FlixBus – Flixbus has routes between 20 European countries with prices starting as low 5 EUR! Their buses include WiFi, electrical outlets, a free checked bag.
SafetyWing – Safety Wing offers convenient and affordable plans tailored to digital nomads and long-term travelers. They have cheap monthly plans, great customer service, and an easy-to-use claims process that makes it perfect for those on the road.
LifeStraw – My go-to company for reusable water bottles with built-in filters so you can ensure your drinking water is always clean and safe.
Unbound Merino – They make lightweight, durable, easy-to-clean travel clothing.
Top Travel Credit Cards – Points are the best way to cut down travel expenses. Here's my favorite point earning credit cards so you can get free travel!
Estonia Travel Guide: Related Articles
Want more info? Check out all the articles I've written on Europe travel and continue planning your trip: