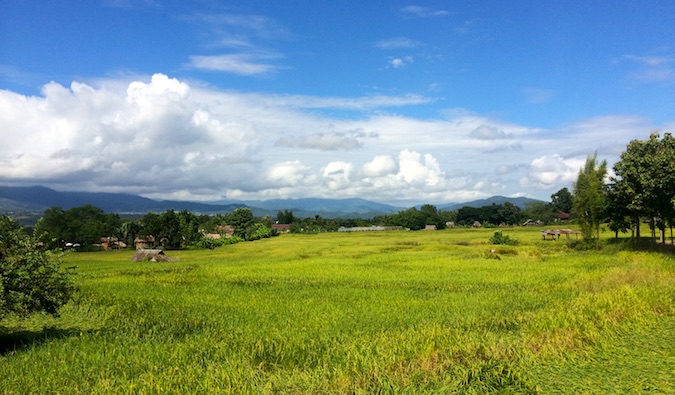 Last Updated: 11/23/22 | November 23rd, 2022
Itinerary planning is a complex beast. There's no single best route out there. Everyone has different travel desires, goals, and needs (let alone budgets). It's why I've always shied away from discussing itinerary planning for long-term travel.
Showing someone how to plan a trip is one thing, but actually planning a trip for someone else is tricky, because I don't know what they want or like.
Because, at the end of the day, there is no such thing as a perfect itinerary. You have to see and go where you want to go and, while suggested routes can help inspire you, at the end of the day, only you can plan the best route for you.
However, that can feel overwhelming, especially when you're trying to tackle an entire region like Southeast Asia. So, in this post, I'll provide a few suggested itineraries to help you conquer this fantastic region.
For the two-week itinerary, I'll break things up by day, but as we get into one-month and three-month territory, you'll have a lot more flexibility with your time, so I'll give rougher estimates of how to spend it.
After all, part of the beauty of travel is keeping yourself open to serendipitous moments and experiences!
Southeast Asia Itineraries
Southeast Asia Two-Week Itinerary
If you only have two weeks in Southeast Asia, I suggest sticking to just 1-2 countries so that you don't spend all your time in transit. You'll also be able to better soak up the atmosphere if you're not trying to cram too much in. With a more limited time frame, just accept that you'll have to leave some things to look forward to on your next trip!
Days 1-3: Bangkok, Thailand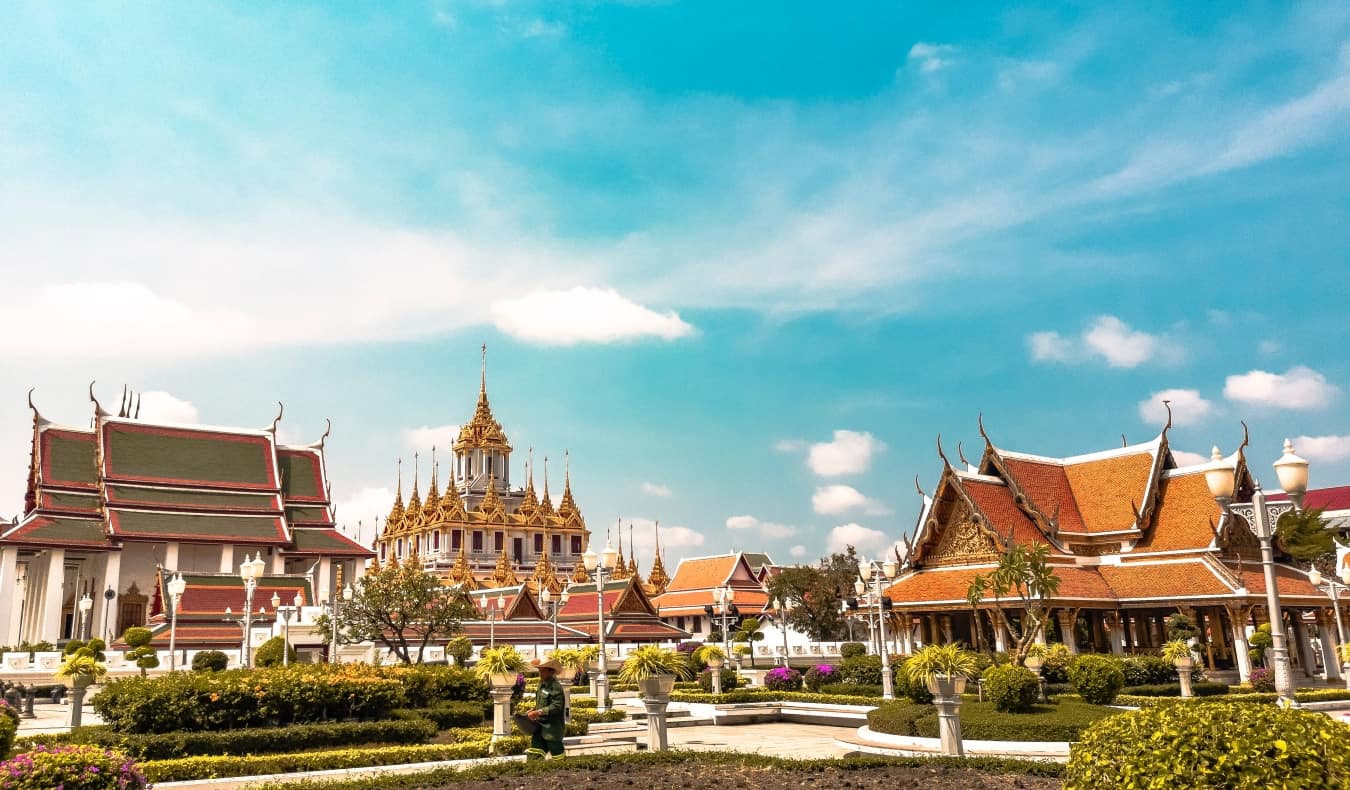 As a major hub for the region, you'll likely fly into Bangkok to start your trip. I suggest staying for at least a few days. It's a city that opens itself up to those who are willing to get past all the hustle and bustle.
Take a walking tour to get your bearings and get local recommendations from the guide. Bangkok Walking Tours or Free Bangkok Walks are two great free options — just remember to tip your guide at the end!
For a more in-depth tour, you can take a city highlights tour, on which your guide will take you through some of Bangkok's major attractions.
While the famous Damnoen Saduak floating market just outside of Bangkok exists mostly for the benefit of tourists, I still like visiting it. The tours that go there leave early in the morning and last about half a day. It's not a great place to shop (prices are much higher than elsewhere), but the area is good for photography and eating.
Where to Stay in Bangkok: Lub d Siam – This is a very popular spot for backpackers looking to stay somewhere other than the infamous party district that is Khao San Road. The hostel is modern, the rooms are spacious, and there are plenty of common areas to socialize in, including a café/bar.
Day 4-6: Chiang Mai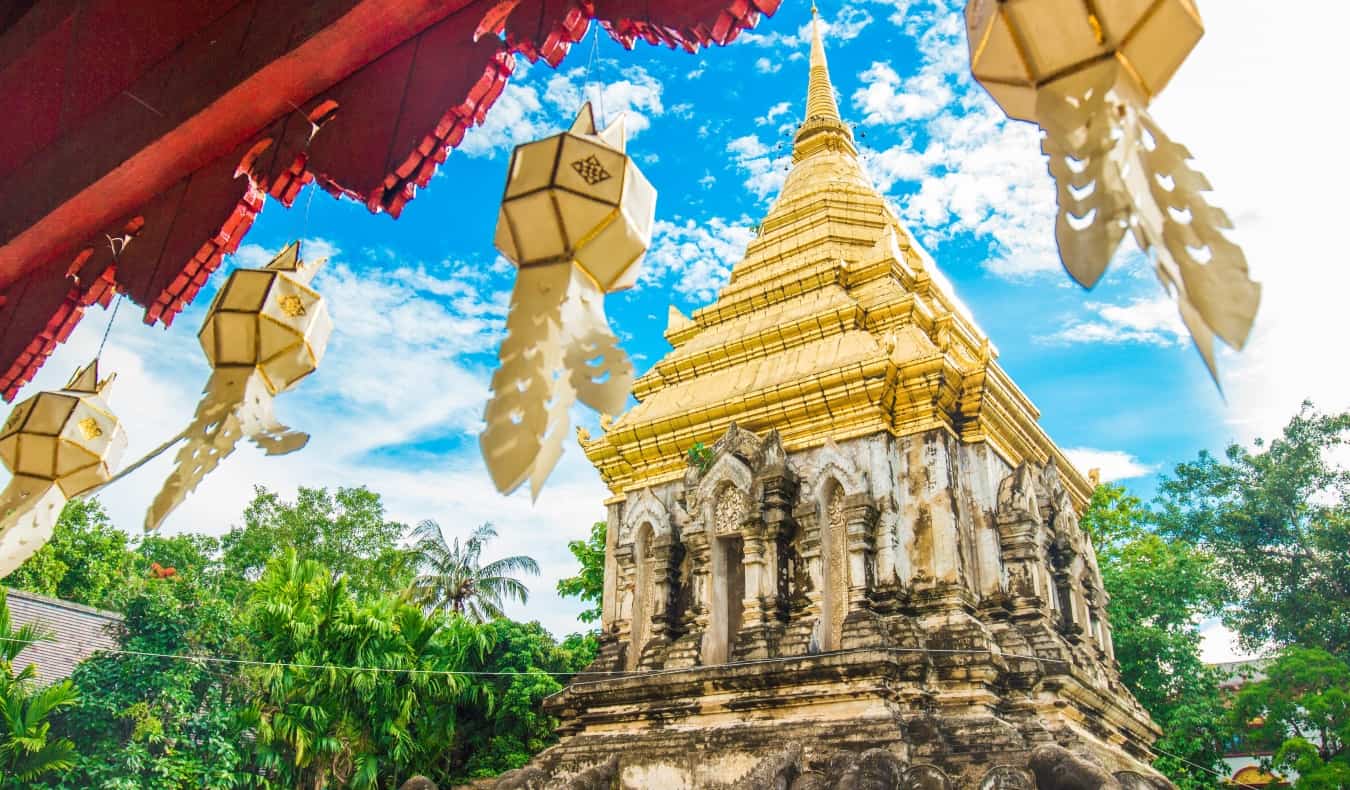 Chiang Mai is an old city with a chill atmosphere, filled with temples, night markets, and amazing food. It's also a good launching pad for jungle treks.
Wat Phra That Doi Suthep is Chiang Mai's most famous temple (the pagoda supposedly contains relics of the Buddha himself). It offers beautiful views of the surrounding area and, at 6pm each day, you can watch the monks chant. The main other temples are Wat Chiang Man, Wat Phra Singh, Wat Suan Dok, Wat Chedi Luang, and Wat Jet Yot.
If you want to see elephants, a good way to get up close with them is to volunteer at or visit Elephant Nature Park. This sanctuary near Chiang Mai rescues abused and injured elephants from around the country. It's a phenomenal place, and after coming here, you will know why you should never ride an elephant. A one-day visit costs 2,500-3,500 THB for adults.
Where to Stay in Chiang Mai: Hostel Lullaby – This fantastic hostel in the heart of Chiang Mai was even voted the best in Thailand. Besides the comfortable facilities, there are a ton of perks here, including free bikes, free breakfast, and free Thai boxing, cooking, and yoga classes.
Days 7-9: Chiang Mai to Bangkok
Here you have a few options: stay longer in Chiang Mai to do more jungle trekking; head up to Chiang Rai to see the famous White Temple; or take the long way back down to Bangkok, stopping for a night in each of Thailand's ancient capitals, Ayutthaya and Sukhothai, or spending some time in one of the national forests, such as the incredible Khao Yai National Park.
Once back in Bangkok, you can either head into Cambodia to see Angkor Wat if you're ambitious, or just hang out in Bangkok for a few more days before your flight home.
If you choose to go to Angkor Wat, here are my recommendations:
Day 10-12: Siem Reap/Angkor Wat, Cambodia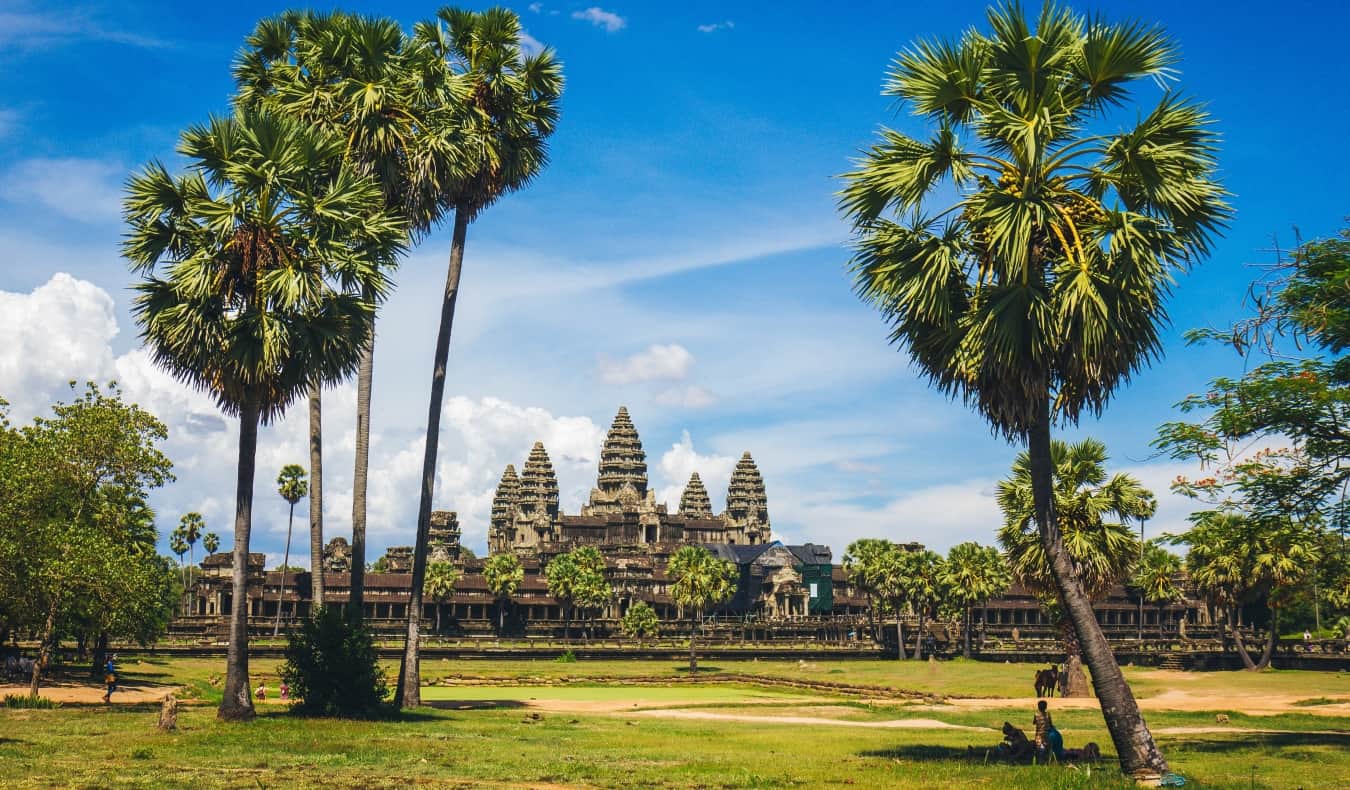 Take the bus from Bangkok to Siem Reap, located on the northeastern side of Tonle Sap Lake. The center remains a rural old town, with French-style houses and shops.
Be sure to visit the Landmine Museum. Landmines have devastated the country, maiming and killing thousands. They still cause destruction today, as remaining mines from the Vietnam War (which spilled over into Cambodia) are discovered every year. The museum has an in-depth exhibit that is very worthwhile, as it gives perspective on their use, dangers, and efforts to remove them.
Spend your day at Angkor Wat, the ancient site that was the center of the Khmer Empire that once ruled most of Southeast Asia. The temple was built in the 12th century and covers over 500 acres.
While a single-day visit can cover the main temples, this is an amazing site to explore, so I highly recommend two days (at least).
You can hire a tuk-tuk for the day or rent bicycles and explore on your own. Tuk-tuks have room for 3-4 people, making it a cheap and convenient option if you can split the ride with other travelers. You can also take a full-day guided tour to learn even more from a professional.
Admission is $37 USD per person for a day pass, $62 USD for a three-day pass, and $72 USD for a seven-day pass.
Where to Stay in Siem Reap: Mad Monkey – This is a fun, lively, and social hostel with a bar, pool, and lots of tours and organized activities to help you meet people and explore the city.
Day 13: Bus back to Bangkok
Take the bus back to the Thai capital, where you can spend the last day of your trip exploring more of the many things to see and do in Bangkok, or just simply hang out, relax, and eat all the delicious Thai food you can before your journey home.
Day 14: Departure day
Head off to the airport knowing that you made the most of your two weeks in Southeast Asia. Chances are that you only whetted your appetite for traveling through this amazing region of the world, and you might already be planning your next trip on your way back home!
Southeast Asia One-Month Itinerary
With one month, you'll be able to take it a little slower, see more places, and get off the beaten path a bit more. You can add another country and leave more flexibility in your itinerary.
Days 1-3: Bangkok
Follow the Bangkok itinerary above, and stay for a few more days if you like! There are endless things to do in Bangkok.
For more recommendations, check out my Bangkok city guide.
Day 4: Bangkok–Chiang Mai
With one month, you can choose to take the day train from Bangkok to Chiang Mai. It's not only cheaper but a nice way to see the countryside. Sure, you "waste" a day, but you see the countryside, experience how Thais take the train and can eat from vendors who briefly board at every stop.
The day train remains one of my favorite experiences in Thailand. Just make sure you have a good book as the journey is 10-13 hours long.
Days 5-7: Chiang Mai
See the Chiang Mai itinerary above. For more recommendations on things to do, check out my Chiang Mai city guide.
Days 8-10: Slow boat from Chiang Mai to Luang Prabang, Laos
After spending your first week in cities, take a load off and drift down the river on a slow boat. These boats generally take two days, stopping overnight at a guesthouse along the way. It's a beautiful way to see the scenery and recharge a bit from a busy week.
Alternatively, if you want to save time, you can fly between the two destinations, or skip ahead in this itinerary to Vietnam.
Days 11-13: Luang Prabang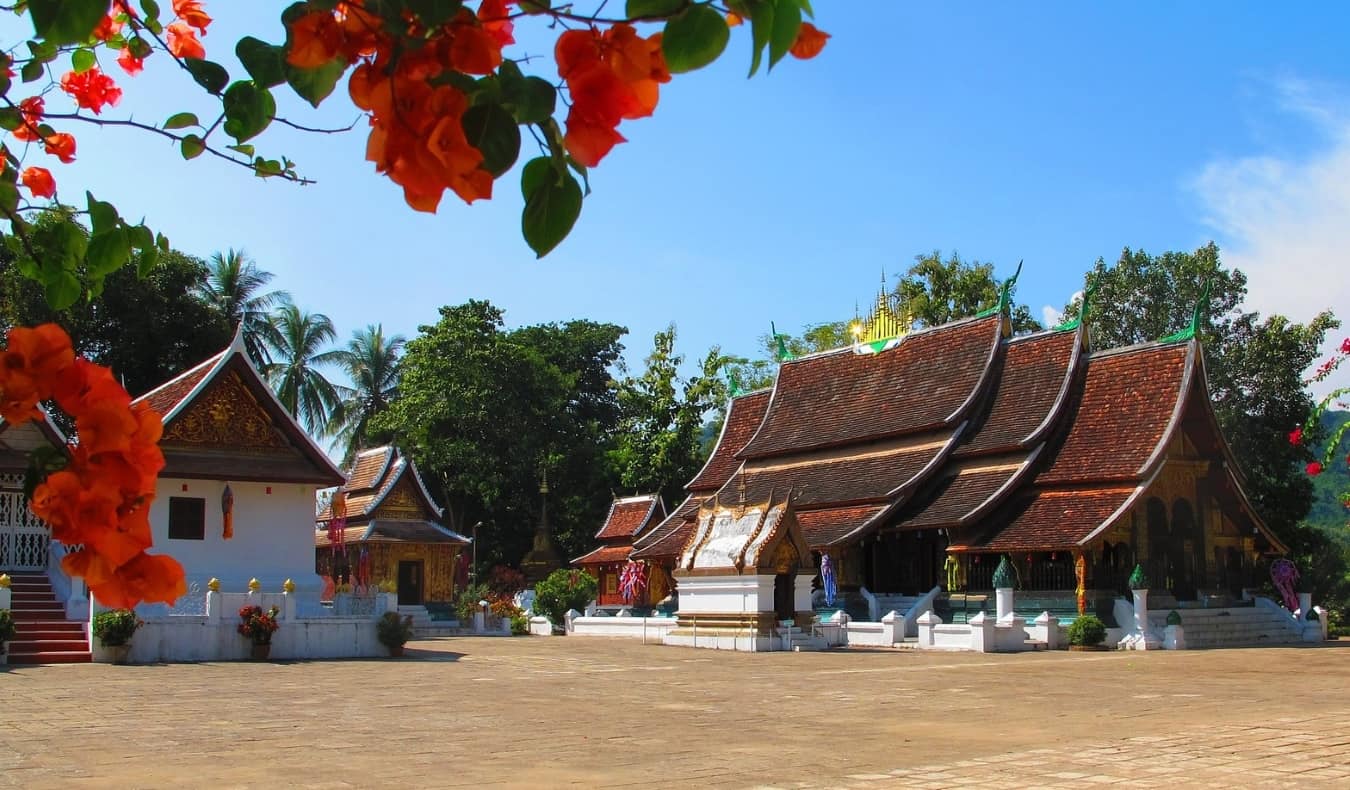 Luang Prabang is a small but vibrant town in the heart of mountainous northern Laos. This former French colonial town and UNESCO World Heritage site located at the confluence of the Mekong and Nam Khan Rivers is one of the country's most popular destinations. Most travelers use it as the first or last stop before traveling to/from Thailand.
Although it's small (around 56,000 people live here), there's a lot to see and do, with dozens of temples, streets lined with French colonial architecture, a bustling night market, river tours, and waterfalls. I came here for three days but spent a week.
Start off with a visit to the "Buddha Caves" (officially, the Pak Ou Caves). They hold over 6,000 Buddha statues that the locals still use for worship. There are standing Buddhas, sitting Buddhas, reclining Buddhas — you name it! You can visit solo or book a guided tour.
While you're here, don't miss the iconic Kuang Si waterfalls (you've probably seen them on Instagram already). They flow through the limestone-rich jungle and empty into a series of three gently cascading pools. While it's one of the most popular attractions in the area (avoid the weekends, when it's super busy), the Kuang Si Falls was also one of the most breathtaking things I saw in Laos.
Other things to do here include:
The Royal Palace
Mount Phousi
Wat Xieng Thong Monastery
The alms ceremony
For more things to do, check out my guide to Luang Prabang.
Where to Stay in Luang Prabang: Downtown Backpackers Hostel 2 – This is a great little hostel with free breakfast, moped rentals, clean dorms, and super helpful staff.
Days 14-16: Vang Vieng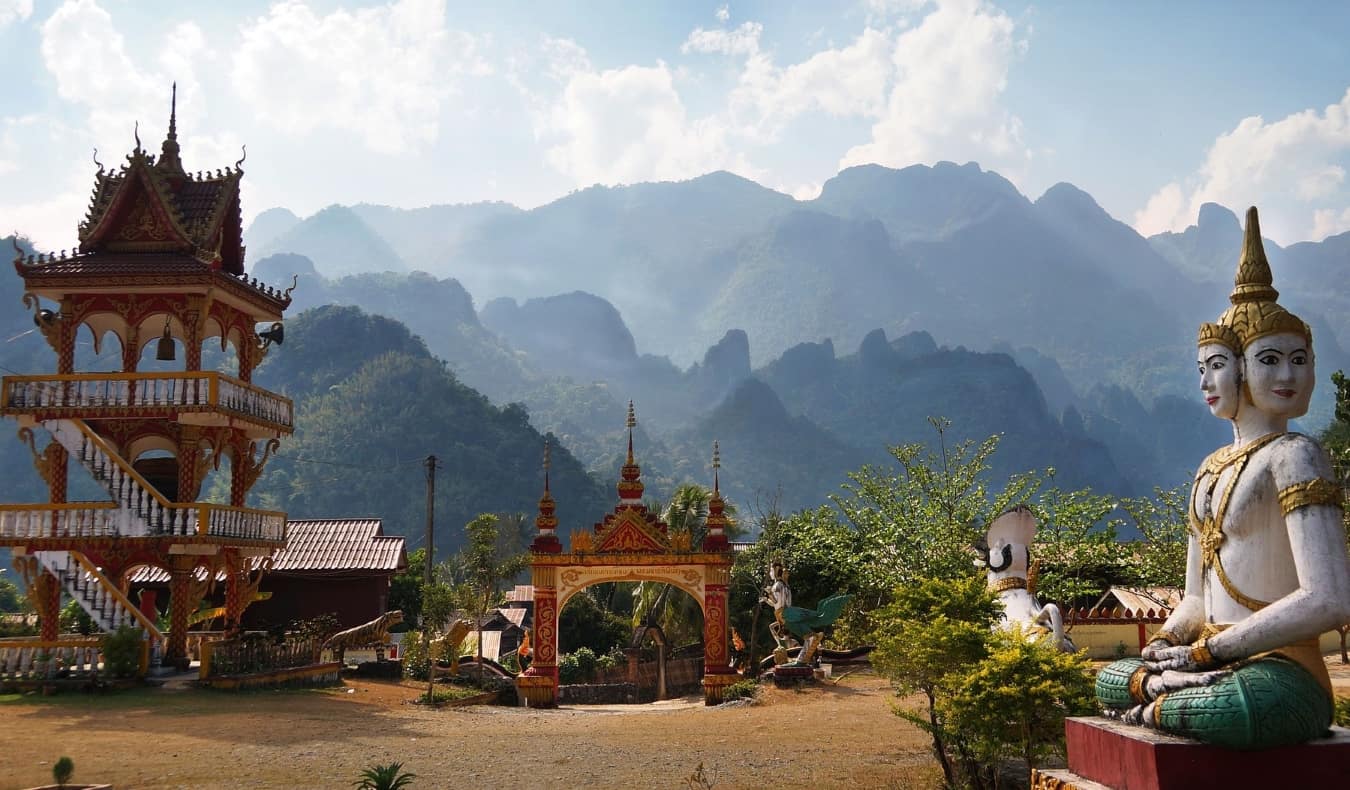 Take the 4 hour bus to Vang Vieng. Vang Vieng is a hub for outdoor adventure, jungle hikes, and lazy days on the river. There's still a bit of party scene (it used to be much bigger in the 1990s), but now it's focused on a handful of bars.
Kick things off with a tubing trip down the river. It's the best way to relax and stay cool. Rentals cost around 55,000 LAK, which includes transportation to the starting point.
And if you want to stretch your legs, climb Pha Poak Mountain. It's only a 30-minute climb to the top, where you'll be rewarded with an incredible view of the area's limestone mountains.
Other things to see and do in Vang Vieng include:
The Golden Cave
Hot air balloon rides
The Blue Lagoon
ATVing
For more things to do, check out my guide to Vang Vieng.
Where to Stay in Vang Vieng: Nana Backpackers Hostel – This is a fun, social hostel with a swimming pool, movie room, small gym, and bar with free vodka and whiskey every night from 7pm to 9pm.
Days 17-19: Vientiane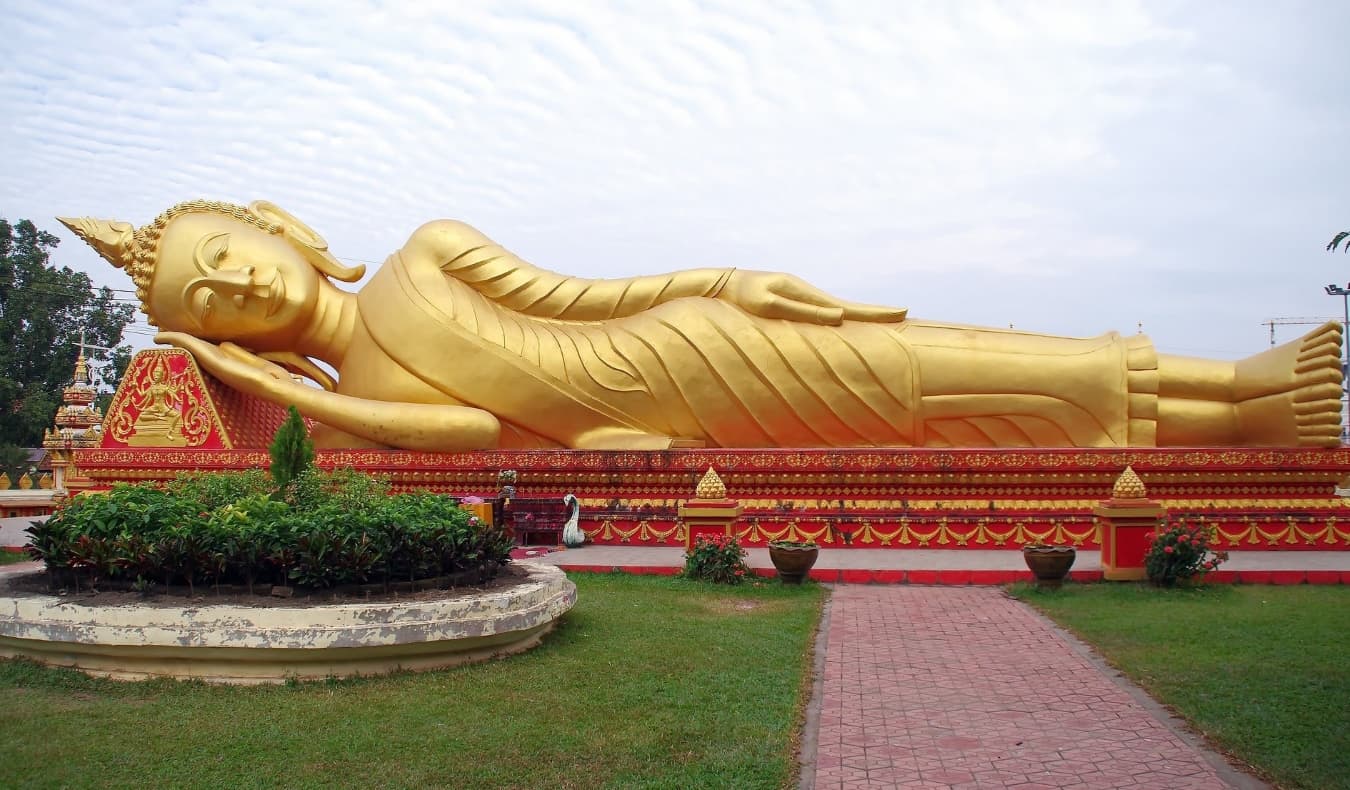 Vientiane, the capital of Laos, is home to around a million people. The name is French but derived from Viangchan (meaning "walled city of sandalwood"). The city was the economic hub under French rule, which started in 1893 and lasted until 1953.
Nowadays, the city is a hub for café culture, cheap spas, golden temples, and diverse riverside markets. Much of its historical center has kept its colorful colonial architecture intact too, making it a nice area to stroll around.
Wander the wide boulevards, take in the crumbling mansions, chill out in Chao Anouvong Park, enjoy the flavorful local cuisine (there are a ton of delicious French bakeries here as well).
Make sure you visit Buddha Park, asculpture park is just 25 kilometers (15 miles) outside of Vientiane. There are around 200 Hindu and Buddhist statues here, all of which appear to be centuries old (they're not — they were made in the 20th century out of concrete). While not "historic" per se, it's still worth visiting, as there are all kinds of unconventional designs, including a three-meter (9.8-foot) demon head that you can enter, and staircases from heaven and hell that you can climb. Admission is 15,000 LAK.
You'll also want to admire the Great Stupa (Pha That Luang). It's a a 44-meter (148-foot) gold-covered stupa (dome-shaped Buddhist shrine) and is the most important monument in the country. Built by King Setthathirat in 1566, its exterior looks like a fortress with high walls. Inside, the walls are covered in Buddhist, floral, and animal imagery. Admission is 10,000 LAK.
Other things to see and do in Vientiane include:
The COPE Visitor Centre
Victory Gate (Patuxai)
Chao Anouvong Park
Lao Boat Racing Festival
For more things to do, check out my guide to Vientiane.
Where to Stay in Vientiane: Dream Home – This is a fantastic hostel that offers everything you need while staying in the capital. There's free breakfast, comfy beds, AC, a nightly happy hour at the hostel bar, and a 24-hour reception with friendly staff members.
Days 20-22: Pakse
Pakse is the gateway to Laos' 4,000 Islands (in the Mekong River), so there isn't a ton to do here other than chill out and relax. It's a nice place to stop while heading south to Cambodia. Alternatively, you can take a 1.5-hour flight from Vientiane to Phnom Penh to save some time and give you extra days elsewhere.
Where to Stay in Pakse: Sanga Hostel – This cozy hostel has super comfortable beds, a restaurant with fantastic home-cooked food (free banana cakes!), and a lovely owner.
Days 23-26: Phnom Penh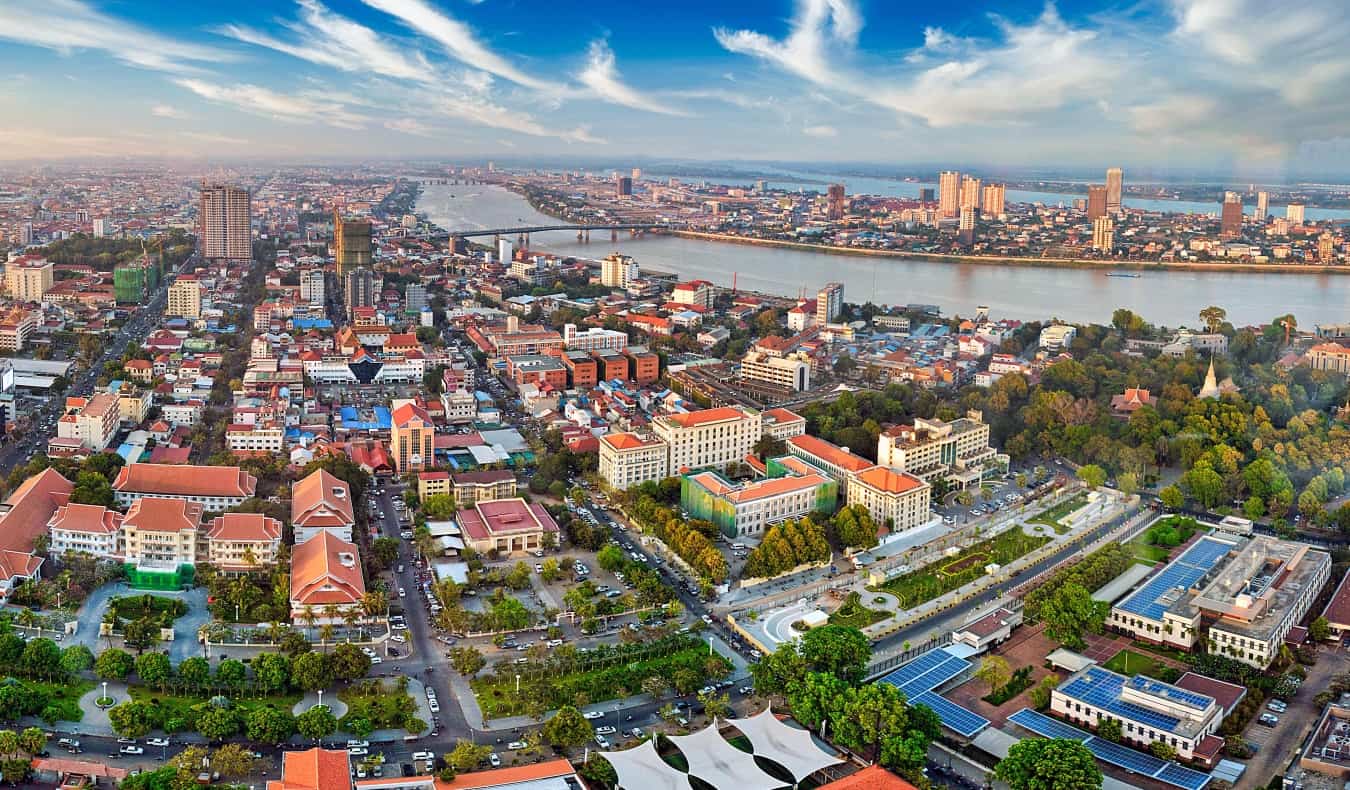 Phnom Penh has a tumultuous past. The city ballooned during the Vietnam War, filling with refugees fleeing the conflict. It was cut off by the Khmer Rouge for over a year before they took over in 1975, killing and torturing thousands of civilians in the process (upwards of three million people were killed by the regime during its reign of terror). In 1979, the Khmer Rouge was finally driven out of the city, and it's been healing and growing ever since.
The Royal Palace is home to beautiful flower gardens and the Silver Pagoda, whose floor is made up of more than 5,000 silver tiles; inside is an emerald-covered Buddha and a diamond-covered Maitreya Buddha. The palace also has murals around its outer wall that tell the story of the Ramayana.
On the palace grounds are five stupas, with the two largest to the east containing the ashes of Kings Norodom and King Udung (the two most famous kings of modern Cambodia) and a statue of King Norodom on horseback.
The most important thing to see here, however, is the Tuol Sleng Genocide Museum and the Killing Fields. Tuol Sleng is a former school where the Khmer Rouge interrogated and tortured people in the 1970s. You'll see rusty beds and torture devices, in sharp contrast to the beautiful trees and lovely jasmine smell in the gardens.
After, head to the Killing Fields. It may not be the most cheerful way to spend an afternoon, but it makes for a hallowed and memorable experience, a testament to the dangers of uncontested power. Take a guided tour to get an in-depth look at this haunting place.
For more things to do, check out my guide to Phnom Penh.
Where to Stay in Phnom Penh: Mad Monkey – This is a lovely social hostel with a bar, restaurant, beer garden, and swimming pool. They organize all kinds of events and tours, so it's easy to make friends here.
Days 27-29: Siem Reap
Follow the Siem Reap and Angkor Wat itineraries from above.
If you have time, visit Tonle Sap, Southeast Asia's largest freshwater lake and UNESCO nature reserve. It is 52 kilometers (32 miles) from Siem Reap. Sailing down the river and around the lake gives you a look at how closely Cambodian life is tied to this major waterway.
Day 30: Bangkok
Head back to Bangkok for your flight home!
Southeast Asia Three-Month Itinerary
If you have three months to spend, you don't want to have everything plotted and planned out to the day, like you might want to with the shorter itineraries above. Having flexibility to change plans is a must (and will make your travels much more enjoyable). On a trip of this length, you don't want to burn yourself out too fast!.
With three months, you have enough time to be flexible and still see a lot so I'd recommend rough planning in weeklong chunks.
MONTH ONE: Thailand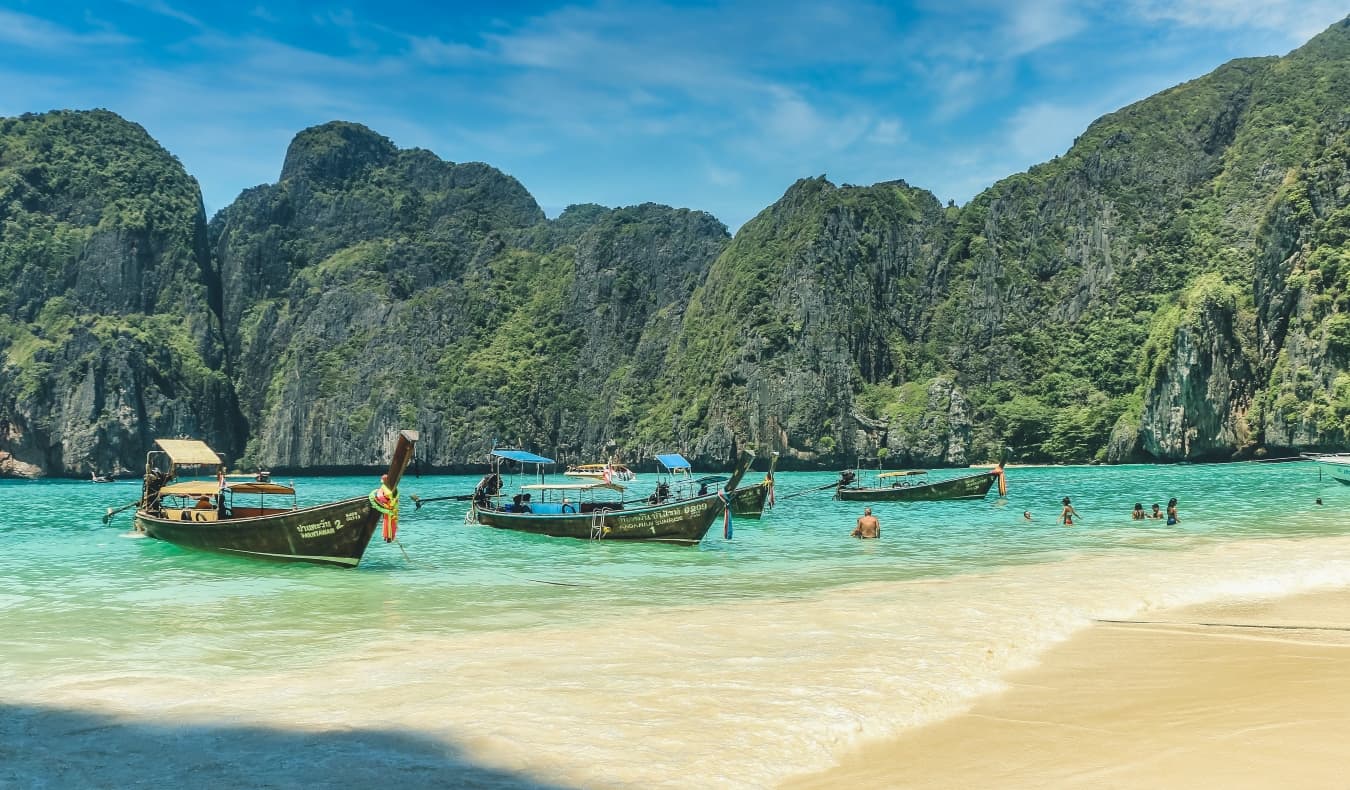 Week 1: Bangkok and Backpacking Kanchanaburi Province
Follow the three-day Bangkok itinerary above, and extend your stay by a few days to take things slower and see even more of this vibrant city. You can also do more day trips or even multiday trips to the surrounding region.
When you've had your fill of bustling Bangkok, take your time heading north. Kanchanaburi Province is a great place to spend some time, as it's home to a lush, undisturbed forest, wetlands, and mountains that are perfect for trekking, either on multiday tours or day trips from Bangkok. The area is very biodiverse, with two wildlife sanctuaries: Thung Yai Naresuan, and Huai Kha Khaeng.
However, its history is rather dark. The infamous Death Railway linking Myanmar and Thailand runs through here, which was built during World War II by prisoners of war and civilians. Around 90,000 civilian forced laborers and more than 12,000 Allied prisoners perished in the railway's construction. The bridge over the River Kwai is also located here, built using POW labor and the subject of both a famous film and a book. While these sights are haunting reminders, they are an essential part of Thailand's history.
Week 2: Ancient Thai Capitals and National Parks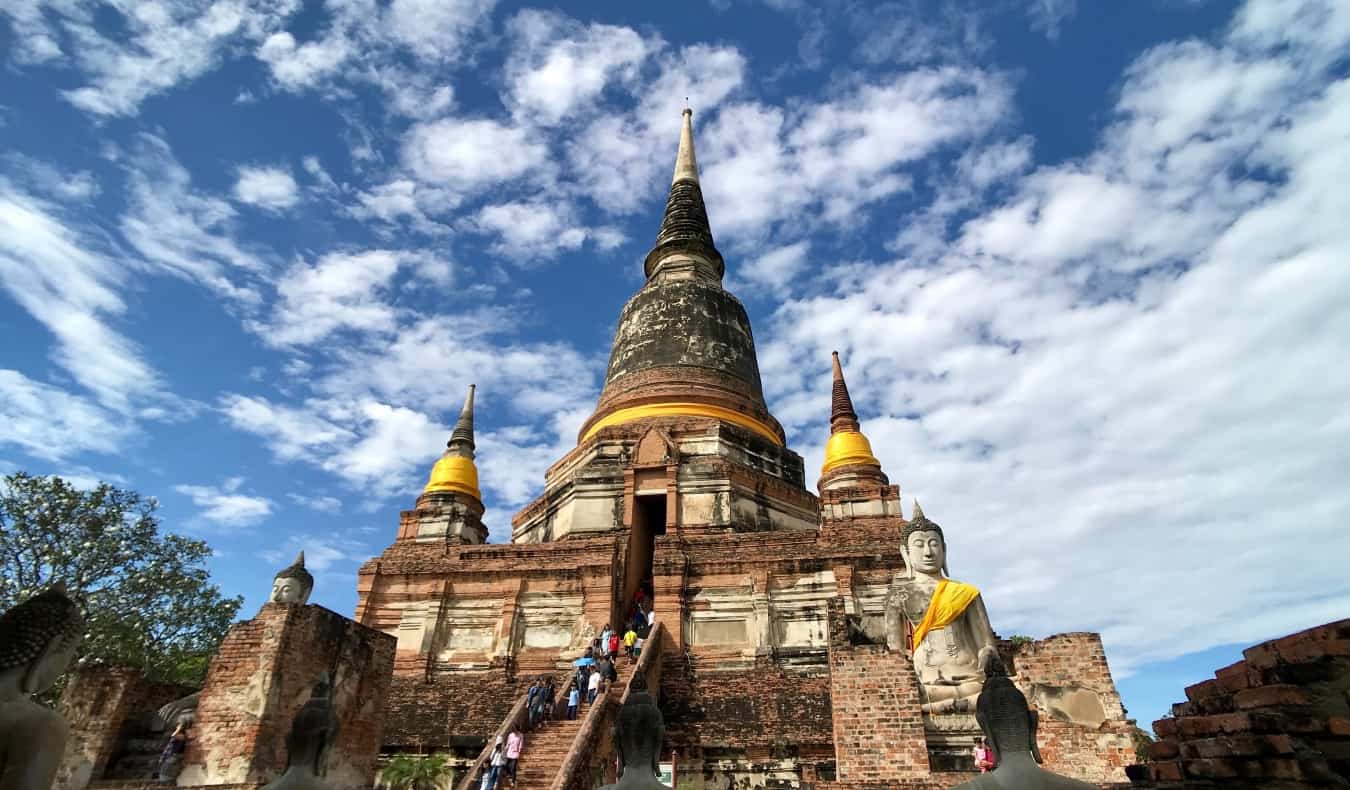 Thailand's three ancient capitals, Sukhothai, Lopburi, and Ayutthaya, all lie between Bangkok and Chiang Mai. Visiting them on your way north is a unique way to learn about ancient Thailand and see rural life at its best.
Here are some options to consider for your meandering journey north:
Ayutthaya – Ayutthaya was the capital of Siam from 1350 to 1767, when it was razed by the Burmese during a war. The city's ruins, with its palaces, temples, monasteries, and statues, form an archaeological park that is now a UNESCO World Heritage site. It's about 1.5 hours from Bangkok by train.
You can also visit on a day trip with Get Your Guide for just 900 THB.
Khao Yai National Park – Established in 1962, Khao Yai was Thailand's first (and one of its best) national park and is now a UNESCO World Heritage Site. It's visually stunning and empty of tourists but filled with lush flora and fauna, bat caves, and even a few wild elephants. It's about 2.5 hours north of Bangkok.
Where to Stay: Greenleaf Guesthouse – This hostel has the best tour/accommodation deals in the area. Let them know when you're arriving by train or bus, and they'll pick you up at the station.
Sukhothai – Sukhothai was the Kingdom of Siam's first capital city, in the 13th century. There are hundreds of ruined buildings here, including the royal palace and countless temples.
There are actually three ruined cities that make up the UNESCO World Heritage site, and since they're a bit spread out, seeing them by bike is a fun way to cover a lot of distance. You can take a full-day or two-hour bike tour with Sukhothai Bicycle Tour.
Where to Stay: Old City Boutique House – This hostel is in a great location, right near the entrance to the historical park. The guesthouse has AC, free breakfast, bike rentals, and friendly owners to help you with whatever you need!
Week 3: Chiang Mai and Jungle Trekking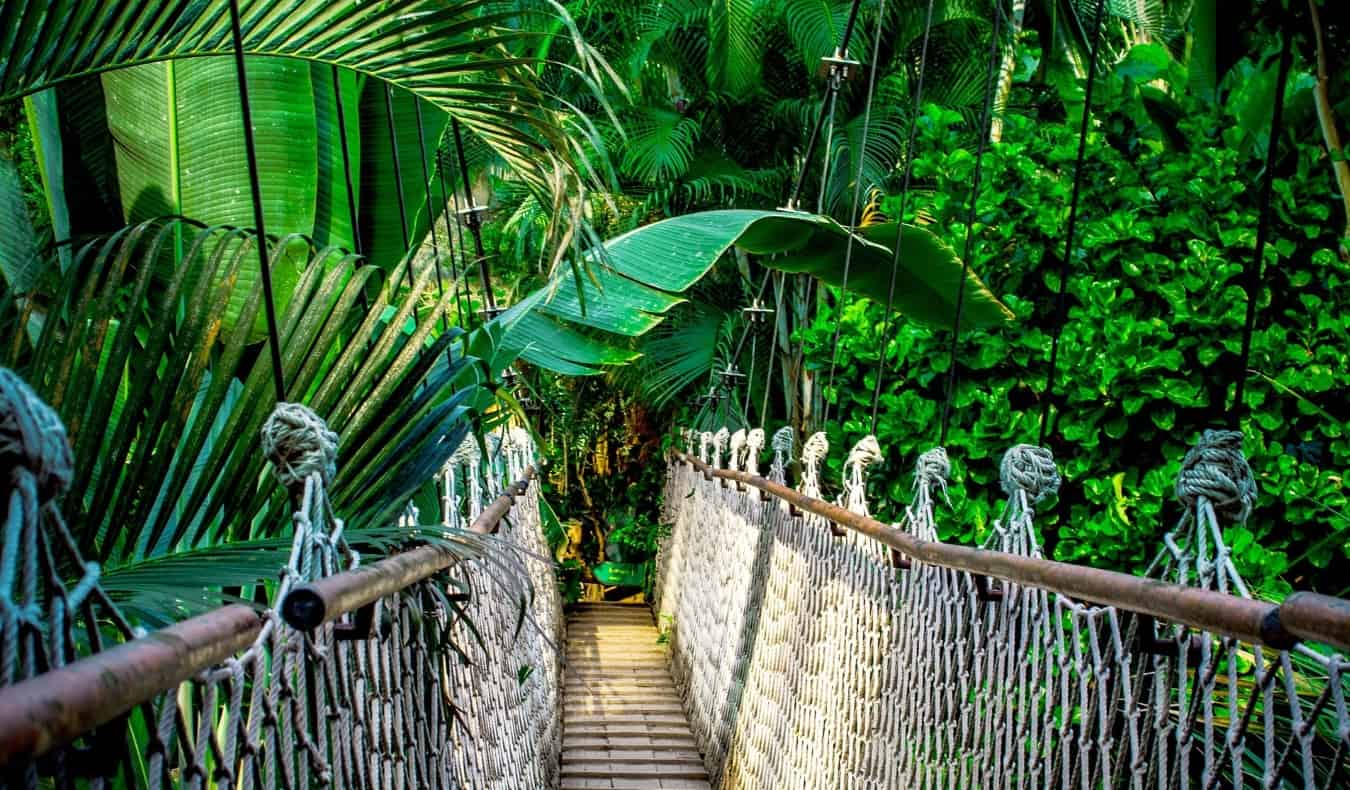 Follow the itinerary and recommendations for Chiang Mai above. You can also choose to extend your stay by a few days to see more of the city at a relaxed pace, or base yourself here for a week while taking day trips to the surrounding region.
Chiang Mai is the main starting point for all sorts of jungle trekking tours. I like the three-day ones the best, but the longer the tour, the more interesting and secluded places you'll visit. Be careful with whom you sign up, as many guides simply walk with you and don't tell you much about the land or wildlife.
Moreover, if you visit a tribal village, make sure that the money stays with the villagers, and that they aren't being exploited, which unfortunately happens a lot. Check out Stray Away Travel for some ethical tour options.
If you prefer to do a few different day trips rather than multiday tours, TripGuru Thailand offers full-day tours to Doi Inthanon National Park and the Chiang Dao cave system, among others.
Week 4: Northern Thailand
If you want to continue soaking up northern Thailand, a great way to do so is on a motorbike trip. Many people rent bikes and tour the countryside and take in the scenery. This area is particularly popular for a 1–3-day trip. Mai Hong Son Province offers a great loop, starting in Chiang Mai and ending in Pai.
Note: Make sure that if you're renting a motorbike, you're comfortable with driving it. And never everdrink and drive. Accidents are incredibly common.
Pai – Pai has grown as a tourist destination in more recent years, but it is still a great place to escape some of the craziness of the larger cities. It's nestled in rolling green mountains and near incredible hiking trails. Stay on the outskirts of this backpacker town in a lovely little bungalow, rent a bike, traverse the hills, and bathe in the cool waterfalls.
Be sure to take a day trip to the Tham Lot Caves; you can stop off to swim in waterfalls and hot springs on the way.
Where to Stay: The Famous Pai Circus Hostel – This is the best hostel in Pai, with a host of amenities, from air-conditioned dorms, comfortable mattresses, and bamboo bunk beds to an infinity pool, nightly bonfires, a fantastic buffet breakfast, free dinners, and overall, a great atmosphere.
Chiang Rai – Many people visit Chiang Rai on a day trip from Chiang Mai, expressly for the purpose of seeing the White Temple. This intricately designed complex with its reflective pools and shimmering white exterior is designed in the style of a Buddhist temple. However, it's actually a work of art by Thai artist Chalermchai Kositpipat, and is still currently in the process of being completed.
Where to Stay: Baan Mai Kradan Hostel – This sleek, modern, and centrally located hostel has free breakfast, fast Wi-Fi, comfortable pod-style beds, and plenty of indoor and outdoor common areas to relax in.
MONTH TWO: Laos and Vietnam
Start your second month in Laos, wrapped in lush mountainous landscapes. I think it's one of the most beautiful countries in Southeast Asia. Adventure travel is big here: you can go zip-lining, kayaking, hiking, and cave tubing all in one day. It used to be a popular destination for partying, but since the wild tubing days have been curtailed, it's turned into a more relaxed, outdoor-oriented country.
Week 5: Slow Boat to Luang Prabang
Take the two-day slow boat to Luang Prabang. Once there, follow the Luang Prabang itinerary above, but at a slower pace. You can also spend some time in the surrounding, even smaller villages like Nong Kiew, a sleepy village is located a few hours from Luang Prabang. The towering limestone cliffs surrounding it are ideal for experienced climbers, and there are many hiking trails leading to nearby waterfalls and caves. You can take the bus from the city for about 40,000-65,000 LAK.
Where to Stay: Lamorn Guesthouse – This is an incredibly affordable guesthouse located right on the river. The rooms are basic but clean, each with its own private bathroom and air-conditioning.
Week 6: Vang Vieng and Vientiane
Follow the itineraries for Vang Vieng and Vientiane above. Then, you can either choose to continue your trip in Laos by heading south to Pakse and 4,000 Islands (in which case, follow the itineraries outlined above), or head on to Vietnam.
If going to Vietnam, you can take an overnight bus to Hanoi or a quick flight from Vientiane. If flying, keep in mind that there are only direct flights a few times a week (otherwise you must connect through Bangkok), so plan ahead if going with that option.
Week 7: Hanoi and Ha Long Bay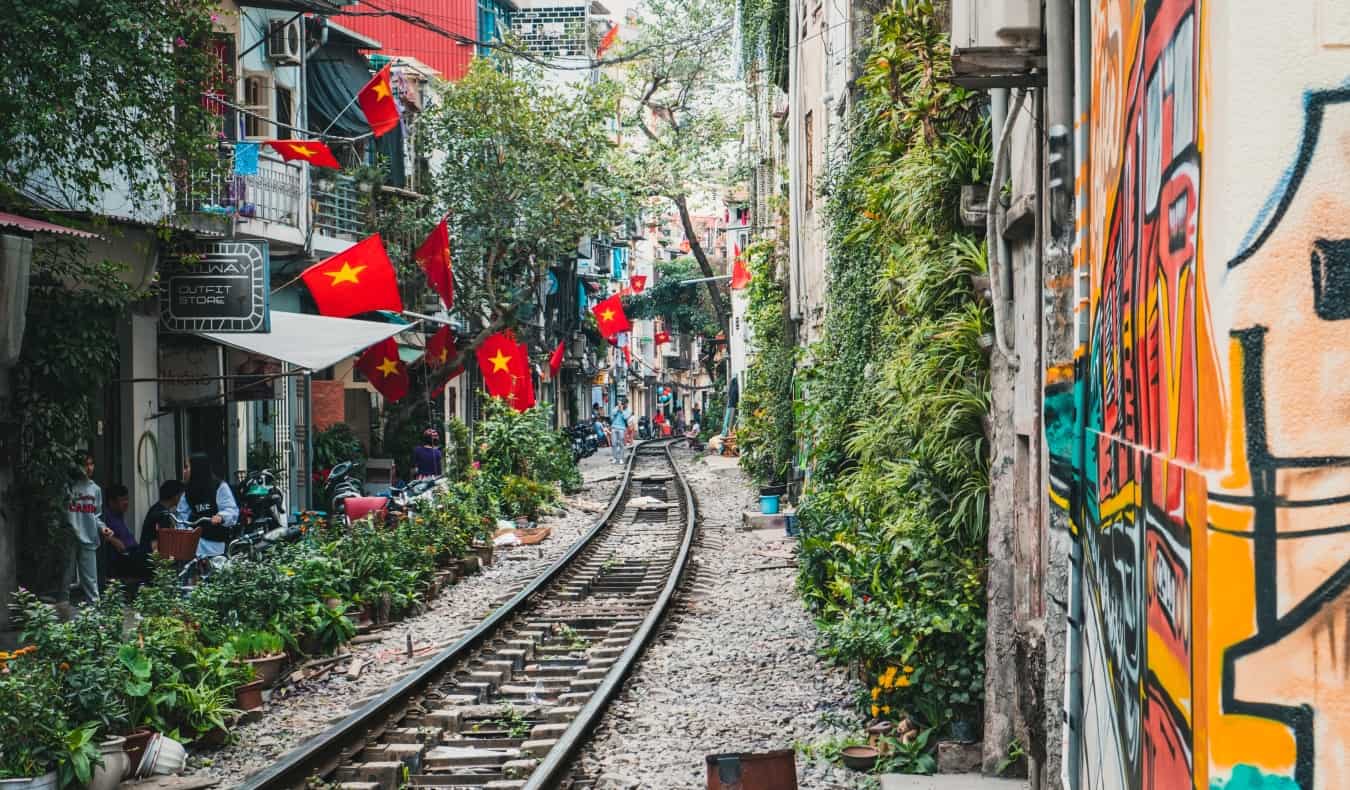 Hanoi, Vietnam's vibrant capital, is generally either the starting or finishing point for travelers, as most people usually go north to south or south to north. It's a bustling city full of backpackers and travelers, with a lot to see and do — none of which will break the bank.
It's also one of the best places to eat endless bowls of pho, bun cha, or cheap bahn mi from food vendors on just about every street corner.
Start your visit by exploring the narrow streets of the Old Quarter. It's 2,000-year-old streets are a web of shopping opportunities and cheap eateries. There's also a lot of fascinating Old World architecture that highlights the influence the French had on the area.
Hanoi is also a good base for doing multiday tours to postcard-perfect UNESCO World Heritage Site Ha Long Bay. One of the country's most popular tourist destinations, the area comprises more than 3,000 islands, all with different activities on offer. Tours here usually last 3-5 days and can include sleeping on a boat or staying on some of the islands around the bay, as well as cave tours and kayaking.
If you don't want to do a longer cruise, you can choose a two-day (overnight) cruise or a full-day trip from Hanoi; however, given that you're on a three-month adventure, I'd recommend going with the few-day options.
Other things to see and do in Hanoi include:
The Temple of Literature
Ho Chi Minh Mausoleum
Dong Xuan Market
Quan Su Pagoda
For more things to do, check out my guide to Hanoi.
Where to Stay: Little Hanoi Hostel – Located in the heart of the Old Quarter, this hostel has air conditioning, free breakfast, free welcome drinks, and — most importantly — clean, comfy rooms. The staff will help you book tours of the city and surrounding region.
Week 8: Hoi An and Ho Chi Minh City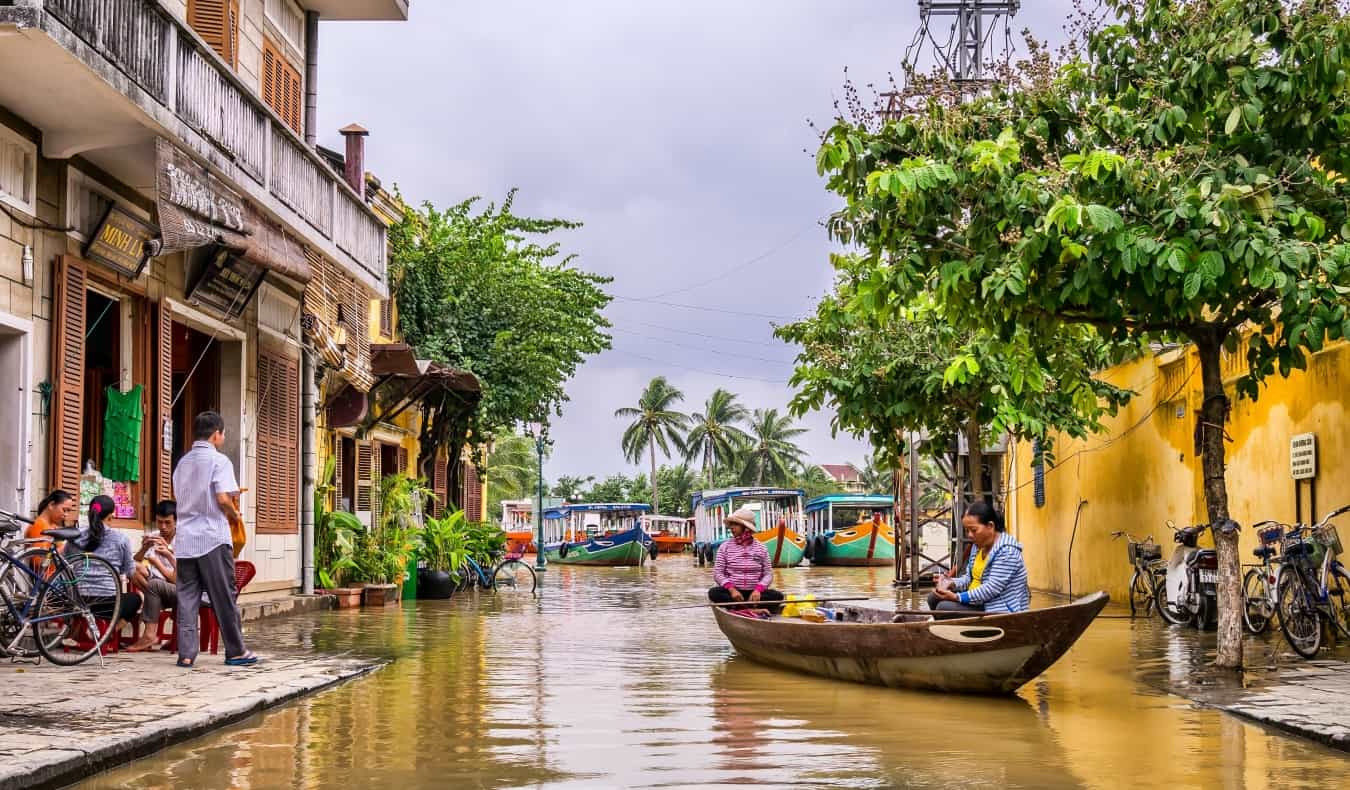 Vietnam Backpackers Hoi An Hostel – Located conveniently between the Old Town and the beach, this hostel has a great outdoor pool and terrace, tons of social events, small dorms (max. 6 beds), and rain-head showers with excellent pressure. If you stay in a private room, you'll even get a free bicycle to use (rentals are also available if you're staying in a dorm).
Ho Chi Minh City – My favorite Vietnamese city after Hoi An, Ho Chi Minh City (formerly known as Saigon) is the largest and most chaotic in the country. Motorbikes, bicycles, cars, and rickshaws go wherever they please, and lots of street stands and markets spill into the traffic lanes.
It's a metropolis with a billion things happening at once, and a lot to offer travelers. Stay a few days here to take in the wonderful shops, fantastic nightlife, delicious food, plentiful historic sites, and interesting (though propaganda-heavy) museums.
Where to Stay: The Hideout – This is a conveniently located, social hostel with super clean rooms, free beer at the bar every day, and showers that you can use even after you check out. They organize many tours of the city and area as well.
MONTH THREE: Cambodia
Week 9: Phnom Penh and surroundings
Follow the above suggestions for Phnom Penh, but also head out to Kirirom National Park for a day (or multiday) trip. This park has all sorts of walking and mountain biking trails, many waterfalls, and a few lakes. It was the first official park in the country and is a good place to take a break. The park is around a two-hour drive from the city, so you'll need to hire a driver for the day. The best way to do this is to find some travelers to join you so you can share a ride.
Week 10: Cambodia's Beaches and Islands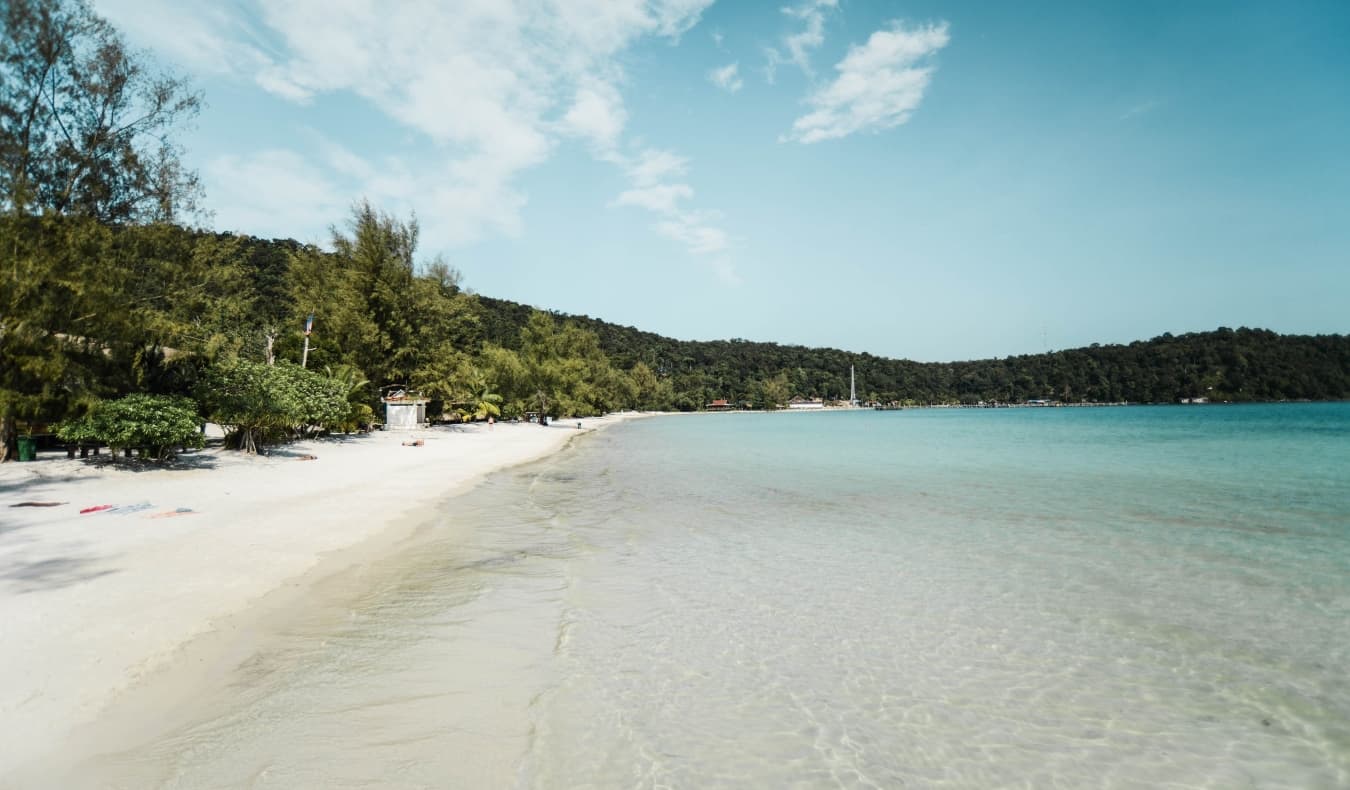 Get an early start and take a five-hour bus ride to Sihanoukville, named after the ruling prince of Cambodia in 1964. It was a lazy beach town until about 2010, when it took off with travelers (and tons of Chinese and Russian tourists on package tours) because of its white-sand beaches, nearby deserted islands, excellent diving, and delicious seafood. Its varied nightlife filled with cheap booze makes it the premier backpacker party town in Cambodia.
If you're looking to soak up some sun, Independence Beach and Otres Beach are probably your best bets. But mainly, Sihanoukville is a jumping-off point for other islands and beach towns in the area, such as:
Koh Rong – This island is a 45-minute ride from Sihanoukville. If you're pressed for time, you can do it in a day trip, but stay overnight if you can. The beaches here are way better than on the mainland (and a lot less polluted), and there's great snorkeling and diving.
Bokor National Park – Hike through a stunning rainforest or see the atmospheric ruins of the French aristocracy for whom Bokor was a big drawback in the day. You'll have some amazing views, and there are ruins, waterfalls, and temples all around.
Kep – This quaint beach and fishing village is a quiet version of Sihanoukville but without a party atmosphere, therefore a nice place to relax near the ocean. It's famous for its pepper crab and empty beaches. Sure, it's quite sleepy and there's not a lot to do, but it's the perfect place to relax, read a book, and eat all the delicious crab. You can also spend some time on nearby Rabbit Island (Koh Tonsay), a secluded and charming escape from the world if you're looking to disconnect.
Kampot – This is another quiet town on the coast. Most people come here to enjoy the scenic riverside views as well as the rolling hills and pepper farms that surround the city. The area used to be a getaway for the French, so you'll see old colonial architecture around. At night, the street near the old bridge is lined with fruit shake vendors. Try a million — the city is famous for them. Also, if you only do one thing in this entire itinerary, make sure it's eating the ribs at the Rusty Keyhole — they are some of the best ribs I've ever had.
Week 11: Siem Reap and Angkor Wat
Follow the above suggestions for Siem Reap and Angkor Wat but at a slower pace. There's a lot to see and do in the area. You can easily spend several days just exploring Angkor Wat. You can also do more day trips into the surrounding region.
A great way to spend a day is to head to Koh Ker, located in the jungle around 2.5 hours from town. Koh Ker was briefly the capital of the Khmer Empire, and many of the temples here are over a thousand years old. It's a massive archeological site that sees far fewer tourists than Angkor Wat.
For another fun day trip, head to Phnom Kulen, considered the country's most sacred mountain. It's located just 50 kilometers (31 miles) from Siem Reap and offers some amazing jungles, hiking, and picturesque waterfalls where you can take dip to beat the heat. You can easily spend a day here. If you head up to the summit, there are some great views, as well as a large reclining Buddha statue. Try to arrive early, as the park fills up by lunchtime.
Week 12: Thai Islands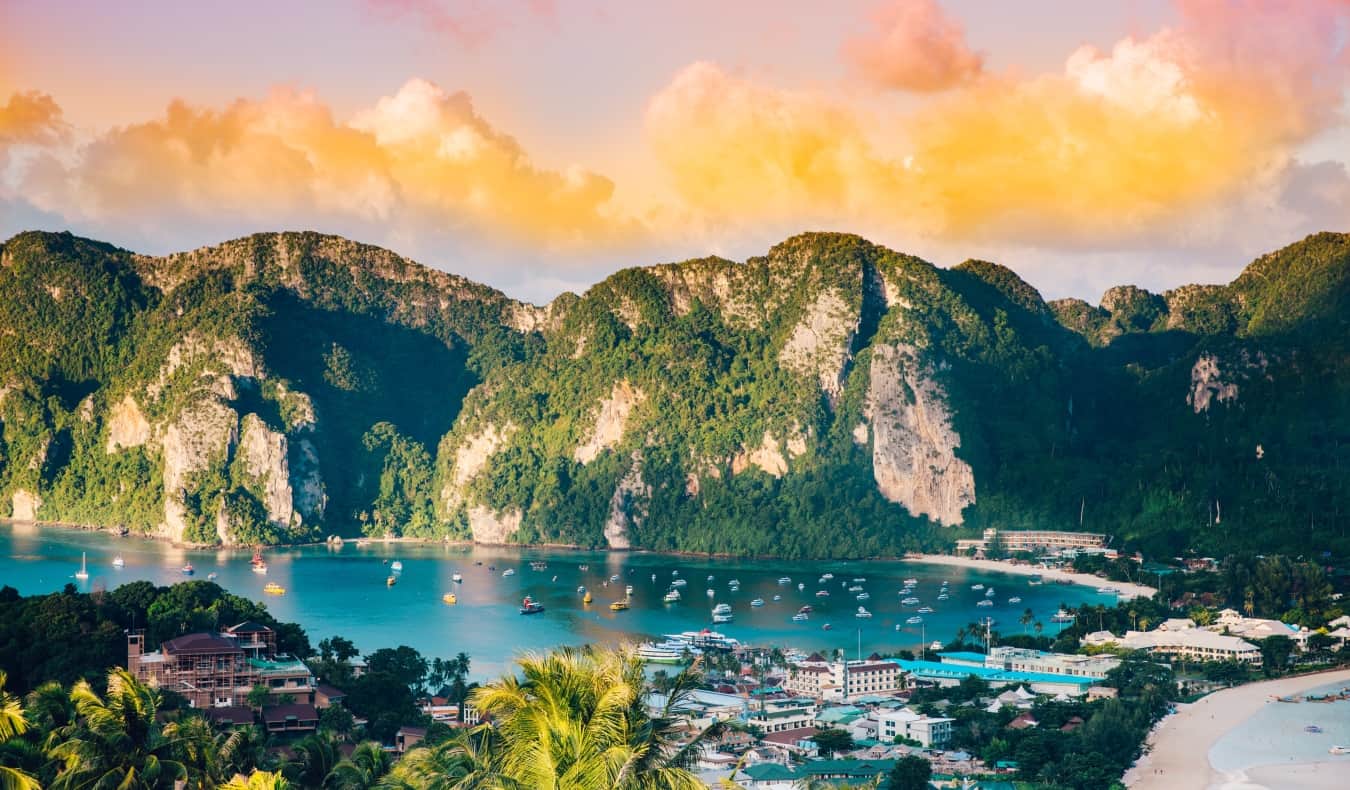 As you're coming to the end of your three-month trip, you might be quite tired and ready to spend your last week relaxing on one of the many incredible beaches that this area of the world is famous for! Head back into Thailand to transit through Bangkok on your way to the country's beaches and islands.
There's seemingly an island for every type of traveler here. Some are overdeveloped, while others only have a single bungalow. Some of my favorites are Ko Samet, Ko Taruato, Ko Lanta, Ko Chang, Ko Tao, Ko Jum, Ko Lipe, Ko Samui, and the Similan Islands. You could easily spend weeks (or months) bopping around to different islands, but if you're on your last week, just choose one or two, depending on what you're looking for.
Some recommendations to get you started:
Ko Lipe – This lesser-known island is one of my favorite places in the world. There are amazing seafood meals, beautiful beaches, and warm waters in which to swim. I came for three days and ended up staying for a month. In the last few years, it has become more developed, and it's not the sleepy little island it used to be, but it's still way less touristed than many other destinations in Thailand.
Phuket – Phuket is the biggest destination for tourism in Thailand. There are great beaches and amazing activities on this island. While most visitors stick to the overdeveloped south, if you stay away from Patong Beach, you can avoid most of the crowds. In fact, the northern part of the island is one of my favorite places to visit in all of Thailand.
Ko Phangan – This island is home to the infamous Full Moon Party, one of the most famous parties in the world, with a lot of drinking, dancing, and drugs. Each bar has its own sound system, so you'll hear different music loudly blasting onto the beach every few feet. The beach itself is lined with people selling alcohol, fire dancers putting on shows, and little booths selling glow-in-the-dark face paint.
Ko Tao – If you're looking to dive in Thailand, go to Ko Tao, which caters specifically to divers. If you dive here, be sure to see Elephant Head Rock, as the reef is home to plenty of fish, snappers, rays, and turtles. Day trips start at 5,900 THB for two dives, including equipment and park fees.
After your time in the islands, head back to Bangkok for your return flight home.
If you've got even longer, this region has so much to offer — from Malaysia to Singapore to Indonesia and more!
***
Southeast Asia is one of the best regions to backpack in. It's fun, affordable, safe, and has something for everyone. But it can be tricky to plan a trip here, as there is a ton to see and do. So, as you try to craft the perfect Southeast Asia itinerary, just keep in mind that plans change. You meet people or learn about something new, and all of a sudden your meticulous preparation goes out the window.
These days, I leave much more room in case plans change — because they always do. Give yourself that wiggle room. That way, no matter what comes your way, you'll be able to adapt.
Be flexible. Go slow.
That's how you plan an amazing itinerary. Not only to Southeast Asia but anywhere in the world!
Book Your Trip to Southeast Asia: Logistical Tips and Tricks
Book Your Flight
Use Skyscanner to find a cheap flight. It is my favorite search engine because it searches websites and airlines around the globe, so you always know no stone is being left unturned!
Book Your Accommodation
You can book your hostel with Hostelworld as it has the biggest inventory and best deals. If you want to stay somewhere other than a hostel, use Booking.com as it consistently returns the cheapest rates for guesthouses and hotels.
Don't Forget Travel Insurance
Travel insurance will protect you against illness, injury, theft, and cancelations. It's comprehensive protection in case anything goes wrong. I never go on a trip without it, as I've had to use it many times in the past. My favorite companies that offer the best service and value are:
Looking for the Best Companies to Save Money With?
Check out my resource page for the best companies to use when you travel. I list all the ones I use to save money when I'm on the road. They will save you money too.
Want More Information on Southeast Asia?
Be sure to visit our robust destination guide on Southeast Asia for even more planning tips!