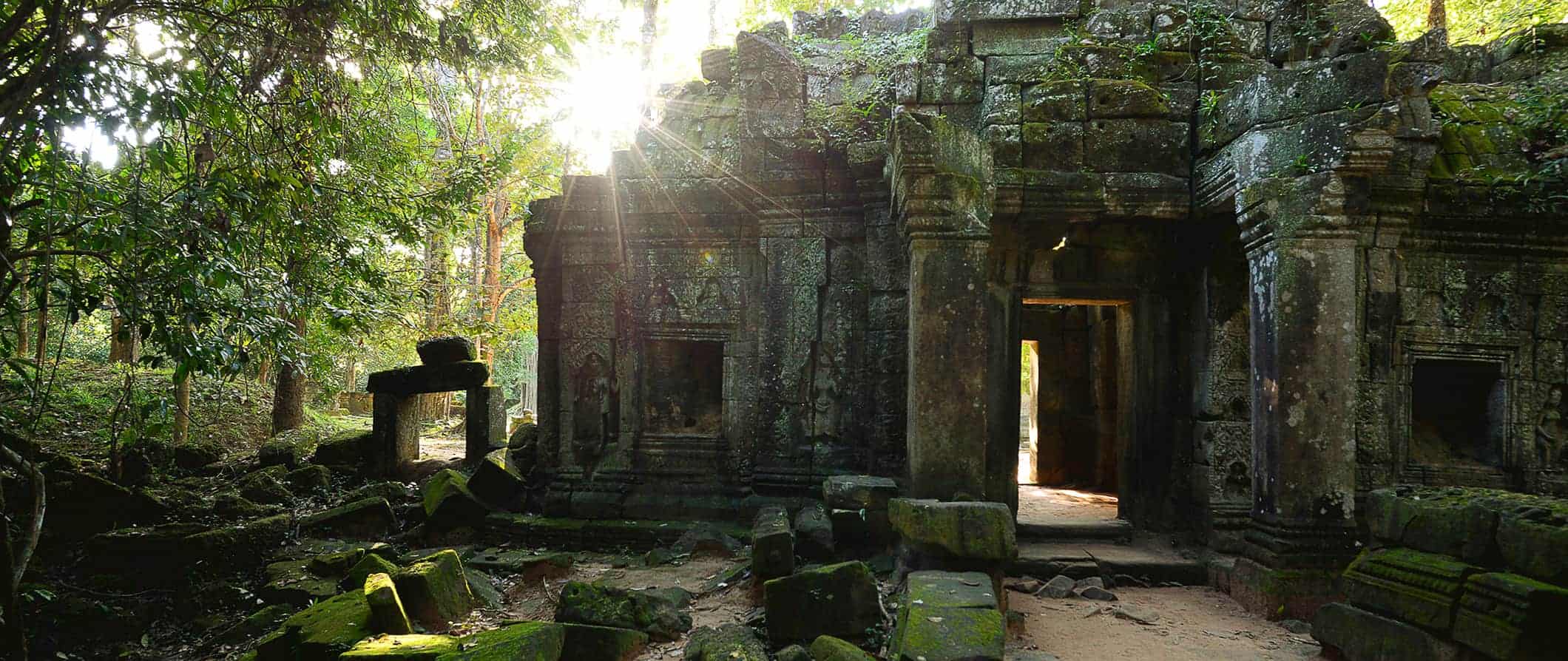 Siem Reap is the main jumping-off point to visit Angkor Wat, the massive ancient temple complex that is Cambodia's most popular attraction.
The center of the city still feels like a rural old town, with French-style houses and lots of small shops. The area around the old market is crowded with locals and foreigners alike and the main party street is lively all night long.
Other than going to see Angkor Wat, there isn't much "to do" in the town itself.
While the city has become more popular with expats in recent years (and there's a much better food scene now too), I personally wouldn't recommend spending much time here. You can see the main sights in just a day or two.
This Siem Reap travel guide can help you plan your trip, save money, and make the most of your visit.
Top 5 Things to See and Do in Siem Reap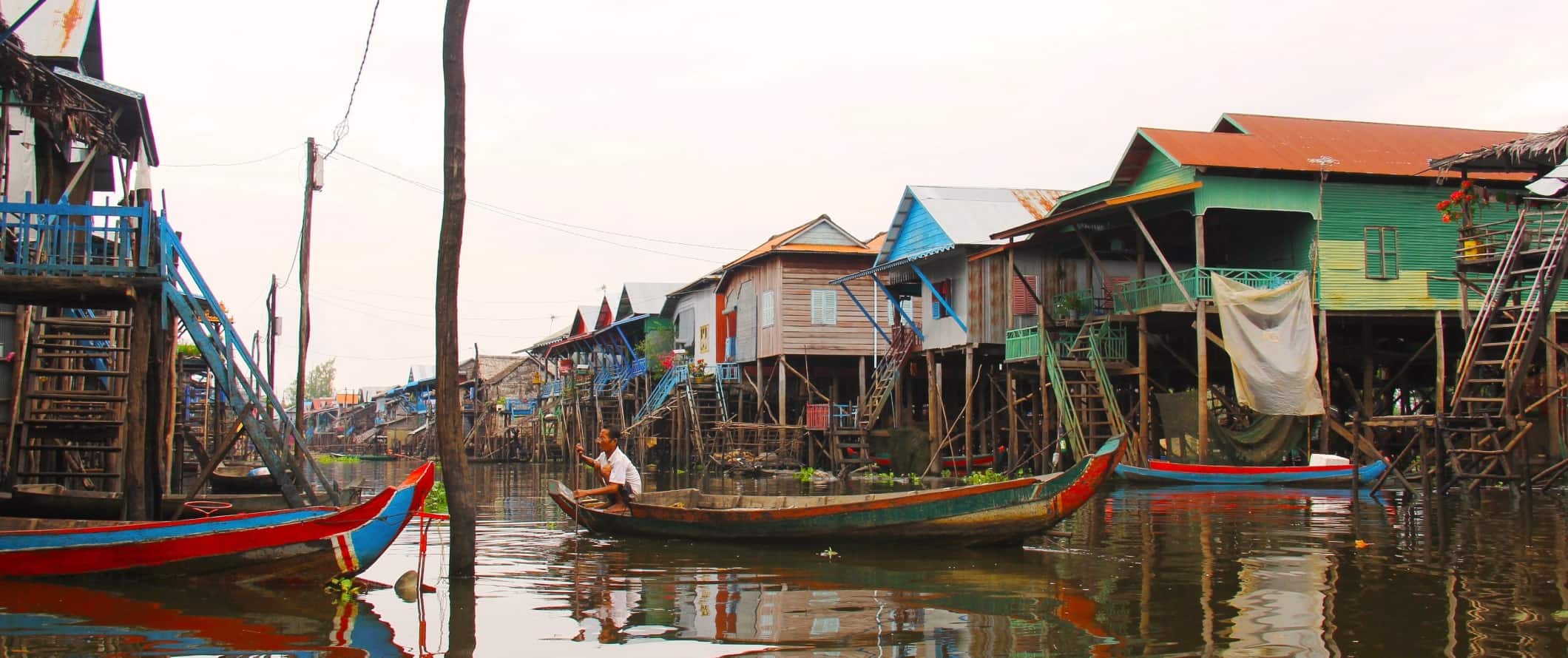 1. Explore Angkor Wat
The main reason to come to Siem Reap is to visit the magnificent temples of Angkor Wat. To get away from the crowds in the major temples, visit some of the less-visited sites and at off-peak times (sunset is the busiest time). For more information, see this detailed guide to Angkor Wat.
2. See Banteay Srei
Known as the City of Women, this site was built in dedication to the Hindu God, Shiva. With many outstanding, red sandstone carved statues, Banteay Srei is an astonishing site to visit. You need an Angkor Wat Pass to visit this temple.
3. Celebrate at the Water Festival
If you're here around the end of October, make a point of staying for the Water Festival. The festival involves a huge boat race and more than a million people flock to watch these boats and the nightly fireworks. The festival begins on the last day of the full moon in October.
4. See Apsara Dancing
Though this can seem like a tourist trap given the number of people offering this to you, the dance is very much a part of modern Khmer culture. There are several places where you can see this style of dancing, but Apsara Theatre is one of the best. It's about $25 USD for a show with dinner included.
5. Go boating on Tonle Sap Lake
This lake's ecosystem was integral in keeping the ancient civilizations afloat and it still contributes to Cambodia's agriculture. There are floating villages on the lake and today the entire area is a UNESCO nature reserve for its incredible biodiversity. You can rent a boat. It's about $20 USD for a few hours.
Other Things to See and Do in Siem Reap
1. Visit the Landmine Museum
Landmines have devastated the country, maiming and killing thousands. They still cause destruction today as remaining mines from the Vietnam War (which spilled over into Cambodia) are discovered every year. The Landmine Museum has an in-depth exhibit that is very worthwhile to check out so you can broaden your perspective on their use, their dangers, and what's being done to remove them. Admission for foreign visitors is $5 USD per person, which includes a guided tour in English. I can't recommend this museum enough!
2. Shop at the markets
There are several markets to explore in Siem Reap. Phsar Leu is the biggest market and where you can find absolutely anything. Phsar Chas, known as the Old Market, is another main market, with stalls selling everything from prepared food and produce to clothing and souvenirs like wood carvings. One of the more unique markets is the Made in Cambodia Market, which is filled with local artisans making and selling their wares. Then there are also the classic Night Markets that continue well past sundown, offering souvenirs, food, drinks, and everything in between.
3. Ride at Happy Ranch Horse Farm
This ranch offers countryside trail rides by horseback, with rides that last anywhere from 1-4 hours. Wander in and out of the various villages, rice fields, and Buddhist pagodas during sunrise or sunset. It is an awesome adventure. Prices begin at $38 USD for an hour ride.
4. Take a Cambodian cooking class
There's never a bad time to learn to cook and learning how to make delicious Cambodian food is one of the best souvenirs to bring home with you. Dive into Cambodian cuisine with a 2.5-hour class where you will learn to cook three entire meals — and then eat them at the end! You'll also get recipe cards at the end so that you can recreate the recipes at home. Class sizes tend to be around 6 people, and prices start around $20 USD per person. Local guesthouses can help arrange a class.
5. See Wat Preah Prom Rath
A "newer" temple within the city, Wat Preah Prom Rath is only 500 years old. There are beautiful reliefs depicting everything from man-eating crocodiles to the ever-tranquil Buddha. Located on the riverside, supposedly, the site of this temple was chosen by a man who landed here while his boat was sinking. Entrance is free but be sure to wear respectful clothing as it is a holy site and place of worship (shoulders and knees covered).
6. Day trip to Koh Ker
For a fun day trip from Siem Reap, head to Koh Ker. Located around 2.5 hours from town, Koh Ker was briefly the capital of the Khmer Empire, and many of the temples here are over 1,000 years old. It's a massive archeological site located in the jungle, and it sees far fewer tourists than Siem Reap and Angkor Wat. The main temple has seven tiers and looks like it was just discovered in the jungle (most of the buildings in this complex are actually still in the jungle and inaccessible to tourists). There are no public buses that go there (the roads were only paved a few years ago), so you'll have to arrange transportation via your hostel or hotel.
7. Take a food tour
Traditional Khmer food is delicious and a food tour is the best way to sample this culture's amazing noodle dishes, fresh seafood, sweets, and street food while also learning about the history and culture behind each dish. Siem Reap Food Tours offers several tours, including morning tours into the market and evening tours perusing food stalls. Tours start from $75 USD and include all food, drinks, and transportation.
8. Hike in Phnom Kulen National Park
Located just 1.5 hours from Siem Reap, this national park is the perfect place to spend a day hiking in the rainforest, with majestic waterfalls, epic viewpoints, and hidden temples in the jungle. Don't miss Kbal Spean, the River of Thousand Lingas. It's an archaeological site with intricate rock carvings representing Hindu gods and motifs, located in and around a jungle riverbed. The entire park holds tremendous historical national significance, as it was on this mountain range that King Jayavarman II founded the Khmer Empire in 802 CE. The park entrance fee is $20 USD.
9. Learn at Angkor Center for Conservation of Biodiversity (ACCB)
This wildlife rehabilitation center is located at the base of the trail to Kbal Spean, so you can easily combine visiting the two. The center rescues and rehabilitates endangered Cambodian wildlife, caring for dozens of species of animals with the hope of releasing them back into the wild. You can learn more about and see the animals on guided tours in English Monday-Saturday. A $3 USD minimum donation is requested.
10. Visit the Angkor National Museum
This museum will help put Angkor Wat in its historical and cultural context, with detailed displays, exhibits, and artifacts. There are many themed halls focusing on the rise of Khmer civilization, the empire's religion, how Angkor Wat was built and why, ancient Khmer clothing, and even a gallery with 1,000 Buddha statues. It's a great place to expand your knowledge and understanding of the site. Admission is $12 USD and an additional $3 USD if you want to take photos.

For more information on other cities in Cambodia, check out these guides:
Siem Reap Travel Costs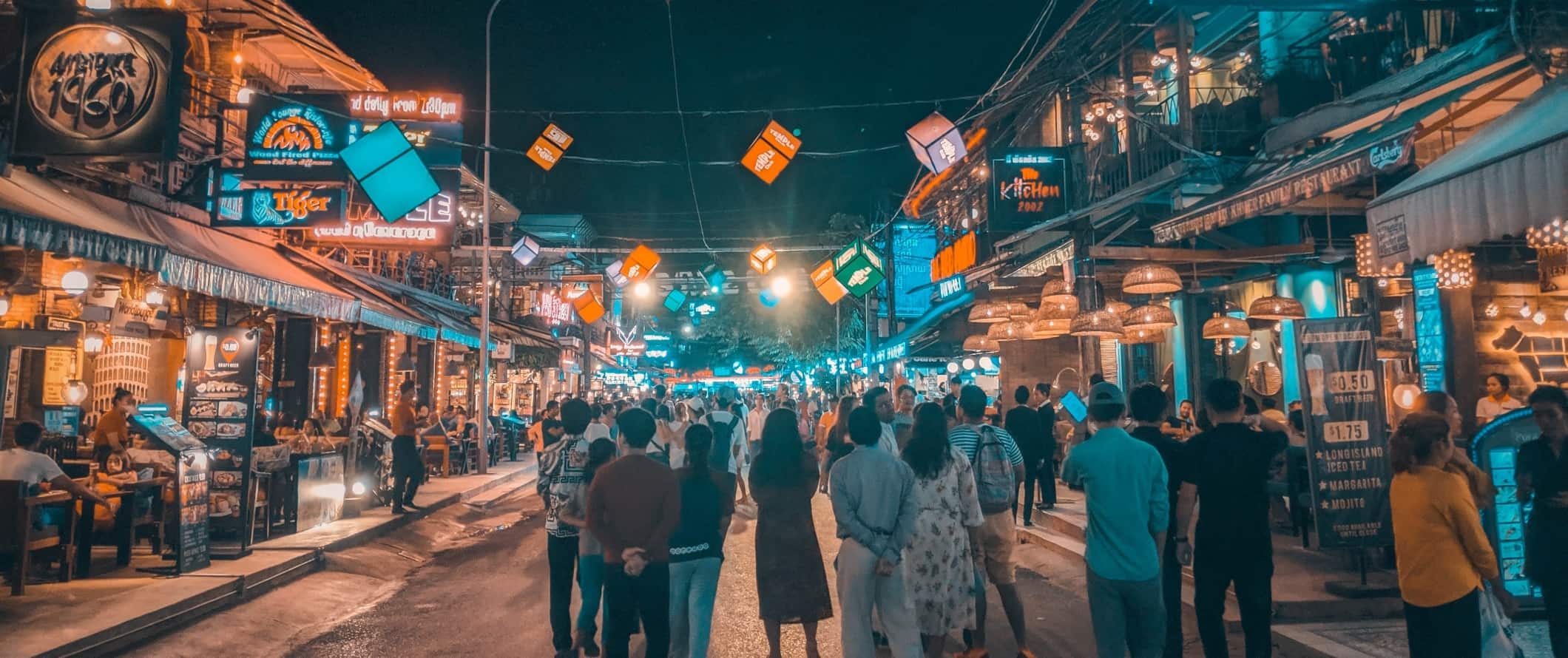 Note: Cambodia uses USD. There's no real need to carry the local currency, Cambodian Riels (KHR), unless you're paying for really small things on the street. In a growing number of places, especially in the countryside, you might start getting riels back when paying in USD but you can essentially get by using mostly USD here.
Hostel prices – A bed in a dorm with 10-12 beds starts around $3 USD per night while a smaller 4-6 bed dorm costs $6-10 USD per night. For a private double room with an ensuite bathroom, expect to pay $15-25 USD per night.
Free Wi-Fi is standard and most hostels have a swimming pool (some have multiple). None of the hostels include free breakfast or self-catering facilities, but many have a café/restaurant on-site with food available.
Budget hotel prices – You can find basic two-star rooms for as low as $10 USD, but it likely won't be overly close to the city center and you'll likely have a fan in your room instead of air-conditioning. Hotels with air-conditioning, hot water, and a TV cost around $13 USD per night for a twin and $16 USD for a double. Hotels with a pool cost closer to $20 per night.
Airbnb is available in the city. Expect to pay at least $25 USD per night for an entire home/apartment.
Average cost of food – Cambodian food is similar to Thai and Vietnamese cuisine. Vietnam and Cambodia especially have many dishes in common due to the countries' shared history of French colonization. For example, the baguette sandwich known as bánh mì in Vietnam is called num pang pâté in Cambodia. Popular Cambodian dishes include num banhchok, a lightly fermented rice noodle dish served for breakfast; amok trei, a fish curry dish; and samlar kako, a hearty soup filled with vegetables, roasted ground rice, and catfish or pork. In general, Cambodian cuisine includes a huge variety of noodle soups, stir-fries, curries, fried rice, and sweets.
Rice and freshwater fish are present in nearly every Cambodian meal. Lemongrass, galangal, turmeric, tamarind, ginger, chili pepper, and kaffir lime are all commonly used spices. Fermented fish paste is another widely used ingredient that adds saltiness and flavor.
Common vegetables include leaf and root vegetables as well as melon, long beans, snow peas, bean sprouts, and eggplant. Dozens of types of fruit are native to Cambodia, with durian being the most infamous. However, there are plenty of less pungent fruits to try, including mangosteen, passionfruit, dragonfruit, and mangoes. Fruit is a popular dessert and snack, either eaten alone or made into a variety of sweets.
You can find rice and noodle dishes for $1.50 USD, and lunch meals at casual restaurants for around $2-3 USD. Even mid-range restaurants for dinner only cost $5-6 USD for traditional Cambodian dishes like fish with rice.
Outdoor markets and street restaurants have dishes for as little as $2 USD. Snacks are even less, around $.50-1 USD. I'd stick to the street food as it's cheaper and tastes better than the restaurants. There are plenty of good options in the Old Market.
Food around Angkor Wat is more expensive, with a simple meal of traditional amok (like green curry in a coconut) costing around $6-7 USD.
Western food is more expensive. A pizza costs $4 USD, a burger costs $7 USD, and a pasta dish costs $6-8 USD. I'd skip it since it's usually not that great.
For drinks, a beer costs less than $1 USD, a glass of wine is $3 USD, and a cocktail is $3-5 USD. A cappuccino is $1.75 USD.
If you plan on buying groceries and cooking your own food, expect to spend around $15-20 USD per week for basic groceries like vegetables, rice, and some meat. The food is so delicious and cheap, however, that you might as well eat out as often as you can!
Backpacking Siem Reap Suggested Budgets
If you're backpacking Siem Reap, expect to spend about $58 USD per day. The vast majority of this budget is the day ticket to Angkor Wat — which is likely the reason you're in the city. Besides the ticket, this budget gets you a bed in a hostel dorm, food from the street stalls, a few beers, and a shared tuk-tuk (with two other people) around Angkor Wat.
On a mid-range budget of $92 USD, you can stay in a private hostel room or a basic room at a two-star hotel. You can eat at more mid-range local restaurants, enjoy more drinks, and pay for your own driver to and from Angkor Wat. (This budget also covers the daily entry fee for Angkor Wat.)
On a "luxury" budget of $165 USD or more a day, you'll live the high life! You can stay at a nice hotel with all the amenities (including a pool and A/C), eat out for every meal, drink all you want, get a massage, hire a private taxi to take you around Angkor Wat, and take even more tours (like a guided tour around Angkor Wat or a food tour). This is just the ground floor for luxury though. The sky is the limit!
Accommodation
Food
Transportation
Attractions
Average Daily Cost
Backpacker
$6
$10
$5
$37
$58
Mid-Range
$15
$15
$25
$37
$92
Luxury
$25
$25
$50
$65
$165
Siem Reap Travel Guide: Money-Saving Tips
There really aren't any big money-saving tips here. Food, accommodation, and transportation are all dirt cheap but, if you really want to pinch some pennies, here are a few tips on how to save extra money in Siem Reap:
Negotiate with tuk-tuk drivers – Make sure you negotiate the price ahead of time. Moreover, don't take the first number they give you — it's inflated. If you're not sure what price you should be aiming for, ask your hostel/hotel staff in advance. They can usually help you book a trusted driver, as well. The same applies to motorcycle taxis.
Minimize your drinks – Every drink is a dollar and before you know it, you've spent more money on beer than on food and accommodation.
Work for your room – It's pretty common to get a job in a hostel in order to stay longer in Siem Reap. If you stay at a hostel and like the vibe, ask if they'll let you work there. You usually just need to work a few hours per day in exchange for your room.
Book tours as a group – You have more negotiation power when you're with a group of people buying multiple tickets. Traveling alone? Meet a friend at a hostel and see if they want to join the same tour as you.
Enjoy cheap(er) beers at happy hour – If you want a night out, catch happy hour for seriously discounted drinks. Many bars on Pub Street (the famous party street in town) offer happy hours.
Use a water bottle with a purifier – It isn't safe to drink the tap water in Siem Reap, and although buying bottled water is cheap, it does add up – pick up a LifeStraw, my preferred water bottle with a built-in filter (it's good for the environment too!)
Where to Stay in Siem Reap
Accommodation in Siem Reap is incredibly cheap. Here are my recommended hostels in Siem Reap:
How to Get Around Siem Reap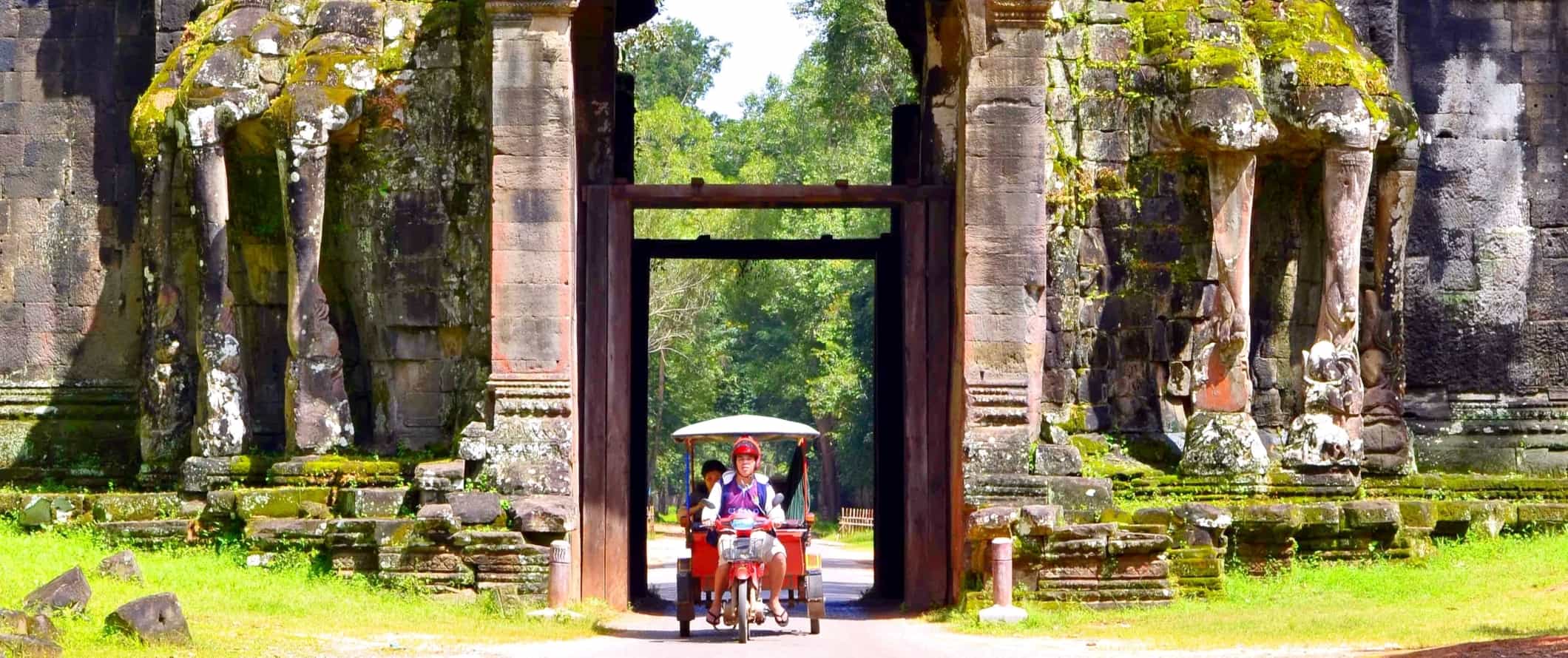 All the main attractions in Siem Reap (other than Angkor Wat) are easily reached on foot, especially in the historical part of the city.
Tuk-tuk – For trips around Siem Reap, tuk-tuks and motorbike taxis should cost around $2 USD for short trips and under $6 USD from the airport into town. Negotiate your fare upfront to ensure you don't get ripped off.
A day's hire of a tuk-tuk from the town around the major temples at Angkor Wat and back should cost around $25 USD. Be sure to find some friends to share the ride so your costs are lowered. Naturally, visiting temples further out costs more.
Bicycle – You can rent a bicycle here for less than $5 USD a day. You can find rental shops in the Old Market. Some hotels even have free bicycle rentals.
Taxis – Most of the taxis in Siem Reap don't have meters, so the cost of your journey will vary. In general, taxis are more expensive than tuk-tuks. A taxi to the airport costs about $7 USD.
You can also hire taxis for the day to take you around Angkor Wat, which costs around $35 USD. If you want to get to other temples like Banteay Srei, the cost can be as high as $50 USD per day so I'd stick with a tuk-tuk.
Car/motorbike rental – Motorbikes are around $10 USD per day and $30 USD per week. Car rentals are extraordinarily expensive at around $65 per day. Couple that with hazardous roads and there's really no need to rent a car or motorbike here.
When to Go to Siem Reap
The dry season in Siem Reap is from November to early April, which is generally the best time to visit the city/Angkor Wat. It's busiest here during December and January when the weather is most pleasant. January is the "coldest" month, with temperatures sometimes dropping to 21°C (70°F), which is a pleasant temperature for exploring.
April can be unbearably hot and extremely humid, with 31°C (88°F) as the average daily high. Angkor Wat won't be as crowded but spending a full day exploring the temples can be overwhelming in the heat (especially if you're cycling).
The monsoon season lasts from June through October, but this often just means an hour or two of rain per day. It does make Angkor Wat very muddy, but there will also be very few other tourists around.
How to Stay Safe in Siem Reap
Siem Reap is a safe place to backpack and travel — even if you're traveling solo and even as a solo female traveler. Violent attacks against tourists are super rare though petty theft can occur, especially in the Old Market and Angkor Wat. Beware of pickpockets and always keep an eye on your belongings, especially in crowded places. Never flash your valuables and always keep your wallet and phone secure and out of reach.
One common scam to be aware of here involves the police. You might be approached by a shady or fake police officer who demands to see your passport. Chances are, you'll be asked to pay a fine to get it back. Deny the request and tell them the passport is back at your hotel in a safety deposit box.
You may also encounter persistent children trying to sell you stuff, sometimes becoming aggressive if you don't shop with them. Just walk away from them saying "no thank you," and eventually they will give up. Keep an eye on them as well as they may be distracting you while someone picks your pocket.
You can read about more common travel scams to avoid here.
Solo female travelers should feel safe here, though the standard precautions apply (never walk home alone at night, never accept drinks from strangers at the bar, etc.).
Avoid dehydration in the heat by making sure you bring lots of water to keep hydrated. Remember that the tap water isn't safe to drink, so bring a water bottle with a built-in filter.
Always trust your gut instinct. Make copies of your personal documents, including your passport and ID. Forward your itinerary along to loved ones so they'll know where you are.
If you experience an emergency, dial 119 for assistance.
The most important piece of advice I can offer is to purchase good travel insurance. Travel insurance will protect you against illness, injury, theft, and cancellations. It's comprehensive protection in case anything goes wrong. I never go on a trip without it as I've had to use it many times in the past.
Siem Reap Travel Guide: The Best Booking Resources
These are my favorite companies to use when I travel. They consistently have the best deals, offer world-class customer service and great value, and overall, are better than their competitors. They are the companies I use the most and are always the starting point in my search for travel deals.
Skyscanner – Skyscanner is my favorite flight search engine. They search small websites and budget airlines that larger search sites tend to miss. They are hands down the number one place to start.
Hostelworld – This is the best hostel accommodation site out there with the largest inventory, best search interface, and widest availability.
Agoda – Other than Hostelworld, Agoda is the best hotel accommodation site for Asia.
Booking.com – The best all around booking site that constantly provides the cheapest and lowest rates. They have the widest selection of budget accommodation. In all my tests, they've always had the cheapest rates out of all the booking websites.
Get Your Guide – Get Your Guide is a huge online marketplace for tours and excursions. They have tons of tour options available in cities all around the world, including everything from cooking classes, walking tours, street art lessons, and more!
SafetyWing – Safety Wing offers convenient and affordable plans tailored to digital nomads and long-term travelers. They have cheap monthly plans, great customer service, and an easy-to-use claims process that makes it perfect for those on the road.
LifeStraw – My go-to company for reusable water bottles with built-in filters so you can ensure your drinking water is always clean and safe.
Unbound Merino – They make lightweight, durable, easy-to-clean travel clothing.
Siem Reap Travel Guide: Related Articles
Want more information on Siem Reap and Cambodia? Check out all the articles I've written on Cambodia travel and continue planning your trip: