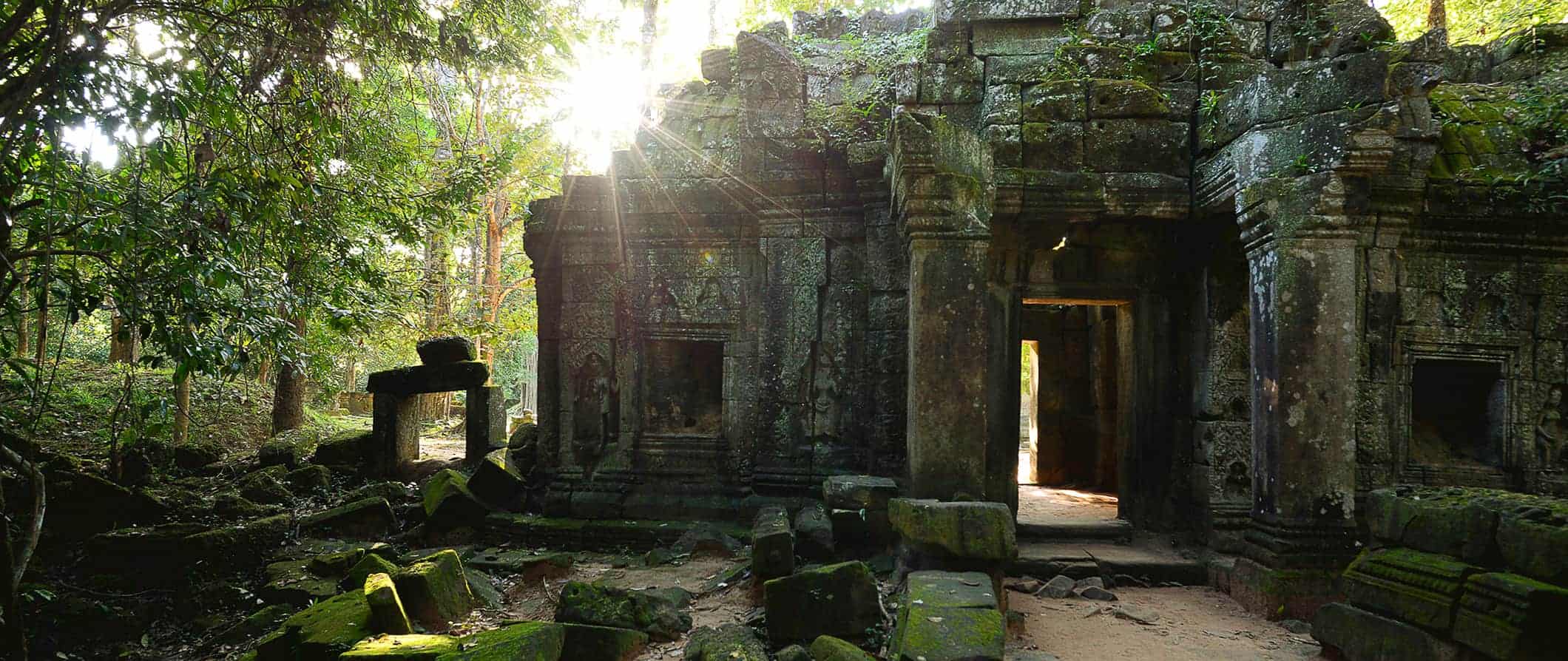 Siem Reap, Cambodia is located on the north-eastern side of the Tonle Sap Lake and is the main access to visit Angkor Wat. The center remains a rural old town, with French style houses and shops. The area around the old market is crowded with locals and foreigners all day long. A few steps more and you are in the middle of the nightlife area where the fun lasts till the sun shines again. Other than going to see Angkor Wat, there isn't much to do in the town itself. While the city has become more popular with expats in recent years (and there's a lot better food now too), I personally wouldn't recommend spending much time here.
Top 5 Things to See and Do in Siem Reap
1. Angkor Wat
The main reason to come to Siem Reap is to visit the magnificent temples of Angkor Wat. To get away from the crowds in the major temples and see some of the less visited sites, and be sure to stick around after sunrise. For more information, see the detailed section on
Angkor
.
2. Banteay Srei
Known as the 'city of women', this site was built in dedication to the Hindu God, Shiva. With a number of outstanding, red sandstone carved statues, Banteay Srei is an astonishing site to visit. You need an Angkor Wat Pass to visit this temple.
3. The Water Festival
If you're here around the end of October, make a point of staying for the Water Festival. The festival marks the changing flow of the river's current and culminates in a huge boat race. More than a million people flock to watch these boats and the nightly fireworks. The festival begins on the last day of the full moon in October.
4. Angkor Silk Farm
For a look at the silk-making process from start to finish you can visit this silk farm, which lies twenty minutes from the city center. To get there, hop on a free shuttle bus at the Artisans Angkor's main center on Thmey Street.
5. Tonle Sap Lake
This lake's ecosystem was integral in keeping the ancient civilizations afloat and it still contributes to Cambodia's to the country's agriculture. There are even floating villages on the lake. You can rent a boat to go along the river and watch the fisherman working. It's about $20 USD for a few hours.
Other Things to See and Do
(Click the title to expand the text)
1. Landmine Museum
Landmines have devastated the country, maiming and killing thousands. (They still cause destruction today as remaining mines as discovered every year.) The Landmine Museum has an in-depth exhibit and dormitory residence for up to 30 amputee children, as well as a school. This is very worthwhile cause to check out so you can broaden your perspective, and you can donate to the finding and deactivation of live landmines still existing in Cambodia's fields today. Admission for foreign visitors is $5 USD per person.
2. Apsara Dancing
Though this can seem like a tourist trap given the number of people offering this to you, the dance is very much a part of modern Khmer culture. Dancers are authentic and talented. Though touristy, I recommend the experience.
3. Happy Ranch Horse Farm
This ranch offers countryside trail rides by horseback—you can take rides that last anywhere from 1-4 hours. Wander in and out of the various villages, rice fields, and Buddhist pagodas during sunrise or sunset. It is an awesome adventure. Prices begin at $28 USD per person.
4. Learn in a Cambodian cooking class
There's never a bad time to learn to cook. The class sizes tend to be around 6 people, and you will learn to cook 3 entire meals, as well as get recipe cards at the end. Prices start around $20 USD per person and local guesthouses can help arrange a class.
5. Wat Preah Prom Rath
A "newer" temple within the city, Wat Preah Prom Rath is only 500 years old. There are beautiful reliefs depicting everything from man-eating crocodiles to the ever-tranquil Buddha figure. Supposedly, the site of this temple was chosen by a man who landed here while his boat was sinking. Entering the grounds is free, but be sure to wear respectful clothing.
6. Try pottery making
The Angkor Pottery Center offers daily lessons for beginners and professionals. You get to learn how the process works by making your own glazed pot and taking it home. Prices begin at $7.50 USD per person.
Typical Costs
Note: Cambodia uses USD. There's no real need to carry the local currency, Cambodian Riels (KHR), unless you paying for really small things on the street, but for the most part, use USD.
Hostel prices – A bed in a dorm room starts around $2 USD per night but can reach as high as $9 USD. Private rooms begin around $11 USD at a cheap guesthouse. Free WiFi is standard and many hostels also include free breakfast.
Budget hotel prices – Hotels with air-con, hot water, and TV will cost around $12.50 USD per night for a twin, $15 USD for a double. Free WiFi and free breakfast are generally quite common, though not available everywhere. For a place with a pool, expect to pay closer to $18 USD. Airbnb is available in the city and prices are comparable to local hotels.
Average cost of food – Food here won't break the bank. You can eat rice and noodle dishes for $1.50 USD, and lunch meals at restaurants for around $2 USD. Even mid-range restaurants for dinner will only cost $6-9 USD. During dinner time, outdoor markets and street restaurants have dishes for as little as $2 USD. I'd stick to the street food, though, it's cheaper and tastes better than the restaurants. If you plan on buying groceries and cooking your own food, expect to spend around $15 USD per week. The food is so delicious and cheap, however, that you might as well eat out as often as you can!
Transportation costs – A day's hire of a tuk-tuk from the town around the major temples at Angkor Wat and back should cost around $15-25 USD. For a guided day, expect to pay closer to $25 USD. Be sure to find some friends to share the ride so your costs are lowered. Naturally, visiting temples further out will cost more. For trips around Siem Reap, tuk-tuks and motorbike taxis should cost around $2 USD for short trips and under $6 USD from the airport into town. Bike rentals should cost under $5 USD per day.
Suggested daily budget
$20-30 USD (Note: This is a suggested budget assuming you're staying in a hostel, cooking most of your meals or eating cheap street food, and using local transportation. Using the budget tips below, you can always lower this number. If you stay in fancier accommodation or eat out more, expect this to be higher!)
Money Saving Tips
Bike around – Renting a bicycle should cost around $5 USD per day. Be aware that most of the streets around town turn into small swamps of muddy water and potholes if there has been a recent rain.
Hire a driver for multiple days – Chances are your tuk-tuk driver from the bus station or airport will want to also be your driver to the temples. Use this as a chance to strike up a multi-day deal — just be sure to barter a fair price!
Work for your room – It's pretty common to get a job in a hostel in order to stay longer in Cambodia so if you stay at a hostel and like the vibe, ask if they'll let you work there.
My Must Have Guides For Traveling to Cambodia