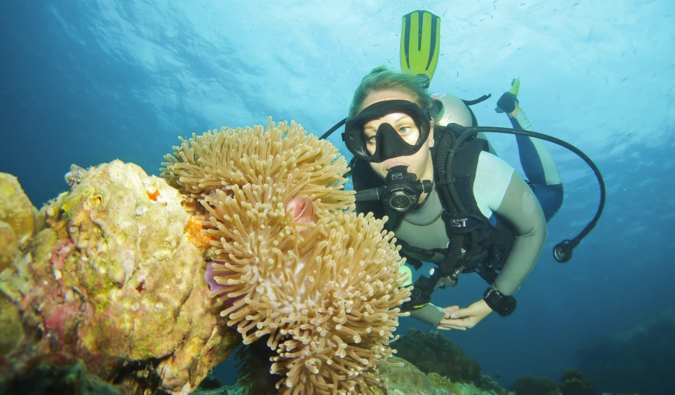 Last Updated: 6/14/23 | June 14th, 2023
This is a guest post by Alexandra Baackes, the legend behind Alex in Wanderland. She's a PADI divemaster who has lived on Koh Tao, a popular destination for scuba divers and one the most popular places people learn to dive in the world! In this post, Alex shares her insider tips and advice on diving schools, prices, and the best areas for viewing sea life when you visit Koh Tao!
Travelers in Thailand like to label their destinations neatly. Intricate island paradises are boiled down to one or two simple words or associations: Koh Phi Phi? The Beach. Koh Phangan? The Full Moon Party. Koh Tao? Diving.
Some of them are fairly well deserved.
After all, Koh Tao is one of the world's top destinations when it comes to the number of annual dive certifications issued — in fact, it's second only to Cairns in Australia. Travelers flock from across Southeast Asia to take their first breaths underwater in the coral reefs fringing this paradise island. It's simple to see why: the courses are among the most affordable in the world, the teaching standards are high, the conditions are easy, the dive sites are abundant, and it's a dang fun place to decompress after a day underwater.
That said, it's easy to be overwhelmed when planning a trip to Koh Tao — there are more than 70 dive schools on the island! — so a bit of research goes a long way when it comes to such a large investment of your time and travel budget.
Here's everything you need to know about diving in Koh Tao:
PADI or SSI?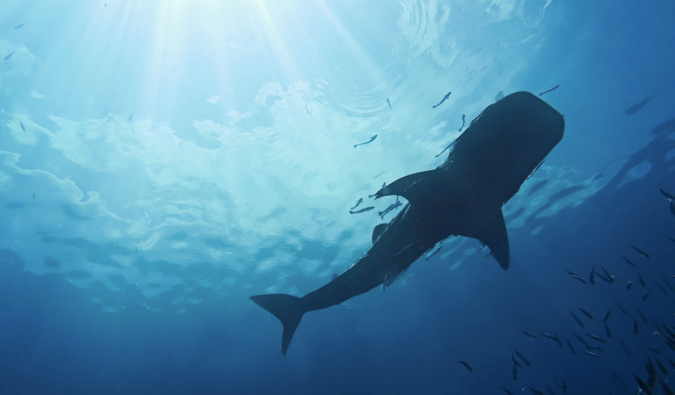 There are more than 50 scuba diving training systems around the world, but in Koh Tao, the choice generally comes down to two: the Professional Association of Dive Instructors (PADI) or Scuba Schools International (SSI). Each organization develops its own teaching materials; writes its own standards based on those set by the umbrella organization, the World Recreational Scuba Training Council (WRSTC); and awards its own certifications.
No matter what certification card you walk away with, you'll use the same equipment, see the same fish, and be able to dive at the same destinations. Certifications are interchangeable and recognized worldwide. The most important factors in the quality of your course will be your dive school and your dive instructor. But there are minor differences between agencies.
PADI
PADI is the world's leading scuba diving training organization. If you find comfort in numbers, then this agency with nearly one million certifications per year might just be for you! The major benefit of diving with PADI comes at the professional level. For instructors and divemasters, PADI provides the most employment opportunities, and PADI instructors can work independently (while an SSI instructor must teach through an SSI-registered shop). So if you have dreams of staying in Thailand to teach the backpacker masses and you want to be loyal to one agency, PADI is a strong agency to hedge your bets on.
SSI
Once just a small subset of the diving industry here, SSI has exploded to control a full 50% of the market share on Koh Tao. All coursework is done via the free app and/or online, making it a green choice (although PADI has digital products for most courses as well).
What's the Course Like?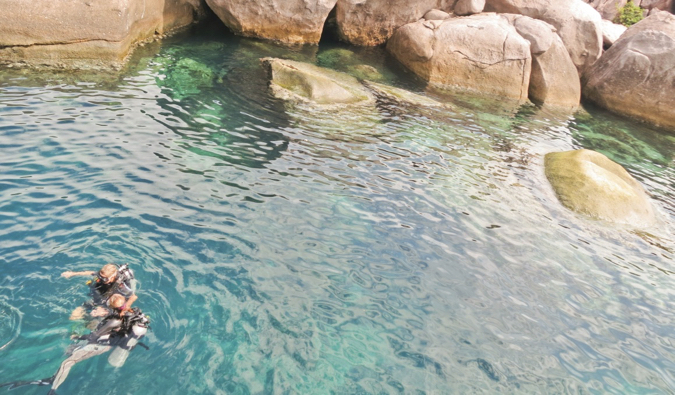 The Open Water course is the first certification you'll complete as a diver. Many divers come to Koh Tao to complete their Open Water certification, and some get hooked and stay till they're instructors themselves. But be wary of "zero to hero" packages that include the full array of courses from first underwater breath to master scuba diver trainer. Take it one step at a time.
(While half-day experiences called "Discover Scuba Diving" or "Try Scuba Diving" are available, they don't lead to any sort of certification and should really only be considered if you're (a) super strapped for time or (b) extremely unsure if diving is for you. Otherwise, just dive in, literally, to the Open Water!)
The typical Open Water diving course is completed in three to four days. There are videos to watch, book chapters to read, tests to take, and, of course, dive sites to explore! It might sound intimidating, but the course is designed for students as young as 10 — so the academics shouldn't intimidate you.
Here's a rough outline of what your course will look like:
Day 1: Orientation, paperwork, and videos.
Day 2: A morning in the classroom learning about basic skills, equipment, and the effects of diving on the body. An afternoon spent in the pool or at shallow dive sites working on skills such as regulator recovery and mask removal, among others.
Day 3: A morning in the classroom finishing knowledge reviews and taking some quizzes. In the afternoon, the fun really begins with open-water dives 1 and 2, which will stay shallow and low-key. Some skills will be practiced during the dives.
Day 4: You'll go out on a morning boat and complete open-water dives 3 and 4, where you'll get to go a bit deeper and explore. In the afternoon, you'll take the final exam. Congratulations — you made it!
Upon completion, you'll receive a certification card that allows you to dive anywhere in the world up to a depth of 18 meters. Time to start daydreaming about your Advanced Open Water!
And the Open Water course is just the beginning! Koh Tao is a true mecca for dive education: you can take courses in freediving and technical diving, and specialty scuba courses in everything from photography to conservation and beyond — plus the gamut of continuing and professional courses up to Instructor Trainer!
Which School Should I Choose?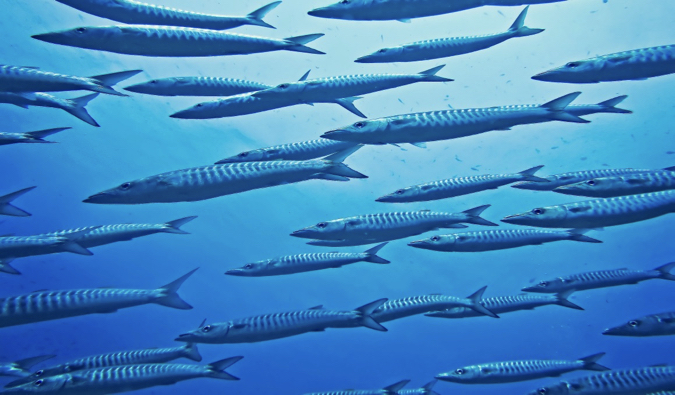 Koh Tao ain't called a mecca for diving for nothing: there are nearly 70 dive schools on this 13-square-mile rock! This decision is the biggest when it comes to determining the quality of your diving course. For the most part, the schools fall into a few categories:
Big schools: Bans, Big Blue, Crystal
These schools are enormous scuba powerhouse resorts that can churn out hundreds of Open Water divers a week, with instructors for almost every language imaginable. They are ideal for someone who is confident going underwater (i.e., doesn't need extra individual attention) and wants to make lots of friends and meet people in a big group setting. However, those groups can be a bit large for comfort.
Medium-sized schools: Master Divers, Sairee Cottage
Medium dive schools generally have the best of both worlds. They have a range of instructors and groups large enough to make friends in, but they aren't as prone to overcrowding or rushing through the course.
Small schools: Hydronauts, Ocean Sound
These schools are great at accommodating special needs or focusing on a certain specialty. The extra attention with instructors is key for those who are feeling uncertain about heading underwater or who simply want to be spoiled with attention and learn in a more focused environment. However, these schools sometimes rent boat space and pool time from other dive schools rather than having their own facilities.
When picking a school and an instructor, consider these factors:
Does it have an instructor who speaks your language? There are many specialty language-focused dive schools on Koh Tao: for Spanish, head to Pura Vida, La Bambona, or Isla Tortuga Divers; for French, French Kiss Divers; for Finnish, Koh Tao Divers.
Will the confined dives take place in the ocean or in a pool?
How many students will be in the group?
What time do they leave in the morning? Those eager beavers who want to be the first on the dive site might not mind being up in time for New Way's 6am departure, while night owls might prefer Ban's or Sairee Cottage's more relaxed dive times.
Is the equipment up to date and in my size? Schools in Koh Tao have a solid record for equipment range and maintenance, but it never hurts to ask.
Will I get to have my own dive computer throughout the course? Is there an extra charge?
How qualified is the instructor? Some students may appreciate the enthusiasm and up-to-date training of a new instructor, while others may find comfort in a teacher with tons of qualifications and years of experience.
How Much Will it Cost?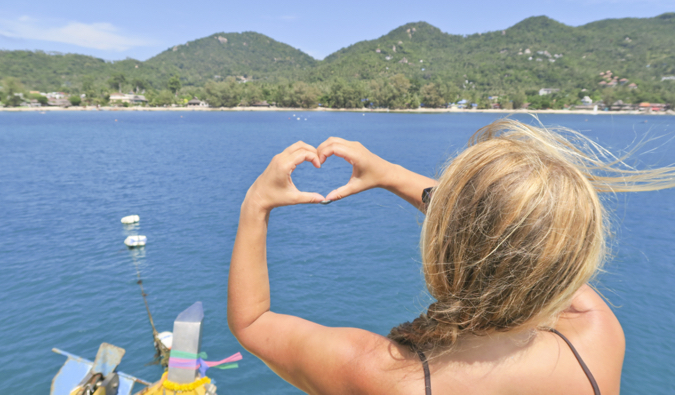 Open Water courses on Koh Tao cost 11,000 THB (approximately $320 USD) without accommodation. (Once upon a time, almost every dive school on the island bundled accommodation with their courses, but that's becoming more rare outside the largest dive resorts. If accommodation is included, it's a very basic room with a fan— or you can upgrade to a nicer one at a discount.)
Though it's less common these days, many schools will have a videographer come along on dives 3 and 4 and make a 10-20-minute music video–style recording of your day. At night, the class will gather to watch it. Depending on the video company, they may charge you a flat rate for a copy or base it on how many copies are sold. Some schools have switched to providing still photos instead, which you can purchase as part of a package — expect to pay around 300 THB ($10 USD) for one photo or 1,000 ($32 USD) for a set of several.
Though it's not an agency standard, many schools have a policy that students can't bring their own cameras out on Open Water Courses, so don't freak if you aren't allowed to bring your GoPro. They aren't trying to bully you into buying a video or photo package; they are trying to keep you safe, keep you focused, and avoid damage to reefs and marine life until buoyancy is mastered.
For divers who have already completed their Open Water course, fun dives cost around 800–1,000 THB ($25-35 USD) each, depending on how many dives you'll do and if you have your own equipment. Those with time and money constraints will want to make it a priority to visit at least one of Koh Tao's premier dive sites.
What are the Can't-Miss Dive Sites?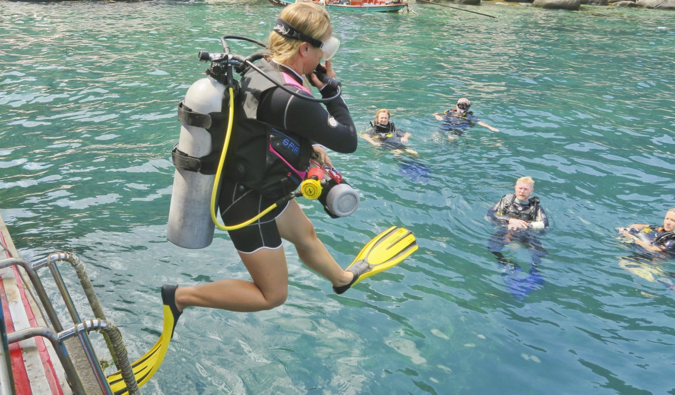 If you're a brand new diver doing your Open Water course in Koh Tao, quite frankly, it doesn't matter where you go — you're going to love it! You'll be so focused on your skills and the magic of breathing underwater for the first time, you won't really notice the differences between different dive sites yet anyway.
Twins
Twins is a very common training dive site used for dives 1 or 2 of the Open Water course. Twins sits just off the coast of Koh Nang Yuan and is perfect for new divers, thanks to its shallow depth. A highlight here is the saddleback clownfish that you might see.
White Rock
White Rock is another one of the most commonly visited dive sites on Koh Tao, frequently for dive 4 of the Open Water course. It's an enormous dive site, providing a wide sampling of Koh Tao's marine life — including the odd sea turtle who lumbers through.
Southwest
Southwest is a collection of pinnacles carpeted in soft coral anemones and the pink clownfish that accompany them. This is a great site for spotting barracuda and giant groupers. It's located 13 kilometers (8 miles) southwest of Koh Tao and is almost always visited on the morning boats. With pinnacle depths from 6-27 meters (20-88 feet), it's perfect for anyone from Open Water certified and up. (Feeling adventurous? There's a secret pinnacle here as well.)
Shark Island
Shark Island is so named for its resemblance to a dorsal fin, rather than an abundance of certain toothy fish. The north side is best known for its diversity of coral, while the south side has unique soft corals you won't see elsewhere on Koh Tao. The rocky outcrop is located southeast of Koh Tao and is a less commonly visited site due to both its location and its often challenging conditions — both current and visibility can be a struggle here.
HTMS Sattakut
This former US Navy ship sunk in June 2011 off the coast of Sairee Beach and has become home to Jenkins' whip rays, great barracuda, and dozens of gobies playing hide-and-seek in rusty crevices. The wreck doesn't start until about 18 meters (59 feet) and sits down at 30 meters (98 feet), so you really need to be Advanced Open Water certified or do a Deep Adventure Dive to enjoy it fully. To penetrate, you must have or be training for a wreck specialty.
One of the HTMS Sattakut's greatest assets is its location less than 15 meters (49 feet) from the neighboring dive site Hin Pee Wee. So you can complement a spin around
the wreck with a zip around the coral reef. Hin Pee Wee features several pinnacles, a resident turtle, and some impressive macro life.
Chumphon
Chumphon is a submerged granite pinnacle covered in colorful sea anemone and surrounded by large schools of trevally, batfish, and barracuda. Lucky divers will spot giant groupers, pompanos, and even whale sharks. Due to its depth, this is a dive site best enjoyed by Advanced Open Water students.
Chumphon is almost always visited on the morning boats. Due to the distance — it's 11 kilometers (7 miles) from Koh Tao — and the size of this dive site, some schools schedule two dives in a row here. Read more about diving Chumphon here.
Sail Rock
Sail Rock is considered the premier dive site in the Gulf of Thailand. Don't miss "the chimney," a beloved, not-so-secret swim-through, and a deeper secondary pinnacle east of the main rock. This granite, deep-ocean pinnacle rises from 30 meters (98 feet) and breaches the surface, a welcome sight after the two-hour boat ride from Koh Tao.
Occasionally, you can get lucky and complete dives 3 and 4 of your open water here for an extra fee, though generally, this is a specialty trip costing anywhere from 2,800 to 3,800 THB ($80–110 USD) and including three dives, breakfast, lunch, and a beer on the way back. A handful of schools take trips to Sail Rock but most only go once a week, so plan accordingly.
When to Dive on Koh Tao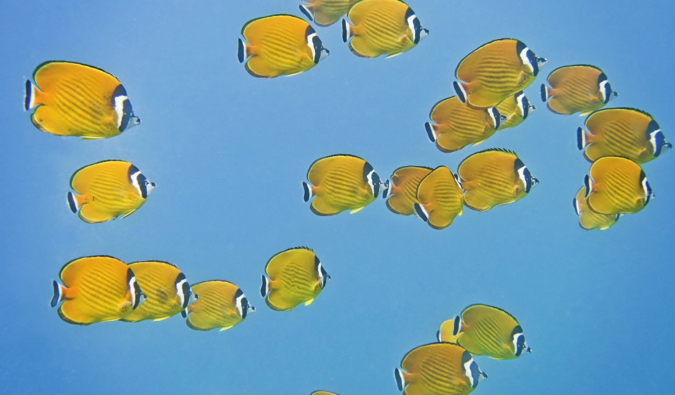 Most island divemasters agree that April and May are the best months — they're warm and clear, and the sea is flat. And in recent years, they've been chock full of whale shark sightings! Plus you could time your trip to spend Songkran (Thai New Year's) on Koh Tao (mid-April).
That said, there isn't really a bad time to dive on Koh Tao, outside of November and December, when winds can be high and the weather can be dicey, causing boat rides to be unpleasant and visibility to be poor.
***
Learning to dive on Koh Tao should be approached with caution, as it can lead to a very serious addiction to the diving hobby and lifestyle! Many a dive virgin has arrived by ferry with plans to stay a few days and get certified, only to find themselves months later calling the island home and working toward becoming a scuba diving instructor.
Alexandra Baackes is the author of The Wanderland Guide to Koh Tao (which is an incredible guide to the island) and founder of Wander Women Retreats, which hosts an annual women's dive and yoga retreat on Koh Tao. She overshares about travel, diving, and life as an entrepreneur on her blog Alex in Wanderland and on her Instagram @alexinwanderland. She is also a PADI ambassador.
Get the In-Depth Budget Guide to Thailand!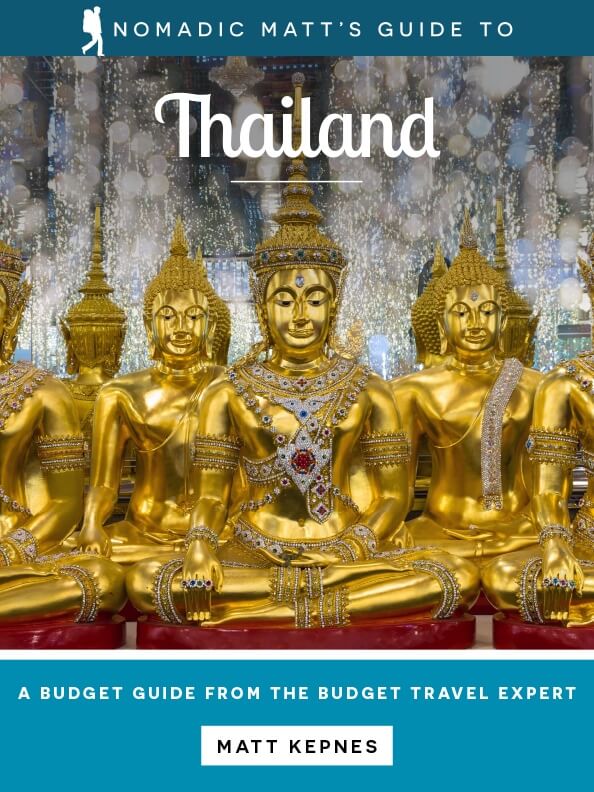 My detailed 350+ page guidebook is made for budget travelers like you! It cuts out the fluff found in other guidebooks and gets straight to the practical information you need to travel around Thailand. You'll find suggested itineraries, budgets, ways to save money, on and off-the-beaten-path things to see and do, non-touristy restaurants, markets, bars, safety tips, and much more! Click here to learn more and get your copy today.
Book Your Trip to Thailand: Logistical Tips and Tricks
Book Your Flight
Use Skyscanner to find a cheap flight. They are my favorite search engine because they search websites and airlines around the globe so you always know no stone is left unturned.
Book Your Accommodation
You can book your hostel with Hostelworld as they have the biggest inventory and best deals. If you want to stay somewhere other than a hostel, use Booking.com as they consistently return the cheapest rates for guesthouses and cheap hotels. My favorite places to stay are:
Don't Forget Travel Insurance
Travel insurance will protect you against illness, injury, theft, and cancellations. It's comprehensive protection in case anything goes wrong. I never go on a trip without it as I've had to use it many times in the past. My favorite companies that offer the best service and value are:
Looking for the Best Companies to Save Money With?
Check out my resource page for the best companies to use when you travel. I list all the ones I use to save money when I'm on the road. They will save you money when you travel too.
Want More Information on Thailand?
Be sure to visit our robust destination guide on Thailand for even more planning tips!