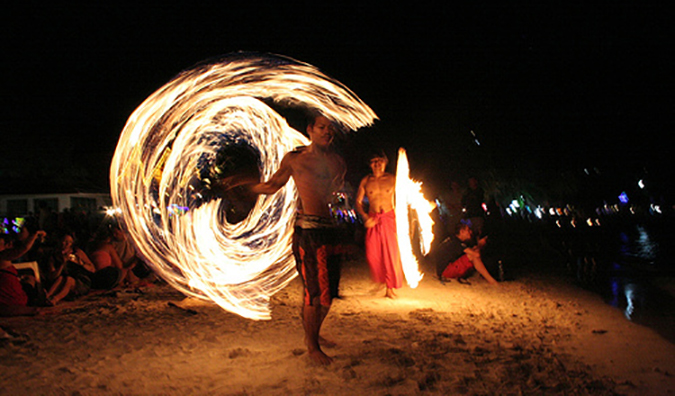 Last Updated: 10/31/22 | October 31st, 2022
Years ago, when my friends began planning their trip to visit me in Thailand, they had one request: we had to attend the Full Moon Party. They didn't know a lot about the party, but they'd heard so much about it over the years, they knew they had to go. After all, the Full Moon Party is infamous. The mere mention of it conjures up images of a wild, alcohol-fueled beach party where people from around the world dance until sunrise.
Among travelers, it has a certain mystique that is hard to resist.
But what is the Full Moon Party? How did it come about? Why is it so popular? And, most importantly, how can you experience it for yourself?
I've been to close to a dozen Full Moon Parties and I can tell you that there's a certain way to experience this party so you avoid overpaying for accommodation, don't get injured, don't spend a lot of money, and have the time of your life!
So, as you plan your party experience, here's my in-depth guide to the Full Moon Party:
What is the Full Moon Party?
Legend has it that in 1987 (or maybe '86? or '88? No one really knows.), a group of backpackers threw a birthday party for their friend on the night of the full moon. They had so much fun that they came back the following year to do it again. And then the following month and then the month after that. Word got out about this incredible party on the full moon and soon backpackers far and wide came to take part.
At first, it was like a small house party on the beach: a few old hippies and backpackers playing guitars, smoking weed, and having a few beers. But the crowds brought a lot of change. The 1990s brought the rave scene and all the drugs that went along with it. By 2000, this party was squarely on the travel map, and hordes of young people inspired by the movie The Beach flocked to Ko Phangan, where the party is held. The Full Moon Party has only gotten bigger since then.
Now, the Full Moon Party is a giant festival-like event with a lot of drinking, dancing, drugs, and sex. Each bar has its own sound system, so you'll hear different music loudly blasting onto the beach every few feet. The beach itself is lined with people selling alcohol, fire dancers putting on shows, and little booths selling glow-in-the-dark face paint. By the end of the night, you'll see people passed out on the beach, the odd couple having sex, and lost flip-flops littering the beach looking for new owners.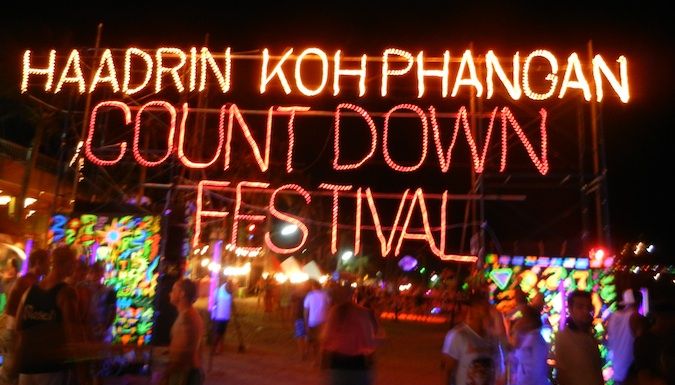 Despite the party's obvious commercialization, it's still a lot of fun. It's rare to see any of the problems (i.e. fights) you might normally associate with 10,000-30,000 young, drunk people. People here are just looking for a good time, and the energy is very positive.

When Is the Full Moon Party?
As the name would suggest, the party happens when there is a full moon. However, be aware that the dates sometimes shift around local holidays so it might not be exactly on the full moon (check the schedule below for details). Don't worry if you miss it as there's always the half-moon party, quarter-moon party, and black-moon party. Really, every night is a party here on Ko Phangan.
Here is a list of times for 2022 and 2023:
November 8th, 2022
December 8th, 2022
December 31st, 2022 (Not a full moon but a New Year's party)
January 6th, 2023
February 5th, 2023
March 7th, 2023
April 5th, 2023
Suggested Accommodation
There's accommodation all over the island, but you'll want to stay in Haat Rin (where the actual party is) so you can be close to the action. If you want to find cheap accommodation, you'll need to come here at least four-five days before the party in order to find a cheap (and nice) place to stay. The closer you get to the actual night of the party, the more you'll need a miracle to find something — at any price range.
I'll never understand the travelers who just show up the day of or the night before and think they'll find a place. They never do. I've sat at restaurants and watched the same people wander up and down the street many times in fruitless attempts to find something.
Don't be those people. Come early, get a room, enjoy the party, and say no to stress.
How much does a room cost?
Here's what you can expect to pay for your bed per night:
Dorm room: 200-300 THB (will triple during the high season)
Private room: 700–1,800 THB
Basic bungalow: 1,400 THB
Really nice bungalow: 2,500–4,500 THB
The closer you get to the full moon, the more the prices go up. The day of or the day before the party, any accommodation left is going to be double the price listed. And, if you come here for New Year's, you can expect the price to triple, with many places also including an expensive, mandatory holiday dinner. (Just another way to get more money from you!)
To help you make the most out of the party, here are my suggested places to stay:
The Sanctuary – The Sanctuary is a Ko Phangan institution, and guests come from all over the world specifically for its yoga and detox programs. It's a place for you to rebalance and attend to your well-being. Even if you don't want to do a detox, you can still rent a room or bed here and enjoy the secluded beach and view. Beds from 350 THB, cheap private bungalows from 950 THB. Note that these prices are available only to people on arrival. If you want to book a room in advance, prices start at 1,900 THB
Bodega Hostel – If you're looking for a lively party hostel with tons of social activities going on, stay here. This is the quintessential backpacker party place, with pub crawls, beach volleyball, a swimming pool, a huge bar/lounge area, and events almost every night. Beds from 475 THB, rooms from 1,750 THB.
Na-Tub Hostel – This is a funky motel-like hostel that's constructed out of shipping containers. It opened in 2018 so everything is relatively new. The major draw is the central swimming pool. Beds from 400 THB, rooms from 3,000 THB.
Should you book your room online in advance?
I don't recommend booking in advance unless you're going there for New Year's Eve or you can't get there early. The accommodation you'll find online will be the most expensive and require long minimum stays (sometimes as many as 10 nights). There are a lot of accommodation options in Haat Rin, and most aren't on online booking services like Hostelworld or Booking.com
A good alternative to Haat Rin is Ban Tai beach. It's the beach over from Haat Rin and is where a lot of people stay when rooms start to fill up. It's a short and inexpensive taxi from Haat Rin. If you stay on the northern part of the island, you'll be very, very far away from the party. Though boat taxis and normal taxis run frequently, they are expensive.

How to Get to Ko Phangan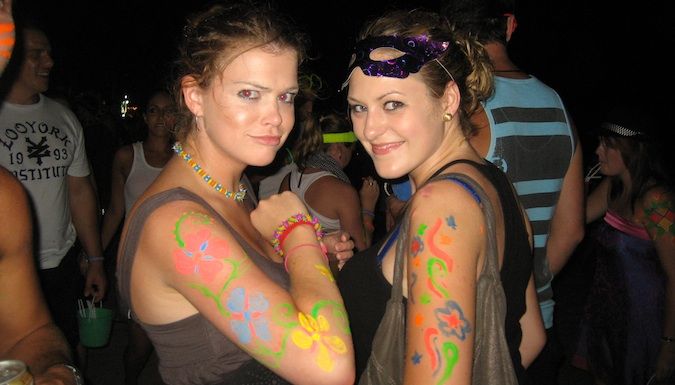 Getting to Ko Phangan is pretty straightforward no matter where in the region you're traveling from. Here are your main options for getting to the Full Moon Party:
Air – If you decide to fly from Bangkok, one hour and 15-minute flights to Surat Thani's airport (URT) cost around 700–2,000 THB each way. From the Surat Thani airport, you can take a one-hour bus to Donsak Pier and catch a ferry from there.
Flights from Bangkok's Suvarnabhumi Airport (BKK) to Ko Samui (USM) are usually at least 4,500 THB (round-trip) . During the high season and around New Year's Eve, ticket prices can jump drastically so plan ahead. Once you arrive, you can take a ferry to Ko Phangan from here, which takes between 30-90 minutes depending on where you depart from and which ferry you take.
Train – The train from Bangkok to Surat Thani takes around 11-15 hours each way and costs between 500-1,800 THB depending on the class (second-class fan sleepers start at 508 THB while first-class sleepers with AC cost between 1,400-1,600 THB. There are 10 departures each day. Trains depart from Hua Lamphong Train Station (also known as Bangkok Railway Station). Note that the second-class tickets can sell out weeks in advance as they are significantly cheaper.
Bus – Travel agencies from Khao San Road in Bangkok offer bus and ferry combinations to the island. They will usually offer a bus and boat combo ticket. I recommend getting one of these for convenience. Buses leave daily and take around 14 hours (opt for the overnight bus since you'll save on a night of accommodation). Combo tickets cost around 1,000-1,300 THB.
Boat from Chumphon (mainland) – Lomprayah High Speed Catamaran operates over a dozen ferry trips each week, taking around 3 hours each way. Tickets range from 1,000-3,000 THB depending on the time of year.
Boat from Surat Thani (mainland) – Raja Ferry offers tickets for as little as 250 THB each way from Donsak Pier or 600 THB from the airport in Surat Thani. The trip takes around 2.5 hours.
Lomprayah has a nicer (and faster) ferry that takes just 90 minutes from Donsak to Ko Phangan. It's 550 THB.
Boat from Ko Tao – This route is also operated by Lomprayah and takes around 1 hour. Tickets are 600 THB.
Boat from Ko Samui – Lomprayah's ferry from Ko Samui is just 30 minutes and costs 300 THB. Raja also operates a ferry, which runs twice per day and takes 90 minutes. It's 170 THB.

The Full Moon Party Itself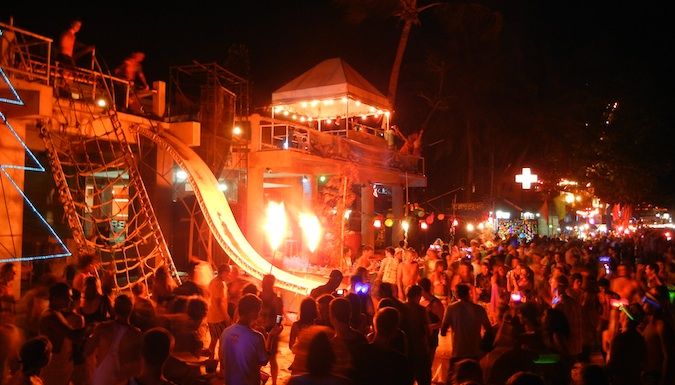 The party begins days before as people trickle onto the island. On the day of the party, you see people from the neighboring Ko Samui and Ko Tao and from other parts of the island adding to the crowd. You'll see people start drinking in the afternoon, and most people start heading to the beach around 9pm.
The crowd usually peaks around midnight to 2am. On New Year's Eve, the beach will be full by 8pm.

Party Survival Tips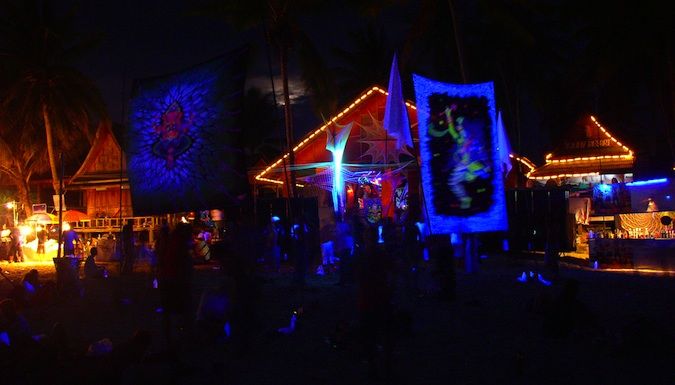 Want to make it through the party in one piece? Here are my top tips to help you have fun and stay safe:
1. Don't do drugs – There are a lot of drugs here, especially during the full moon. Drugs are illegal in Thailand and punishable by time in some pretty bad prisons. Undercover police will try to sell you drugs only to arrest you. Locals will rat you out for a reward. Thais love to crack down on foreigners who are dumb enough to be doing drugs in the open.
However, most cops have no real desire to lock you away for smoking a joint or doing a pill. It's too much hassle and paperwork. They do have a real desire to take a bribe, though. Expect to pay upwards of $1,000 USD for your get-out-of-jail-free card. (Actual bribe varies depending on the cop and your ability to bargain down the bribe.)
2. Skip the jump rope – Picture this. We're at the bar. I turn to you and say, "Hey friend, let's go outside. I'm going to soak a rope in gasoline, light it on fire, and then you and some drunk strangers are going to skip rope." You'd look at me like I was crazy and tell me to get lost.
But people on this island do exactly that — they jump over a rope of fire.
It's stupid.
You may be the world's best jump roper, but the drunk guy who decides to join you might not be. At my last Full Moon Party, I saw a lot of people get burned. The rope wrapped around one guy's arm and burned all the skin off. He had to be rushed to the hospital. It was not a pretty scene. It's not how you want to remember your holiday. Here's a tiny example:
3. Watch out for buckets – What is a bucket? Remember when you were a kid and you built a sandcastle using a little pail? Picture that pail filled with a can of Coke, Thai Red Bull, and alcohol. Now you have a Thai bucket.
Every full moon while I eat dinner, I see newbies drinking buckets before the sun has even gone down. They're the same people I see passed out on the beach by midnight. A few buckets will get you very, very drunk, so I have a hard-and-fast rule that I and other experienced full mooners follow: no buckets before midnight. If you want to actually see the sunrise, I'd follow it too. Buckets cost 250–500 THB, depending on what kind of alcohol is in them.
4. Hydrate – You're going to be drinking a lot, and even though it's nighttime, the weather is still hot and humid. Drink a lot of water before and during the event! It will also help your hangover the next day.
5. Drink cheap – Buy your beer at the 7-11 or buy buckets away from the beach where they are much cheaper.
6. Stay out of the ocean – It may seem like a good idea to play in the ocean. It's not. Not only do you risk drowning (there can be strong waves), but everyone uses the ocean as their personal toilet during the party. There's a reason the water is warm, and it's not because you're in Thailand. Stay sanitary. Don't go in.
7. Wear footwear – Partying on the beach without footwear may seem fun, but as the night goes on, broken beer bottles and other sharp objects litter the beach. I've had many friends slice open their feet after stepping on a bottle. You're drunk, it's dark, and you aren't always looking where you are going. Avoid a foot injury and wear something on your feet!
8. Leave your personal belongings – Theft is rife during the party. Bring as little as possible. Bring enough money for drinks and your room key. You don't need anything else.
***
The Full Moon Party is one of the biggest and best parties in the world. The vast majority of travelers in Southeast Asia attend at some point, and I have seen people of all ages and nationalities (as well as a few families) here. The party is definitely a unique and interesting time, but if not done right, it can also be expensive and dangerous.
So party — but party smart.


Get the In-Depth Budget Guide to Thailand!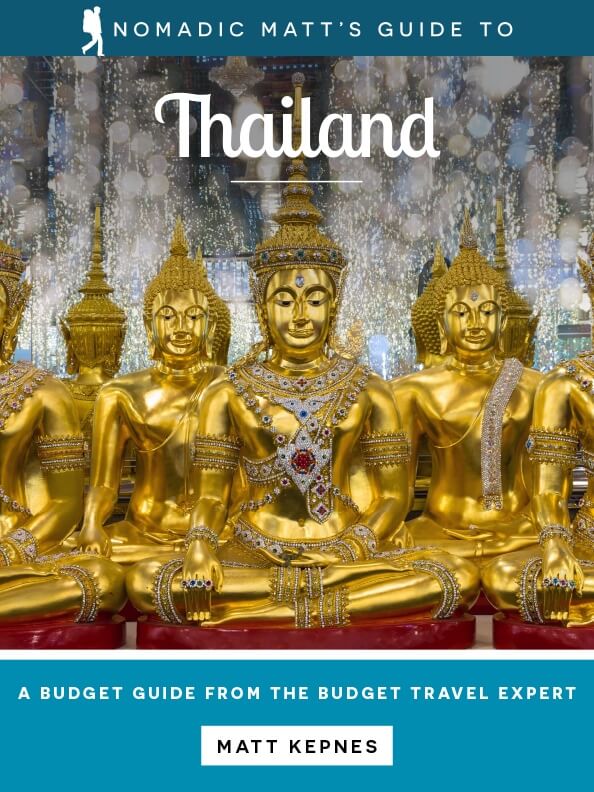 My detailed 350+ page guidebook is made for budget travelers like you! It cuts out the fluff found in other guidebooks and gets straight to the practical information you need to travel around Thailand. You'll find suggested itineraries, budgets, ways to save money, on and off-the-beaten-path things to see and do, non-touristy restaurants, markets, bars, safety tips, and much more! Click here to learn more and get your copy today.
Book Your Trip to Thailand: Logistical Tips and Tricks
Book Your Flight
Use Skyscanner to find a cheap flight. They are my favorite search engine because they search websites and airlines around the globe so you always know no stone is left unturned!
Book Your Accommodation
You can book your hostel with Hostelworld as they have the biggest inventory and best deals. If you want to stay somewhere other than a hostel, use Booking.com as they consistently return the cheapest rates for guesthouses and cheap hotels. Two of my favorite places to stay on the island are:
Don't Forget Travel Insurance
Travel insurance will protect you against illness, injury, theft, and cancellations. It's comprehensive protection in case anything goes wrong. I never go on a trip without it as I've had to use it many times in the past. My favorite companies that offer the best service and value are:
Looking for the Best Companies to Save Money With?
Check out my resource page for the best companies to use when you travel. I list all the ones I use to save money when I'm on the road. They will save you money when you travel too.
Want More Information on Thailand?
Be sure to visit our robust destination guide on Thailand for even more planning tips!