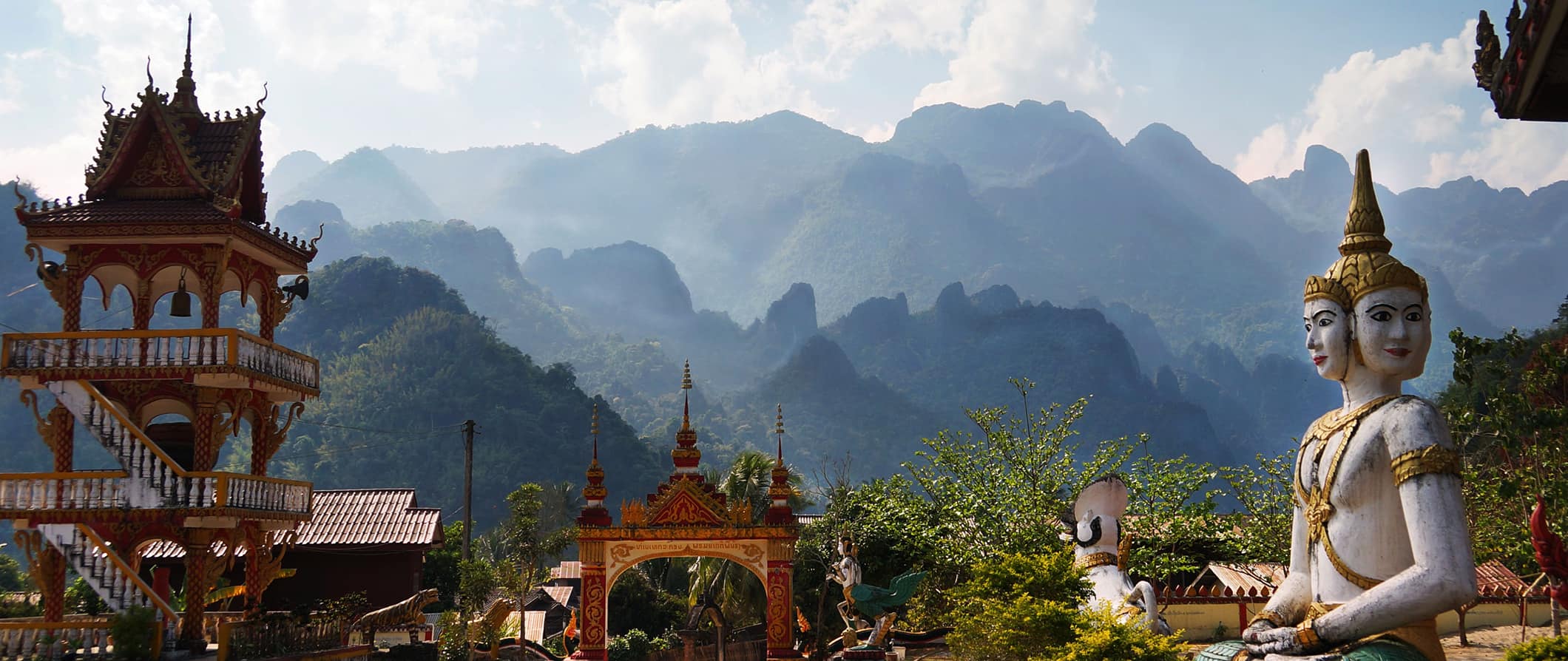 No longer is Vang Vieng the hedonistic jungle town it was once was. It is now a calm center for outdoor adventure, jungle hikes, and lazy days cooling off in the river. Once a crazy place dominated by wild backpackers, the city has been reborn. The center of town is now thriving, with boutique hotels and high-end restaurants replacing some of the party-laden backpacker bars that used to pack the waterfront. Vang Vieng has reclaimed its place as one of the must-see places in Laos and this guide will help you make the most of your visit!
Top 5 Things to See and Do in Vang Vieng
1. Go tubing
This is definitely is a much more enjoyable experience now that they have got rid of the drugs and excessive partying. You rent a tube in town, get taken to the top of the river, and float lazily back to town. It is a pretty relaxing trip down the river. Rentals cost around 55,000 LAK, which includes a ride to the river.
2. Go caving
The Golden Cave, Padeng, Ring, and Nang Oua Kham Caves are all interesting sites to explore. To get to Padeng and Ring Caves, you'll have to cross over a footbridge and climb up some questionable ladders (so be safe!). The Nang Oua Kham Cave is a little farther and harder to get to, but perhaps even better than the Golden Cave at the Blue Lagoon.
3. Rent an ATV or go dirt biking
With an entirely different sort of tourist flocking to Vang Vieng, you cannot go far without hearing the roar (or seeing the plumes of dust) of ATVs racing around in the countryside. Prices will vary depending on what you rent and whether you are on a tour. For hourly rentals, expect to pay around 70,000 LAK for an ATV.
4. Check out the Blue Lagoon
Located just 7 km outside of Vang Vieng, you'll find a small lagoon, equipped with a rope string and plenty of tourists. While it does tend to get a little too crowded, it is a nice venture outside of the town and there is a big cave to explore too. While there are plenty of other lagoons around, I enjoyed the cave and the ability to meet so many other people at this one!
5. Climb Pha Poak
If you are looking for some stunning views, head out of town toward Pha Poak. It's only a 30-minute climb, though it can be quite tricky so be sure to wear reliable footwear. If you can manage the jagged stones and rickety ladders, you'll be rewarding with an incredible view.
Other Things to See and Do
(Click the title to expand the text)
1. Try rock climbing
There are tons of options for you in Vang Vieng, whether you are a first-time climber or a professional. Adam's Climbing School can show you the ropes (no pun intended). For a half day of lessons and climbing, expect to pay 180,000 LAK.
2. Take a canopy tour
Located above the Water Cave, this zip line has you soaring above the treetops and caves. Many of the tour companies offer zip lining as part of an all-day adventure, so you can pack your adrenaline rush into a day trip! Expect to pay around 450,000 LAK for the day, which includes transportation and lunch.
3. Check out the Water Cave
The Water Cave is one of the main attractions in Vang Vieng, combining caves, tubing, relaxation, and incredible mountain scenery. You actually tube through the caves, holding onto a rope that brings you downriver. Many day trips plan the tubing in the morning and follow it up with a picnic lunch. A tube and flashlight rental (it gets dark in the caves!) is only 10,000 LAK.
4. Stuff your face
In town there are plenty of restaurants where you can grab a good meal. Somewhat surprisingly, there are some great Korean places and even a delicious Mexican restaurant call Amigos. For a decent mid-range meal, prices can be as high as 100,000 LAK so limit your gluttony!
5. Get high in a hot air balloon
Hot air balloon rides are offered during the dry season, which lasts from the end of October to around mid-May. Rides usually last about 45 minutes and it is one of the best ways to take in the breathtaking scenery of the area. Expect to pay around 415,000 LAK.