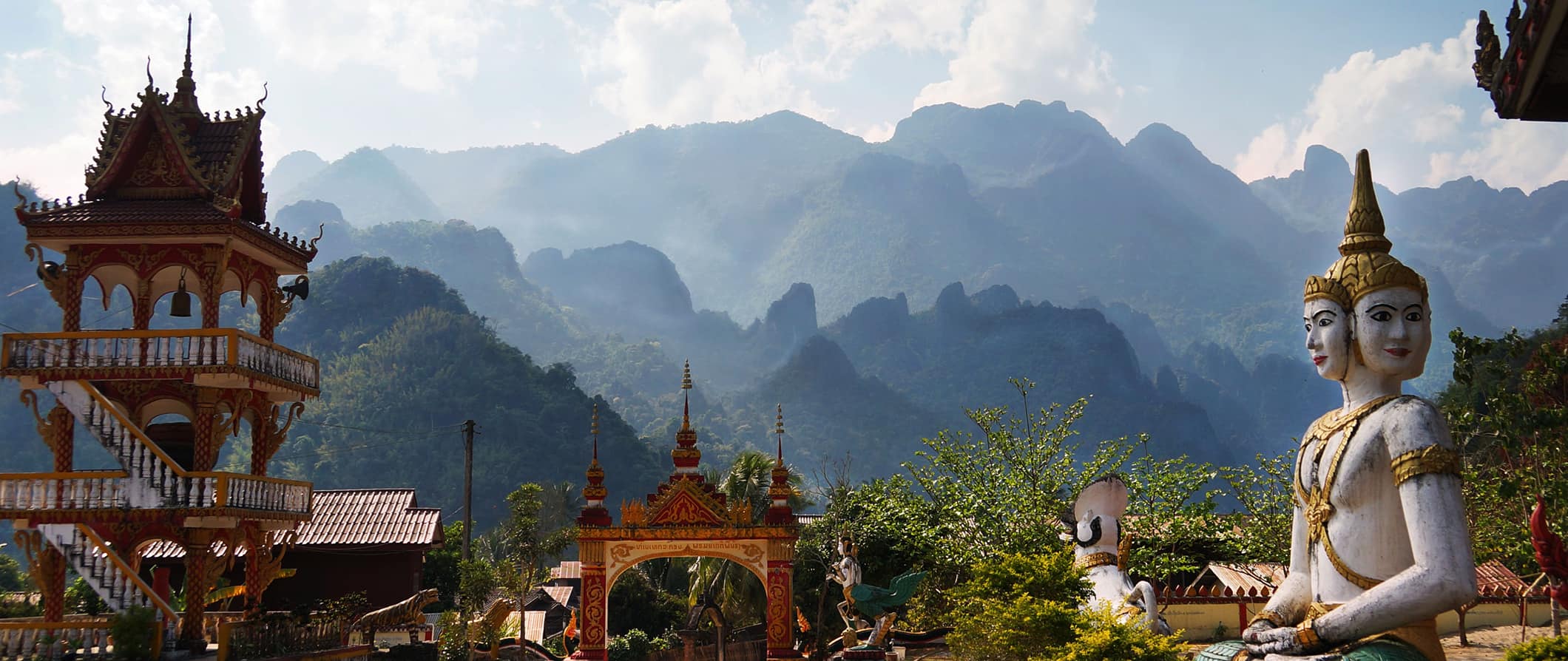 Once a crazy town dominated by wild backpackers, Vang Vieng has been reborn. The center of town is now thriving, with boutique hotels and high-end restaurants replacing some of the party-laden backpacker bars that used to pack the waterfront.
If you're backpacking Vang Vieng, know it's no longer the hedonistic jungle town it was once was – it's now a calm oasis for enjoying nature, jungle hikes, and lazy days cooling off in the river. (That said you can still party hard here. It's just not like the old days, which I think is a good thing.)
If you're seeking outdoor adventure, explore the area's cave system (including by tube in a water cave), kayaking Nam Song's rapids, climb Pha Poak Mountain at sunset, or drive an ATV on the backcountry roads. When it's time to cool off, take a refreshing plunge in the Blue Lagoon.
This Vang Vieng travel guide will give you the best places to visit, tell you how to save money, get around, give you costs, and help you plan the best travel experience in Vang Vieng!
Top 5 Things to See and Do in Vang Vieng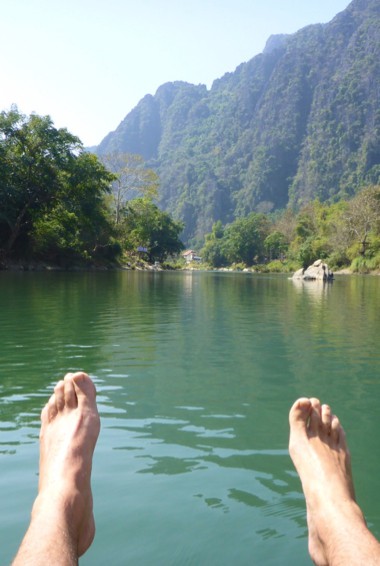 1. Go tubing on the river
Tubing is definitely a much more enjoyable experience now that the drugs and excessive partying are gone. Rent a tube, get taken to the top of the river, and then float lazily back to town. Rentals cost around 55,000 LAK ($6.35 USD), which includes transportation to the starting point.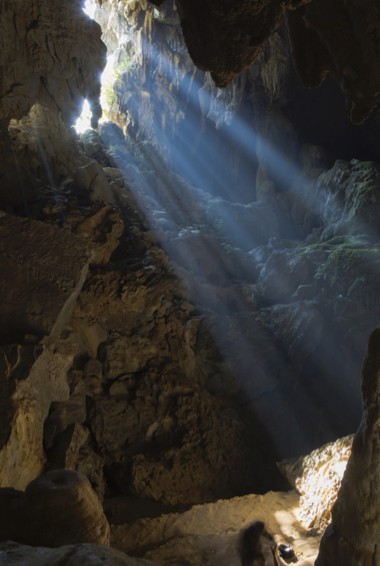 2. Go caving
One of the most popular and most accessible caves in Vang Vieng is the Golden Cave (Tham Phu Kham) at the Blue Lagoon. Inside, there's an aquamarine lagoon where you can cool off with a swim. The Tham Chan Cave is another option, reached via an orange suspension bridge and a steep staircase behind the Vang Vieng Resort.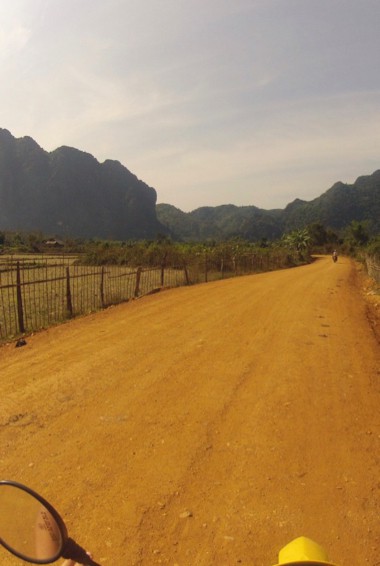 3. Rent an ATV or go dirt biking
ATVs and dirt bikes are really popular here. There are plenty of well-marked trails for off-roading fun. Prices will vary depending on what you rent and whether or not you are on a tour. For hourly rentals, expect to pay around 70,000 LAK ($8 USD) for an ATV.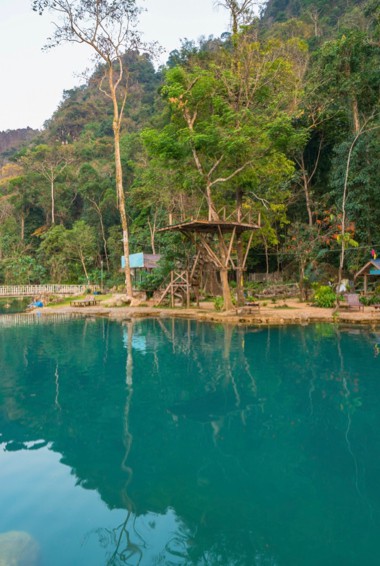 4. Check out the Blue Lagoon
While it does tend to get crowded, the lagoon is a quick trip via tuk-tuk, and you can explore the lagoon's cave too. Plus, it's fun to watch people conquer their nerves as they jump from the highest branch of the tree hanging over the lagoon. The entry fee is 15,000 LAK ($1.75 USD).
5. Take a hot air balloon ride
Hot air balloon rides are offered during the dry season. Rides usually last about 45 minutes, and it is one of the best ways to take in the mountainous scenery around Vang Vieng. Expect to pay at least 735,505 LAK ($85 USD). You can book directly through Balloons Over Vang Vieng or through a third-party company like Wonderful Tours.
Other Things to See and Do in Vang Vieng
1. Try rock climbing
There are several options for rock climbing in Vang Vieng, whether you are a first-time climber or a professional. Adam's Climbing School will show you the ropes (pun intended). For a half-day of lessons and climbing, expect to pay 180,000 LAK ($20 USD).
2. Check out the Water Cave
The Water Cave is one of the main attractions in Vang Vieng. You'll tube through the cave while holding onto a rope with only a flashlight to light the route ahead of you. A tube and flashlight rental is only 10,000 LAK ($1.15 USD), but many tours plan the tubing in the morning and follow it up with a BBQ picnic lunch. A full-day adventure with Wonderful Tours Laos includes the Water Cave, zip-lining, and kayaking for about 450,000 LAK ($52 USD).
3. Climb Pha Poak
If you want stunning views, head to Pha Poak mountain. It's only a 30-minute climb to the top where you'll be rewarded with an incredible view of the area's limestone mountains. Keep in mind that climbing in the dark is incredibly difficult.
4. Go biking
Rent a bike and take a self-guided tour along Route 13's paved roads through farmland, rice paddy fields, and jungle-covered mountains. Regular bicycles are available for around 20,000 LAK ($2.30 USD) per day, while mountain bikes are from about 30,000 LAK ($3.45 USD) per day. Alternatively, hop on a guided half-day tour starting from 432,875 LAK ($50 USD).
Vang Vieng Travel Costs
Hostel prices – Hostel prices start at about 43,300 LAK ($5 USD) for a bed in a dorm that holds ten or more people. Smaller dorms cost around 60,620 LAK ($7 USD) for a six to ten-person dorm, while a four-person dorm is about 86,600 LAK ($10 USD). These prices are pretty consistent anywhere in town.
Private rooms average about 173,590 LAK ($20 USD) per night for a room with an ensuite bathroom.
Free wifi is standard, and most of the hostels offer free breakfast too.
Keep in mind that almost none of the hostels have kitchens so you will need to eat out for your meals or find a local guesthouse with a kitchen.
Budget hotel prices – Rooms at two-star hotels with free wifi, air conditioning, and free breakfast start around 173,060 LAK ($20 USD) per night.
Some properties on the river are more expensive. Expect to pay around 302,855 LAK ($35 USD) per night for one of them.
In addition to hotels, there are lots of Airbnb options in Vang Vieng. Shared rooms (like dorms) are from 86,575 LAK ($10 USD) per night. Private rooms start from 130,190 LAK ($15 USD) but average more like 173,590 LAK ($20 USD). There are very few full apartments or homes for rent, but if you find one, they start at 390,575 LAK ($45 USD).
Average cost of food – On average, you will pay between 15,000-35,000 ($1-4 USD) for street food. Coffee will run you about 5,000 LAK ($0.60 USD) while a fruit shake costs about 17,000 LAK ($2 USD).
Restaurants selling traditional food (especially rice and noodles) usually have meals for about 25,959 LAK ($3 USD). Western food will start from around 30,000 LAK ($3.50 USD) for a burger or a slice of pizza but can be as high as 86,795 LAK ($10 USD).
If you want western food, the Irish bar (yes, that's the name) is a good option. A delicious bowl of carbonara and a large beer will cost you less than 75,000 LAK ($8.65 USD).
A small bottle of water will cost around 2,700 LAK ($0.30 USD), and you can easily find beers at restaurants and bars for 8,653 LAK ($1 USD).
Food from the local markets is relatively inexpensive, with a week's worth of groceries costing between 150,000-250,000 LAK ($17.30-29 USD). But since most places don't have kitchens, I wouldn't recommend cooking your own meals anyways.
Backpacking Vang Vieng Suggested Budgets
On a backpacker budget, you will spend about 243,025 LAK ($28 USD) per day. This budget will cover staying in a hostel dorm, eating street food, drinking some beers, renting a bicycle to get around, and enjoying at least one activity per day.
On a mid-range budget of about 607,560 LAK ($70 USD) per day, you'll get a two-star hotel room, or a private hostel dorm or Airbnb room. You'll eat street food and local food, take some taxis or tuk-tuks, and do more activities.
A luxury budget will cost you from 1,215,120 LAK ($140 USD) per day, and this is the floor. You will stay in a four-star hotel, eat out for all your meals, enjoy lots of drinks, hire private tuk-tuks, and do some guided tours.
Use the chart below to get some idea of how much you need to budget daily, depending on your travel style. Keep in mind these are daily averages – some days you'll spend more, some days you'll spend less (you might pay less every day). We want to give you a general idea of how to make your budget. Prices are in USD.
Accommodation
Food
Transportation
Attractions
Average Daily Cost
Backpacker
$5
$10
$3
$10
$28
Mid-Range
$20
$20
$10
$20
$70
Luxury
$45
$35
$10
$50
$140
Vang Vieng Travel Guide: Money Saving Tips
Vang Vieng, like the rest of Laos, is pretty cheap. As it's a popular tourist destination, prices are a little bit higher than elsewhere in the country, but they aren't going to break your bank. If you drink a lot, you'll spend a lot. That said, here are some ways to save money when you visit Vang Vieng:
Stick to the local food – Western food is always more expensive than local cuisine. While the prices aren't that high, it will slowly add up throughout your trip. And anyway did you come to Laos to have a terrible burger? No. Eat the local food!
Don't party too hard – While Vang Vieng isn't the crazy place it once was on the party scale, skipping out on a lot of drinking is one way to go to cut costs.
Limit your activities – Between tubing and rock climbing, exploring caves and riding hot air balloons, there is a lot to do in Vang Vieng. You'll end up breaking the bank if you try to do everything, so consider picking your top activities and just doing them.
Pack a water bottle – A water bottle with a purifier will come particularly in handy in Southeast Asia since you can't drink the tap water. Save money and thousands of plastic bottles and get a bottle that can purify the tap water for you. My preferred bottle is LifeStraw ($49.99).
Where To Stay in Vang Vieng
Vang Vieng has lots of accommodation options, and some hostels even come with pools or epic views of the mountains. My suggested places are:
How to Get Around Vang Vieng
It's super easy to get around Vang Vieng on foot. The town is small, and if you're here for adventure activities, transportation is likely included in your tour ticket.
Bicycle – Bicycles are a great way to navigate Vang Vieng and its neighboring areas. It's possible to rent a bicycle at lots of different shops in town, and sometimes at your accommodations. Regular bicycles are available for around 20,000 LAK ($2.30 USD) per day, while mountain bikes are from about 30,000 LAK ($3.45 USD) per day.
Motorcycles – At many of the bicycle rental shops you'll also find motorcycle rentals. Rentals are from 50,000-70,000 LAK ($5.75-8 USD) per day.
Tuk-Tuks – There are some tuk-tuks around town, and 10,000 LAK ($1.15 USD) will be enough to get you anywhere you need to go. A full-day hire will cost about 130,000 LAK ($15 USD). If you want to get beyond Vang Vieng (like to the cave sites), you can hire a tuk-tuk from the old market for about 86,795 LAK ($10 USD) per trip.
ATV – Want to do some off-roading? Rent an ATV! It's one of the best ways to see the stunning countryside around Vang Vieng. Prices will vary depending on what you rent, but for hourly rentals expect to pay around 70,000 LAK ($8 USD).
When to Go to Vang Vieng
Between November to March is the best time to visit Vang Vieng. This is when the area's weather is consistently warm and dry, and if you're here primarily to do adventure activities, this kind of climate is perfect. Temperatures are quite cool if you're spending most of your time in the mountains. In the city itself, the average daily temperature is 77°F (25°C). This is the busiest time of year as well, so you can expect higher prices and bigger crowds.
March to May tends to be the hottest months, with temperatures as high as 104°F (40°C). Humidity is high as well. July and August are popular months to visit Vang Vieng for European and South American travelers making the most of their holidays.
The rainiest times of year are September and October. This isn't great for adventure activities as the area may experience flooding, and the thick mud makes it difficult to get around. Plus, if you want to get out into the mountains, there's a higher risk for landslides.
How to Stay Safe in Vang Vieng
Vang Vieng is a very safe place to backpack and travel. Since the government shut down most of the party tubing scene, safety has drastically improved. The town also doesn't have the same amount of tourist traffic anymore, so petty crimes like pickpocketing are also rare (but by no means unlikely).
As with most places in Southeast Asia, people and businesses will often try to rip you off. Worried about travel scams? Read about these travel scams and make sure you don't fall for any!
Always trust your gut instinct. If a taxi driver seems shady, stop the cab and get out. If your hotel is seedier than you thought, get out of there. Make copies of your personal documents, including your passport and ID.
When people get into trouble here, it's mostly because they're tangled up with drugs or the sex industry. Laos is strict about punishment when it comes to these offenses, so avoid at all costs!
If you don't do it at home, don't do it when you're in Vang Vieng. Follow that rule, and you'll be fine.
The most important piece of safety advice I can offer is to purchase good travel insurance. Travel insurance will protect you against illness, injury, theft, and cancellations. It's comprehensive protection in case anything goes wrong. I never go on a trip without it as I've had to use it many times in the past. You can use the widget below to find the policy right for you: