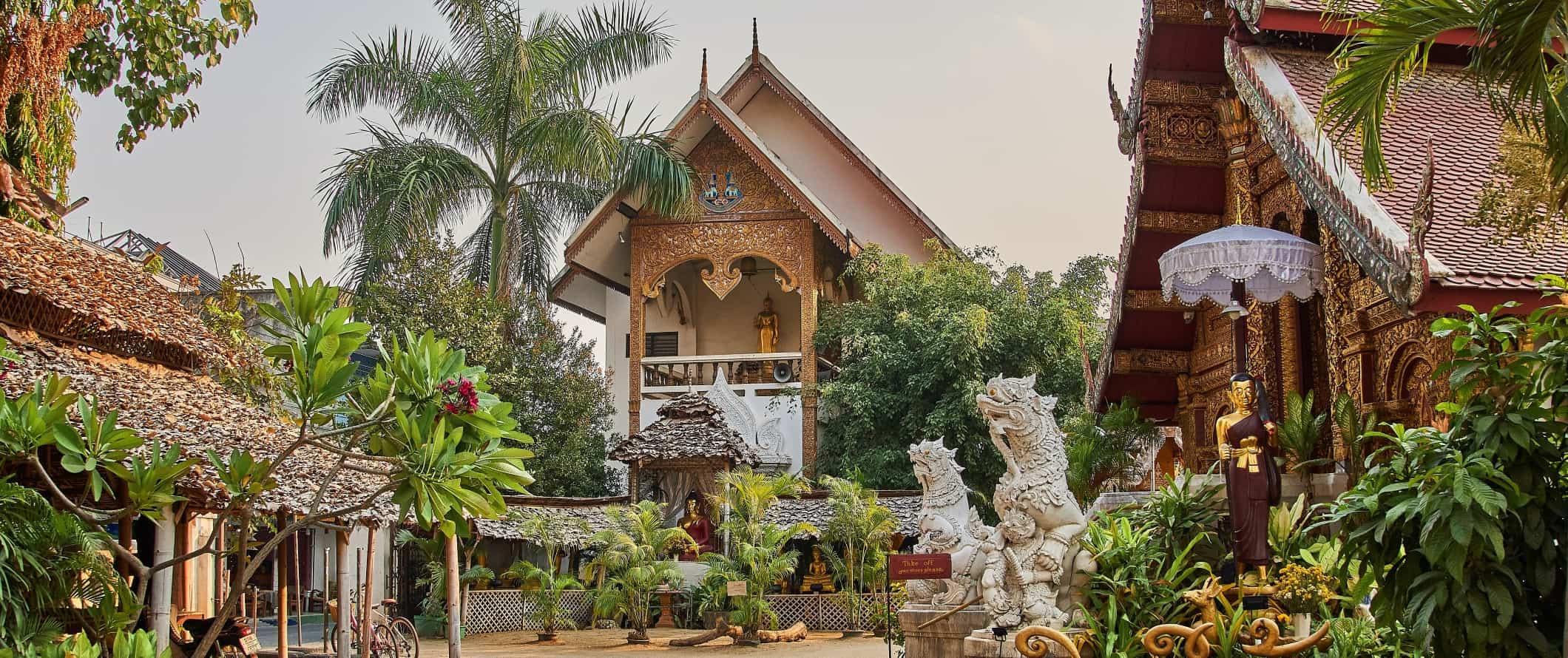 Chiang Mai is the largest and most popular city in northern Thailand. It's the main base of activities for most travelers who come up north and is one of the most visited cities in Thailand for travelers of all types.
The city is brimming with culture, incredible food markets, dozens of beautiful temples, a relaxed vibe, beautiful landscapes. In recent years, it's become one of the main digital nomad hubs in Southeast Asia so it's easy to meet other travelers here.
While you can find a lot of delicious Western food, cafes, and bars all around the city, the historic Thai-ness of the city hasn't disappeared. There are plenty of stunning temples and lively markets to entertain as you explore.
Be sure to budget extra time when you visit Chiang Mai and as it's easy to get "stuck" here. Lots of people plan to stay for a few days and end up staying for a few weeks or more! There's magic to this city.
This travel guide to Chiang Mai can help you plan your trip, save money, and ensure you have an amazing visit!
Top 5 Things to See and Do in Chiang Mai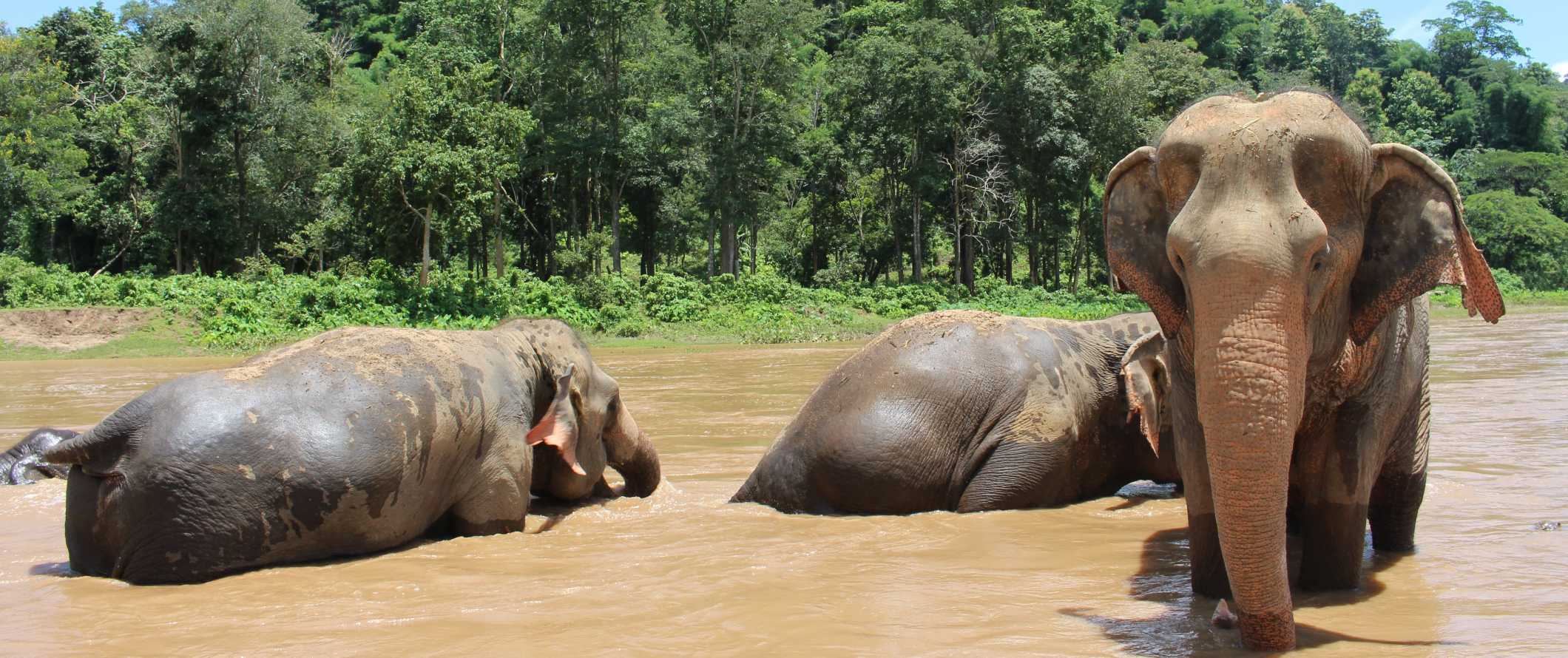 1. Visit the Elephant Nature Park
Elephant Nature Park rescues abused and injured elephants from around the country. It's a sanctuary where you can visit for a day or spend a week volunteering. It makes for a phenomenal day trip, gives back to the community, and lets you help these beautiful animals. A one-day visit starts at 2,500 THB.
2. Tour the temples
Located within the old area of the city and around the wall are many beautiful Buddhist temples, some dating as far back as the 13th century. The main ones worth seeing are Wat Chiang Man, Wat Phra Singh, Wat Suan Dok, Wat Chedi Luang, and Wat Jet Yot.
3. Visit Wat Doi Suthep
Doi Suthep is Chiang Mai's most famous temple (the pagoda supposedly contains relics of Buddha himself). It offers beautiful views of the surrounding area and, at 6pm each day, you can watch the monks chant. Entry is free.
4. Bargain at the night bazaar
Chiang Mai is the main handicraft center of Thailand and the night bazaar is the largest in the country. Everything is sold at non-fixed prices so you can bargain the night away. If you plan to do some shopping in Thailand, this night bazaar is where you'll find the best deals. Open from 6pm-12am.
5. Celebrate the Yi Peng Festival
This iconic annual festival takes place in November. Citizens release thousands of paper lanterns into the air, which symbolically carry dreams and wishes towards the heavens. Seeing the festival lights is a beautiful, memorable experience.
Other Things to See and Do in Chiang Mai
1. Try ziplining
If you are looking for an adrenaline rush, go ziplining. Chiang Mai has many operators offering beginner and advanced zip lining courses. The biggest operator is Flight of the Gibbon, which also has a variety of eco-tourism and conservation initiatives that rescue, rehabilitate, and repopulate endangered species and wildlife of the area. Ziplining starts at 4,000 THB.
2. Go jungle trekking
Chiang Mai is the main starting point for all sorts of jungle trekking tours. I like the three-day ones the best, but the longer the tour, the more interesting and secluded places you visit. Be careful with whom you sign up, as many guides simply walk with you and don't tell you much about the land or wildlife. Moreover, if you visit a tribal village, make sure the money stays with the villagers, and that they aren't being exploited, which unfortunately happens a lot. Check out Stray Away Travel for some ethical tour options.
3. Take a cooking class
Chiang Mai is the most popular place in Thailand for cooking classes, offering a variety of classes and amazing deals. You'll begin your class by going to the market and learning about Thai produce before heading back to the kitchen to cook a few dishes. The class ends with eating everything you've prepared so bring an appetite! Prices range from 1,000-1,300 THB per person.
4. Eat a kantoke dinner
This traditional Thai event generally takes place on special occasions, like holidays, festivals, and weddings. At a kantoke dinner, you experience both Northern Thai food and culture at the same time. At this event, visitors are seated on the floor around a circular tray laden with Northern dishes (called a kantoke, giving the tradition its name). While you eat, you'll watch traditional Thai and Northern dances and other cultural performances. The Old Chiang Mai Cultural Center is the premier place to go, with tickets costing 690 THB (including dinner).
5. Cruise down the river
Cruise around rural Mae Ping on a two-hour journey that takes you past beautiful scenery around Chaing Mai. Enjoy the scenic vistas, stop to visit a local farm and its herb and fruit gardens, and relax with an onboard Thai dinner. Mae Ping River Cruise is the main company offering tours. A two-hour cruise is 480 THB, while dinner cruises start at 650 THB.
6. Chat with monks
Monk chats are a chance for visitors to learn about the country's religion and culture, while for young monks it's an opportunity to practice their English. It's a popular cultural activity that occurs at many of the major temples throughout the city, including Wat Chedi Luang, Wat Doi Suthep, Wat Suan Dok, as well as the MCU Buddhist University. Hours vary based on location.
7. Go whitewater rafting
The Mae Taeng River is a popular destination for whitewater rafting, with rapids ranging from levels two to four (easy to advanced). Keep in mind that the river is at its most intense during the rainy season, between August-October, and tours might sometimes be postponed if levels are dangerous. 8 Adventures offers tours for 2,500-3,000 THB per person, which include transportation from Chiang Mai and lunch.
8. Browse Warorot Market
This historic market opened in the early 20th century and is a great place to shop for clothes and local products (as well as eat some really tasty, affordable food). The food stalls are located on the first floor, while clothing and other goods are on the second and third floors. Located near the river, it's open daily from 6am-7pm.
9. Visit The Highland People Discovery Museum
Highlighting Thailand's minority hill tribes, this ethnographic museum offers exhibits on tribal clothing and jewelry items and tribal life and includes outdoor gardens modeling reconstructed tribal huts. Once a month, there is a market with a different tribe every month selling handmade goods. It's open Monday-Friday.
10. Climb up the Bua Thong Sticky Waterfalls
While a little outside of the city, this makes for a great day trip. The falls, due to the type of limestone they're made of, is almost sticky and allow you to climb up the cascading water. The rocks themselves are interesting, looking a bit like fluffy clouds. Not only is it a neat experience, it's also a great workout! Pack a picnic, find a spot, and "stick" around for lunch. Admission is free.
For more information on other cities and islands in Thailand, check out the guides below:
(Hey there! Wait one second! Did you know I also wrote an entire guidebook to Thailand filled with – not only even more detailed information on the things included on this page but also itineraries, maps, practical information (i.e. hours of operation, phone numbers, websites, prices, etc), cultural insights, and so much more? It has everything you want in a guidebook – but with a focus on budget and cultural travel! If you want to go into more depth and have something to take on your trip, click here for more about the book!)
Chiang Mai Travel Costs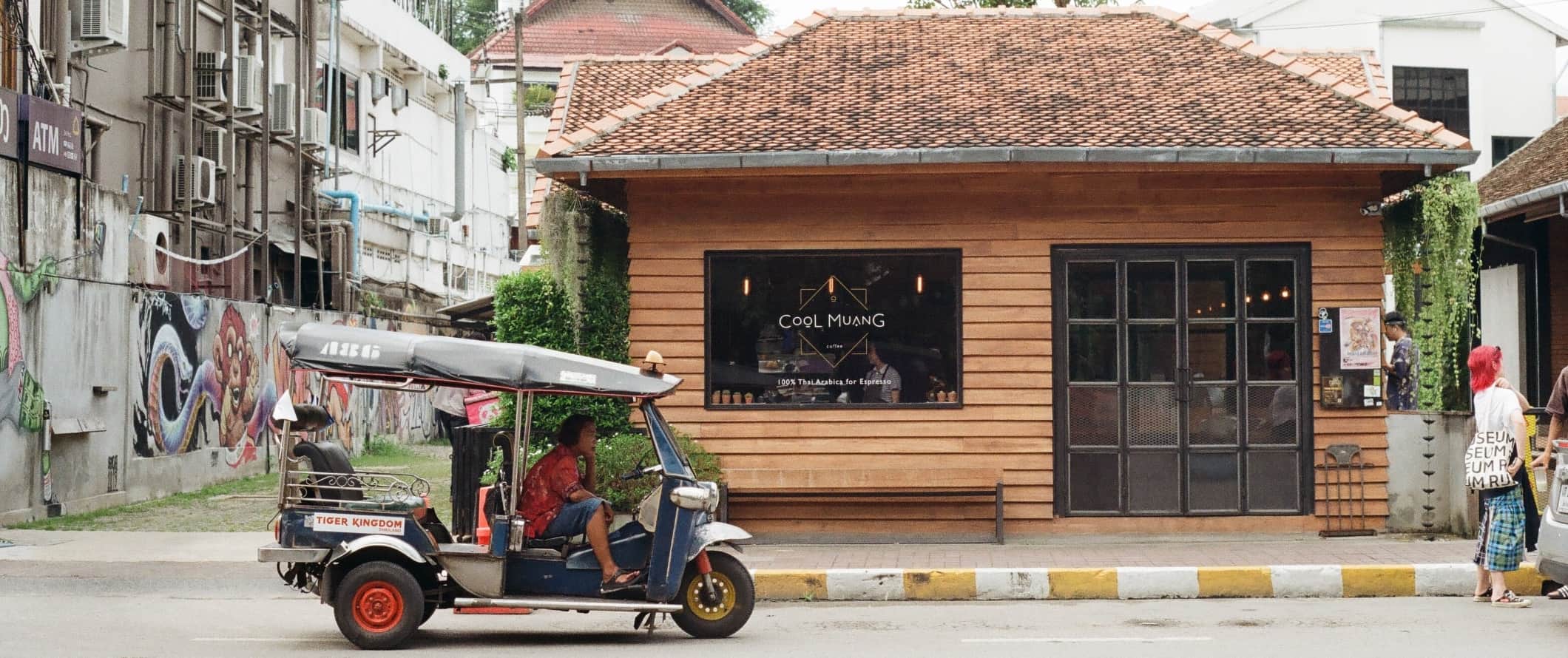 Hostel prices – Hostels start at 240 THB per night large 10-12-bed dorms, while smaller dorm rooms with 4-6 beds cost around 280-429 THB. Private rooms start at 1,000 THB for a double room with an ensuite bathroom. All hostels include free Wi-Fi, and most hostels include free breakfast and air-conditioning. Many offer free bikes for their guests as well.
Budget hotel prices – Centrally-located two-star hotels and guesthouses start at 450-625 THB per night for a room with free Wi-Fi, hot water, a private bathroom, and air conditioning. Most hotels also have outdoor swimming pools and offer free or discounted bikes for their guests to use.
On Airbnb, you can find private rooms in apartments for 350 THB. There's also a wide selection of entire apartments/homes starting at 500-900 THB per night.
Average cost of food – Thai cuisine uses many ingredients to create layers of flavor in a dish. Typical fresh spices and herbs used include garlic, basil, galangal, cilantro, lemongrass, kaffir lime leaves, chilies, shrimp paste, and fish sauce.
Thai food takes on influences from neighboring countries: India, Malaysia, Indonesia, Laos, Myanmar, and Cambodia. All these influences mesh to become Thailand's flavorful national cuisine, which is aromatic and spicy with a variety of curries, salads, soups, and stir-fries that differ based on region.
Rice and noodles are central to Thai cuisine, while meat is usually pork, chicken, fish, or seafood. Some popular dishes include tom yum goong (hot and sour soup with shrimp), massaman curry, pad thai (a stir-fried noodle dish), som tam (spicy papaya salad), kao phad (fried rice), khao man gai (rice with boiled chicken), and satay (grilled meat on skewers, served with a peanut dipping sauce).
Chiang Mai's most famous dish is khao soi, a yellow curry noodle soup with pickled cabbage and your choice of chicken or beef.
Chiang Mai has some of the best street food in Thailand, with dishes like khao soi costing 25-50 THB and snacks costing 10-20 THB. Most meals at a casual sit-down Thai restaurant cost 80-95 THB.
Western food is more expensive, starting around 170-195 THB for a main dish. A burger is 210 THB, pasta is 180-245 THB, and pizza is around 250 THB.
When it comes to drinking, going to bars can be pricey, with the cheapest local beers costing about 95 THB each. To save some money, you can buy beers from 7-Eleven for half that.
For non-alcoholic drinks, a cappuccino or fresh juice is 65 THB, and soda is 35 THB.
Dada Kafe, Sushi Ichiban, Dash, the Chiang Mai Gate Market, and Sunday Market are all foodie spots you shouldn't miss!
If you plan on cooking your own meals, a week's worth of groceries costs around 550 THB. This gets you basic staples like rice, veggies, eggs, and some meat.
Backpacking Chiang Mai Suggested Budgets
On a backpacking budget, expect to spend about 975 THB per day. This assumes you're staying in a hostel, cooking or eating cheap street food, using local transportation like songthaews and public buses, limiting your drinking, and doing mostly free and cheap activities like temple visits and wandering the markets.
On a mid-range budget, expect to pay 1,875 THB per day. On this budget, you can stay in a private Airbnb or cheap guesthouse, eat out for all your meals, enjoy a few drinks, take the occasional taxi to get around and do more activities and tours like a cooking class or hiking excursion.
On a "luxury" budget of 3,725 THB per day or more, you can stay in a hotel, eat out anywhere you want, drink more, take taxis everywhere, and do whatever activities you want (including visiting the elephant reserve). This is just the ground floor for luxury though. The sky is the limit!
Accommodation
Food
Transportation
Attractions
Average Daily Cost
Backpacker
300
170
180
325
975
Mid-Range
550
435
300
490
1,875
Luxury
1,050
875
500
1,300
3,725
Chiang Mai Travel Guide: Money-Saving Tips
Chiang Mai can be as cheap or expensive as you want (like most of Thailand). But if you stick to the local markets, avoid the fancy organic restaurants that have popped up, and stay in the old city, you can save money easily! Here are some other ways to save money in Chiang Mai:
Bargain hard – You have to bargain hard at the markets here. Don't take the first price and don't be afraid to walk away. They inflate prices greatly here since Chiang Mai is such a popular shopping destination for tourists.
Eat from the street stalls – Food from street vendors in Thailand is some of the best Thai food I have ever had, and it's so cheap it's ridiculous. The locals eat here and you should too.
Take the songthaew – At 20-40 THB for anywhere in the city, songthaews are one of the cheapest ways to get around. They go everywhere and run all night. There's no reason to take a taxi around the city.
Take the bus – At 20 THB per ride (and cheaper with a day pass), these modern public buses are, along with songthaews, one of the cheapest ways to get around the city.
Stay with a local – Couchsurfing connects you with locals who can give you a free place to stay and who can share their insider tips and advice. It's the best way to save money on accommodation and get insider tips and advice.
Book group excursions – When booking your day tours, multi-day tours, cooking classes, etc., try to book it as a group so the price per person gets reduced. Traveling alone? Make friends and book a tour with your hostel.
Use a water bottle with a purifier – It isn't safe to drink tap water in Chiang Mai, and although buying bottled water is cheap, it does add up. Instead, pick up a LifeStraw, which have built-in filters to ensure your water is always clean and safe (it's good for the environment too!)
(Hey there! Wait one second! Did you know I also wrote an entire guidebook to Thailand filled with – not only even more detailed information on the things included on this page but also itineraries, maps, practical information (i.e. hours of operation, phone numbers, websites, prices, etc), cultural insights, and so much more? It has everything you want in a guidebook – but with a focus on budget and cultural travel! If you want to go into more depth and have something to take on your trip, click here for more about the book!)
Where to Stay in Chiang Mai
Looking for budget-friendly accommodation in Chiang Mai? Here are some of my favorite places to stay in the city:
How to Get Around Chiang Mai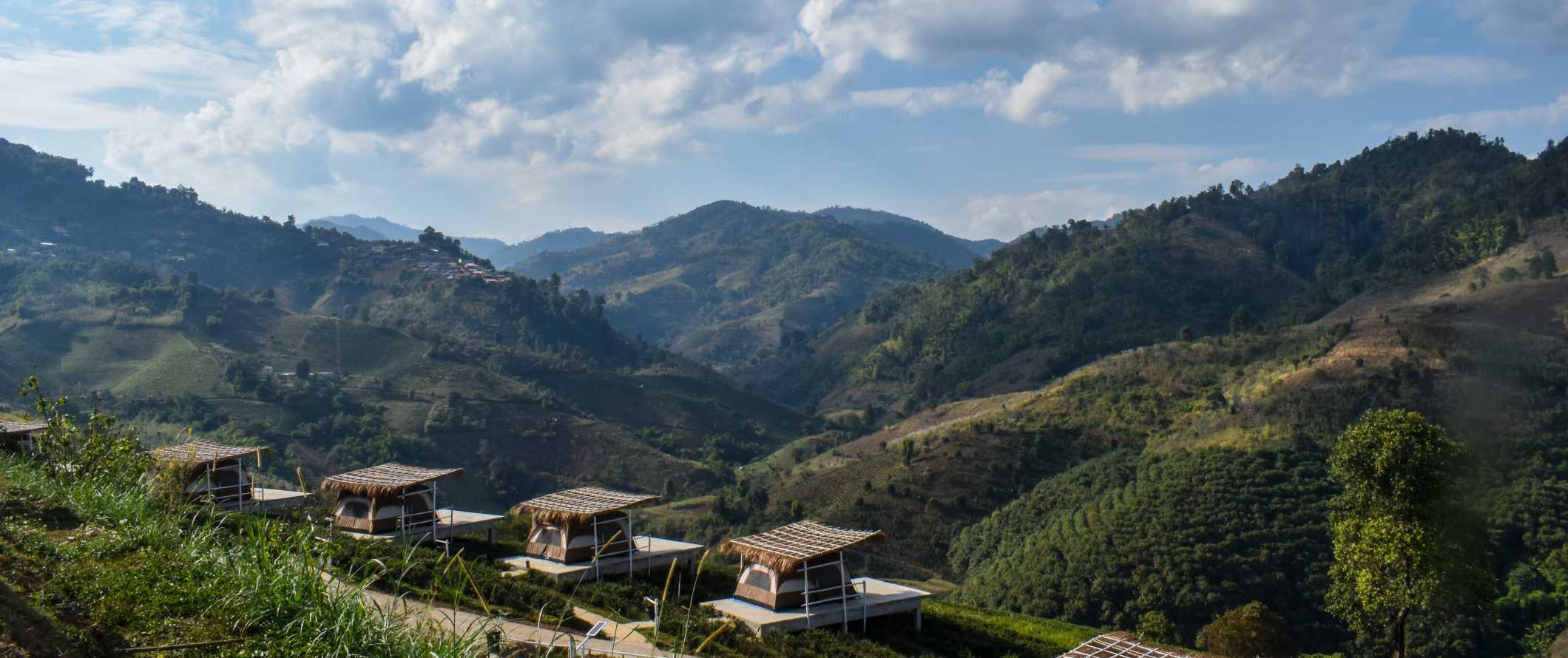 Songthaew – Songthaews are the most common mode of local transportation in Chiang Mai. These are converted pickup trucks with two rows of seats and how locals travel. Just flag one down in the street and tell the driver where you're going. You can get to just about anywhere in the central city for 40 THB.
Buses – Until recently, there weren't public buses in Chiang Mai, but that all changed in 2018 with the launch of the RTC Smart City Bus network. At 20 THB per ride, it's the cheapest and easiest way to get around the city, including to and from the airport. The buses are clean, modern, and have free Wi-Fi. If you plan to use the bus a lot, you can get an unlimited day pass for 180 THB or a three-day pass for 400 THB.
Bicycle – Chiang Mai has a new dockless bike-sharing system called Anywheel. Each ride starts at 10 THB, while a monthly pass starts at 200 THB. Many hostels and guesthouses also offer their guests free bicycles to use.
Tuk-Tuk – A trip via tuk-tuk is more expensive than a songthaew since it's a direct service. You can get around town for about 100-150 THB.
Ridesharing – Use the Grab app to request a private ride. It works just like Uber and is one of the most popular ways to get around in Southeast Asia. Just download the app and go!
Motorbike/scooter rental – Motorbikes and scooters are a common way to get around, though it can be a harrowing experience to drive one in Chiang Mai. Keep in mind that traffic flows on the left in Thailand. A motorbike or scooter costs 100-500 THB per day, with cheaper deals for weekly and monthly rentals.
Car rental – Compared to other methods of transportation in Chiang Mai, it's expensive to rent a car. Rentals cost around 800 THB per day. Unless you are heading outside the city, I'd skip the car rental.
When to Go to Chiang Mai
The best time to visit Chiang Mai is between October-April when temperatures are warm but not stifling. You'll still want to pack a sweater in case the evenings cool off. The average daytime temperature is around 25°C (77°F), but it can dip as low as 15°C (59°F) at night. Keep in mind, however, that this is peak tourist season so book your accommodation in advance if you want to find the best deals.
In April and May, things start heating up. Temperatures can soar as high as 40°C (104°F), and you'll want to pack light clothing and plenty of sunscreen. If you're not used to such heat, you might find it uncomfortable for sightseeing.
The rainy season takes place from June to October when temperatures cool down to 24-32°C (75-90°F) but the humidity rises. Chiang Mai doesn't get as much rain as Southern Thailand, but you'll still want to be prepared. It rains for maybe an hour each day, and only rarely for days on end.
(Hey there! Wait one second! Did you know I also wrote an entire guidebook to Thailand filled with – not only even more detailed information on the things included on this page but also itineraries, maps, practical information (i.e. hours of operation, phone numbers, websites, prices, etc), cultural insights, and so much more? It has everything you want in a guidebook – but with a focus on budget and cultural travel! If you want to go into more depth and have something to take on your trip, click here for more about the book!)
How to Stay Safe in Chiang Mai
Chiang Mai is a safe place to backpack and travel — even if you're traveling solo, and even as a solo female traveler. People are nice and helpful and you're unlikely to get into trouble. Violent crime against tourists is rare.
Petty theft (including bag snatching) is the most common type of crime in Chiang Mai so always keep your valuables secure and out of reach. This includes when on the bus/public transportation.
Solo female travelers should feel safe exploring the city, though the common precautions apply (never leave your drink unattended at the bar, never walk home alone intoxicated, etc.).
There are some common scams to be aware of here, such as the motorbike scam. This is when you rent a bike and the vendors try to charge you for damage to your bike rental — even though there is no damage. Also, sometimes taxis will try to charge you extra so always make sure you use a reputable taxi (have your hotel/hostel call one if you need one).
You can read this post on common travel scams to avoid if you want to learn more.
If you experience an emergency, dial 191 for assistance.
Always trust your gut instinct. Make copies of your personal documents, including your passport and ID. Forward your itinerary along to loved ones so they'll know where you are.
The most important piece of advice I can offer is to purchase good travel insurance. Travel insurance will protect you against illness, injury, theft, and cancellations. It's comprehensive protection in case anything goes wrong. I never go on a trip without it as I've had to use it many times in the past. You can use the widget below to find the policy right for you:
Chiang Mai Travel Guide: The Best Booking Resources
These are my favorite companies to use when I travel. They consistently have the best deals, offer world-class customer service and great value, and overall, are better than their competitors. They are the companies I use the most and are always the starting point in my search for travel deals.
Skyscanner – Skyscanner is my favorite flight search engine. They search small websites and budget airlines that larger search sites tend to miss. They are hands down the number one place to start.
Hostelworld – This is the best hostel accommodation site out there with the largest inventory, best search interface, and widest availability.
Agoda – Other than Hostelworld, Agoda is the best hotel accommodation site for Asia.
Booking.com – The best all around booking site that constantly provides the cheapest and lowest rates. They have the widest selection of budget accommodation. In all my tests, they've always had the cheapest rates out of all the booking websites.
Get Your Guide – Get Your Guide is a huge online marketplace for tours and excursions. They have tons of tour options available in cities all around the world, including everything from cooking classes, walking tours, street art lessons, and more!
SafetyWing – Safety Wing offers convenient and affordable plans tailored to digital nomads and long-term travelers. They have cheap monthly plans, great customer service, and an easy-to-use claims process that makes it perfect for those on the road.
LifeStraw – My go-to company for reusable water bottles with built-in filters so you can ensure your drinking water is always clean and safe.
Unbound Merino – They make lightweight, durable, easy-to-clean travel clothing.
Get the In-Depth Budget Guide to Thailand!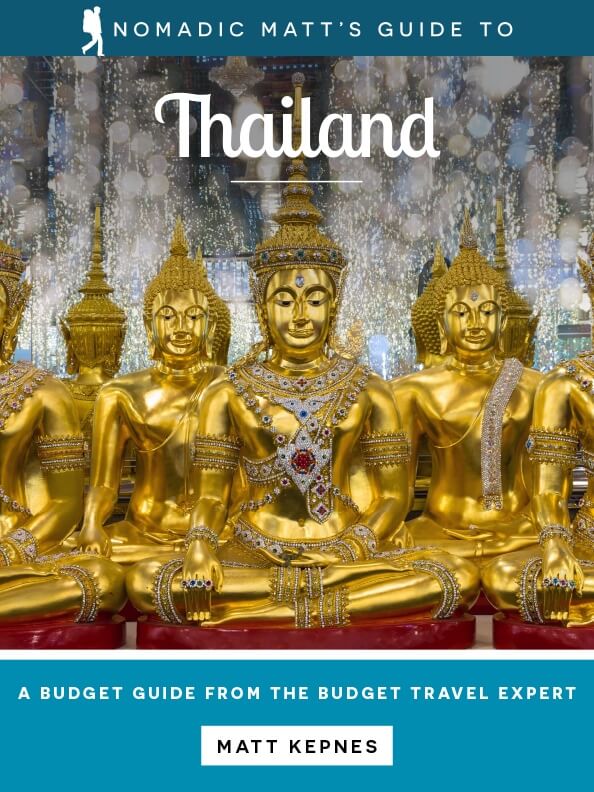 My detailed 350+ page guidebook is made for budget travelers like you! It cuts out the fluff found in other guidebooks and gets straight to the practical information you need to travel around Thailand. You'll find suggested itineraries, budgets, ways to save money, on and off-the-beaten-path things to see and do, non-touristy restaurants, markets, bars, safety tips, and much more! Click here to learn more and get your copy today.
Chiang Mai Travel Guide: Related Articles
Want more tips for your trip? Check out all the articles I've written on Thailand travel and continue planning your trip: