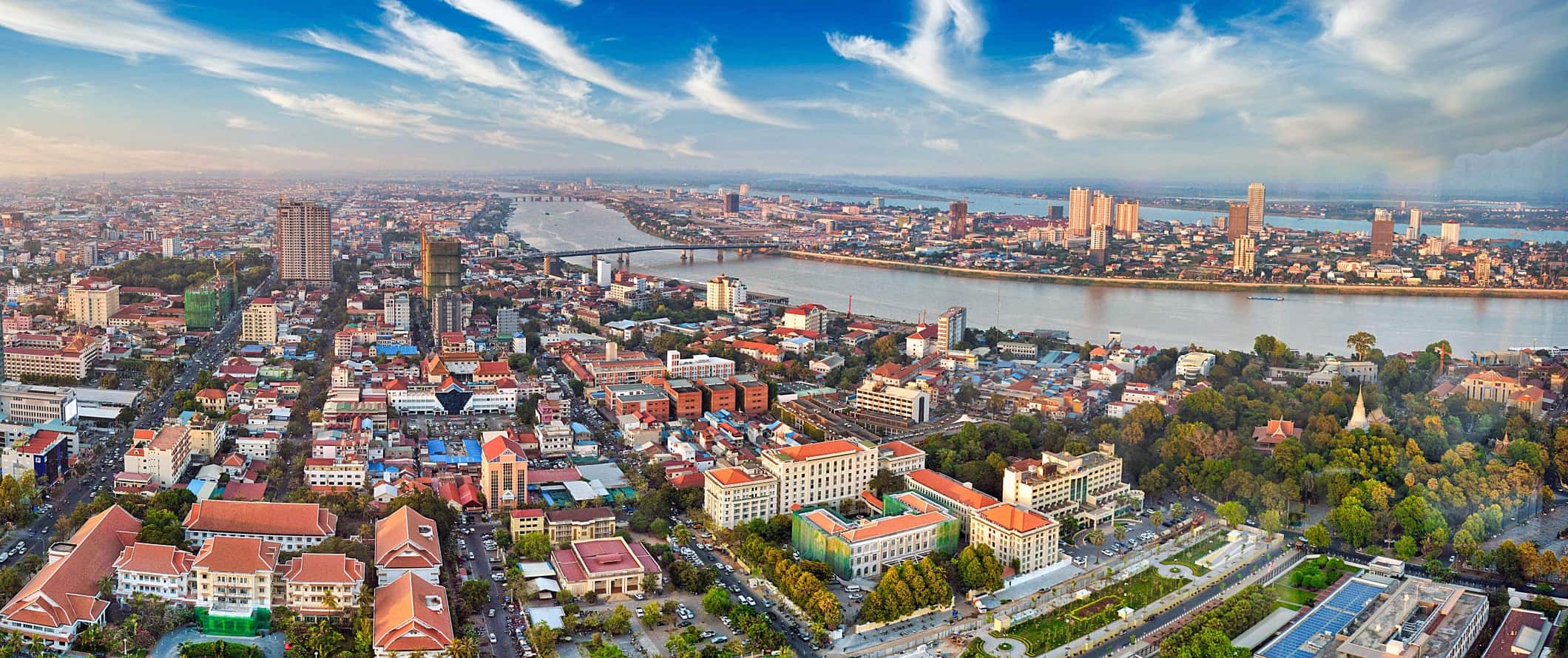 Cambodia's capital city is raw, wild, and untamed. I fell in love with it during my first visit and have loved it ever since.
Founded in 1434, Phnom Penh has a tumultuous past. The city ballooned during the Vietnam War, filling with refugees fleeing the conflict. It was cut off by the Khmer Rouge for over one year before they invaded in 1975, killing and torturing thousands of civilians in the process (upwards of 3 million people were killed by the regime during their reign of terror). By 1979, the Khmer Rouge was finally driven out of the city and it's been healing and growing ever since.
Like the rest of Cambodia, there is a "frontier" attitude in the city. It seems like anything goes here — because it usually does.
Phnom Penh is a city of controlled chaos and excitement. I ended up here for two weeks on my first visit and found it's a "love it or hate it" destination. But regardless of whether you like the city or not, it's never a boring place to be!
These days, Phnom Penh is an international digital nomad hub, has incredible nightlife, and is one of the best and fastest-growing foodie scenes in the region. Over 15% of the country's population lives here, making it a busy, vibrant, and diverse capital.
This Phnom Penh travel guide will help you navigate my favorite city in Cambodia, save money, and ensure you make the most of your time here!
Top 5 Things to See and Do in Phnom Penh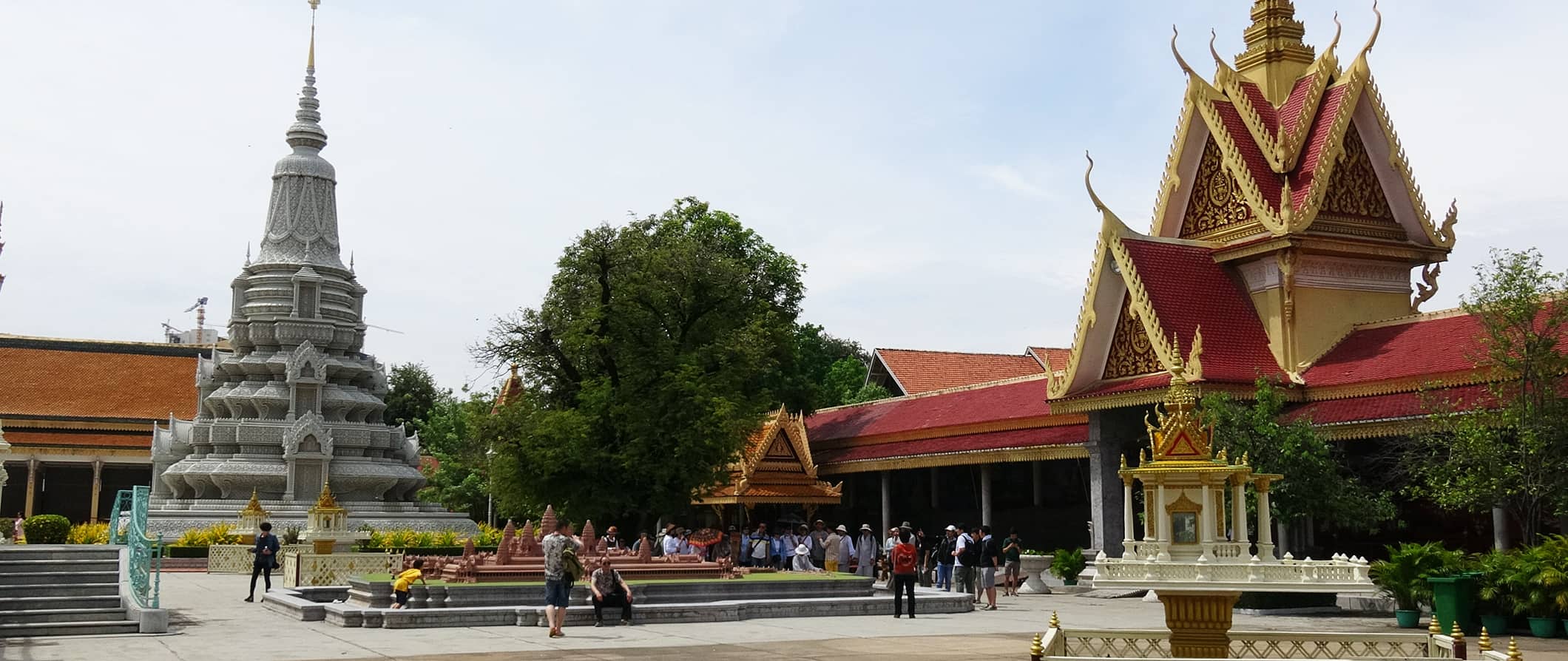 1. Admire the Royal Palace
This is the residence of King Sihamoni, and it's the focal point of the city. Visitors can only visit the throne hall and a few other buildings around it, but you'll find information about the history of the royal family, some interesting temples, and a picturesque courtyard. The best way to see it is via a guided tour so you can learn more about the history and culture from an expert local guide. Most tours include pick-up and drop off as well as a visit to the National Museum.
2. Visit The National Museum
The National Museum houses thousands of artifacts and works of art. There are more than 5,000 pieces on display with the vast majority from the Angkor period (9th-15th-centuries). The building itself, with its chambers linked by a central courtyard, is also an architectural masterpiece. Admission is $10 USD. Guided tours are available if you want to get beneath the surface and learn more.
3. See Choeung Ek and Toul Sleng
These are the killing fields of the Khmer Rouge. Choeung Ek is a series of exhumed mass graves while Toul Sleng is the former high school that the Khmer Rouge converted into a torture center. Admission to Choeung Ek is $6 USD and the museum is $8 USD. It is about 45 minutes outside the city so the best way to visit it is via a guided tour. It will be sobering, but it's the most important things to see and do in the city.
4. Visit Phnom Tamao Wildlife Rescue
This is the biggest wildlife rescue center in Cambodia, where over 100 endangered species are rescued, rehabilitated, and (ideally) released. A full-day visit costs $150 USD which includes transport, lunch, and tour guides. You can also visit independently for $55 USD if you hire your own driver.
5. Marvel at The Silver Pagoda
The Silver Pagoda is a stunning temple complex that receives its name from the 5,329 silver tiles covering the temple floor. Within the grounds are five stupas, with the two largest containing the ashes of King Norodom and King Udung (the two most famous kings of modern Cambodia).
Other Things to See and Do in Phnom Penh
1. See the Independence Monument
Designed by famed architect Vann Molyvann, this lotus-shaped stupa was inaugurated in 1958 to mark Cambodia's independence from French rule (which occurred from 1863-1953). Located at the intersection of Norodom and Sihanouk boulevards, it is a major city landmark and is lit up at night.
2. Wander the Central Market
Built in 1937, this art-deco ziggurat seems very out of place in Phnom Penh. A huge dome with four wings (it's super ugly), it's a wonderful place to seek refuge from the midday sun. You'll find everything from clothing to electronics to souvenirs here but save your shopping for elsewhere because even when you bargain them down, you're still paying a hugely inflated price. But wander around, stop for a drink, and take in the scene. Just watch out for pickpockets while you're here.
3. Shop at the Russian Market
Popular with expats and tourists for buying pirated DVDs, fake designer clothing, handicrafts, and anything else you could ever think of, this place got its name from the Russians who shopped here in the 1980s. If you're looking to buy something in the city, this is the place to do it. It's also a fun place to just browse and people-watch.
4. See a show at the Cambodian Living Arts Center
This is a small traditional dance school where visitors are welcome to watch students in training or, if set up in advance, a fully costumed performance can be seen. Performances include traditional and ritual dances as well as folk pieces with upbeat, happy music inspired by daily life in Cambodia. Tickets start from about $25 USD. Sometimes there is a dinner show as well!
5. Take in the views at Phnom Chisor Temple
It may be a 42-kilometer (26-mile) drive out of the city, but this 11th-century brick and laterite temple is located atop a large hill and is worth a visit both for the historical ruins and the view of the surrounding countryside (you'll get a sweeping view of the lush rice fields and greenery). The temple was dedicated to the Hindu gods Shiva and Vishnu and was originally named "The Mountain of the Sun." It's been nominated to be a UNESCO Heritage Site as well. Expect to pay at least $30 USD for a tuk-tuk to get there.
6. Admire Wat Ounalom
If you aren't sick of temples yet, check out Wat Ounalom, which is located on the Sisowath Quay. It is considered Phnom Penh's most important wat and is home to many monks. Large parts of it were damaged during the Khmer Rouge regime but it remains the center of the Cambodian Buddhist religion (around 98% of the population is Buddhist). From the third floor, there are really nice views of the Mekong River. Entry is free.
7. Take a food tour
Phnom Penh Food Tours is led by expert foodies and chefs who take you into the city's markets and hole-in-the-wall eateries to sample authentic Khmer food. If you're nervous about sampling street food, this is a good way to do it safely while also learning about the myriad dishes on offer. You'll eat everything from breakfast noodles to barbecue and develop a deeper knowledge and appreciation of the food and the history and culture that accompany it. Tours start from $65 USD and are just over three hours long.
8. Cruise the Mekong River
The Mekong is one of the longest rivers in the world and the third-longest in Asia. Taking to the water is a great way to see Phnom Penh's surrounding area. Watch the sunset over Phnom Penh by taking a river cruise or consider taking a day trip to the nearby islands and floating villages. Sunset boat rides are generally around 1.5 hours and cost $15 USD, including drinks and fresh fruit snacks. Even a private cruise is generally only $50.
9. Stroll on Sisowath Quay
This 3-kilometer (1.8-mile) boardwalk along the Tonle Sap River is lined with all manner of shops, restaurants, cafes, and bars. Many of the city's main attractions are located along this strip or just off it, so you're sure to end up here at some point. Still, it's nice to spend some time walking the full length of this bustling area. During the annual Water Festival (Bon Om Touk) in October/November which celebrates the end of the monsoon season, you can watch dragon boat races in the river here.
10. Learn to cook Cambodian dishes
Learning how to cook delicious Cambodian food is one of the best souvenirs you can bring home. La Table Khmère offers a variety of classes, with the most popular option being a 3.5-hour morning class that includes a trip to the market. You'll learn how to select fresh produce, learn what ingredients to choose, and how to use them to create delightful Cambodian fare. This class costs $25 USD, while a full-day class costs $46 USD.

For more information on other cities in Cambodia, check out these guides:
Phnom Penh Travel Costs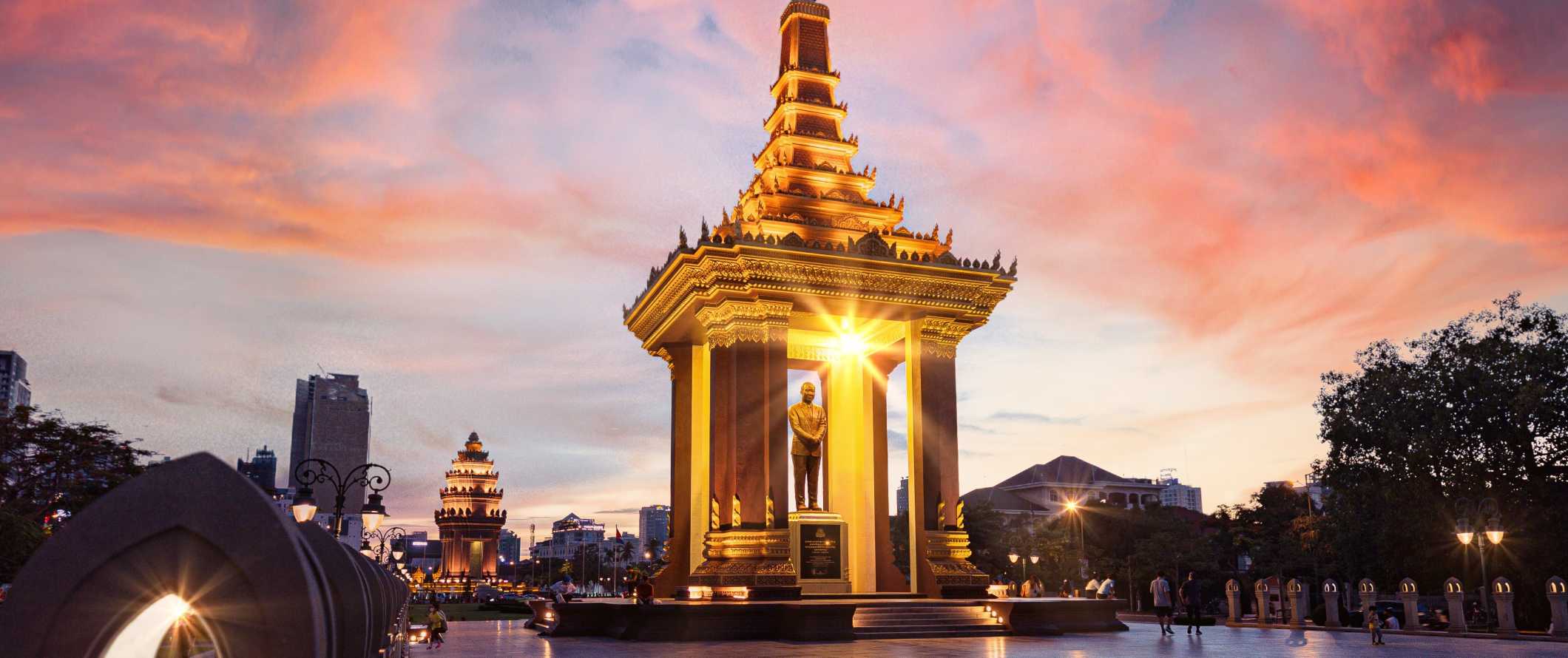 Note: Cambodia uses USD. There's no real need to carry the local currency, Cambodian Riels (KHR), unless you're paying for really small things on the street. However, this is slowly changing, with an increased emphasis on using the riel. You may receive riels back as change, especially in the countryside.
Hostel prices – Most hostels have beds available for $7-9 USD per night for a bed in a 10-person dorm. A bed in a smaller dorm (4-8 people) is around $11-12 USD. Private rooms start from $20 USD for a double room with a shared bathroom. For a double room with an ensuite bathroom, expect to pay $40 USD.
Free Wi-Fi, air-conditioning, and linens are standard in almost every hostel in the city. None of the hostels have free breakfast, though a couple have kitchens. Many hostels have an outdoor pool and a bar/restaurant on-premises.
Budget hotel prices – Budget hotels and guest houses close to the city center cost $15-20 USD per night and include air-conditioning, Wi-Fi, and a private bathroom. A nicer three-star hotel that comes with additional perks like free breakfast and a nice swimming pool costs around $25-35 USD. The popular riverside area is more expensive.
Airbnb is available in the city. You can expect to pay at least $15 USD per night for a private room or around $30-40 per night for an entire apartment.
Average cost of food – Cambodian food is similar to Thai and Vietnamese cuisine. Vietnam and Cambodia especially have many dishes in common due to the countries' shared history of French colonization. For example, the baguette sandwich known as bánh mì in Vietnam is called num pang pâté in Cambodia. Popular Cambodian dishes include num banhchok, a lightly fermented rice noodle dish served for breakfast; amok trei, a fish curry dish; and samlar kako, a hearty soup filled with vegetables, roasted ground rice, and catfish or pork. In general, Cambodian cuisine includes a huge variety of noodle soups, stir-fries, curries, fried rice, and sweets.
Rice and freshwater fish are present in nearly every Cambodian meal. Lemongrass, galangal, turmeric, tamarind, ginger, chili pepper, and kaffir lime are all commonly used spices. Fermented fish paste is another widely used ingredient that adds saltiness and flavor.
Common vegetables include leaf and root vegetables as well as melon, long beans, snow peas, bean sprouts, and eggplant. Dozens of types of fruit are native to Cambodia, with durian being the most infamous. However, there are plenty of less pungent fruits to try, including mangosteen, passionfruit, dragonfruit, and mangoes. Fruit is a popular dessert and snack, either eaten alone or made into a variety of sweets.
Overall, food is very cheap throughout Phnom Penh. Street food costs about $1-2 USD per meal, especially in the markets. Snacks like skewers can be even cheaper at $.50 USD.
In a restaurant, a typical Cambodian meal like curry or noodles costs $3-5 USD, depending on how fancy you get. I highly recommend a bowl of morning glory sour soup at Kabbas restaurant. The soup plus rice and one large beer costs just $6 USD!
Western meals at nice restaurants cost quite a bit more, starting around $6 USD. A pizza is $8-11 USD, a pasta dish is $9-11 USD, and a burger is $8 USD. You can get some world-class food in the city these days, so if you're a foodie then go nuts when you are here!
For drinks, beer is around $1 USD, a glass of wine is $3 USD, a cocktail is $4 USD. A cappuccino is $2 USD, and fresh fruit juice is $1.50 USD.
If you plan on cooking your own food, expect to pay at least $15 USD per week on food, but most of the meals are so cheap and hostel kitchens are rare, so I would just eat out while you're here.
Backpacking Phnom Penh Suggested Budgets
If you're backpacking Phnom Penh, expect to spend around $40 USD per day. On this budget, you can get a bed in a hostel dorm, eat food from the street stalls, enjoy a few beers, take tuk-tuks everywhere, and stick to free activities like walking tours and markets.
A mid-range budget of $85 USD covers a private Airbnb room, taking tuk-tuks everywhere, eating at local restaurants for all your meals, enjoying more drinks, and doing more paid activities like visiting the Killing Fields and taking a cooking class.
On a "luxury" budget of $150 USD or more a day, you can do stay in a hotel, eat out anywhere you want, enjoy the nightlife, hire a driver, and do whatever tours and activities you want. This is just the ground floor for luxury though. The sky is the limit!
Accommodation
Food
Transportation
Attractions
Average Daily Cost
Backpacker
$10
$10
$10
$10
$40
Mid-Range
$30
$20
$15
$20
$85
Luxury
$50
$40
$30
$30
$150
Phnom Penh Travel Guide: Money-Saving Tips
Cambodia is one of the cheapest countries in Southeast Asia, and Phnom Penh is no exception. There really aren't any big money-saving tips here. Food, accommodation, and transportation are all dirt cheap. However, there are still some ways you can save money in Phnom Penh:
Negotiate with tuk-tuk drivers – Make sure you negotiate the price ahead of time. Moreover, don't take the first number they give you — it's inflated. If you're not sure what price you should be aiming for, ask your hostel/hotel staff in advance. They can usually help you book a trusted driver, as well.
Stay away from the river – The most expensive accommodation is by the river. If you want cheaper accommodation, head towards the southern and central parts of the city.
Minimize your drinks – Every drink is a dollar and before you know it, you've spent more money on beer than on food and accommodation.
Work for your room – It's pretty common to get a job in a hostel in order to stay longer in Phnom Penh so if you stay at a hostel and like the vibe, ask if they'll let you work there. It's usually just a few hours a day in exchange for your room.
Book tours and day tours as a group – You have more negotiation power when you're with a group of people buying multiple tickets. Traveling alone? Meet a friend at a hostel and see if they want to join the same tour as you.
Use a water bottle with a purifier – It isn't safe to drink tap water in Phnom Penh, and although buying bottled water is cheap, it does add up. Instead, pick up a LifeStraw. It's a water bottle with a built-in filter that ensures your water is always clean and safe.
Where to Stay in Phnom Penh
Accommodations in Phnom Penh are incredibly cheap, even by Southeast Asia standards. If you're looking for some of the best places to stay, here are some of my recommended places:
How to Get Around Phnom Penh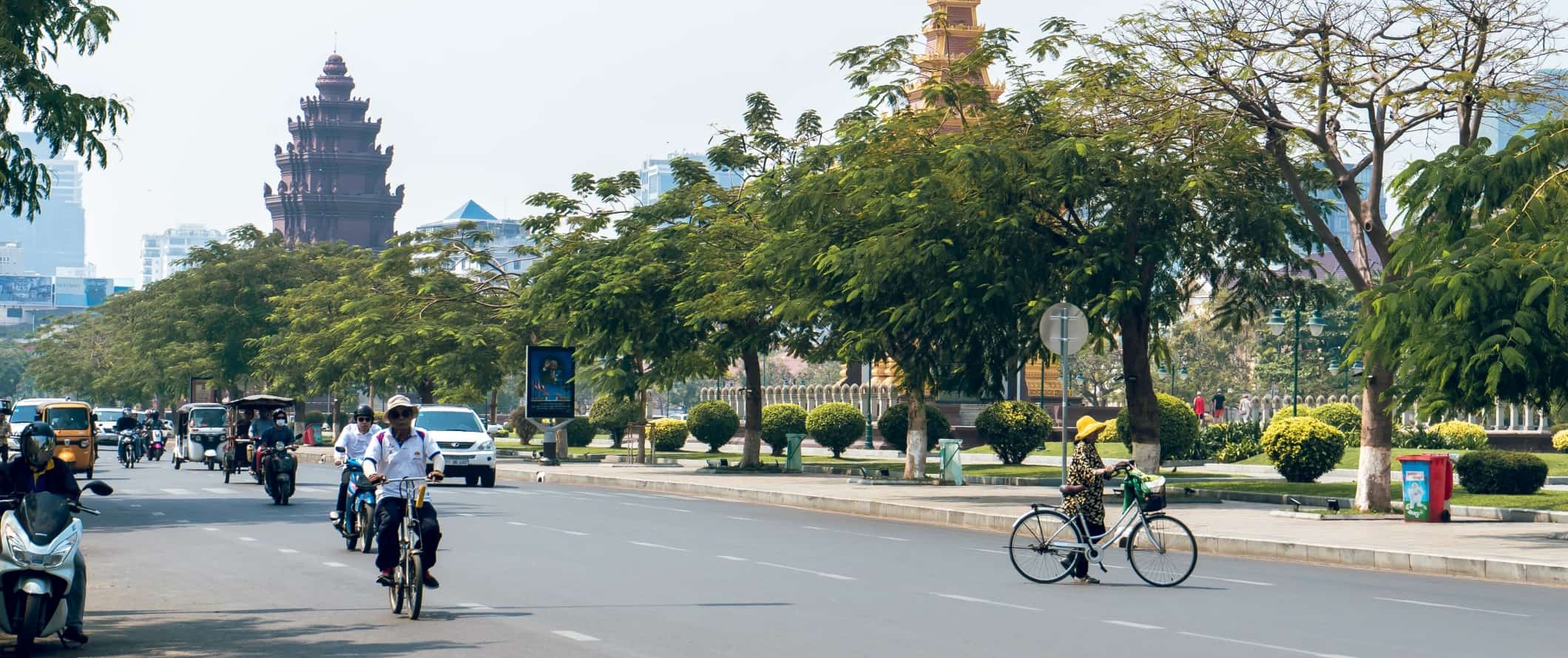 Public transportation – Phnom Penh has a small bus network with 17 routes. It's incredibly cheap and you don't need to haggle, with tickets costing just $0.40 USD per ride. You'll need to pay in cash each time you board the bus. Download the free English app Stops Near Me to see routes and stops. Line 3 goes to and from the airport.
Tuk-tuks – Tuk-tuks are cheap cabs, and they're all you need to get around the city. They're everywhere and you'll never have to wait long for a ride. Trips cost between $2-7 USD within the city (just make sure you negotiate your price upfront). A tuk-tuk to the Killing Fields and back should cost around $15 USD.
Taxis – If you're taking a taxi around the city or to the Killing Fields, make sure it's metered or negotiate the fare upfront. They're more expensive than tuk-tuks, however, and are mostly unnecessary. A 3-kilometer (2-mile) journey costs about $3.25 USD. As your hostel/hotel staff for price estimates so you can ensure you don't get ripped off.
Ridesharing – Grab and Passapp are the two most used ride-sharing apps in Cambodia. You can reserve both taxis, tuk-tuks, or motorbike taxis through these apps.
Hire a driver – If you want to do a big day of sightseeing, you can rent a car and driver for about $25-30 USD per day. The driver will take you everywhere you need to go and wait for you between stops. It's convenient and a good way to see the city/outskirts if you have limited time.
Car/motorbike rental – Motorbikes and scooters start at just $5 USD per day or $30 USD per week. Cars, on the other hand, are pricey at $50 USD per day. Either way, keep in mind that roads here are in rough condition and accidents are common. I'd skip the rentals and go with the many other cheap transportation options.
When to Go to Phnom Penh
Phnom Penh is warm year-round. Most people prefer to visit from November to February when the temperatures are milder and humidity isn't extreme. Even then, it's warm and lovely and temperatures rarely dip below 20°C (68°F). Rainfall is heaviest from September to October, but usually, this just means short blasts of rain in the afternoons.
Temperatures are hottest from May to October, ranging from 22°C (71°F) to as high as 38°C (100°F), especially in April and May. The humidity during this time is also incredibly high, and the days can be very uncomfortable. Tourism traffic is lower during this time, however, and the heat isn't unbearable if you're prepared. Make sure you dress appropriately, wear sunscreen, and have plenty of water during this time.
How to Stay Safe in Phnom Penh
Phnom Penh is a safe place to backpack and travel — even if you're traveling solo and even as a solo female traveler. Violent attacks are super rare.
Petty theft is the most common type of crime here. Keep an eye out for pickpocketing, especially at night around the markets. If you are carrying a purse, make sure it's secure around your body, as drive-by snatching happens.
Solo female travelers should feel comfortable here, though the standard precautions apply (avoid walking home alone at night, always keep an eye on your drink at the bar, etc.)
Scams here are common, so you'll want to be on your guard for shady tuk-tuk drivers who will try to rip you off or pressure you into rides to places you don't want to go.
Another common scam involves being approached by shady police officers or fake police officers who will demand to see your passport. Chances are, you'll be asked to pay a fine to get it back. Deny the request and tell them the passport is back at your hotel in a safety deposit box.
To learn more about scams you might encounter, read about common travel scams to avoid here.
The people who tend to get into trouble are usually involved with drugs or sex tourism. Avoid doing that stuff and you'll likely be fine.
Be careful when renting a motorbike in Phnom Penh. They're cheap, but Phnom Penh's traffic is chaotic and accidents are common.
The tap water isn't safe to drink so make sure you have a filter for your water bottle.
If you experience an emergency, dial 119 for assistance.
Always trust your gut instinct. Make copies of your personal documents, including your passport and ID. Forward your itinerary along to loved ones so they'll know where you are.
The most important piece of advice I can offer is to purchase good travel insurance. Travel insurance will protect you against illness, injury, theft, and cancellations. It's comprehensive protection in case anything goes wrong. I never go on a trip without it as I've had to use it many times in the past.
Phnom Penh Travel Guide: The Best Booking Resources
These are my favorite companies to use when I travel. They consistently have the best deals, offer world-class customer service and great value, and overall, are better than their competitors. They are the companies I use the most and are always the starting point in my search for travel deals.
Skyscanner – Skyscanner is my favorite flight search engine. They search small websites and budget airlines that larger search sites tend to miss. They are hands down the number one place to start.
Hostelworld – This is the best hostel accommodation site out there with the largest inventory, best search interface, and widest availability.
Agoda – Other than Hostelworld, Agoda is the best hotel accommodation site for Asia.
Booking.com – The best all around booking site that constantly provides the cheapest and lowest rates. They have the widest selection of budget accommodation. In all my tests, they've always had the cheapest rates out of all the booking websites.
Get Your Guide – Get Your Guide is a huge online marketplace for tours and excursions. They have tons of tour options available in cities all around the world, including everything from cooking classes, walking tours, street art lessons, and more!
SafetyWing – Safety Wing offers convenient and affordable plans tailored to digital nomads and long-term travelers. They have cheap monthly plans, great customer service, and an easy-to-use claims process that makes it perfect for those on the road.
LifeStraw – My go-to company for reusable water bottles with built-in filters so you can ensure your drinking water is always clean and safe.
Unbound Merino – They make lightweight, durable, easy-to-clean travel clothing.
Phnom Penh Travel Guide: Related Articles
Want more information on Phnom Penh and Cambodia? Check out all the articles I've written on Cambodia travel and continue planning your trip: