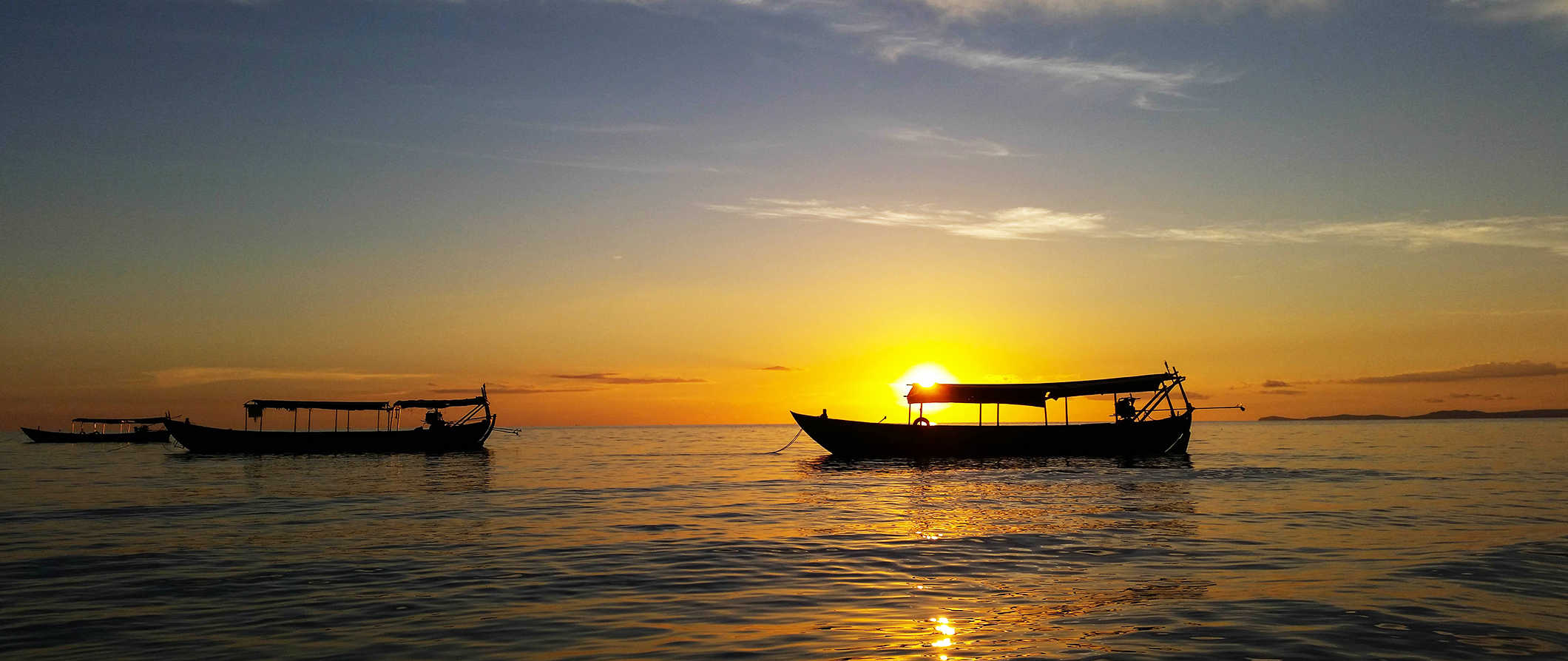 The city of Sihanoukville was named in 1964 after the ruling prince of Cambodia.
Visiting Sihanoukville is usually a must on everyone's travels to Cambodia.
Backpacking here, coming on a tour, or just coming for a weekend – everyone seems to make it here these days.
In the old days, its golden beaches caught the attention of Cambodia's jet-setting elite. The city fell off the map during the tragic reign of the Khmer Rouge and was "rediscovered" and revitalized by the backpacking crowd. It was a lazy beach town until about 2010 when it took off with travelers and is now the premier backpacker party city in Cambodia.
Now, it's popular with backpackers, Russians, and Chinese tour groups.
While I think the city is a fun place to party, traveling here isn't going to "wow" you. In fact, the destination has gotten kind of crappy in recent years. Chinese tourists run the show here and the city is now a mess of construction, pollution, and casinos. It's not very appealing except for a small strip of land by the dock.
BUT the islands off the coast are still backpacker / budget traveler paradise so Sihanoukville is still good for a night as you transit to/from the islands.
Beyond that, there's not much else to the place these days. It's been bulldozed over and I wouldn't stay long.
You can use this Sihanoukville travel guide to figure out what to do in the region (though it's not the best base of operations these days given the construction and road congestion).

Siem Reap
Top 5 Things to See and Do in Sihanoukville
1. Lounge on Otres Beach
There are a number of good beaches in the area, and Otres Beach is the best for swimming. It also has much clearer water and a more relaxed setting than any beach in Sihanoukville, which is why it's my favorite. The beach seems to stretch on forever so finding your own quiet spot is easy to do.
2. Go on a motorbike tour
Take a motorbike trip into the jungle. This is a great opportunity for anyone who loves motorbikes and wants to do something a bit off the beaten path. Prices will vary for each tour, as they offer budget, standard, and luxury options for every route. They're not cheap (tours start around $140 USD per day for a reputable company), but it's a great experience.
3. Visit a pepper farm
Pepper is the biggest commody here and there are a number of pepper plantations that offer tours. Guides will explain the production process of this spice, which was once the world's most expensive commodity. They are pretty interesting and the ride down is super scenic! If you want to do a half-day tour, it'll cost about $25 USD.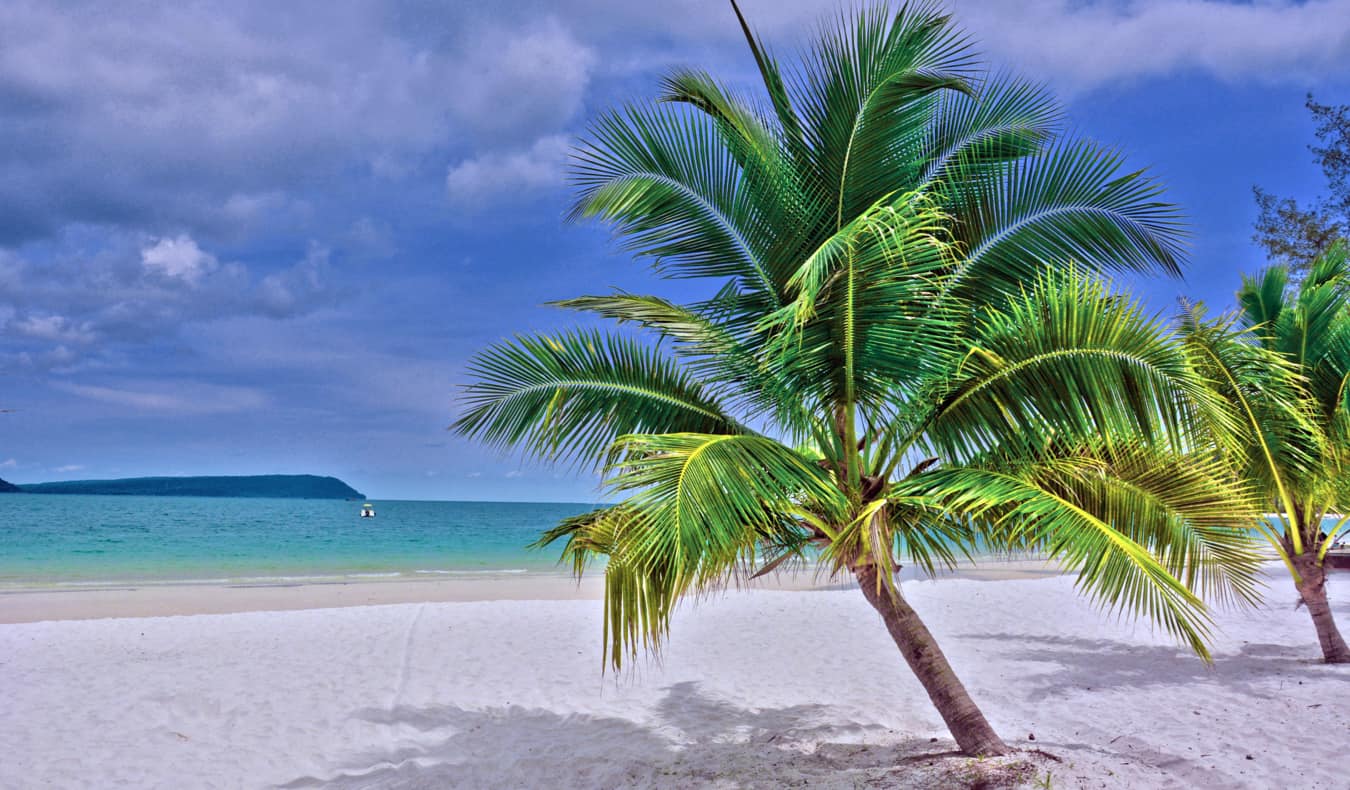 4. Visit Monkey Island
Koh Rong is a 45-minute boat ride from Sihanoukville. Legend has it that this island was once inhabited by a giant, King Kong-like ape. If you don't find this creature, you can always give up your search and spend some time on the beautiful beaches. Day trips cost approximately $20 USD and include lunch and snorkeling equipment.
5. Take a booze cruise
A boat jam-packed with drunken tourists in a gorgeous paradise — what could be better ingredients for a wild party? These cruises leave in the morning and visit 3-4 islands during the day. Tours start from $12 USD per person.
Other Things to See and Do in Sihanoukville
1. Go scuba diving
The islands around Sihanoukville have great visibility, vibrant colorful coral, and exotic fish. There are a lot of PADI certified schools in town. For an Open Water certification, expect to pay around $450 USD for the multi-day course.
2. Shop at the market
The market in the center of Sihanoukville is a good place to visit if you want to shop around and try some of the local foods. Come here for incredibly fresh seafood, and marvel at the variety.
3. Rent a jet ski
Jet skis and banana boats are very popular around this area. If you want to rent one, be aware of your surroundings, stay clear of the swimming section, and adhere to safety regulations. There have been numerous accidents in the last few years due to negligence. Prices will vary based on how long you rent one for but expect to pay at least $30 USD.
4. Visit Wat Leu
This temple is located on top of the big hill in town. There is a small museum here, and it's a great place to catch the sunset, as well as take in wonderful views of the area. It's much less busy than many of the other temples in Cambodia.
5. Take a day trip to Kampot
Kampot is a small town that is a nice break from the bustling backpacker atmosphere in Sihanoukville. A minibus to Kambot will take around two hours and cost $3.75-6 USD per person. You can visit pepper farms, beaches, temples, and overall, just relax. Be sure to eat at The Rusty Keyhole (for the best rib BBQ outside of Texas) and stay at the Bohemiaz Guesthouse!
6. Go snorkeling
Almost all of the islands offer snorkeling opportunities, and the further from Sihanoukville you get, the better the visibility and sea life seems to get. Snorkeling tours average $16-21 USD and include breakfast and lunch.
7. Jam with the expats at Otres Market
Every Saturday from midday until midnight the local expats gather together to eat, drink, sell handicrafts, and jam to live music. The market is fantastic. The dark night is light up with multi-colored lights and funky stands offering everything from passion fruit cheesecake to shots to handmade jewelry to hair dreading to hippie clothing. Do not miss out on this incredible musical experience!
8. Go to Ochheuteal/Serendipity Beach
This is one of the most popular beaches in Sihanoukville. However, don't go in the water at Ochheuteal/Serendipity because the sewage pipes empty right out into the harbor in front of the beaches. Swim in Otres! It's the liveliest beach area in Sihanoukville though, and Serendipity Beach Road is packed with bars and cheap guesthouses.
9. Visit Independence Beach
This is a smaller beach area, but it hasn't been overly developed (yet). There are a handful of beach restaurants in the middle and a large casino and hotel complex at one end of Independence. It's still mostly a quiet place to relax.
10. Relax on Koh Rong Sanloem
Koh Rong Sanloem Island is a smaller version of Koh Rong, with some really beautiful beaches on the eastern side. The sea life around here is very diverse and makes for great diving and snorkeling. Most day trips cost from $20 USD.
11. Go to Bokor National Park
At Bokor National Park you can hike through a great rainforest or see the atmospheric ruins of the French aristocracy for whom Bokor was a big draw back in the day. You'll have some amazing views and find ruins, waterfalls, and temples all around. Admission is $5 USD per person. Day tours from Sihanoukville start from about $20 USD.
12. Take a day trip to Kep
Like Kampot, Kep is a small, chilled out town. This quaint beach town and fishing village is the quiet version of Sihanoukville: a nice place to relax near the ocean but without a party atmosphere. It's famous for its pepper crab and empty beaches. A minibus to here will also take around two hours and cost $3.75-6 USD per person. If you want to spend a few days here you can also visit the secluded nearby Rabbit Island (Koh Tonsay).
Cambodia Travel Costs
Note: Cambodia uses USD. There's no real need to carry the local currency, Cambodian Riels (KHR), unless you paying for really small things on the street, but for the most part, use USD.
Hostel prices – Hostel rates start around $5 USD per night for a bed in a basic 12-person dorm. Expect to pay up to $10 USD for hostels with better amenities (private bathrooms, hot water, etc.) or with locations closer to the beach. Private double rooms range start around $8 USD but are up to $25 USD per night for better amenities and location. Free WiFi is standard all around town but almost no hostels offer free breakfast or have a kitchen.
Budget hotel prices – Two-star hotel rooms start around $20 USD per night, but they're fairly comfortable rooms with air-con, balconies, free WiFi, etc. If you want something closer to the beach you'll pay about $32 USD per night for a double room which includes all the usual amenities. Airbnb is available in the town, though there are almost no options available for shared accommodation. For a private room, expect to pay around $15 USD per night. For an entire home or apartments, prices begin around $20 USD but average more like $35 USD per night for several guests. As always, the places near the beach are the most expensive!
Average cost of food – Sihanoukville has a surprisingly diverse range of cuisine. Along the beaches, especially at Ochheuteal Beach, there are many food stalls and some restaurants serving grilled meat, chicken, and seafood with chips/fries and a beer for AROUND $3 USD. There are many western restaurants in town as well that cater to tourists and cost around $5-10 USD for a meal.
Given that hostels and hotels don't have kitchens and food is so cheap, I wouldn't advise cooking your meals while here.
Backpacking Sihanoukville Suggested Budgets
It doesn't cost much to visit Sihanoukville. It's a super cheap place to travel.
If you're backpacking Sihanoukville, you'll spend around $30 USD per day. This will get you a bed in a larger hostel dorm, food from the street stalls (most hostels do not have cooking facilities here), a few drinks a day, and four motorbike taxi rides per day. You'll also be able to do one attraction per day, like a snorkeling trip or a booze cruise. If you want to take advantage of Sihanoukville's free activities (like the beaches) or lessen your drinking, you can save even more.
A mid-range budget of $70 USD will get you a budget hotel room with air conditioning (or a private Airbnb room), some sit-down meals at nicer restaurants, some drinks, a tuk-tuk ride to and from the beach, and plenty of daily excursions – including snorkeling, a booze cruise, or visiting a pepper farm. You can do a lot with this budget.
On a luxury budget of $233 USD or more a day, you can do whatever you want. This will get you a room at a 4-star hotel or resort complete with a nice swimming pool, dinners at just about any restaurant, two tuk-tuk or taxi rides per day, and any tours you want. If you want to do a multi-day diving course, you can also spread out this budget over several days. Either way, if you're spending this much per day, the sky is the limit.
Note: Cambodia uses USD. You can use the chart below to get some idea of how much you need to budget daily, depending on your travel style. Keep in mind these are daily averages – some days you'll spend more, some days you'll spend less.
Accommodation
Food
Transportation
Attractions
Average Daily Cost
Backpacker
$5
$10
$5
$10
$30
Mid-Range
$20
$20
$10
$20
$70
Luxury
$55
$30
$8
$140
$233
Sihanoukville Travel Guide: Money Saving Tips
Despite being such a tourist destination, Sihanoukville remains quite affordable. There really isn't any big money saving tips here unless you go out of your way to find the most expensive things to see or do. Food, accommodation, and transportation are all cheap. But if you want to save some cash, here are some money saving tips for Sihanoukville:
Happy hour – The trend on Serendipity Beach is to advertise with a permanent 'happy hour', which usually implies cocktails for $2-3 USD and draft Anchor beer for as little as $0.75 USD!
Negotiate with tuk-tuk drivers – Make sure you negotiate the price of your ride before taking off. Moreover, don't take the first number they give you — it's inflated. Keep in mind, prices rise around sunset and negotiating becomes more difficult.
Work for your room – It's pretty common to get a job in a hostel in order to stay longer in Sihanoukville so if you stay at a hostel and like the vibe, ask if they'll let you work there.
Minimize your drinking – Drinks, though cheap, really add up. Every drink is a dollar and before you know it, you've spent more money on beer than on food and accommodation. If you drink a lot, you'll need a slightly higher budget.
Pack a water bottle – A water bottle with a purifier will come particularly in handy in Sihanoukville since you can't drink the tap water. Save money and thousands of plastic bottles and get a bottle that can purify the tap water for you. My preferred bottle is LifeStraw ($49.99).
Where To Stay in Sihanoukville
There are plenty of hostels in Sihanoukville. If you're looking for some of the best places to stay, here are some of my recommended places:
How to Get Around Sihanoukville
Motorbike Taxis – Motorbike taxis are the most common way to get around Sihanoukville. The standard price for a ride is around $1.25 USD per trip, although expect to haggle at night or if the distance is long. The ride from the new bus station to Serendipity Beach should cost around $3.50 USD during the day.
Tuk-Tuk – If you're uncomfortable with taking a motorbike taxi in Sihanoukville, tuk-tuks are also plentiful. They're more expensive than the motorbikes, however, and haggling often doesn't work with the drivers as they mostly work with other drivers to fix their rates. A trip from the city to Serendipity Beach should cost no more than $4 USD, and also no more than $4 USD to Otres. Hiring one for a full day will cost about $20 USD.
Taxis – Regular car taxis are also available here, but they're rarely metered and they're the most expensive option of these three. If you need to get to the airport, you'll have to get your hotel or hostel to arrange the ride. The entire journey costs about $20 USD. Otherwise, I'd avoid them.
Due to construction, the road to the airport will take you a couple of hours. Leave hours before your flight! There's constant delays!
When to Go to Sihanoukville
The high season in Cambodia is from November to April when temperatures are more mild. This is the best time to visit Sihanoukville (and the coast in general) — the sunshine is constant, and so are the blue skies. High temperatures are in the 90s°F (30s°C), and you'll be able to enjoy a nice sea breeze on the beach. This is when most people visit, however, so be prepared for large crowds.
If you'd rather avoid peak tourist season, visit from May to the beginning of October. Although this overlaps with rainy season, generally that just means getting hit with brief heavy rainfall in the afternoons. April is the hottest month, and the humidity can be unbearable for some. But if you want to avoid hordes of tourists, this is the time to come!
How to Stay Safe in Sihanoukville
Sihanoukville is a pretty safe place to backpack and travel. Violent attacks are super rare. Petty theft is the most common type of crime here, and it's unfortunately rather frequent on the beaches. Ochheuteal Beach is particularly a hotspot for thieves. You'll be distracted by a child (or sometimes an adult) while another person takes your valuables from your towel. Leave your most important valuables in your safety deposit box or locker!
Also hold onto your bag tightly when you're riding on a motorbike taxi. Keep your bag in front of you so other drivers can't snatch it. The road between Otres and Sihanoukville is especially risky!
Avoid walking on the beaches alone after dark.
If you don't do it at home, don't do it when you're in Sihanoukville. Follow that rule and you'll be fine.
Overall, locals are really nice and helpful and you're unlikely to get into trouble. The people who do tend to get into trouble are usually because they are inolved with drugs or sex tourism. Stay away from that stuff and you'll be fine.
Read about these 14 major travel scams to avoid in Sihanoukville and be in the know!
Always trust your gut instinct. If a taxi driver seems shady, stop the cab and get out. If your hotel is seedier than you thought, get out of there. Make copies of your personal documents, including your passport and ID. Forward your itinerary along to loved ones so they'll know where you are.
The most important piece of advice I can offer is to purchase good travel insurance. Travel insurance will protect you against illness, injury, theft, and cancellations. It's comprehensive protection in case anything goes wrong. I never go on a trip without it as I've had to use it many times in the past.
Sihanoukville Travel Guide: The Best Booking Resources
Below are my favorite companies to use when I travel to Sihanoukville. They are included here because they consistently turn up the best deals, offer world-class customer service and great value, and overall, are better than their competitors.
Sihanoukville Gear and Packing Guide
If you're heading on the road and need some gear suggestions, here are my tips for the best travel backpack and for what to pack!
The Best Backpack for Travelers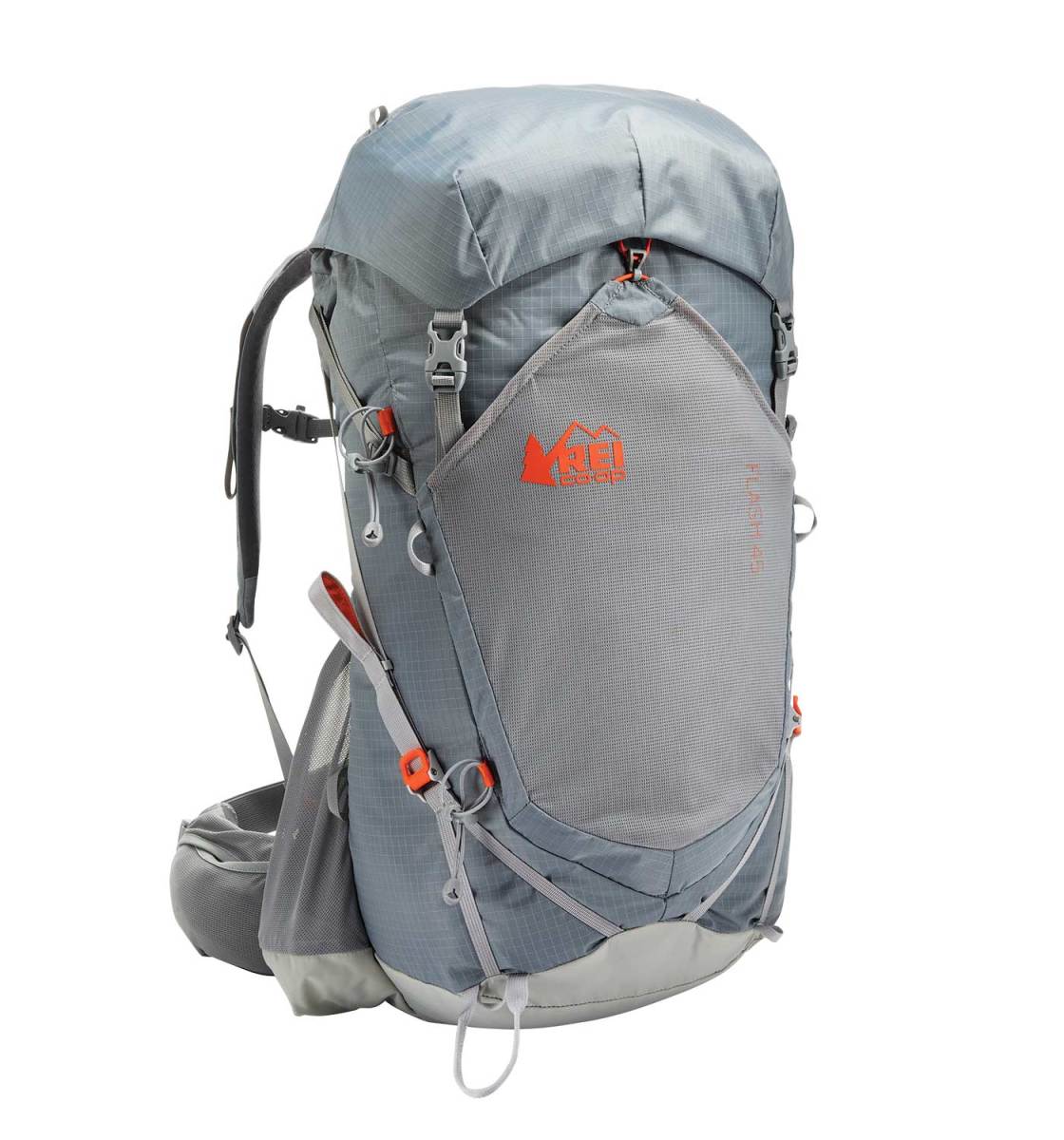 What's the best backpack for traveling long-term? I recommend the
REI Flash 45 Pack
. It's light and comfy, front loading, and fits perfectly in an airplane's overhead bin.
Size:
45-47L
Straps:
Thick and cushy with compression technology that pulls the pack's load up and inwards so it doesn't feel as heavy.
Features:
Removable top lid, large pocket at the front, hydration compatible, contoured hip belt
If you want something different, refer to my article on how to choose the best travel backpack for tips on picking a pack and other backpack suggestions.
What to Pack for Your Trip
Clothes
1 pair of jeans (heavy and not easily dried, but I like them; a good alternative is khaki pants)
1 pair of shorts
1 bathing suit
5 T-shirts (Unbound Merino is my preferred company. If you're a member of NM+, you can get 15% off your purchase)
1 long-sleeved T-shirt
1 pair of flip-flops
1 pair of sneakers
6 pairs of socks (I always end up losing half)
5 pairs of boxer shorts (I'm not a briefs guy!)
1 toothbrush
1 tube of toothpaste
1 razor
1 package of dental floss
1 small bottle of shampoo
1 small bottle of shower gel
1 towel
Deodorant
Small Medical Kit (safety is important!!!)
Miscellaneous
Female Travel Packing List
I'm not a woman, so I don't know what a woman wears, but Kristin Addis, our solo female travel guru, wrote this list as an addition to the basics above:
Clothing
1 swimsuit
1 sarong
1 pair of stretchy jeans (they wash and dry easily)
1 pair of leggings (if it's cold, they can go under your jeans, otherwise with a dress or shirt)
2-3 long-sleeve tops
2-3 T-shirts
3-4 spaghetti tops
1 light cardigan
Toiletries
1 dry shampoo spray & talc powder (keeps long hair grease-free in between washes)
1 hairbrush
Makeup you use
Hair bands & hair clips
Feminine hygiene products (you can opt to buy there too, but I prefer not to count on it, and most people have their preferred products)
For more on packing, check out these posts:
Sihanoukville Travel Guide: Related Articles
Want more information on Sihanoukville? Check out all the articles I've written on Camodia travel and continue planning your trip: