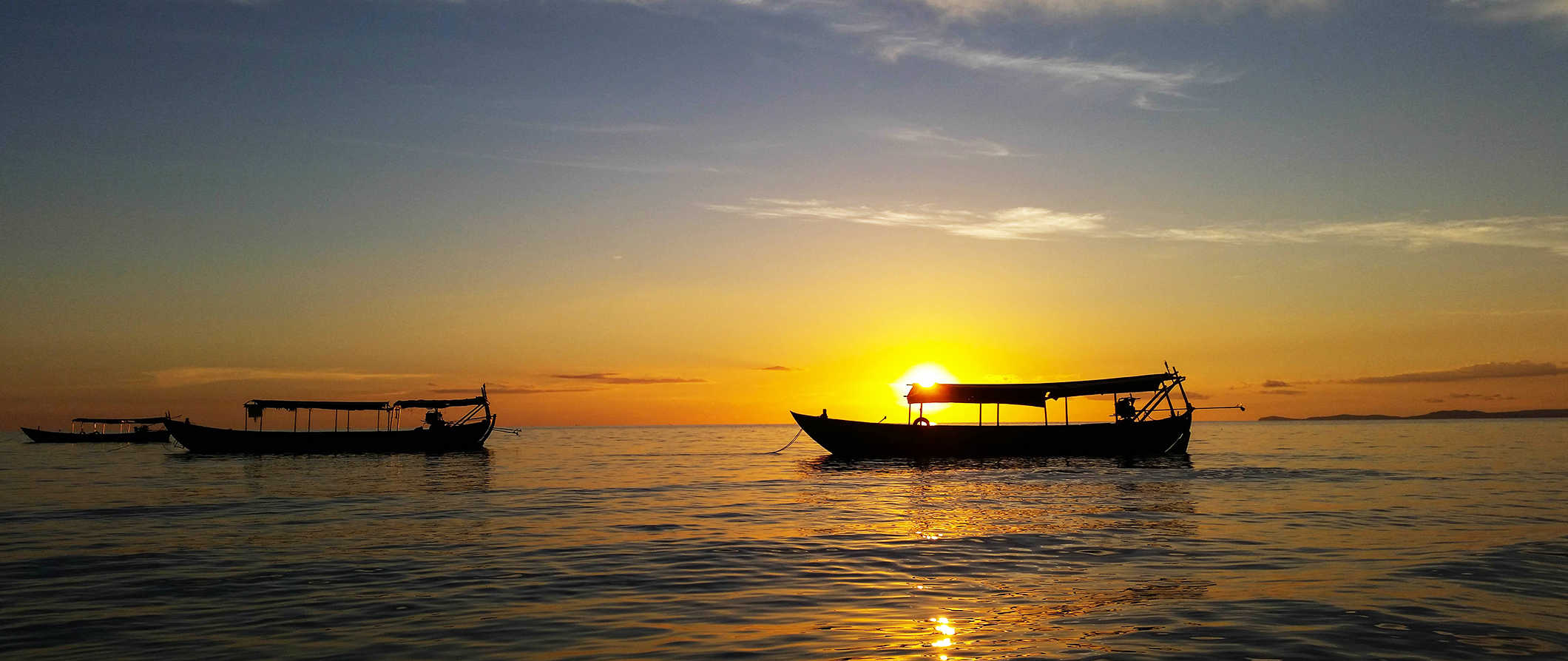 The city of Sihanoukville was named in 1964 after the ruling prince of Cambodia. It became a booming port and its golden beaches caught the attention of Cambodia's jet-setting elite, who then built the first Angkor Beer brewery and the modernist seven-story Independence Hotel. The city fell off the map during the tragic reign of the Khmer Rouge and was "rediscovered" and revitalized by the backpacking crowd. It was a lazy beach town until about 2010 when it took off with travelers and is now the premier backpacker party city in Cambodia.
However, it's easy to avoid that by staying at the lesser-known beaches and away from Serendipity Beach. For quieter times, visit the islands off the coast. You can use this travel guide to figure out what to do in the region so when you're done drinking beer, you can get a taste of local Cambodian culture.
Top 5 Things to See and Do in Sihanoukville
1. Lounge on the beaches
There are a number of good beaches in the area, like Otres Beach and the more popular Ochheuteal/Serendipity Beach. However, don't go in the water at Ochheuteal/Serendipity because the sewage pipes empty right out into the harbor in front of the beaches. Swim in Otres!
2. Go on a motorbike tour
From here, it's possible to book motorbike day trips into the jungle as well as longer, multi-day trips. This is a great opportunity for anyone who loves motorbikes and wants to do something a bit off the beaten path. Prices will vary for each tour, as they offer budget, standard, and luxury options for every route.
3. Visit a pepper farm
There are a number of pepper plantations in the region that offer tours of the land and facilities. Guides will explain the production process of this spice, which was once the world's most expensive commodity. They are pretty interesting and the rides down to them near Kampot is scenic!
4. Visit Monkey Island
Koh Rong is a 45-minute boat ride from Sihanoukville. Legend has it that this island was once inhabited by a giant, King Kong-like ape. If you don't find this creature, you can always give up your search and spend some time snorkeling. Day trips cost approximately $21 USD and include lunch and snorkeling equipment.
5. Take a booze cruise
A boat jam-packed with drunken tourists in a gorgeous paradise — what could be better ingredients for a wild party? These cruises leave in the morning and visit 3-4 islands during the day. They cost around $11 USD per person.
Other Things to See and Do
(Click the title to expand the text)
1. Go scuba diving
The islands around Sihanoukville have great visibility, coral, and fish. There are PADI certified schools in the area that offer a variety of different dive trips for one or more days. For an Open Water certification, expect to pay around $450 USD for the multi-day course.
2. Shop at the market
The market in the center of Sihanoukville is a good place to visit if you want to shop around and try some of the local foods. Come here for incredibly fresh seafood, and marvel at the variety.
3. Rent a jet ski
Jet skis and banana boats are very popular around this area. If you want to rent one, be aware of your surroundings, stay clear of the swimming section, and adhere to safety regulations. There have been numerous accidents in the last few years due to negligence. Prices will vary based on how long you rent one for but expect to pay at least $30 USD.
4. Visit Wat Leu
This temple is located on top of the big hill in town. There is a small museum here, and it's a great place to catch the sunset, as well as take in wonderful views of the area. It's much less busy than many of the other temples in Cambodia.
5. Take a day trip to Kampot or Kep
These are two small towns that are a nice break from the bustling backpacker atmosphere in Sihanoukville. A minibus to either destination will take around two hours and cost $3.75-6 USD per person. You can visit pepper farms, beaches, temples, and overall, just relax in these very quiet and chilled out town. If you go to Kampot, be sure to eat at The Rusty Keyhole (for the best rib BBQ outside of Texas) and stay to Bohemiaz Guesthouse!
6. Go snorkeling
Almost all of the islands offer snorkeling opportunities, and the further from Sihanoukville you get, the better the visibility and sea life seems to get. Snorkeling tours average $16-21 USD and include breakfast and lunch.
7. Jam with the expats at Otres Market
Every Saturday from midday until midnight the local expats gather together to eat, drink, sell handicrafts, and jam to live music. The market is a delight to the eyes. The dark night is light up with multi-colored lights and funky stands offering everything from passion fruit cheesecake to shots to handmade jewelry to hair dreading to hippie clothing. Do not miss out on this incredible musical experience!
Typical Costs
Note: Cambodia uses USD. There's no real need to carry the local currency, Cambodian Riels (KHR), unless you paying for really small things on the street, but for the most part, use USD.
Hostel prices – Dorm rooms start around $4 USD per night for basic accommodation. Expect to pay up to $10 USD for hostels with better amenities (private bathrooms, hot water, etc.). Private double rooms range from $15-20 USD per night. You'll find a ton of hostels here. Free WiFi is standard all around town but virtually no hostel offers free breakfast or has a kitchen. My suggested place is:
Budget hostel prices – Budget hotel rooms start around $10 USD per night for something that is just good enough to rest in. Better, nicer establishments average around $17.50 USD per night for a double room and generally include air-con and a private bathroom. There are plenty of cheaper guesthouses, however, the most inexpensive guesthouses directly on the beach frequently sell out. Airbnb is available in the town, though there are almost no options available for shared accommodation. For a private room, expect to pay around $15 USD per night. For an entire home or apartments, prices begin around $20 USD.
Average cost of food – Sihanoukville has a surprisingly diverse range of cuisine. Along the beaches, especially at Ochheuteal Beach, there are many food stalls and some restaurants serving grilled meat, chicken, and seafood with chips/fries and a beer for $3-4 USD. There are many western restaurants in town as well that cater to tourists and cost around $5-10 USD for a meal. Some of my favorite restaurants (besides the food stalls that line the main street) are: Maybe Later, Sandan, Happa, and Blame Canada. For those planning on cooking their own meals, expect to spend at least $20 USD per week (though since most hostels and hotels don't offer self-catering facilities you're best to just eat out since the food is so cheap).
Transportation costs – Distances between the beaches are a little too long to walk comfortably, but getting around is easy — the roads are wide and motorbike taxis are everywhere. The standard price for a ride is around $1.25 USD per trip, although expect to haggle at night or if the distance is long. The ride from the new bus station to Serendipity Beach should cost around $3.50 USD during the day. For intercity travel, buses to Phnom Penh leave daily and cost around $10 USD. For a bus to Siem Reap, expect to pay closer to $18 USD.
Suggested daily budget
$25 USD (Note: This is a suggested budget assuming you're staying in a hostel, eating out a little, cooking most of your meals or eating cheap street food, and using local transportation. Using the budget tips below, you can always lower this number. However, if you stay in fancier accommodation or eat out more often, expect this to be higher!)
Money Saving Tips
Free hostel shuttles – Many hostels will have free shuttle service around the city. Some even offer it to and from the airport.
Happy hour – The trend on Serendipity Beach is to advertise with a permanent 'happy hour', which usually implies cocktails for $2-3 USD and draft Anchor beer for as little as $0.75 USD!
Negotiate with tuk-tuk drivers – Make sure you negotiate the price of your ride before taking off. Moreover, don't take the first number they give you — it's inflated. Keep in mind, prices rise around sunset and negotiating becomes more difficult.
Work for your room – It's pretty common to get a job in a hostel in order to stay longer in Cambodia so if you stay at a hostel and like the vibe, ask if they'll let you work there.
Minimize your drinks – Drinks, though, really add up. Every drink is a dollar and before you know it, you've spent more money on beer than on food and accommodation. There's no reason this country should cost you more than $20 USD per day but if you drink a lot, you'll need a slightly higher budget.
My Must Have Guides For Traveling to Cambodia
Photo credits: 3, 5