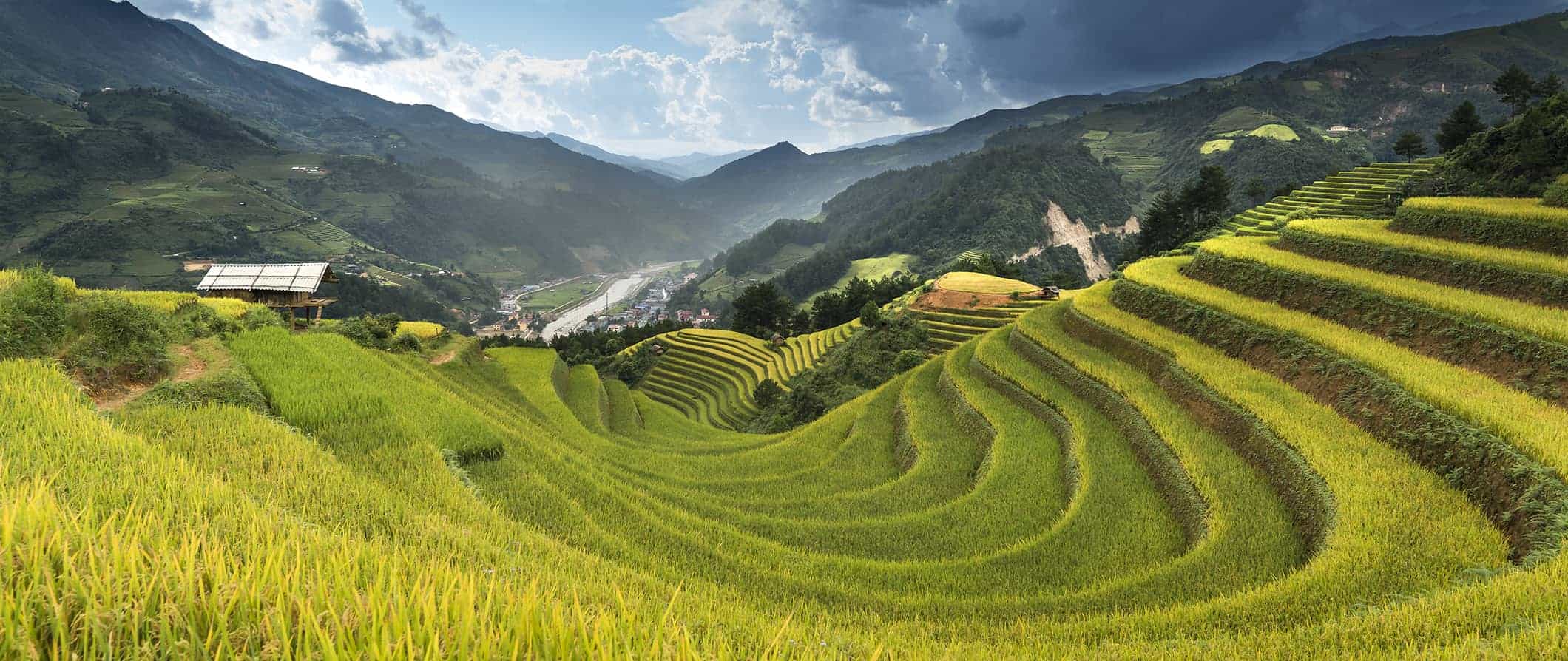 You've probably seen it in the background of countless war movies, but nothing can prepare you for the epic beauty of traveling Vietnam.
While it isn't my favorite country in the world, there's no denying that backpacking Vietnam (or simply just traveling here on a budget) is an experience filled with natural beauty and delicious food!
From the natural beauty of Sam Mountain and Halong Bay to the man-made artistry of the sacred temples and pagodas to the rice terraces and beaches, Vietnam has a lot to offer travelers.
Most people either love or hate traveling Vietnam.
It's a hard country to travel around, though in the last few years, the tourism industry has expanded and the locals have gotten more used to tourists. When I first went, there was a negative attitude towards foreigner travelers (for good reason) but the country has warmed up a lot and Ho Chi Minh City has even become a hub for digital nomads.
You'll find a lot to do in this country so take your time!
And eat all the delicious food!
This backpacking and budget travel guide to Vietnam can help you plan your trip, avoid common scams, and fall in love with the country's beauty, people, and food.
Click Here for City Guides
Top 5 Things to See and Do in Vietnam
1. Tour the Mekong Delta
The delta is a 60,000km long web of interconnected waterways, which spans three Vietnamese provinces. The area is filled with small villages, pagodas, mangroves, orchards, and floating markets. The best way to experience the area is to go on a boat or bike tours. You get to spend a few days really getting to know the region.
2. Wander around Hanoi
Vietnam's capital
. Explore the narrow streets of the Old Quarter, visit the countless temples and galleries, the history museum, or the Ho Chi Minh Mausoleum. Hanoi is also a good base for doing multi-day tours to Halong Bay. It's a hectic, chaotic city — embrace it!
3. Explore Halong Bay
More than 3,000 islands sit within the emerald green waters of Halong Bay, one of the country's most popular tourist destinations. Cat Ba Island has great for hiking and many tourists find themselves taking one of the cave tours. Tours here usually leave from Hanoi and last 3 or 5 days.
4. Hang out in Hoi An
Hoi An
is packed with historical homes and buildings and quaint cafes. It's small and great for walking, buying suits (they have a huge fashion and tailor market), eating, nearby beaches, and relaxing by the river. It was easily my favorite place in Vietnam.
5. Get adventurous in Sapa
This is northern Vietnam's premier trekking area and it's hugely popular with all sorts of travelers. Sapa is famous for its hill tribes, lush vegetation, beautiful hiking trains, and breathtaking mountains. To avoid the tourists, come during the off season or take longer hikes to parts the crowds don't go.
Other Things to See and Do
1. Crawl through the Cu Chi Tunnels
Crawl through the extensive network of nearly 500 km of tunnels utilized by the Viet Cong in the war with the USA in the 1960s. Tours involve a description of the tunnels, after which tourists are allowed to crawl about the maze and fire AK47s at shooting targets. It's a sobering experience and not one meant for anyone claustrophobic. However, if you want a better understand the terror of the Vietnam War, this is a must-visit. Admission is around 100,000 VND (5 USD) per person.
2. Relax or find adventure in Dalat
Dalat is nestled in the hills of the Central Highlands and is popular with tourists who want to relax in the mountain air, so people flock here for serenity. Others go to Dalat to participate in a host of adventure sports that happen within a naturally beautiful backdrop. The hills around Dalat are filled with traditional tribal villages, which you can tour, but there is plenty to do within the city itself too. Visit the imaginatively titled palaces: Palace I, Palace II and Palace III.
3. Visit Cuc Phuong National Park
About 120km southwest of Hanoi lies Vietnam's first National Park, Cuc Phuong. Covering 222 sq km, this place is home to over 2,000 species of trees and some truly rare wildlife including the Clouded Leopard, Delacour's Langur and Owston's Civet. It was my favorite park in all of Vietnam and the only place I didn't find hordes of tourists. The entrance fee is 40,000 VND (2 USD).
4. Explore Ho Chi Minh City
Also known as Saigon, Ho Chi Minh City is Vietnam's largest city and is definitely worth exploring. Like most cities in Vietnam, you'll be met with the roar of motorbikes speeding through colonial streets. Ben Thanh market is a must-see for amazing food and there is a great buzz of activity within the place. If flying into the SGN airport, it's worth spending a day or two exploring the city. I recommend spending the night at The Common Room Project for a great hostel experience.
5. Admire the pagodas
Vietnam's most distinctive architecture can be been in the pagodas, which can be found all over the country. They are known for their beautifully intricate carvings. Pagodas are used as shrines and temples and are treasured by the Vietnamese people.
6. Get active in Mui Nes
Despite being a fishing village, Mui Ne has got a significant tourism scene due to its popularity as a wind- and kite-surfing destination. The rolling sand dunes nearby are the main draw and worth checking out!
7. See My Son
My Son is a set of Hindu ruins in Vietnam which date back to the Cham Empire. The Champas ruled over Central Vietnam from the 3rd to the 19th century. The temples here are of incredible historical importance, but they have been largely reclaimed by the surrounding jungle, and have fallen into a great state of disrepair. Don't come here expecting something as marvelously preserved as Borobudur or Angkor Wat. Entrance fee is 100,000 VND (5 USD) for foreigners.
8. Visit the caves in Phong Nha-Ke Bang
Hang Son Doong is reputed to be the world's largest cave and is located in Phong Nha-Ke Bang National Park. It was discovered by a local in 1990, and "rediscovered" by a British caving team in 2009. You can arrange trips to see this stunning cave. You'll be blown away by its beauty. Entrance to the caves is around 150,000 VND (6 USD) per person.
9. Check out the rice terraces
Outside of connections to the Vietnam War, the stereotypical image of Vietnam is of the many rice paddies. You can find these in the Muong Hoa Valley. If you've never visited rice terraces, you should make a point to see them in Vietnam. Visit them to learn about rice production and take stunning photographs of the unbelievable Vietnamese countryside. Expect tours to cost around 300,000 VND (13 USD) per person.
10. Relax in Hue
Hue is generally passed by, making it a bit of a quieter stop along the tourist trail. Stroll along the beautiful Perfume River and into the Imperial Citadel. Don't miss the Tombs of the Emperors.
Be sure to visit our Vietnam city travel guides for more detailed information about what to see and do in each place:
Vietnam Travel Costs
Accommodation – Hostels start around 100,000 VND (4 USD) per night for the most basic accommodation. For a nicer place, you can pay almost double. Private rooms will cost at least 350,890-425,000 VND (15-20 USD) per night for a double room. While hostels were once scarce, they have started popping up all over the country to accommodate budget travelers.
Most hostels will offer free WiFi, and many will also include free breakfast or free beer during certain hours of the day. Self-catering facilities are not very common since eating out is so cheap. For a budget hotel with a double bed, expect to pay around 225,000 VND (10 USD) per night. This will usually include free WiFi and free breakfast.
Food – You can get a bowl of pho or a rice dish for 20,000 VND (less than 1 USD). Most sit-down restaurants are also inexpensive at around 45,000-95,000 VND (2-4 USD). The fancier (and more touristy) the restaurant, the more expensive. Western food will also be more expensive. A liter of water at a convenience store is about 15,000 VND (less than 1 USD), while beer or soda at a restaurant is about 20,000-35,000 VND (1-2 USD).
For those looking to cook their own meals, expect to pay at least 400,000 VND (15 USD) per week for basic groceries. Be sure to shop at the local markets to get the cheapest and freshest food. That being said, food is so cheap in the country, that is simply easier – and often cheaper – to just eat street food.
Transportation – Bus travel is very cheap in Vietnam. The public bus around Ho Chi Minh City will cost a maximum of 4,000 VND (less than 1 USD) per ride. Overnight buses, while uncomfortable, are only about 100,000-600,000 VND (4-25 USD) and can take you to lots of cities in Vietnam (this will also save you a night of paying for accommodation).
For a bus from Ho Chi Minh City to neighboring Phnom Penh in Cambodia, expect to pay around 320,000 VND (15 USD) per person. The train is also another inexpensive way to travel, with the 791km long train journey from Da Nang to Hanoi costing around 750,000 VND (30 USD). There are extremely low-cost airlines that can hop you around the country quickly for as little as 600,000 VND (25 USD).
Activities – Many of Vietnam's attractions are based around its natural beauty and, as such, cost very little. For organized excursions such as touring the Cu Chi Tunnels you can expect to pay between 100,000-200,000 VND (5-10 USD). Halong Bay tours from Hanoi start around 850,000-1,403,377 VND (35-60 USD) for two-day trips and increase exponentially from there. Half-day cooking classes and bicycle tours are heavily targeted at tourists, so they cost a bit more. Expect prices to start at around 300,000 VND (15 USD). For canyoning in Da Lat, prices begin around 450,000 VND (20 USD) but can go as high as 1,707,440 (75 USD).
Backpacking Vietnam Suggested Budgets
How much does it cost to visit Vietnam? If you're backpacking Vietnam, plan to budget between 680,000-900,000 VND / $25-35 USD per day. This is assuming you're staying in a hostel, eating all the delicious street food, not drinking too much, and using local transportation. You can probably get by on the cheaper end if you opt for dorm rooms over your own private room or a room without air conditioning.
A mid-range budget of about 1,165,125 VND / $50 USD is recommended if you want to stay in air-conditioned private rooms, enjoy meals at sit-down restaurants, eat some Western food, take more activities, and maybe private transportation. This will also cover several activities and day trips.
You don't need to do a lot to stretch your dollar when you're traveling Vietnam so anything over $100 will ensure you can do anything you want while you're visiting. The sky is the limit! Of course, the more you spend, the nicer your trip is going to bed. How sky high you go is really up to you!
Accommodation
Food
Transportation
Attractions
Average Daily Cost
Backpacker
$5
$10
$5
$15
$25-35
Mid-Range
$15-20
$15
$15
$20
$50
Luxury
$40+
$25+
$20
$30
$100
Vietnam Travel Guide: Money Saving Tips
Vietnam is a pretty cheap country and you don't need to do a lot of things to backpack or travel here on a budget. It's already a pretty cheap country to visit. However, if you're looking to travel even cheaper and save some money, here are my tips on how to save in Vietnam:
Eat delicious street food – The food is usually excellent, really cheap, and you can watch it being cooked in front of you. Stick to the local food and you'll save money. The street-side pho, bread, sandwiches (called bahn mi), donuts, and bananas are your best deals all of which can be found for around 20,000 VND (1 USD).
Late-night travel – If traveling long journeys, try to take the late night "sleeper" buses or trains as this will save you the cost of a night's accommodation. Depending on the company, you may even have a chance to comfortably lie flat as you ride through the dark countryside to your next destination.
Take the tourist bus – It is actually cheaper to take the tourist bus around the country than taking local transportation because of the "tourist" price you get at the bus station. Tickets from one end of the country to another will cost around 1,200,000 VND (50 USD).
Fly for cheap – Vietnam's low-cost airlines VietJet and FlyVietnam are extremely inexpensive and adding luggage to your flight can cost as little as 150,000 VND (6 USD). This is a great option for people with limited time to explore different regions of Vietnam. Both airlines frequently offer special deals – at the time of writing this, Hanoi to Da Nang is just 818,635 VND (35 USD)! That's a 13-hour drive.
Bargain hard – Tourists tend to be charged more than locals for everything from cycles (a three-wheel bicycle taxi) to clothes to street food. Bargain harder than you would ordinarily, and don't underestimate the value of walking away.
Skip the SIM Card – Vietnam is highly connected to WiFi — you can find it just about every hotel, shop, restaurant, and convenience store for free! Unless you need to have connectivity during a long bus ride or in rural areas, I'd forgo the SIM card and take a break from connectivity.
Ask your hostel staff – Before you leave the hostel, ask them to estimate how much what you want to do should cost. How much should a ride to the museum cost? How much should I pay to have a gown like this made? They will be able to give you bargaining guidelines.
Pack a water bottle – A water bottle with a purifier will come particularly in handy in Southeast Asia since you can't drink the tap water. Save money and thousands of plastic bottles and get a bottle that can purify the tap water for you. My preferred bottle is LifeStraw ($49.99).
Where To Stay in Vietnam
Here are some of my favorite places to stay in Vietnam:
How to Get Around Vietnam
You have plenty of options for getting around Vietnam on the cheap.
Public Transit – In some towns and cities, the cyclo (a bicycle rickshaw) is one of the cheapest ways to get around. A short ride will cost you as little as 12,000 VND (less than 1 USD), while a longer night ride will cost you upwards of 40,000 VND (2 USD). A more popular option is the ze om – a motorbike taxi, with fares starting from 15,000 VND (less than 1 USD). You'll have to hold on tight! Public buses are not great options in Vietnam.
Taxis – Taxis are very affordable in Vietnam, and they are metered in the larger cities. This is a safe and reliable way to get around. Rates start at about 12,000 VND (less than 1 USD) per kilometer.
By Plane – Flying domestically in Vietnam is a good idea if you're looking to fit a lot into a shorter trip. For example, a flight from Hanoi to Ho Chi Minh City takes two hours – the train ride would take at least 30 hours (and a one-way flight starts at around 590,000 VND/25 USD!).
Train – A lot of people love taking the train in Vietnam because it's safe, affordable, and comfortable, and although some routes might be slow, you'll get some amazing views of the Vietnamese countryside. The rail network also most of the country, so you can get just about everywhere you want to go (except the Central Highlands and the Mekong Delta). You can use the website Baolau to research train schedules and book your tickets. A train journey between Ho Chi Minh and Hanoi costs from 837,000 VND (35 USD).
Bus – It's easy to find long-distance bus tours running the length of Vietnam, starting at Hanoi with stops in Hue, Hoi An, Nha Trang, Da Lat, Mui Ne, and ending in Ho Chi Minh. You can hop on or off at any stop along the way. They cater to tourists, but locals actually use this service too (it's so cheap!).
Prices depend on route and operator but generally Hanoi to Ho Chi Minh is between 815,585-1,631,175 VND (35-80 USD). This is the most popular backpacking route, so if you're intimidated by the local bus system, this is a good alternative.
When to Go to Vietnam
In the southern part of Vietnam, the dry season goes from December to late April/May, and rainy season occurs from May to the end of November. Rainy season usually just means brief heavy downpours in the afternoon, although sometimes the Mekong Delta will flood. May through November is still a good time to visit. Temperatures rarely dip below 68°F (20°C), but it can sometimes get as high as 104°F (40°C) in the hottest months (March to the end of May).
Along the central coast, the rainfall pattern differs quite a bit. In the northern part of the region (like Hué and Da Nang), the rain lasts from September to February. February to May is the best time to visit this area. Temperatures soar from June to August, often in the high 80s°F (30s°C).
In Northern Vietnam, the weather is most pleasant from October to December. The weather in Vietnam varies so much per region, it's hard to pick a best time to go! But generally it's recommended to visit sometime between September-December and March-April if you're hoping to get an overall experience in the country.
How to Stay Safe in Vietnam
Vietnam is an incredibly safe place to backpack and travel – even if you're traveling solo or even as a solo female traveler. There are some common scams around, like the motorbike scam where vendors try to charge you for damage to their bike, but for the most part, this is a safe place to travel. (Worried about travel scams? Read about these travel scams and make sure you don't fall for any!)
Be sure to always count your change. The money is similar looking here so often times people will "mistakenly" give you the wrong change hoping you won't notice that the 200,000 VND bill you just got is actually only 20,000. Always count your change here!
Mostly people are really just going to try to nickle and dime you and try to get you to spend extra money since they know, as a tourist, you have more than they do. Just can an eye out. Most people are very honest!
Always trust your gut instinct. If a taxi driver seems shady, stop the cab and get out. If your hotel is seedier than you thought, get out of there. You have every right to remove yourself from the situation. Make copies of your personal documents, including your passport and ID. Forward your itinerary along to loved ones so they'll know where you are.
If you don't do it at home, don't do it when you're in Vietnam. Follow that rule and you'll be fine.
The most important piece of advice I can offer is to purchase good travel insurance. Travel insurance will protect you against illness, injury, theft, and cancellations. It's comprehensive protection in case anything goes wrong. I never go on a trip without it as I've had to use it many times in the past.