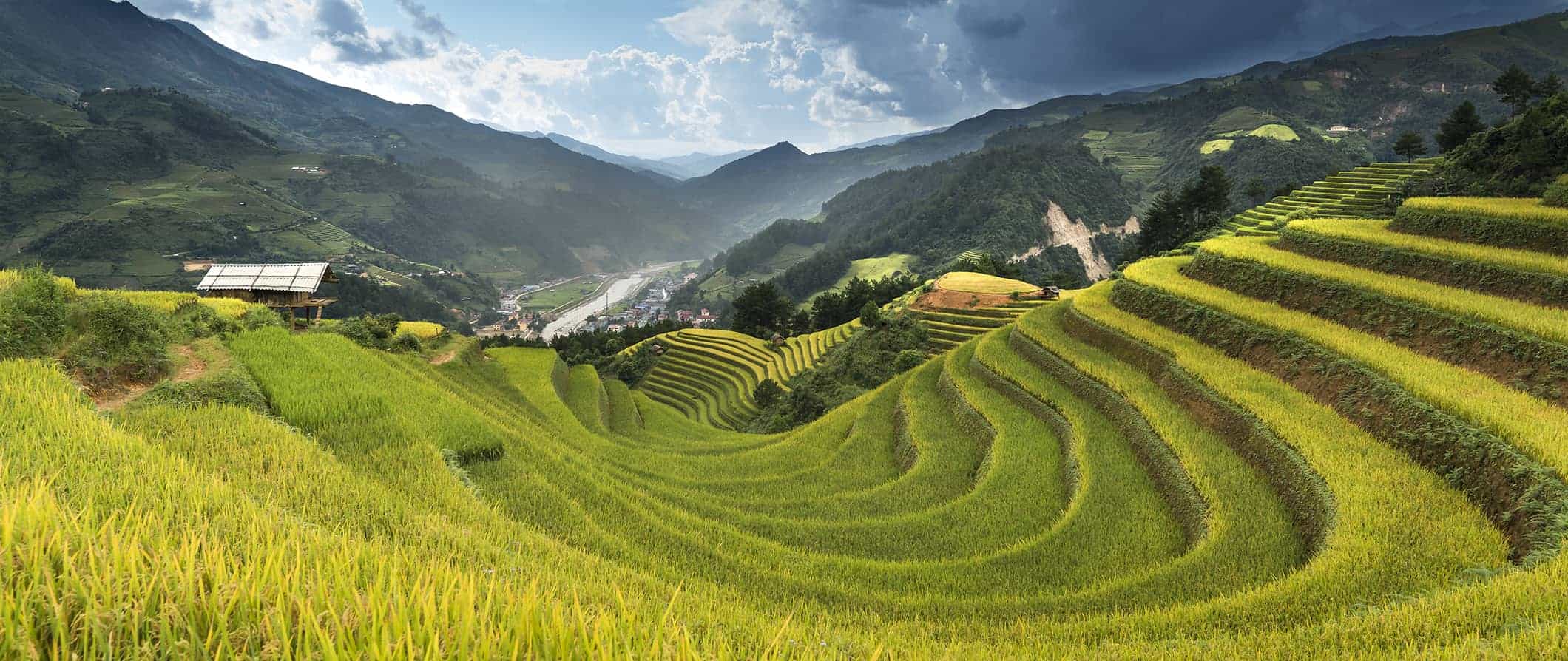 You've probably seen it in the background of countless war movies, but nothing can prepare you for the epic beauty of traveling around Vietnam.
From the stunning views of Sam Mountain and Ha Long Bay to the man-made artistry of the sacred temples and pagodas to the rice terraces and beaches, Vietnam has a lot to offer travelers. There's no denying that backpacking Vietnam (or simply just traveling here on a budget) is an experience filled with natural beauty, hectic cities, and delicious food.
Most people either love or hate traveling in Vietnam.
When I first went, there was a negative attitude towards foreign travelers (for good reason) but the country has warmed up a lot to visitors and Ho Chi Minh City has even become a hub for digital nomads.
From exploring the Old Quarter of Hanoi to the delicious food and fancy garments of Hoi An, Vietnam packs a lot to see and do into such a small area. You'll find a lot to do in this country so take your time. Don't rush your trip.
This budget travel guide to Vietnam can help you plan your trip, avoid common scams, and ensure you make the most of your visit.
Click Here for City Guides
Top 5 Things to See and Do in Vietnam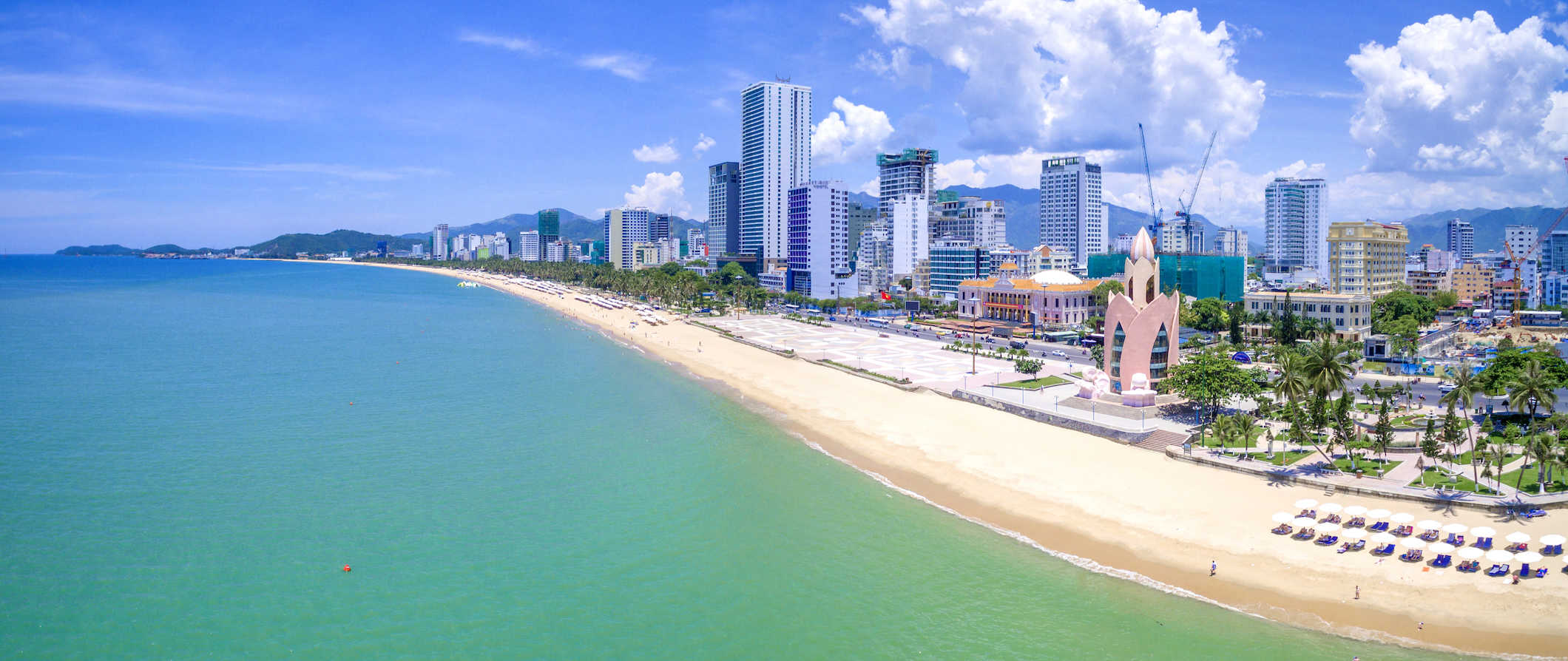 1. Tour the Mekong Delta
The delta, also known as the Nine Dragon River Delta, is a 60,000-kilometer (37,000-mile) long web of interconnected waterways, which spans three Vietnamese provinces. It is extremely important for the agricultural industry and has been used by humans since the 4th century BCE. Wildlife thrives in this region; it's home to over 1,000 species of animals. The area is filled with small villages, pagodas, mangroves, and orchards. The best way to experience the area is to go on a boat or bike tour, where you'll experience rural Vietnamese culture. Throughout a tour of the delta, you will cruise past temples, shop for fresh fruit and cut flowers on small boats called "floating markets", explore the wild and overgrown jungle, and eat delicious local food. You get to spend a few days really getting to know the region outside the hustle and bustle of the cities. Day trips on the river start around 575,000 VND per person.
2. Wander Hanoi
Vietnam's capital dates to the 3rd century BCE when it was the capital of the ancient nation of Au Lac. Explore the narrow streets of the Old Quarter, visit the countless temples and galleries, see the history museum, and tour the Ho Chi Minh Mausoleum. The city is full of historic French colonial architecture, ancient Vietnamese landmarks, temples, and other religious centers. In 1999, it was dubbed a UNESCO "City for Peace" due to its efforts to promote education, environmental protection, equality, and nourish younger generations. Hanoi is also a good base for doing multi-day tours to Ha Long Bay. It's a hectic, chaotic city — embrace it!
3. Explore Ha Long Bay
More than 3,000 islands sit within the emerald green waters of Ha Long Bay, one of the country's most popular tourist destinations. Ha Long translates to "descending dragon" in Vietnamese, and there is a legend that the gods sent dragons to assist the Vietnamese in a war long ago. The dragons spit out jade jewels that grew into islands protecting the mainland from invaders. The entire area is a UNESCO World Heritage Site and spans 370,000 acres. The islands are populated by rich jungles. Cat Ba Island is great for hiking and many tourists find themselves taking one of the cave tours. Tours here usually leave from Hanoi and last 3 or 5 days. Just keep in mind that the bay gets very busy!
4. Hang out in Hoi An
Hoi An is packed with historical homes and quaint cafes. It was a thriving port city between the 15th and 19th centuries and the architecture is incredibly well preserved (the entire Old Town is a UNESCO World Heritage Site). It's small and great for walking, buying suits (they have a huge fashion and tailor market), eating, and relaxing by the river. Hoi An also has some of the most gorgeous white sand beaches in Vietnam including An Bang and Cui Dai. Whether you're interested in history, culture, food, nightlife, nature, or shopping, there is something for you to enjoy on a visit to Hoi An. It was easily my favorite place in Vietnam.
5. Get adventurous in Sapa
This is northern Vietnam's premier trekking area and it's hugely popular with all sorts of travelers. Sapa is famous for its hill tribes, lush vegetation, beautiful hiking trails, and breathtaking mountains. If you're looking to experience the scenery and outdoor recreation opportunities Vietnam has to offer, this is the place. Hike to the summit of Mount Fansipan, otherwise known as the Roof of Indochina, for the most incredible views. Afterward, relax with a special herbal bath that is used by the Red Dao people for its healing benefits. It's a wonderful place to camp, hike, bike, and explore. To avoid the tourists, come during the off-season or take longer hikes to parts the crowds don't go to.
Other Things to See and Do
1. Crawl through the Cu Chi Tunnels
This extensive network of tunnels spans nearly 500 kilometers (310 miles). It was utilized by the Viet Cong during the Vietnam War. Tours involve a description of the tunnels, after which tourists are allowed to crawl about the maze and fire AK47s at shooting targets. It's a sobering experience and not one meant for anyone claustrophobic. However, if you want to better understand the terror of the Vietnam War, this is a must-visit. Admission is around 100,000 VND per person.
2. Relax or find adventure in Dalat
Dalat is nestled in the hills of the Central Highlands and is popular with tourists who want to relax in the mountain air and those who want to participate in a host of adventure sports (such as rock climbing, ziplining, and rappelling). The hills around Dalat are filled with traditional tribal villages, which you can tour as well. Expect to pay around 2,000,000 VND per person for a full day of ziplining and rappelling around waterfalls.
3. Visit Cuc Phuong National Park
South of Hanoi lies Vietnam's first National Park, Cuc Phuong. Covering 222 square kilometers (85 square miles), this place is home to over 2,000 species of trees and some truly rare wildlife including the Clouded Leopard, Delacour's Langur and Owston's Civet. It was my favorite park in all of Vietnam and the only place I didn't find hordes of tourists. The entrance fee is 50,000 VND.
4. Explore Ho Chi Minh City
Also known as Saigon, Ho Chi Minh City is Vietnam's largest city and is definitely worth exploring. Like most cities in Vietnam, you'll be met with the roar of motorbikes speeding through colonial streets. Ben Thanh market is a must-see for amazing food and there is a great buzz of activity within the place.
5. Get active in Mui Ne
Despite being a fishing village, Mui Ne has got a significant tourism scene due to its popularity as a wind- and kite-surfing destination. The rolling sand dunes nearby are the main draw and worth checking out for a day or two when you're passing by on the bus.
6. See My Son
My Son is a set of Hindu ruins in Vietnam that date back to the Cham Empire. The Champas ruled over Central Vietnam from the 3rd to the 19th century. The temples here are of incredible historical importance, but they have been largely reclaimed by the surrounding jungle, and have fallen into a great state of disrepair. Don't come here expecting something as marvelously preserved as Borobudur or Angkor Wat. The entrance fee is 150,000 VND.
7. Visit the caves in Phong Nha-Ke Bang
Hang Son Doong is reputed to be the world's largest cave and is located in Phong Nha-Ke Bang National Park. It was discovered by a local in 1990, and "rediscovered" by a British caving team in 2009. You can arrange trips to see this stunning cave. You'll be blown away by its beauty. Entrance to the caves is around 150,000 VND per person.
8. Check out the rice terraces
Outside of connections to the Vietnam War, the stereotypical image of Vietnam is of the many rice paddies. You can find these in the Muong Hoa Valley. If you've never visited rice terraces, you should make a point to see them in Vietnam. Visit them to learn about rice production and take stunning photographs of the unbelievable Vietnamese countryside. Expect tours to cost around 600,000 VND per person.
9. Relax in Hue
Hue is generally passed by, making it a bit of a quieter stop along the tourist trail. Stroll along the beautiful Perfume River and into the Imperial Citadel. Don't miss the Tu Hieu Pagoda and the Tombs of the Emperors, which mostly date from the 19th and 20th centuries. Some of the main tombs to see are the Tomb of Minh Mang, the Tomb of Tu Duc, and the Tomb of Khai Dinh.
For more information on specific cities in Vietnam, check out the following guides:
Vietnam Travel Costs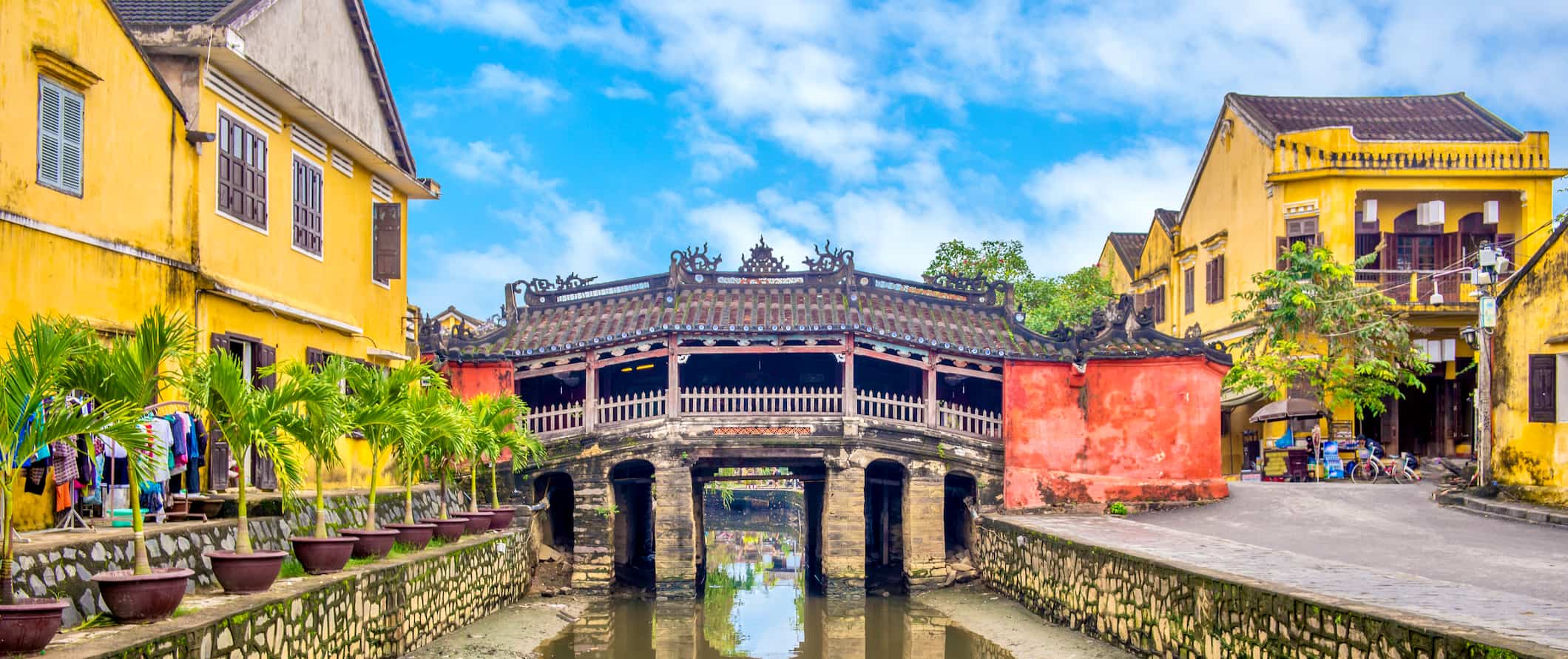 Accommodation – Hostels start around 100,000 VND per night for the most basic accommodation. For a nicer place, you can pay almost double. Private rooms cost at least 350,890-425,000 VND per night for a double room. While hostels were once scarce, they have started popping up all over the country to accommodate budget travelers.
Most hostels include free WiFi, and many also include free breakfast or free beer during certain hours of the day. Self-catering facilities are not very common since eating out is so cheap.
For a budget hotel with a double bed, expect to pay around 225,000 VND per night. This usually includes free Wi-Fi and free breakfast.
On Airbnb, a private room costs at least 325,000 VND per night. For an entire home or apartment, prices begin around 600,000 VND. Prices double when not booked in advance so plan accordingly
Food – Vietnamese cuisine is fresh, flavorful, and uses a lot of herbs and vegetables. Rice and noodle dishes are common, as are various soups such as the iconic pho (a beef noodle soup). Wonton soup, meat curry, fresh French bread (known as bahn me, and grilled fish are just some of the popular dishes you'll encounter. Standard ingredients include fish sauce, lemongrass, chili, lime, Thai basil, and mint.
You can get a bowl of pho or a rice dish for 20,000 VND. Most sit-down restaurants are also inexpensive at around 45,000-95,000 VND. The fancier (and more touristy) the restaurant, the more expensive. Western food is also more expensive, usually around 110,000 VND for a fast food meal, so skip it if you're on a budget.
If you want to splash out on a fancy three-course meal, expect to spend around 250,000 VND.
A liter of water at a convenience store is about 15,000 VND, while beer or soda is about 20,000-35,000 VND.
For those looking to cook their own meals, expect to pay at least 400,000 VND per week for basic groceries. Be sure to shop at the local markets to get the cheapest and freshest food. That being said, food is so cheap in the country that it's simply easier – and cheaper – to just eat street food.
Backpacking Vietnam Suggested Budgets
On a backpacker budget, you can visit Vietnam for 600,000 VND per day. This budget covers a stay in a large hostel dorm, eating street food for all of your meals, limiting your drinking, and taking the bus between cities. On this budget, you can enjoy free walking tours as well as other free activities such as hiking and enjoying the beach. If you plan on drinking, add another 20,000-40,000 VND to your daily budget.
A mid-range budget of about 1,125,000 VND per day covers staying in a cheap hotel, eating street food and at the occasional sit-down restaurant, enjoying a few more drinks, taking the occasional taxi to get around, and doing more paid activities such as museum visits and water upper shows.
On a "luxury" budget of 2,460,000 VND, you can stay in a nice hotel, eat out for all your meals anywhere you want, enjoy lots of drinks, and more taxis, and do whatever tours and activities you want, including a multi-day trip to Ha Long Bay. This is just the ground floor for luxury though. The sky is the limit!
Accommodation
Food
Transportation
Attractions
Average Daily Cost
Backpacker
160,000
200,000
120,000
120,000
600,000
Mid-Range
350,000
275,000
250,000
250,000
1,125,000
Luxury
1,175,000
350,000
235,000
700,000
2,460,000
Vietnam Travel Guide: Money-Saving Tips
Vietnam is a very affordable country. In fact, it's one of the cheapest in all of Southeast Asia. Even with the explosion of tourism in the last five years, it still remains very affordable. However, if you're looking to travel even cheaper and save some money, here are my tips on how to do so:
Eat delicious street food – The street food here is excellent and cheap, and you can watch it being cooked in front of you. Stick to the local food and you'll save money. The street-side pho, bread, sandwiches, donuts, and bananas are your best deals.
Late-night travel – If traveling on long journeys, try to take the late-night "sleeper" buses or trains as these will save you the cost of a night's accommodation. Depending on the company, you may even have a chance to comfortably lie flat as you ride through the dark countryside to your next destination.
Take the tourist bus – It is actually cheaper to take the tourist bus around the country than taking local transportation because of the "tourist" price you get at the bus station. Tickets from one end of the country to another are very affordable.
Fly for cheap – Vietnam's low-cost airlines VietJet and FlyVietnam are extremely inexpensive. This is a great option for people with limited time to explore different regions of Vietnam. Both airlines frequently offer special deals and at the time of writing this, Hanoi to Da Nang is just 820,000 VND!
Bargain hard – Tourists tend to be charged more than locals for everything from cyclos (a three-wheel bicycle taxi) to clothes to street food. Bargain harder than you would ordinarily, and don't underestimate the value of walking away.
Skip the SIM Card – Vietnam is highly connected to Wi-Fi — you can find it in just about every hotel, shop, restaurant, and convenience store for free! Unless you need to have connectivity during a long bus ride or in rural areas, I'd forgo the SIM card and take a break from connectivity.
Ask your hostel staff – Before you leave the hostel, ask them to estimate how much what you want to do should cost. How much should a ride to the museum cost? How much should I pay to have a gown like this made? They will be able to give you bargaining guidelines.
Bring a reusable water bottle – The tap water in Hanoi is not safe to drink. To save money and reduce your plastic use, bring a reusable water bottle with you. LifeStraw make a reusable bottle with a built-in filter so you can be sure your water is always safe and clean.
Where to Stay in Vietnam
Accommodation is super cheap in Vietnam and hostels are plentiful all around Vietnam. Here are some of my favorite places to stay:
How to Get Around Vietnam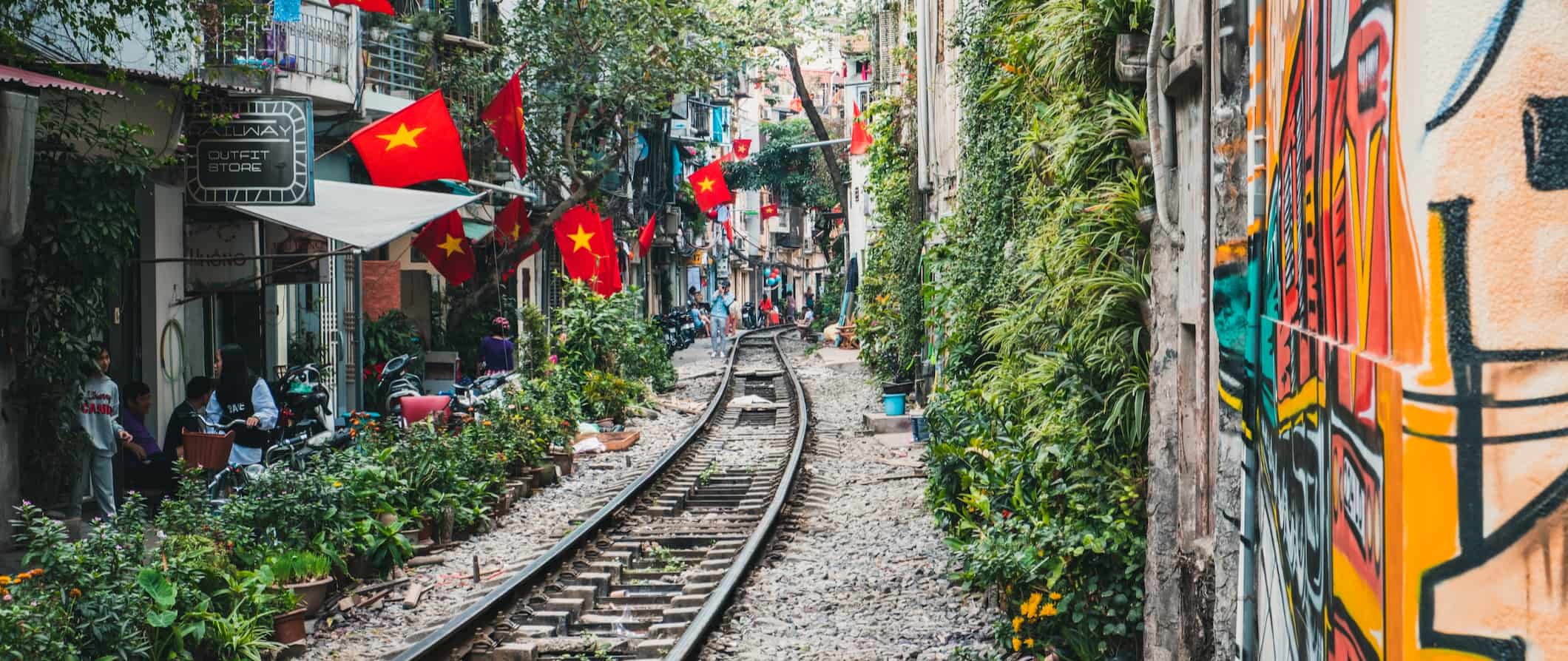 Public transportation – In some towns and cities, the cyclo (a bicycle rickshaw) is one of the cheapest ways to get around. A short ride costs as little as 12,000 VND, while a longer night ride costs upwards of 40,000 VND. A more popular option is the ze om, a motorbike taxi that has fares starting from 15,000 VND. You'll have to hold on tight though (and make sure you wear a helmet as accidents are common).
Train – A lot of people love taking the train in Vietnam because it's safe, affordable, and comfortable and, although some routes might be slow, you'll get some amazing views of the Vietnamese countryside. The rail network also covers most of the country, so you can get just about everywhere you want to go (except the Central Highlands and the Mekong Delta).
You can use the website Baolau to research train schedules and book your tickets. A train journey between Ho Chi Minh and Hanoi starts at 900,000 VND.
Bus – It's easy to find long-distance bus tours running the length of Vietnam, starting at Hanoi with stops in Hue, Hoi An, Nha Trang, Da Lat, Mui Ne, and ending in Ho Chi Minh. You can hop on or off at any stop along the way. They cater to tourists, but locals actually use this service too since it's super affordable.
Prices depend on route and operator but generally Hanoi to Ho Chi Minh is between 815,000-1,600,000 VND. This is the most popular backpacking route and buses depart daily.
Flying – Flying domestically in Vietnam is a good idea if you're looking to fit a lot into a shorter trip. For example, a flight from Hanoi to Ho Chi Minh City takes two hours while the train ride would take at least 30 hours. One-way flights around the country start at around 590,000 VND.
Car rental – Vietnam is very easy to navigate by bus, so I don't really suggest renting a car here — especially because traffic in the cities is very hectic and accidents are common. That said, car rentals are affordable, costing around 500,000 VND per day. An IDP (International Driving Permit) is required.
For the best car rental prices, use Discover Cars.
Hitchhiking – Hitchhiking in Vietnam isn't super common, though it is relatively safe and easy. However, since most vehicles are motorcycles, you'll have much better luck picking up rides with people on motorbikes and scooters. Just by a helmet (they're super affordable) beforehand so you can ride safely. For up-to-date tips and advice on hitchhiking in Vietnam, check out Hitchwiki.
When to Go to Vietnam
In the southern part of Vietnam, the dry season lasts from December to late April/May while the rainy season occurs from May to the end of November. The rainy season usually just means brief heavy downpours in the afternoon, although sometimes the Mekong Delta will flood.
May through November is still a good time to visit. Temperatures rarely dip below 20°C (68°F), but they can sometimes get as high as 40°C (104°F) in the hottest months (March to the end of May).
Along the central coast, the rainfall pattern differs quite a bit. In the northern part of the region (like Hué and Da Nang), the rain lasts from September to February. February to May is the best time to visit this area. Temperatures soar from June to August, often in the high 30s°C (80s°F).
In Northern Vietnam, the weather is most pleasant from October to December.
The weather in Vietnam varies so much per region, it's hard to pick the best time to go. But generally, it's recommended to visit sometime between September-December and March-April if you're hoping to get an overall experience in the country.
How to Stay Safe in Vietnam
Vietnam is an incredibly safe place to backpack and travel. Violent crime is rare, though petty theft can occur. Always keep your valuables secure when out and about just to be safe.
There are some common scams in Vietnam, such as the motorbike scam where vendors try to charge you for pre-existing damage to your bike rental. When renting anything, take photos and videos beforehand just in case.
Be sure to always count your change. The money is similar looking here so oftentimes people will "mistakenly" give you the wrong change hoping you won't notice that the 200,000 VND bill you just got is actually only 20,000. Always count your change here!
Most scams here are really just people trying to try to nickel and dime you and try to get you to spend extra money since they know, as a tourist, you have more than they do. You can read about common travel scams to avoid here.
Solo female travelers should generally feel safe here, however, the standard precautions apply (never leave your drink unattended at the bar, never walk home alone intoxicated, etc.).
If you experience an emergency, dial 113 for assistance.
Be sure to make copies of your important documents in case of theft.
The most important piece of advice I can offer is to purchase good travel insurance. Travel insurance will protect you against illness, injury, theft, and cancellations. It's comprehensive protection in case anything goes wrong. I never go on a trip without it as I've had to use it many times in the past.
Vietnam Travel Guide: The Best Booking Resources
These are my favorite companies to use when I travel. They consistently have the best deals, offer world-class customer service and great value, and overall, are better than their competitors. They are the companies I use the most and are always the starting point in my search for travel deals.
Skyscanner – Skyscanner is my favorite flight search engine. They search small websites and budget airlines that larger search sites tend to miss. They are hands down the number one place to start.
Hostelworld – This is the best hostel accommodation site out there with the largest inventory, best search interface, and widest availability.
Agoda – Other than Hostelworld, Agoda is the best hotel accommodation site for Asia.
Booking.com – The best all around booking site that constantly provides the cheapest and lowest rates. They have the widest selection of budget accommodation. In all my tests, they've always had the cheapest rates out of all the booking websites.
Get Your Guide – Get Your Guide is a huge online marketplace for tours and excursions. They have tons of tour options available in cities all around the world, including everything from cooking classes, walking tours, street art lessons, and more!
SafetyWing – Safety Wing offers convenient and affordable plans tailored to digital nomads and long-term travelers. They have cheap monthly plans, great customer service, and an easy-to-use claims process that makes it perfect for those on the road.
LifeStraw – My go-to company for reusable water bottles with built-in filters so you can ensure your drinking water is always clean and safe.
Unbound Merino – They make lightweight, durable, easy-to-clean travel clothing.
Vietnam Travel Guide: Related Articles
Want more info? Check out all the articles I've written on Vietnam travel and continue planning your trip: