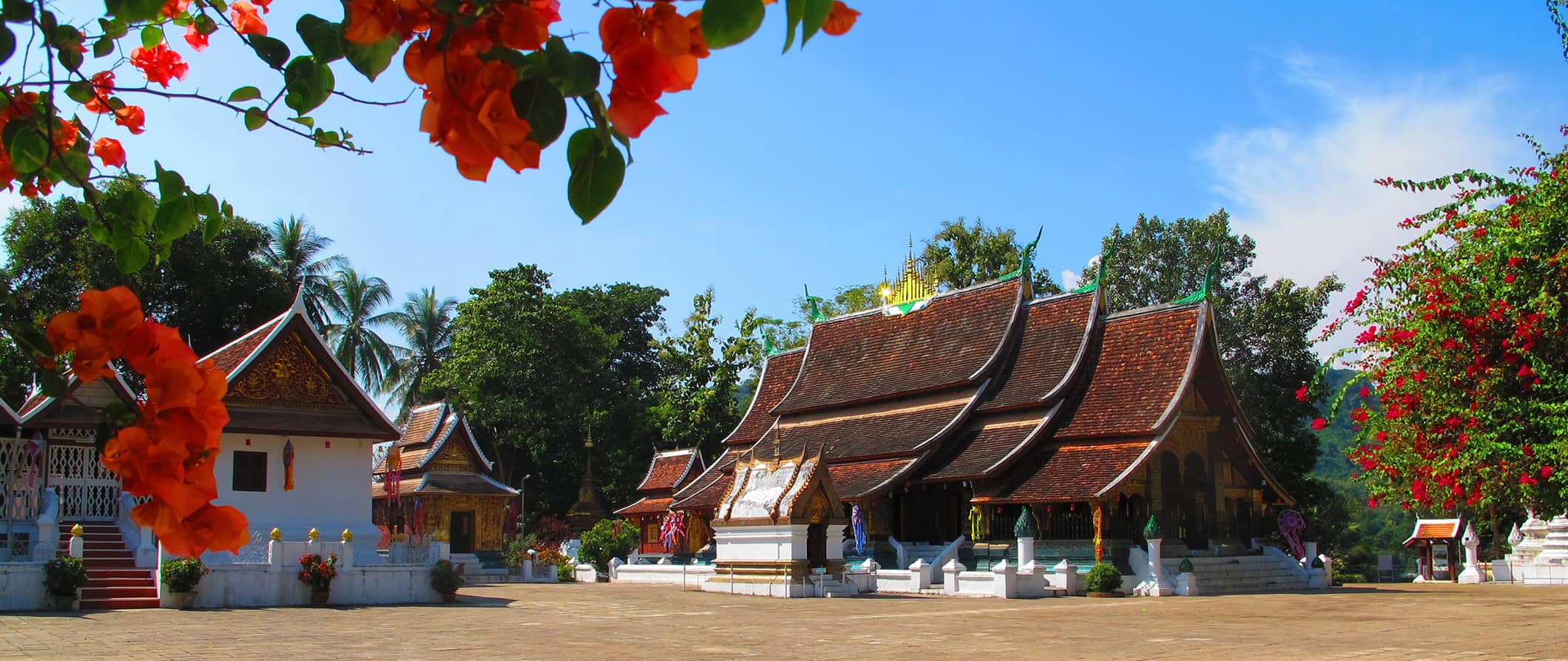 Located in northern Laos, the small town of Luang Prabang is in the heart of a mountainous region. It is one of the most popular destinations in the country has most travelers use it as the first or last stop in the country before going to/from Thailand. I originally came here for a weekend but ended up staying a week. It's an easy place to get stuck. You can spend your days relaxing by the river, in cafes, and heading out to the nearby Kung Si waterfalls. You'll be able to see everything in town within a couple of days but the city has a hold on your and you'll probably end up staying a bit longer. You won't regret it though!
Top 5 Things to See and Do in Luang Prabang
1. Explore the Buddha Caves
These caves are located a little north of Luang Prabang and house thousands of Buddhist statues that are still used for worship today. The caves are cool to see and you get a nice ride up and down the Mekong River to get there.
2. Visit the Royal Palace
Haw Kham was formerly the royal palace. Now, it's a museum that houses many items of historical and cultural importance about the royal family and the history of the country. It's not a large museum but the displays and artifacts will give you a good understanding of the country and the grounds are beautiful. Entry to the museum is 30,000 LAK.
3. Check out the Elephant Village Sanctuary
This sanctuary just outside of Luang Prabang maintains the support and survival of about 14 elephants at any one time. This is one of the most ethical ways to see elephants in the country. You can also watch them wash in the Namkhan River. A half-day visit will cost around 350,000 LAK.
4. See the sunset along the Mekong River
Luang Prabang is situated along the Mekong River, and you can enjoy the beautiful sunset from one of the many restaurants along the riverfront. If it wasn't raining, I spent every night watching the sunset here with a nice ice cold beer. I highly recommend it! Relaxing end to a day!
5. Trek to the Kuang Si Falls
While one of the most popular attractions in the area (try to avoid the weekends when the locals crowd the area too),
it was one of the most breathtaking things I saw in Laos.
Definitely do not miss this place. Be sure to find the secret pool for a swim too! Admission is 20,000 LAK, and a tuk-tuk from Luang Prabang will cost 30,000-40,000 LAK.
Other Things to See and Do
(Click the title to expand the text)
1. Visit Wat Xieng Toung Monastery
This is one of the oldest monasteries in the city and is one of the most important monuments to the spirit of religion, royalty, and traditional art. It also has amazing gardens that you can stroll through on your visit. I highly recommend this place! Admission is 20,000 LAK.
2. Witness the alms ceremony
At dawn, the monks come down Sakkaline Road to collect alms of rice from both villagers and tourists. You can easily locate the route for alms giving by looking for rows of rice baskets and stools waiting for the alms-givers. It's one of the most popular things to do in the city and hundreds of people line up for it. Sadly, while it used to be an authentic thing, it's now a money machine for the monks and a bit of a Disneyfied attraction. I wouldn't go but you can get a lot of pictures (if that's what you really want!).
3. Kuang Si Butterfly Park
Also located a bit outside of the city, this park contains huge landscaped gardens and orchids, with thousands of butterflies living inside of a netted butterfly garden. There is also a natural fish spa and a small European style bakery on site. Entry to the park is 33,000 LAK.
4. Climb Chomsky Hill
From the main hill in the city, you will have an amazing view of the area. The climb isn't too laborious and you have a panoramic view from the top. I suggest going at sunset or sunrise for the best view!
5. Take a Laotian cooking class
If you are into Laotian cuisine, this is an affordable and fun option. There are three cooking class institutes in the city: The Terrace, Tamnak Lao, Tamarind: A Taste of Laos. In all of them, you get to enjoy the dishes afterward. Prices will vary but expect to pay between 200,000-300,000 LAK for a class.
6. Check out the night market
Set on the Sisavangvong Road, there are tons of souvenirs, food, and hawkers here. Make sure to bargain with sellers to get a fair price! It's one of the biggest night markets in the country and a great place to pick up anything you want.
7. Visit Nong Kiew
This rustic village is located a few hours from the city, perched on the banks of the Ou River. It's a great place to relax, disconnect, and slow down. You can take the bus for 40,000-50,000 LAK and spend a day or two away from it all.
8. Take a cycling tour
If you want to get active and escape the city, try a multi-day cycling tour. You can head out for 2-7 days and explore the countryside with a knowledgeable guide, learning about rural life as you get off the beaten path. Most tours are suitable for all ages, too. Prices start around 500,000 LAK and go up from there.
Typical Costs
Hostel prices
– You can get a hostel bed from 48,000-75,000 LAK (6-8 bed dorm). Free WiFi is common, and a few places also include free breakfast. Only a few have self-catering facilities, so if you need a kitchen be sure to check in advance if your hostel has one. My suggested places are:
Budget hotel prices – Generally, budget hotels start around 120,000 LAK per night for a twin or double. This includes free WiFi and air conditioning. Mid-range hotels tend to start about 220,000 LAK (double that if you want a hotel with a pool). Airbnb is a possibility in town, though there are virtually no options for shared accommodation. If you want a private room, prices start around 215,000 LAK. For an entire home or apartment, expect to pay at least 600,000 LAK per night.
Average cost of food – You can find some reasonable budget options for under 20,000 LAK. Lunch options tend to run about 20,000-50,000 LAK and you can expect to spend about 30,000-60,000 LAK for a mid-range dinner. If you have access to a kitchen, a week's worth of groceries should cost between 150,000-250,000 LAK, but street food is so cheap in this country you would be hard pressed to cook your own meals cheaper. There's plenty of riverside restaurant BBQs and the downtown night market is filled with cheap eats and all you can eat buffets.
Transportation costs – Getting around can add up quite quickly here. Taxis to the airport are about 45,000 LAK. I would stick to tuk-tuks for getting around, or even look at renting bikes to keep costs low. A full-day bicycle rental will cost under 20,000 LAK. If you want to rent a motorbike, expect to pay around 150,000 LAK for a day rental. For intercity travel, a bus to either Vientiane or Vang Vieng will cost between 100,000-150,000 LAK.
Suggested daily budget
200,000-250,000 LAK (25-30 USD) (Note: This is a suggested budget assuming you're staying in a hostel, eating out a little, cooking most of your meals, doing lots of free activities, keeping your drinking to a minimum, and using local transportation. Using the budget tips below, you can always lower this number. However, if you stay in fancier accommodation or eat out more often, expect this to be higher!)
Money Saving Tips
Travel during off-season – Peak season tends to run from October through March. If you are able to land in Luang Prabang during April through September you can usually find some good prices, especially when it comes to accommodations. The rainy season runs during this time but tends to be short bursts of rain and not that bad.
Rent a bicycle – While public transportation isn't too pricey, renting a bike for a couple of days can get you around the city at your own pace, and save you a bit. There are a couple of different shops that provide rentals, and you can also try to negotiate prices. Prices will usually cost between 10,000-20,000 LAK per day.
Stick to the local food – Western restaurants tend to be twice as expensive as the local ones and traditional fare is cheap and delicious. If you're on a budget, eat what the locals eat — it will save you money!
Organize your own transportation – Don't go through your hostel or a tour company to book activities as they will charge you more money. Most attractions are near cities and you can either rent a motorbike or hire any number of tuk-tuk drivers to get you there. (Plus, you get the freedom of being on your own schedule).
Don't overdo it on drinks – One of the best ways to cut costs is the limit your drinking. A few beers here and there will slowly add up and put a dent in your budget, so keep the drinking to a minimum.
My Must Have Guides For Traveling to Luang Prabang