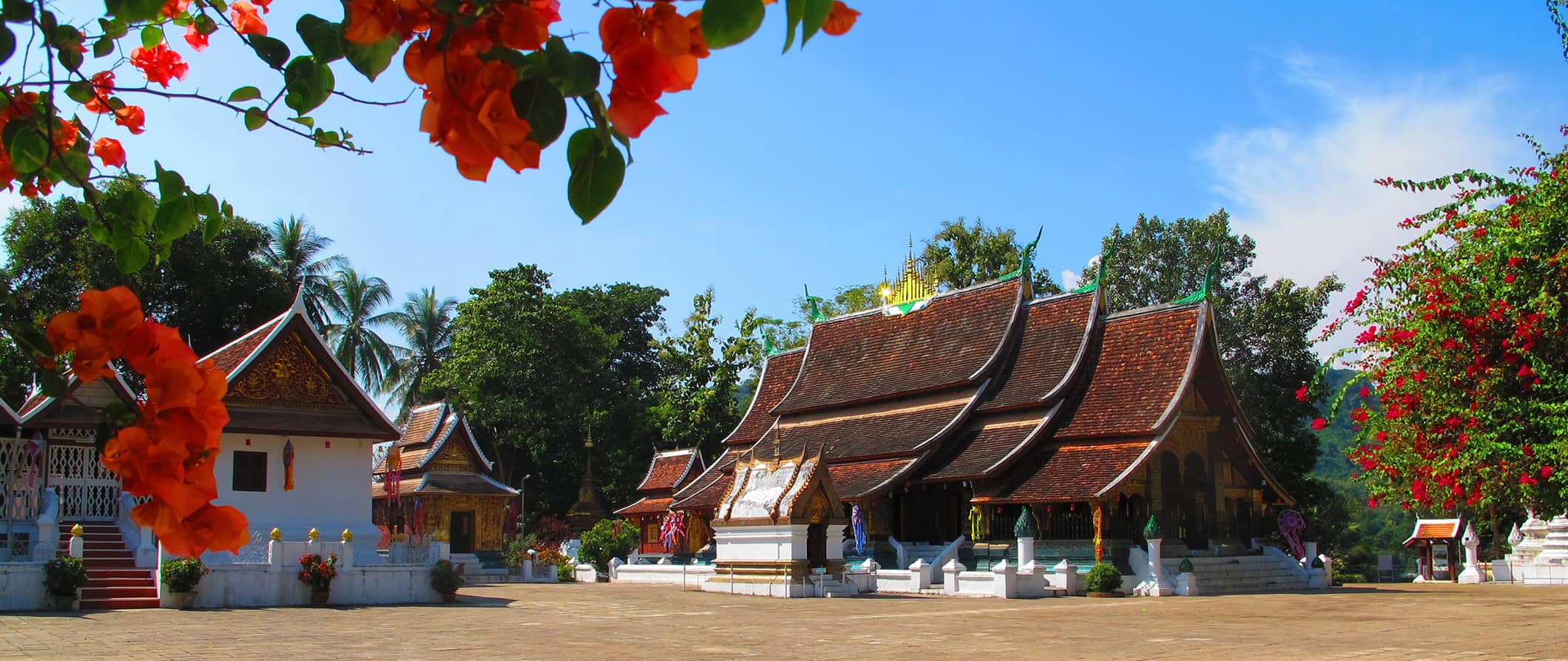 Luang Prabang is a small but vibrant town in the heart of mountainous Northern Laos. Luang Prabang is located at the confluence of the Mekong and Nam Khan rivers, and is one of the most popular destinations in Laos as most travelers use it as the first or last stop in the country before going to/from Thailand.
Backpacking Luang Prabang is very popular with people traveling through the country and you'll see a lot of backpackers here (you'll also see lots of people here but it is a prime spot for backpacking.)
For a small town, there's a lot to see and do. With its 33 temples, streets filled with French colonial architecture, bustling night markets, to river tours and waterfalls, you can fill a lot of time.
It's an easy place to get "stuck." I came here for three days and spent a week here (and probably could have spent another week). You can spend your days relaxing by the river, in cafes, or at the nearby Kung Si waterfalls (which is worth multiple visits).
Or take a Lao cooking class and perfect the art of laap, meet the monks, and visit the Buddha Caves.
Whatever you want to do, this travel guide to Luang Prabang will give you the best places to visit, tell you how to save money, how to get around, give you costs, and help you plan the best trip to this town!

Luang Prabang
Top 5 Things to See and Do in Luang Prabang
1. Explore the Buddha Caves
The Buddha Caves (Pak Ou Caves) hold over 6,000 Buddha statues that the locals still use for worship. To get there you'll take a scenic 16-mile (25-kilometer) boat trip up the Mekong River. From there, you're able to explore the two main caves on foot. It's about 20,000 LAK ($2.30 USD) to enter the caves, and a shared boat will cost 65,000 LAK ($7.50 USD) round-trip.
2. Visit the Royal Palace
While the Royal Palace (Haw Kham) is no longer a residence, it's a wonderful museum that houses many items of historical and cultural importance. The current palace was built for King Sisavang Vong in 1904, in French and Lao architectural style, after the Black Flag Army destroyed the former palace. Entry to the museum is 30,000 LAK ($3.45 USD).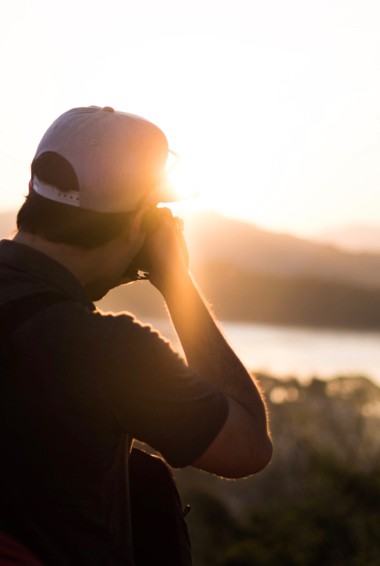 3. Climb Mount Phousi
Mount Phousi is Luang Prabang's highest hill, and the climb up its 300 stairs is worth it for the views over the countryside and the Mekong River. There's a golden Buddhist shrine named Wat Chomsi at the top that dates back to 1804, and a small concession stand for snacks and drinks. It's a incredible spot to watch the sunset.
4. See the sunset along the Mekong River
Sitting back and watching the vivid sunsets over the Mekong River is one of the best ways to enjoy your time in Luang Prabang. The many restaurants along the riverfront offer plenty of opportunity to do so (the Riverside Sunset Bar is a particularly laid-back spot).
5. Trek to the Kuang Si Falls
While one of the most popular attractions in the area (try to avoid the weekends when the locals crowd the area too),
the Kuang Si Falls was one most breathtaking things I saw in Laos.
Definitely do not miss this place. Admission is 20,000 LAK ($2.50 USD), and a tuk-tuk from Luang Prabang will cost 30,000-40,000 LAK ($3.50-4.60 USD).
Other Things to See and Do in Luang Prabang
1. Visit Wat Xieng Thong Monastery
Wat Xieng Thong Monastery is easy to spot in Luang Prabang with its low-swooping roof and richly decorated gold exterior. Dating back to the mid-1500s when it was built by King Setthathilat, it's one of the oldest monasteries in the city. There are detailed mosaics, sculptures of rare Buddhist gods, and elaborate wall carvings. Admission is 20,000 LAK ($2.30 USD).
2. Witness the alms ceremony
At dawn, the monks come down Sakkaline Road to collect alms of rice from both villagers and tourists. You can easily locate the route for almsgiving by looking for rows of rice baskets and stools waiting for the alms-givers. It's one of the most popular things to do in the city, and hundreds of people line up for it every morning.
3. Kuang Si Butterfly Park
Located a bit outside of the city, this park contains huge landscaped gardens and orchids, with thousands of butterflies living inside of a netted butterfly garden. There is also a natural fish spa and a small European style bakery on site. You can get there by taxi. Entry to the park is 33,000 LAK ($3.80 USD).
4. Take a Lao cooking class
There are three cooking class institutes in the city: The Terrace, Tamnak Lao, and Tamarind: A Taste of Laos. You'll learn to cook popular dishes like laap (minced meat and salad) or mok pa (steamed fish) with some fun, interactive guidance from your chef. Prices will vary but expect to pay between 200,000-300,000 LAK ($23-35 USD) for a class.
5. Check out the night market
Set on the Sisavangvong Road, the night market has a seemingly endless line-up of stalls selling souvenirs, food, and handmade goods. It's one of the biggest night markets in the country and a great place to pick up anything you want.
6. Visit Nong Kiew
The sleepy village of Nong Kiew is located a few hours from the city. The towering limestone cliffs surrounding the village are ideal for experienced climbers, and there are many hiking trails leading to nearby waterfalls and caves. The most popular trek is to the lookout at Phadeng Peak, which takes about two hours as you climb your way up above the clouds for views over the mountains. You can take the bus for 40,000-50,000 LAK ($4.60-5.75 USD). Spend a day or two here.
7. Take a cycling tour
If you want to get active and escape the city, try a cycling day tour. You'll head to the countryside to learn about rural life as you visit small villages like Ban Nakham and the remote Ban Jannuau. Shop around, but most tours are around 500,000 LAK ($58 USD) for a full day tour.
Luang Prabang Travel Costs
Hostel prices – Hostel beds cost between 43,400-75,000 LAK ($5-9 USD) for a 6-10 person dorm. If you want to go about a mile outside the city center, you can find some for as cheap as 34,600 LAK ($4 USD) per night.
Private double rooms are around 130,190 LAK ($15 USD) near the city center, but sometimes you'll have to pay a small surcharge for air-conditioning. Pretty much everywhere has free breakfast and wifi, but only a handful of places have kitchens.
Budget hotel prices – Most budget two-star hotels start around 130,190 LAK ($15 USD) per night for a twin or double, no matter where you are in the city (including near the city center). This includes free wifi, air-conditioning, and usually free breakfast. Three-star hotels tend to start about 190,300 LAK ($22 USD), but if you want a place with a swimming pool you can expect to pay at least 259,500 LAK ($30 USD) per night.
There are only a few Airbnb properties in town. If you want a private room in a villa or guesthouse, prices start around 130,190 LAK ($15 USD). For an entire home or apartment, expect to pay at least 600,000 LAK ($70 USD) per night.
Average cost of food – Most street food in Luang Prabang costs less than 20,000 LAK ($2.30 USD), especially in the night market where you can find things like barbecued meats, spicy papaya salad, and noodle soup. There's an excellent night market buffet at the entrance (near the Indigo Cafe) where you can fill a huge bowl of different foods for about 17,360 LAK ($2 USD). Don't forget to try the coconut pancakes for 5,000 LAK ($0.60 USD).
Lunch options tend to run about 20,000-50,000 LAK ($2.30-5.75 USD) and you can expect to spend about 25,947-60,000 LAK ($3-$7 USD) for dinner at a restaurant. You can grab a beer just about anywhere for 8,680 LAK ($1 USD).
If you have access to a kitchen, a week's worth of groceries should cost between 155,682- 259,470 LAK ($18-30 USD), but street food is so cheap in this city it doesn't really make sense to cook your own meals.
Backpacking Luang Prabang Suggested Budgets
On a backpacker budget in Luang Prabang, you'll spend from 260,380 LAK ($30 USD) per day. This budget will cover staying in a hostel dorm, eating mostly street food, having an occasional restaurant lunch, a few beers per night, a bicycle rental, and some attractions each day.
A mid-range budget of about 694,355 LAK ($80 USD) per day will get you a two-star hotel room or a private hostel or Airbnb, all the food and drink you want, tuk-tuks and taxis wherever you want, and more activities each day.
A luxury budget from 1,345,310 LAK ($155 USD) per day will get you anything you want because that's a lot of money in Laos and you can afford anything.
You can use the chart below to get some idea of how much you need to budget daily, depending on your travel style. Keep in mind these are daily averages – some days you'll spend more, some days you'll spend less (you might spend less every day). We just want to give you a general idea of how to make your budget. Prices are in USD.
Accommodation
Food
Transportation
Attractions
Average Daily Cost
Backpacker
$5
$10
$5
$10
$30
Mid-Range
$15
$15
$10
$40
$80
Luxury
$50
$25
$20
$60
$155
Luang Prabang Travel Guide: Money Saving Tips
Luang Prabang is very cheap, so finding ways to cut down on expenses can be challenging if you're already eating local cuisines, not drinking a ton, and staying in hostels. There's not much to cut. That said, here are some ways to save money in Luang Prabang:
Travel during off-season – Peak season tends to run from October through March. If you can land in Luang Prabang during April through September, you can usually find some good prices, especially when it comes to accommodations. This is the rainy season but the daily rainfall is usually brief.
Rent a bicycle – While public transportation isn't too pricey, renting a bike for a couple of days can get you around the city at your own pace,
Stick to the local food – Western restaurants tend to be twice as expensive as the local ones. If you're on a budget, eat what the locals eat — it will save you money!
Don't overdo it on drinks – One of the best ways to cut costs is the limit your drinking. A few beers here and there will quickly add up.
Pack a water bottle – A water bottle with a purifier will come particularly in handy in Southeast Asia since you can't drink the tap water. Save money and thousands of plastic bottles and get a bottle that can purify the tap water for you. My preferred bottle is LifeStraw ($49.99).
Where To Stay in Luang Prabang
Luang Prabang has lots of affordable accommodation options so you want be hard pressed to find something within any budget. My suggested places to stay in the city are:
How to Get Around Luang Prabang
Luang Prabang is a small town and you can get anywhere on foot. Transportation is necessary when you're visiting places outside of town.
Bicycle – A bicycle is one of the most common ways to get around town. There are plenty of rental shops all over Luang Prabang. Your hostel/hotel may even have some. Rentals are usually between 15,000-30,000 LAK ($1.75-3.45 USD).
Tuk-Tuk – Short tuk-tuk rides around town will cost you around 20,000 LAK ($2.30 USD) per trip. If you're going a little further afield, like to the slow boat pier, you'll pay more like 50,000 LAK ($5.75 USD) per trip.
Taxi – The only time you'll really need a taxi to get around is if you're traveling to and from the airport. The standard rate for that journey is around 50,000 LAK ($5.75 USD).
When to Go to Luang Prabang
Between November to May is the best time to visit Luang Prabang. This is when the area's weather is consistently warm and dry, but it's still cooler compared to the rest of the year. The temperature never drops below 59°F (15°C), and the average daily temperature is 77°F (25°C). This is also when Luang Prabang receives the greatest number of visitors, although it's never really too crowded here (except for in the market).
March to May tends to be the hottest months, with temperatures as high as 104°F (40°C). The humidity is high during this time too, which can make it very intolerable for some people.
The rainy season is from June to September. Heavy rainfall occurs during these months (especially in August), and although it doesn't last long, the Mekong River is prone to flooding. Some roads may become impassable due to thick mud, which is a pain if you're trying to get out into the countryside or the mountains. On the other hand, you can take advantage of fewer crowds and better accommodation prices all over town.
How to Stay Safe in Luang Prabang
Luang Prabang is a very safe place to backpack and travel. Pickpocketing will be your biggest concern, especially in the night market. Keep your wallet/purse close, and leave your valuables in a safety deposit box.
(Worried about travel scams? Read about these travel scams and make sure you don't fall for any!)
Do not give money to child peddlers. You're not helping a child in need by doing so. Often these kids are kept out of school so they can earn money in the streets. The minute you give one child money, you're likely to be surrounded by many more!
Always trust your gut instinct. If a taxi driver seems shady, stop the cab and get out. If your hotel is seedier than you thought, get out of there. Make copies of your personal documents, including your passport and ID.
When people get into trouble here, it's mostly because they're tangled with drugs or the sex industry. Laos is strict about punishment for these things so don't do them (and you shouldn't do them anyways because they are bad). Don't contribute to the negative side of tourism.
If you don't do it at home, don't do it when you're in Luang Prabang. Follow that rule, and you'll be fine.
The most important piece of safety advice I can offer is to purchase good travel insurance. Travel insurance will protect you against illness, injury, theft, and cancellations. It's comprehensive protection in case anything goes wrong. I never go on a trip without it as I've had to use it many times in the past. You can use the widget below to find the policy right for you:
Luang Prabang Travel Guide: The Best Booking Resources
Below are my favorite companies to use when I travel to Luang Prabang. They are included here because they consistently turn up the best deals, offer world-class customer service and great value, and overall, are better than their competitors.
Momondo – This is my favorite flight search engine because they search such a wide variety of sites and airlines. I never book a flight without checking here first.
Skyscanner – Skyscanner is another great flight search engline which searches a lot of different airlines, including many of the budget carriers that larger sites miss. While I always start with Momondo, I use this site too as a way to compare prices.
Airbnb – Airbnb is a great accommodation alternative for connecting with homeowners who rent out their homes or apartments. The big cities have tons of listings!
Hostelworld – This is the best hostel accommodation site out there, with the largest inventory, best search interface, and widest availability.
Agoda – Other than Hostelworld an Airbnb, Agoda is the best hotel accommodation site for Asia as it has the largest inventory and offers the best rates. If you want a guesthouse or hotel, book it via this website!
12go.asia – 12go.asia is the best website for booking transportation around Southeast Asia. You will be able to research your journey ahead of time and figure out the best schedule and prices.
Rome 2 Rio – This website allows you to see how to get from point A to point B the best and cheapest way possible. Just enter your departure and arrival destinations and it will give you all the bus, train, plane, or boat routes that can get you there as well as how much they cost. One of the best transportation website out there!
Intrepid Travel – If you want to do a group tour around Asia, go with Intrepid Travel. They offer good small group tours that use local operators and leave a small environmental footprint. If you go on a tour with anyone, go with them. And, as a reader of this site, you'll get a discount when you click the link!
World Nomads – I buy all my travel insurance from World Nomads. They have great customer service, competitive prices, and in-depth coverage. I've been using them since I started traveling in 2003. Don't leave home without it!
Luang Gear and Packing Guide
If you're heading on the road and need some gear suggestions, here are my tips for the best travel backpack and for what to pack!
The Best Backpack for Travelers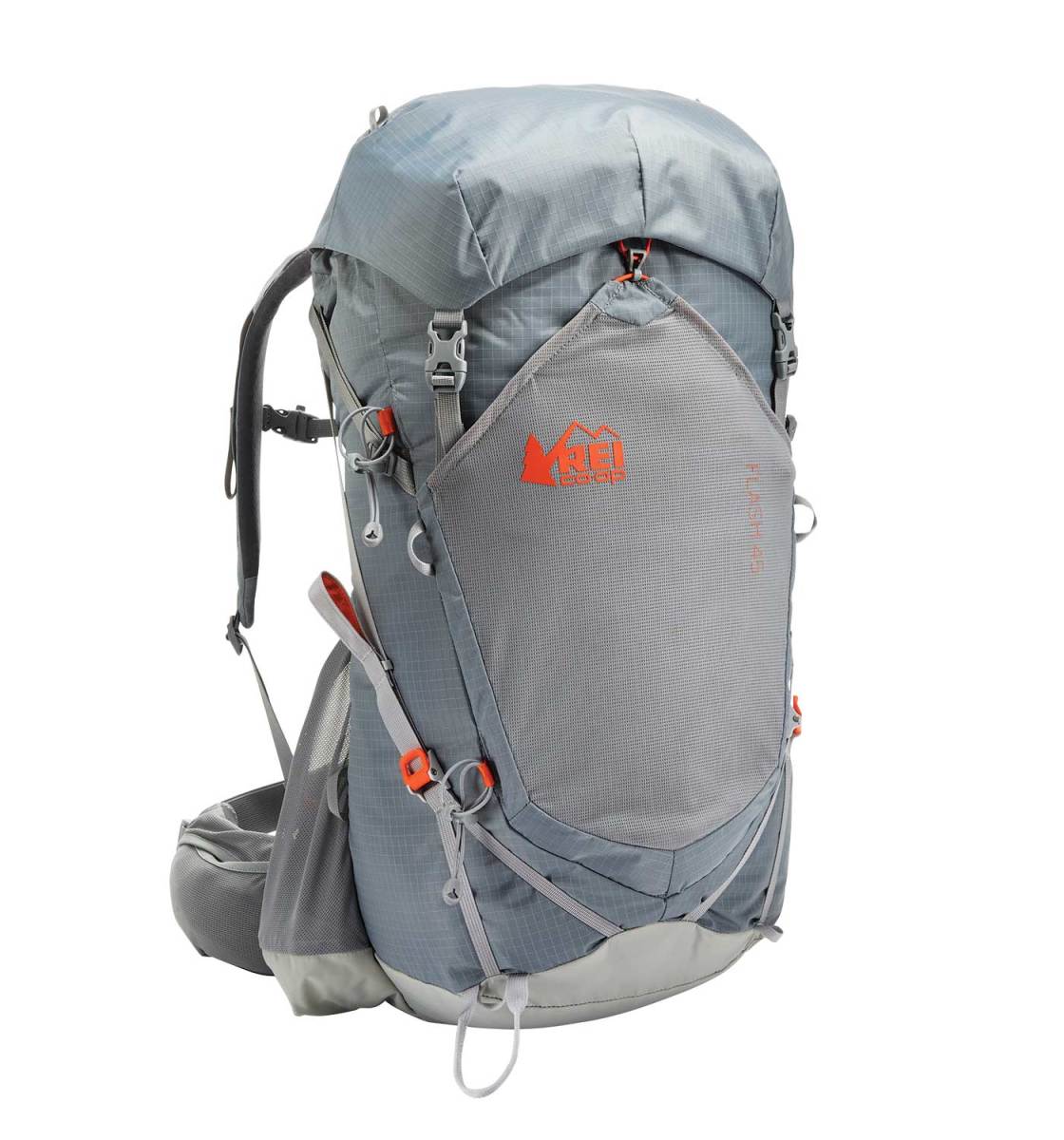 What's the best backpack for traveling long-term? I recommend the
REI Flash 45 Pack
. It's light and comfy, front loading, and fits perfectly in an airplane's overhead bin.
Size:
45-47L
Straps:
Thick and cushy with compression technology that pulls the pack's load up and inwards so it doesn't feel as heavy.
Features:
Removable top lid, large pocket at the front, hydration compatible, contoured hip belt
If you want something different, refer to my article on how to choose the best travel backpack for tips on picking a pack and other backpack suggestions.
What to Pack for Your Trip
Clothes
1 pair of jeans (heavy and not easily dried, but I like them; a good alternative is khaki pants)
1 pair of shorts
1 bathing suit
5 T-shirts (Unbound Merino is my preferred company. If you're a member of NM+, you can get 15% off your purchase)
1 long-sleeved T-shirt
1 pair of flip-flops
1 pair of sneakers
6 pairs of socks (I always end up losing half)
5 pairs of boxer shorts (I'm not a briefs guy!)
1 toothbrush
1 tube of toothpaste
1 razor
1 package of dental floss
1 small bottle of shampoo
1 small bottle of shower gel
1 towel
Deodorant
Small Medical Kit (safety is important!!!)
Miscellaneous
Female Travel Packing List
I'm not a woman, so I don't know what a woman wears, but Kristin Addis, our solo female travel guru, wrote this list as an addition to the basics above:
Clothing
1 swimsuit
1 sarong
1 pair of stretchy jeans (they wash and dry easily)
1 pair of leggings (if it's cold, they can go under your jeans, otherwise with a dress or shirt)
2-3 long-sleeve tops
2-3 T-shirts
3-4 spaghetti tops
1 light cardigan
Toiletries
1 dry shampoo spray & talc powder (keeps long hair grease-free in between washes)
1 hairbrush
Makeup you use
Hair bands & hair clips
Feminine hygiene products (you can opt to buy there too, but I prefer not to count on it, and most people have their preferred products)
For more on packing, check out these posts:
Luang Prabang Travel Guide: Suggested Reading
Another Quiet American: Stories of Life in Laos, by Brett Dakin
This is Brett Dakin's insightful book about living in Laos as a foreigner. Most of it focuses on the characters that Brett meets along the way, like his boss, an intimidating and wealthy general who scares everyone he meets. Then there's an elderly prince who longs for the time of French colonialism, and the American pilot who left home to fight and then never went back. You'll learn about the new generation of Laos people who have more money than they can handle, and a communist way of life that is quickly fading. It's an excellent read.



The Coroner's Lunch, by Colin Cotterill
This is not something I'd typically read, but the Dr. Siri mystery series is legendary. This first book is set in Laos in 1978, when 72-year-old Dr. Siri Paiboun has been made the national coroner of the new socialist Laos. His lab is anything but boring, and when the wife of an important politican comes through his morgue, Siri suspects she has been murdered. Siri and his team fight their way through obstacles like corrupt government officials, spies, and even shamans to find the truth. This makes good reading for a long bus ride!


The Ravens: The True Story Of A Secret War In Laos, by Christopher Robbins

The Vietnam War in Laos did not officially exist…or at least both Vietnam and the USA denied they had troops there. But in reality, thousands of North Vietnamese soldiers invaded the country during this time — and the Americans fought against them from the air. The Ravens were the names given to top-secret volunteer Laotian pilots who flew through heavy groundfire to identify targets, working alongside the hill tribesmen above the Plain of Jars to protect their land. This is a riveting collection of survivor stories, based on extensive interviews.


Ant Egg Soup: The Adventures of a Food Tourist in Laos, by Natacha Du Pont De Bie

Laos isn't typically considered a food destination when compared with other destinations in Southeast Asia, but Natacha Du Pont De Bie's foodie book is here to convince you otherwise. The author will trek for hours (or even days) to search for a good meal, and this light-hearted book is the result of her adventures and the people she has met along the way. You'll read stories about everything from drinking raw turkey blood with herbs in a tribal village to chowing down on heaps of fried crickets. It might even convince you to get adventurous!

Luang Prabang Travel Guide: Related Articles
Want more info? Check out all the articles I've written on Laos travel and continue planning your trip: