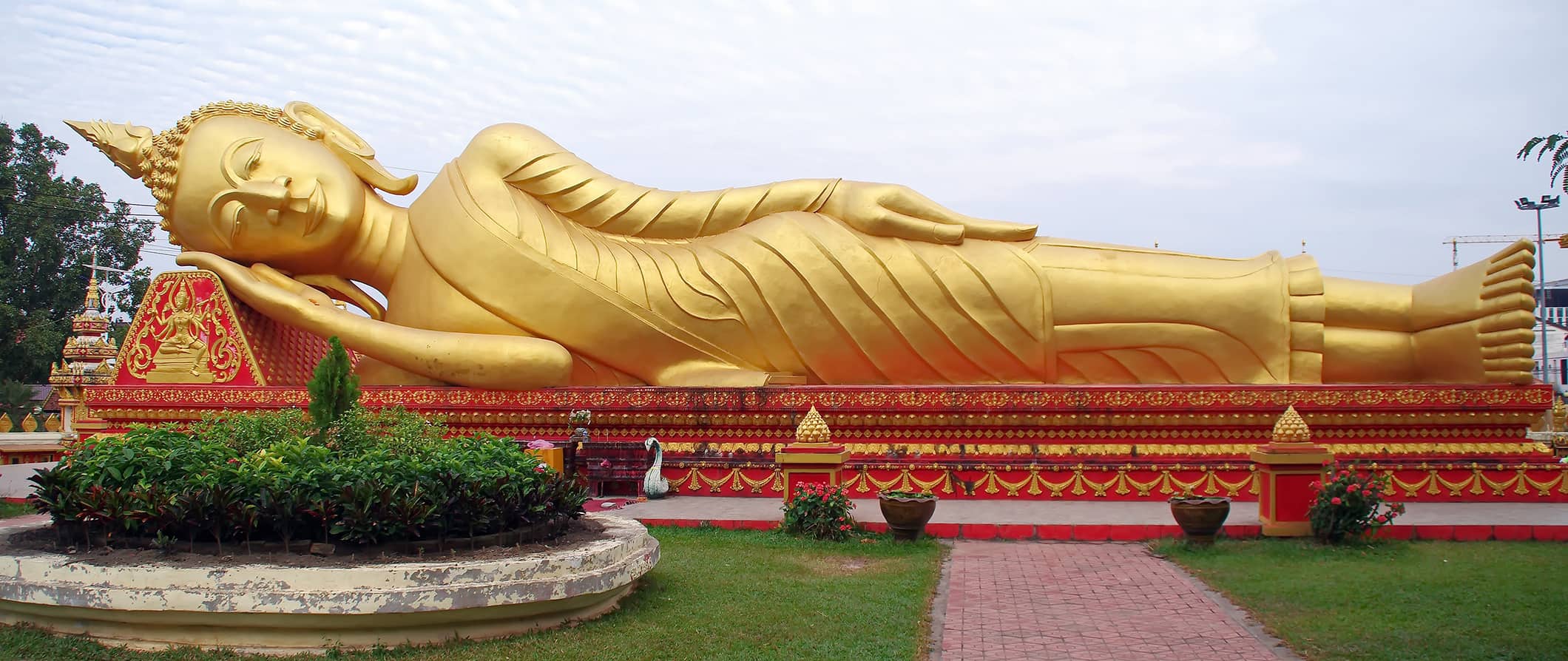 Vientiane, the capital of Laos, was once a French trading post, and much of the city's historical center has kept its colorful original colonial architecture intact.
Nowadays, the capital is a hub for café culture, cheap spas, golden temples, and diverse riverside markets. There's a busy nightlife scene and some good day trips beyond the city limits, including Buddha Park with its more than 200 giant Buddha statues.
If you're backpacking, Vientiane is a likely stop between Vietnam and Thailand. Stroll the wide boulevards, take in the crumbling mansions, and chill out in Chao Anouvong Park. The surprising number of French bakeries is reminiscent of a bygone era when French colonists rebuilt the city after the Thai army destroyed it in the 1820s.
Overall, Vientiane is worth a day or two.
This Vientiane travel guide will give you the best places to visit, tell you how to save money, how to get around, give you costs, and help you plan the best trip to this city!
Top 5 Things to See and Do in Vientiane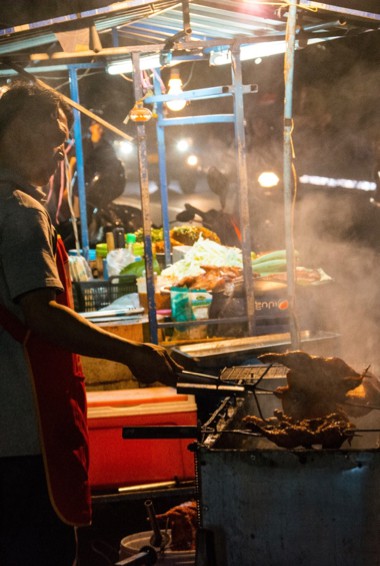 1. Take a cooking class
Street food in Laos is delicious. Try a cooking class to learn how to make traditional dishes like laap (salad with minced meat and spices), orh (spicy stew), and mok (steamed fish in banana leaf). Most tours begin with a market tour where you will select the best ingredients for your experience! I recommend a class with Madam Phasouk. Classes are 150,000 LAK ($17 USD).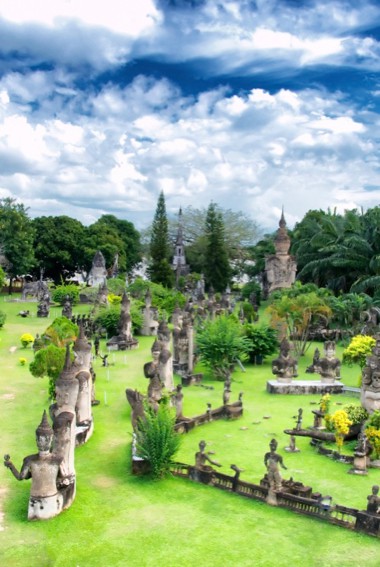 2. See Buddha Park
Buddha Park is a sculpture park just outside of Vientiane. There are around 200 Hindu and Buddhist statues here, all of which appear to be centuries old (they're not; they were made in the 20th century out of concrete). While not "historic" it's still worth visiting!
3. See the Great Stupa
The Great Stupa is a 148-foot gold-covered stupa and is the most important monument in the country. Built by King Setthathirat in 1566, its exterior looks like a fortress with high walls. Inside, the walls are covered in Buddhist, floral, and animal imagery. Admission is 10,000 LAK ($1.15 USD).
4. Chat with a monk
On the first Sunday of every month, monks gather at the Sangha College to chat with tourists. You can ask them all about their practice and daily life, and it gives them a chance to practice their English in turn. It's useful way to learn a lot about Lao culture.
5. Check out the Victory Gate (Patuxai)
Vientiane's Victory Gate is also known as the city's Arc de Triomphe. The monument was built between 1957-1968 to honor the memory of Lao soldiers who died in WWII and the war of independence in 1949. For 3,000 LAK ($0.35 USD), you can climb up to the 7th story and take in an amazing view of Vientiane.
Other Things to See and Do in Vientiane
1. Take a bike tour
There are some excellent guided bicycle tours in Vientiane. You will get a chance to leave the city behind and cycle to rural villages, temples, and schoolyards along the Mekong River while taking in the picturesque landscape as you go. Be sure to stop at Tad Moon Waterfall too. Their intro tour lasts 4-5 hours and costs around 400,000 LAK ($46 USD).
2. Visit the COPE Visitor Centre
During the Vietnam War, the American military dropped more than two million tons of explosives on Laos. Even today, many rural citizens still lose their limbs or lives by coming across unexploded bombs. COPE (Cooperative Orthotic & Prosthetic Enterprise) was formed to aid with the recovery for these victims by providing prosthetics and other services. The COPE Visitor Centre is a jarring experience where visitors can learn more about this ongoing tragedy and the organization.
3. Hang out in Chao Anouvong Park
The Chao Anouvong Park is right in the heart of Vientiane. There's lots of green space, and the locals come here to walk, hang out, and play sports. In the evening, there's a night market doling out food and selling crafts and clothes.
4. Visit the Lao National Museum
This museum is packed full of Laotian history. There are exhibits on the country's early history through to the modern era. The main exhibit focuses on the Lao Revolution in the 1970s. Admission is 10,000 LAK ($1.15 USD).
5. See the Presidential Palace
You can't go inside the Presidential Palace, as it's currently used for the president and other government officials, but you can certainly admire the building from outside. It's a stately piece of French Beaux-Arts architecture with iron gates decorated with gold, large balconies, and several Roman-like colonnades along its exterior.
6. Attend the Lao Boat Racing Festival
If you end up being in Vientiane during September and October, you'll be able to check out the Lao Boat Racing Festival (which takes place for those entire two months). A lot of Vientiane's neighboring villages also participate in the festivities, and it's easy to get swept up in the excitement. Teams of men and women race throughout the festival in dragon boats, while spectators line the riverbanks singing and playing music, and the streets are overtaken with food stalls and tombola games.
Vientiane Travel Costs
Hostel prices – Beds in a large hostel dorm (think 12-20 people) start from 43,262 LAK ($5 USD) per night. For a hostel dorm with 6-8 beds, you will spend around 86,795 LAK ($10 USD) per night.
A private room in a hostel will cost between 147,550-173,590 LAK ($17-20 USD) per night. Most hostels have free wifi and free breakfast, but you won't find many with kitchen facilities here.
Budget hotel prices – Most two-star budget hotels start at 173,590 LAK ($20 USD) per night. These usually include free wi-fi, air-conditioning, and breakfast. If you want a place with a pool, expect to pay around 302,837 LAK ($35 USD) per night.
There are lots of Airbnb options in the city. Shared rooms (like dorms) start from 86,575 LAK ($10 USD) per night. You can find private rooms in apartments or guesthouses starting from 130,190 LAK ($15 USD), but the average is about 216,312 LAK ($25 USD). Entire homes or apartments are about 347,175 LAK ($40 USD) per night.
Average cost of food – Street food in Vientiane will cost under 20,000 LAK ($2.30 USD) per dish for grilled meats and bowls of noodle soup. Lane Xang – the city's main boulevard running from the Presidential Palace towards Pha That Luang — is the best place in the city to find tons of street food.
Meals at restaurants will cost between 25,957- 43,262 LAK ($3-5 USD) for dishes like sticky rice, grilled catfish, and salads. Go to Katenoy for traditional dishes (like laap) for under 26,040 LAK ($3 USD).
Western food will cost around 35,000 LAK ($4 USD) for a burger or pizza. If you are looking for a meal at a nice western style restaurant, expect to pay around 100,000 LAK ($11.50 USD).
A large bottle of Beer Lao will cost you about 12,000 LAK ($1.40 USD) at a restaurant, while a bottle of water should be less than 3,000 LAK ($0.35 USD).
If you plan on cooking your own meals, a week's worth of groceries should cost between 150,000-250,000 LAK ($17.30-29 USD) but, keep in mind most hostels do not have kitchens and, with food prices being so cheap, it's better to simply just eat street food and enjoy the food the country has to offer!
Backpacking Vientiane Suggested Budgets
If you're backpacking Vientiane, I'd budget about 260,380 LAK ($30 USD) per day. That will cover staying in a hostel dorm, eating street food, a few beers, public transportation, and a few paid activities.
On a mid-range budget of about 520,765 LAK ($60 USD) per day, you'll get a private two-star hotel room, any budget restaurant meal you want, taxis or tuk-tuks, and all the paid activities you want.
If you want to go luxury, plan to spend around 1,649,090 LAK ($190 USD) per day, which will get you anything you want in the city. You'll stay in a comfortable four-star hotel, eat fancy meals, drink imported alcohol, take tours, and hire private drivers to get around. Money goes a long way here and, if you're spending that kind of money here, the sky is the limit.
Use the chart below to get some idea of how much you need to budget daily, depending on your travel style. Keep in mind these are daily averages – some days you'll spend more, some days you'll spend less (you might pay less every day). We want to give you a general idea of how to make your budget. Prices are in USD.
Accommodation
Food
Transportation
Attractions
Average Daily Cost
Backpacker
$5
$10
$5
$10
$30
Mid-Range
$20
$15
$10
$15
$60
Luxury
$60
$30
$50
$50
$190
Vientiane Travel Guide: Money Saving Tips
Vientiane isn't going to break your bank. Laos and its capital are fairly cheap and you'll be hard pressed to spend a ton of money here. If you're looking to lower your costs though, here are some ways to save money in Vientiane:
Stick to local transportation – Stick to public transportation if you need to get around. If you do need to take a tuk-tuk or taxi, ask your hotel/hostel staff what you should expect to pay. This will make sure you don't get ripped off!
Avoid western food – Western food is always more expensive than local dishes, and that difference adds up. Save your budget and eat what the locals eat!
Pack a water bottle – A water bottle with a purifier will come particularly in handy in Southeast Asia since you can't drink the tap water. Save money and thousands of plastic bottles and get a bottle that can purify the tap water for you. My preferred bottle is LifeStraw ($49.99).
Where To Stay in Vientiane
Vientiane has a large selection of accommodations. My suggested places to stay when you visit are:
How to Get Around Vientiane
Bus – Vientiane has a public city bus system, but it mostly services the outer suburbs rather than the city center. The number 14 bus goes to the Thai-Lao Friendship Bridge and the Buddha Park every day from Talat Sao Bus Station and costs 6,000 LAK ($0.70 USD). Buses number 30 and 49 go back and forth to the airport regularly for 4,000 LAK ($0.45 USD) as well.
Bicycle – A bicycle rental is an excellent way to get around Vientiane. Rentals cost from 10,000-30,000 LAK ($1.15-3.45 USD) per day. If your guesthouse or hostel doesn't rent bicycles, there are plenty of shops around town. Two shops worth checking out include:
Tuk-Tuks and Jumbos – Tuk-tuks are an easy and affordable way to get around town, with a 3-kilometer tuk-tuk ride costing about 30,000 LAK ($3.45 USD). Jumbos are like large shared tuk-tuks for larger groups that run regular routes around town, and they're usually no more than 10,000 LAK ($1.15 USD) per trip.
Taxi – If you come across an unmetered taxi, make sure you negotiate before getting in. Try to aim for 5,000 LAK ($0.68 USD) per kilometer. You can hire a private taxi for a full day (within the town) for about 433,970 LAK ($50 USD) per day.
When to Go to Vientiane
Vientiane has a tropical climate, with average daily temperatures ranging between 75-98°F (24-37°C). Between November to March is the best time to visit Vientiane. This is when the area's weather is consistently warm and dry, and if you're planning on doing lots of sightseeing, you'll want this kind of weather.
March to May tends to be the hottest months, with temperatures as high as 104°F (40°C). Humidity is high as well. The rainy season starts from May or June and lasts until the end of October. Although there's a lot of rain, it usually comes in short bursts, leaving the rest of the day warm and sunny. Coming here during this time means you won't have to deal with a lot of other travelers.
How to Stay Safe in Vientiane
Vientiane is a very safe place to backpack and travel. Vientiane has very little crime. Petty theft is the main concern here. Keep your valuables locked up at your accommodations, and keep a close eye on your wallet or purse at all times.
As with elsewhere in Southeast Asia, it's not uncommon for people to try to rip you off because they assume you have lots of money.
You can read about these travel scams and make sure you don't fall for any!
Always trust your gut instinct. If a taxi driver seems shady, stop the cab and get out. If your hotel is seedier than you thought, move. Make copies of your personal documents, including your passport and ID.
When people get into trouble here, it's mostly because they're tangled up with drugs or the sex industry. Laos is strict about punishment when it comes to these offenses — especially with drugs — so avoid at all costs!
If you don't do it at home, don't do it when you're in Vientiane. Follow that rule, and you'll be fine.
The most important piece of safety advice I can offer is to purchase good travel insurance. Travel insurance will protect you against illness, injury, theft, and cancellations. It's comprehensive protection in case anything goes wrong. I never go on a trip without it as I've had to use it many times in the past. You can use the widget below to find the policy right for you: