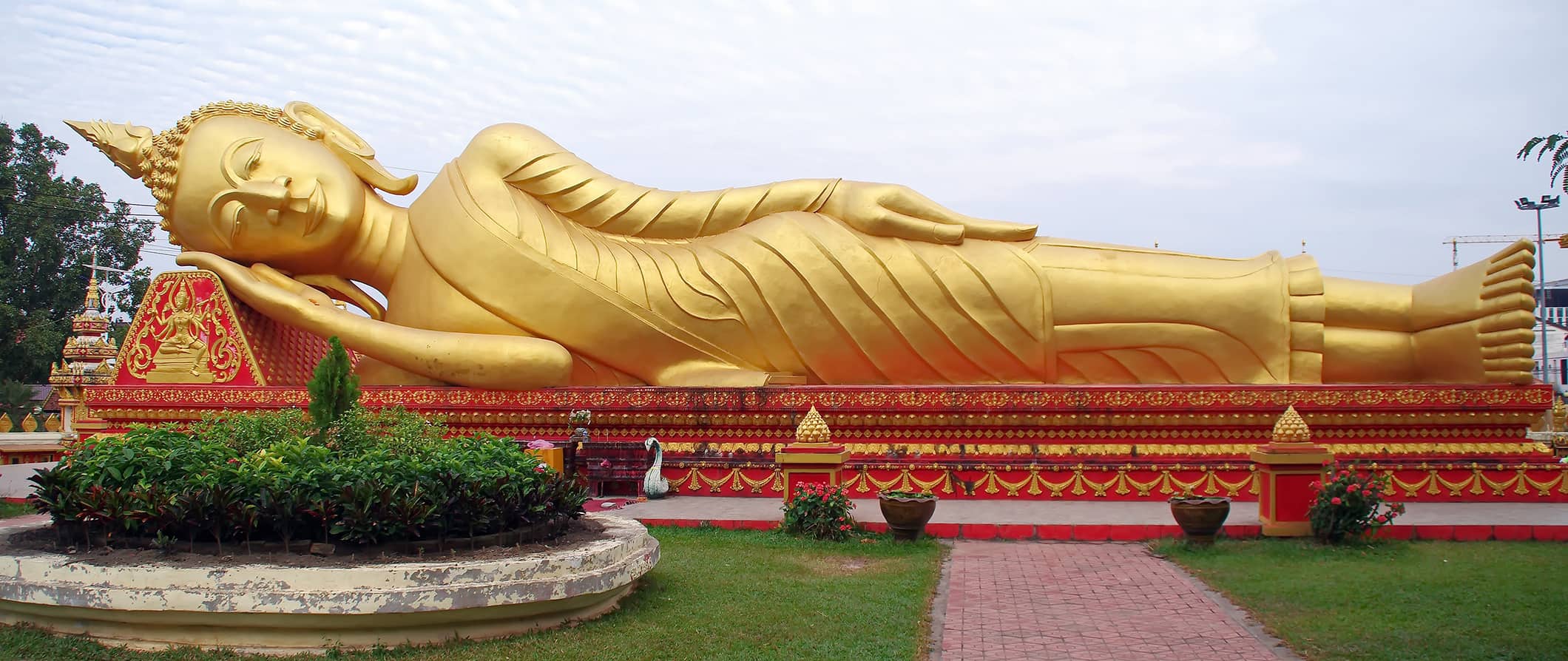 Vientiane, the capital of Laos, is a hectic city that runs along the banks of the Mekong River. I didn't love the city. It's a generic capital city in many ways. It's hard to avoid since it's located on every possible route through the country. Here you'll get a lot more activity, bars, and diversity in cuisine. This city has temples aplenty to explore, a Buddhist statue park, and lots of local food to try. There's a lot of amazing riverside markets too. Overall, the city is worth a few days and this guide can help you plan your trip!
Top 5 Things to See and Do in Vientiane
1. Visit the Lao National Museum
This museum is packed full of Laotian history and is a great first stop in Vientiane. There are many exhibits, ranging from an early history all the way through to the modern era. While some of the exhibits are a bit faded, most offer great insight and cover a lot of ground. Admission is 10,000 LAK.
2. Trek through the nature parks
Close to Vientiane, Phou Khao Khouay offers some incredible waterfalls and breathtaking scenery. There are plenty of trails to explore while keeping your eyes open for the abundant wildlife. Tour prices for full-day excursions will vary, but expect to pay around 800,000 LAK.
3. See some temples and stupas
There are many of these to check out in Vientiane. Some of the best ones are the Wat Si Saket, the Black Stupa, and Pha That Luang. Some of them do charge a fee to go in, but the costs are pretty low and usually include entry into the small museums.
4. Chat with a monk
Once every month, monks will gather at the Sangha College to chat with tourists. You can ask them all about their practice and daily life, as it is no doubt very different from yours! It gives them a chance to practice their English and you a chance to learn about Laotian culture. I highly recommend it.
5. Check out the Victory Gate (Patuxai)
Looking much like replica of the Paris Arc de Triomphe, the Victory Gate is actually a tad larger (just to outdo the French!). For 3,000 LAK you can climb up to the 7th story and take in an amazing view of Vientiane.
Other Things to See and Do
(Click the title to expand the text)
1. Immerse yourself in French Culture
The French Cultural Centre has a French library and a small theater that shows plays and films. The cultural center also has regular free photo exhibitions about the people of Laos and their culture. They organize a French conversation group, as well, and run language courses in english, french, and Laotian.
2. Rent a bicycle
Vientiane ByCycle offers excellent guided bicycle tours in Vientiane. You will get a chance to go off the normal course, to villages, temples, and schoolyards along the Mekong River. Their intro tour lasts 4-5 hours and costs around 400,000 LAK.
3. Get a massage
There are several locations in Vientiane that offer Lao massage. The best part is that they are relatively affordable, and a great way to relax in chill Vientiane. The Adina Spa or Champa Spa are two options that offer great massages at reasonable prices. Massages start around 80,000 LAK per hour.
Typical Costs
Hostel prices
– There are many places to stay in Vientiane and a lot of cheap, backpacker-friendly places. You can expect hostel beds to cost from 46,000-80,000 LAK, which usually includes free WiFi and free breakfast. The lower-priced dorms will have 12-20 beds in them, so if you are looking for privacy expect to spend a bit more. A private room will cost between 110,000-150,000 LAK per night. My suggested place is:
Budget hotel prices – Make sure to secure accommodations early, as many budget hotels fill up quickly. Most budget options can be found for about 120,000 LAK per night. This usually includes free WiFi and free breakfast. Mid-range options can be found between 120,000-400,000 LAK. In addition to budget hotels, Airbnb is also available in the city. While there are virtually no shared rooms, you can find entire homes/apartments for under 200,000 LAK per night.
Average cost of food – Food can be pretty cheap in Vientiane compared to other areas in Laos and you'll find a wider range of options here. Cheap meals will cost under 20,000 LAK while western meals will cost around 35,000 LAK. If you are looking for a nicer meal at a mid-range Western restaurant (think proper waitstaff and silverware), expect to pay around 100,000 LAK, including a drink. A large bottle of Beerlao will cost you about 12,000 LAK, while a bottle of water should be under 3,000 LAK. If you plan on cooking your own meals, a week's worth of groceries should cost between 150,000-250,000 LAK but, with food so cheap and kitchens hard to find, you're better off buying food when you visit.
Transportation costs – Taxis and tuk-tuks are available, with a 3km tuk-tuk ride running you about 30,000 KIP. Many taxis will want to barter a price, so aim for around 5,000 LAK per kilometer if they won't turn their meter on. If you want to get around by bus or minibus, prices will be between 3,000-6,000 LAK. For intercity travel, a bus to Luang Prabang will cost between 100,000-150,000 LAK while a bus to Vang Vieng will cost between 40,000-60,000 LAK.
Suggested daily budget
200,000-250,000 LAK (25-30 USD) (Note: This is a suggested budget assuming you're staying in a hostel, eating out a little, cooking most of your meals, doing lots of free activities, keeping your drinking to a minimum, and using local transportation. Using the budget tips below, you can always lower this number. However, if you stay in fancier accommodation or eat out more often, expect this to be higher!)
Money Saving Tips
The city is already very cheap so you'll be hard pressed to really save tons of money if you are already traveling on a budget, eating local cuisines, not drinking a ton, and staying at relatively modest accommodation. Here are things to do:
Buy from the local markets – Buying your own food is significantly cheaper than going to restaurants for every meal. If you're on a budget, stick to the local markets. Fresh food will be the cheapest there.
Stick to local transportation – Taxis and tuk-tuks may be convenient, but they will slowly erode your budget. Stick to the public transportation if you need to get around. If you do need to take a tuk-tuk or taxi, ask your hotel/hostel staff what you should expect to pay. This will make sure you don't get ripped off!
Avoid western food – Western food is always more expensive than local dishes, and that difference adds up! Sure, the prices might not seem so extreme at first but after a while, your wallet will be empty. Save your budget — eat what the locals eat!
My Must Have Guides For Traveling to Vientiane