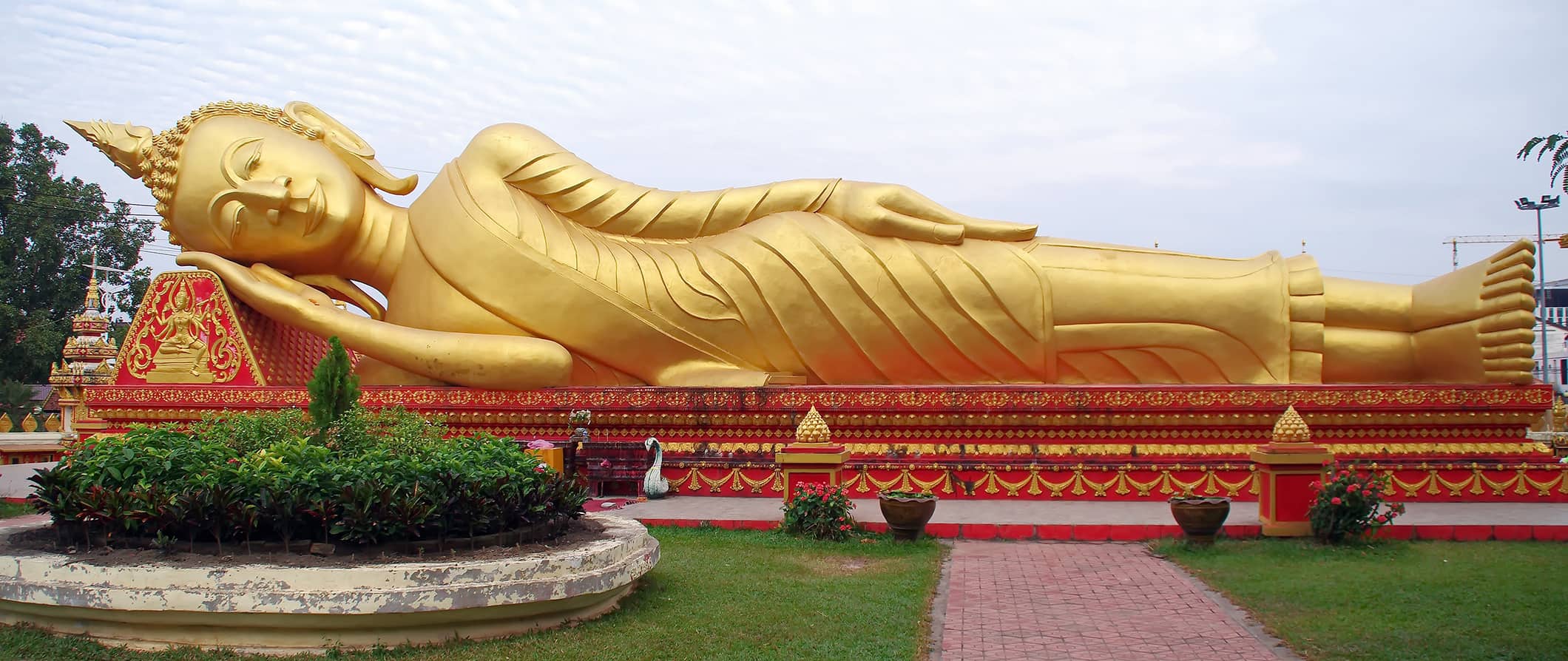 Vientiane, the capital of Laos, is home to around 1 million people. The name of the city is French and derived from "Viangchan" ("walled city of sandalwood"). The city was the economic hub under French rule, which started in 1893 and lasted until 1953.
Nowadays, the capital is a hub for café culture, cheap spas, golden temples, and diverse riverside markets. Much of the city's historical center has kept its colorful colonial architecture intact too, making it a nice area to stroll around as you explore.
A common stopover spot between Vietnam and Thailand, there's a busy nightlife scene and some good day trips beyond the city limits, including the popular Buddha Park with its more than 200 giant Buddha statues.
Wander the wide boulevards, take in the crumbling mansions, chill out in Chao Anouvong Park, and enjoy the flavorful local cuisine (there are a ton of delicious French bakeries here as well).
There's enough here to keep you busy for a couple of days, though you likely won't need more than 3 days here.
This Vientiane travel guide can help you plan your visit, save money, and help you make the most of your trip.
Top 5 Things to See and Do in Vientiane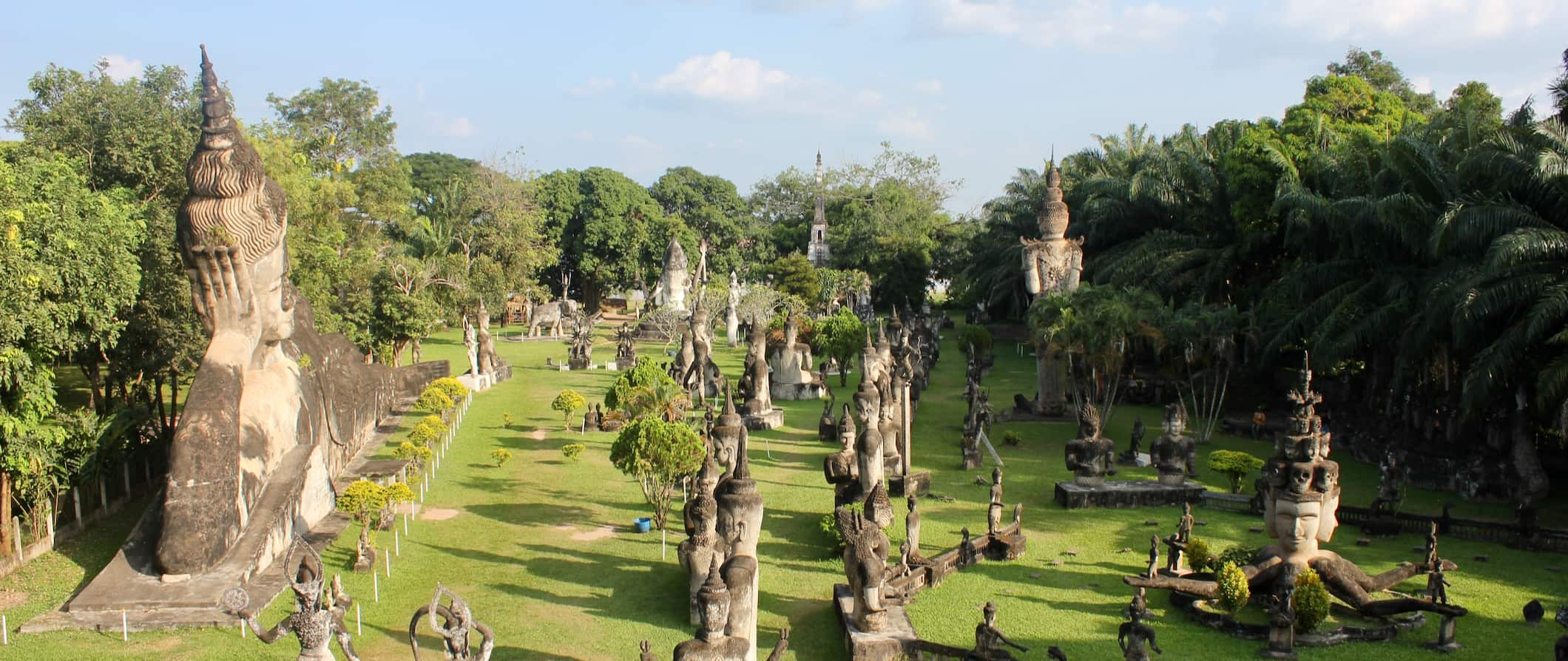 1. Take a cooking class
Street food in Laos is delicious. Take a cooking class to learn how to make traditional dishes like laap (salad with minced meat and spices), orh (spicy stew), and mok (steamed fish in banana leaf). Most tours begin with a market tour where you select ingredients for your experience! I recommend a class with Madam Phasouk. She's an amazing cook and her private classes are 150,000 LAK, which includes cooking 3-4 dishes.
2. Explore Buddha Park
Buddha Park is a sculpture park just 25 kilometers (15 miles) outside of Vientiane. There are around 200 Hindu and Buddhist statues here, all of which appear to be centuries old (they're not; they were made in the 20th century out of concrete). While not "historic" it's still worth visiting as there are all kinds of unconventional designs, including a 3-meter-tall (9.8-foot) demon head that you enter through and staircases from heaven and hell that you can climb. Admission is 15,000 LAK per person.
3. Admire the Great Stupa
The Great Stupa (Pha That Luang) is a 44-meter-tall (148-foot) gold-covered stupa and is the most important monument in the country. Built by King Setthathirat in 1566, its exterior looks like a fortress with high walls. Inside, the walls are covered in Buddhist, floral, and animal imagery. It was heavily damaged by invading Thai forces in the 1820s and was eventually restored by the French after they annexed the region. Admission is 10,000 LAK.
4. Chat with a monk
Once a month, monks gather at the Sangha College (Wat Onteu) to chat with tourists. You can ask them all about their practice and daily life, and it gives them a chance to practice their English in turn. It's a useful way to learn a lot about Lao culture. Ask your hostel/hotel staff for details and dates.
5. See the Victory Gate (Patuxai)
Vientiane's Victory Gate is also known as the city's Arc de Triomphe. The monument was built between 1957-1968 to honor the memory of Lao soldiers who died in World War II and the war of independence in 1949 (which was fought against the French). It was intentionally built a little higher than the original in Paris, simply to spite the French. The concrete for the monument was donated by the USA, however, it was supposed to be for a new airport and not this monument. For 3,000 LAK, you can climb up and admire the view of Vientiane.
Other Things to See and Do in Vientiane
1. Explore by bike
Vientiane is easy to explore on a bike and you can also get out of the city to cycle around rural villages, temples, and schoolyards along the Mekong River while taking in the picturesque landscape as you go. Be sure to stop at Tad Moon Waterfall (it's gorgeous). You can rent bikes for as little as 10,000 LAK per day (though better quality bikes might cost a little more).
2. Visit the COPE Visitor Centre
During the Vietnam War, the American military dropped more than two million tons of explosives on Laos. Even today, many rural citizens still lose their limbs or lives by coming across unexploded bombs. COPE (Cooperative Orthotic & Prosthetic Enterprise) was formed to aid with the recovery for these victims by providing prosthetics and other medical services. The COPE Visitor Centre is a jarring experience where visitors can learn more about this ongoing tragedy and the work being done. It's sobering but educational. Admission is free.
3. Hang out in Chao Anouvong Park
Chao Anouvong Park is right in the heart of Vientiane. There's lots of green space, and the locals come here to walk, hang out, and play sports. In the evening, there's a night market doling out food and selling crafts and clothes. Come during the day with a picnic and a book and take in the local pace of life, or bring an appetite and eat your way around the night market.
4. Tour the Lao National Museum
This museum is packed full of Laotian history. There are exhibits on the country's early history through to the modern era, including exhibits on the country's struggle for independence. The main exhibit focuses on the Lao Revolution in the 1970s. There are signs in English though many are only in French. Admission is 10,000 LAK. (Currently closed as it is in the process of moving to a new building).
5. See the Presidential Palace
You can't go inside the Presidential Palace as it's currently used for the president and other government officials, but you can certainly admire the building from the outside. It's a stately piece of French Beaux-Arts architecture with iron gates decorated with gold, large balconies, and several Roman-like colonnades along its exterior. (Laos is a one-party Marxism–Leninism communist state so the President isn't actually the most powerful person in the country — the party leader is).
6. Attend the Lao Boat Racing Festival
If you end up being in Vientiane during October, you'll be able to check out the Lao Boat Racing Festival (which takes place on the 15th day of the 11th lunar month, usually September/October). A lot of Vientiane's neighboring villages also participate in the festivities, and it's easy to get swept up in the excitement. Teams of men and women race throughout the festival in dragon boats, while spectators line the riverbanks singing and playing music, and the streets are overtaken with food stalls. Be sure to book early if visiting during this time as the city fills up!
Vientiane Travel Costs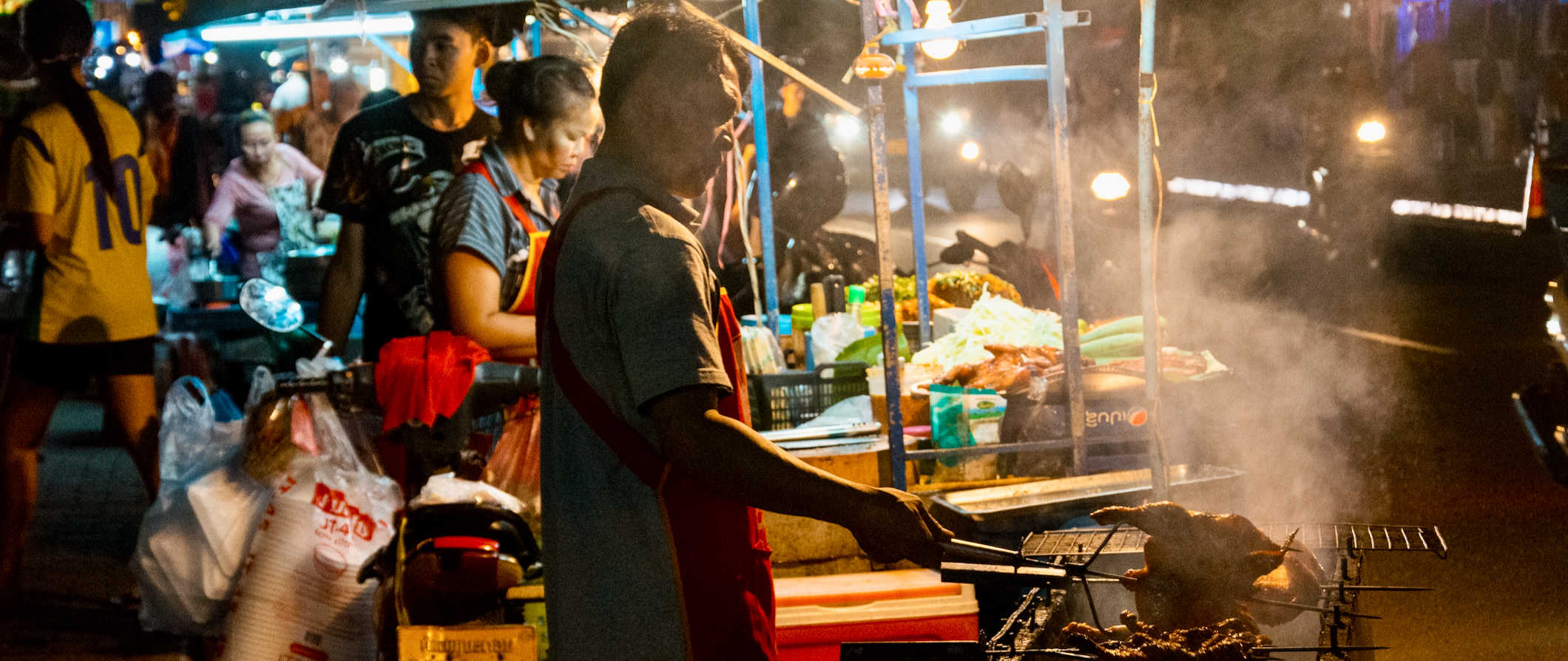 Hostel prices – Beds in a large hostel dorm (10-20 people) start from 85,000 LAK per night. For a hostel dorm with 6-8 beds, expect to spend around 110,000 LAK. Private rooms cost around 315,000 LAK. Free Wi-Fi is standard and most hostels include free breakfast.
Budget hotel prices – Most two-star budget hotels cost around 300,000 LAK per night. While the amenities are usually basic, some budget hotels have pools or include breakfast. For a more comfortable three-star hotel, expect to pay closer to 500,000 LAK per night.
Airbnb is also available here, with private rooms starting at 150,000 LAK (though they average double that price). For an entire home or apartment, expect to pay at least 300,000 LAK. Again, prices usually average double that so be sure to book early to find the best deals.
Food – Laos eats the most sticky rice per capita in the entire world. Other prominent staples include green papaya salad and laap (also known as larb, it's a minced-meat salad that is the national dish, usually featuring fermented fish). Grilled meats, such as chicken, pork, and duck are also very popular, as is feu, the local version of pho.
Street food in Vientiane generally costs under 20,000 LAK per dish for grilled meats and bowls of noodle soup. Lane Xang — the city's main boulevard running from the Presidential Palace towards Pha That Luang — is the best place in the city to find tons of street food.
Meals at restaurants cost around 47,000 LAK for dishes like sticky rice, grilled fish, and salads. There are lots of places along the river where you can eat cheap.
Western food usually costs double the price of local cuisine, so avoid it if you're on a budget. If you want to splash out for a three-course meal with drinks, expect to pay at least 200,000 LAK.
Beer costs around 17,000 LAK while a latte/cappuccino is around 34,000 LAK. Bottled water is 8,000 LAK.
While groceries here are cheap, street food is even cheaper. And since most hostels don't have kitchens, eating out is the cheaper option here. If you do want to shop, expect to spend around 250,000-300,000 LAK per week on groceries.
Backpacking Vientiane Suggested Budgets
On a backpacker budget of 290,000 LAK per day, you can stay in a hostel dorm, eat street food for your meals, enjoy the occasional drink, rent a bicycle to get around, and do a few cheap activities chatting with the monks and visiting Buddha Park. If you plan on drinking more, add 20,000-30,000 LAK to your daily budget.
With a mid-range budget of 650,000 LAK per day, you can stay in a private Airbnb or private hostel room, eat out at some restaurants, drink more, take the occasional taxi to get around, and do more tours and activities, such as a cooking class.
On a "luxury" budget of 1,825,000 LAK per day or more, you can stay in a hotel, eat at fancy restaurants, drink as much as you want, rent a bike and take taxis, and do whatever tours and activities you want. The sky is the limit!
Accommodation
Food
Transportation
Attractions
Average Daily Cost
Backpacker
90,000
80,000
50,000
70,000
290,000
Mid-Range
175,000
200,000
75,000
200,000
650,000
Luxury
500,000
625,000
300,000
400,000
1,825,000
Vientiane Travel Guide: Money-Saving Tips
Vientiane isn't going to break your bank. Laos and its capital are fairly cheap and you'll be hard-pressed to spend a ton of money here if you're staying in a hostel and eating street food. If you're looking to lower your costs though, here are some ways to save money in Vientiane:
Stick to local transportation – Stick to public transportation if you need to get around. If you do need to take a tuk-tuk or taxi, ask your hotel/hostel staff what you should expect to pay. This will ensure you don't get ripped off.
Pick the right tuk-tuks – If you do need a tuk-tuk, avoid getting them by the river. Prices are higher there so walk a few blocks from there (or any tourist area) to find a cheaper price for a ride.
Avoid western food – Western food is always more expensive than local dishes, and that difference adds up. Save your budget and eat what the locals eat!
Bring a reusable water bottle – The tap water here isn't safe to drink. To save money and reduce your plastic use, bring a reusable water bottle with a filter. LifeStraw make a reusable bottle with a built-in filter so you can be sure your water is always safe and clean.
Where to Stay in Vientiane
Vientiane has a few decent hostels that are clean, social, and cheap. Here are my suggested places to stay:
How to Get Around Vientiane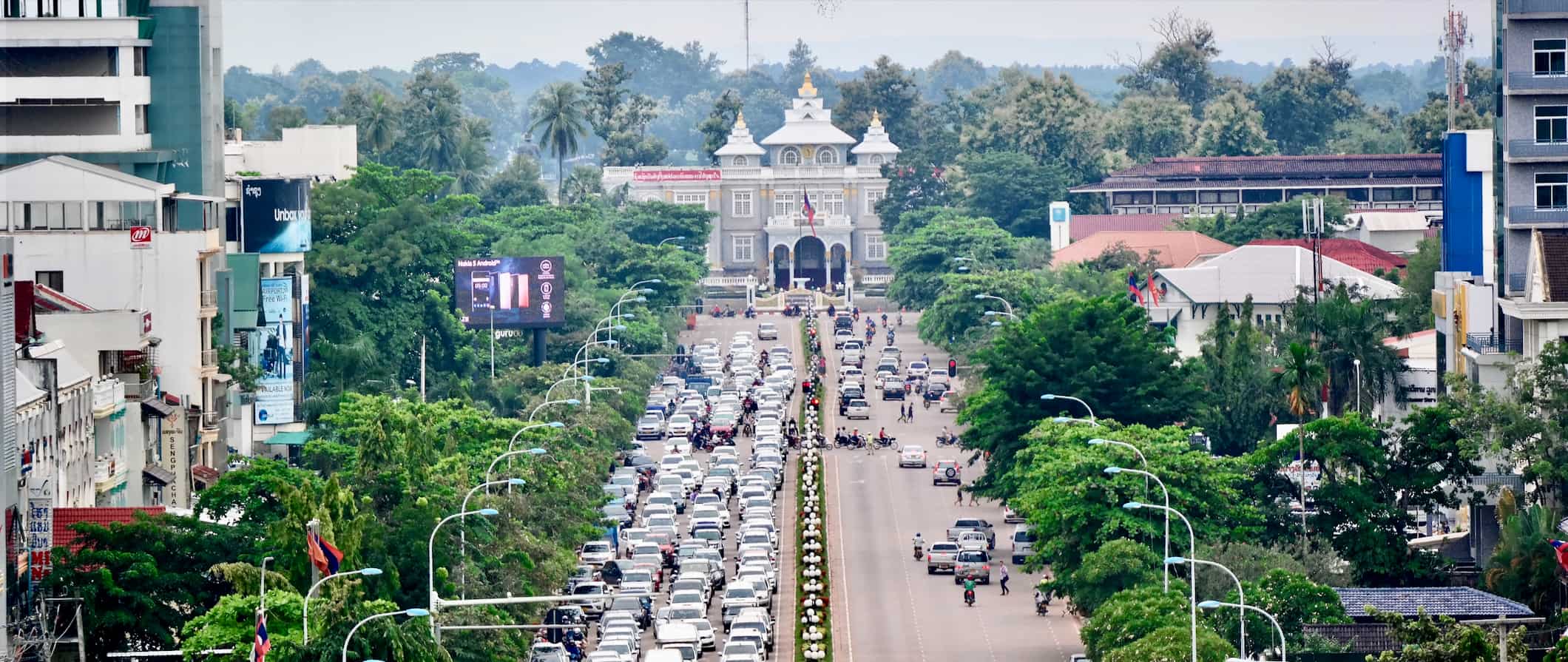 Public transportation – Vientiane has a public city bus system, but it mostly services the outer suburbs rather than the city center. It doesn't have AC but it goes to the Friendship Bridge and Buddha Park (6,000 LAK). A three-day bus pass can be bought at the airport for around 45,000 LAK.
Bike rental – A bicycle rental is an excellent way to get around Vientiane. Rentals start around 10,000 LAK per day. If your guesthouse or hostel doesn't rent bicycles, there are plenty of shops around town. Expect to pay 15,000-30,000 LAK for a better-quality bike.
Tuk-Tuks and Jumbos – Tuk-tuks (and their larger cousins, jumbos) are an easy and affordable way to get around town, with most short trips costing 10,000-20,000 LAK. Tuk-tuks by the river charge double so avoid taking a tuk-tuk from there.
Many tuk-tuks have published rates. However, they are intentionally inflated. Ask your hotel/hostel staff for accurate rates before you head out.
Taxi – If you come across an unmetered taxi, make sure you negotiate before getting in. Try to aim for 8,000 LAK per kilometer. You can hire a private taxi for a full day (within the town) for around 300,000-500,000 LAK.
Car rental – Car rentals are available, however, you don't need one to get around the city. Moreover, with the driving conditions as they are, I wouldn't suggest renting one. The roads are chaos here.
When to Go to Vientiane
Vientiane has a tropical climate, with average daily temperatures ranging between 24-37°C (75-98°F). November to April is the best time to visit Vientiane. This is when the area's weather is consistently warm and dry, and if you're planning on doing lots of sightseeing, you'll want this kind of weather (December-February are the driest months on average). January-February is the busiest time to visit so expect more people and higher prices.
March-May tends to be the hottest time of year, with temperatures soaring as high as 40°C (104°F). Humidity is high as well. Make sure you wear a hat and have lots of water when you're out and about.
The rainy season starts around May-June and lasts until the end of October. Although there's a lot of rain, it usually comes in short bursts, leaving the rest of the day warm and sunny. Coming here during this time means you won't have to deal with a lot of other travelers. Prices are a little lower too. Dengue fever is a risk during this time, however.
How to Stay Safe in Vientiane
Vientiane is a safe place to backpack and travel. The city has very little violent crime, though petty theft can be a concern. Keep your valuables secure and out of reach at all times just to be safe. Be especially mindful of bag snatchers.
As with elsewhere in Southeast Asia, it's not uncommon for people to try to rip you off because they assume you have lots of money. Always double-check prices and the change you're handed back after paying. When in doubt, ask your hotel/hostel staff how much something should cost so you don't get ripped off.
You can read about common travel scams to avoid here.
When people get into trouble here, it's mostly because they're tangled up with drugs or the sex industry. Laos is strict about punishment when it comes to these offenses so avoid them at all costs.
Solo female travelers should generally feel safe here. However, the standard precautions apply (never leave your drink unattended at the bar, never walk home alone intoxicated, etc.). For specific tips, check out one of the many solo female travel blogs on the web that go into more detail.
While malaria can be an issue here, dengue is much more common. Always wear bug spray with DEET when you go out during the rainy season.
There are a fair amount of dogs here — stray and owned — but always be careful around them as they can be more vicious than you're used to.
If you experience an emergency, dial 191 to contact the police.
Always trust your gut instinct. Make copies of your personal documents, including your passport and ID.
The most important piece of safety advice I can offer is to purchase good travel insurance. Travel insurance will protect you against illness, injury, theft, and cancellations. It's comprehensive protection in case anything goes wrong. I never go on a trip without it as I've had to use it many times in the past. You can use the widget below to find the policy right for you:
Vientiane Travel Guide: The Best Booking Resources
These are my favorite companies to use when I travel. They consistently have the best deals, offer world-class customer service and great value, and overall, are better than their competitors. They are the companies I use the most and are always the starting point in my search for travel deals.
Skyscanner – Skyscanner is my favorite flight search engine. They search small websites and budget airlines that larger search sites tend to miss. They are hands down the number one place to start.
Hostelworld – This is the best hostel accommodation site out there with the largest inventory, best search interface, and widest availability.
Agoda – Other than Hostelworld, Agoda is the best hotel accommodation site for Asia.
Booking.com – The best all around booking site that constantly provides the cheapest and lowest rates. They have the widest selection of budget accommodation. In all my tests, they've always had the cheapest rates out of all the booking websites.
Get Your Guide – Get Your Guide is a huge online marketplace for tours and excursions. They have tons of tour options available in cities all around the world, including everything from cooking classes, walking tours, street art lessons, and more!
SafetyWing – Safety Wing offers convenient and affordable plans tailored to digital nomads and long-term travelers. They have cheap monthly plans, great customer service, and an easy-to-use claims process that makes it perfect for those on the road.
LifeStraw – My go-to company for reusable water bottles with built-in filters so you can ensure your drinking water is always clean and safe.
Unbound Merino – They make lightweight, durable, easy-to-clean travel clothing.
Vientiane Travel Guide: Related Articles
Want more info? Check out all the articles I've written on Laos travel and continue planning your trip: