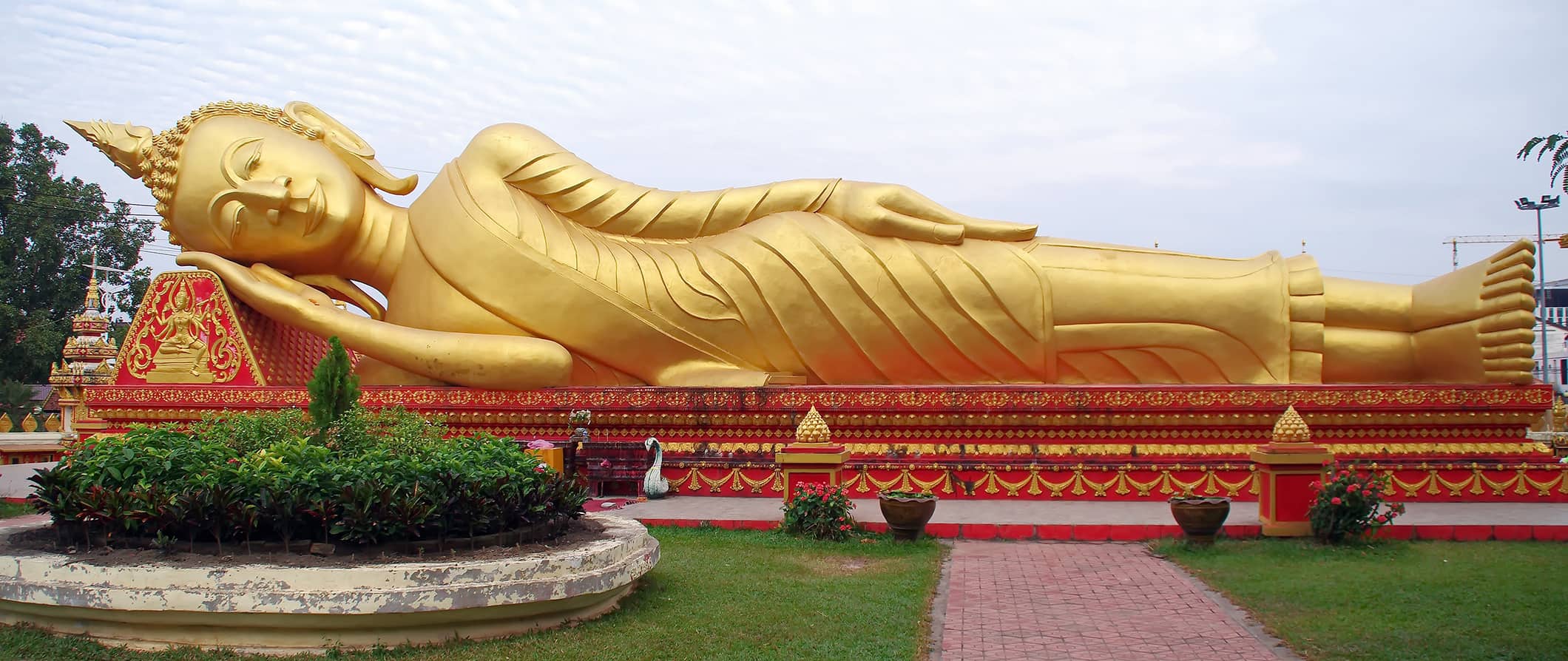 Vientiane, the capital of Laos, is a hectic city that runs along the banks of the Mekong River. I didn't love the city. It's a generic capital city in many ways. It's hard to avoid since it's located on every possible route through the country. Here you'll get a lot more activity, bars, and diversity in cuisine. This city has temples aplenty to explore, a Buddhist statue park, and lots of local food to try. There's a lot of amazing riverside markets too. Overall, the city is worth a few days and this guide can help you plan your trip!
Top 5 Things to See and Do in Vientiane
1. Visit the Lao National Museum
This museum is packed full of Laotian history and is a great first stop in Vientiane. There are many exhibits, ranging from an early history all the way through to the modern era. While some of the exhibits are a bit faded, most offer great insight and cover a lot of ground. Admission is 10,000 LAK.
2. Trek through the nature parks
Close to Vientiane, Phou Khao Khouay offers some incredible waterfalls and breathtaking scenery. There are plenty of trails to explore while keeping your eyes open for the abundant wildlife. Tour prices for full-day excursions will vary, but expect to pay around 800,000 LAK.
3. See some temples and stupas
There are many of these to check out in Vientiane. Some of the best ones are the Wat Si Saket, the Black Stupa, and Pha That Luang. Some of them do charge a fee to go in, but the costs are pretty low and usually include entry into the small museums.
4. Chat with a monk
Once every month, monks will gather at the Sangha College to chat with tourists. You can ask them all about their practice and daily life, as it is no doubt very different from yours! It gives them a chance to practice their English and you a chance to learn about Laotian culture. I highly recommend it.
5. Check out the Victory Gate (Patuxai)
Looking much like replica of the Paris Arc de Triomphe, the Victory Gate is actually a tad larger (just to outdo the French!). For 3,000 LAK you can climb up to the 7th story and take in an amazing view of Vientiane.
Other Things to See and Do
(Click the title to expand the text)
1. Immerse yourself in French Culture
The French Cultural Centre has a French library and a small theater that shows plays and films. The cultural center also has regular free photo exhibitions about the people of Laos and their culture. They organize a French conversation group, as well, and run language courses in english, french, and Laotian.
2. Rent a bicycle
Vientiane ByCycle offers excellent guided bicycle tours in Vientiane. You will get a chance to go off the normal course, to villages, temples, and schoolyards along the Mekong River. Their intro tour lasts 4-5 hours and costs around 400,000 LAK.
3. Get a massage
There are several locations in Vientiane that offer Lao massage. The best part is that they are relatively affordable, and a great way to relax in chill Vientiane. The Adina Spa or Champa Spa are two options that offer great massages at reasonable prices. Massages start around 80,000 LAK per hour.