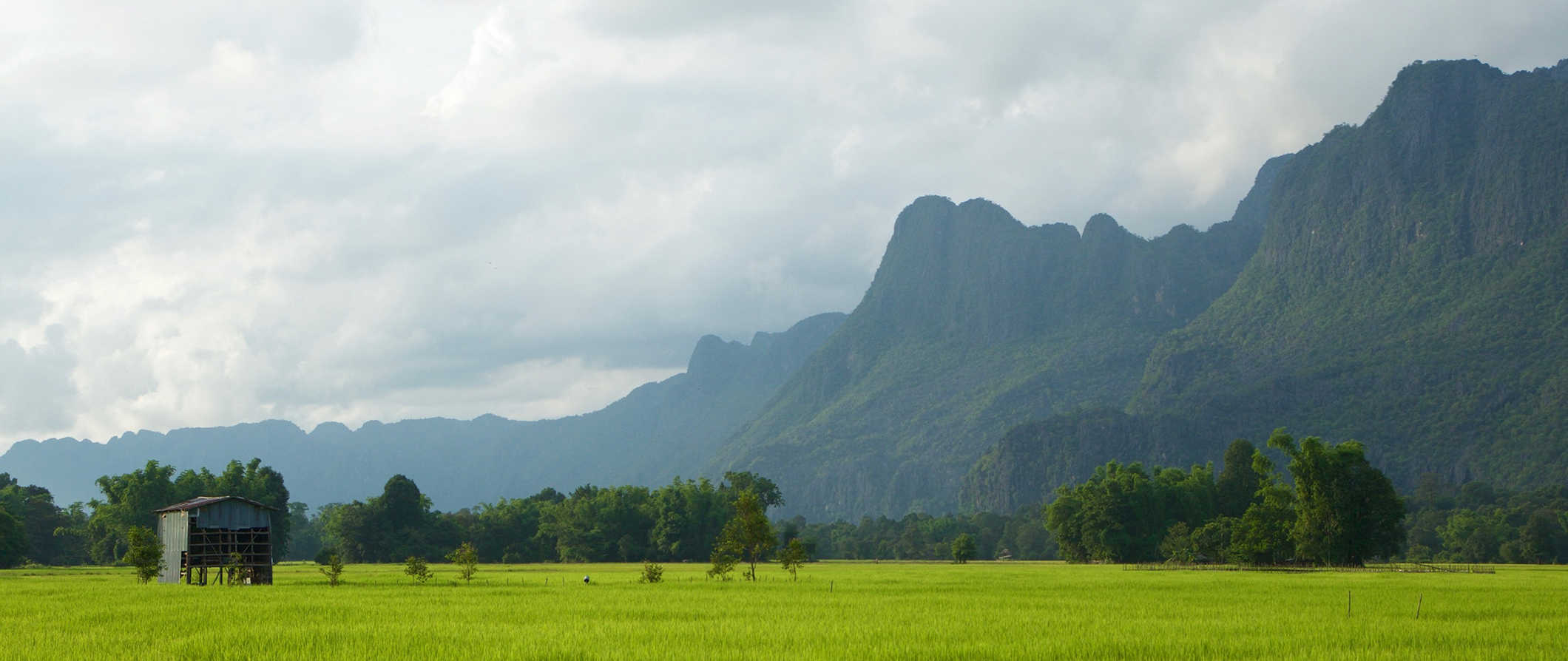 Laos is a landlocked country steeped in nature, food, history, and Buddhism. The country is wrapped in a mountainous landscape, making it one of the most beautiful places in all of Southeast Asia.
While it lacks the beautiful beaches of neighboring countries, adventure travel is big here. You can go zip-lining, kayaking, hiking, and cave tubing all in one day.
I loved my time there and, while the country is no longer a "secret," it's still a lot less visited than its neighbors.
From the bustling night markets and stunning waterfalls of Luang Prabang to the epic mountain sunsets in Vang Vieng, I'm always amazed that more people don't make the journey to this beautiful country.
This travel guide to Laos can help you plan your trip, save money, and make the most of your time in this stunning country.
Click Here for City Guides
Top 5 Things to See and Do in Laos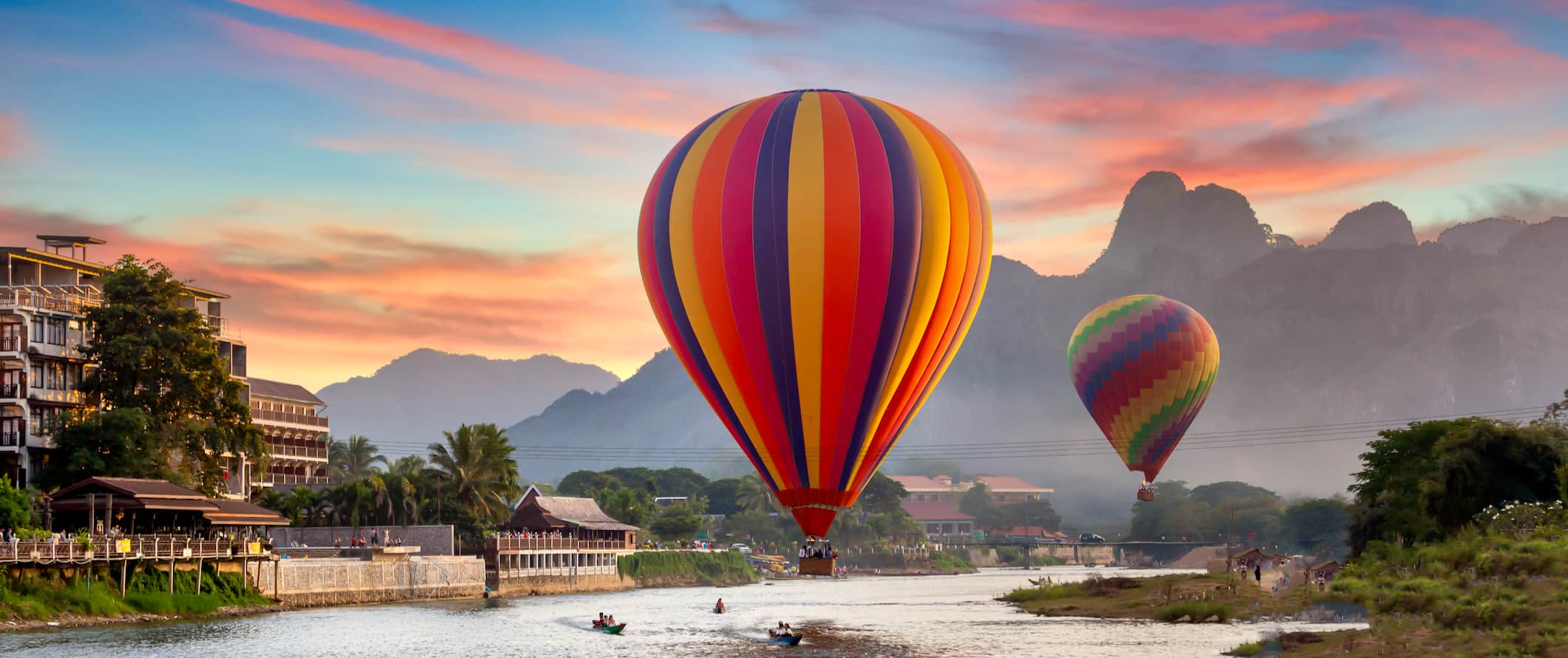 1. Visit Vang Vieng
Backpackers "discovered" this little town in the late 1990s. It didn't take long to develop into a crazy, hedonistic city. There's still a party scene but now it's focused on a handful of bars. It's definitely not like the old days but I think that's a good thing. Nowadays, things have calmed down and the center of Vang Vieng is thriving, with boutique hotels and high-end restaurants replacing some of the party-laden backpacker bars that used to pack the waterfront. The town has also become a hub for outdoor adventure, jungle hikes, and lazy days on the river. It's worth spending a few days here.
2. Explore the 4,000 Islands
Located in Southern Laos, the 4,000 Islands (also known as 'Si Phan Don' in Lao) is an area of tiny, largely uninhabited islands in the Mekong River in Champasak Province near the Cambodian border. They are popular with backpackers and the vibe is laid-back and chill. Accommodation is only available on three of the islands: Don Khong, Don Kon, and Don Det. What's available is cheap and you can spend a few days here reading in hammocks and slowly exploring by bike. Other than that, there's really not much to do here besides chill in the river and relax at night. To reach the islands you need to take a boat from Pakse.
3. Relax in Luang Prabang
Luang Prabang is a slow-paced city. There is not much to do here other than enjoy epic sunsets over the Mekong River, wander the streets filled with colonial French architecture, spend time at the incredible Kuang Si Waterfalls, and shop at the bustling night market. You can also take a river tour, or explore some of the dozens of temples in town. Every morning at sunrise, the monks walk through the main streets receiving alms from the local residents. I went for two days but actually stayed for a week because I enjoyed it so much!
4. Trek to the Kuang Si Falls
This gorgeous waterfall near Luang Prabang is breathtaking. Turquoise waters flow over rock ledges into dramatic tiered limestone pools perfect for swimming. You can float about in some of these natural infinity pools or jump from trees into others. It's a really cool place to visit. Admission is 20,000 LAK, and a shared tuk-tuk from Luang Prabang costs 30,000-40,000 LAK per person.
5. See the Plain of Jars
The UNESCO-recognized Plain of Jars has thousands of stone jars scattered around three different sites. Believed to be part of the burial practices from the Iron Age, this is one of the biggest and most important prehistoric sites in Southeast Asia. Legend has it that the jars were made by a race of giants to store alcohol. Take care not to stray too far from the cleared areas as there are still some landmines in the area. There are eight sites open for visiting: sites 1, 2, and 3 are all close to each other at Phonsavan so they are easy to visit together. Admission to Site 1 (with the best-preserved jars) is 15,000 LAK while entry to Sites 2 and 3 is 10,000 LAK.
Other Things to See and Do in Laos
1. Explore the Vieng Xai Cave City
Located close to Sam Nua (near the Vietnamese border), Vieng Xai Cave City served as living quarters for Laotian soldiers during the 1960s. You can see the living quarters as they were; the Kaysone Phomvihane Cave even has a working air-circulation pump. Guided tours are found at the Vieng Xai Caves Visitor Centre. Admission is 60,000 LAK and includes an audio tour. The bus there is 20,000 LAK while a tuk-tuk is 150,000 LAK.
2. Try the Gibbon Experience
This is one of the best activities in Laos. It's a series of zip lines connecting the world's highest treehouses in Bokeo Forest, where you can stay for one or two nights. You're completely off the grid there, surrounded by gibbons, and it has some intense nature hikes. The three-day, two-night "Classic" package costs around 5,600,000 LAK per person.
3. See the Great Stupa (Pha That Luang)
The Great Stupa in Vientiane is a 45-meter (148-foot) gold-covered stupa (a dome-shaped Buddhist shrine). It's considered the greatest monument in the country. Its exterior looks like a fortress with high walls, but the inside has numerous Buddhist, floral, and animal imagery throughout. You can admire the stupa from outside for free.
4. Head to Vientiane
The capital and largest city in Laos is full of important national monuments and temples, like the Great Stupa and the Sisaket Temple. While there, be sure to check out Buddha Park, a sculpture garden full of giant Buddha statues. It's the most cosmopolitan city in the country, and there's an up-and-coming foodie scene there as well. It's worth spending a few days here exploring.
5. Visit the Elephant Conservation Center
Located in Sainyabuli, the ECC was launched in 2011 by a team of elephant specialists working towards protecting the elephant population in Laos. It's the best way to see elephants in a responsible way that doesn't harm them or involve exploitation. You can stay for one, two, or three nights and prices start at 3,800,000 LAK. A 7-day volunteering session costs around 8,500,000 LAK.
6. Take the slow boat on the Mekong
Drift down the Mekong River on a long, narrow boat with comfortable seating, home-cooked meals, and a unique view of the countryside. You can find a ride typically from the border at Huay-Xai that drops you off in Luang Prabang. Slow boats take two to three days. Prices vary depending on the quality of your tour company. There's also a public boat that leaves daily at 11am.
7. Trek through Phou Hin Poun Conservation Area
Mountains, a limestone forest, rivers full of rapids, and caves await you in the protected Phou Hin Poun area of Laos. The entire area is filled with unique species of flora and fauna, including macaques, tigers, and gibbons. (Yes, tigers.) It's a stunning area for guided treks, which usually last a couple of days. Your accommodation can help you book a guide on arrival.
8. Get outdoors in Nong Kiew (Muang Ngoi)
Life in this quaint village on the Nam Ou River is slow and peaceful, but Nong Kiew is a popular draw for outdoor lovers. The towering limestone cliffs are ideal for experienced climbers, and there are many hiking trails leading to nearby waterfalls and caves. To get there, take a bus from Luang Prabang to Pak Mong and then a tuk-tuk the rest of the way.
9. Chat with a monk
On the first Sunday of every month, monks gather at the Sangha College in Vientiane to chat with tourists. You're able to ask them about their practice and daily life, and in return, they can practice their English. It's a fun and eye-opening way to learn about the culture and the religion from someone whose daily life is much different than yours.
10. Visit the Buddha Caves
The Buddha Caves (Pak Ou Caves) hold over 6,000 Buddha statues that the locals still use for worship. There are standing Buddhas, sitting Buddhas, reclining Buddhas — you name it! To get there you take a scenic 25-kilometer (16-mile) boat trip up the Mekong River or you can take a songthaew (a truck converted into a shared taxi). From there, you're able to explore the two main caves on foot. It's about 20,000 LAK to enter the caves, and a shared boat costs 65,000 LAK round-trip (the boat takes two hours there and one hour to get back).
11. Take a Lao cooking class
Take a cooking class to learn how to make traditional dishes like laap (salad with minced meat and spices), orh (spicy stew), and mok pa (steamed fish in banana leaf). Most classes include a visit to the market and include several dishes, ending with everyone feasting on the food they have just cooked. Prices vary but expect to pay between 250,000-400,000 LAK for a class. If you're in Vientiane, I recommend taking Madam Phasouk's class. She's an amazing cook and her private classes are 150,000 LAK, which includes making 3-4 dishes.

For more information on specific destinations in Laos, check out these guides:
Laos Travel Costs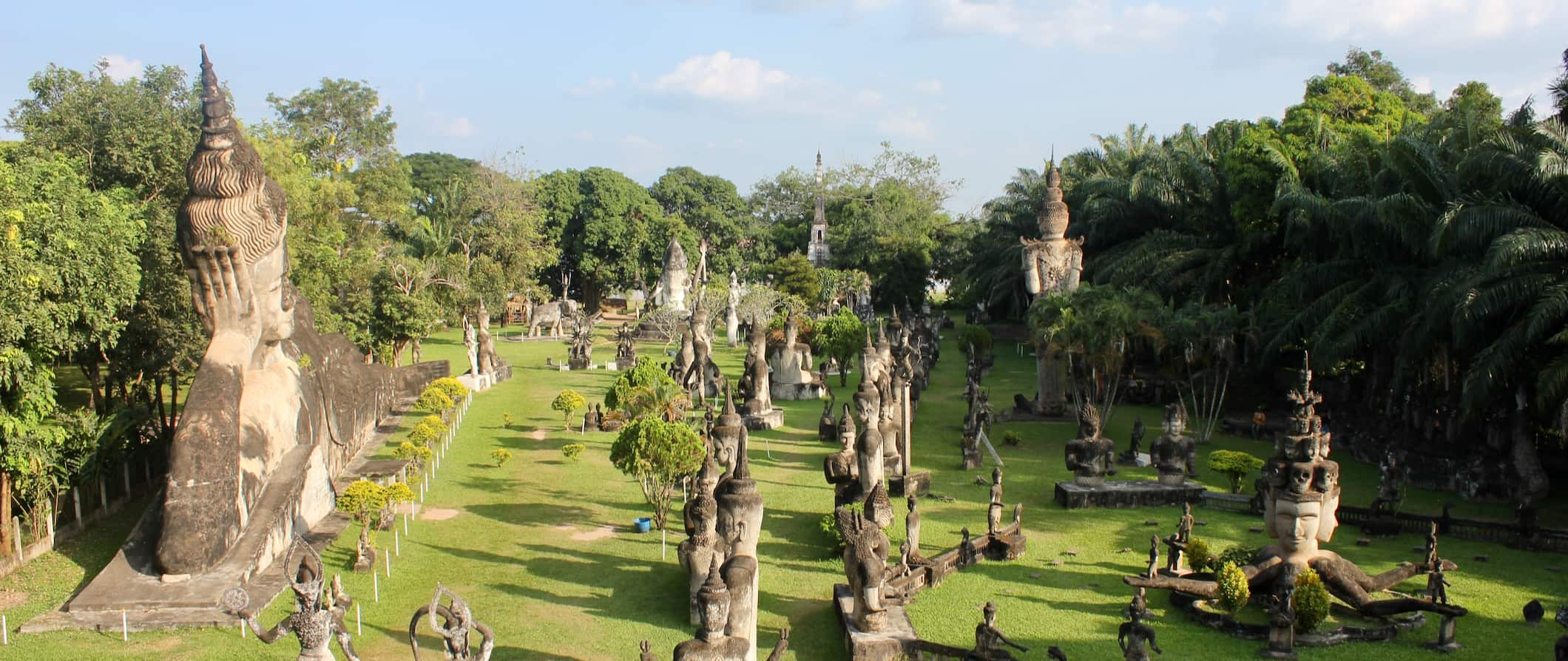 Accommodation – Accommodation in Laos is cheap. Hostel dorm rooms start at around 65,000 LAK per night, although they average closer to 80,000 LAK. Hostels in Vientiane start at slightly higher prices. Private rooms with air-con start at 190,000 LAK but average around 350,000 LAK. Almost every hostel offers free Wi-Fi and most also include free breakfast. It's very rare for a hostel to have a kitchen, so don't count on cooking your meals.
Budget hotels and guesthouses are widely available, usually starting around 150,000 LAK for a twin or double room. If you're looking to splurge on a four-star hotel with a pool, expect to pay at least 400,000 LAK per night.
Airbnb is also available in Laos, with private rooms starting from around 200,000 LAK. An entire home or apartment goes for as little as 500,000 LAK, although prices are generally closer to 1,000,000 LAK. Book early to find the best deals.
Food – Food in Laos has many similarities to its neighbors, with rice and noodle dishes forming the backbone of most meals. Prominent staples include green papaya salad and laap (also known as larb) (a minced-meat salad that is the national dish, usually featuring fermented fish). Grilled meats, such as chicken, pork, and duck are also very popular, as is feu, the local version of pho.
Most street food and cheap meals of local cuisine cost less than 22,000 LAK, especially in the night market where you can find things like barbecued meats, spicy papaya salad, and noodle soup.
If you want to splash out on a fancy meal, expect to pay around 150,000 LAK for a three-course meal with a drink.
Beer is very cheap here, costing around 14,000 LAK. If you want a latte or cappuccino, expect to pay around 30,000 LAK. Bottled water is around 5,000 LAK.
If you have access to a kitchen, a week's worth of groceries costs around 250,000-300,000 LAK for basic staples like rice, pasta, produce, and some meat.
Backpacking Laos Suggested Budgets
On a backpacker budget, expect to spend around 300,000 LAK per day. This budget covers staying in a hostel dorm, eating street food, drinking a couple beers, renting a bicycle to get around, and enjoying mostly cheap activities like hiking and swimming. Add another 15,000-30,000 LAK to your daily budget if you plan on drinking more.
On a mid-range budget of 650,000 LAK per day, you can stay in a private hostel dorm or Airbnb, drink more, enjoy lots of street food, take some taxis or tuk-tuks, and do more activities like go rock climbing or ATV riding.
On a "luxury" budget of around 1,800,000 LAK per day, you can stay in a hotel, eat all your meals out anywhere you want, enjoy lots of drinks, hire tuk-tuks or rent a motorbike/scooter, and do whatever activities you want. This is just the ground floor for luxury though. The sky is the limit!
Accommodation
Food
Transportation
Attractions
Average Daily Cost
Backpacker
100,000
75,000
50,000
75,000
300,000
Mid-Range
175,000
200,000
75,000
200,000
650,000
Luxury
500,000
600,000
300,000
400,000
1,800,000
Laos Travel Guide: Money-Saving Tips
Laos is very affordable so it's hard to save tons of money if you are already traveling on a budget. Sticking to hostels or inexpensive guest houses, public transportation, and street food will ensure you don't break the bank. It's hard to spend a lot when you just do normal travel. That said, here are some ways to save money in Laos:
Buy from market stalls – Buying your own food is infinitely cheaper than going to restaurants (not that they are even that expensive, however). If you're on a budget, though, stick to the local markets. Fresh food is the cheapest there.
Use public transportation – Taxis and tuk-tuks may be convenient, but they slowly ruin your budget. Stick to public transportation if you need to get around. If you do need to take a tuk-tuk or taxi, ask your hotel/hostel staff what you should expect to pay to make sure you don't get ripped off!
Avoid western food – Western food is always more expensive than local cuisine. While the prices aren't that high, it slowly adds up throughout your trip.
Bring a reusable water bottle – The tap water here isn't safe to drink. To save money and reduce your plastic use, bring a reusable water bottle with a filter. LifeStraw makes a reusable bottle with a built-in filter so you can be sure your water is always safe and clean.
Where to Stay in Laos
Laos has plenty of budget-friendly hostels around the country. Here are my suggested places to stay:
How to Get Around Laos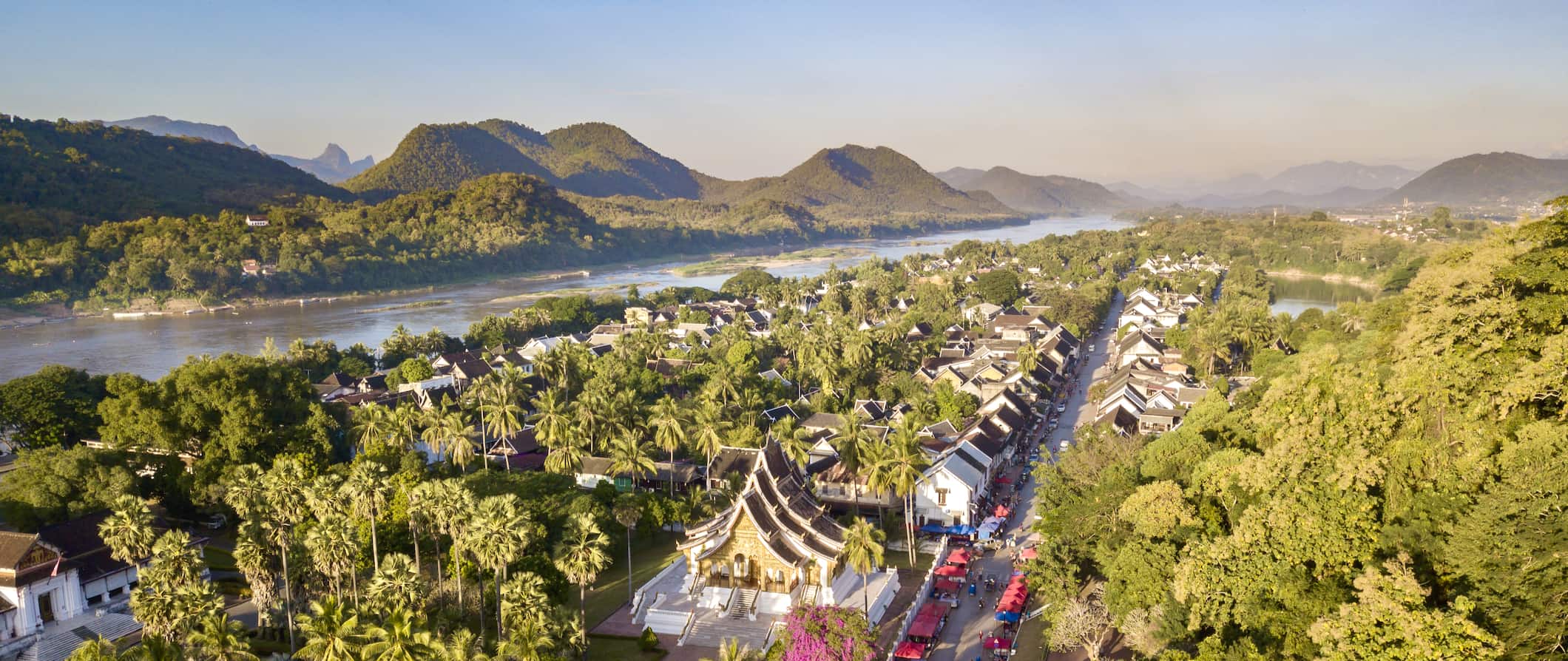 Getting around Laos can be a challenge. The roads are poor, and you have to navigate several mountain passes to get almost anywhere. Nothing is ever on time, and even short trips can turn into endless journeys.
Public transportation – Public transportation is available in some of the larger cities, with prices starting around 5,000 LAK and going up from there based on distance.
Bus – Buses are the most common way to get between cities in Laos. Ticket prices vary between 80,000-130,000 LAK for a 4-6-hour ride. Buses are pretty uncomfortable and many don't have air conditioning, but they get you from point A to point B around the country without breaking the bank.
In busier towns, you can purchase your ticket from just about any tour operator. This includes transit from your hotel/hostel to the station. Otherwise, you can show up at the city's bus station. A trip from Vientiane to Luang Prabang or Pakse shouldn't cost more than 100,000 LAK.
There are also plenty of air-conditioned "VIP" buses. A "VIP" trip from Vientiane to Luang Prabang costs 410,000 LAK. Overnight buses cost 170,000-400,000 LAK depending on the distance. You can usually buy tickets for these buses from your hostel/hotel. You can use 12go.asia to compare prices.
If you're looking to head into a neighboring country, a bus from Vientiane to Hanoi costs around 500,000 LAK. There is also a direct route between Luang Prabang and Chiang Mai starting from 425,000 LAK, but keep in mind the ride is at least 15 hours. A bus from Vientiane to Bangkok also takes about 15 hours and costs about 425,000 LAK.
Boat – One of the most popular ways to see Laos is via a slow boat between Huay Xai and Luang Prabang on the Mekong River. The journey takes two days. For short trips (like Luang Prabang to the Pak Ou Caves), you can get a river taxi for about 65,000 LAK.
Flying – I don't recommend flying unless you are super pressed for time. Domestic flights are costly, and there are frequent cancellations. Even booking far in advance, a flight from Vientiane to Luang Prabang costs upwards of 500,000 LAK for a 50-minute flight. But if you must, these are Laos' airlines:
Car rental – Car rentals in Laos aren't super affordable, costing around 750,000 LAK per day for a multi-day trip. Renters need to be at least 23 and have an International Driving Permit (IDP).
For the best car rental prices, use Discover Cars.
Hitchhiking – Hitchhiking in Laos is very uncommon, however it is possible. Sometimes people will expect money so learn a few phrases so you can communicate with them. For additional tips and information, use Hitchwiki.
When to Go to Laos
October to April is the best time to visit Laos. This is when the country's weather is consistently warm and dry. (Keep in mind the mountainous areas experience much cooler temperatures year-round compared to the other parts of Laos.) It's also the high season, so you can expect bigger crowds and inflated prices. That said, the crowds here are much smaller than in neighboring Thailand and Vietnam.
Elsewhere, April and May tend to be the hottest months, with temperatures as high as 40°C (104°F). The humidity can be extremely uncomfortable during this time too.
The rainy season lasts from late May to October. It's still a pleasant time to visit as rainfall each day never lasts long. During this time, the waterfalls flow heavier and wildlife becomes more active. There are also fewer tourists around during this time as well.
How to Stay Safe in Laos
Laos is a very safe country to backpack and travel around as violent crime against travelers is rare. Pickpocketing is your biggest concern. It often occurs in busy market areas (especially in Vang Vieng) and on transportation. Keep your valuables close and out of reach at all times just to be safe.
If you're worried about getting ripped off, you can read about common travel scams to avoid here.
If you're hiking or sightseeing, always stay on the marked trail. Some places are strictly prohibited because of unexploded landmines. This is especially true around the Plain of Jars. You shouldn't have a reason to wander off into a dangerous area but pay attention to signs and markers.
When people get into trouble here, it's mostly because they're tangled up with drugs or the sex industry. Laos is strict about punishment when it comes to these offenses, so avoid them at all costs!
Solo female travelers should generally feel safe here, however, the standard precautions apply (never leave your drink unattended at the bar, never walk home alone intoxicated, etc.).
If you experience an emergency, dial 191 to contact the police.
When in doubt, always trust your instincts. If a taxi driver seems shady, get out. If your hotel or accommodation is seedier than you thought, go somewhere else. Make copies of your personal documents, including your passport and ID, in case of an emergency.
The most important piece of safety advice I can offer is to purchase good travel insurance. Travel insurance protects you against illness, injury, theft, and cancellations. It's comprehensive protection in case anything goes wrong. I never go on a trip without it as I've had to use it many times in the past. You can use the widget below to find the policy right for you:
Laos Travel Guide: The Best Booking Resources
These are my favorite companies to use when I travel. They consistently have the best deals, offer world-class customer service and great value, and overall, are better than their competitors. They are the companies I use the most and are always the starting point in my search for travel deals.
Skyscanner – Skyscanner is my favorite flight search engine. They search small websites and budget airlines that larger search sites tend to miss. They are hands down the number one place to start.
Hostelworld – This is the best hostel accommodation site out there with the largest inventory, best search interface, and widest availability.
Agoda – Other than Hostelworld, Agoda is the best hotel accommodation site for Asia.
Booking.com – The best all around booking site that constantly provides the cheapest and lowest rates. They have the widest selection of budget accommodation. In all my tests, they've always had the cheapest rates out of all the booking websites.
Get Your Guide – Get Your Guide is a huge online marketplace for tours and excursions. They have tons of tour options available in cities all around the world, including everything from cooking classes, walking tours, street art lessons, and more!
SafetyWing – Safety Wing offers convenient and affordable plans tailored to digital nomads and long-term travelers. They have cheap monthly plans, great customer service, and an easy-to-use claims process that makes it perfect for those on the road.
LifeStraw – My go-to company for reusable water bottles with built-in filters so you can ensure your drinking water is always clean and safe.
Unbound Merino – They make lightweight, durable, easy-to-clean travel clothing.
Laos Travel Guide: Related Articles
Want more info? Check out all the articles I've written on Laos travel and continue planning your trip: