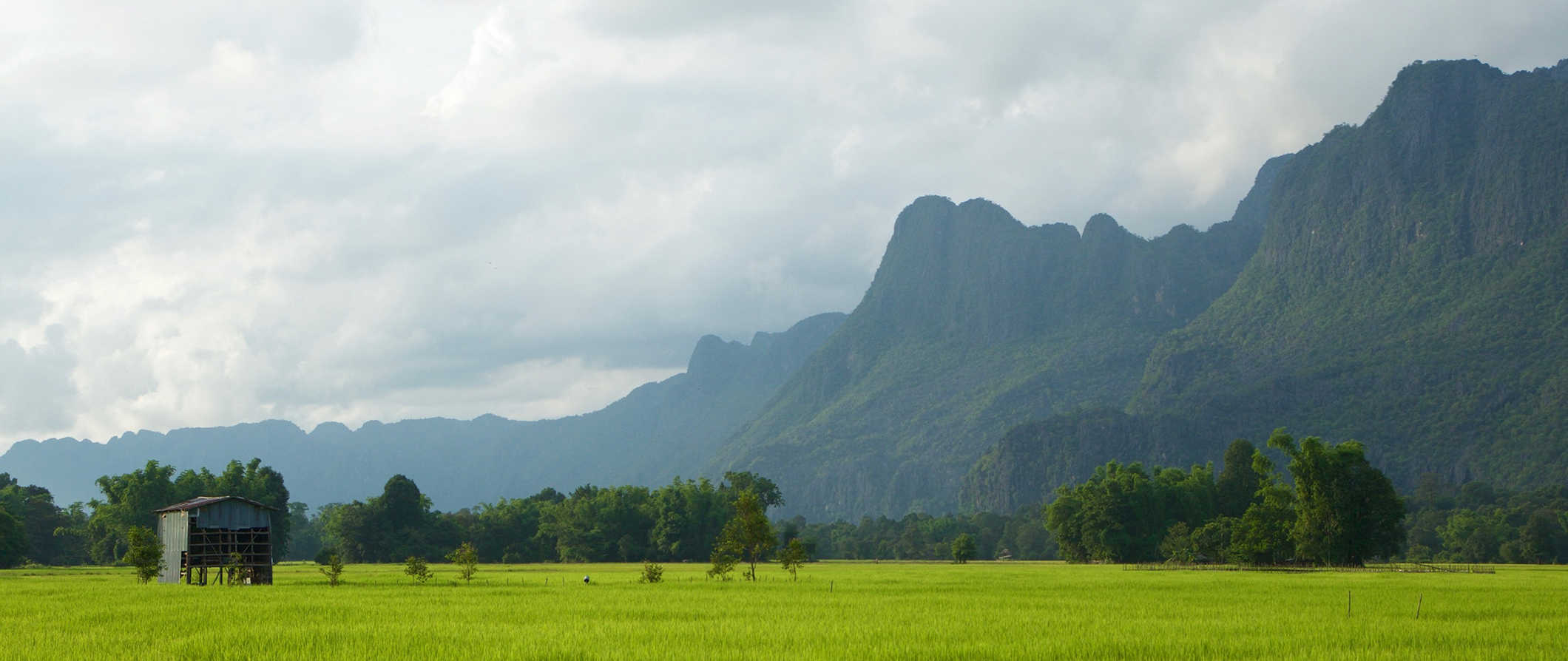 Laos used to be a popular destination for partying but, since the wild tubing days have been curtailed, it's turned into a more relaxed, outdoor-oriented country. Here you'll find a landlocked country steeped in nature, food, history, and Buddhism. Laos is going through growing pains as it finally enters the world community. It's not the cheapest country in the region (everything is imported) but it is one of the best! I loved my time there and, while the country is no longer a "secret", it's still a lot less visited than its neighbors.
Top 5 Things to See and Do in Laos
1. Visit Vang Vieng
In the late 1990s, backpackers discovered
this little town
. Located by a beautiful
river and surrounded by caves, lagoons, and mountains, it was the perfect chill-out spot. It didn't take long to develop into a crazy, hedonistic city where drinking and drugs proliferated. Nowadays, things have calmed down and it has become a hub for outdoor adventure, jungle hikes, and lazy days on the river.
2. Visit the 4,000 Islands
Located in Southern Laos, the "4,000 islands" are the area of tiny inhabited islands in the Mekong River near the Cambodian border. They are popular with backpackers and the vibe is laid-back and chill. Accommodation is simple, cheap, and there's really not much to do here besides chill in the river and relax at night.
3. Relax in Luang Prabang
This capital city
of Luang Prabang province is a great place to watch the sunset over the Mekong River. In the evening, there is a night market that sets up at the end of the main street. Every morning at sunrise, the monks walk through the main streets receiving alms from the local residents. I went for two days and stayed for five.
4. Try the Gibbon Experience
This is one of the best activities in Laos It's a series of zip lines connects the world's highest treehouses, where you can stay for 2-3 nights. You will be completely off the grid, see plenty of gibbons, and go on some intense nature hikes. If you're looking for a unique experience, this is it! Prices vary, but the 2-day package will cost around 1,500,000 LAK per person.
5. See the Plain of Jars
The Plain of Jars is full of thousands of stone jars scattered around three different sites. Believed to be part of the burial practices from the Iron Age, this is one of the best prehistoric sights in Southeast Asia. Legend has it that the jars were made by a race of giants to store alcohol. Admission to Site 1 (the best site) is 15,000 LAK while entry to Site 2 and 3 is 10,000 LAK each.
Other Things to See and Do
(Click the title to expand the text)
1. Explore the Vieng Xai Cave City
Located close to Sam Nua (near the Vietnamese border), these caves served as living quarters for Laotian soldiers during the the 1960s. Guided tours can be found at the Vieng Xai Caves Visitor Centre. Admission is 60,000 LAK. The bus there is 20,000 LAK while a tuk-tuk (no matter how many people) is 150,000 LAK. Tuk-tuk drivers charge 250,000 LAK for the ride home so stick to taking the bus!
2. Trek to the Kuang Si Falls
This huge waterfall is breathtaking. While one of the most popular attractions in the area (try to avoid the weekends when the locals crowd the area too), it was one of the most breathtaking things I saw in Laos. The water is perfect and the scenery breathtaking. The picture at the top of the page? Kuang Si! Definitely do not miss this place. Be sure to find the secret pool for a swim too! (My blog post has info on how to find it!) Admission is 20,000 LAK, and a tuk-tuk from Luang Prabang will cost 30,000-40,000 LAK.
3. See the Great Stupa (Pha That Luang)
This huge gold-covered stupa is in Vientiane and is the greatest monument in the nation. It has a long history and conveys the Buddhist doctrine throughout. You can admire the stupa from outside for free (which is what most people do). If you want to enter, admission is 5,000 LAK.
4. Head to Vientiane
The capital and largest city in Laos is full of important national monuments and temples. It is located on the banks of the Mekong River and sees its fair share of tourism. While there, be sure to check out Buddha Park, a sculpture garden full of giant Buddha statues. This is also the best place to get international food in the country!
5. See the waterfalls at the Bolaven Plateau
Located in Southern Laos close to the city of Pakse, the Bolaven Plateau is part of a crater that formed from an ancient volcano. You can trek around the area and explore several of the waterfalls. The Bolaven Loop cuts through the entire crater and takes you close to all the falls. Each waterfall will charge an entry fee (usually between 5,000-10,000 LAK) as well as a parking fee for your bike (3,000-5,000 LAK).
6. Visit the Elephant Conservation Center
Located in Sainyabuli (near Chiang Mai) the ECC was launched in 2011 by a team of elephant specialists working towards protecting the elephant population in Laos. It's the best way to see elephants in a responsible way that doesn't harm them. Prices start at 1,700,000 LAK for a 2-day visit while a 7-day volunteering session costs around 4,000,000 LAK.
7. Slow Boat on the Mekong
Drift down the Mekong River on a long, narrow boat with comfortable seating, great food, and amazing views of the country. You can find a ride typically from the border at Huay-Xai that will drop you off in Luang Prabang. Slow boats take 2-3 days, stopping at guesthouses for the nightly accommodation. Prices will vary depending on the quality of your tour company, but a decent tour will run you around 1,000,000 LAK.
8. Phou Hin Poun Conservation Area
Mountains, a limestone forest, rapids, caves, and amazing scenery await you in the protected Phou Hin Poun area of Laos. The entire area is filled with unique species of flora and fauna, making it a great place to explore and take some photos. A two-day guided trek will cost around 550,000 LAK.
9. Relax in Nong Kiew (Muang Ngoi)
Here you'll find incredible views in a charming, slow-paced village. Hike to nearby waterfalls or caves before enjoying excellent food, especially the international fare.
10. Relax with a massage
There is a traditional Lao massage parlor and sauna in Luang Prabang that gives all their profits to the Red Cross. You can get a 1-hour massage for 50,000 LAK or use the sauna for 10,000 LAK. It's a nice way to relax and make a difference.
11. Chat with a monk
Once a month, monks gather at the Sangha College in Vientiane to chat with tourists. You're able to ask them about their practice and daily life (chances are it's very different from yours!).
Typical Costs
Accommodation
– Accommodation in Laos is incredibly cheap. You can find dorm rooms for around 45,000-80,000 LAK per night, while a private room with A/C will cost between 115,000-175,000 LAK. Budgeting 80,000-165,000 LAK per night for basic accommodation is pretty safe no matter where you go in Laos. Almost every city hostel offers free WiFi and most also include free breakfast. It's very rare for a hostel to have a kitchen, however, so don't count on cooking your meals unless you find a hostel with self-catering facilities. Budget hotels and guesthouses are widely available, usually starting around 110,000 LAK for a basic twin or double room. If you're looking to splurge on a nicer hotel with a pool, expect to pay at least 400,000 LAK per night. Airbnb is also available in the country, with shared accommodation (usually dorm rooms) starting at 80,000 LAK. If you're looking for more privacy, an entire home or apartment can be found for as little as 350,000 LAK (though prices are generally closer to 900,000 LAK). My suggested places are:
Food – Though food is expensive compared to its neighbors (everything is imported and they don't have large scale farming), you can still eat relatively cheaply. In cities, street food is the most popular form of eating. These meals usually cost no more than 15,000-20,000 LAK per dish. Western meals will usually cost closer to 30,000 LAK. If you're looking for a nicer, mid-range meal expect to pay closer to 100,000 LAK. Even with a balance of western meals and local dishes, 120,000 LAK per day should get you full and happy. If you have access to a kitchen you can buy your own groceries. A week's worth of groceries should cost between 150,000-250,000 LAK.
Transportation – Bus costs vary between 80,000-130,000 LAK for a 5-6 hour journey. Overnight buses cost 150,000-200,000 LAK depending on distance. A bus from Luang Prabang to Vientiane, for example, will cost between 100,000-150,000 LAK. Local public transportation starts around 2,000 LAK and goes up from there based on distance. Taxis and tuk-tuks (small shared taxis with no meter) will require a bit of haggling and cost more than local transportation. If you have a destination in mind, ask the staff at your hostel how much you should expect to pay. If you're looking to head into a neighboring country, a bus from Vientiane to Hanoi will cost around 330,000 LAK while a train from Vientiane to Bangkok will cost just under 400,000 LAK.
Activities – Trekking is the most common activity, with the northern part of the country offering incredible off-the-beaten-path experiences. Other activities include kayaking, rock climbing, tubing, canopy tours, and river cruises. Zip lining and guided treks start around 285,000 LAK, while tubing and renting kayaks can be done for under 100,000 LAK.
Suggested daily budget
200,000-280,000 LAK (25-35 USD) (Note: This is a suggested budget assuming you're staying in a hostel, eating out a little, cooking most of your meals, and using local transportation. Using the budget tips below, you can always lower this number. However, if you stay in fancier accommodation or eat out more often, expect this to be higher!)
Money Saving Tips
Laos is very cheap so you'll be hard pressed to really save tons of money if you are already traveling on a budget, eating local cuisines, not drinking a ton, and staying at relatively modest accommodation. You'll really have to try to spend money here as a budget traveler (though, like every destination, they have plenty of expensive hotels and restaurants that will take your money!). That said, here are some ways to save money on your visit:
Buy from the local markets – Buying your own food is infinitely cheaper than going to restaurants (not that they are even that expensive, however). If you're on a budget, though, stick to the local markets. Fresh food will be the cheapest there.
Stick to local transportation – Taxis and tuk-tuks may be convenient, but they will slowly erode your budget. Stick to the public transportation if you need to get around. If you do need to take a tuk-tuk or taxi, ask your hotel/hostel staff what you should expect to pay. This will make sure you don't get ripped off!
Avoid western food – Western food is always more expensive than local dishes. While the prices might not seem so extreme at first, it will slowly add up over the course of your trip. An extra few dollars here and there makes a big difference, so eat what the locals eat!
Book your own activities – Booking activities through your hostel or tour provider is the easiest way to do things, however, you will also end up paying more money. Try organizing things yourself — you'll get to interact with the locals and save yourself some money. Double win!
My Must Have Guides For Traveling to Laos
Photo credits: 5