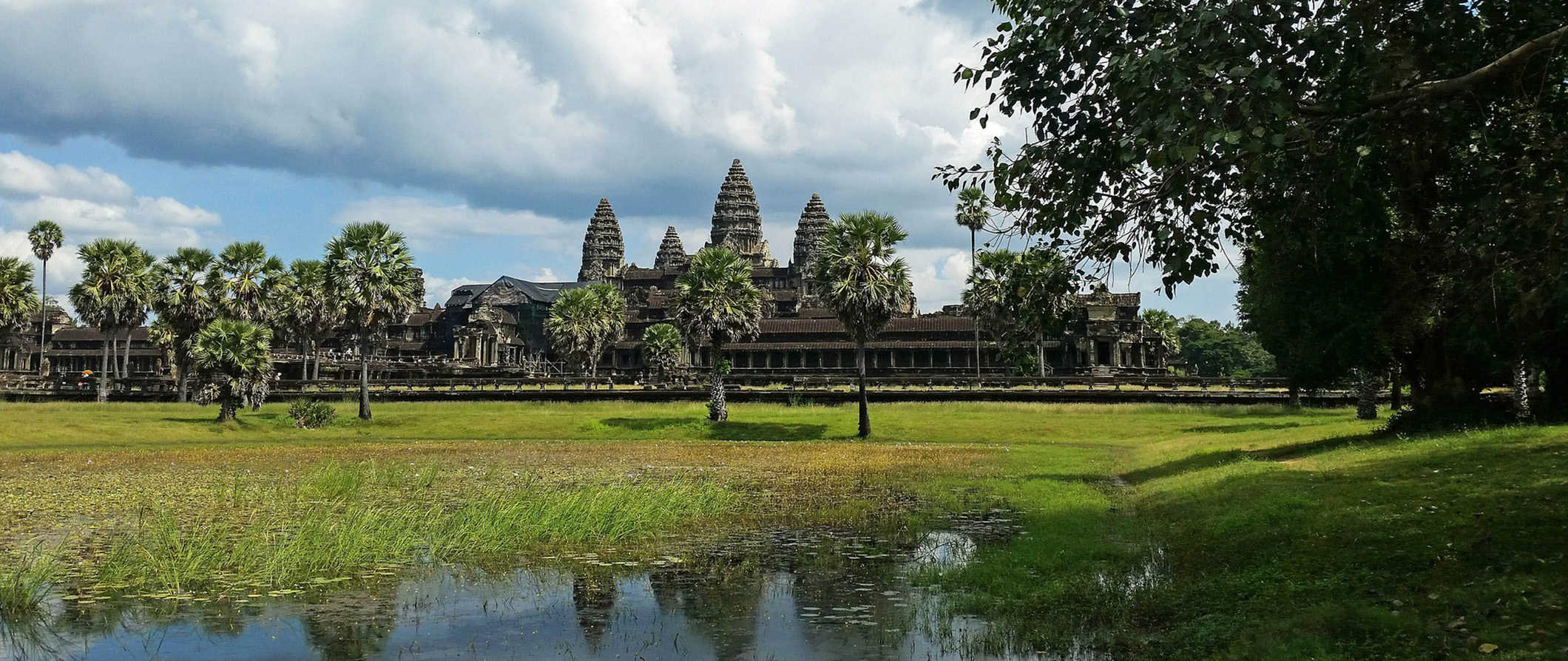 Angkor Wat is an ancient city in Cambodia that was the center of the Khmer Empire that once ruled much of Southeast Asia. This civilization went extinct, but not before building amazing temples and buildings that were reclaimed by the jungle for hundreds of years.
Angkor Wat was built in the 12th century, the surrounding complex spanning over 400 acres. It was the state temple for the empire, an empire larger than the Byzantine Empire, stretching from Thailand to Vietnam and all the way into Southern China. The temples were "rediscovered" in the 1840s and have been a popular tourist attraction ever since.
Today, the temple complex is a UNESCO World Heritage Site and though it's always packed with tourists, the area and ruins are still breathtaking to see.
The most popular temples are Angkor Wat, Bayon, Ta Phrom, and Angkor Thom. But there are over 70 temples here so I recommend getting a multi-day pass so you can visit some of the outer temples where there are fewer visitors. There's a lot to see!
The closest major city and launching pad for tours here is Siem Reap and the temple complex an easy day trip from the city either by bike or by tuk-tuk.
This travel guide to Angkor Wat will help you plan your visit, save money, and ensure you have the best time possible one of the greatest wonders in the world.
Top 5 Things to See and Do in Angkor Wat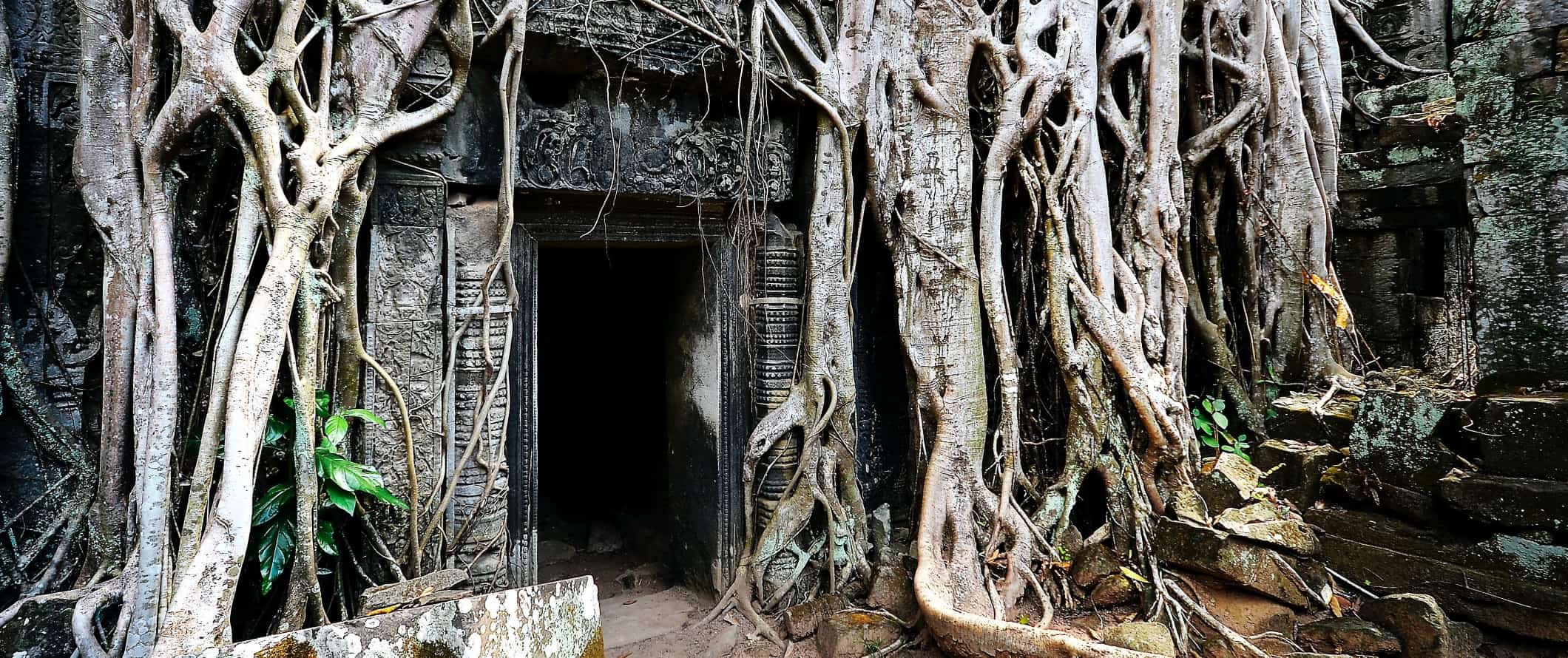 1. Explore Angkor Wat
This temple was built by Suryavarman II, who ruled from 1113-1150. It's considered the biggest Asian pyramid, standing over 61 meters (200 feet) high and divided into several layers. This temple is the largest in the whole complex and is where the historic site gets its name. The central temple complex has 792 meters (2,600 feet) of bas-reliefs.
2. See The Bayon
Built by Jayavarman VII, the temple stands in the center of Angkor Thom. With its 54 towers and 216 faces of Avalokiteshvara (a manifestation of Buddha), this temple looks best in the morning just after sunrise or at the end of the afternoon. The temple was built in three levels: the first two are rectangular, while the third is circular.
3. Step back in time at Ta Prohm
Still covered by the jungle, this place is exactly as they found it when it was rediscovered. Ta Prohm makes it easy to imagine how the whole complex looked when it was re-discovered in the 19th-century. If you come early, you can avoid the crowds that arrive mid-day. It's the second-best complex behind Bayon in my opinion.
4. Visit Banteay Srei
This temple is located 19 kilometers (12 miles) north of Angkor. The name means "Citadel of the Women" and refers to the size and delicacy of the decoration. Unlike the major sites at Angkor, this was not a royal temple. The temple boasts exquisite decorative carvings in pink sandstone with miniature proportions.
5. Admire Ta Som
This temple has the same style, structure, and founder as Ta Phrom. It is almost like its little brother. The major feature that sets it apart is a huge tree that grows atop the eastern Gopura. It is slowly destroying the building, but it makes for amazing photo opportunities.
Other Things to See and Do in Angkor Wat
1. Stroll the Terrace of the Elephants
This 350-meter (1,150-foot) long terrace of elephants was used as a giant viewing stand during public ceremonies, royal ceremonies, and other events (such as viewing the returning army when they returned from war). Numerous life-size lions decorate this enormous path as well. Today, it's surrounded by camera-wielding tourists and I found it to be one of the busiest sites here. I suggest visiting late or early to avoid the crowds, which can be overwhelming.
2. See East Mebon
Built in the 10th-century by King Rajendravarman, a huge baray (reservoir) surrounded this temple complex during its prime. Because it was encircled by water, there was no need for enclosures or moats that became customary for temples in Angkor. East Mebon has five towers — make sure to climb the central platform to the towers and check out the intricate stonework.
3. Explore Preah Khan
Preah Khan is one of the largest sites in the Angkor temple complex. Not only was this site an important temple, but it also appears to have been a large Buddhist university with over 1,000 teachers and upwards of 100,000 servants and attendants. It remains largely unrestored, as evidenced by the many trees growing around the ruins and mossy stones left laying everywhere. The site was a previous palace of Yasovarman II and Tribhuvanadityavarman, and historians believe a famous battle was fought here. There are shrines to over 430 deities here as well.
4. Climb Pre Rup
About 600 meters (2,000 feet) south of the East Baray lies Pre Rup. It was built by Rajendravarman II, who reigned from 944-968, and was his capital after re-establishing Angkor once he took over as king. Pre Rup was at the center of a city that has long since vanished. Many believe this was the place where funerals were held and was dedicated to the god Shiva. You can climb the steep steps up to the three tiers of the pyramid.
5. Go to Preah Ko
King Indravarman I built this temple, called Sacred Bull, in 879 CE, making it the first temple to be built in the ancient (and now defunct) city of Hariharalaya. The temple lies about 16 kilometers (10 miles) southeast of the main temples at Angkor and was dedicated to the king's family as well as the god Shiva. Today, there are six small brick towers that sit atop a sandstone base. The temple derives its name from the three sandstone statues representing Nandi, the white bull of the Hindu deity Shiva.
6. Catch the sunrise at Srah Srang
Commonly known as "The Royal Baths," this spot was once a major bathing spot for the area. The reservoir was first created in the mid-10th century by a Buddhist minister of King Rajendravarman II. It was expanded in 1200 by Jayavarman VII. It's especially picturesque in the mornings as the sun rises over the tranquil water. Excavations have found a cemetery and necropolis nearby as well.
7. See Baksei Chamkrong
On the road between Angkor Wat and Angkor Thom is a single tower that was built by Harshavarman I (he reigned from 910-923). It's one of the few ruins accredited to him. He had it built to honor his father who was responsible for the construction of Phnom Bakheng. The temple's name means "The Bird Who Shelters Under Its Wings." It's one of the first temples in the complex built with more durable materials (bricks and laterite), with sandstone decorative elements.
8. Find the secret passage at the Terrace of the Leper King
This seven-layer terrace, built in the 13th century, is dedicated to the god of death, Yama. It earned its name as the moss growing on the statues left them discolored and looking as if they had leprosy. Keep an eye out for the secret passageway that runs from the southwest to the northwest side of the structure.
9. See the sunset at Phnom Bakheng
Built in the late 9th century (two centuries before Angkor Wat itself), this is the oldest temple here. It is both a Hindu and Buddhist temple and bears statues and symbolic elements from both religions. It was built as a representation of Mount Meru, home of the Hindu gods. Located on a hill, it's a popular place to watch the sunset (so popular in fact, that visitor numbers are now limited during this time).
10. Stroll through Banteay Kdei
Located opposite the Srah Srang reservoir, Banteay Kdei was built in 1181 by Jayavarman VII. Its name means "Citadel of Chambers" as this used to be where Buddhist monks lived (monks lived here all the way up until the 1960s). There are three cloisters in the complex and the walls are carved with Buddhas, though unfortunately many have been defaced or have degraded over time. This complex is currently undergoing renovations, though you can still visit. This temple sees fewer crowds so it's a good place to go to experience some tranquility.

For more information on other destinations in Cambodia, check out these guides:
Angkor Wat Travel Costs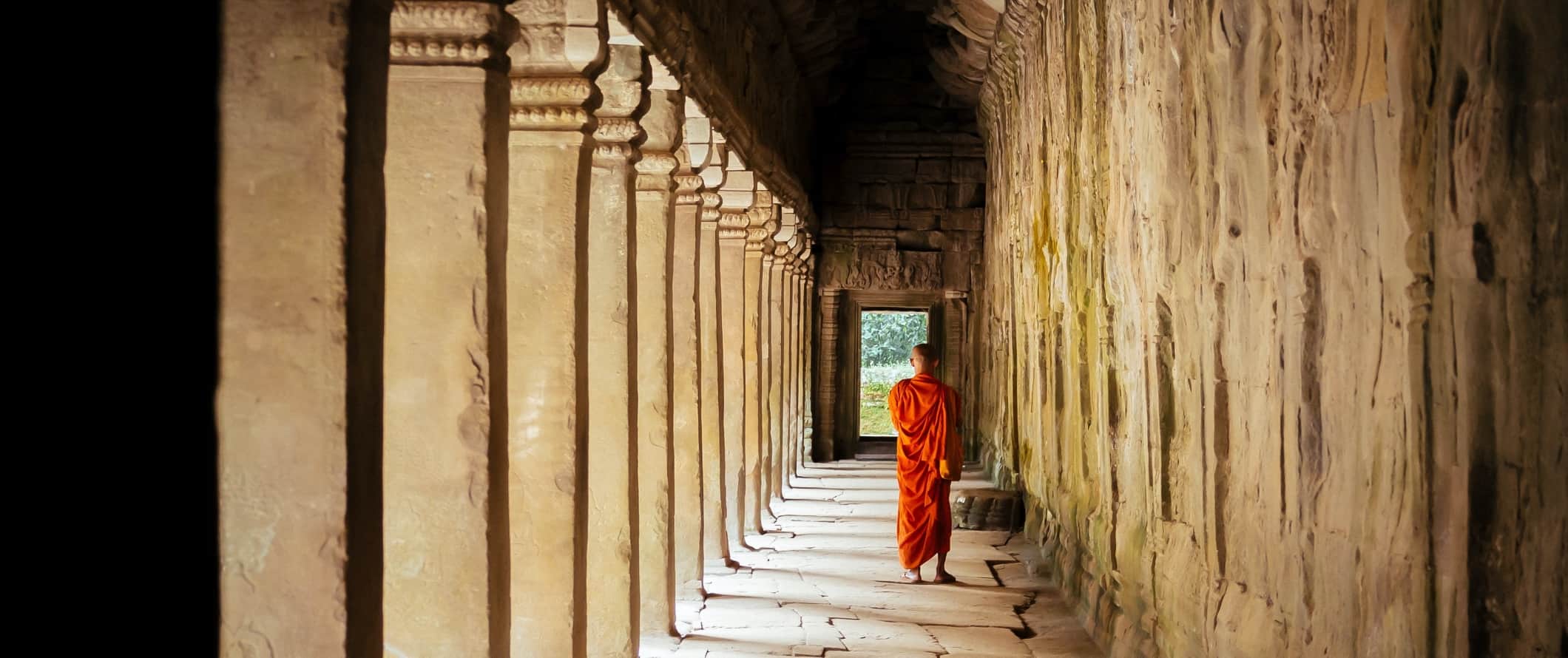 Note: Cambodia uses USD. There's no real need to carry the local currency, Cambodian Riels (KHR), unless you're paying for really small things on the street. In many places, especially in the countryside, you might start getting riels back when paying in USD but you can essentially get by using mostly USD here.
Siem Reap is the nearest city to Angkor Wat. That's where you'll be staying during your visit.
Hostel prices – A bed in a dorm with 4-6 beds costs $6-10 USD per night. Larger dorms with 10-12 beds can be found for as little as $3-4 USD per night. For a private room with an ensuite bathroom, expect to pay closer to $15-25 USD per night.
Free Wi-Fi is standard and most hostels have a swimming pool (some have multiple). None of the hostels include free breakfast or self-catering facilities, but many have a café/restaurant on-site with food available.
Budget hotel prices – A room in a guesthouse with air-conditioning, hot water, a private bathroom, and TV costs around $13-15 USD per night. For a hotel/guesthouse with a pool and a restaurant, expect to pay closer to $20 USD.
Airbnb is also available in Siem Reap. Expect to pay at least $25 USD per night for an entire home/apartment.
Average cost of food – Cambodian food is similar to Thai and Vietnamese cuisine. Vietnam and Cambodia especially have many dishes in common due to the countries' shared history of French colonization. For example, the baguette sandwich known as bánh mì in Vietnam is called num pang pâté in Cambodia. Other popular Cambodian dishes include num banhchok, a lightly fermented rice noodle dish served for breakfast; amok trei, a fish curry dish; and samlar kako, a hearty soup filled with vegetables, roasted ground rice, and catfish or pork. In general, Cambodian cuisine includes a huge variety of noodle soups, stir-fries, curries, fried rice, and sweets.
Rice and freshwater fish are present in nearly every Cambodian meal. Lemongrass, galangal, turmeric, tamarind, ginger, chili pepper, and kaffir lime are all commonly used spices. Fermented fish paste is another widely used ingredient that adds saltiness and flavor.
Common vegetables include leaf and root vegetables as well as melon, long beans, snow peas, bean sprouts, and eggplant. Dozens of types of fruit are native to Cambodia, with durian being the most infamous. However, there are plenty of less pungent fruits to try, including mangosteen, passionfruit, dragonfruit, and mangoes. Fruit is a popular dessert and snack, either eaten alone or made into a variety of sweets.
There are tons of food options within the temple complex (though prices are higher than in the city). You can easily find restaurant meals in the $5-7 USD price range.
Around the temples are little stands with cheap meals for about $2-3 USD. There are also lots of vendors selling fresh fruit and juices for as little as $1.50 USD. They are a great choice to stay hydrated and cool down as you explore.
Angkor Wat Suggested Budgets
On a backpacking budget, you can expect to pay $60 USD per day to visit Angkor Wat. On this budget, you're staying in a hostel dorm, eating cheap street food, limiting your drinking, and using a bike to get around the complex. This also includes a day entry to the Angkor Wat site.
On a mid-range budget of $97 USD per day, you can eat at restaurants in the complex, stay in a private room at a hostel or budget hotel, enjoy a few drinks, and hire a shared tuk-tuk driver to take you around Angkor Wat.
On a luxury budget of $247 USD per day, you can stay in a hotel or at a resort with a pool, eat out for every meal anywhere you want, drink more, and opt for a private guided tour of the site over multiple days.
Accommodation
Food
Transportation
Attractions
Average Daily Cost
Backpacker
$8
$10
$5
$37
$60
Mid-Range
$20
$15
$25
$37
$97
Luxury
$50
$25
$100
$72
$247
Angkor Wat Travel Guide: Money-Saving Tips
There aren't a ton of ways to save money here since it's a huge tourist attraction that draws millions of people each year. Nevertheless, here are a few of my top money-saving tips for Angkor Wat:
Get a multi-day pass – Everyone needs a permit to enter the Angkor temples unless you are Cambodian or related to a Cambodian. A 1-day pass is $37 USD, a 3-day pass is $62 USD, and a 7-day pass is $72 USD. There's so much to see that it's worth getting a multi-day pass so you don't have to rush your time.
Rent a tuk-tuk – It's best to rent a tuk-tuk for an entire day to get around. They know how to get you in and out of each temple as well as the best routes for the complex. You'll be able to see more places in a day and it's very affordable, generally around $25 USD for the day. If you split this between a group of 3-4 it becomes quite affordable. Getting a driver in Siem Reap is cheaper than inside the park. (Most hostels can help you with this).
See the sunset the night before – If you buy your ticket after 5pm you can legally enter the park without using up your allotted days. This means you can technically enter the park and explore before it closes, and still have your 1, 3, or 7 days remaining. The best way to spend this extra time is to watch the sunset, saving the temples for the following day(s).
Bring a water bottle – The tap water in Siem Reap isn't safe to drink so bring a reusable water bottle with a filter to save money and reduce your plastic use. LifeStraw is my go-to brand for bottles with built-in filters to ensure your water is always clean and safe.
Where to Stay in Angkor Wat
Travelers stay in Siem Reap when they're visiting Angkor Wat. My suggested budget-friendly places to stay are:
How to Get Around Angkor Wat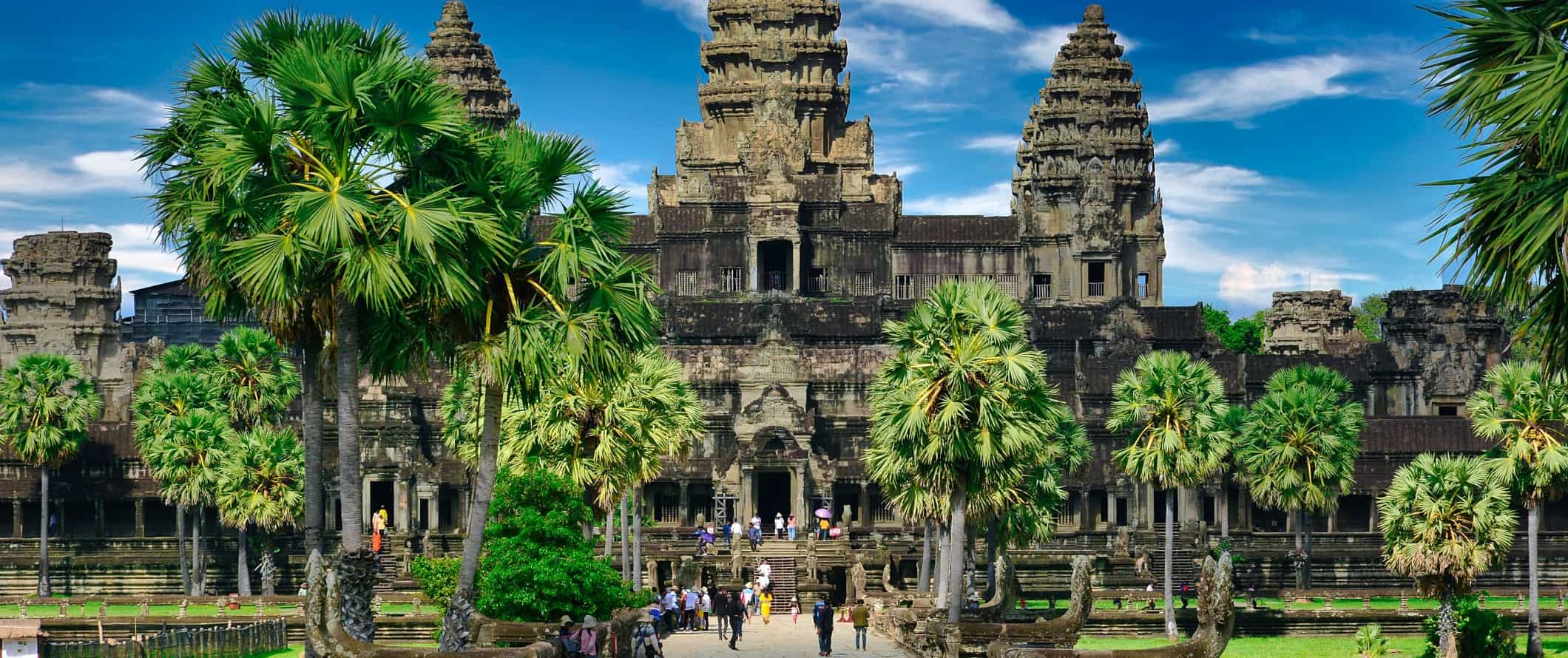 There are two ways for you to get to and from Angkor Wat (and around the complex):
Bicycle Rental – Bicycles are a great way to explore the complex, and you can find rentals for about $5 USD per day. If you choose this method, be prepared for long hours cycling in the heat.
Tuk-tuks and hired drivers – These can be found all over the place and your hostel or hotel should be able to help you find one if you can't (though they really are everywhere). Drivers cost around $25 USD per day and have room for 3-4 people.
When to Go to Angkor Wat
Angkor Wat is open year-round but no matter when you visit Angkor Wat, it's a toss-up: either you'll have a rainy, muddy visit with fewer people around, or great weather and crazy tourist hordes. But if you're concerned mainly with the weather, the best time to visit is during the dry season (from late November to early April).
December and January are best for weather, but they're also busiest months. April and May can be unbearably hot, with tons of humidity. The average daily temperature in April is 31°C (88°F).
The monsoon season lasts from late May/June to the end of October, with September and October being the hottest months. If you can time your visit to one of the shoulder months, do so.
Having a multi-day pass will give you the opportunity to plan around the weather — another reason why going for multiple days is worth it!
How to Stay Safe in Angkor Wat
Angkor Wat is an incredibly safe place to backpack and travel, even if you're a solo traveler, and even as a solo female traveler. Petty theft (including bag snatching) is the most common type of crime here so always keep an eye on your valuables (especially bags, purses, and phones).
You may encounter persistent children trying to sell you stuff and they may even become more aggressive if you don't shop with them. There are also many people offering to take you on a personal tour or show you the best photo spots, but these are not licensed guides. Just walk away from them saying "no thank you," and eventually they will give up.
These are the most common scams and situations you might encounter, but if you're concerned about others, read about these common travel travel scams to avoid here.
Avoid dehydration in the heat by making sure you bring lots of water to keep hydrated. Remember that tap water isn't safe to drink, so bring a water bottle with a built-in filter. Wear a hat as well to keep the sun off of you. You'll be here for hours and it can be very easy to overheat or get a sunburn.
If you experience an emergency, dial 119 for assistance.
Always trust your gut instinct. Make copies of your personal documents, including your passport and ID. Forward your itinerary along to loved ones so they'll know where you are.
The most important piece of advice I can offer is to purchase good travel insurance. Travel insurance will protect you against illness, injury, theft, and cancellations. It's comprehensive protection in case anything goes wrong. I never go on a trip without it as I've had to use it many times in the past. You can use the widget below to find the policy right for you:
Angkor Wat Travel Guide: The Best Booking Resources
These are my favorite companies to use when I travel. They consistently have the best deals, offer world-class customer service and great value, and overall, are better than their competitors. They are the companies I use the most and are always the starting point in my search for travel deals.
Skyscanner – Skyscanner is my favorite flight search engine. They search small websites and budget airlines that larger search sites tend to miss. They are hands down the number one place to start.
Hostelworld – This is the best hostel accommodation site out there with the largest inventory, best search interface, and widest availability.
Agoda – Other than Hostelworld, Agoda is the best hotel accommodation site for Asia.
Booking.com – The best all around booking site that constantly provides the cheapest and lowest rates. They have the widest selection of budget accommodation. In all my tests, they've always had the cheapest rates out of all the booking websites.
Get Your Guide – Get Your Guide is a huge online marketplace for tours and excursions. They have tons of tour options available in cities all around the world, including everything from cooking classes, walking tours, street art lessons, and more!
SafetyWing – Safety Wing offers convenient and affordable plans tailored to digital nomads and long-term travelers. They have cheap monthly plans, great customer service, and an easy-to-use claims process that makes it perfect for those on the road.
LifeStraw – My go-to company for reusable water bottles with built-in filters so you can ensure your drinking water is always clean and safe.
Unbound Merino – They make lightweight, durable, easy-to-clean travel clothing.
Angkor Wat Travel Guide: Related Articles
Want more tips for your trip? Check out all the articles I've written on Cambodia travel and continue planning your trip: