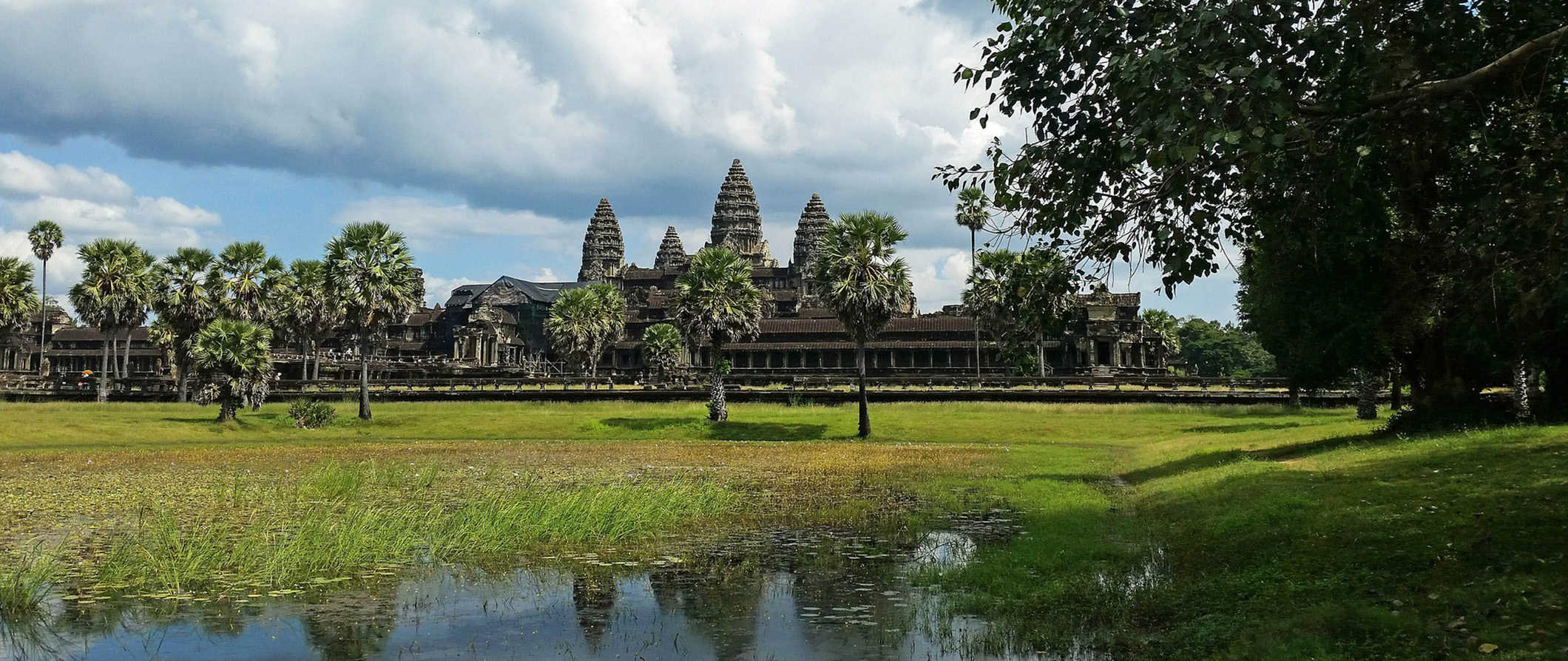 Angkor Wat is an ancient city in Cambodia that was the center of the Khmer empire that once ruled most of Southeast Asia. This civilization went extinct, but not before building amazing temples and buildings that were reclaimed by the jungle for hundreds of years. Though this place is always packed with tourists, the area is still breathtaking to see. The most popular temples are Angkor Wat, Bayon, Ta Phrom, and Angkor Thom. I would recommend getting a multi-day pass so you can visit some of the outer temples where there are less visitors. The closest major city and launching pad for tours here is Siem Reap.
Top 5 Things to See and Do in Angkor Wat
1. Angkor Wat
This temple was built by Suryavarman and is considered the biggest Asian pyramid. It is over 200 feet high and divided into several layers. This temple is the largest in the whole complex and is where the historic site gets its name. The central temple complex has 2,600 feet of bas-reliefs.
2. The Bayon
Built by Jayavarman VII, the temple stands in the center of Angkor Thom. With its 54 towers and 216 faces of Avalokiteshvara, this temple looks best in the morning just after sunrise or at the end of the afternoon. The temple was built on 3 levels: the first 2 are rectangular, while the 3rd is circular.
3. Ta Prohm
Still covered by the jungle, this place is exactly as they found it. Ta Prohm makes it easy to imagine how the whole complex looked when it was re-discovered in the 19th-century. If you come early, you can avoid the crowds who arrive mid-day. It's the second best complex behind Bayon.
4. Banteay Srei
This temple is located about 12 miles north of Angkor. The name means "Citadel of the Women" and refers to the size and delicacy of the decoration. Unlike the major sites at Angkor, this was not a royal temple. There are exquisite decorative carvings in pink sandstone with miniature proportions.
5. Ta Som
This temple has the same style, structure, and founder as Ta Phrom. It is almost like its little brother. The major feature that sets it apart is a huge tree that grows atop the eastern Gopura. It is slowly destroying the building, but it makes for amazing photo opportunities.
Other Things to See and Do
(Click the title to expand the text)
1. Elephant Terrace
A 1000 foot terrace of elephants. It was used as a giant viewing stand during public ceremonies, royal ceremonies, and so on. Many lions decorate this enormous path as well. Now it's surrounded by camera-wielding tourists, and I found it to be one of the busiest sites here. I suggest visiting late or early to avoid the crowds, which get overwhelming.
2. East Mebon
A huge baray surrounded this temple complex during its prime. Because it was encircled by water, there was no need for enclosures or moats that became customary for temples in Angkor. East Mebon has five towers — make sure to climb the central platform to the towers and check out the intricate stonework.
3. Preah Khan
Preah Khan is one of the largest sites in the Angkor temple complex. Not only was this site an important temple, but it also appears to have been a large Buddhist university with over one thousand teachers at one time. It has remained largely unrestored, as evidenced by the many trees growing around the ruins and mossy stones left laying everywhere. The site was a previous palace of Yasovarman II and Tribhuvanadityavarman, and historians believe a famous battle was fought on this site.
4. Pre Rup
About 2,000 feet south of the East Baray lies Pre Rup, built by Rajendravarman as his capital after re-establishing Angkor once he took over as king. Pre Rup was at the center of a city that has long since vanished. You can climb the steep steps up to the three tiers of the pyramid.
5. Preah Ko (Sacred Bull)
This was the first temple to be built in the ancient city of Hariharalaya. It lies about 10 miles southeast of the main temples at Angkor. Today, there are six small brick towers that sit atop a sandstone base.
6. Srah Srang
Commonly known as 'The Royal Baths', this spot was once a major bathing spot for every living thing, elephants aside, in the area. Today it is the most popular place for local children to swim.
7. Baksei Chamkrong
On the road between Angkor Wat and Angkor Thom, you can find a single tower that was built by Harshavarman I (910-923 CE). It's one of the few ruins accredited to him, and he had it built to honor his father who was responsible for the construction of Phnom Bakheng.
8. Terrace of the Leper King
This seven-layer terrace was built in the 13th century and was named after the god of the underworld, whose naked statue perches on top. Keep an eye out for the secret passageway that runs from the southwest to northwest side of the structure.
Typical Costs
Note: Cambodia uses USD. There's no real need to carry the local currency, Cambodian Riels (KHR), unless you paying for really small things on the street, but for the most part, use USD.
Hostel prices – Dorm rooms in Siem Reap start around $2 USD per night for a basic room with a fan and cold shower room. For a private bathroom with hot water, expect to pay closer to $15 USD per night. Free WiFi is generally standard, and a few hostels also include free breakfast. My suggested place is:
Budget hostel prices – A room in a guesthouse with air-con, hot water, and TV will cost around $12.50 USD per night for a twin, $15 USD for a double. For a hotel/guesthouse with a pool, expect to pay closer to $20 USD. Airbnb is available in the city, though the prices aren't cheap. Expect to pay $15 USD per night for shared accommodation and at least $25 USD per night for an entire home/apartment.
Average cost of food – There are tons of food options within the temple complex (though prices are higher than in the city). You can easily find restaurant meals in the $5-7 USD price range. And, around the temples, you will find little stands with cheap meals for about $2-3 USD. There are also lots of vendors selling fresh fruit and juices for as little as $1.50 USD.
Transportation costs – Tuks-tuks and hired drivers can be found all over the place and your hostel or hotel should be able to help you find one if you can't (though they really are everywhere). Drivers cost $25 USD per day. Bicycles are another way to explore the complex, with prices around $2 USD per day.
Suggested daily budget
$30-50 USD (Note: This is a suggested budget assuming you're staying in a hostel, cooking most of your meals or eating cheap street food, and using local transportation. Using the budget tips below, you can always lower this number. If you stay in fancier accommodation or eat out more, expect this to be higher!)
Money Saving Tips
Angkor Wat permit – Everyone needs a permit to enter the Angkor temples unless you are Cambodian or related to a Cambodian. A 1-day pass is $37 USD, 3-day is $62 USD, and 7-day is $72 USD.
Rent a tuk-tuk – It's best to rent a tuk-tuk for an entire day to get around. They know how to get you in and out of each temple and know the best routes for the complex. It will let you see more places in a day and is very affordable, generally around $25 USD for the day. If you split this between a group of 3-4 it becomes quite affordable. Getting a driver in Siem Reap is cheaper than renting one inside the park.
See the sunset the night before – If you buy your ticket after 5pm you can legally enter the park without using up your allotted days. This means you can technically enter the park and explore before it closes, and still have your 1-, 3-, or 7-days remaining. The best way to spend this extra time is to watch the sunset, saving the temples for the following day(s).
My Must Have Guides For Traveling to Cambodia