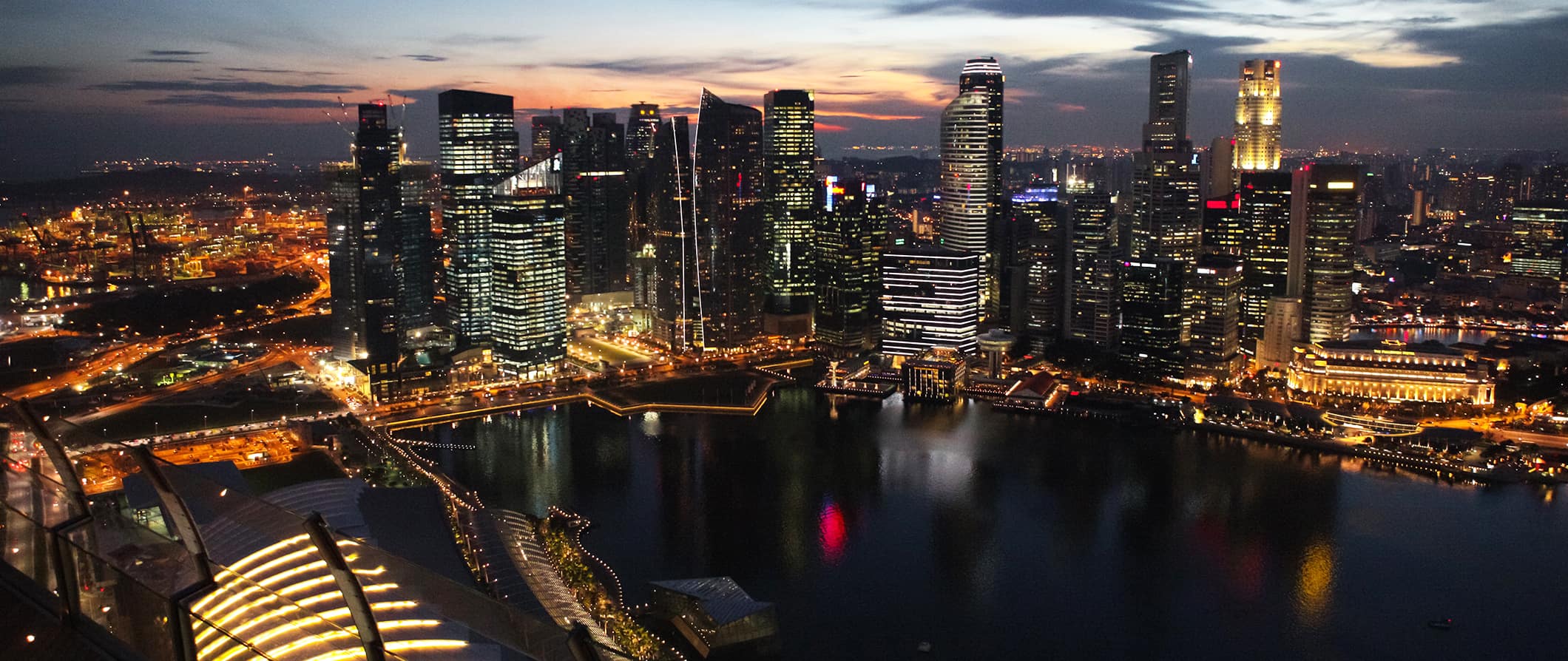 Singapore is one of my favorite cities in the world. It's a foodie's dream, bursting with tasty hawker stalls, delicious Indian food, and fresh seafood. There are hiking trails where you can stretch your legs and beaches for chilling out and soaking up the sun.
Home to around 5.7 million people, Singapore is a cosmopolitan city-state that gained independence from the British in 1965. It is now one of the world's leading economic centers in shipping and banking.
Because of its status as a global economic hub, Singapore is expensive by Southeast Asian standards, with everything costing almost double what it does elsewhere in the region. In fact, it consistently ranks as one of the most expensive cities in the world!
For this reason, visiting Singapore isn't as popular with budget travelers compared to affordable destinations like Thailand, Vietnam, or elsewhere in Southeast Asia.
But while most people come here for a couple of days just to see the highlights, the city actually has a lot to offer and requires more time than you might think. Don't rush your visit if you can afford it; Singapore can fill any schedule.
Use this Singapore travel guide to help plan your trip, save money, and make the most of your visit to this lively multicultural metropolis.
Top 5 Things to See and Do in Singapore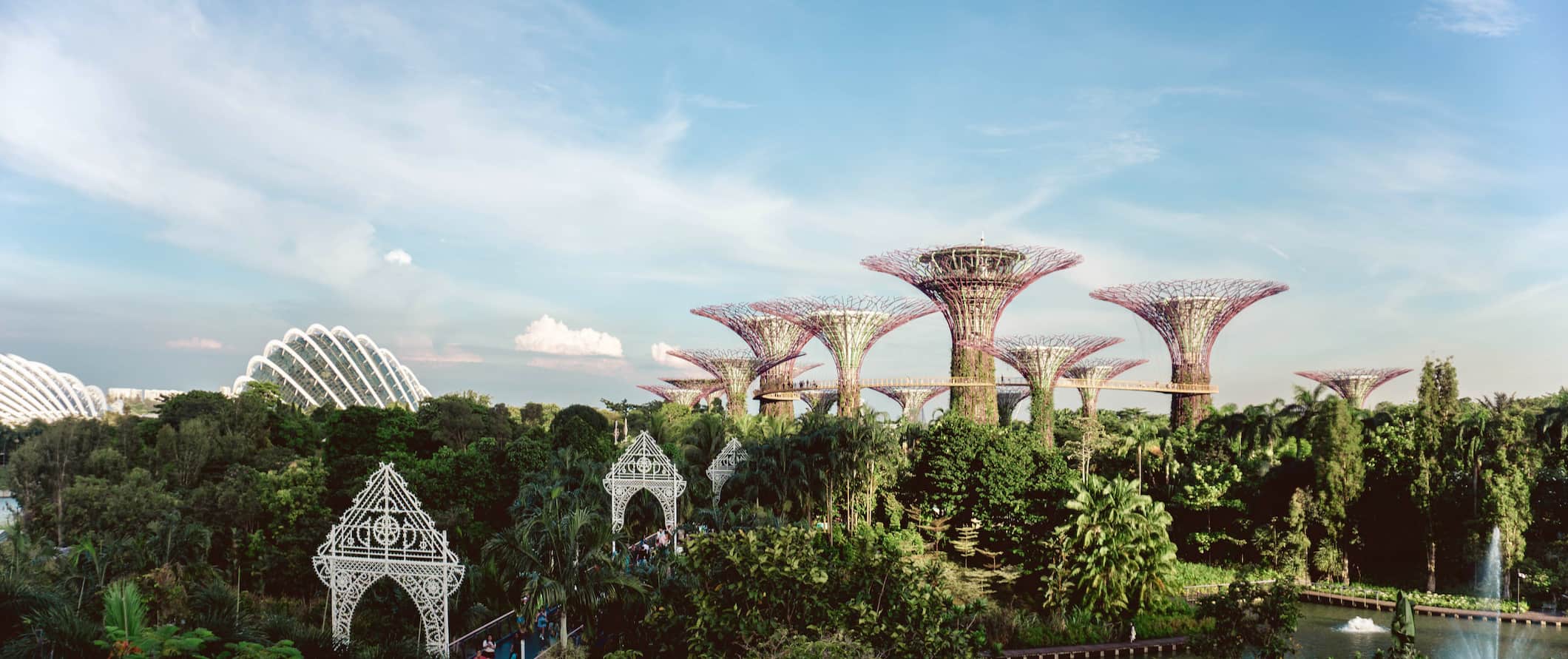 1. Eat at the Boat Quay
Boat Quay is the place to go for dining and entertainment. The alfresco pubs and restaurants make Boat Quay ideal for relaxing after a long day of sightseeing. Try Wakanui for quality Japanese steak cooked over a white oak fire, or Kinara for reasonably priced North Indian cuisine.
2. See the supertrees at Gardens by the Bay
This urban landscaping project is a series of towering metal "supertrees." There are roughly 200 species of orchids, ferns, and other tropical plants coating their structure. It's free to walk through the outdoor gardens, but you have to pay 8 SGD for the canopy walk (which is worth doing!) as well as for the stunning Flower Dome and Cloud Forest biodomes.
3. Hang out (and party) on Sentosa
This little island is home to a nighttime light show on the beach and a host of bars, restaurants, and beaches to enjoy. Hang out at Bora Bora Beach Bar or splash out and try the cable car sky dining experience (it isn't cheap). You can get to Sentosa via the Sentosa Express train (4 SGD). Entering on foot/bicycle is free.
4. Tour the Singapore Zoo
Spanning 70 acres, the Singapore Zoo is massive, boasting over 3,600 mammals, birds, and reptiles. There are lions, tigers, sun bears, Komodo dragons, primates, and much more! The zoo offers a night safari featuring over 900 different nocturnal animals (41% are endangered). Admission is 44 SGD and the night safari is 48 SGD.
5. Hang with the Merlions
The Merlion is Singapore's mascot and has the head of a lion and the body of a fish. The original statute (and most impressive Merlion) can be found in Merlion Park, but the 37-meter-tall (121-foot) replica on Sentosa is also pretty cool to see. There is no entrance fee for Merlion Park.
Other Things to See and Do in Singapore
1. Admire Thian Hock Keng Temple
Thian Hock Keng (Palace of Heavenly Happiness) is one of the most photogenic buildings in Singapore. The temple originated as a small building that served the local Chinese population. It was expanded in 1840 and made from the finest materials available at the time, paid for by years of donations from the local community. It's the oldest Chinese temple in Singapore, dedicated to Mazu, the Goddess of the Sea (Chinese immigrants came here to ask for safe passage before leaving to cross the South China Sea). The temple was designated as a national monument in 1973. Admission is free.
2. Explore Bukit Timah Nature Reserve
Bukit Timah, located within Singapore's only remaining stretch of rainforest, is the country's premier eco-tourism attraction. On the hiking and biking trails, you'll be able to get up close to the macaques, squirrels, flying lemurs, and various species of birds. The reserve covers over 400 acres and is 30 minutes from the city center. It's open daily from 7am-7pm. The weekends get really busy, so come during the week if you want to avoid the crowds.
3. Wander around Chinatown
Chinatown encompasses two square kilometers of traditional Chinese life, nestled beside the modern Central Business District. This remains the place to get a real sense of Chinese culture within Singapore. The streets are filled with temples, craft shops, stalls, and restaurants and are a great place to pick up a bargain. Head down Chinatown Food Street to find some char kway teow (stir-fried noodles) or grilled meats. If you can, eat at Hong Kong Soya Sauce Chicken Rice and Noodle (aka Hawker Chan), the world's most affordable Michelin-starred restaurant. Tian Tian Hainanese Chicken Rice is another Michelin-starred hawker stall worth a visit. Like Hawker Chan's, it's located in the Maxwell Hawker Center.
4. Eat hawker food
Singapore's hawker food scene is one of the best in the world. It has been recognized by Michelin in 2016 with the world's first street food Michelin star and by UNESCO in 2020 with Cultural Heritage status. Whether you go to Newton Food Center (of Crazy Rich Asian fame), to the Old Airport Hawker (many locals' favorite), or to one of the other 103 centers across the island, you won't be disappointed and you can grab a cheap meal surrounded by locals. Don't miss the chili crab, satay, dim sum (dumplings), or nasi lemak (fried chicken with coconut rice). If you're not sure where to go or what to eat, take a guided food tour!
5. Take a trip to Pulau Ubin
This island lies off the northeastern coast. It's incredibly different from the modern city; locals still use a diesel generator for electricity and fetch water from wells. Rent a bike and explore the sights, villages, and beaches of this island. To get there, hop on a bumboat from the Changi Point Ferry Terminal, which costs about 3 SGD and takes 10-15 minutes. There are no fixed departure times — just line up and wait. Very few tourists make it out this way; it's one of the most off-the-beaten-path things you can do here.
6. Relax in the Singapore Botanic Gardens
The Botanic Gardens lie close to the city and consist of 128 acres of gardens and forest. Founded in 1859, the main attraction is the National Orchid Garden, home to over 1,000 species of orchids. There is also a ginger garden, a rainforest, and various streams and waterfalls to explore. The Botanic Gardens are Singapore's first UNESCO World Heritage site (and the only tropical botanic garden on UNESCO's World Heritage List). It's open daily from 5am-12am, and admission is free to everything except the National Orchid Garden, which is 15 SGD.
7. Eat in Little India
No trip to Singapore is complete without a visit to Little India, where you can get amazing, cheap, and delicious food, fresh vegetables, snacks, and souvenirs. Seek out local favorites like roti prata (pancakes) and teh tarik ("pulled" tea). Make sure you stop off at the Tekka Center, a hawker center with Indian clothing, groceries, and food. The food here is cheap and delicious and makes for an authentic Little India experience.
8. Learn about Singapore's History
For a more cultural experience, visit the former British naval base of Fort Siloso located on Sentosa. It's a decommissioned coastal artillery battery the only preserved fort on the coast of Singapore, providing a fantastic look into the city-state's complicated history. You'll get to see the coastal guns and the remains of tunnels under the fort. It's a well-constructed, interactive attraction. Entrance is free.
9. Visit Sri Mariamman Temple
This extremely colorful, ornate temple is the oldest Hindu temple in Singapore, built in 1827 in Chinatown. It was constructed in what is known as the Dravidian style and is devoted to the goddess Mariamman, known for curing illnesses and diseases. During the post-war colonial period, it was a hub for community activities and was even the Registry of Marriages for Hindus. Admission is free.
10. Watch a free concert
The Singapore Symphony Orchestra hosts various free concerts at different venues around the country. You might just be lucky enough to catch one of their shows — just check their website for details during your visit.
11. Visit the MacRitchie Reservoir Park
MacRitchie Reservoir is Singapore's oldest reservoir, dating back to 1868. Today, this beautiful and lush city park is a relaxing place to spend an afternoon. Walk the 8-kilometer (5-mile) treetop hike, with bridges suspended high above the forest floor, where you might see long-tailed macaque monkeys, squirrels, monitor lizards, owls, and even flying lemurs. In addition to the TreeTop Walk, there's also a network of walking trails. Admission is free.
12. Visit the National Museum of Singapore
First opened in 1849, this is the oldest museum in Singapore. Learn about the country's history, culture, and people through the various permanent and temporary exhibitions. There are gold ornaments, 18th-century drawings and artwork, the mace used by King George VI when he declared Singapore a city in 1951, and the Singapore Stone (an indecipherable stone with inscriptions from the 10th century). Admission is 15 SGD.
13. Admire the street art
Singapore has some really incredible street art to admire. While none of it is spontaneous (unauthorized graffiti is illegal), it can be found all over the island. Yip Yew Chong is probably the best-known artist as he has murals everywhere from Chinatown to the East Coast. His images depict scenes from days gone by and range from small pictures to entire walls. Kampong Glam, Chinatown, and Little India all have masses of art to look at, as does the east coast, but you can find it on random buildings in most areas. Take a walking tour if you want more detail, or Art Walk Singapore has three self-guided walks outlined on their website.
14. Marvel at the rain vortex in Jewel
Located adjacent to Changi International Airport, Jewel Mall is home to the world's tallest indoor waterfall. Cascading from the roof, the water falls seven stories (around 130 feet) to the basement through a huge tiered garden. At night it is lit up for a light and music show. There's more to do at Jewel if you have time including two mazes, a canopy bridge, sky nets, slides, and a topiary walk. It's free to see the rain vortex and prices range from 5-22 SGD each for the other activities. You can get bundles that work out cheaper.
15. Explore Kampong Glam
Also known by its most popular street, Haji Lane, and as the Arab Quarter, Kampong Glam is one of Singapore's oldest neighborhoods. The shophouses here are now stores selling textiles, rugs, and Turkish homewares such as dishes and glass lamps. There are some great Arabic restaurants around here all under the shadow of the enormous golden-domed Sultan Mosque. There's some street art around here and Haji Lane has some cool eclectic shops by day and a buzzing nightlife with outdoor live music by night. If you have time, check out the Malay Heritage Center (admission is 8 SGD).
16. Get spooked at Haw Par Villa
Hands down the quirkiest thing you can do or see in Singapore, Haw Par Villa is a huge outdoor art gallery. It was built in 1937 by Aw Boon Haw, a millionaire philanthropist one of the men behind Tiger Balm, for his younger brother. Once a theme park for locals, Haw Par Villa was also used as an observation point by the Japanese army during World War II. It's filled with dioramas depicting Chinese mythology and has recently reopened after a 9-month refurbishment and renovation project. Entry to the grounds is free but the museum — called Hell's Museum as it includes an exhibit depicting the 10 Courts of Hell — is 18 SGD.
Singapore Travel Costs

Accommodation – Accommodation in Singapore isn't cheap and most dorm rooms are on the larger side, with 12-18 beds. A bed in a large dorm costs around 25-48 SGD per night, while a private room costs 60-100 SGD. Most hostels include free Wi-Fi and free breakfast.
A budget hotel room with amenities like air-conditioning, private bathrooms, free Wi-Fi, and a TV starts around 65 SGD per night. Most larger chain hotels cost at least 80-110 SGD per night.
Airbnb is available in Singapore, with private rooms starting at 25 SGD per night (though they average closer to 60 SGD). Entire homes/apartments average 85 SGD per night.
Food – As a cosmopolitan hub, Singapore has food from all over the world, however, there is an abundance of Chinese and Indian food, which is usually around 8-9 SGD per meal. Rice or noodles are usually the backbone of most meals, and popular dishes include steamed chicken, chili crab, fishhead curry, satay, and nasi lemak (coconut rice cooked in a pandan leaf). The city's hawker centers (large halls full of various food stalls) are one of the most popular and cheapest places to try Singapore's vibrant cuisine.
As for Singaporean specialties, try the seafood, which costs around 20-35 SGD for a main dish. For drinks, beer is typically 8-10 SGD, a glass of wine is about 10-16 SGD, and a cappuccino is around 5 SGD.
There are also plenty of low-cost eateries around Singapore, with street stalls typically selling food for less than 6 SGD per meal. A fast-food burger is around 8-10 SGD while sandwiches at a café are around 11-14 SGD. There are many restaurants offering a set lunch menu for around 12-16 SGD, and a dish at dinner in most casual restaurants is around 20 SGD. After that, the sky is the limit.
If you want to cook your own meals, expect to pay 95 SGD per week for basic staples like rice, noodles, vegetables, and some meat or fish.
Backpacking Singapore Suggested Budgets
If you're backpacking Singapore, expect to spend around 90 SDG per day. This budget covers staying in a hostel dorm, eating at the cheap hawker stalls and in Little India, cooking some meals, limiting your drinking, using public transportation to get around, and doing mostly free activities like walking tours and enjoying nature.
On a more mid-range budget of 175 SGD per day, you can stay in a private hostel room or Airbnb, eat out for all your meals at cheaper hawker stalls, enjoy a few drinks, take the occasional taxi to get around, and do more paid activities like visiting the zoo and the botanic gardens.
On a "luxury" budget of 300 SGD or more per day, you can eat out for all your meals, take taxis everywhere, stay in a hotel, and do whatever tours and activities you want. This is just the ground floor for luxury though. The sky is the limit!
Accommodation
Food
Transportation
Attractions
Average Daily Cost
Backpacker
35
30
10
15
90
Mid-Range
75
55
20
25
175
Singapore Travel Guide: Money-Saving Tips
Singapore isn't a super cheap destination so you'll need to tread carefully if you want to avoid blowing your budget. Here are some ways you can save money during your visit:
Take public transit – Singapore's public transit system is fast and efficient, making it the best way to get around. Unlimited travel on public transport is 10 SGD per day with a Singapore Tourist Pass. If you're staying a few days, the pass gets cheaper per day, as a two-day pass is 16 SGD and a three-day pass is 20 SGD.
Eat on Smith Street – The stalls here offer food for less than 6 SGD and are a great place to sample local snacks.
Eat cheap – Save money on food by eating in Little India, Chinatown, or the hawker stalls throughout the city. Meals in these places cost only a few dollars and are some of the tastiest around!
Stay with a local – Use Couchsurfing to stay with a local for free. You'll not only save money but you'll get to connect with someone who can share their insider tips and advice.
Stick to happy hour – Alcohol is expensive in Singapore, so limit your drinking to save money. If you do plan on drinking, stick to the happy hours.
Avoid bottled water – The tap water here is perfectly fine to drink, so avoid buying water and just refill your bottle. It will save you money and it's better for the environment! LifeStraw is my go-to brand as their bottles have built-in filters to ensure your water is always clean and safe.
Where to Stay in Singapore
Looking for budget-friendly accommodation? Here are some of my suggested places to stay in Singapore:
How to Get Around Singapore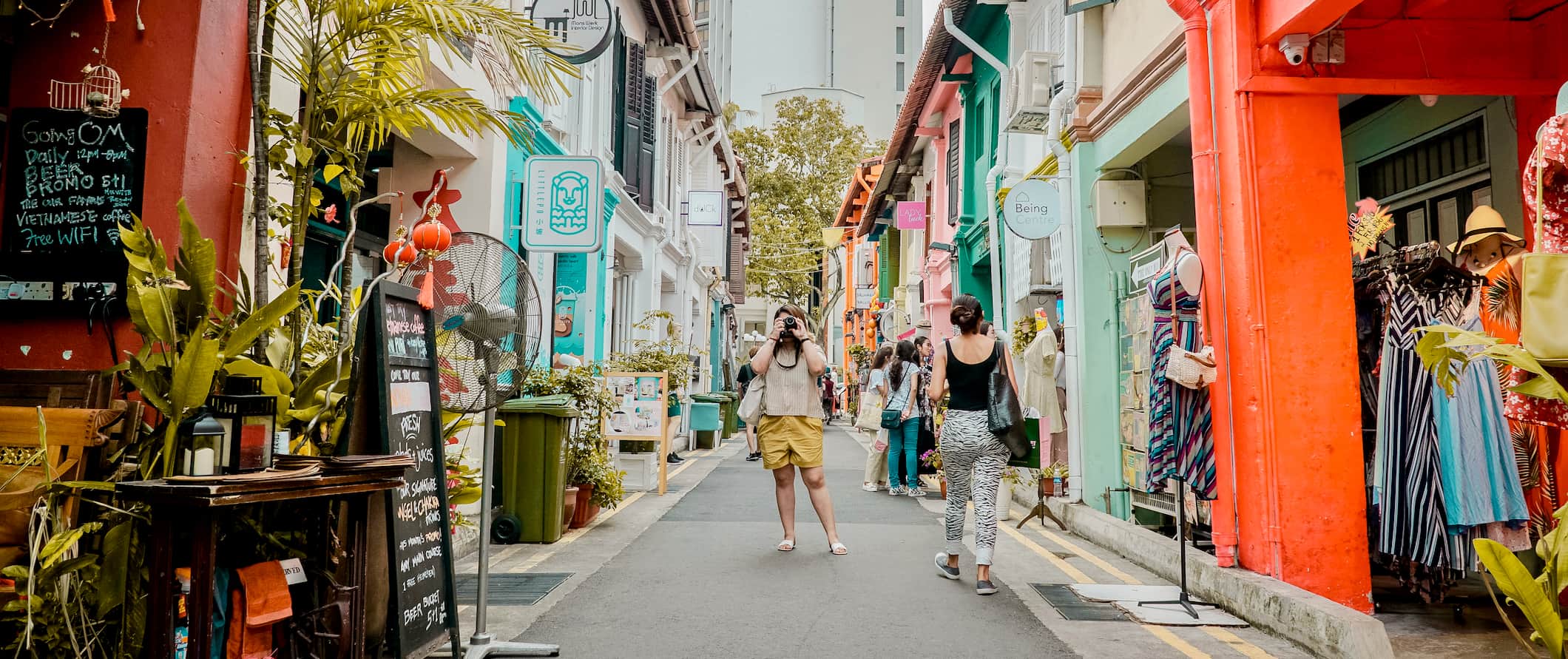 Public transportation – Singapore's Mass Rapid Transit (MRT) is the fastest way to get around. The rail network is extensive, so most of the city's main attractions are within walking distance to an MRT station. Most trips cost around 4 SGD, but you can buy a Singapore Tourist Pass with unlimited travel for one day for 10 SGD, two days for 16 SGD, or three days for 20 SGD. Note: there is a 10 SGD USD deposit that's returned if you return the card five days after purchasing it.
Like the MRT, Singapore's bus system is extensive and efficient. You can use your Singapore Tourist Pass on the buses as well. You can also pay with cash, but it has to be the exact change. A single trip costs between 1.40-2.50 SGD.
Trishaws – Trishaws (like rickshaws) are less popular these days in Singapore, and now they're largely used for guided tours that cost around 40 SGD for a 30-minute run. Trishaw Uncle is the only licensed trishaw tour operator in the city, offering various guided tours by trishaw.
Taxi – Taxis are comfortable and convenient, but they're not cheap! All cabs are metered, but there might be surcharges depending on the company and where you're going. For example, if you're hiring a taxi from midnight to 6am there is a 50% surcharge on the total metered cost, while rides in the mornings and evenings carry a 25% surcharge. Prices start at 3.20 SGD and then increase by 0.22 SGD every 400 meters. Skip them if you can!
Bike – Singapore is a cycle-friendly city, with bike paths covering the entire island. A rental The Bicycle Hut costs 45 SGD per day. You can also use the bike-sharing app, SG Bikes, which costs 1 SGD for the first 30 minutes, and then 0.03 SGD/minute.
When to Go to Singapore
It's always a good time to visit Singapore! The island is warm year-round with a tropical climate that boasts daily temperatures in the high 20s°C (80s°F). December to June is the busiest time to visit, especially during the Chinese New Year. February-April is the driest period with the most sunshine and least amount of rain.
Monsoons occur between December-March, with December usually being the rainiest month. The weather is windy, cloudy, and humid.
Late summer and early fall (July to October) are also a good time to visit if you're hoping to avoid all the tourist traffic. The weather is still pleasant, averaging around 30°C (87°F) each day, and accommodation might be a bit cheaper during this time as well.
How to Stay Safe in Singapore
Singapore is an incredibly safe place to backpack and travel — even if you're traveling solo, and even as a solo female traveler. In fact, it's one of the safest countries in the world (it's currently the 11th safest country).
Solo female travelers should feel comfortable here, though the standard precautions apply (don't walk home alone at night, don't accept drinks from strangers, etc.)
Be aware that penalties for breaking the law here are stiff. For example, you'll be fined up to 1,000 SGD for things like littering, spitting, and smoking in public. Singapore is also notoriously strict on drugs. If you're caught even with marijuana in your system you could do jail time. In short, say no to drugs here!
Scams are rare in Singapore, however, if you're worried about getting ripped off you can read about common travel scams to avoid here.
If you experience an emergency, dial 999 for assistance.
Always trust your gut instinct. If a taxi driver seems shady, stop the cab and get out. Make copies of your personal documents, including your passport and ID. Forward your itinerary along to loved ones so they'll know where you are.
If you don't do it at home, don't do it when you're in Singapore. Follow that rule and you'll be fine.
The most important piece of advice I can offer is to purchase good travel insurance. Travel insurance will protect you against illness, injury, theft, and cancellations. It's comprehensive protection in case anything goes wrong. I never go on a trip without it as I've had to use it many times in the past. You can use the widget below to find the policy right for you:
Singapore Travel Guide: The Best Booking Resources
These are my favorite companies to use when I travel. They consistently have the best deals, offer world-class customer service and great value, and overall, are better than their competitors. They are the companies I use the most and are always the starting point in my search for travel deals.
Skyscanner – Skyscanner is my favorite flight search engine. They search small websites and budget airlines that larger search sites tend to miss. They are hands down the number one place to start.
Hostelworld – This is the best hostel accommodation site out there with the largest inventory, best search interface, and widest availability.
Agoda – Other than Hostelworld, Agoda is the best hotel accommodation site for Asia.
Booking.com – The best all around booking site that constantly provides the cheapest and lowest rates. They have the widest selection of budget accommodation. In all my tests, they've always had the cheapest rates out of all the booking websites.
Get Your Guide – Get Your Guide is a huge online marketplace for tours and excursions. They have tons of tour options available in cities all around the world, including everything from cooking classes, walking tours, street art lessons, and more!
SafetyWing – Safety Wing offers convenient and affordable plans tailored to digital nomads and long-term travelers. They have cheap monthly plans, great customer service, and an easy-to-use claims process that makes it perfect for those on the road.
LifeStraw – My go-to company for reusable water bottles with built-in filters so you can ensure your drinking water is always clean and safe.
Unbound Merino – They make lightweight, durable, easy-to-clean travel clothing.
Singapore Travel Guide: Related Articles
Want more info? Check out all the articles I've written on Singapore travel and continue planning your trip: