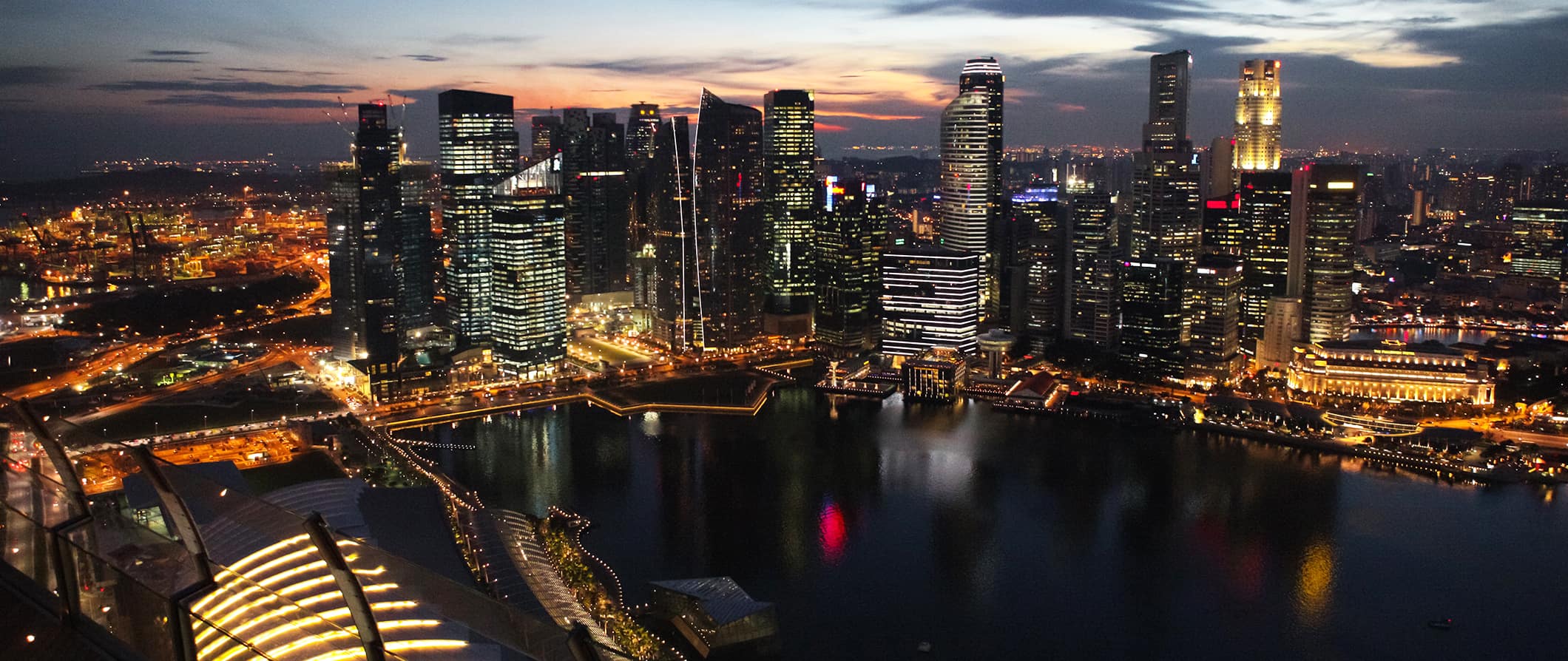 Singapore is a cosmopolitan city-state that became independent from the British in 1965 and is now one of the world's leading economic centers in shipping and banking. This place is expensive by Southeast Asian standards with everything costing about double what it does elsewhere in the region. While most people come here for a couple of days just to "do" Singapore and check it off their bucket list, over the past few years, the city has shed some of its stuffy nature and become a much more fun city. I love this city and think it deserves longer than that. There's a lot to do here from incredible tropical parks by the Malaysian border, delicious and cheap Chinese and Indian food, shopping, fun theme parks, beautiful beaches, and a world class zoo. Singapore rocks!
Top 5 Things to See and Do in Singapore
1. Eat at the Boat Quay
Boat Quay is a hive of activity and is the place to go for dining and entertainment. The alfresco pubs and restaurants also make Boat Quay ideal for relaxing after a long day of sightseeing. Be sure to bring a camera to capture the imposing skyscrapers and bizarre statues along the riverside.
2. See the supertrees at Gardens by the Bay
Located along Marina Bay, this urban landscaping project is a series of fake "supertrees". At heights of 80-160 feet, the metal structures have roughly 200 species of orchids, ferns, and other tropical plants coating their structure and forming a lush, colorful skin.
3. Hang out (and party) on Sentosa
This little island is popular with locals and tourists alike. You can visit Tiger Sky Tower (18 SGD), Asia's tallest observation tower or Universal Studios, which is also on the island too. There's also a host of bars, restaurants, and beaches here too. You have to pay to get on to Sentosa. The cost to get there on the Sentosa Express is 4 SGD.
4. Visit Singapore Zoo
This zoo is one of the best in the world. Covering an area of 70 acres, this place is huge and has a vast array of animals: over 3,600 mammals, birds, and reptiles. The zoo's night safaris are awesome. Entrance to the zoo and a night safari costs 71 SGD. There's no restaurants around here and, since you have to wait for the night safari to begin, you get stuck eating the overpriced zoo food. See the zoo in the morning and come back at night for the safari.
5. Hang with the Merlions
You are sure to see statues of these imaginary creatures dotted about Singapore. The Merlion is Singapore's mascot and has the head of a lion and the body of a fish. The original statute (and most impressive Merlion) can be found in Merlion Park with the 37-meter tall replica on Sentosa also pretty cool to see.
Other Things to See and Do
(Click the title to expand the text)
1. Admire Thian Hock Keng Temple
Stunning architecture makes Thian Hock Keng one of the most photogenic buildings you're likely to see in Singapore. The temple was built in 1840 and made from the finest materials available at the time. The temple was designated as a national monument in 1973. It's open daily from 7.30am-5.30pm.
2. Explore Bukit Timah Nature Reserve
Bukit Timah is located within Singapore's only remaining stretch of rainforest, and is the country's premier ecotourism attraction. You" find macaques, squirrels, flying lemurs, and various species of birds. The reserve is 30 minutes from the city center and is open Saturdays and Sundays from 7am-7pm.
3. Wander around Chinatown
Chinatown encompasses two square kilometers of traditional Chinese life, nestled beside the modern Central Business District. This remains the place to get a real sense of Chinese culture within Singapore. The streets are filled with temples, craft shops, stalls, and restaurants and are a great place to pick up a bargain.
4. Take a trip to Pulau Ubin
This island lies off the northeastern coast. It's incredibly different from the modern city — locals still use a diesel generator for electricity and fetch water from wells. Rent a bike and explore sights, villages, and beaches of this island. Very few tourists make it out this way!!
5. Relax in the Singapore Botanic Gardens
The Botanic Gardens lie close to the city and consist of 52 hectares of gardens and forest. The main attraction is the National Orchid Garden, which is home to over 1,000 species of orchids. There is also a ginger garden, rainforest, and various streams and waterfalls to explore.
6. Eat in Little India
No trip to Singapore is complete without a visit to Little India. Here you can get amazing, cheap and delicious food, fresh vegetables, and interesting snacks and souvenirs. Make sure you eat at the giant cafeteria restaurants and don't be afraid to eat with your hands!
7. Learn about Singapore's History
For a more cultural experience, visit the former British naval base of Fort Siloso. It's the only preserved fort on the coast of Singapore and provides a fantastic look into the city-state's complicated history. It's a well-constructed, interactive attraction. Entry is 6 SGD. It's open daily from 10am-6pm.
8. Visit Sri Mariamman Temple
This extremely colorful, ornate temple is the oldest Hindu temple in Singapore. It was constructed in what is known as the Dravidian style and lies in the Chinatown. It's open daily from 7am-12pm and 6pm-9pm.
9. Watch a free concert
The Singapore Symphony Orchestra hosts various free concerts at different venues around the country. Check their website for details.
10. Visit the MacRitchie Reservoir Park
This beautiful and lush city park has an eight-kilometer treetop hike, with bridges suspended high above the forest floor. It's one of the best nature things to do in the country.