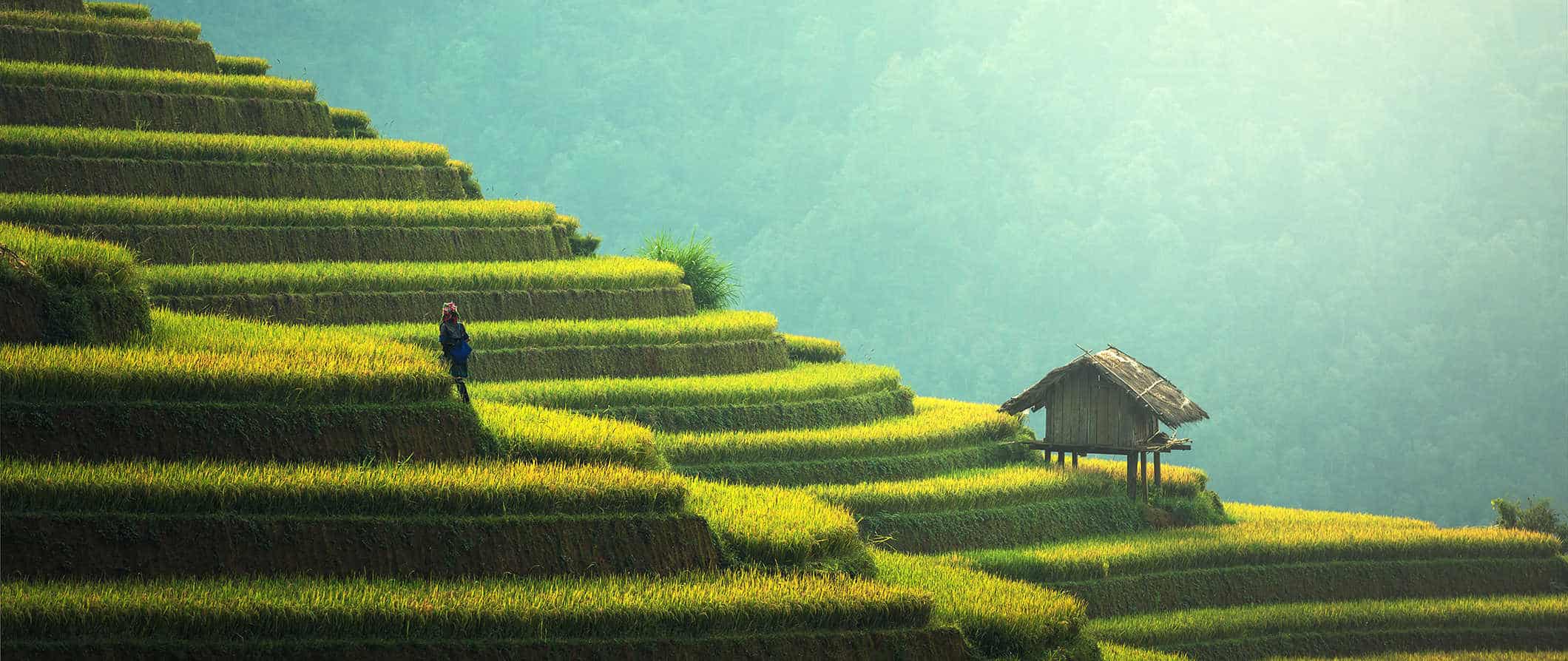 The backpacking trail through Southeast Asia is well worn. People have been traveling it since the 1970s. Starting in beautiful Thailand, the trail makes its way to up-and-coming Laos, through Vietnam, and through the temples of Angkor Wat. It then heads back into Thailand, where people head south to party in the Thai Islands before moving down to into Malaysia and Singapore. There are a few variations on the trail but this is what it mostly covers. The warm months of November-April draw the biggest crowds. Everyone is escaping the cold in Europe, and it's not too hot in the region. Despite the vastness of the region, the tourist trail is much more uniform in many ways than Europe. Prices can be quite similar in places, transportation types don't vary too much, and general travel advice is usually the same. This guide will tell you where to go in Southeast Asia, and give you the tips you need, to have an amazing trip.
—–> Download my comprehensive 172 page guide to traveling Thailand on a budget <—–
Top 5 Things to See and Do in Southeast Asia
1. Admire Angkor Wat
One of the greatest human creations in history, the Angkor Wat temple complex is best done over the course of a few days. Even if you don't like temples, the place is still amazing to see as it's a testament to the genius of humanity. I spent three days here and that simply wasn't enough. It's beautiful here.
2. Explore Bangkok
Bangkok
is the hub of travel activity for Southeast Asia. You'll be able to get anywhere you want from here, experience amazing food, find cheap shopping deals, and experience a great nightlife that will keep you up until dawn. I hated it when I first went, but after a few days, I saw just how amazing this city was.
3. Situate yourself on some tropical islands
There's more tropical islands in this part of the world than can be named. You have some of the best in the world here, places here you can lie on the beach, soak up some sun, and cool off in azure blue water. Some of the best: Perhentian Islands (Malaysia), Rabbit Island (Cambodia), Ko Lanta (Thailand), Ko Chang (Thailand), Ko Tarutao National Park (Thailand).
4. See Halong Bay
A few hours outside of Hanoi, Halong Bay is the inside passage of Asia. An island filled bay, sailing trips out here give you an appreciation for the natural beauty in Vietnam. Watch out for scams – make sure you go with a reputable company. Paying more is worth it. Cheaper is not better here.
5. Visit Kuala Lumpur
If you're in the area, be sure to spend a few nights in Malaysia's capital,
Kuala Lumpur
. The Petronas Twin Towers are a must-see, and if you don't mind heights, you should walk across the bridge connecting the two. They stand an awesome 1,500 feet tall! There is a decent bird zoo in the city, and a few parks also worth seeing.
Other Things to See and Do
There is a lot to do in Southeast Asia and trying to list everything on a continent would be too difficult to do. Below are some of my favorite activities. Clicking on the city and country links in this article will help you branch off and get more details.
(Click the title to expand the text)
1. Go jungle trekking
No matter where you do it, jungle trekking is a must for any traveler. The area is covered in amazing jungles with a diverse wildlife. Some of the best treks are in Laos and Malaysia, though the ones in Thailand are the most convenient.
2. Attend the Full Moon Party
The biggest one-night party in the world can sometimes see up to 30,000 people. Party until dawn covered in glow paint and dance the night away with new friends on the island of Ko Phangan in Thailand.
3. Learn to dive
There are many great dive sites around the region. Learn to dive here at a fraction of what it would cost back home. Some of the best places are Ko Tao (Thailand), Sipidan (Malaysia), as well as Indonesia and the Philippines.
4. Eat in Singapore
Thought Thailand had great food? Try the hawker stalls of Singapore for great eats. Don't forget to also visit Little India and Chinatown. They have some of the best and cheapest food in Asia!
5. Get your temple overload
There's a lot of everything in Southeast Asia – lots of food, islands, clothes, drinking, and lots of temples. You can't turn a corner without seeing another temple. You'll get temple overload at some point, but visit as many as you can as each is unique to the country and region of the temple.
6. Dive Sipidan
Located off Malayasian Borneo, Sipidan is one of the best dives sites in the world. If you have your dive certificate, make sure you venture out here. Not a lot of people make it to this part of Malaysia but there's a lot to see here besides diving. Go the extra mile, and make your way off the tourist trail a bit.
7. Fall in love with Bali
Bali is the most popular destination in Indonesia. It's famous Kuta beach (overrated) and is known for its parties and surfing. However, there is much more to Bali than just wild nights and sun-soaked days. Many beaches are great for families, while the rice terraces in the center will show you what green really is, and Ubud is an artistic town with great food and traditional dancing.
8. Take in Ho Chi Minh City
Frantic, chaotic, and crazy, Ho Chi Minh City in Vietnam is the embodiment of the controlled chaos that rules Southeast Asia. You can't quite figure out how this teeming mass of people and cars work together, but it does.
9. See sunrise over an Indonesian Volcano
One of the most popular tourist attractions on Java is Mount Bromo and its National Park. You'll not want to miss out on getting a snap of the smoldering Bromo volcano as it lies surrounded by the almost lunar landscape of the Sea of Sand. If you're there in mid-August, you'll be just in time to see Upacara Kasodo, the monthly ritual which the Tenggerese take part in. Get up early to catch one of the most memorable sunrises of your life.
10. Visit Khao Sok National Park
Located in the south of Thailand, Khao Sok National Park is constantly rated as one of the best in Thailand, with incredible trekking, camping, limestone karsts, cooling rivers, and a glistening lake. You'll find semi-challenging hikes, tons of wildlife, walking paths, and incredible sunsets. Park entrance costs 200 THB.
11. Visit Kampot
Most people come to Kampot to enjoy the scenic riverside views, as well as the rolling hills that surround the city. Since you can explore easily enough on foot or by bicycle, Kampot is a great place to slow down and relax. Don't miss the pepper farms, the mangroves, and the national park.