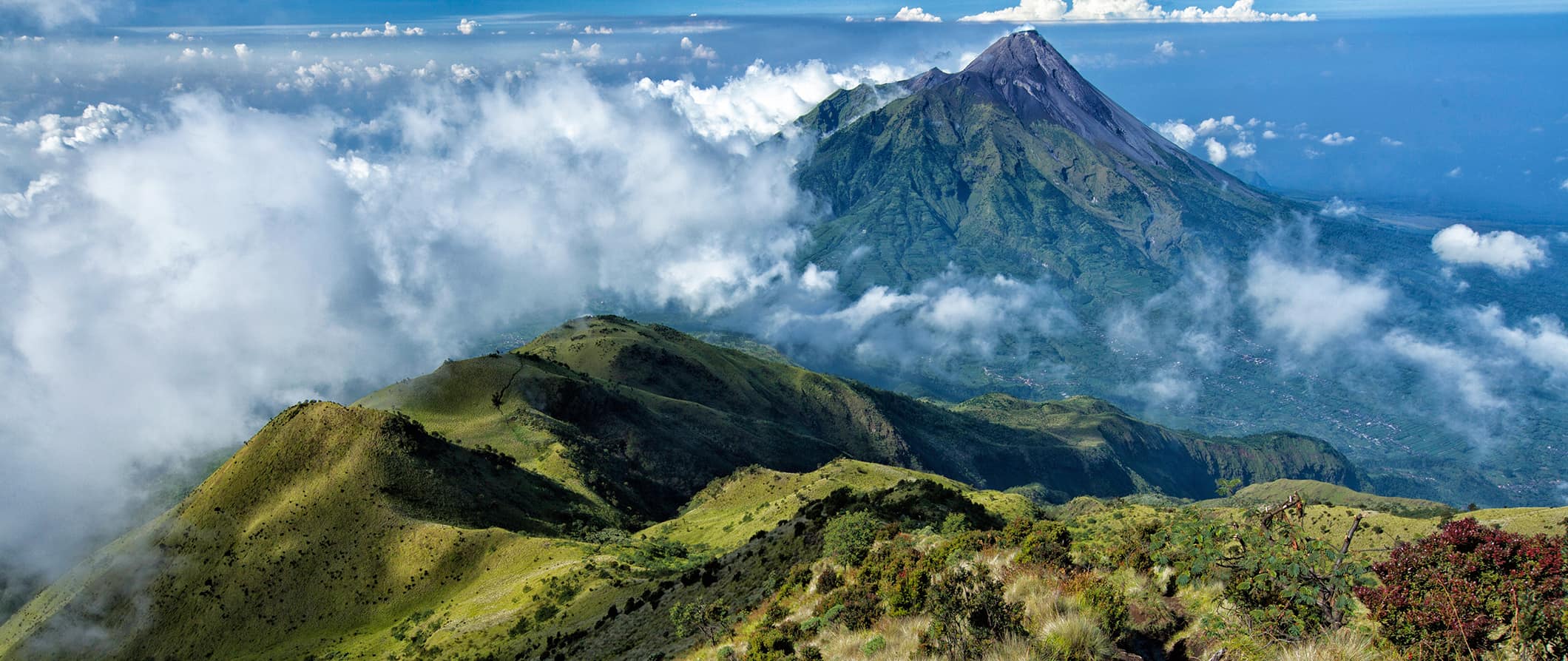 With over 17,000 islands, Indonesia is the world's largest island country. It's also one of the most populous countries in the world, home to over 261 million people.
With extremely inexpensive local food and reasonably-priced accommodation, it's no wonder Indonesia is a popular destination among so many travelers.
Backpacking Indonesia can take months to do because there is just so much to see and do here: hectic and chaotic cityscapes, cool white sand beaches, and raucous volcanoes. Most backpackers spend two or three months traveling around Indonesia trying to see as much as possible.
If you're visiting for a shorter amount of time, don't worry! You don't need a lot of time to see the main islands of Lombok, Bali, and Java.
While most travelers fly to Bali, visit the Gili Islands or head to Lombok, I encourage you to try to get to the less touristy destinations and off the beaten path more. Find dragons in Lombok, go hiking, see the historic ruins of on Java, go to Sumatra! There's so much to this country. You just need to be willing to get out there and find it!
Use this Indonesia travel guide to plan an excellent trip there, learn what to see and do, how to save money, costs, and everything you need to know about visiting the country!
Click Here for City Guides

Indonesia
Top 5 Things to See and Do in Indonesia
1. Relax in Bali
Bali is probably the most famous of Indonesia's islands. Although often crowded with travelers, there is no escaping the fact that this place is beautiful. Try some surfing at Bingin Beach or visit the Pura Besakih, the Mother Temple, which is a truly stunning building. Make sure you see some
traditional Balinese dancing
in Ubud.
2. Dive in the Gili Islands
For a true sense of an island paradise, head to the
Gili Islands
. You won't find any cars on these islands; bike travel or horse and cart are the ways to see all that Gili has to offer. You'll find excellent scuba and snorkel facilities, as well as nightlife, on the party island of Gili Trawangan. A single-tank dive will cost around 500,000 IDR.
3. Amaze yourself in Borobudur
Borobudur
is a huge Buddhist temple complex dating from the 9th century, making it older than Cambodia's Angkor Wat. As you walk to the top you'll see reliefs meant to highlight Buddhist teachings. It is said you can't move on to the top until you discovered the meaning of each relief. Admission for foreign adults is around 275,000 IDR ($20 USD).
4. See Komodo dragons
The subject of more nature documentaries than pretty much any other lizard, the Komodo dragon is a force to be reckoned with. Komodo National Park is the only place to see the world's largest lizard in the wild. Admission is 150,000 IDR ($11 USD) during the week, with prices rising to 225,000 IDR ($16 USD) on Sundays and holidays.
5. Bromo-Tengger-Semeru National Park
You'll not want to miss out on getting a snap of the smoldering Bromo volcano as it lies surrounded by the almost lunar landscape of the Sea of Sand. If you're there in mid-August, you'll be just in time to see Upacara Kasodo, the monthly ritual which the Tenggerese take part in. Get up early to catch one of the most memorable sunrises of your life.
Other Things to See and Do in Indonesia
1. Explore Hindi Prambanan
This is the crowning glory of Hindu temples and was built in the 10th century. At 150ft, the main temple is actually taller than Borobudur. This is an architecturally impressive site, so chances are you'll spend more time taking pictures than you will take admiring the ancient statues. Don't forget to put down the camera and enjoy the view with your own eyes. Admission is around 240,000 IDR ($17 USD) for foreign adults, and 120,000 IDR ($9 USD) for children.
2. Jakarta
Indonesia's capital is a large, bustling city with a population of over 10 million. For a moment of calm, people-watch from one of the cafes overlooking Fatahillah Square in the Old Batavia, the Dutch quarter, where you can take in the historic architecture. In terms of nightlife and eateries, you'll be spoiled for choice in Jakarta.
3. Snorkel or dive in Bunaken
The Bunaken National Marine Park is where you'll want to go if diving or snorkeling is your thing. These deep waters offer fantastic visibility and some of the world's most biodiverse marine life. Keep an eye out for tuna, sharks, rays, turtles, and sea snakes. Entry to the marine park is 50,000 IDR ($4 USD) per person, though children under 10 enter free.
4. Have a spa day
When you are in a place like this, it only seems right to treat your body to some probably much needed, deep pampering treatments. Getting a massage is basically a given, but why not do it on a beach. Body wraps, facials, manicures, and pedicures are also a nice bonus. Prices will vary but expect to pay at least 270,000 IDR ($20 USD).
5. Broaden your taste buds
With such a mass amount of islands composing Indonesia, there is a huge number of different cuisines to try. Don't get stuck eating the same thing over and over again. Javanese, Sundanese, Padang, and Balinese food are just a few different preparations to get excited about.
6. Visit Yogyakarta
Known as Yogya for short, this city is considered to be the main tourist city of Java. There is an interesting blend of old customs with modern living here and a certain artistic and intellectual presence hangs in the air. There are a number of restaurants, clubs, shopping areas, historical sights, and museums to check out.
7. Shop in Denpasar
This is the capital of Bali and essentially the central spot of development and financial growth on the island for the past two decades. It is heavily populated and there are a number of shops to see as well as an arts center and the Museum Negeri Propinsi Bali.
8. See the orangutans in Sumatra
A mysterious and very human creature, the orangutan finds its habitat on the Indonesian island of Sumatra. A visit to see these primates is a moving experience. And, given the rapid deforestation and fires in the area, you probably want to do this sooner rather than later as these animals are gravely endangered.
9. Explore village life in Kalibaru
Kalibaru is a small village on the southeastern side of Java. It's quiet, secluded, and a great place to tour a local cacao plantation or one of the many other types of plantations in the area on your way to or from Bali.
10. Bogor Botanical Gardens
65km outside of hectic Jakarta, lie the Bogor Botanical Gardens. With over 200 acres of land and 15,000 species of plants and trees, the gardens are a lovely spot in which to lose yourself for a couple of hours. Admission is around 13,000 IDR ($1 USD).
Be sure to visit our Indonesia travel guides for more detailed information about what to see and do in each place:
Indonesia Travel Costs
Accommodation – Hostels usually cost around 120,000 IDR ($8.50 USD) for a dorm. For a private double, prices start around 200,000 IDR ($14 USD). Free WiFi and free breakfast are quite common. Generally, prices will be significantly lower outside of the major cities.
Most budget hotels begin at 200,000 IDR ($14 USD) per night for a double room. This will usually include free WiFi and breakfast. For a chain hotel, prices begin around 400,000 IDR ($28 USD) per night. Airbnb is also widespread, with shared accommodation averaging around 400,000 IDR ($28 USD) per night and entire apartments, expect to pay at least 400,000 IDR ($28 USD) per night.
Since hostels and homestays are so cheap, camping is not very common unless you're on a trek.
Food – Local food is extremely cheap, with street food costing under 10,000 IDR ($0.70 USD). For an inexpensive meal at a local restaurant, prices start around 14,000 IDR ($1 USD). For a meal at a mid-range restaurant for a nicer meal, drinks, and table service, expect to pay as much as 80,000 IDR ($6 USD). Western food is much more expensive but is still relatively affordable at around 125,000 IDR ($9 USD) for a meal and drink.
Fast food will cost around 45,000 IDR ($3.20 USD). A beer at the bar will cost around 30,000 IDR ($2.10 USD) while a week's worth of groceries will cost between 300,000-400,000 IDR ($21-28 USD). (However, food in the country is very cheap and I would encourage you to eat out as often as possible as kitchens are hard to come by!
Activities – Attractions are not hugely expensive. You'll pay around 220,000 IDR ($15.50 USD) for entrance into Bromo-Tengger-Semeru National Park and the same for Bunaken. Borobudur costs 275,000 IDR ($19 USD). The famous Mt. Batur hike is between 500,000-900,000 IDR ($35-65 USD).
Backpacking Indonesia Suggested Budgets
How much does it cost to visit Indonesia? If you're backpacking, plan to budget 400,000-670,000 IDR ($30-50 USD) per day. On this budget, you can eat street food or meals at local restaurants, stay in hostel dorms, use public transportation, and pay for entry fees to the national parks. Indonesia is super affordable so it's hard to spend a lot of money here if you stick to cheap accommodation, local food, free activities, and don't go overboard on the drinks!
For a mid-range budget of about 990,155 IDR ($70 USD) per day in Indonesia, you can stay in a private hostel room or 2-star budget hotels, eat at nicer restaurants that serve Western meals, travel longer distances, fly a bi, and participate in more tours every so often. You won't live large but you won't be going super cheap either!
On a luxury budget, you can spend 3,300,000+ IDR ($230+ USD) or more per day. On this budget, you can stay in fancy hotels, eat at the top restaurants, drink anything you want and take higher-end diving or day tours. Indonesia (and especially Bali) does luxury really well so the sky is the limit!
The table below can give you an idea of average daily spending:
Accommodation
Food
Transportation
Attractions
Average Daily Cost
Backpacker
$10
$5
$5
$10-20
$30-50
Mid-Range
$15
$10
$10
$35
$70
Luxury
$100+
$30
$35
$65
$230+
Indonesia Travel Guide: Money Saving Tips
While Indonesia is super cheap, here are some specific ways you can save money while you travel around Indonesia:
Eat on the street – You can pick up tasty local fare for under 10,000 IDR ($0.70 USD). Street side snacks, soups, and noodles will keep your wallet fat and your belly full! Markets are your best bet for finding seriously cheap food.
Bargain hard – Nothing is ever at face value in Indonesia. Bargain with sellers as most of the time the price they've quoted will not be the price you'll pay if you bargain!
Drink cheap – Save money on alcohol by heading to the local happy hours (or just buying your drinks at a local store instead). This will be the cheapest way to drink!
Take the free shuttles – While taxis are affordable, pretty much every accommodation will offer free airport transfers. Take advantage of these and save yourself some money.
Where To Stay in Indonesia
Looking for a place to stay during your trip? Here are some of my favorite places to stay in Indonesia:
How to Get Around Indonesia
Public Transportation – Public buses aren't really used for city transport except on Java – there's an extensive network in Jakarta, known as the Transjakarta Busway. Fares cost 3,500-9,000 IDR ($0.25-0.65 USD) for any destination in the network. You have to pay with a card that costs 40,000 IDR/$3 USD (it comes with a 20,000 RP credit) from station ticketing offices.
Otherwise, most people get around by becak – a three-wheeled pedal or motor-powered cart. You'll want to negotiate your fare before you get in, but 5,000 IDR ($0.36 USD) per kilometer is a reasonable rate to ask for.
Taxis are also affordable, and they're metered in major cities. Bluebird Taxis is available in most places, and they're the most dependable company for metered taxis and English-speaking drivers. There's a smartphone app that makes it really easy to order taxis. The starting rate is around 7,000 IDR ($0.50 USD) and then 4,100 IDR ($0.30 USD) per kilometer.
Grab (an Uber offspring) is a household name in Southeast Asia. It, too, is convenient, but it sometimes costs even more than a taxi. Gojek in Indonesia is a similar option. Be forewarned: If you order a Grab or Gojek, you might wind up on the back of a motorbike!
Ferry – For traveling between islands, ferries cost around 7,000 IDR/$0.50 USD (and up) for a ticket from East Java to West Bali, and the rates go up from there for other routes. Bali (Padang Bai) to Lombok is about $5 (one way), while Bali to the Gili Islands is $30 (one way) on a speedboat.
While it's not necessary to book in advance it's a good idea during peak season or one more popular routes. You can buy tickets on the ferry company's website or via a ticket agent like 12go.asia.
Bus – Buses are the main way for locals and tourists to get around Indonesia. It's a good idea to book your long-distance tickets in advance, especially if you want an air-conditioned ride. You can buy a ticket from a travel agent, or visit the bus terminal. Your accommodation will likely also be able to arrange your transportation. Otherwise, 12go.asia is a reliable way to find bus schedules and prices.
An eight-hour journey on a bus costs around 70,000 IDR ($5 USD). Overnight buses will start at around 130,000 IDR ($9.20 USD). A short journey, like Kuta Beach to Ubud, is just 83,685 IDR ($6 USD) for one hour.
If your ride is a shorter one, you might end up on a bemos (mini-bus). In this case, negotiate your fare beforehand.
Flying – Garuda Indonesia is the country's main airline offering international service as well as domestic flights. Lion Air and AirAsia also offer plenty of domestic routes, although Lion Air's safety record is spotty and I wouldn't advise traveling with them.
Flights between Jakarta and Bali start around 697,365 IDR ($50 USD) each way, while Jakarta to Lombok starts around 836,835 IDR ($60 USD). Lombok to Bali starts from just 251,050 IDR ($18 USD). However, this isn't the cheapest way to travel – it's only recommended if you have limited time.
Train – In Indonesia, the cities of Java are well linked by train, including Jakarta, Bandung, Surabaya, Probolinggo (for Mount Bromo), and Banyuwangi (the ferry terminal for Bali). Economy class to Jakarta to Surabaya takes 15 hours and costs about 104,000 IDR ($7 USD), while a 9-hour executive class trip can cost up to 1,250,000 IDR ($90 USD). Surabaya to Probolinggo (for Mount Bromo) takes 2-3 hours and costs 29,000 IDR ($2 USD) for economy or 150,000 IDR ($11 USD) for executive class. Surabaya to Banyuwangi (for Bali) takes 6-7 hours and costs as little as 56,000 IDR ($4 USD) for economy or 190,000 IDR ($13.50 USD) for executive class. You can reserve your tickets at tiket.com.
Hitchhike – While many people do hitchhike here, I wouldn't recommend it.
When to Go to Indonesia
Indonesia has just two seasons: wet and dry. Dry season lasts from May to September, while the rain season occurs from October to April. The average daily temperature year-round is 80°F (28°C).
A few regions slightly differ with their seasons. For example, on Sumatra, it's rainy from October to January in the north, but from November to February in the south. The northern part of Sulawesi also can get a lot of rain during June and July.
Overall, the best time of year to visit is between May and September when it's dry and sunny. It's still pleasant to visit during the rainy season – rainfall usually comes as fast and intense downpours that only last a few hours. In Bali, the extremes between seasons aren't drastic. Dry season is the best time to climb the volcanoes, and the best time to dive is from April to September.
How to Stay Safe in Indonesia
Indonesia is an incredibly safe place to backpack and travel — even if you're traveling solo (and even as a solo female traveler). Violent crimes here are rare. Petty theft (including bag snatching) is the most common type of crime in Indonesia. Theft is also very common on public transit in Indonesia. It's easy for thieves to grab your wallet or purse when you're distracted by all the chaos around you. Stay alert and secure your valuables. That will be the best way to prevent petty theft.
Credit card fraud is also common in Indonesia. To avoid this, it's always best to pay with cash when possible. And to avoid getting your information stolen at an ATM, enter a reputable bank to withdraw money from there.
When in doubt, always trust your gut instinct. If a taxi driver seems shady, stop the cab and get out. If your hotel is seedier than you thought, get out of there. Make copies of your personal documents, including your passport and ID. Forward your itinerary along to loved ones so they'll know where you are.
Generally speaking, if you don't do it at home, don't do it when you're in Indonesia. Follow that rule and you'll be fine.
Worried about travel scams? Read about these 14 Major Travel Scams to Avoid and be in the know! There aren't many in the region but the few there are can be quite expensive!
The most important piece of advice I can offer is to purchase good travel insurance. Travel insurance will protect you against illness, injury, theft, and cancellations. It's comprehensive protection in case anything goes wrong. I never go on a trip without it as I've had to use it many times in the past. You can use the widget below to find the policy right for you:
Indonesia Travel Guide: The Best Booking Resources
These are my favorite companies to use when I travel to Indonesia. They are included here because they consistently find deals, offer world-class customer service and great value, and overall, are better than their competitors. They are the ones I use the most and are always the starting points in my search for travel deals.
Indonesia Gear and Packing Guide
If you're heading to Indonesia, here are my suggestions for the best travel backpack and tips on what to pack.
The Best Backpack for Indonesia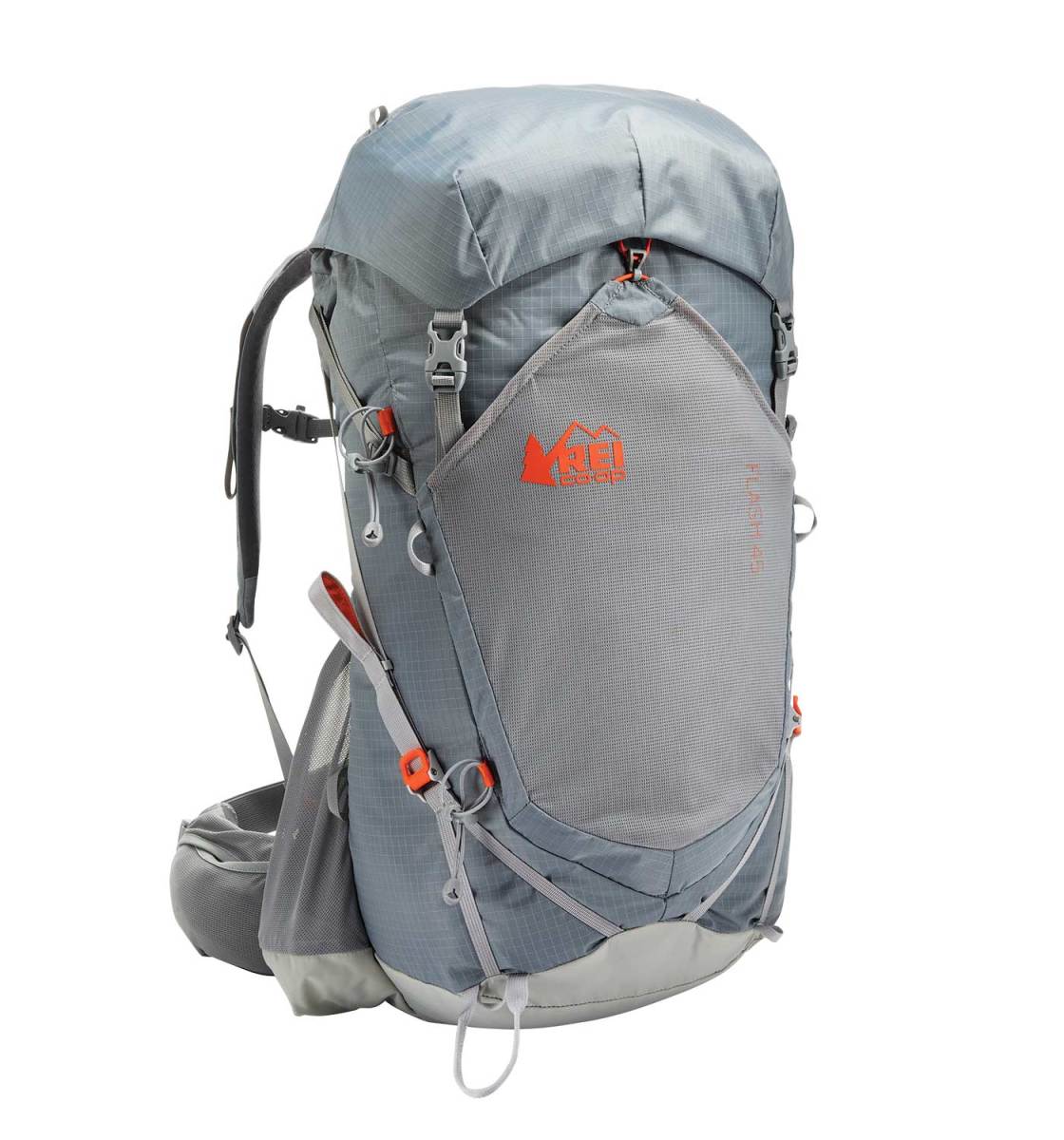 What's the best backpack for traveling around Indonesia? I recommend the
REI Flash 45 Pack
. It's light and comfy, front loading, and fits perfectly in an airplane's overhead bin.
Size:
45-47L
Straps:
Thick and cushy with compression technology that pulls the pack's load up and inwards so it doesn't feel as heavy.
Features:
Removable top lid, large pocket at the front, hydration compatible, contoured hip belt
If you want something different, refer to my article on how to choose the best travel backpack for other backpack suggestions.
What to Pack for Indonesia
Clothes
1 pair of jeans (heavy and not easily dried, but I like them; a good alternative is khaki pants)
1 pair of shorts
1 bathing suit
5 T-shirts
1 long-sleeved T-shirt
1 pair of flip-flops
1 pair of sneakers
6 pairs of socks (I always end up losing half)
5 pairs of boxer shorts (I'm not a briefs guy!)
1 toothbrush
1 tube of toothpaste
1 razor
1 package of dental floss
1 small bottle of shampoo
1 small bottle of shower gel
1 towel
Deodorant
Small Medical Kit (safety is important!!!)
Miscellaneous
Female Travel Packing List
I'm not a woman so I don't know what a woman wears, but Kristin Addis, our solo female travel guru, wrote this list as an addition to the basics above:
Clothing
1 swimsuit
1 sarong
1 pair of stretchy jeans (they wash and dry easily)
1 pair of leggings (if it's cold, they can go under your jeans, otherwise with a dress or shirt)
2-3 long-sleeve tops
2-3 T-shirts
3-4 spaghetti tops
1 light cardigan
Toiletries
1 dry shampoo spray & talc powder (keeps long hair grease free in between washes)
1 hairbrush
Makeup you use
Hair bands & hair clips
Feminine hygiene products (you can opt to buy there too, but I prefer not to count on it, and most people have their preferred products)
For more on packing, check out these posts:
My Must Have Guides for Traveling to Indonesia
Indonesia Travel Guide: Related Articles
Want more info? Check out all the articles I've written on Indonesia travel and continue planning your trip:
Photo credits: 5