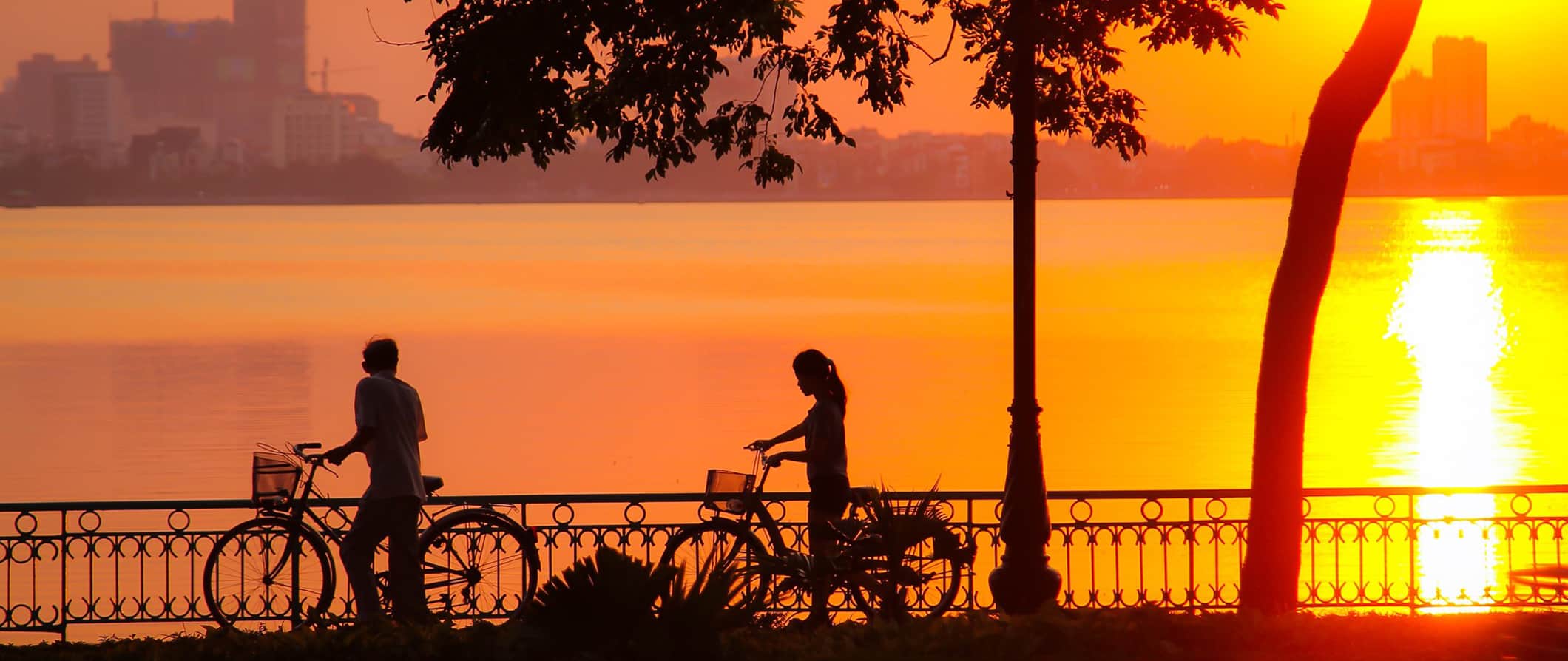 Vietnam's capital has shrugged off its hostile war-torn image to emerge as one of Southeast Asia's best and most culturally significant cities. There are countless museums, all offering visitors a chance to better understand Vietnam's history of revolution, war, and art, while the tangled web of streets in the historic Old Quarter are a great place to wander around. It's a perfect launching pad for trips to Sapa and Halong Bay. Overall, I enjoyed the city and its delicious mix of French colonial architecture.
Top 5 Things to See and Do in Hanoi
1. Wander around the Old Quarter
The Old Quarter's 2,000-year-old streets are a web of shopping opportunities and cheap eateries. Gold and silver jewelry, clothes, cosmetics and even musical instruments can all be bought here alongside a myriad of other goods. There's also a lot of fascinating old worn French architecture around and you can still see the strong French influence in the area.
2. Visit the Temple of Literature
Built in 1070, the Van Mieu temple is a great example of traditional Vietnamese architecture and is one of the oldest structures in the country. Originally dedicated to Confucius, you can wander the five courtyards decorated and see the stelae mark with the first diplomas for the university's doctorate students. Entrance is 30,000 VND per person.
3. Visit the Vietnam National Museum of Fine Arts
The Fine Arts Museum is a must-see if you are interested in the various styles of Vietnamese art. There are fantastic exhibits of Buddhist art, folk art and silk and lacquer paintings but the museum's most impressive feature is Kouan Yin, the goddess of mercy who is depicted with a thousand arms and eyes. Admission is 30,000 VND per person.
4. Wander around Hoan Kiem Lake
Get here early in the morning to watch throngs of people practicing Tai Chi, running, cycling and walking before their working day begins. In the center of the lake is the Tortoise Pagoda, a shrine to the famous giant turtles that live in the lake. The lake is very beautiful and there is a temple worth visiting on the north end of the lake.
5. Ho Chi Minh Museum & Mausoleum
Ho Chi Minh was the founder of Vietnam's communist state. He lies in state at this grey concrete mausoleum, which is not far from the museum dedicated to his life and belongings and the house he used to live in. You're able to walk through and see his embalmed body when it is not being repaired in Moscow.
Other Things to See and Do
(Click the title to expand the text)
1. See Quan Su Pagoda
As the headquarters for the Vietnam Central Buddhist Congregation, Quan Su is one of the most important temples in the country. If you're going to visit any of Vietnam's pagodas, this 15th-century one is the one you should see. Admission is free, though donations are accepted.
2. Visit One Pillar Pagoda
Built in 1049, One-Pillar Pagoda sits on stilts over a lake and is a miniature reproduction of the original temple built by the Ly Dynasty. A prayer at this little wooden pagoda is said to bring fertility and good health.
3. Watch a water puppet show
Water Puppetry as an art form dates back over a millennium in Vietnam. Near the lake, you can take in a show at the Water Puppet Theatre. Puppets are carved from wood, and the shows are performed in a waist-deep pool, which makes the puppets look like they're walking in water. This is a very unique and worthwhile cultural experience. Admission is 100,000 VND for adults and 60,000 VND for children.
4. Tour Hoa Lo Prison
U.S. POWs named Hao Lo "the Hanoi Hilton" and this is where many U.S. soldiers were tortured. Sen. John McCain from Arizona is its most famous prisoner. What remains of the building is a small museum, complete with the guillotine used to execute detainees. Again, morbid but interesting. The entrance fee is 10,000 VND per person.
5. Shop at Dong Xuan Market
Hanoi's oldest market is located in the Old Quarter. The market is multi-storied and sells everything you could ever expect, especially a lot of knock-offs. The market is a bit of a Hanoi institution and probably the best place for low-cost shopping in the city.
6. Go to the Army Museum
References to Vietnam's tumultuous history of combat are everywhere in Hanoi and a visit to the Army Museum is a good way to bring it all together. The museum has an excellent collection of planes, tanks and guns supplied by the Chinese and Soviet armies, alongside dozens of captured French and US made war machinery. Admission is 20,000 VND per person.
7. Learn some women's history
The problem with written history is that so much of it revolves around men, and female contributions tend to fall to the wayside. The Vietnam Women's Museum tries to turn this around with exhibits about the history and daily lives of women in Vietnamese society. There is some great material to encounter here, as well as some video interviews that will give you better insight into the life of a female street vendor. Admission is 30,000 VND.
8. Explore the Museum of Ethnology
The Vietnamese Museum of Ethnology is a multipurpose institution, serving as both a research facility and a public museum. It contains exhibits on the different ethnic groups which reside in the country and will give you a much better understanding of Vietnamese history. Admission is 40,000 VND for adults with discounts available for children and students.
9. National Museum of Vietnamese History
This museum has a collection of antiques (and some replicas) dating from around 1000CE all the way to 1945. Admission is 15,000 VND for adults, with discounts available for students and children.