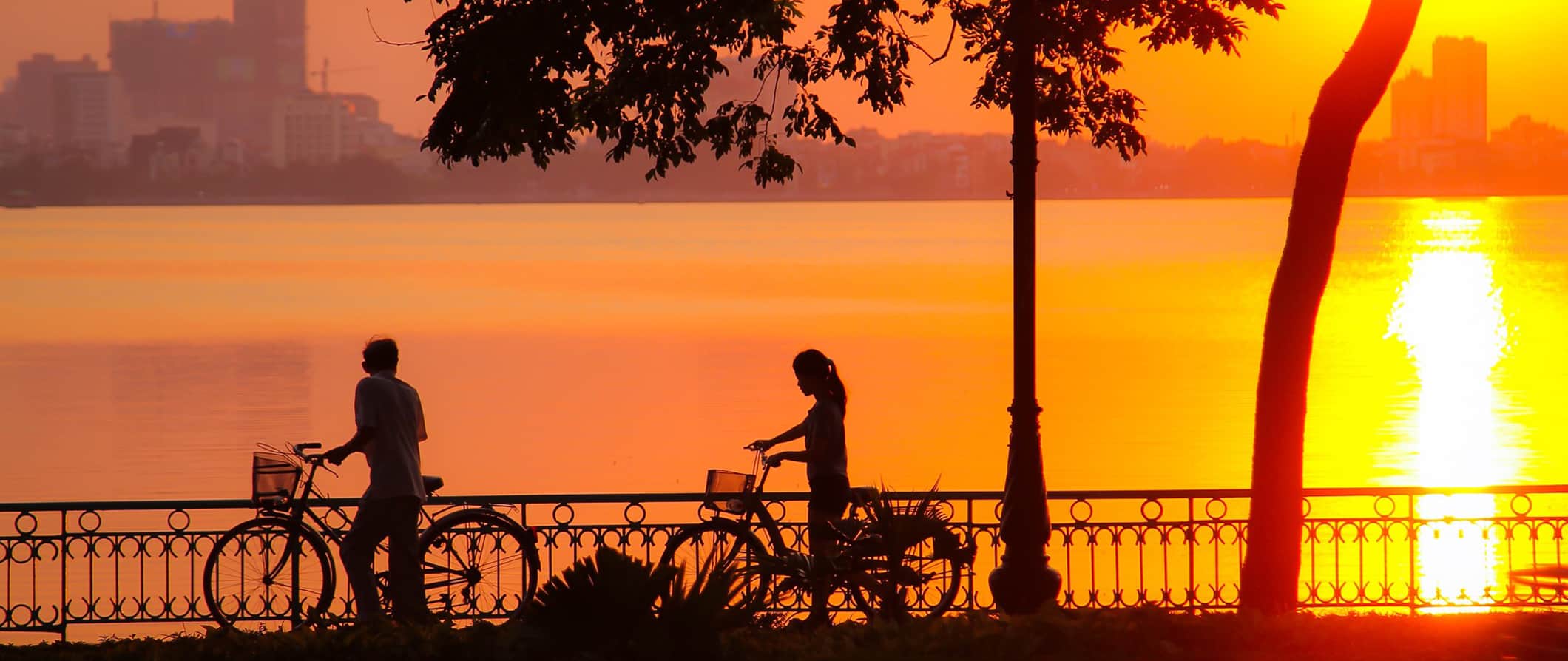 Backpackers and travelers alike visit Hanoi, Vietnam's vibrant capital. It's either the starting or finishing point for travelers in the country (as most people go north to south or south to north).
I absolutely love the charm of the Old French Quarter and the bustle of the modern city. Hanoi countless museums all offering visitors a chance to better understand Vietnam's history of the revolution, war, and art. There is the tangled busy web of streets in the historic Old Quarter to wander around.
Hanoi is also one of the best places to visit in Vietnam to eat endless bowls of pho, bun cha, or cheap bahn mi from a food vendor on just about every street corner.
It's a perfect launching pad for trips to Sapa and Halong Bay.
In short, there's a lot to do in Hanoi. It's a fascinating city that can keep you busy for days and, thanks to its cheap prices, is great for budget travelers and backpackers.
This Hanoi travel guide will give you the best places to visit, tell you how to save money, get around, give you costs, and help you plan the best travel experience in Hanoi!

Hanoi
Top 5 Things to See and Do in Hanoi
1. Wander around the Old Quarter
The Old Quarter's 2,000-year-old streets are a web of shopping opportunities and cheap eateries. There's a lot of fascinating Old World architecture that lets you see the strong influence the French had on the area.
2. Visit the Temple of Literature
Built in 1070 and originally dedicated to Confucius, the Van Mieu temple is one of the oldest structures in the country. You can wander the five courtyards decorated and see the stelae mark with the diplomas from the university's first doctorate students. Entrance is 30,000 VND ($1.30 USD).
3. Visit the Vietnam National Museum of Fine Arts
The Fine Arts Museum is a must-see. There are fantastic exhibits of Buddhist art, folk art and silk and lacquer paintings but the museum's most impressive feature is Kouan Yin, the goddess of mercy who is depicted with a thousand arms and eyes. Admission is 40,000 VND ($1.70 USD).
4. Wander around Hoan Kiem Lake
Come early in the morning to watch throngs of people practicing Tai Chi before their working day begins. In the center of the lake is the Tortoise Pagoda, a shrine to the famous giant turtles that used to live in the lake. It's a beautiful lake that is worth a good stroll around.
5. Ho Chi Minh Museum & Mausoleum
Ho Chi Minh was the founder of Vietnam's modern communist state. He lies here in a grey concrete mausoleum not far from the museum dedicated to his life and the house he used to live in. You're able to walk through and see his embalmed body when it is not being repaired in Moscow. Admission is free.
Other Things to See and Do in Hanoi
1. See Quan Su Pagoda
As the headquarters for the Vietnam Central Buddhist Congregation, Quan Su is one of the most important temples in the country. If you're going to visit any of Vietnam's pagodas, this 15th-century one is the one you should see. Admission is free, though donations are accepted.
2. Visit One Pillar Pagoda
Built in 1049, One-Pillar Pagoda sits on stilts over a lake and is a miniature reproduction of the original temple built by the Ly Dynasty. A prayer at this little wooden pagoda is said to bring fertility and good health.
3. Watch a water puppet show
Water Puppetry as an art form that dates back over a millennium. Puppets are carved from wood, and the shows are performed in a waist-deep pool, which makes the puppets look like they're walking in water. Near the lake, you can see a show at the Water Puppet Theatre. Admission is from 100,000 VND ($4.30 USD) for adults (depending on the seat) and 60,000 VND ($2.60 USD) for children.
4. Tour Hoa Lo Prison
U.S. POWs named Hao Lo "the Hanoi Hilton" and this is where many U.S. soldiers were tortured (former Sen. John McCain from Arizona is its most famous prisoner). What remains of the building is a small museum, complete with the guillotine used to execute detainees. It's super morbid but a good look at how the Vietnamese whitewash their history. The entrance fee is 30,000 VND ($1.30 USD) per person.
5. Shop at Dong Xuan Market
Hanoi's oldest market is located in the Old Quarter. The market is a bit of a Hanoi institution and probably the best place for low-cost shopping in the city.
6. Go to the Army Museum
The museum has an excellent collection of planes, tanks, and guns supplied by the Chinese and Soviet armies, alongside dozens of captured French and US made war machinery. Admission is 40,000 VND per person ($1.40 USD) plus an extra 20,000 VND ($0.85 USD) for photography.
7. Visit the Vietnam Women's Museum
The Vietnam Women's Museum offers some insight into the contribution of Vietnamese women to the country's culture and society, including their roles during wartime. It's a fairly small museum but it includes an interesting collection interviews and historical memorabilia. Admission is 30,000 VND ($1.30 USD).
8. Explore the Museum of Ethnology
The Vietnamese Museum of Ethnology is contains exhibits on the different ethnic groups that reside in the country and will give you a much better understanding of Vietnamese history. Admission is 40,000 VND ($1.70 USD) for adults with discounts available for children and students.
9. National Museum of Vietnamese History
This museum has a collection of antiques (and some replicas) dating from around 1000CE all the way to 1945. Here you'll find bronzes from the Dong Son culture, jewelry from Vietnam's imperial times, sculptures from the Khmer and Champa kingdoms, and more. Admission is 40,000 VND ($1.70 USD) for adults, with discounts available for students and children.
Hanoi Travel Costs
Hostel prices – Beds start at 116,105 VND ($5 USD) for a 10-16 person dorm. If you want a smaller dorm with 6-8 people, you'll spend between 139,325-185,765 VND ($6-8 USD). You can also get a private single room starting from 348,310 VND ($15 USD) per night, or a double for 464,414 VND ($20 USD). Any less than that and you're probably paying for a dump.
Most hostels in the city include free breakfast. Self-catering facilities are available everywhere, so if you require a kitchen be sure to double-check your hostel.
Budget hotel prices – Rooms at a two-star hotel start from 348,310 VND ($15 USD), and the price increases slightly depending on where you stay (like the Old Quarter or Ba Dinh) and the amenities you want. Free WiFi is generally included, and many also offer free breakfast. For a hotel with a pool, expect to pay around 400,000 VND ($17 USD) per night.
Airbnb is also available here. For a shared room, expect to pay at least 275,000 VND ($12 USD) per night. For an entire home or apartment, prices begin around 425,000 VND ($18 USD).
Average cost of food – Food in Hanoi is delicious and extremely cheap, especially if you're eating local at the street vendors (and there's really nowhere else worth eating here). The street stalls around the city are an important part of the culture and serve the best food.
A good bowl of pho shouldn't cost more than 46,441 VND ($2 USD). Go to Thanh Hop Restaurant to find it. Their bun cha is to die for too. You'll get one of the best bahn mi of your life at Bahn Mi 25, and all for just 25,000 VND ($1.10 USD).
If you choose to eat a sit-down restaurant, most meals are 85,000 VND ($3.70 USD), though inexpensive meals at cheaper restaurants can be as low as 50,000 VND ($2.15 USD).
Domestic beer is cheaper, costing as little as 20,000 VND ($0.85 USD) in restaurants, though you can find it for about 15,000 VND ($0.65 USD) at the 7-Eleven. For those looking to buy their own groceries, expect to spend at least 7,00,245 VND ($30 USD) per week for the staples.
Backpacking Hanoi Suggested Budgets
On a backpacker budget, you can enjoy Hanoi for as little as 534,076 VND ($23 USD) per day. This budget covers a stay in a large hostel dorm, eating street food for all of your meals (pho and bahn mi are very filling!), limiting your drinking to just a few beers a day, and using the public bus system. On this budget, you can also enjoy free walking tours as well as a cheap attraction or two per day.
A mid-range budget of about 1,253,918 VND ($45 USD) per day will cover your stay in a private two-star hotel room, eating street food but eating at a restaurant sometimes, and taking a few Grabs around town. Although activities here are cheap, you can "splurge" on things like tickets to the water puppet show.
On a luxury budget of at least 2,089,865 VND ($105 USD), you can book a room at a nice 4-star hotel, eat out for all your meals, enjoy lots of drinks, and take taxis (or Grab) just about anywhere you like. You can also double up on the sightseeing on this budget and do more guided tours.
You can use the chart below to get some idea of how much you need to budget daily, depending on your travel style. Keep in mind these are daily averages – some days you'll spend more, some days you'll spend less (you might spend less every day. Who knows?). We just want to give you a general idea of how to make your budget. Prices are in USD.
Accommodation
Food
Transportation
Attractions
Average Daily Cost
Backpacker
$5
$8
$5
$5
$23
Mid-Range
$15
$10
$5
$15
$45
Luxury
$50
$15
$10
$30
$105
Hanoi Travel Guide: Money Saving Tips
You won't need to pinch pennies here as Hanoi is super cheap to visit! Regardless, it's always nice to save money when you can so here are are some ways you can cut down your costs in Hanoi:
Eat from street stalls – For the cheapest food in the city head to the Old Quarter which is packed with low-cost eats at the street stalls. If you stick to these local stalls, you'll eat for only a few dollars a day.
Negotiate – You should barter for everything from street stalls, markets, and taxis. Tourists are often quoted huge prices and bargaining is expected.
Ask your hostel staff – Before you leave the hostel, ask them to estimate how much what you want to do should cost. How much should a ride to the museum cost? How much should I pay to have a gown like this made? They will be able to give you bargaining guidelines.
Take the bus – These are the cheapest and most hassle-free way of getting around the city and are comfortable and efficient.
Drink Bia Hoi – This draft beer is available on the street throughout Hanoi and starts at merely 3,000 VND ($0.15 USD) per glass.
Save money on rideshares – Grab is way cheaper than taxis and is the best way to get around a city if you don't want to wait for a bus or pay for a taxi. It works just like Uber and has a similar app.
Take a free walking tour – Free walking tours are one of the best ways to get oriented in a new city, learn some history, and fill your day. I recommend Hanoi Free Walking Tours if you're going to do one in the city.
Pack a water bottle – A water bottle with a purifier will come particularly in handy in Vietnam since you can't drink the tap water. Save money and plastic with a filtered water bottle. My preferred bottle is LifeStraw ($49.99).
Where To Stay in Hanoi
Hanoi is a large city, so you'll want to stay somewhere that's close to most of the major attractions like the Old Quarter or or Ba Dinh. If you're looking for a place to stay, these are my favorite places in Hanoi:
How to Get Around Hanoi
Hanoi is a very large city, and you will not always be able to rely on your own two feet to get around. The city's transportation options are limited there's a lot of road congestion, and although a metro system is supposed to be in place by 2020, the project is already far behind. Don't expect to get around quickly.
Bus – Hanoi's public bus system is recognized by its white, red, and yellow colors. These buses take you anywhere you need to go in the city with tickets costing between 5,000-10,000 VND ($0.22-$0.43 USD), depending on the distance. Be sure to have small bills.
Hanoi also has an electric trolleybus system too. There are 14 stops in the Old Quarter and around Kiem Lake, with the main departure point at the north end of the lake. The Quarter is best explored on foot anyway, but the bus is a good option for anyone with mobility issues. There's even English commentary as you go. It's 300,000 VND ($13 USD) per trolley for up to six passengers (50,185 VND/$2.16 USD per person).
Cyclo – The cyclo is Hanoi's version of a tuk-tuk. They're easier to find beyond the Old Quarter (those narrow streets are not easy to navigate), but they're still pretty prevalent. Make sure you negotiate the price ahead of time, for the whole group. It's about 50,000 VND ($2.15 USD) for a short ride and prices increase at night.
Taxi – Metered taxis in Hanoi all charge about the same rates. The base charge is 20,000 VND ($0.85 USD) per 1-2 kilometers, and then each kilometer after that is 15,000 VND ($0.65 USD).
Motorbike taxis are also everywhere, and an average journey should cost no more than 20,000 VND 20,000 VND ($0.85 USD). If you're going further out to Ho Chi Minh's Mausoleum, expect to pay around 40,000 VND ($1.70 USD).
Keep in mind that taxi drivers here are notorious for rigging their meters. I would avoid taxis if you can. They aren't great here. I don't like taking them.
Ride-Share – Grab is available in Hanoi. It works just like Uber: you ride in a private car with a private driver. You can pay via the app, and you'll get a price estimate for your journey before you even get in the car. For example, a trip from your hostel/hotel in the Old Quarter to the Temple of Literature is a two-mile (3-kilometer) journey and costs about 40,975 VND ($1.75 USD).
When to Go to Hanoi
Autumn and spring are the two best seasons for visiting Hanoi. Autumn is from September to November, while spring is from March through April. Temperatures are usually warm every day (with average highs of 68°F/28°C) but not as stifling as in the summer season. Most visitors come to Hanoi during these months, so expect crowds at most attractions. On the other hand, this is the best time to explore the city on foot, as the heat is less overwhelming.
If you come during the winter months (December to March), temperatures can sometimes drop as low as 50°F (10°C), so be sure to pack a sweater or something to cover with. The rainy season lasts from May to September. It's worth your time to pick up an umbrella or a rain jacket as some days can be drizzly and grey as opposed to other parts of Southeast Asia where the downpours are heavy but brief.
The summer season is from July through to September, with temperatures reaching up to 95°F (35°C) on some days. The humidity can be hard to deal with, but if you don't mind the heat you will at least have fewer tourist crowds around (and prices for accommodations are cheaper).
How to Stay Safe in Hanoi
Hanoi, although chaotic, is a safe place to backpack and travel – even if you're traveling solo or even as a solo female traveler. Violent crime against travelers is very rare.
The thing you really need to look out for here are scams and theft. When you're in crowded places, keep your purse/wallet close and be mindful of the activity around you.
Be sure to always count your change. The bills here are similar looking, so sometimes people will "mistakenly" give you the wrong change hoping you won't notice that the 200,000 VND bill you just got is actually only 20,000. Always count your change here!
Other people will add extra zeros to a bill and insist that this is the final price you agreed on. Don't back down, and be firm about your agreed price.
Most people are really just going to try to nickel and dime you and try to get you to spend extra money since they know, as a tourist, you have more than they do. Just keep an eye out.
(Worried about travel scams? Read about these travel scams and make sure you don't fall for any!)
Always trust your gut instinct. If a taxi driver seems shady, stop the cab and get out. If your hotel is seedier than you thought, get out of there. Make copies of your personal documents, including your passport and ID.
If you don't do it at home, don't do it when you're in Hanoi. Follow that rule and you'll be fine.
The most important piece of safety advice I can offer is to purchase good travel insurance. Travel insurance will protect you against illness, injury, theft, and cancellations. It's comprehensive protection in case anything goes wrong. I never go on a trip without it as I've had to use it many times in the past. You can use the widget below to find the policy right for you:
Hanoi Travel Guide: The Best Booking Resources
Below are my favorite companies to use when I travel to Hanoi. They are included here because they consistently turn up the best deals, offer world-class customer service and great value, and overall, are better than their competitors.
Momondo – This is my favorite flight search engine because they search such a wide variety of sites and airlines. I never book a flight without checking here first.
Skyscanner – Skyscanner is another great flight search engline which searches a lot of different airlines, including many of the budget carriers that larger sites miss. While I always start with Momondo, I use this site too as a way to compare prices.
Airbnb – Airbnb is a great accommodation alternative for connecting with homeowners who rent out their homes or apartments. The big cities have tons of listings!
Hostelworld – This is the best hostel accommodation site out there, with the largest inventory, best search interface, and widest availability.
Agoda – Other than Hostelworld an Airbnb, Agoda is the best hotel accommodation site for Asia as it has the largest inventory and offers the best rates. If you want a guesthouse or hotel, book it via this website!
Rome 2 Rio – This website allows you to see how to get from point A to point B the best and cheapest way possible. Just enter your departure and arrival destinations and it will give you all the bus, train, plane, or boat routes that can get you there as well as how much they cost. One of the best transportation website out there!
Intrepid Travel – If you want to do a group tour around Asia, go with Intrepid Travel. They offer good small group tours that use local operators and leave a small environmental footprint. If you go on a tour with anyone, go with them. And, as a reader of this site, you'll get a discount when you click the link!
EatWith – This website allows you to eat home cooked meal with locals. Locals post listings for dinner parties and specialty meals that you can sign up for. There is a fee (everyone sets their own price) but this is a great way to do something different, pick a local's brain, and make a new friend.
World Nomads – I buy all my travel insurance from World Nomads. They have great customer service, competitive prices, and in-depth coverage. I've been using them since I started traveling in 2003. Don't leave home without it!
Hanoi Gear and Packing Guide
If you're heading on the road and need some gear suggestions, here are my tips for the best travel backpack and for what to pack!
The Best Backpack for Travelers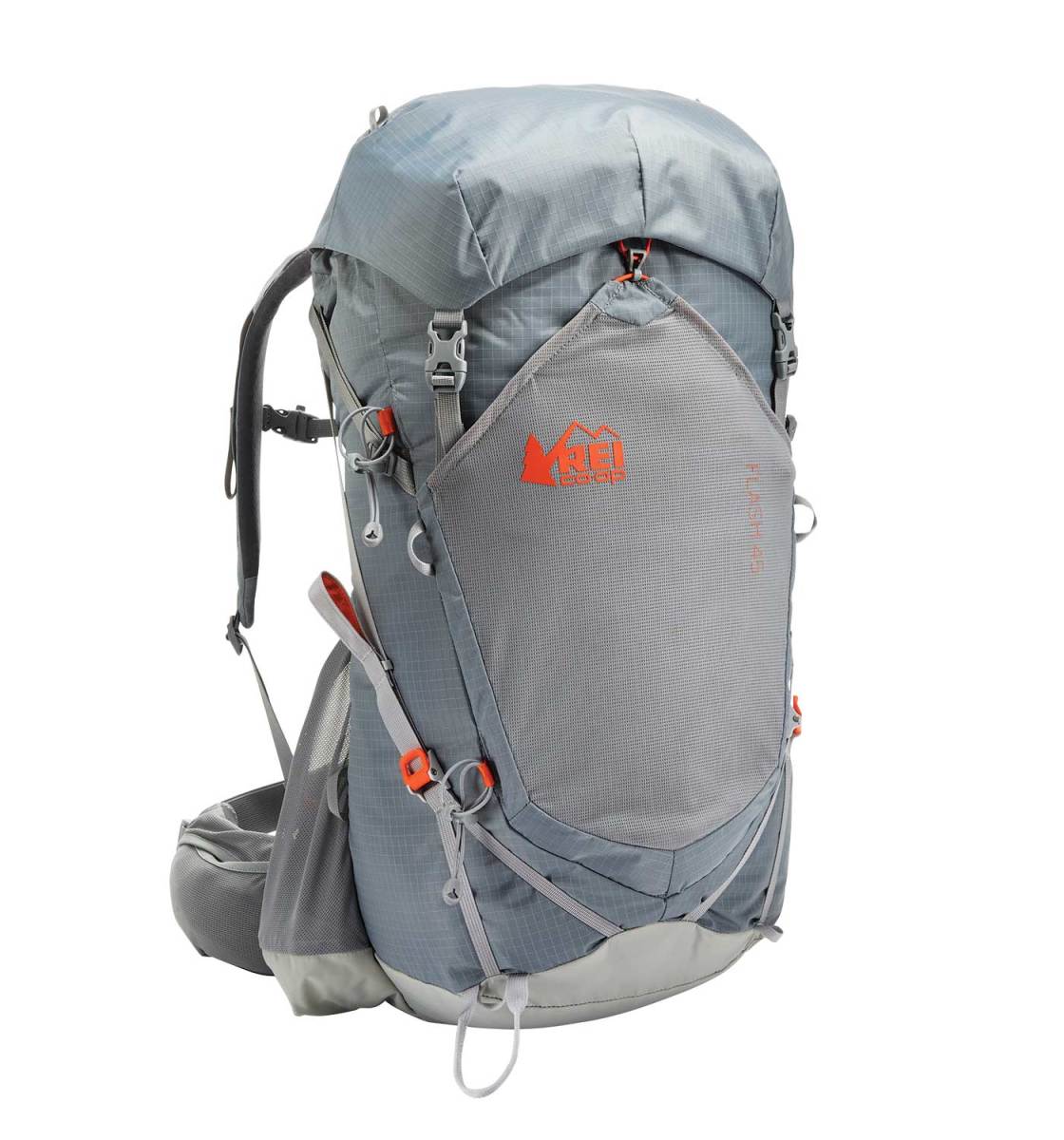 What's the best backpack for traveling long-term? I recommend the
REI Flash 45 Pack
. It's light and comfy, front loading, and fits perfectly in an airplane's overhead bin.
Size:
45-47L
Straps:
Thick and cushy with compression technology that pulls the pack's load up and inwards so it doesn't feel as heavy.
Features:
Removable top lid, large pocket at the front, hydration compatible, contoured hip belt
If you want something different, refer to my article on how to choose the best travel backpack for tips on picking a pack and other backpack suggestions.
What to Pack for Your Trip
Clothes
1 pair of jeans (heavy and not easily dried, but I like them; a good alternative is khaki pants)
1 pair of shorts
1 bathing suit
5 T-shirts (Unbound Merino is my preferred company. If you're a member of NM+, you can get 15% off your purchase)
1 long-sleeved T-shirt
1 pair of flip-flops
1 pair of sneakers
6 pairs of socks (I always end up losing half)
5 pairs of boxer shorts (I'm not a briefs guy!)
1 toothbrush
1 tube of toothpaste
1 razor
1 package of dental floss
1 small bottle of shampoo
1 small bottle of shower gel
1 towel
Deodorant
Small Medical Kit (safety is important!!!)
Miscellaneous
Female Travel Packing List
I'm not a woman, so I don't know what a woman wears, but Kristin Addis, our solo female travel guru, wrote this list as an addition to the basics above:
Clothing
1 swimsuit
1 sarong
1 pair of stretchy jeans (they wash and dry easily)
1 pair of leggings (if it's cold, they can go under your jeans, otherwise with a dress or shirt)
2-3 long-sleeve tops
2-3 T-shirts
3-4 spaghetti tops
1 light cardigan
Toiletries
1 dry shampoo spray & talc powder (keeps long hair grease-free in between washes)
1 hairbrush
Makeup you use
Hair bands & hair clips
Feminine hygiene products (you can opt to buy there too, but I prefer not to count on it, and most people have their preferred products)
For more on packing, check out these posts:
Hanoi Travel Guide: Suggested Reading
Eating Vietnam, by Graham Holliday
While I don't love Vietnam (I didn't have a good experience there), I do love Vietnamese food… a lot! This is an awesome book about the history and culture behind the country's street cuisine. Author Graham Holliday has lived in Vietnam a long time, and he sure knows his food. In this engrossing and hunger-inducing book, you'll wander with him through the backstreets of Vietnam, learning about the street food you see all over the country and, in doing so, begin to understand the country and its people through their first love. The introduction is even written by Anthony Bourdain!



The Sympathizer, by Viet Thanh Nguyen
This is Viet Thanh Nguyen's first novel, and it won the Pulitzer Prize for Fiction. The story focuses on the narrator, a communist double agent who lives two lives — a half-French, half-Vietnamese army captain who comes to the United States after the Fall of Saigon, but while building a life with other Vietnamese refugees in LA is reporting back to his superiors in Vietnam. It's a unique look at post-war Vietnam, and one that'll have you gripped right from the beginning.



The Things They Carried, by Tim O'Brien

This is the second book of fiction about Vietnam from Tim O'Brien, and it's required reading in many classrooms. It's not exactly a novel or a collection of short stories, but a series of fictional episodes taking place in its characters' childhoods, from the Vietnamese jungles to America and back again. O'Brien writes with such raw honesty, you'll find this a gut-wrenching, incredible read. While the stories are fictional, it's clear O'Brien is writing personal war stories from experience.



At Home in the World, by Thich Nhat Hanh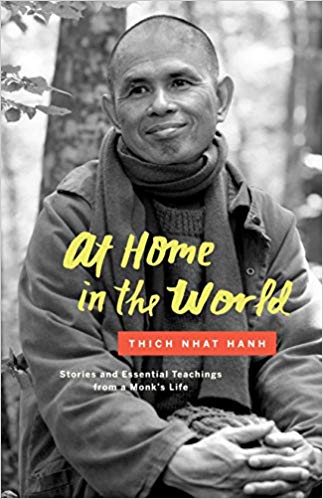 This book is a collection of Zen teachings and stories written by a Vietnamese monk (also a peace activist) named Thich Nhat Hanh. You'll learn about his life growing up in rural Vietnam, as well as his beginning years as a young monk, through to the time when war sent the country into chaos. Each teaching and story is short – sometimes just half a page — so it makes for a great travel read that you can pick up when you feel the need.
Hanoi Travel Guide: Related Articles
Want more info? Check out all the articles I've written on Vietnam travel and continue planning your trip: