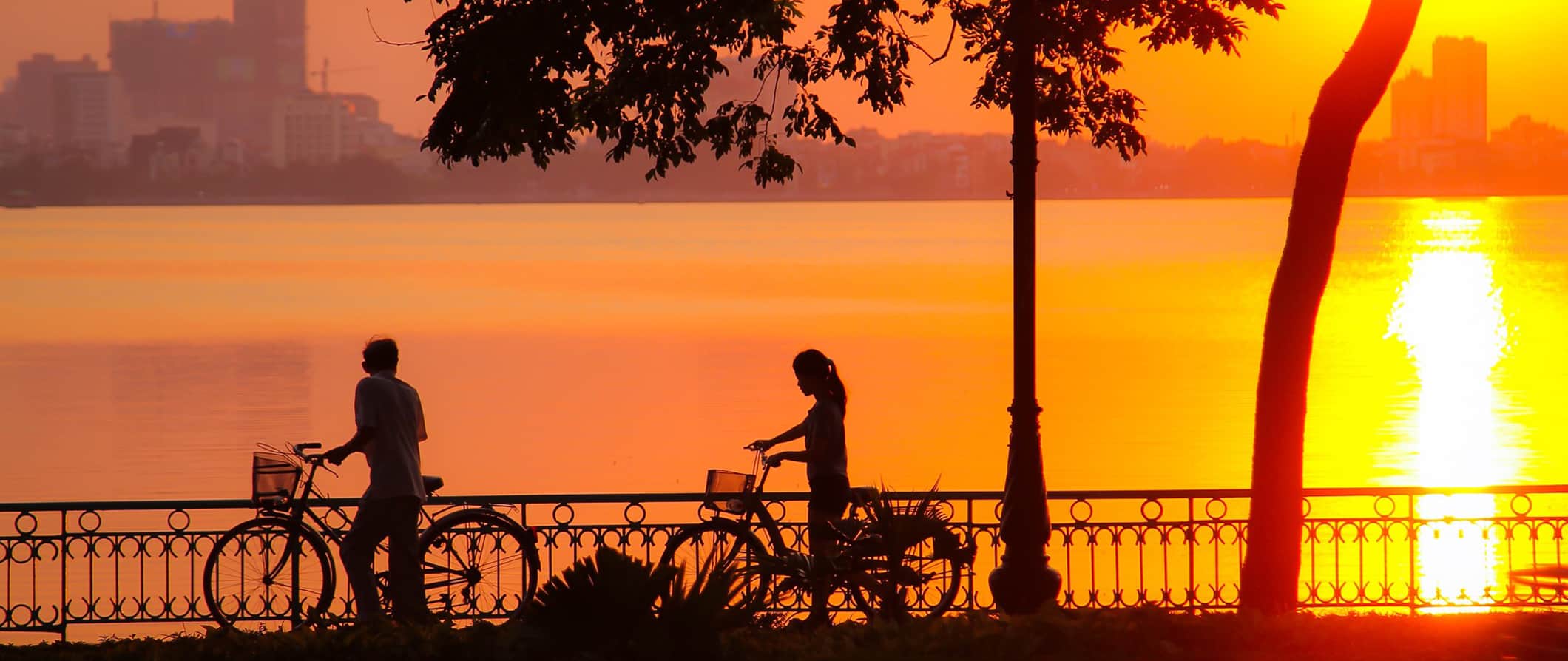 Hanoi, Vietnam's vibrant capital, is either the starting or finishing point for travelers in the country as most people travel north to south or south to north. It's a bustling city full of backpackers and travelers with a lot to see and do — none of which will break the bank.
Hanoi is filled with countless museums all offering visitors a chance to better understand Vietnam's history of the revolution, war, and art. There's also the tangled busy web of streets in the historic Old Quarter to wander around. It is also one of the best places to visit in Vietnam to eat endless bowls of pho, bun cha, or cheap bahn mi from a food vendor on just about every street corner.
It's also a perfect launching pad for trips to the lush town of Sapa and the postcard-perfect Ha Long Bay.
In short, there's a lot to do in Hanoi. It's a fascinating city that can keep you busy for days and, thanks to its cheap prices, is a perfect stomping ground for budget travelers and backpackers alike.
This Hanoi travel guide will help you plan your trip, save money, and ensure you make the most of your time in this lively city.
Top 5 Things to See and Do in Hanoi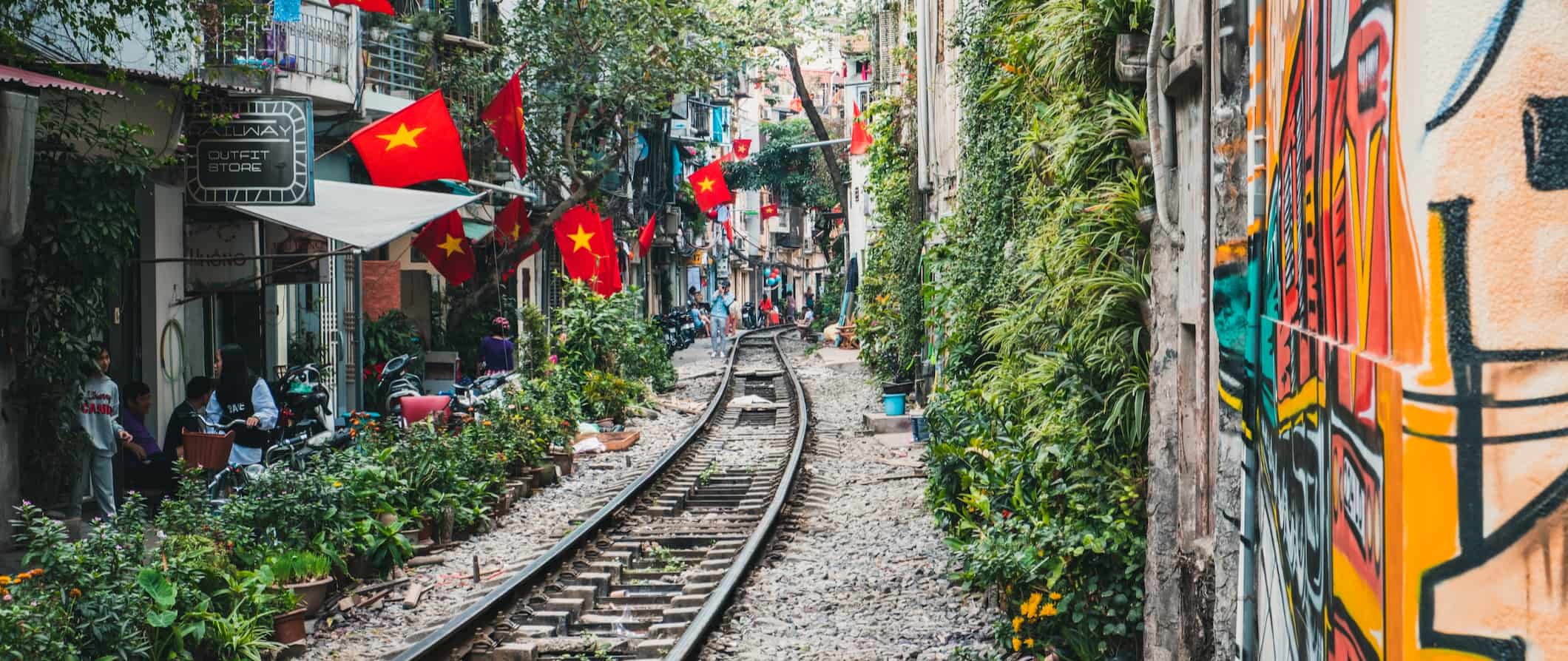 1. Wander around the Old Quarter
The Old Quarter's 2,000-year-old streets are a web of shopping opportunities and cheap eateries. There's a lot of fascinating Old World architecture that highlights the influence the French had on the area (Vietnam was annexed by France and under French control for the better part of a century). You can take a free walking tour, grab a Bia Hoi beer along Ta Hien Street (also known as "Beer Street"), and visit the lively weekend night markets. There are tons of small restaurants here where you can grab a cheap meal too. It's where most travelers spend the majority of their time in the city.
2. Admire the Temple of Literature
Built in 1070 and originally dedicated to Confucius, the Van Mieu temple is one of the oldest structures in the country. Under French occupation, it was briefly a barracks and shooting range. It was also briefly a quarantine area for people with cholera and was slated to become a hospital until the locals protested. Today, you can wander the five courtyards which feature ponds, statues, and idyllic gardens. Each courtyard has something new to see and there are often cultural events held here that are open to the public. The temple is also featured on the 100,000 VND bill. Admission is 30,000 VND.
3. Shop at Dong Xuan Market
Hanoi's oldest market is located in the Old Quarter. The market is a bit of a Hanoi institution and probably the best place for low-cost shopping in the city. Clothing, accessories, food, souvenirs — you can find it all here. The market is open from 6am-6pm daily. At night, the streets leading to the market are filled with vendors as well.
4. Explore Ha Long Bay
More than 3,000 islands sit within the emerald green waters of Ha Long Bay, a UNESCO Site and one of the country's most popular tourist destinations. Cat Ba Island has great for hiking and many tourists find themselves taking one of the cave tours. Tours here usually last 3-5 days and can include sleeping on a boat or staying at some of the islands around the bay, as well as cave tours and kayaking. Cheap tours start around 1,100,000 VND while a mid-range tour costs around 4,600,000 VND. Just remember that you get what you pay for and the cheaper boats might be a bit run down.
5. See the Ho Chi Minh Museum & Mausoleum
Born in 1890, Ho Chi Minh (often referred to as Uncle Ho) was the founder of Vietnam's modern communist state (he led the Viet Minh independence movement from 1941). He became the country's first president in 1945 and died during the Vietnam War in 1969 from heart failure (over 250,000 people attended his funeral). He lies here in a grey concrete mausoleum not far from the museum dedicated to his life and the house he used to live in. You're able to walk through and see his embalmed body when it is not being repaired in Moscow. Admission is 10,000 VND.
Other Things to See and Do in Hanoi
1. Wander around Hoan Kiem Lake
Come early in the morning to watch throngs of people practicing Tai Chi before their working day begins. In the center of the lake is the Tortoise Pagoda, a shrine to the famous giant turtles that used to live in the lake. The shrine and the red bridge are lit up at night and during the weekends many of the streets are blocked off to cars which makes it a great place to explore on a Friday or Saturday. It's a scenic area lake that is worth taking a stroll around.
2. See Quan Su Pagoda
As the headquarters for the Vietnam Central Buddhist Congregation, Quan Su is one of the most important temples in the country. If you're going to visit any of Vietnam's pagodas, this 15th-century one is the one you should see. It's small, calm, and tranquil. Admission is free, though donations are accepted.
3. Admire the One Pillar Pagoda
Originally built in 1049, One-Pillar Pagoda sits on stilts over a lake and is a miniature reproduction of the original temple built by the Ly Dynasty. The pagoda was restored and rebuilt in the 1840s and again in 1922. It was severely damaged in an explosion in 1954 as well, though was once again restored. A prayer at this little wooden pagoda is said to bring fertility and good health. Admission is 25,000 VND.
4. Watch a water puppet show
Water puppetry is an art form that dates back over a millennium. Puppets are carved from wood, and the shows are performed in a waist-deep pool, which makes the puppets look like they're walking in water. Near the lake, you can see a show at either of the two water puppet theater venues. Admission from 100,000 VND and performances are in Vietnamese.
5. Tour Hoa Lo Prison
U.S. prisoners of war during the Vietnam War named Hao Lo "the Hanoi Hilton" and this is where many U.S. soldiers were held and tortured (former Sen. John McCain from Arizona is its most famous prisoner). Prior to the war, it was used to hold political prisons that the French wanted to lock away (and usually execute or torture). What remains of the building is a small museum, complete with the guillotine used to execute detainees. While morbid, it also provides insight into how the Vietnamese whitewash their history (like most countries do, to be fair). The entrance fee is 30,000 VND per person.
6. Visit the Vietnam National Museum of Fine Arts
The Fine Arts Museum is a must-see. There are fantastic exhibits of Buddhist art, folk art, and silk and lacquer paintings but the museum's most impressive feature is Kouan Yin, the goddess of mercy who is depicted with a thousand arms and eyes. Admission is 40,000 VND. Closed on Mondays and holidays.
7. Tour the Army Museum
This museum has an excellent collection of planes, tanks, and guns supplied by the Chinese and Soviet armies, alongside dozens of captured French and US-made war machinery. There's not a lot of information in English (and, as a military museum, there's obviously going to be a heavily biased point-of-view) but it's nevertheless an interesting place to tour and learn about the war from the other side. Admission is 40,000 VND per person. Closed Mondays and Fridays.
8. Visit the Vietnam Women's Museum
The Vietnam Women's Museum offers some insight into the contribution of Vietnamese women to the country's culture and society, including their roles during wartime. It's a fairly small museum but it includes an interesting collection of interviews and historical memorabilia. Admission is 40,000 VND.
9. Explore the Museum of Ethnology
The Vietnamese Museum of Ethnology contains exhibits on the different ethnic groups that reside in the country and will give you a much better understanding of Vietnamese history (there are 54 different ethnic groups recognized in Vietnam). Outside, there are numerous reconstructed buildings you can see that showcase traditional architecture throughout the ages. Admission is 40,000 VND.
10. See the National Museum of Vietnamese History
This museum has a collection of antiques (and some replicas) dating from prehistory all the way to 1945. Here you'll find bronzes from the Dong Son culture, jewelry from Vietnam's imperial times, sculptures from the Khmer and Champa kingdoms, and more (there are over 200,000 items on display). Admission is 40,000 VND plus an extra 30,000 VND for photography,
Hanoi Travel Costs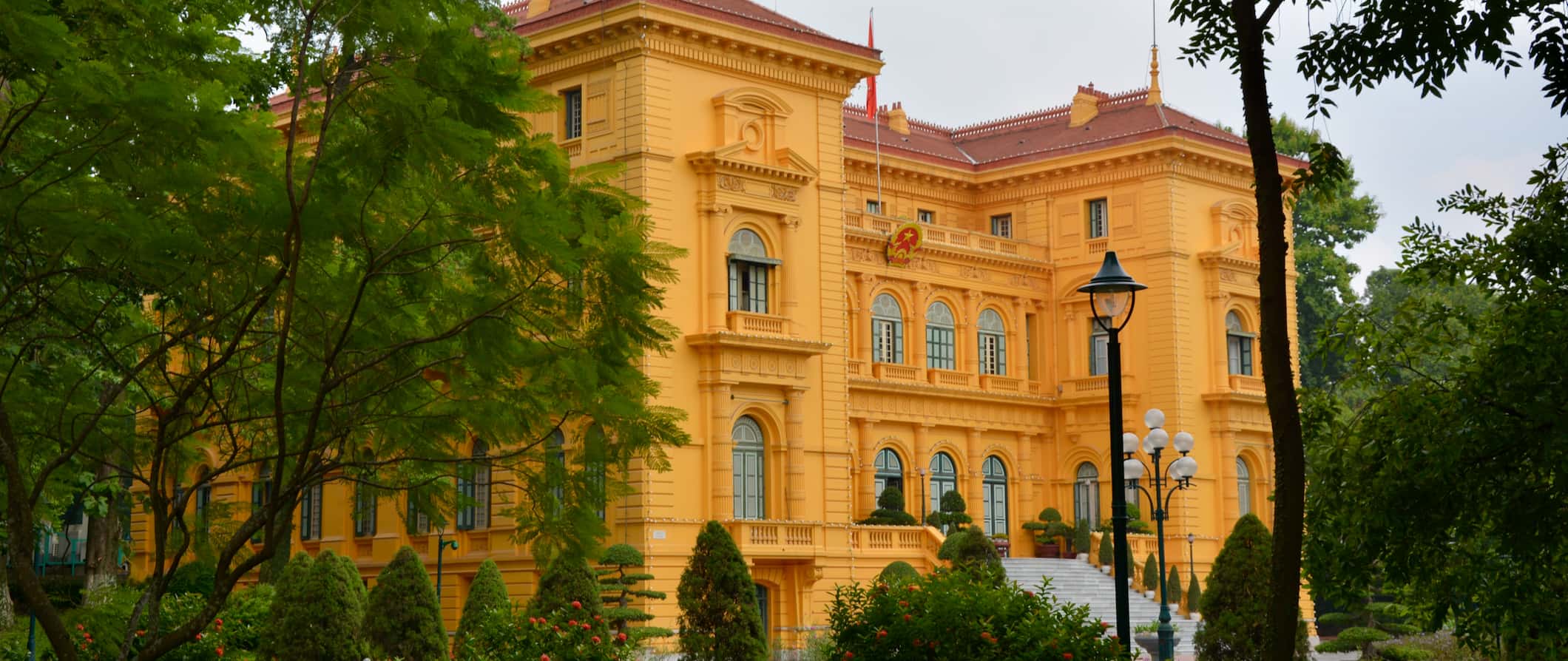 Hostel prices – Beds start at 135,000 VND for a 6-10-bed dorm. You can also get a private single room starting from 475,000 VND per night or a double for 580,000 VND. Any less than that and you're probably paying for a dump.
Most hostels in the city include free breakfast. Self-catering facilities aren't available everywhere, so if you require a kitchen be sure to double-check your hostel (the food is so cheap here you likely don't need a kitchen though).
Budget hotel prices – Rooms at two-star hotels from 300,000 VND, and the price increases slightly depending on where you stay (like the Old Quarter or Ba Dinh) and the amenities you want. Free Wi-Fi is generally included, and many also offer free breakfast. For a hotel with a pool, expect to pay around 634,000 VND per night.
Airbnb is also available here. For a private room, expect to pay at least 325,000 VND per night. For an entire home or apartment, prices begin around 600,000 VND. Prices double when not booked in advance so plan accordingly
Food – Vietnamese cuisine is fresh, flavorful, and uses a lot of herbs and vegetables. Rice and noodle dishes are common, as are various soups such as the iconic pho (a beef noodle soup). Wonton soup, meat curry, fresh French bread (known as bahn me, and grilled fish are just some of the popular dishes you'll encounter. Standard ingredients include fish sauce, lemongrass, chili, lime, Thai basil, and mint.
Food in Hanoi, like elsewhere in the country, is delicious and extremely cheap — especially if you're eating local at the street vendors (and there's really nowhere else worth eating here). The street stalls around the city are an important part of the culture and serve the best food.
A good bowl of pho costs around 50,000-60,000 VND. For the best pho, head to Thanh Hop Restaurant. Their bun cha is to die for too.
You'll get one of the best bahn mi of your life at Bahn Mi 25, and all for just 30,000 VND.
If you choose to eat at a sit-down restaurant, most meals are 85,000 VND though inexpensive meals at cheaper restaurants can be as low as 50,000 VND. For a fast-food combo meal, expect to spend around 130,000 VND.
Domestic beer is cheap, costing as little as 20,000 VND in restaurants, though you can find it for about 15,000 VND at 7-Eleven. For a latte or cappuccino, expect to pay around 46,000 VND. Bottled water is around 6,500 VND.
For those looking to buy their own groceries, expect to spend at least 000 VND per week for basic staples like rice, seasonal produce, and some meat or fish.
Backpacking Hanoi Suggested Budgets
On a backpacker budget, you can visit Hanoi for 600,000 VND per day. This budget covers a stay in a large hostel dorm, eating street food for all of your meals (pho and bahn mi are very filling!), limiting your drinking, and using the public bus system. On this budget, you can also enjoy free walking tours as well as a cheap attraction or two per day. If you stay at a hostel with free breakfast you can lower this a little bit. If you plan on drinking, add another 20,000-40,000 VND to your daily budget.
A mid-range budget of about 1,125,000 VND per day covers staying in a cheap hotel, eating street food and at the occasional sit-down restaurant, enjoying a few more drinks, taking the occasional taxi to get around, and doing more paid activities such as museum visits and water upper shows.
On a "luxury" budget of 2,460,000 VND, you can stay in a nice hotel, eat out for all your meals anywhere you want, enjoy lots of drinks, and more taxis, and do whatever tours and activities you want, including a multi-day trip to Ha Long Bay. This is just the ground floor for luxury though. The sky is the limit!
Accommodation
Food
Transportation
Attractions
Average Daily Cost
Backpacker
160,000
200,000
120,000
120,000
600,000
Mid-Range
350,000
275,000
250,000
250,000
1,125,000
Luxury
1,175,000
350,000
235,000
700,000
2,460,000
Hanoi Travel Guide: Money-Saving Tips
You won't need to pinch pennies here as Hanoi is super cheap to visit! Regardless, it's always nice to save money when you can, so here are some ways you can cut down your costs in Hanoi:
Eat from street stalls – For the cheapest food in the city head to the Old Quarter which is packed with low-cost eats at the street stalls. If you stick to these local stalls, you'll eat for only a few dollars a day.
Negotiate – You should barter for everything from street stalls, markets, and taxis. Tourists are often quoted huge prices and bargaining is expected.
Ask your hostel staff – Before you leave the hostel, ask them to estimate how much what you want to do should cost. How much should a ride to the museum cost? How much should souvenirs cost at the market? They can give you bargaining guidelines so you don't get ripped off.
Take the bus – This is the cheapest and most hassle-free way of getting around the city. The buses are comfortable, cheap, efficient.
Drink Bia Hoi – This draft beer is available on the street throughout Hanoi and starts at just 3,000 VND.
Save money on rideshares – Grab is way cheaper than taxis and is the best way to get around a city if you don't want to wait for a bus or pay for a taxi. It works just like Uber and has a similar app.
Take a free walking tour – Free walking tours are one of the best ways to get oriented in a new city, learn some history, and fill your day. I recommend Hanoi Free Walking Tours if you're going to do one in the city.
Bring a reusable water bottle – The tap water in Hanoi is not safe to drink. To save money and reduce your plastic use, bring a reusable water bottle with you. LifeStraw make a reusable bottle with a built-in filter so you can be sure your water is always safe and clean.
Where to Stay in Hanoi
Hanoi is a large city, so you'll want to stay somewhere that's close to most of the major attractions like the Old Quarter. Here are my suggested places to stay in Hanoi:
How to Get Around Hanoi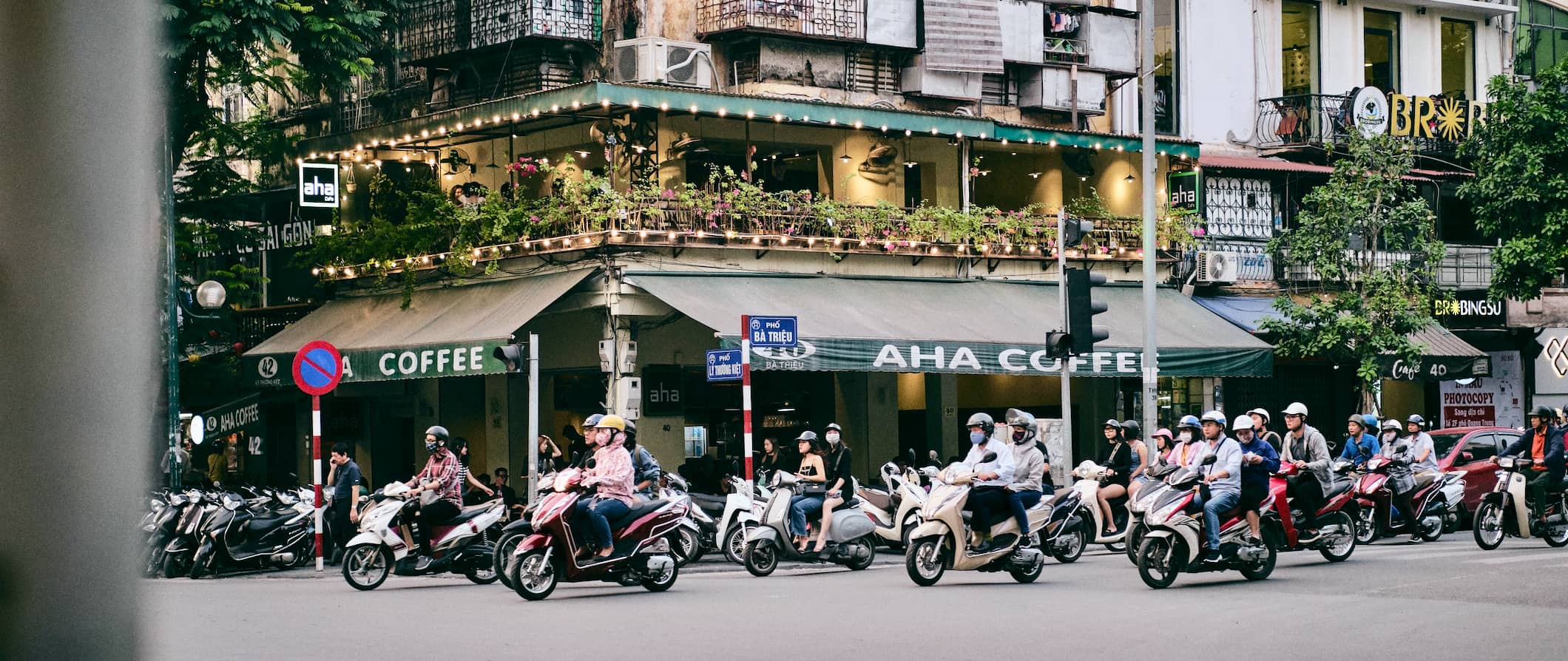 Public transportation – Hanoi's public bus system is recognized by its white, red, and yellow colors. These buses take you anywhere you need to go in the city with tickets costing between 5,000-10,000 VND, depending on the distance and type of bus. Be sure to have small bills.
Hanoi also has an electric bus system too. There are 14 stops in the Old Quarter and around Kiem Lake, with the main departure point at the north end of the lake. The Quarter is best explored on foot anyway, but a bus is a good option for anyone with mobility issues. There's even English commentary as you go. Look for the open, white vehicles that look similar to a large golf cart. It's 360,000 VND per trolley for up to seven passengers (51,428 VND per person).
Cyclo – The cyclo is Hanoi's version of a tuk-tuk. They're easier to find beyond the Old Quarter (those narrow streets are not easy to navigate), but they're still pretty prevalent. Make sure you negotiate the price ahead of time, for the whole group. Prices range from 50,000 VND for a short ride to 150,000 VND per hour. Prices increase at night. Be sure to get the price ahead of time and specify the currency (VND) so you don't get scammed.
Taxi – Metered taxis in Hanoi all charge about the same rates. The base charge is 10,000 VND and each kilometer after that is 11,000 VND.
Motorbike taxis are also everywhere, and an average journey should cost no more than 20,000 VND. If you're going further out to Ho Chi Minh's Mausoleum, expect to pay around 40,000 VND.
Keep in mind that taxi drivers here are notorious for rigging their meters. I would avoid taxis if you can. They aren't great here.
Ridesharing – Grab is available in Hanoi. It works just like Uber: you ride in a private car with a private driver. You can pay via the app, and you'll get a price estimate for your journey before you even get in the car.
Car rental – I don't recommend driving in the city. It's insanely hectic and there are virtually no rules of the road here.
When to Go to Hanoi
Autumn and spring are the best seasons for visiting Hanoi. Autumn is from September to November, while spring is from March through April. Temperatures are usually warm every day (with average highs of 28°C/68°F) but not as stifling as in the summer season. Most visitors come to Hanoi during these months, so expect crowds at most attractions. On the other hand, this is the best time to explore the city on foot as the heat is less overwhelming.
If you come during the winter (December-March), temperatures can sometimes drop as low as 10°C (50°F), so be sure to pack a sweater to keep warm.
The rainy season lasts from May to September. It's worth your time to pick up an umbrella or a rain jacket as some days can be drizzly and grey as opposed to other parts of Southeast Asia where the downpours are heavy but brief.
The summer season is from July through to September, with temperatures reaching up to 35°C (95°F). The humidity can be hard to deal with, but if you don't mind the heat you will at least have fewer tourist crowds around (and prices for accommodations are cheaper).
How to Stay Safe in Hanoi
Hanoi, although chaotic, is a safe place to backpack and travel. Violent crime against travelers is very rare.
The thing you really need to look out for here, however, is scams and petty theft. When you're in crowded places, keep your valuables close and be mindful of the activity around you. Be mindful of people on motorbikes you can easily grab your purse or bag and speed away.
Be sure to always count your change too. The bills here are similar looking, so sometimes people will "mistakenly" give you the wrong change hoping you won't notice that the 200,000 VND bill you just got is actually only 20,000. Always count your change here.
Overall, most scams involve people trying to nickel and dime you since they know, as a tourist, you have more than they do. Just keep an eye out and speak up if someone tries to pull a fast one. You can read more about common travel scams to avoid here.
Solo female travelers should generally feel safe here. For specific tips, check out one of the many solo female travel blogs on the web that go into more detail.
If you do experience an emergency, dial 113 for assistance.
Always trust your gut instinct. Make copies of your personal documents, including your passport and ID.
The most important piece of safety advice I can offer is to purchase good travel insurance. Travel insurance will protect you against illness, injury, theft, and cancellations. It's comprehensive protection in case anything goes wrong. I never go on a trip without it as I've had to use it many times in the past. You can use the widget below to find the policy right for you:
Hanoi Travel Guide: The Best Booking Resources
These are my favorite companies to use when I travel. They consistently have the best deals, offer world-class customer service and great value, and overall, are better than their competitors. They are the companies I use the most and are always the starting point in my search for travel deals.
Skyscanner – Skyscanner is my favorite flight search engine. They search small websites and budget airlines that larger search sites tend to miss. They are hands down the number one place to start.
Hostelworld – This is the best hostel accommodation site out there with the largest inventory, best search interface, and widest availability.
Agoda – Other than Hostelworld, Agoda is the best hotel accommodation site for Asia.
Booking.com – The best all around booking site that constantly provides the cheapest and lowest rates. They have the widest selection of budget accommodation. In all my tests, they've always had the cheapest rates out of all the booking websites.
Get Your Guide – Get Your Guide is a huge online marketplace for tours and excursions. They have tons of tour options available in cities all around the world, including everything from cooking classes, walking tours, street art lessons, and more!
SafetyWing – Safety Wing offers convenient and affordable plans tailored to digital nomads and long-term travelers. They have cheap monthly plans, great customer service, and an easy-to-use claims process that makes it perfect for those on the road.
LifeStraw – My go-to company for reusable water bottles with built-in filters so you can ensure your drinking water is always clean and safe.
Unbound Merino – They make lightweight, durable, easy-to-clean travel clothing.
Hanoi Travel Guide: Related Articles
Want more info? Check out all the articles I've written on Vietnam travel and continue planning your trip: