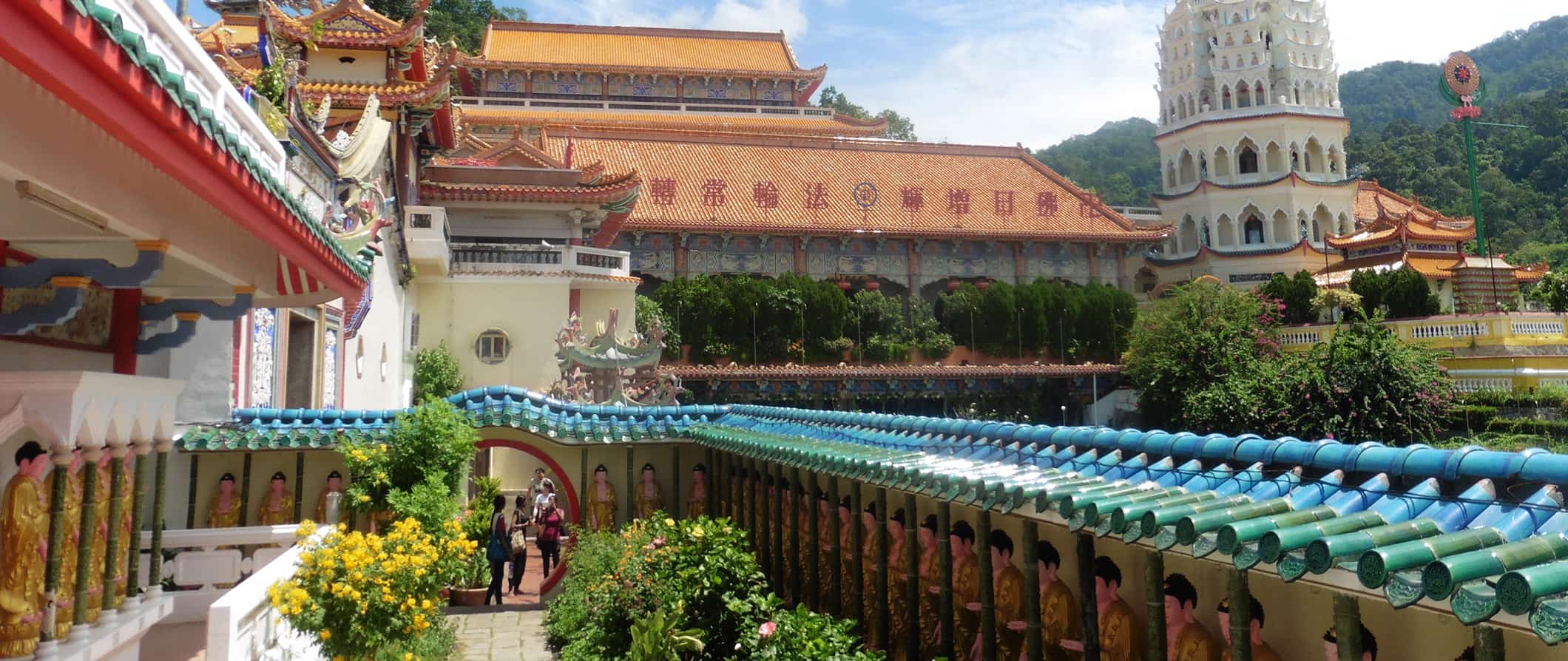 Malaysia is a unique travel experience that is much different from its neighbors. From the dense urban jungle of Kuala Lumpur to the pristine beaches of the Perhentian Islands, Malaysia is a beautiful and often underrated country. Spend the day with a traditional tribe or in a tea plantation in the Cameron Highlands or trek through the huge national parks of Gunung Mulu and Taman Negara, encountering incredible wildlife including tigers and orangutans. Make sure to head to Borneo and explore the jungle, and dive at Spidan, one of the best dive locations in the world. Malaysia has a ton of stuff to offer travelers and is often quickly visited by travelers who breathe through on their way to or from Thailand. Take this country slowly, enjoy all the great Indian food and curries, and get off the beaten path to get the country to yourself.
Top 5 Things to See and Do in Malaysia
1. Visit Kuala Lumpur
Chances are you'll be spending at least a few nights in Malaysia's capital,
Kuala Lumpur
. The Petronas Twin Towers are a must-see, and if you don't mind heights, you should walk across the bridge connecting the two. They stand an awesome 1,500 feet tall! There is a decent bird zoo and a few parks also worth seeing.
2. Dive in the Perhentian Islands
These islands
are hugely popular with snorkelers and divers as the reefs and crystalline waters surrounding them are host to a wide variety of coral, sea-turtles, small sharks, and reef-fish. They are getting more popular every year but are a beautiful respite from the party heavy and tourist packed island in Thailand.
3. Visit Georgetown
Georgetown is often thought to be Malaysia's most fascinating city, with its crisscrossing streets teeming with bustling shops, historic buildings, and excellent nightlife. The city was listed as a World Heritage site in 2008 and is now surging in popularity.
4. Hike Mount Kinabalu National Park
Mount Kota Kinabula is Malaysia's tallest mountain and the fourth tallest in Southeast Asia. Hiking through the huge (around 1,000 square kilometers!) park is fantastic. Admission is 15 MYR for foreign adults. A Climbing permit is 200 MYR, and insurance (which is mandatory) is 7 MYR per person.
5. Tour the tea plantations
The Cameron Highlands
are covered in lush tea plantations and are a popular place to go on a tour. Visit the factories to learn about the production process or just relax with a cup of tea and obligatory cake or scone. This area is great to spend a few days, cool off from the heat of the rest of the country, and hike the trails that dot the area.
Other Things to See and Do
(Click the title to expand the text)
1. Spot wildlife
Malaysia is rich in wildlife both on land and in its surrounding waters. Some of the world's most rare and endangered animals can be found here. Orangutans, Malaysian tigers, Monitor Lizards, and Sumatran Rhinos are all indigenous to the country and can be seen on one of the many wildlife tours. Day tours will cost under 500 MYR, while a multi-day tour will cost upwards of 10,000 MYR.
2. Dive at Sipadan Island
Sipadan Island is arguably one of the world's best dive sites. Its crystal clear waters are filled with barracudas, manta rays, hammerhead sharks, whale sharks, and greenback and hawksbill turtles. To give you an idea of the beauty of this place, Jacques Cousteau once declared the island an "untouched piece of art." Three dives in the area will cost around 350 MYR per person while a snorkel trip will cost 150 MYR.
3. Sarawak Cultural Village
This living museum showcases the heritage of all of the racial groups in Sarawak – Malays, Chinese, and Indians have been living here peacefully for hundreds of years. Aside from the cultural experience, there are loads of bizarre, yet fun activities, like coconut bowling, blowpipe shooting, and traditional dance lessons. Admission is 50 MYR for adults and 25 MYR for children, not including lunch.
4. Taman Negara National Park
At an estimated 130 million years old, Taman Negara is the oldest rainforest in the world and the largest in Malaysia. This place is packed with activities, such as canopy walks, 4×4 safaris, cave exploration, and trekking. Admission is 1 MYR, and 5 MYR if you want to take photos.
5. Ride a trishaw
This is a unique form of transportation, found all over Melaka. These simple bike taxis are amped to the max with wild decorations — and some even play techno music. The drivers are essentially in an unspoken contest, which makes for lots of colorful, creative taxis to look at.
6. Discover Kota Bharu
Also known as 'The Islamic City,' this is a great city to check out royal palaces, an array of museums, and some crazy back-alley markets. This is also a great place to spend the night before heading south or into Thailand.
7. Relax at Pulau Langkawi
When most people picture Malaysia, this is the island that comes to mind. Depicted in thousands of different magazines, websites, articles, and more, this island is a picturesque retreat with beautiful beaches and plenty of sun. There are plenty of great restaurants to choose from and interesting sights and villages to explore so be sure to spend some time here!
8. Visit Ipoh
This is one of the largest cities in Malaysia and is host to plenty of great restaurants and interesting sights to visit. There are several museums, and historical buildings, including the Birch Memorial Clock Tower and various temples.
9. Go whitewater rafting
Outside of diving, Malaysia is also known for its great whitewater rafting conditions. You can find all grades of rafting on the rivers here, and prices start around 200 MYR.
10. Understand Malaysia's Colonial roots
Malaysia has undergone a diverse colonial history, falling into Portuguese, Dutch, and British hands before finally gaining independence. For a good understanding of this colonial influence, consider a visit to Malacca (or Melaka). The city center was declared a UNESCO World Heritage Site in 2008, and the city is full of interesting museums, buildings, and temples to visit.