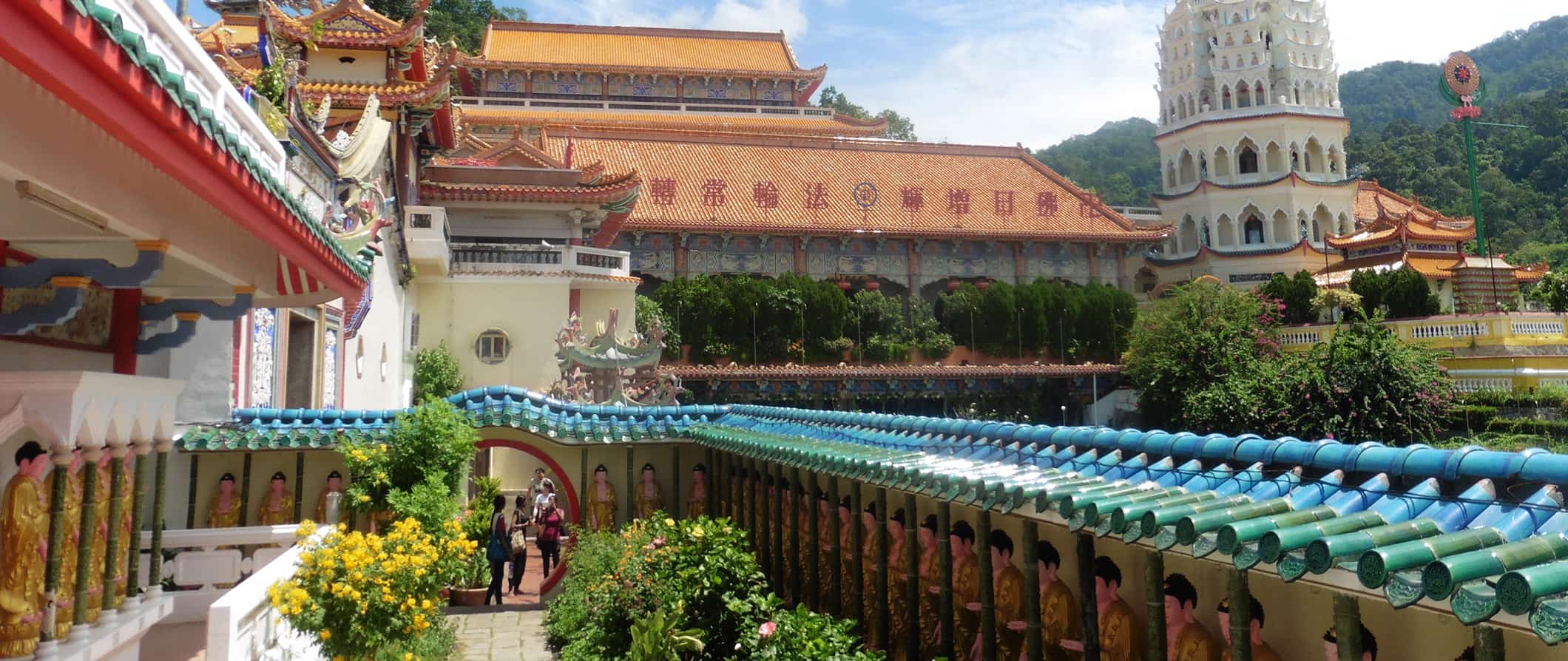 Malaysia is one of the most underrated destinations in Southeast Asia. While the country does see a fair share of backpackers, it sees only a fraction compared to popular neighbors Thailand, Cambodia, and Vietnam.
In my opinion, people are missing out.
From the dense urban jungle of Kuala Lumpur to the pristine beaches of the Perhentian Islands, from the jungles in the interior to the delicious food, Malaysia has a ton to offer travelers.
Explore tea plantations in the Cameron Highlands, trek through the vast national parks of Gunung Mulu and Taman Negara, and admire incredible wildlife, including tigers, elephants, sun bears, and more.
Or head to Borneo to look for wild orangutans, hike through the rainforest, and marvel at the knife-sharp peak of Mount Kinabalu.
All too often, travelers breeze through Malaysia on their way to places like Thailand or Singapore. I'd encourage you not to make that same mistake as there is a ton to see and do here — and it's all super affordable.
This Malaysia travel guide will give you the best places to visit, help you save money, and ensure you make the most of your time in this incredible destination!
Click Here for City Guides
Top 5 Things to See and Do in Malaysia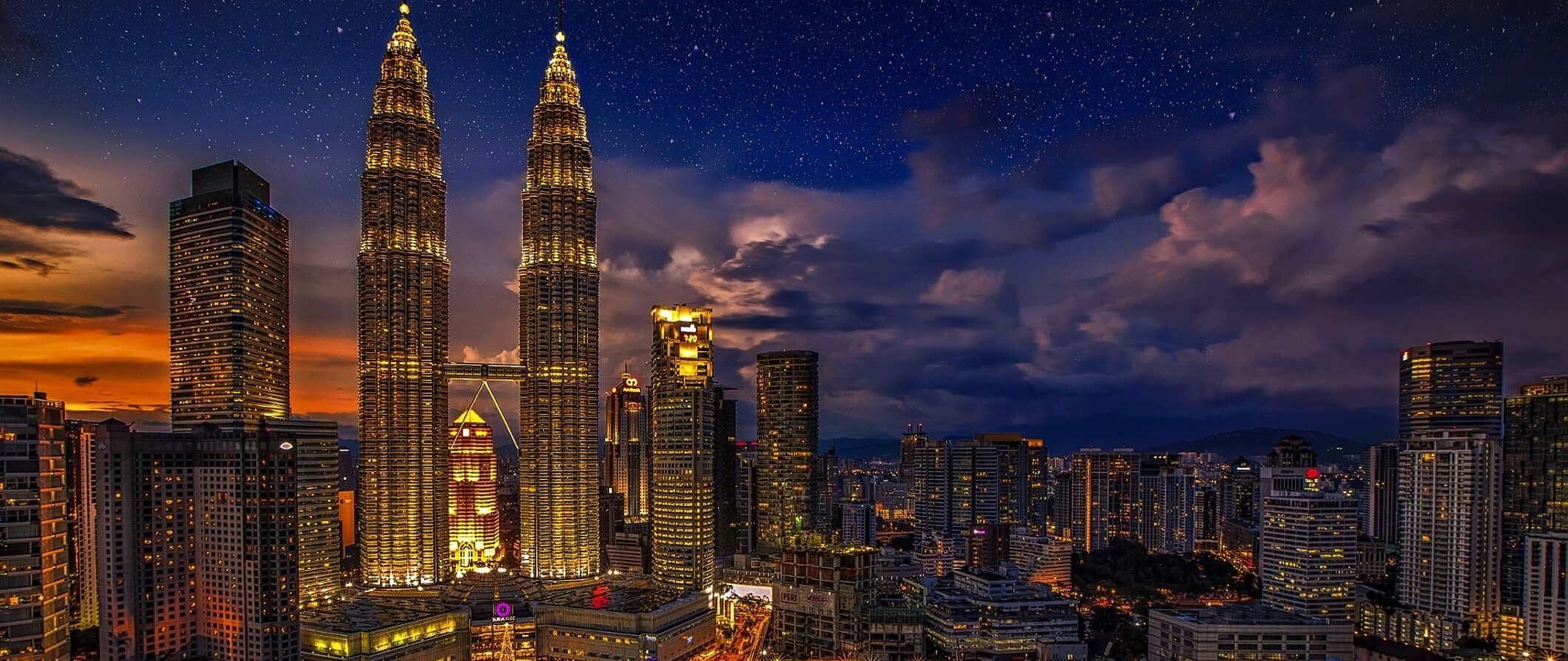 1. Visit Kuala Lumpur
Chances are you'll be spending at least a few nights in Malaysia's capital, Kuala Lumpur. Visit the iconic Petronas Twin Towers, see the famous Sri Mahamariamman Temple, explore the Batu Caves, and see the colorful butterfly garden. It's a great foodie city too.
2. Dive in the Perhentian Islands
These islands are hugely popular with snorkelers and divers because of their reefs and crystalline waters filled with a wide variety of coral, turtles, sharks, and reef-fish. They are getting more popular every year but are a beautiful respite from the tourist-packed islands in Thailand.
3. Visit George Town
George Town is Malaysia's most enchanting city, with Chinese temples next to mosques and colonial British Raj architecture amongst modern skyscrapers. George Town's crisscrossing streets teem with bustling shops, historic buildings, and busy cafes.
4. Hike Mount Kinabalu National Park
Mount Kinabalu is Malaysia's tallest mountain and a popular hiking trek in which you make your way through dense jungle to reach the summit. Admission is 15 MYR, a climbing permit is 200 MYR, and mandatory insurance is 7 MYR. There are only a set amount of permits allowed per day and you must make go with a guide so plan ahead!
5. Tour the tea plantations
The Cameron Highlands are covered in tea plantations. Visit the factories to learn about the production process or just relax with a cup of tea and an obligatory cake or scone. Spend a few days here to cool off from the heat of the rest of the country and hike the trails that dot the area.
Other Things to See and Do in Malaysia
1. Go wildlife spotting
Malaysia has a rich diversity of wildlife. Orangutans, Malaysian tigers, Monitor Lizards, and Sumatran Rhinos are all indigenous to the country (Borneo and Sumatra and the only places in the world with wild orangutans). Malaysia's national parks and wildlife reserves are the best places to go to see wildlife, including Taman Negara and Bako National Park. For Orangutans, go to Borneo. Most day tours cost under 500 MYR, while multi-day tours start around 1,500-2,650 MYR.
2. Dive Sipadan Island
Sipadan Island is one of the world's best dive sites. The famous French explorer Jacques Cousteau declared the island an "untouched piece of art" — and he wasn't wrong! Barracudas, manta rays, hammerhead sharks, whale sharks, and greenback and hawksbill turtles fill these crystal waters. Only 176 permits to dive at the island are issued each day, costing 140 MYR per person. The resorts (located on neighboring islands) each get a specific number of permits per day and require divers to stay with them for a few days, diving the surrounding areas, before they can get a Sipadan permit. A 3-dive package at Uncle Chang's, a budget-friendly dive lodge, costs 550 MYR.
3. Explore Taman Negara National Park
At an estimated 130 million years old, Taman Negara is the oldest rainforest in the world. You can embark on the world's largest canopy walk, take a 4×4 safari to look for elephants and tigers, go spelunking, or visit some Orang Asli villages (belonging to the country's Indigenous peoples). Admission is 1 MYR, and 5 MYR if you want to take photos within the park.
4. Relax at Pulau Langkawi
Featured in thousands of different magazines, websites, and articles, Pulau Langkawi is a picturesque retreat on an archipelago of more than 100 islands made up of white sandy beaches and endless sunshine. Pantai Cenang is the most popular beach area, especially for its strip of restaurants, bars, and shops. For something slower, visit some of the area's traditional villages, go snorkeling at Payar Island, or check out the Telaga Tujuh Waterfalls on the northwest side of the island. This is one of the best places in the country to relax, soak up the sun, and enjoy a slower pace of life.
5. Go whitewater rafting
Outside of diving, Malaysia is also known for its challenging whitewater rafting conditions. You can find all grades of rafting on the rivers here, and prices start around 200 MYR for a half-day excursion. Kuala Kubu Bharu River and Ulu Slim River are two popular options.
6. Understand Malaysia's colonial roots
Malaysia has a tumultuous colonial past. The country was annexed by the Portuguese, Dutch, and British before finally gaining independence. For a deeper understanding of this history, visit Malacca (Melaka). Located just two hours from Kuala Lumpur, the city center was declared a UNESCO World Heritage Site in 2008 and the Baba & Nyonya Heritage Museum offers an in-depth overview of Malaysia's colonial past. Admission to the museum is 16 MYR.
7. Tour Borneo
Just to the east of Malaysia is Borneo, the third-largest island in the world and home to some of the most diverse rainforests on the planet. Pair that with unlimited wildlife viewing opportunities (including endangered orangutans and proboscis monkeys), and rich Indigenous culture, and you've got the makings of a once-in-a-lifetime trip. If you're an experienced climber, you can also climb Mount Kinabalu, the highest mountain in Malaysia at 4,095 meters (13,400 feet) high.
8. Visit the temples
Malaysia has countless beautiful Hindu and Buddhist temples scattered all around the country. Some of the most impressive temples include the Batu Caves (Kuala Lumpur), Sri Mahamariamman (Kuala Lumpur), Thean Hou (Kuala Lumpur), Arulmigu Balathandayuthapani (George Town), and Sam Poh Tong (Ipoh). As most temples are still practicing centers of worship, appropriate dress is required to enter. Admission is always free.
9. Dine on street food
Malaysia's mix of cultures means that there's an incredible variety of delicious and cheap street food to enjoy here. Markets and roadside stalls are great places to pick up hawker food and dine on a budget. Kuala Lumpur, Jalan Alor, Little India, and Chinatown all have tons of inexpensive food stalls with prices starting at 2-4 MYR. You can also take a street food tour to dive in-depth into food culture and history for around 260 MYR.
10. Celebrate Deepavali
Deepavali is the Hindu festival of lights and is one of the biggest Hindu celebrations in Malaysia. Also known as Diwali, Dipavali, Dewali, Deepawali, or the Festival of Lights, it's celebrated in October or November for five days. Traditionally, people host open houses, light candles, have fireworks displays, and serve Indian delicacies. In Kuala Lumpur, the biggest celebrations are in Brickfields (Little India).
11. Go jungle trekking
Don't miss out on exploring Malaysia's lush landscapes and dense forests while you're here. The Cameron Highlands are a great place to go trekking, with 14 trekking routes heading out from the main town of Tanah Rata. Most of the hikes lead to waterfalls and scenic views, but if you want a more challenging trek, you're required to hire a guide and obtain a permit. Eco Cameron Tours offers 4-hour group tours for 80 MYR per person, including a visit to the famous Mossy Forest (a lush forest with ferns, moss, orchids, and a pedestrian boardwalk).
12. Shop at the markets
Indoor and outdoor markets, operating both morning and night, are everywhere in Malaysia. You can get everything at the markets, from prepared food and produce to clothing and souvenirs. They're also a great way to experience local culture. Don't be afraid to barter and haggle – it's what the locals do! If you don't want to shop, come here to people-watch and take in the local pace of life.
13. Visit Masjid Negara
Malaysia's national mosque, this huge house of worship in Kuala Lumpur has the capacity to hold 15,000 people. Opened in 1965, its bright blue star-shaped dome represents the 13 states of Malaysia and the five pillars of Islam (over 60% of Malaysia is Muslim). Non-Muslims are welcome to visit the National Mosque outside of prayer time. Be sure to dress modestly, although there are robes available to put over your clothing as well. It's free to enter.
14. Help the sea turtles
Malaysia's islands are great places to see turtles, either by diving, snorkeling, or volunteering. In the Perhentian Islands, the Perhentian Turtle Project accepts volunteers for multi-week stays from April to September. A two-week volunteer program costs 3,621 MYR, with food and accommodation. All money raised goes toward helping the turtles, who face extinction due to climate change, habitat loss, and pollution.

For more information on specific cities in Malaysia, check out these guides:
Malaysia Travel Costs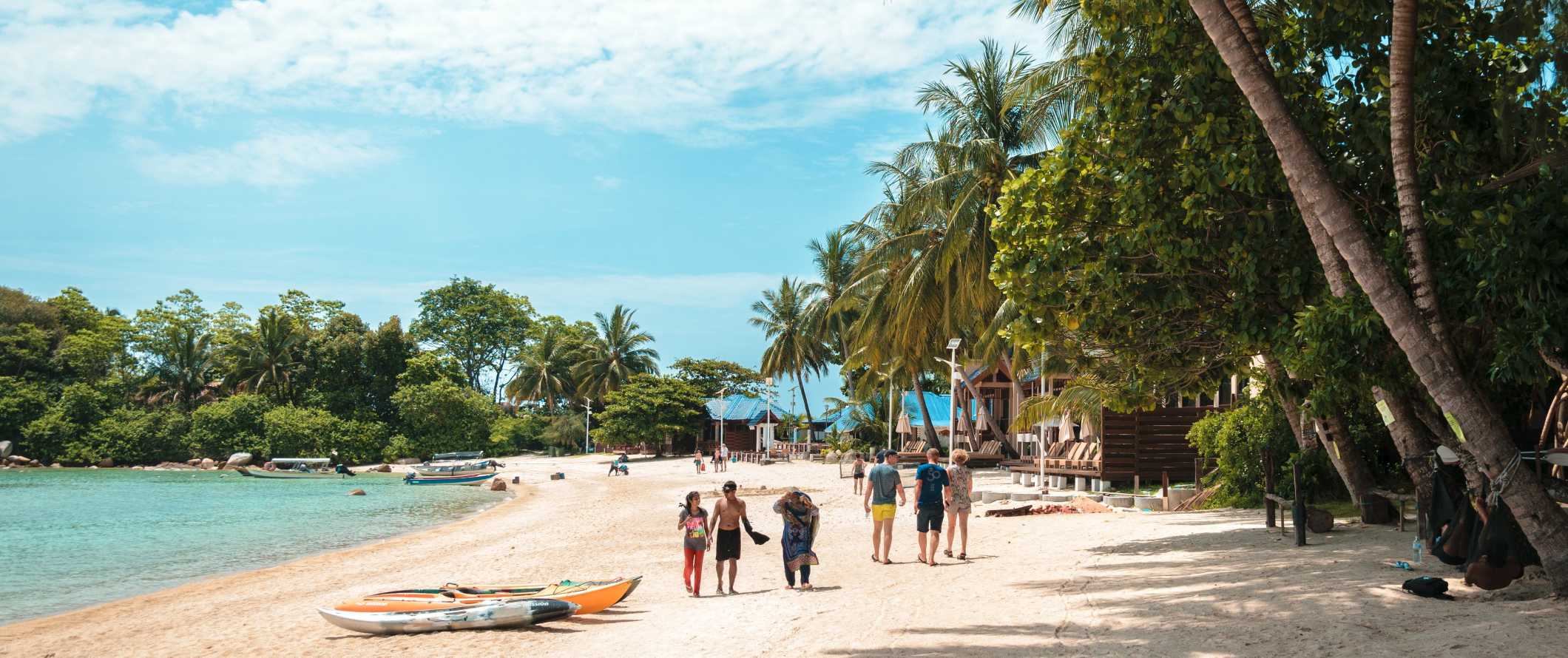 Accommodation – A bed in a 4-6-bed hostel dorm costs 35-70 MYR per night. A bed in a room with 10 or more beds can cost as little as 20 MYR per night. Popular destinations like the Cameron Highlands and Perhentian Islands are on the higher end of the spectrum. A private hostel room costs around 105-130 MYR per night. Free Wi-Fi and free breakfast are common, though most hostels do not have kitchens if you want to cook your own food.
Camping is popular in places like Taman Negara and the Cameron Highlands as a way to save on accommodation costs. Expect to pay around 10-35 MYR per night for a basic plot without electricity.
Budget hotels with free Wi-Fi, air conditioning, and free breakfast start around 75-90 MYR per night. For a three-star hotel with more amenities (such as a swimming pool), expect to pay closer to 200-300 MYR per night.
Airbnb is available throughout the country, mainly offering entire homes and apartments catering specifically to travelers. These start at 100-160 MYR per night.
Food – Malaysian cuisine, like the country itself, features a mix of cultures. China, India, Indonesia, Thailand, and Singapore have all influenced the country's dishes. Rice or noodles are the basis of most dishes, and seafood and fish feature prominently, especially on the islands and coastal areas. As a Muslim-majority country, chicken and beef are common and are usually halal. Popular vegetables include cabbage, bean sprouts, lotus root, sweet potatoes, taro, and long beans.
The unofficial national dish is nasi lemak, fragrant rice cooked in coconut milk, flavored with pandan leaf, and accompanied by different sides, usually served for breakfast. Other popular Malaysian dishes include roti canai (a sweet or savory flatbread), ikan bakarlaksa (spicy noodle soup), and many different regional fried noodle and fried rice dishes.
Steamboat (known in other countries as hot pot), a method of dining in which you cook meat and vegetables in a boiling pot, is popular as well.
Street food (like stuffed pancakes, skewers, and bowls of noodle soup) is the cheapest and most delicious way to eat in Malaysia. Each dish costs only 5 MYR-15 MYR. Snacks like skewers cost 2-6 MYR.
You can expect to pay 10-20 MYR for a meal in a Malaysian restaurant, including food like nasi lemak and rojak (chopped fruit and dough). Simple dishes like fried noodles or a bowl of soup are no more than 13-17 MYR each.
Fast food (think McDonald's) costs around 14 MYR for a combo meal, but other western meals can be double or triple that. Pizza, burgers, or pasta can cost up to 50 MYR.
A beer costs 13-17 MYR and a glass of wine is 20-27 MYR. Cocktails are pretty expensive at 20-45 MYR so I'd skip them if you can. A cappuccino is 8-12 MYR.
A week's worth of groceries costs between 90-150 MYR for basic staples like rice, noodles, seasonal produce, and some meat or fish. Stick to local food items, as western specialties like wine and cheese will destroy your grocery budget.
Activities – Wildlife day tours cost around 500 MYR while rafting is around 200 MYR for a half-day trip. Diving trips are around 550 MYR, national parks are 5-15 MYR, and jungle treks cost around 80 MYR. Guided food tours cost around 260 MYR per person.
Backpacking Malaysia Suggested Budgets
If you're backpacking Malaysia, my suggested budget is 115 MYR per day. This budget covers staying in a hostel dorm, eating street food, taking public transit to get around, skipping alcohol, and sticking to mostly free activities like walking tours, hiking, and relaxing on the beach.
A mid-range budget of 295 MYR per day covers a private Airbnb or private hostel room, drinking more, taking the occasional taxi to get around, eating street food and the occasional sit-down meal, and doing more paid activities like museum visits, food tours, and diving.
On a "luxury" budget of 520 MYR or more per day, you can stay in a hotel with a pool, eat at restaurants for all your meals, have more drinks, visit the islands, and do whatever tours and activities you want. This is just the ground floor for luxury though. The sky is the limit!
Accommodation
Food
Transportation
Attractions
Average Daily Cost
Backpacker
35
40
15
25
115
Mid-Range
100
85
35
75
295
Luxury
200
150
60
110
520
Malaysia Travel Guide: Money-Saving Tips
A little goes a long way in Malaysia, but it's still easy to wreck your budget here if you splash out on fancy meals and tours. Here are some ways you can save money in Malaysia:
Barter with your taxi driver – Taxis aren't usually metered in Malaysia (even though it's required in bigger cities like Kuala Lumpur), so make sure to agree on the fare before you set off. Ask your hotel/hostel staff what you should pay so you don't get ripped off.
Camp – It's possible to camp in places like Taman Negara and the Cameron Highlands to save on accommodation. Expect to pay around 10-35 MYR per night for a basic plot.
Eat the street food – Street stalls are the place to go for delicious hawker food and meals that cost just a few bucks. The street food is the best food in the country — and the cheapest!
Don't drink – As Malaysia is a Muslim country, drinking is frowned upon, but it does happen. However, to restrict it, the authorities have made drinking very, very expensive so skip the booze.
Take a free walking tour – A free walking tour is a great way to explore Kuala Lumpur on a budget. You'll not only get to see the sights, but you'll connect with a local guide who can share their insider tips and advice.
Travel in the off-season – Traveling during the monsoon season (late November to mid-February) is an easy way to save money on flights and accommodation. With significantly fewer visitors, everything is cheaper. To avoid the worst of the rains, skip the east coast.
Use Grab – Grab is like Uber and often cheaper than both taxis and tuk-tuks, especially if you're getting a ride from the airport in Kuala Lumpur. Just download the app and go!
Escape the city – Much of the popular areas in Kuala Lumpur are designed for tourists and can be expensive. Skip the crowds and head to somewhere like Pataling Jaya, a smaller nearby city that has all the perks of KL with none of the downsides.
Pack a water bottle – The tap water here isn't always safe so bring a water bottle with a filter with you to avoid buying single-use plastic. My preferred bottle is LifeStraw, which has built-in filters to ensure your water is always clean and safe.
Where to Stay in Malaysia
Looking for budget-friendly places to stay? Here are my suggested places to stay in Malaysia:
How to Get Around Malaysia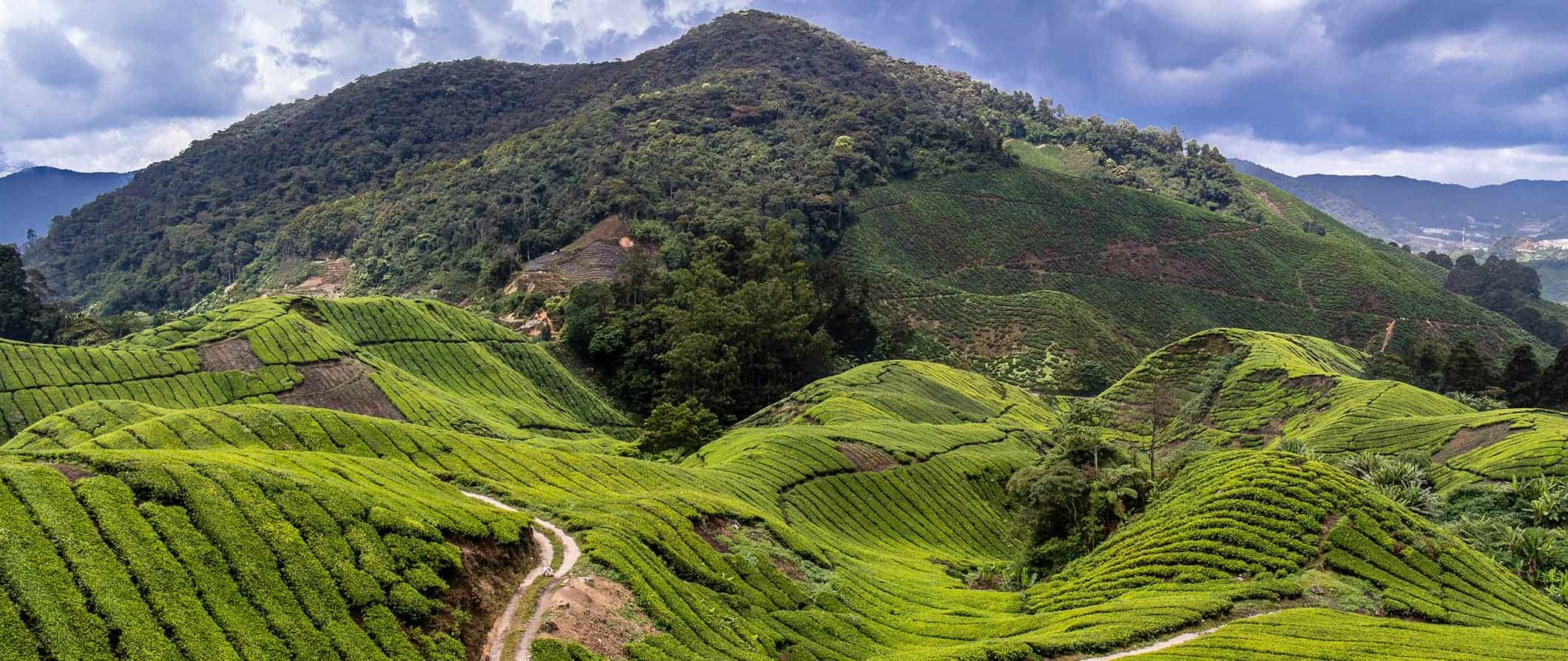 Public transportation – Most cities in Malaysia have excellent public transport, especially Kuala Lumpur with its buses, light rail, commuter rail, and monorail that all connect every part of the city. A ride costs between 1-15 MYR. If you plan on mostly using public transit, pick up a Touch 'n Go (TnG) card to use on all modes of public transportation, saving 20% per ride. You can also load unlimited transit passes onto this card.
In Kuala Lumpur, try to use the free GO KL City Bus. It's a free service that covers most of the tourist hotspots, like Bukit Bintang and Chinatown.
Other cities, like George Town (Penang), are full of city buses that run all over the island. The KOMTAR complex and the Weld Quay jetty are the two primary bus stations. You'll have to tell your driver where you're headed, but a typical one-way fare is 2-7 MYR. There are also free buses that go to significant sites in the city, just look for buses labeled "Free CAT Bus."
Bus – Buses are an easy and efficient way to get around Malaysia. Expect to pay around 5-15 MYR per hour for a bus trip. The main bus companies include:
Transnasional
Plusliner
Aeroline
Super Nice
Aeroline and Super Nice are high-end services that come with air-conditioning and sometimes even meal service, but they're still affordable. The 5-hour bus from Penang to Kuala Lumpur costs around 35-45 MYR, while the 3-hour bus from Kuala Lumpur to the Cameron Highlands costs about 44 MYR.
Train – Mainland Malaysia has 1,849 kilometers (1,149 miles) of rail, with the main line connecting Singapore to Kuala Lumpur to Thailand.
There are two types of service: express trains, which are air-conditioned and have three different classes; and local trains, which usually only have economy class and are much slower than the express trains. All are operated by Keratapi Tanah Melayu (KTM), the national railway service.
You can use the KTMB.com.my website to look up schedules and to book tickets. Reservations open 30 days in advance.
A train from Kuala Lumpur to Butterworth (where you'd catch the ferry to Penang) costs 66 MYR, while the 2.5-hour journey from Ipoh to Kuala Lumpur is 30-45 MYR.
In East Malaysia, there is a round-trip sightseeing train that runs from Kota Kinabalu to Papar, with a stop in Kinarut. The North Borneo Railway runs the entire trip, and it takes four hours. The cost is 345 MYR, which includes breakfast and lunch.
Flying – The two leading domestic airlines in Malaysia are Malaysia Airlines and AirAsia. Kuala Lumpur's airports receive the most flight traffic, followed by Kota Kinabalu and Penang. There are several smaller airports around the country as well.
A flight from Penang to Kuala Lumpur can be found for as little as 100 MYR, while a flight from Kuala Lumpur to Bangkok ranges between 220-600 MYR. Flights between Kuala Lumpur and Kota Kinabalu cost around 225-300 MYR.
Hitchhike – It is common for people to hitchhike in Malaysia, and the locals are eager to pick up travelers. HitchWiki has additional information on hitchhiking in Malaysia.
Car rental – Car rentals usually cost around 85 MYR per day for a multi-day rental. I'd skip the car rental as public transportation is faster and cheaper and accidents here are common. Be aware that traffic flows on the left here.
When to Go to Malaysia
Malaysia's two peak seasons occur from the start of December to the end of January, and then from June to mid-September. The first tourist peak season occurs during Hari Raya Puasa (Eid al-Fitr), which celebrates the end of Ramadan. Check ahead to see when this occurs as the dates vary every year. Malaysia's Muslim population celebrates by taking the week off so your travels could be disrupted if businesses are closed.
Late November to mid-February brings the arrival of the northeast monsoon, affecting much of the east coast with heavy rainfall. September and October are the wettest months on the west coast, with downpours sometimes going on for hours. This is also true in mountainous areas like the Cameron Highlands.
Overall, the best time to visit is from March to early November when it's drier and less humid. Visiting just after the rainy season isn't a bad idea either, as it's still warm, the countryside is lush and full of waterfalls, and tourism is still not overly busy.
Temperatures do not fluctuate much across the country. The daily average is 22-32°C (73-90°F), while in the hills the temperature averages 21°C (67°F). Humidity is high year-round.
How to Stay Safe in Malaysia
Malaysia is safe place to backpack and travel — even for solo travelers and solo female travelers. Violent attacks against foreigners are rare.
Petty theft (including bag snatching) is the most common type of crime in Malaysia. When out and about, always keep your valuables secure and out of reach just to be safe. This is especially important in crowded tourist areas and on busy public transportation. Don't leave anything valuable unattended at the beach either.
Solo female travelers should feel comfortable here, though walking alone a night should be avoided just to be safe.
There are some common scams here, especially in Kuala Lumpur, such as taxi drivers trying to rip off passengers. Make sure the meter is on or negotiate your fare before getting in a taxi (or take a Grab to avoid this altogether).
If you're worried about getting ripped off, read about common travel scams to avoid here.
If you are eating out, keep your backpack on your lap or place your foot or a chair leg through your strap. That will prevent would-be thieves from snatching your bag quickly while you're busy eating.
When out in nature, don't feed the monkeys! They get aggressive and are not afraid of people. Do not approach monkeys quickly or give them treats, as they grab anything within reach.
If you experience an emergency, dial 999 for assistance.
Additionally, avoid tap water unless you have a water bottle with a filter. Travelers should also note that Malaysia is a modest country, so revealing outfits attract more attention. To be safe and blend in, dress conservatively.
Always trust your gut instinct. Make copies of your personal documents, including your passport and ID. Forward your itinerary along to loved ones so they'll know where you are.
The most important piece of advice I can offer is to purchase good travel insurance. Travel insurance will protect you against illness, injury, theft, and cancellations. It's comprehensive protection in case anything goes wrong. I never go on a trip without it as I've had to use it many times in the past. You can use the widget below to find the policy right for you:
Malaysia Travel Guide: The Best Booking Resources
These are my favorite companies to use when I travel. They consistently have the best deals, offer world-class customer service and great value, and overall, are better than their competitors. They are the companies I use the most and are always the starting point in my search for travel deals.
Skyscanner – Skyscanner is my favorite flight search engine. They search small websites and budget airlines that larger search sites tend to miss. They are hands down the number one place to start.
Hostelworld – This is the best hostel accommodation site out there with the largest inventory, best search interface, and widest availability.
Agoda – Other than Hostelworld, Agoda is the best hotel accommodation site for Asia.
Booking.com – The best all around booking site that constantly provides the cheapest and lowest rates. They have the widest selection of budget accommodation. In all my tests, they've always had the cheapest rates out of all the booking websites.
Get Your Guide – Get Your Guide is a huge online marketplace for tours and excursions. They have tons of tour options available in cities all around the world, including everything from cooking classes, walking tours, street art lessons, and more!
SafetyWing – Safety Wing offers convenient and affordable plans tailored to digital nomads and long-term travelers. They have cheap monthly plans, great customer service, and an easy-to-use claims process that makes it perfect for those on the road.
LifeStraw – My go-to company for reusable water bottles with built-in filters so you can ensure your drinking water is always clean and safe.
Unbound Merino – They make lightweight, durable, easy-to-clean travel clothing.
Malaysia Travel Guide: Related Articles
Want more info? Check out all the articles I've written on Asia travel and continue planning your trip: