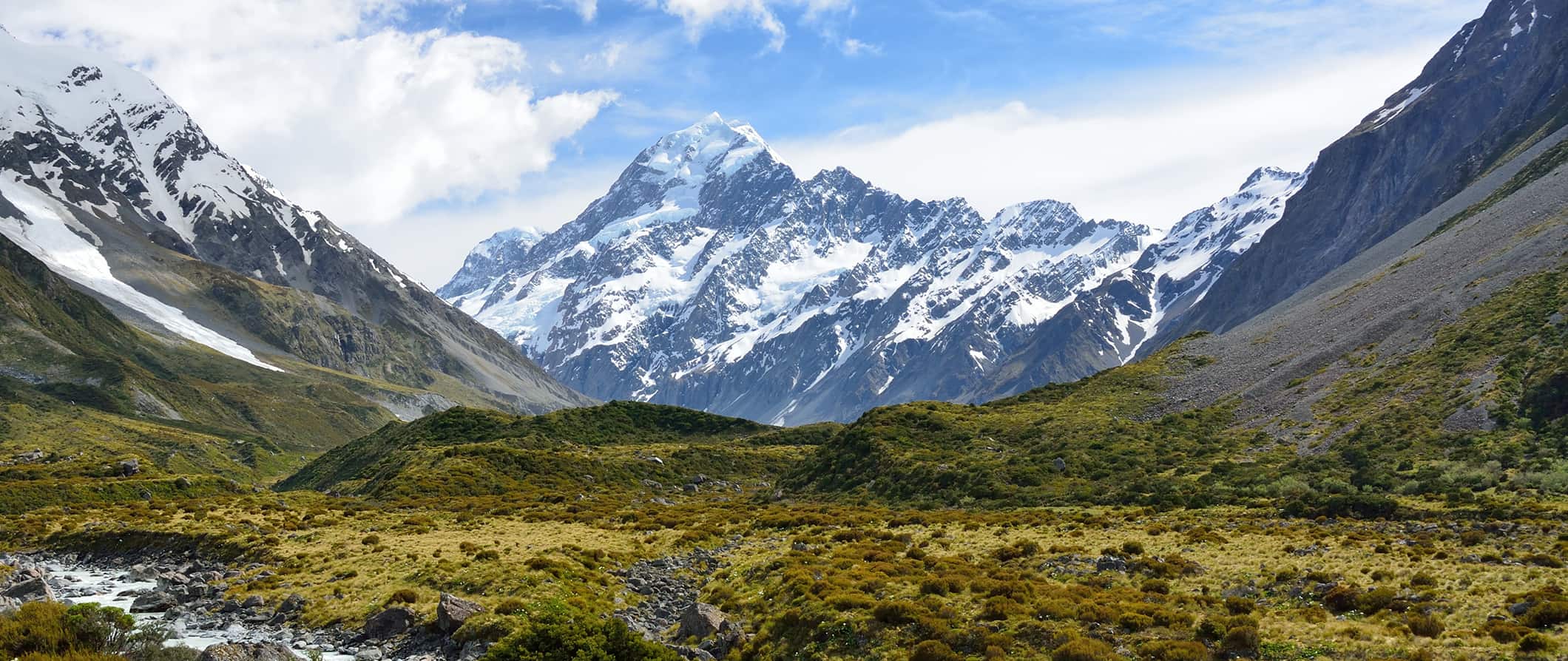 New Zealand's name inspires pictures of mountains, glaciers, forests, pristine lands, and lots and lots of sheep. And the country is the adventure capital of the world. Hiking, skydiving, caving, bungy jumping, skiing — everything here is geared towards getting you outside and doing something incredible.
Backpacking through New Zealand is one of the most popular activities in the world, with thousands of people making their way there on their round-the-world trip (backpackers sweep up those working holiday visas!).
Whether you're a backpacker, budget traveler, or want to splurge a bit more, New Zealand won't let you down. I've loved all my visits to New Zealand. The people are friendly, the country is beyond beautiful, the wine is cheap, the people are friendly, and you meet a lot of travelers. It's one of the best countries in the world. I've never heard anyone not love their time in the country. You will leave here wanting to come back.
And, fortunately, as the land of backpackers, budget travel in New Zealand is easy to do if you know a few tips and tricks on how to save money. It won't be dirt cheap, but it doesn't have to break the bank either.
Use this New Zealand travel guide to plan your trip, save money, and make the most of your time in this incredible destination.
Click Here for City Guides
Top 5 Things to See and Do in New Zealand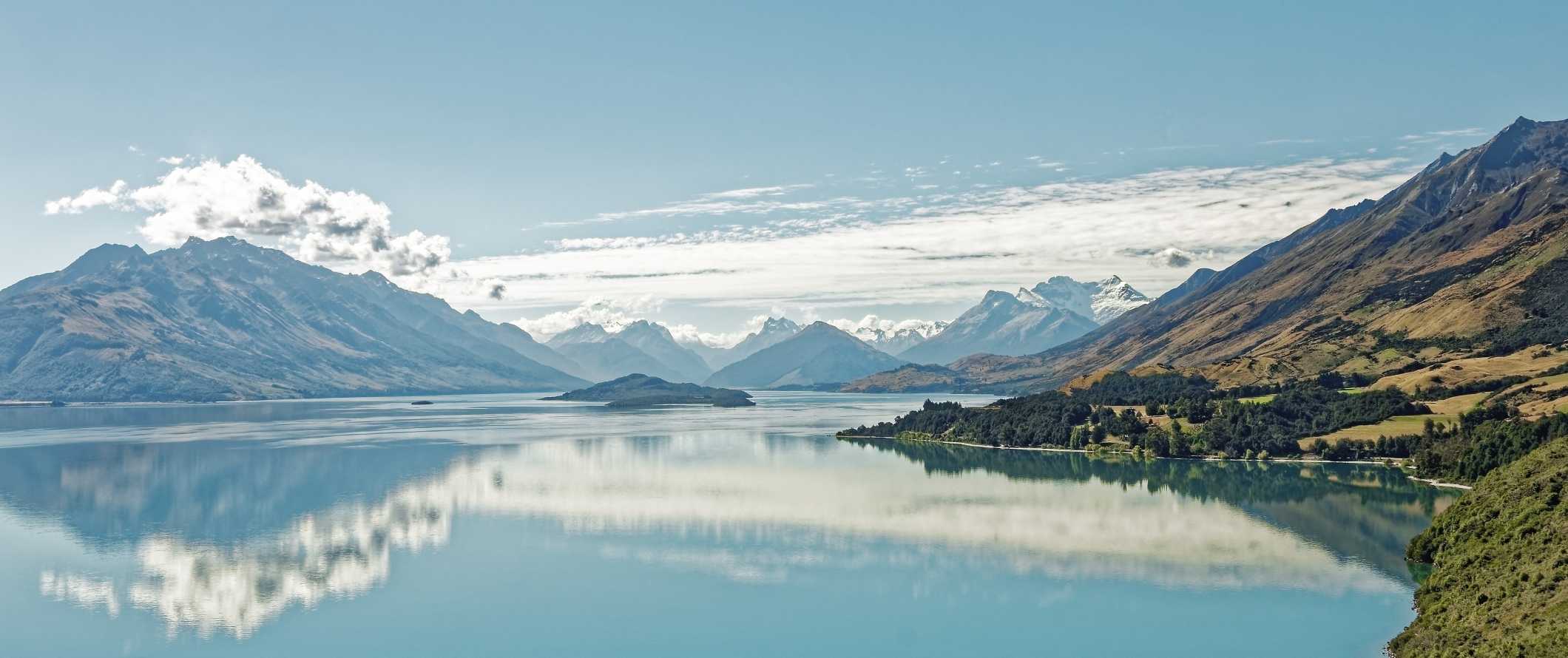 1. Explore Fiordland
Fiordland National Park, located in the southwest of New Zealand's South Island, is home to Doubtful Sound and Milford Sound. You can walk the forest trail along the sandy Milford shore for perfect views of Mitre Peak, or take the Chasm Walk on the Cleddau River to get close to powerful waterfalls. The are also several multi-day hikes here, including the 4-5 day Milford Track, as well as all kinds of scenic flights and cruises. A wilderness cruise of Doubtful Sound costs 199 NZD.
2. Heli-hike Franz Josef Glacier
Heli-hiking this glacier is amazing. With a heli-hike, you take a scenic helicopter flight over the glacier and then land in remote areas where you can explore on foot. Although the 2-3 hour hike is grueling, many tour providers also throw in a complimentary soak in the Hot Pools at the end. Expect to pay around 485 NZD for a heli-hike. It's not cheap, but I personally thought it was completely worth the cost. You can also just do a scenic flight with Glacier Helicopters for 360 NZD.
3. Relax in the Bay of Islands
North of Auckland, this area has some of the best opportunities for dolphin and whale watching, relaxing on the beach, swimming, boating, and eating seafood. The area is very low-key and is a popular summer and weekend getaway destination for Aucklanders. The Waitangi Treaty Grounds, one of the most important historical sites in the country, is also located here. It's where the British and Maori signed what is considered the founding document of modern New Zealand. Today, there are two interactive and interesting museums here as well as Maori cultural performances you can attend.
4. See the Waitomo Glowworm Caves
Explore these incredible caves in sheer darkness with nothing but the glow of glowworms to guide your way. It's an exciting activity as you float down rivers and jump over waterfalls and watch the "starry sky" in the cave. You can also tube and abseil (rappel) through the caves, too. Expect to pay around 55 NZD for the classic 45-minute cave tour and 265 for five-hour tours with abseiling. You can save money overall by purchasing combo tickets (if you want to visit multiple caves or do various tours), or by going on weekdays when you get 20% off.
5. Hike the Tongariro Alpine Crossing
Labeled the best one-day hike in New Zealand, this epic trek near Taupo traverses Tongariro National Park, a World Heritage Site and New Zealand's oldest national park. You walk through volcanic terrain (including where they filmed Mordor in Lord of the Rings), near high peaks and sulfur lakes, before finishing off in a dense forest. The 19-kilometer (12-mile) walk takes a full day and is actually quite challenging. Expect to pay around 40 NZD per person for a shuttle to and from the trail.
Other Things to See and Do in New Zealand
1. Try bungy jumping
A.J. Hackett, a Kiwi, popularized the modern activity of bungy jumping when he (illegally) jumped off the Eiffel Tower in 1987. Today, bungy jumping is hugely popular around the world, but especially in its country of origin. Any adrenaline seeker worth their salt will do the 134-meter (440-foot) Nevis Bungy Jump outside of Queenstown. If that's too high, there are smaller ones in Auckland and Queenstown. The price of adventure isn't cheap, however, with a single jump at Nevis costing 275 NZD.
2. Go skydiving
Another popular adventure activity in New Zealand is skydiving. The best place for this is over Lake Taupo. It provides a stunning backdrop as you plunge to Earth from high above. Taupo Tandem Skydiving offers jumps from 12,000-18,000 feet starting at 279 NZD. You can also take a full-day course to learn how to skydive on your own for 499 NZD. Franz Josef and Lake Wanaka are also popular spots for skydiving as well.
3. Visit Abel Tasman National Park
Located on the South Island, this national park looks like something you'd find in Asia, with its turquoise blue water, dense jungles, and warm temperatures. There are many multi-day hiking trails and beautiful sea kayaking throughout the park. It's also home to one of the 9 Great Walks of New Zealand, the 60-kilometer (37-mile) Abel Tasman Coastal Wal. Entry is free, though you need to pay 16-24 NZD for a campsite if you plan on staying overnight. Huts are also available for 26-52 NZD per night. Accommodation prices vary depending on the time of year. You can also take a scenic cruise around the park with Abel Tasman Sea Shuttles for 79 NZD.
4. Hang out in Wellington
I found New Zealand's capital to be the most "artsy" city in New Zealand. There's great architecture, character, fantastic nightlife, restaurants, and cultural activities. Tour the Beehive (where Parliament meets), ride the cable car for epic views over the city, visit the award-winning Wellington Museum and Museum of New Zealand Te Papa Tongarewa, or learn how to make movie-quality armor at Weta Workshop (the special effects studio behind Lord of the Rings, District 9, Avatar, and many others). You can also leave the city for a wine tour of the Martinborough wine region (149 NZD). There are so many cultural activities to do here so don't be like other travelers and rush through — it's worth a few days!
5. Go dolphin and whale watching
Whether you go from the Bay of Islands, Auckland, or somewhere on the South Island, the country is within the migratory route for many of these creatures and you're bound to see lots of them no matter when you go (though October-March is the best time). Sperm whales, orcas, and humpback whales all call the region home. Boat tours last around 4 hours and cost 135-160 NZD per person.
6. Hit the slopes
During the winter months, the South Island (especially the area around Queenstown and Wanaka) has snow-covered mountains that offer some of the best skiing in the southern hemisphere. Prices vary depending on where you go, how you get there, what equipment you rent, and how long you go for, but expect to pay around 105-140 NZD for a lift pass.
7. Unwind in Rotorua
Located on the North Island, Rotorua is famous for its Maori cultural shows and for its sulfur smell (which comes from the geothermal activity in the area). All around the city are sulfur mud pits that give the city a unique odor. But the upside is that there are a ton of thermal spas in the area to relax in! Also, don't miss the New Zealand Maori Arts and Crafts Institute which has all kinds of traditional Maori arts and crafts.
8. Get outdoors in Kaikoura
This is a coastal town several miles north of Christchurch. It is set on a peninsula, which makes it an awesome place to enjoy the mountain scenery while searching for whales and dolphins. Whale Watch Kaikoura is the best company to go whale-watching with here. They are a Maori-owned tour company that guarantees you see at least one whale on your trip (otherwise they refund you 80% of the cost). Additionally, there is an interesting museum, a handful of historical sights, and the Maori Leap limestone cave to see while you're here.
9. Explore Wellington Botanic Gardens
Of all the beautiful gardens throughout the country, this is perhaps the most popular. There is a vast native forest, an international plant collection, a rose garden, and a landscaped area — complete with a duck pond, sculptures, a playground, and a cafe. Created in 1868, the park spans a massive 25 hectares (60 acres) and makes for a great place to stroll or relax with a book. Admission is free.
10. Ride the Christchurch gondola
If you are in Christchurch, take the gondola ride up Mount Vaendish. The ride is 10 minutes and offers the best views of the city. There is a restaurant at the top if you want to grab a bite to eat while you enjoy the scenery too. Most people walk back down (you can also walk up if you don't mind the exercise; it takes around 45 minutes). Tickets are 35 NZD (round trip). Wellington and Queenstown also have gondolas for views over these cities as well.
11. Enjoy Queenstown
The action capital of the country, Queenstown is one of the most fun cities I've ever visited. There are a lot of outdoor activities and sports (bungy jumping is the most popular) to do in the area, amazing restaurants, and the best nightlife in New Zealand. Everyone who comes ends up staying longer than planned. Don't skip Fergburger either — they have the best burgers in the country!
12. Watch a Maori cultural show
The Maori are the indigenous people who came to New Zealand from Polynesia in the 14th century. Getting to know Maori culture is important to understanding life in this country. Maori make up about 16% of the country's population and you'll see Maori symbols and words throughout the country as you travel. See a Maori cultural show while you are here to get a better understanding of their culture and history. The most popular shows are in Rotorua and cost 150-245 NZD per person (most are 3-4 hours and include a meal).
13. Explore Milford Sound
Milford Sound is such an amazing fjord it deserves its own mention. Located in Fiordland, Milford Sound is best known for the towering Mitre Peak and its surrounding rainforest environments. Waterfalls like Stirling Falls and Bowen Falls cascade down the mountainsides, and the fjord itself is home to seal and penguin colonies. You can often see pods of dolphins frolicking in the waters too. Explore by boat, and check out the Milford Discovery Centre and Underwater Observatory to see rare black coral and other underwater life. Cruises start from 59 NZD.
14. Visit Wanaka
Wanaka is a ski and summer resort town on New Zealand's South Island, set on Wanaka Lake and framed by snowcapped mountains. From here you can explore the Southern Alps' Mount Aspiring National Park, with its many glaciers, beech forests, and alpine lakes. Wanaka Lake itself is perfect for boating enthusiasts, including jet boaters, sailors, and kayakers. If you're a skier or snowboarder, you'll want to check out the Treble Cone and Cardrona ski resorts nearby. For some quirky fun, go to Puzzling World just outside town. It's an outdoor maze and sculpture gallery that's good for a laugh!
15. Travel to Hobbiton
Journey to Middle Earth with a visit to the Hobbiton movie set featured in The Lord of the Rings and The Hobbit movies. This is easily one of New Zealand's most famous activities, so you can expect crowds. To see Hobbiton, you'll have to take a tour. It starts with a drive through the owner's 505-hectare (1,250-acre) sheep farm with some epic views over the Kaimai Ranges. From here, you can explore Bag End, wander around the hobbit holes, and visit the Green Dragon Inn. If you're a LOTR fan, you can't pass this up. Tours start at 89 NZD.
16. Visit Stewart Island
Stewart Island is located 30 kilometers (19 miles) south of the South Island. Over 85% of the island is National Park (Rakiura National Park to be exact), and most people come here for hiking and birdwatching. The island has just 28 kilometers (17 miles) of road, but 280 kilometers (175 miles) of walking tracks suited to short walks, day hikes, and multi-day excursions. Walk the three-day Rakiura Track for the full experience of Stewart Island's natural beauty. Offshore, on Ulva Island, you'll find a predator-free bird sanctuary with dozens of native species. Getting to Stewart Island means you'll need to take a ferry or flight. Ferries take one hour and cost 89 NZD while flights from Invercargill take 15 minutes and cost 230 NZD return.
17. Relax on a scenic rail journey
New Zealand's challenging landscapes demanded some remarkable feats of early railway engineers. While their rail network isn't vast, thanks to their skill and determination, there are some incredible rail journeys on offer. Travel through remote national parks, along beautiful coastlines, and over rugged volcanic landscapes. The routes are the Northern Explorer, Coastal Pacific, and TranzAlpine. I took the TransAlpine and loved every minute of it. You pass rivers, mountains, cross gorges, and vibrant green farmland. It was the highlight of my trip to New Zealand and one of the most peaceful experiences I had. I can't recommend it enough. Tickets vary between 169-219 NZD (one-way) depending on the route and how far you go.
18. Take one of the Great Walks
New Zealand has thousands of miles of hiking trails but sitting above them all are the ten Great Walks that journey through the country's most magnificent places and iconic locations. On the North Island, the Lake Waikaremoana Track takes 3-4 days, leading you through prehistoric rainforests and beautiful wildlife areas. The famous Tongariro Northern Circuit is a challenging 3-4 day excursion where you'll see active volcanoes, emerald lakes, and epic waterfalls. The South Island has its own unique routes, as well, including the Milford Track, which winds its way through the fjords of Milford Sound. Keep in mind that due to their popularity, Great Walks must be booked in advance (and they can sometimes fill up months ahead of time).
19. Explore wine country
New Zealand's wine regions extend 1,600 kilometers (1,000 miles) from sub-tropical Northland down to Central Otago, home to the world's most southerly vineyards. Hawke's Bay, Martinborough, Marlborough, and Central Otago are signature New Zealand wine regions and home to a number of different vineyards. Smaller wine-producing areas include Auckland, Gisborne, and Waipara. If you're keen on seeing the best of what Kiwi vineyards have to offer, check out the Classic New Zealand Wine Trail — a wine-tasting adventure through the heart of New Zealand's grape-growing regions. If you don't have your own vehicle, there are plenty of bus (and even bicycle) tours available. Half-day small group wine tours generally cost 120-170 NZD, while full-day tours start at 200 NZD.
20. Visit Mount Cook National Park
Aoraki Mount Cook National Park is home to some of the highest mountains and the longest glaciers. Here you'll find sky-scraping peaks, sweeping glaciers, and permanent snowfields. Although it encompasses 23 peaks over 3,000 meters (9,800 feet) high, this park is very accessible. State Highway 80 leads to Aoraki/Mount Cook Village, which is situated beside the scenic Lake Pukaki. Far from city lights, the stargazing here is magnificent — Aoraki Mount Cook National Park forms the majority of New Zealand's only International Dark Sky Reserve. Mountaineers regard the area to be the best climbing region in Australasia, while less skilled adventurers will find plenty of enjoyable hikes with stunning views of the area. Admission is free.

For more information on specific destinations in the country, check out these guides:
New Zealand Travel Costs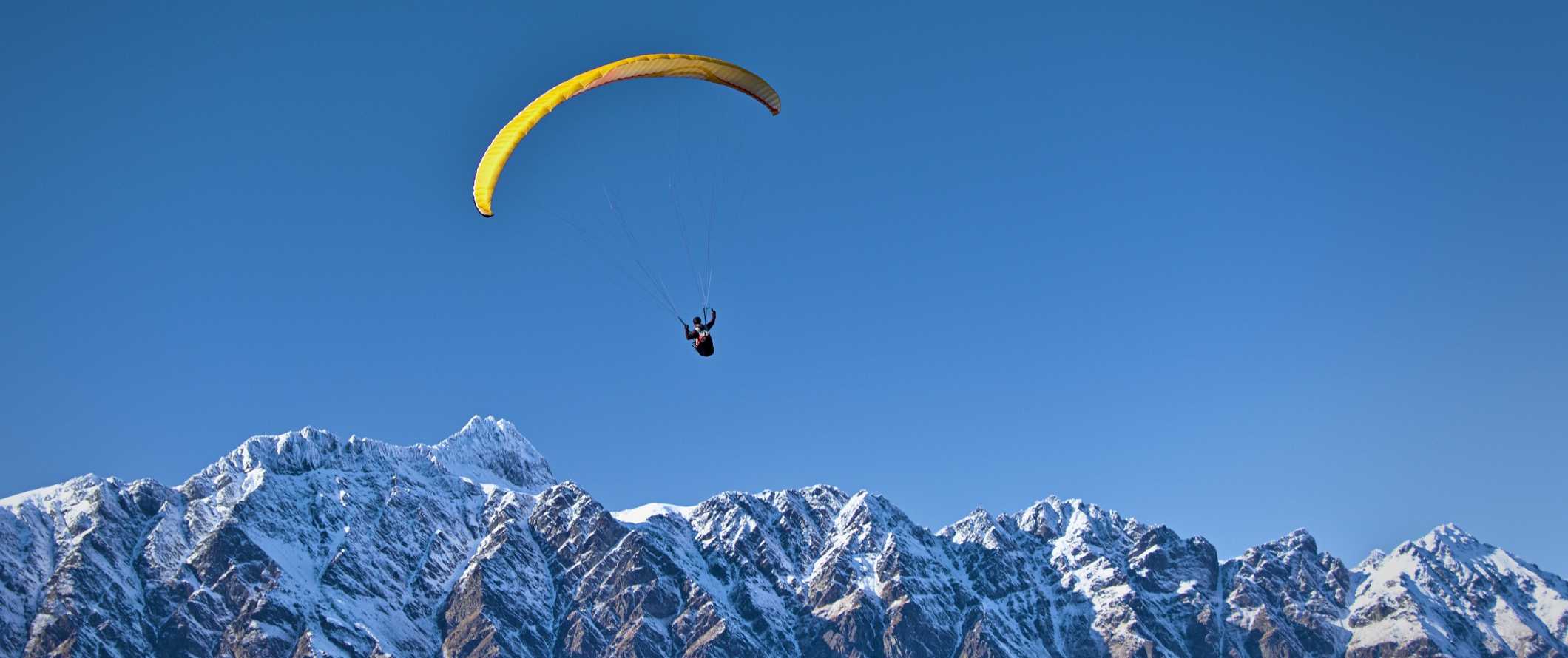 Accommodation – Hostel dorms cost between 25-40 NZD per night for a bed in a dorm with 4-8 beds. Private rooms begin at 75 NZD though most are closer to 100 NZD. Free Wi-Fi is common, though very few hostels include free breakfast. Most hostels have self-catering facilities, so be sure to check before you book if having a kitchen is a priority.
Budget hotels begin around 75 NZD per night. You can often find cheaper hotels and motels, however, they are usually far from the city center or don't include a private bathroom.
Airbnb is widely available with private rooms starting around 65-85 NZD per night and entire homes/apartments costing at least 120-150 NZD per night. Expect to pay double if you don't book in advance.
There are also a ton of campgrounds throughout the country with rates starting at around 15 NZD per night. Most Department of Conversation campsites need to be booked in advance online (in the summer they fill up months in advance). Couchsurfing is huge here, too.
Food – New Zealand cuisine consists mostly of seafood, fish and chips, meat pies, and specialties like Maori hangi (meat and vegetables cooked underground). Expect to indulge in things like roast lamb, muscles, scallops, oysters, and snapper. However, the country is overall very veg-friendly, and vegans and vegetarians will find plant-based dishes on restaurant menus throughout the country.
A meal at an inexpensive restaurant serving typical cuisine costs around 20-25 NZD while a nice meal with a drink costs about 50-60 NZD.
A fast-food combo meal (think McDonald's) costs around 14 NZD. Chinese, Thai, and Indian can be found for 15-20 NZD while takeaway pizzas cost around 10-15 NZD. A takeaway meal of fish and chips is 10-15 NZD.
For drinks, a beer costs 9-10 NZD, a glass of wine is 12-15 NZD, a cocktail is 13-18 NZD, a latte/cappuccino costs 5 NZD, and bottled water is around 3 NZD.
If you choose to cook your food, plan to spend around 60-80 NZD per week on basic foodstuffs like rice, pasta, vegetables, and some meat or fish. PaknSave, mainly located in big cities, is typically the cheapest supermarket.
Backpacking New Zealand Suggested Budgets
On a backpacker budget, prepare to spend at least 75-85 NZD per day. On this budget, you can stay in a hostel dorm, take public transportation to get around, limit your drinking, do free hikes, visit the odd paid site (like museums), and cook your own meals. You'll need to budget more if you plan to do bigger activities like bungy jumping. You can also lower this by Couchsurfing, camping, and cutting out drinking altogether.
For a more mid-range budget, expect to spend around 150-225 NZD per day. On this budget, you can stay in a private room in a hostel or Airbnb, take the occasional taxi or Uber to get around, do some larger activities like bungy jumping or whale watching, eat out for most meals at casual restaurants, and enjoy a few drinks.
A "luxury" budget of around 315-395 NZD per day or more gets you a hotel, any activities you want, wine tours, delicious meals out, and the best the country has to offer. You can also rent a car or take a scenic train journey. This is just the ground floor for luxury — the sky is the limit!
Accommodation
Food
Transportation
Attractions
Average Daily Cost
Backpacker
25-40
20-30
5-10
10-15
60-95
Mid-Range
75-100
45-60
10-20
25-45
150-225
Luxury
130-150
75-95
35-50
75-100
315-395
New Zealand Travel Guide: Money-Saving Tips
Costs in New Zealand can skyrocket quickly if you aren't careful. Eating out here is expensive and all those adventure activities can really add up. In New Zealand, you have to pick and choose your battles. That said there's a ton of ways to save here and it's very easy to travel here on a budget without impacting your experience. Here are ways you can save money in New Zealand:
Learn to cook – I know this is going to sound crazy but: the food scene in New Zealand isn't that mind-blowing. Yes, there are nice cafes, some hip gastronomy, and really delicious meals but nothing blew my mind. There's good food but there's not great food. At least not great enough when you are trying to save money. If you want to really save, cook your own food. When it comes to buying groceries, the cheaper supermarkets are Pakn'Save or Countdown.
Choose wisely – Tours cost a lot of money in New Zealand. A few of these are enough to bust any budget and send you home before you had planned. Pick the ones you really want to do and save the rest for another trip.
Hit happy hour – The backpacker bars have cheap happy hours. Hit them up and drink for cheap.
WWOOF it – WWOOFing is a great way to work for your accommodation and food. In return for working on a farm or B&B, you get free room and board. It's a popular activity with travelers because it lets you stay in a place cheaper and longer. You can do it for a few days or a few months. Keep in mind that most farms require you to have some experience, as too many inexperienced workers have caused trouble in the past.
Get a temporary job – If you're running low on money and still have plenty of time left in New Zealand, check Backpackerboard.co.nz for temporary paying gigs.
Clean in exchange for your room – Many hostels let you trade a few hours of cleaning and making beds for free accommodation. Ask when you check in if this is possible — it might just save you some money!
Ride share – Ride shares are a popular transportation option for travelers looking to lower costs — all you need to do is chip in for gas. You can find rides on websites like Craigslist and CarpoolWorld. Additionally, you'll see people asking for rides on hostel bulletin boards.
Transport vehicles – Campervan and car relocation services will provide you with a free vehicle and gas if you drive it from one destination to another for them. This can be a great way to save a lot of money if you're flexible with timing. Check Transfercar.co.nz to see what's available.
Stay with a local – While there are not a ton of Couchsurfing options available in the country, there are hosts in all of the major cities. If you don't mind sleeping on a couch or floor, this is a great way to save some money and meet locals who can share their insider tips and advice.
Hitchhike – Hitchhiking is easy in New Zealand and it's one of the main ways to get around. There are plenty of people who will pick you up. Additionally, you can just ask around at any hostel and find a ride. Everyone is doing the same circuit. I got from Wanaka to Queenstown to Fiordland that way. Check out HitchWiki for tips.
Take a free walking tour – There are a few free walking tours in New Zealand, such as Auckland Free Walking Tour in Auckland, that offer visitors insights into each city. If you want to get beneath the surface of New Zealand then walking tours are a great place to start. Just be sure to tip your guide at the end!
Get a campervan – Campervans litter New Zealand, especially on the nature-heavy South Island where people hike and camp because they serve as accommodation and transportation all wrapped up in one. For budget-conscious travelers, that's a win. Be sure to download the awesome Campermates app, which lets you find nearby campsites, gas stations, and dump stations.
Find cheap activities – The bookme.co.nz website provides last-minute discounts on activities (and pub crawls) throughout the country. Most of the activities are last minute, but if you're flexible in when you want to do things, you can save up to 60% off attractions! I can't recommend it enough.
Skip the backpacker buses – While fun, buses like the Kiwi Experience, Stray, or Haka are expensive so it's best to avoid them if you are on a tight budget. If your budget isn't so tight and you do want to check them out, be sure to sign up for their mailing lists. There is always a sale on them.
Enjoy nature – Remember that nature is free! New Zealand, home to the great walks of the world, has tons of free outdoor activities. While the adventure sports, wine tours, glacier treks, and boat cruises can eat into your budget, there are plenty of free hiking trails and walks to keep you busy!
Bring a water bottle – The tap water in New Zealand is safe to drink so bring a water bottle with you to save money. LifeStraw makes a reusable bottle with a built-in filter so you can always be sure your water is clean and safe!
Where to Stay in New Zealand
The hostel scene in the country has vastly improved since I first came here in 2010. There's much more variety and higher quality now. Here are some of my suggested places to stay:
For more hostel suggestions, here's a list of my favorite hostels in New Zealand!
How to Get Around New Zealand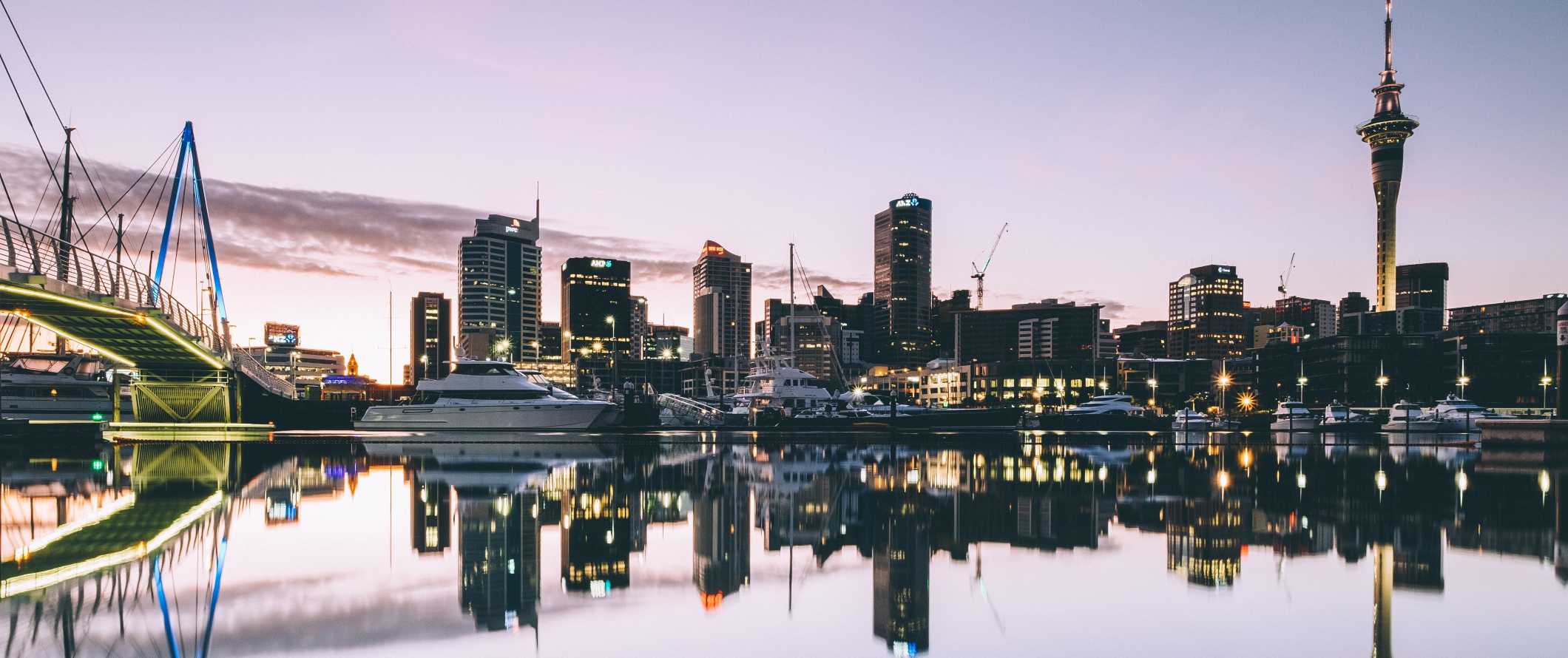 Public transportation – Most towns and cities in New Zealand have buses, and Auckland and Wellington both have rail services. One-way fares start around 2-3 NZD and increase depending on what zone you're traveling to (most cities and towns in New Zealand are sprawling). Check to see if there are transit cards available. For example, Wellington has a Snapper card which will save you nearly half your fare, and the same goes for Auckland's AT HOP card.
Backpacker bus – One of the most popular ways travelers get across New Zealand is by backpacker bus. These buses offer a hop-on/hop-off service that allows travelers both the flexibility to go at their own pace and the convenience of having activities and accommodation organized for them. New Zealand has two major hop-on/hop-off buses:
Kiwi Experience tours range from 2-28 days and cost between 85-1,499 NZD while Stray Tours range from 8-18 days and cost between 2,140-4,999 NZD.
Trains – New Zealand has three train lines: Northern Explorer, Coastal Pacific, and TranzAlpine. These are scenic train rides complete with viewing platforms, audio commentary, information packets, and big windows for taking photos. However, they're not the most convenient for getting around as they have quite limited schedules. They are meant to be scenic rides than transportation. Tickets range from 99-219 NZD depending on the route.
Buses – Buses are the best and cheapest way to get around New Zealand. Buses stop in every town, and there are frequent departures from even the smallest cities. Visit InterCity for fares and routes. The earlier you book in advance, the cheaper your ticket will be. Avoid last-minute bookings if possible.
Flying – Flying in New Zealand isn't that cheap, as there are only two companies that dominate the entire market: Air New Zealand and Jetstar — and on most routes, it's just Air New Zealand. While you can find some cheap fares on shorter routes or by booking a few months in advance, unless you are really pressed for time or traveling from island to island, I'd skip flying.
One-way routes from Auckland to Queenstown cost 60-130 NZD (a two-hour flight), Queenstown to Christchurch is usually 50-140 NZD (a one-hour flight), and Auckland to Christchurch from 45-125 NZD (a 1.5-hour flight).
Campervans and Car Rentals – This is a popular way to travel in New Zealand, especially on the nature-heavy South Island, where people hike and camp. There are five main rental agencies:
Daily rates change depending on where you pick the vehicle up, if you are dropping it off at a different place, how long you are renting it for, how far in advance you book, and when you book. (Going during the high season? Prices seem to double!). Check out this post for more information and price comparisons.
Hitchhiking – Hitchhiking is easy in New Zealand, and it's one of the main ways to get around. There are plenty of people who will pick you up. Additionally, you can just ask around any hostel for a ride — everyone is doing the same circuit. Check out Carpool New Zealand for rides and HitchWiki for tips.
When to Go to New Zealand
New Zealand is in the Southern Hemisphere, meaning when most North Americans are dealing with snow and freezing temperatures, Kiwis are enjoying their beaches. Overall, the climate here is temperate. Summer is from December-February and is the most popular time to visit. Kiwis also take their holidays during this time, so things get busy! Days are long and sunny, nights are mild. The average daytime temperature is 20-25°C (68-77°F).
Fall is from March-May and it's one of the best times to visit. The crowds have dispersed, prices are lower, and the weather is pleasant. Some areas still have very warm temperatures, like Auckland.
Winter is from June-August, and it's a great time to visit if you're into snow sports. Queenstown and the Central Plateau are winter playgrounds during this time, but especially in June and July! Temperatures on the South Island can drop as low as 0°C (30°F).
Spring (September-November) is also a nice time to visit, especially on the South Island. In short, there's really no bad time to visit, depending on the sort of things you'd like to do.
That said, since New Zealand is so expensive, the shoulder season is one of the best times to visit if you're on a budget.
How to Stay Safe in New Zealand
New Zealand is a safe place to backpack and travel around. Violent crime and petty theft are both incredibly rare here. That said, it never hurts to always keep your valuables safe and secure just in case. Don't leave valuables in your car or van overnight as break ins sometimes do happen.
Solo female travelers should generally feel safe here. However, the standard precautions apply (never leave your drink unattended at the bar, never walk home alone intoxicated, etc.).
You can read about common travel scams to avoid here but there aren't many in New Zealand though. People here are generally friendly and nice. In all my years traveling here, I've never felt unsafe.
If you're doing any hiking or other adventure sports, always check the weather in advance and bring water and sunscreen.
As earthquakes and tsunamis do occur in New Zealand, consider downloading the Hazard App from the Red Cross. It has all kinds of advice and tips for natural disasters and also sends out warnings and notifications should a disaster occur.
If you do experience an emergency, dial 111 for assistance.
The most important piece of advice I can offer is to purchase good travel insurance. Travel insurance will protect you against illness, injury, theft, and cancellations. It's comprehensive protection in case anything goes wrong. I never go on a trip without it as I've had to use it many times in the past. You can use the widget below to find the policy right for you:
New Zealand Travel Guide: The Best Booking Resources
These are my favorite companies to use when I travel. They consistently have the best deals, offer world-class customer service and great value, and overall, are better than their competitors. They are the companies I use the most and are always the starting point in my search for travel deals.
Skyscanner – Skyscanner is my favorite flight search engine. They search small websites and budget airlines that larger search sites tend to miss. They are hands down the number one place to start.
Hostelworld – This is the best hostel accommodation site out there with the largest inventory, best search interface, and widest availability.
Booking.com – The best all around booking site that constantly provides the cheapest and lowest rates. They have the widest selection of budget accommodation. In all my tests, they've always had the cheapest rates out of all the booking websites.
Get Your Guide – Get Your Guide is a huge online marketplace for tours and excursions. They have tons of tour options available in cities all around the world, including everything from cooking classes, walking tours, street art lessons, and more!
EatWith – This website allows you to eat home cooked meal with locals. Locals post listings for dinner parties and specialty meals that you can sign up for. There is a fee (everyone sets their own price) but this is a great way to do something different, pick a local's brain, and make a new friend.
bookme.co.nz – You'll get some really good last minute deals and discounts on this website! Just select what area you're traveling in, and see what activities are on sale.
treatme.co.nz – The locals use this website to find discount hotels, restaurants, and tours. You can save up to 50% off things like catamaran sailing lessons or three-course dinners.
SafetyWing – Safety Wing offers convenient and affordable plans tailored to digital nomads and long-term travelers. They have cheap monthly plans, great customer service, and an easy-to-use claims process that makes it perfect for those on the road.
LifeStraw – My go-to company for reusable water bottles with built-in filters so you can ensure your drinking water is always clean and safe.
Unbound Merino – They make lightweight, durable, easy-to-clean travel clothing.
Top Travel Credit Cards – Points are the best way to cut down travel expenses. Here's my favorite point earning credit cards so you can get free travel!
New Zealand Travel Guide: Related Articles
Want more info? Check out all the articles I've written on New Zealand travel and continue planning your trip: