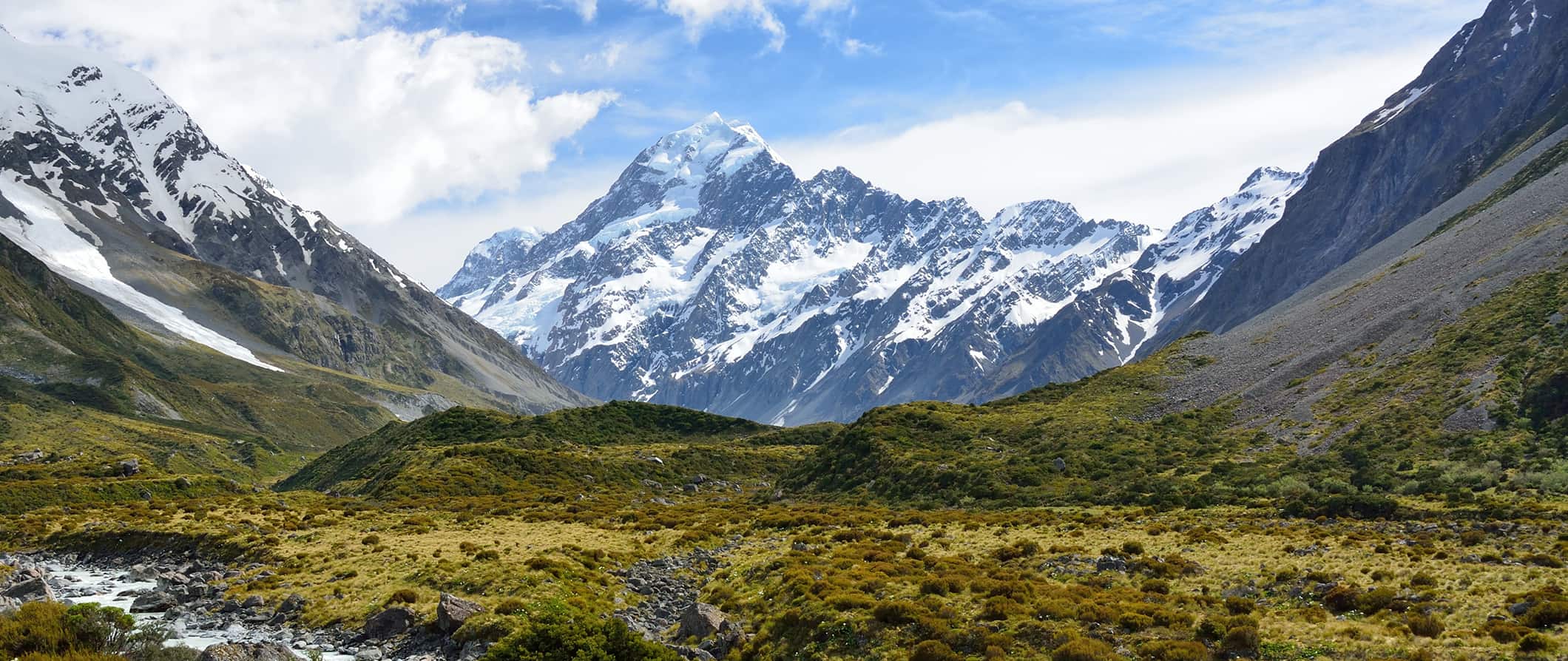 New Zealand is the adventure capital of the world. Hiking, skydiving, caving, bungy jumping, skiing — everything here is geared towards getting you outside and doing something incredible. As a popular destination for backpackers and budget travelers, New Zealand is surprisingly affordable and offers many ways to save money. I loved my time in New Zealand — the people were friendly, the country was beautiful (I can see why the shot Lord of the Rings there), and you meet a lot of great travelers there. It's one of the best countries in the world and a place not to be missed. I've never heard anyone not love their time in the country. Most people don't want to leave! You really can't go wrong with this majestic country, which is why it's one of my top ten countries in the world! Use this guide to plan the adventure of the lifetime on a budget!
Top 5 Things to See and Do in New Zealand
Other Things to See and Do
(Click the title to expand the text)
1. Try bungy jumping
Any adrenaline seeker worth their salt will do the 500ft Nevis Bungy Jump outside of Queenstown. If that's too high, there are smaller ones in Auckland and Queenstown. The price of adventure isn't cheap, however, with a single jump at Nevis costing 275 NZD.
2. Go skydiving
Another popular adventure activity in New Zealand is skydiving. The best place for this is over Lake Taupo. It provides a stunning backdrop as you plunge to Earth from 15,000ft. A jump from 12,000ft will cost you around 300 NZD, while a jump from 15,000ft that includes a video, photos, and t-shirt is 550 NZD.
3. Visit Abel Tasman National Park
Located on the South Island, this national park looks like something you'd find in Asia, with its turquoise blue water, dense jungles, and warm temperatures. There are many multi-day hiking trails and beautiful sea kayaking throughout the park. Entry is free, though you will need to pay 15 NZD for a campsite if you plan on staying over. Huts are also available for 38 NZD per night.
4. Hang out in Wellington
New Zealand's capital has great architecture, character, fantastic nightlife, restaurants, and cultural activities. I found it to be the most "artsy" city in New Zealand. There's a lot of cultural activities to do here so don't be like other travelers and rush through — it's worth a few days!
5. Go dolphin and whale watching
Whether you go from the Bay of Islands, Auckland, or somewhere on the South Island, the country is within the migratory route for many of these creatures and you're bound to see lots of them no matter when you go. Expect to pay between 60-150 NZD per person for a tour.
6. Hit the slopes
During the winter months, the South Island (especially the are around Queenstown) has snow-covered mountains that offer some of the best skiing in the southern hemisphere. Prices will vary depending on where you go, how you get there, what equipment you rent, and how long you go for, but expect to pay a few hundred dollars per person for a lift pass.
7. Unwind in Rotorua
Rotorua is famous for its Maori cultural shows and for its sulfur smell. All around the city are sulfur mud pits that give the city a unique odor. But the upside is that there are a ton of thermal spas in the area to relax in!
8. Get outdoors in Kaikoura
This is a coastal town several miles north of Christchurch. It is set in a peninsula, which makes it an awesome place to enjoy the mountain scenery while searching for whales and dolphins. Additionally, there are is an interesting museum, a handful of historical sights, and the Maori Leap limestone cave.
9. Explore Wellington Botanic Gardens
Of all the beautiful gardens throughout the country, this is perhaps the most popular. There is a vast native forest, an international plant collection, a rose garden, and a landscaped area — complete with duck pond, sculptures, a playground, and cafe. Best of all, entry is free!
10. Ride the Christchurch gondola
If you are in Christchurch, the gondola ride is highly recommended and a pretty fundamental experience. The ride starts on the Heathcote Valley floor and takes you up the side of Mount Vaendish. There is a nice restaurant at the top that allows you to peer out over the landscape as you eat. Many people cycle or walk back down. Adult tickets are 28 NZD, while children pay only 12 NZD.
11. Stay awhile in Queenstown
The action capital of the country, Queenstown is one of the most fun cities I've ever visited. There's a lot of outdoor activities and sports (bungy jumping is the most popular) to do in the area, amazing restaurants, and the best nightlife in New Zealand. Everyone who comes ends up staying longer than planned. Don't skip Fergburger either — they have the best burgers in the country!
12. Watch a Maori cultural show
Maori culture is important to understanding life in this country; you'll find Maori symbols and words throughout the country. See a Maori cultural show while you are there to get a better understanding of the life and history of the country's native population. The most popular shows are in Rotorua, and cost around 120 NZD per person (including dinner).
13. Explore Milford Sound
Milford Sound is such an amazing fjord, it deserves its own mention. Located in Fiordland, Milford Sound is best known for the towering Mitre Peak and its surrounding rainforest environments. Waterfalls like Stirling Falls and Bowen Falls cascade down the mountainsides, and the fjord itself is home to seal and penguin colonies. You can often see pods of dolphins frolicking in the waters, too. Explore by boat, and check out the Milford Discovery Centre and Underwater Observatory to see rare black coral and other underwater life. Cruises start from 45 NZD, while admission to the Discovery Centre is 36 NZD (you can save money by getting a package deal if you plan on doing both).
14. Visit Wanaka
Wanaka is a ski and summer resort town on New Zealand's South Island, set on Wanaka Lake and framed by snowcapped mountains. From here you can explore the Southern Alps' Mount Aspiring National Park, with its many glaciers, beech forests, and alpine lakes. Wanaka Lake itself is perfect for boating enthusiasts, including jetboaters, sailors, and kayakers. If you're a skier or snowboarder, you'll want to check out the Treble Cone and Cardrona ski resorts nearby. For some quirky fun, go to Puzzling World just outside town. It's an outdoor maze and sculpture gallery that's good for a laugh! Admission to the maze is 18 NZD for adults (14 NZD for children).
15. Travel to Hobbiton
Journey to Middle Earth with a visit to the Hobbtion Movie Set, featured in The Lord of the Rings and The Hobbit movies. This is easily one of New Zealand's most famous activities, so you can expect crowds. To see Hobbiton, you'll have to take a tour. It starts with a drive through the owners' 1,250 acre sheep farm with some epic views over the Kaimai Ranges. From here, you can explore Bag End, wander around the hobbit holes, and visit the Green Dragon Inn. If you're a LOTR fan, you can't pass this up. Tours start around 84 NZD for adults and 42 NZD for kids under 16.
16. Visit Stewart Island
Stewart Island is located 19 miles south of the South Island. Over 85% of the island is National Park, and most people come here for the hiking and birdwatching. The island has just 28km of road, but 280km of walking tracks suited to short walks, day hikes and multi-day excursions. Walk the three-day Rakiura Track and you will get the full experience of Stewart Island's wild beauty. Stewart Island is a haven for brown kiwi (or Tokoeka), which outnumber humans on the island and are active day and night. Blue penguins and the rare yellow-eyed penguins waddle among the rocks. Offshore, on Ulva Island, you'll find a predator-free bird sanctuary with dozens of native species. Getting to Stewart Island means you'll need to take a ferry or flight. Ferries depart from Bluff and take approximately 1 hour, with round-trip tickets costing 135 NZD for adults and 68 NZD for children. Flights depart from Invercargill Airport and take approximately 15-20 minutes, costing around 215 NZD round trip.
17. Relax on a scenic rail journey
New Zealand's challenging landscapes demanded some remarkable feats of early railway engineers. While their rail network isn't vast, thanks to their skill and determination, there are some incredible rail journeys on offer. Travel through remote national parks, along beautiful coastlines, and over rugged volcanic landscapes. Kiwirail routes include the Northern Explorer, Coastal Pacific, and TranzAlpine. I took the TransAlpine and loved every minute of it. You pass rivers, mountains, cross gorges, and vibrant green farmland. It was the highlight of my trip in New Zealand and one of the most peaceful experiences I had. I can't recommend it enough. It cost 199 NZD one way.
18. Take one of the Great Walks
New Zealand has thousands of miles of hiking trails but sitting above them all are the nine Great Walks that journey through the country's most magnificent places and iconic locations. On the North Island, the Lake Waikaremoana Track will take 3-4 days and will lead you through prehistoric rainforests and beautiful wildlife areas. The famous Tongariro Northern Circuit is a gruelling 3-4 day excursion where you'll see active volcanoes, emerald lakes, and epic waterfalls. The South Island has its own unique routes, as well, including the Milford Track, which winds it way through the fjords of Milford Sound.
19. Explore wine country
New Zealand's wine regions extend 1,000 miles from sub-tropical Northland down to Central Otago, home to the world's most southerly vineyards. The Hawke's Bay, Martinborough, Marlborough and Central Otago are signature New Zealand wine regions and home to a number different vineyards. Smaller wine-producing areas include Auckland, Gisborne, and Waipara. If you're keen on seeing the best of what kiwi vineyards have to offer, check out the Classic New Zealand Wine Trail – a wine-tasting adventure through the heart of New Zealand's grape growing regions. If you don't have your own vehicle, there are plenty of bus (and even bicycle) tours available.
20. Visit Mount Cook National Park
Aoraki Mount Cook National Park is home to some of the highest mountains and the longest glaciers. Here you'll find sky-scraping peaks, sweeping glaciers, and permanent snow fields. Although it encompasses 23 peaks over 3,000 metres high, this park is very accessible. State Highway 80 leads to Aoraki/Mount Cook Village, which is situated beside the scenic Lake Pukaki. Far from city lights, the stargazing here is magnificent – Aoraki Mount Cook National Park forms the majority of New Zealand's only International Dark Sky Reserve. Mountaineers regard the area to be the best climbing region in Australasia, while less skilled adventurers will find plenty of enjoyable hikes with stunning views of the area.