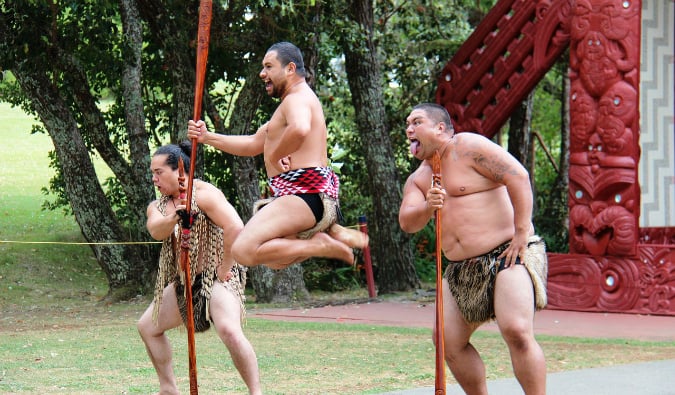 Maori culture has always fascinated me ever since I saw the movie Whale Rider. Their history, cool tattoos, dancing, beliefs, and general relaxed personality make them very interesting to me. As the indigenous people of New Zealand, they haven't done well since the arrival of European settlers. Then again, no indigenous population fared well after Europeans arrived. However, the Maoris are a warrior race and are famous for never having been defeated by the English settlers. It's a fact the proud Maori cherish greatly and are always happy to share.
I was determined to learn more about them while traveling here in New Zealand. The city of Rotorua is supposed to be one of the best places to learn. There are a variety of cultural shows and educational tours in the area. A Maori in the Bay of Islands even told me that if I was going to learn about Maoris, this area would be the easiest for me to do it in. The cultural tours all are quite similar (some are smaller, some have better food, some are different length) but you learn and see a lot of the same stuff. I went with the Tamaki Maori Village tour because my travel partners at the time were also doing it.
The show provides a basic look at Maori life, which is probably what most tourists want, but doesn't provide the in-depth look that I wanted. While the cultural show was interesting, the food great, and the music entertaining, I plan on finding a more non-touristy Maori experience before I leave New Zealand to get a much deeper understanding of the culture.
Planning a visit to New Zealand? Let me help you pick the best things to do, give you ways to save money, and tell you how much you need with my New Zealand travel guide. Everything you need in one place.