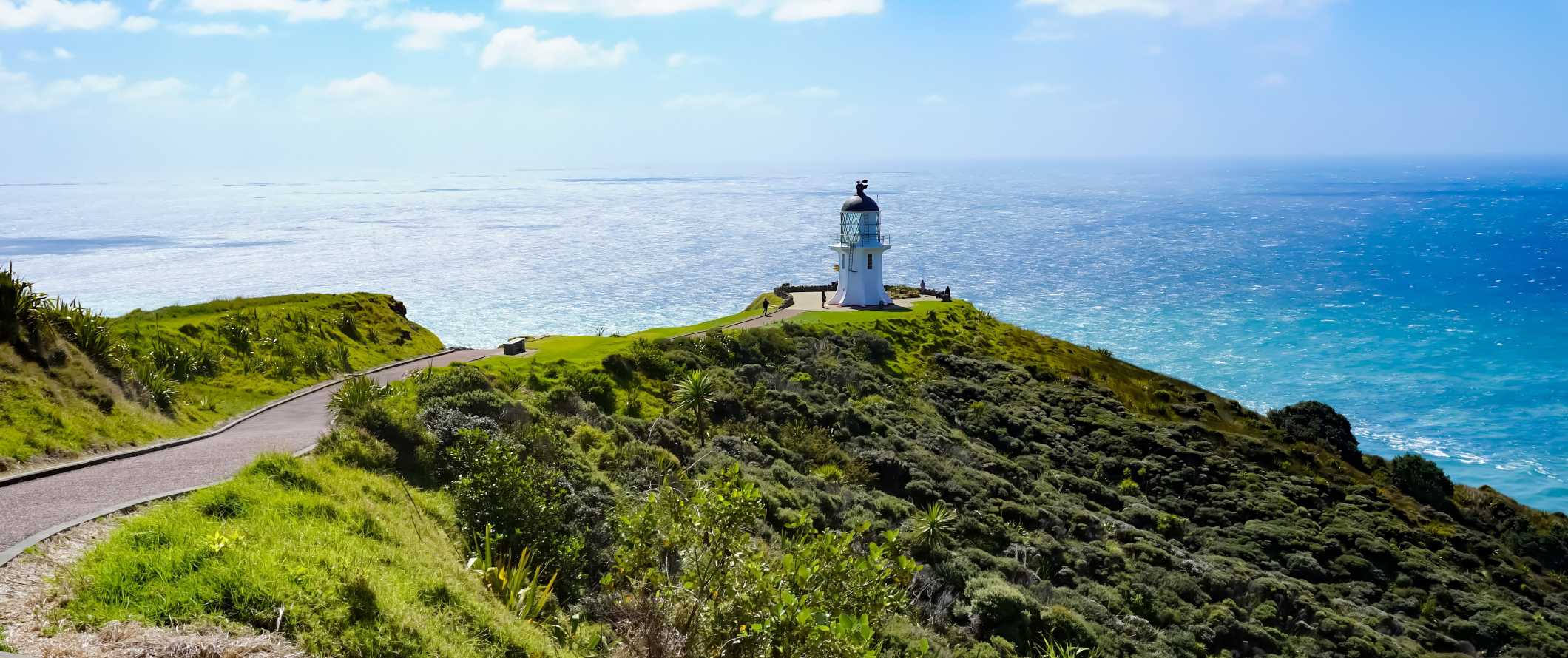 The Bay of Islands is one of the most popular destinations in all of New Zealand. Mile after mile of beach and rocky coastline surround the bay, which is dotted with 144 islands. It's a hugely popular summer getaway destination for those around Auckland.
The beauty of the Bay of Islands — and its countless activities — draws tons of backpackers who want to enjoy the beaches, go dolphin watching, take fishing trips, and try sea kayaking.
I think this destination is one of the few great beach destinations in the country, offering a relaxing interlude before diving into all the adventurous activities the country has to offer as you make your way south.
This travel guide to the Bay of Islands will give you everything you need to save money and plan an amazing visit.
Top 5 Things to See and Do in Bay of Islands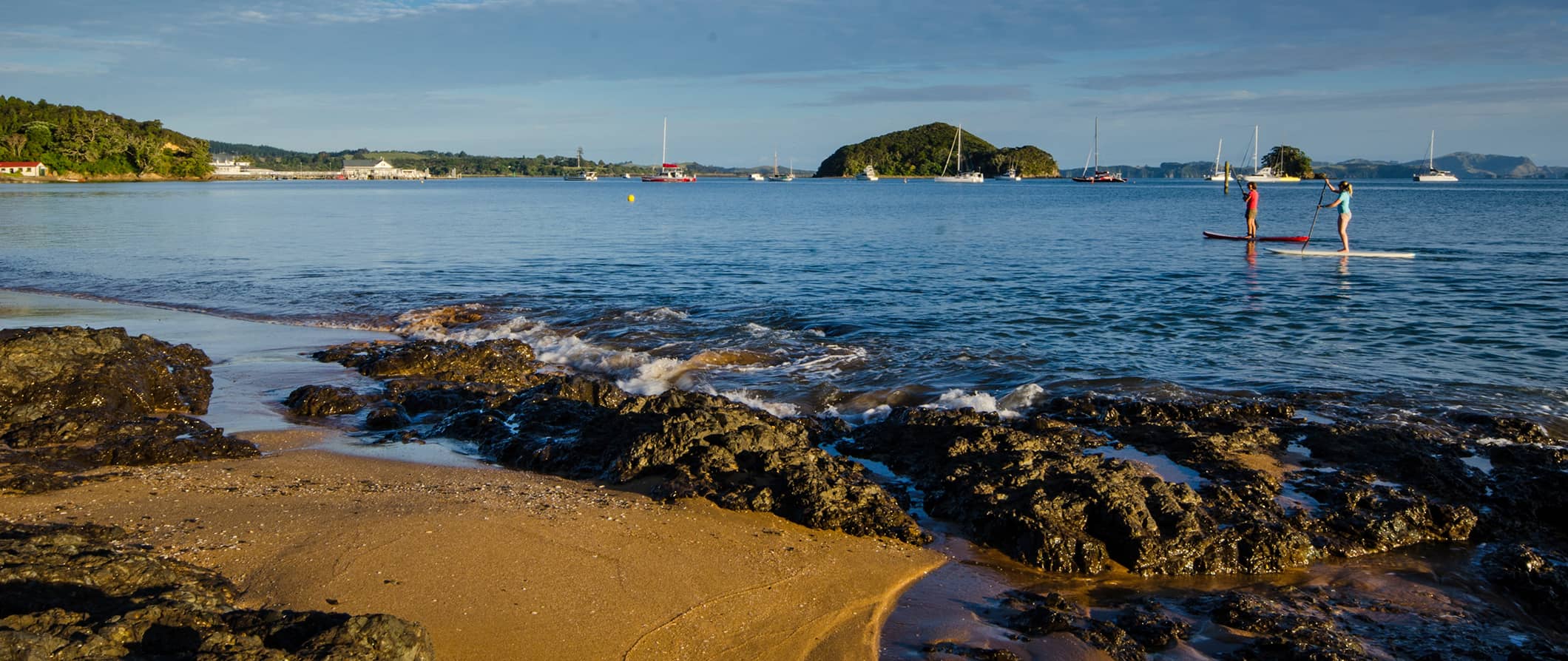 1. Lounge on the beach
The Bay of Islands is home to some of the best beaches in the country. Head to Paihia Beach for a place to swim, kayak, sail, and snorkel. Long Beach is the best choice for a tranquil visit while Elliot Bay is a good choice for surfers. For a more romantic pick, head to the secluded Oke Bay.
2. Visit the Waitangi Treaty Grounds
This is one of the most important historical sites in the country as it's where the Treaty of Waitangi was signed in 1840. This document between the British and the Maori is regarded as the founding document of modern New Zealand. It was the start of giving the Maori rights as citizens, and over 500 Maori chiefs signed the original treaty. If you want to understand modern New Zealand, a visit here is a must. On the grounds, there are two interactive museums, guided tours, Maori cultural performances, a native forest and gardens, and more. An experience pass that offers admission to all of the aforementioned activities is 60 NZD.
3. Make a day trip to Cape Reinga
Cape Reinga is the northernmost point of New Zealand, remotely located about 100 kilometers (62 miles) from the nearest town. Witness the Tasman Sea meets the Pacific Ocean, visit the picturesque coastal (and solar-powered) lighthouse, and see the gnarled 800-year-old pohutukawa tree that represents the gateway to the afterlife in Maori tradition. There's also great hiking in the area.
4. See wild dolphins
There are hundreds of wild dolphins living in the waters here. Boat tours last around 4 hours and cost 135-160 NZD per person. In addition to dolphins, which are frequently seen throughout the entire year, there are also orcas here regularly from April-October and Bryde's whales from May-July.
5. Hit the trails
This entire Bay of Islands region is full of astonishing walking trails. A popular and easy trail is the Paihia to Opua Coastal Walk, which is 5.5 kilometers (3.4 miles) and takes 2.5 hours. For a longer hike, follow the Full Circle Trail. You'll pass through a range of landscapes on this hike, from mangrove forests to vineyards and isolated beaches. It covers 14 kilometers (8.7 miles) of coastline and takes 5-6 hours.
Other Things to See and Do in Bay of Islands
1. Sail the bay
Sailing is popular here due to the perfect weather, protected anchorages (the 144 islands keep the worst of the weather at bay), an abundance of wildlife, and beautiful vistas. There are tons of options for both day trips and multi-day excursions, most of which include snorkeling and swimming. Expect to spend 145 NZD for a day trip. You can also take sailing lessons at Yachting New Zealand and the Royal Yachting Association, ranging from two days to several weeks (prices vary, but start at 900 NZD for a two-day course).
2. Dive a shipwreck
There are two noteworthy wrecks in the region. The most popular is The Rainbow Warrior, a Greenpeace ship that was bombed in 1985 by covert French agents (the ship was on its way to protest France's nuclear testing in the southern Pacific Ocean). Located 26 meters (85 feet) below the surface, the ship now exists as an artificial reef. The HMNZS Canterbury, a 113-meter (370-foot) frigate that was decommissioned in 2005, is another wreck and offers both beginner and advanced sections. Dive prices start at 200 NZD (which includes equipment rental).
3. Go fishing
This region is known for big game fishing of great marlin, kingfish, and snappers. Charter excursions run out of Paihia and Russell and start at around 160 NZD for a half-day shared excursion (you'll share the boat with other guests). Bait and tackle are included and they also fillet your fish for you as there are restaurants in Paihia that cook your catch (Vinnie's Fish and Chip is a favorite). If you're an experienced fisherman, try a Deep-Sea Tour. These are usually private tours that last multiple days and provide an opportunity for you to go after marlin, swordfish, and other big game. Expect to pay upwards of 2,000 NZD for a multi-day tour.
4. Try parasailing
If you're looking for an adrenaline rush (and a stunning view of the region), try parasailing. Single, tandem, and triple-seat parasailing rides are plentiful here, most of which can be found in Paihia. Soar to heights of 396 meters (1,300 feet) above the water as you take in a birds-eye view of the bay and its islands. Children as young as 8 can ride, making this a fun family activity. Rides last 10 minutes and prices start at 135 NZD for a single ride and 105 NZD per person for tandem and triple-seat rides.
5. Visit Rainbow Falls
Rainbow Falls is a 27-meter (88-foot) waterfall located ten minutes from the town of Kerikeri (which itself is just 20 minutes north of Paihia). You can visit the falls by car and then a quick ten-minute hike or you can just walk there in under an hour from Kerikeri itself. The waterfall, known as Waianiwaniwa in Maori, gets its name from the rainbow you can usually see at the base of the falls. There are viewing platforms at the top of the falls and you can swim in the water below (bring a bathing suit). For a longer hike, start at the historic Stone Store and Mission House in the Kerikeri Basin and follow the Kerikeri River Track (this hike takes around 1.5 hours).
6. Tour Pompallier House
Built in 1841, Pompallier House is a 19th-century French Catholic Mission. Located in Russell, today it acts as a small museum. You can see the original printing press (which printed over 30,000 books), tannery, and factory that were originally operated by the mission. The main function of the mission was to translate religious texts into Maori. It's one of the oldest industrial buildings in the country. Admission is 20-30 NZD (depending on tour chosen) and includes a guided tour. If you want to just visit the gardens, its 10 NZD.
7. Visit Parrot Place
The Parrot Place is an aviary in Kerikeri that is home to over 300 species of birds, including blue and gold macaws, kakarikis, and king parrots as well as tons of other species from all around the world. You can hold and feed some of the birds making it an entertaining place to visit if you're traveling with kids. Admission is 14 NZD for adults while a family pass (for 2 adults and 2 kids) is 35 NZD.
8. Check out the Russell Museum
This museum has a host of information and exhibits all about the Bay of Islands and its history. The Bay of Islands, which got its English name from Captain James Cook when he "discovered" the region in 1769, has played a pivotal role in maritime history and exploration. Russell was once the jumping-off point of whalers and the museum is home to tons of information on whaling and its impact on New Zealand. The museum also contains Maori artifacts, a massive replica of Captain Cook's ship, and historical photographs. It's an informative local museum and one not to be missed if you're visiting Russell. Admission is 10 NZD.
9. Cruise around Piercy Island
Piercy Island (Motu Kokako) is a pristine island off the coast of Cape Brett. It's known for a massive 18-meter (60-foot) arch in the rocks. The island itself is home to gannets and other seabirds and is unique in that it has no non-native wildlife. The island was named by Captain Cook in honor of one of the Lords of the Admiralty though most locals just call it the "Hole in the Rock." In addition to jet boat tours, you can also pay for a helicopter ride over the island. Helicopter flights last 35 minutes and cost 410 NZD per person while 4-hour jet boat tours cost around 135 NZD.
10. Visit Tane Mahuta
This majestic tree, known as the God of the Forest, is a giant kauri tree that stands over 45 meters (147 feet) tall and over 4.4 meters (14.4 feet) wide. The tree is the oldest living kauri tree and is estimated to be 2,500 years old. It's located in Waipoua Forest, 100 kilometers (62 miles) west of Paihia. Since the tree is fragile, you'll need to clean your shoes before you visit as kauri trees are very susceptible to disease. It's free to visit.
11. Waitangi Mountain Bike Park
The Waitangi Mountain Bike Park is home to over 40 kilometers (24 miles) of mountain bike trails. There are both kid-friendly trails as well as easy, moderate, and challenging trails for adults. The park is located just north of Paihia. There is a shuttle service at the park so when you finish a track you can get a ride back to the top of the course to continue. Mountain bikes can be rented in Paihia for 79-99 NZD per day (which includes a park donation). Park donations also give you access to many local discounts, including restaurant discounts, discounts on parasailing and skydiving, and even discounts at the local gym (there are almost two dozen discounts offered to park users who donate).
12. Go skydiving
The Bay of Islands is consistently ranked as one of the best places in the country to skydive. The highest tandem jump in the country is here, offering a staggering jump from 6,096 meters (20,000 feet), which includes 85 seconds of free fall. You'll not only be able to soak in the view of all 144 islands in the region but you'll be high enough to see the curvature of the earth. Jumps start at 299 NZD for a 2,743-meter (9,000-foot) jump, going up to 579 NZD for the 6,096-meter (20,000-foot) jump.
For more information on other destinations in New Zealand, check out these guides:
Bay of Islands Travel Costs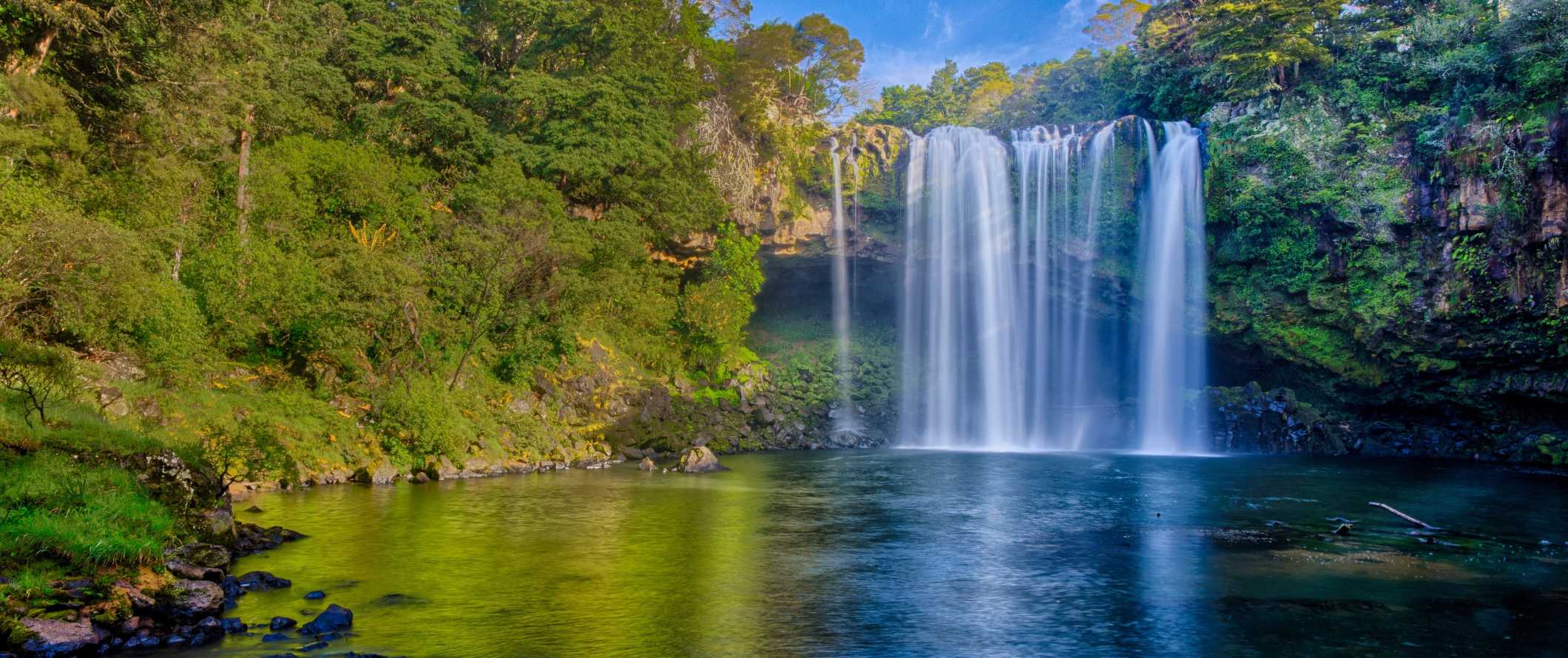 Hostel prices – Dorms with 4-6 beds cost 25-30 NZD per night. Private rooms cost 95-105 NZD per night. Free Wi-Fi is standard and most hostels have self-catering facilities. No hostels here include free breakfast.
Camping is available with basic plots (without electricity) costing around 10-20 NZD per night per person. Keep in mind that most Department of Conservation campsites need to be booked in advance online and in the summer they get booked out months in advance.
If you're driving a self-contained camper van (one with its own water supply and bathroom), there are plenty of free places to park overnight.
Budget hotel prices – Budget hotels and motels in the region cost around 120 NZD per night. In the winter, you can find prices closer to 100 NZD per night. Be sure to book in advance or the cheapest places will be sold out.
Airbnb is widely available in the region as well, with private rooms starting at 50-70 NZD per night, though they average closer to 100 NZD. Entire homes/apartments start at 125-150 NZD per night but average closer to 250 NZD.
Food – Food in New Zealand consists mostly of seafood, lamb, fish and chips, and specialties like Maori hangi (meat and vegetables cooked underground). Expect to indulge on things like roast lamb, muscles, scallops, oysters, and snapper during your visit. Naturally, in the Bay of Islands, seafood is king.
Since this is a resort/holiday getaway region, eating out here is very expensive and there aren't a ton of options. A cheap restaurant meal costs around 20-25 NZD. A burger is 20-22 NZD, while seafood dishes start at 30 NZD. For a three-course meal with a drink, expect to pay at least 60 NZD.
A fast-food meal (there's a Pita Pit in the area) costs around 12 NZD. Chinese and Thai food can be found for 15-20 NZD a dish while pizzas cost around 12-15 NZD.
Beer costs 10-12 NZD, a glass of wine is 12-14 NZD, cocktails are 17-20 NZD, lattes/cappuccinos cost 5 NZD, and bottled water is 3 NZD.
If you choose to cook your own food, plan to spend around 75 NZD per week for basic staples like rice, pasta, vegetables, and some meat.
Backpacking Auckland Suggested Budgets
On a backpacker budget, you can visit the Bay of Islands for 75 NZD per day. On this budget, you'll stay in a dorm room or camp, cook all of your meals, do free outdoor activities like hiking, visit just a few paid attractions (like museums), use rideshares or buses to travel between towns, and limit your drinking. If you want to enjoy a few drinks, add 10-20 NZD more per day.
On a mid-range budget of 210 NZD per day, you'll stay in a private hostel or Airbnb room, eat out at cheap local restaurants for most meals, rent a car to get around, enjoy a few happy hours, and do more paid activities like snorkeling and kayaking. In short, you'll have the flexibility to do what you want. Budget 10-30 NZD extra per day if you plan to do more activities or drink more.
On a "luxury" budget of 450 NZD per day or more, you can stay in a hotel, eat out for every meal, drink what you want, rent a car or campervan, and do as many activities as you'd like (including skydiving and scuba diving). This is just the ground floor for luxury though — you can easily spend more if you really want to splash out!
Accommodation
Food
Transportation
Attractions
Average Daily Cost
Backpacker
30
15
15
15
75
Mid-Range
90
45
45
30
210
Bay of Islands Travel Guide: Money-Saving Tips
The Bay of Islands is a popular holiday region in the country so that means prices are high (especially in the summer). It's a place meant for tourists and those places are never cheap! That said, there are ways to save if you plan ahead. Here are some tips to help you save money:
Cook your own food – The Bay of Islands is an upscale beach area with many expensive restaurants. Eating out really hurts your budget — more so than in other places. Cook your own meals to save money. When it comes to buying groceries, the cheapest supermarket is Countdown.
Stay with a local – While there are not many Couchsurfing hosts available in the area, there are still some. Try staying with a local to cut down on your accommodation costs. You'll also get some valuable insight into the area from a local — and that is priceless!
Avoid the high season – Prices are higher during the summer months (and the beaches will be packed) so avoid peak tourist season if you can .
Find deals at bookme.co.nz – If you're looking for activities and are flexible with your dates, this website often has great deals. You can find tours and activities for up to 50% off!
Get a temporary job – If you're running low on money and still have plenty of time left in New Zealand, check Backpackerboard.co.nz for temporary paying gigs.
Hit happy hour – Backpacker bars have cheap happy hours. Hit them up and drink for cheap. Otherwise, limit your drinking to save money.
WWOOF it – If you don't mind staying outside of the main towns and cities in the area, WWOOFing is a great way to work for your accommodation and food. In return for working on a farm or B&B, you get free room and board. It's a popular activity with travelers because it lets you stay in a place cheaper and longer. You can do it for a few days or a few months.
Clean in exchange for your room – Some hostels in the region let you trade a few hours of cleaning and making beds for free accommodation. Ask at the front desk if you're interested.
Share rides – If you plan on exploring the region, consider a rideshare. Rideshares are a popular transportation option for travelers looking to lower costs — all you need to do is chip in for gas. You can find rides on websites like Craigslist and Carpool New Zealand. Additionally, you'll see people asking for rides on hostel bulletin boards.
Enjoy nature – Remember that nature is free! The Northland region is home to tons of free outdoor activities, hiking trails, and beaches. While the adventure sports and boat cruises can eat into your budget, there are plenty of trails and walks here to keep you busy.
Bring a water bottle – The tap water in New Zealand is safe to drink so bring a water bottle with you to save money. Lifestraw makes a reusable bottle with a built-in filter so you can always be sure your water is clean and safe!
Where To Stay in Bay of Islands
The Bay of Islands region has a couple of hostels available that are comfortable and sociable. You'll find them in Paihia, the main jumping-off point to the Bay of Islands. My suggested places to stay are:
How to Get Around Bay of Islands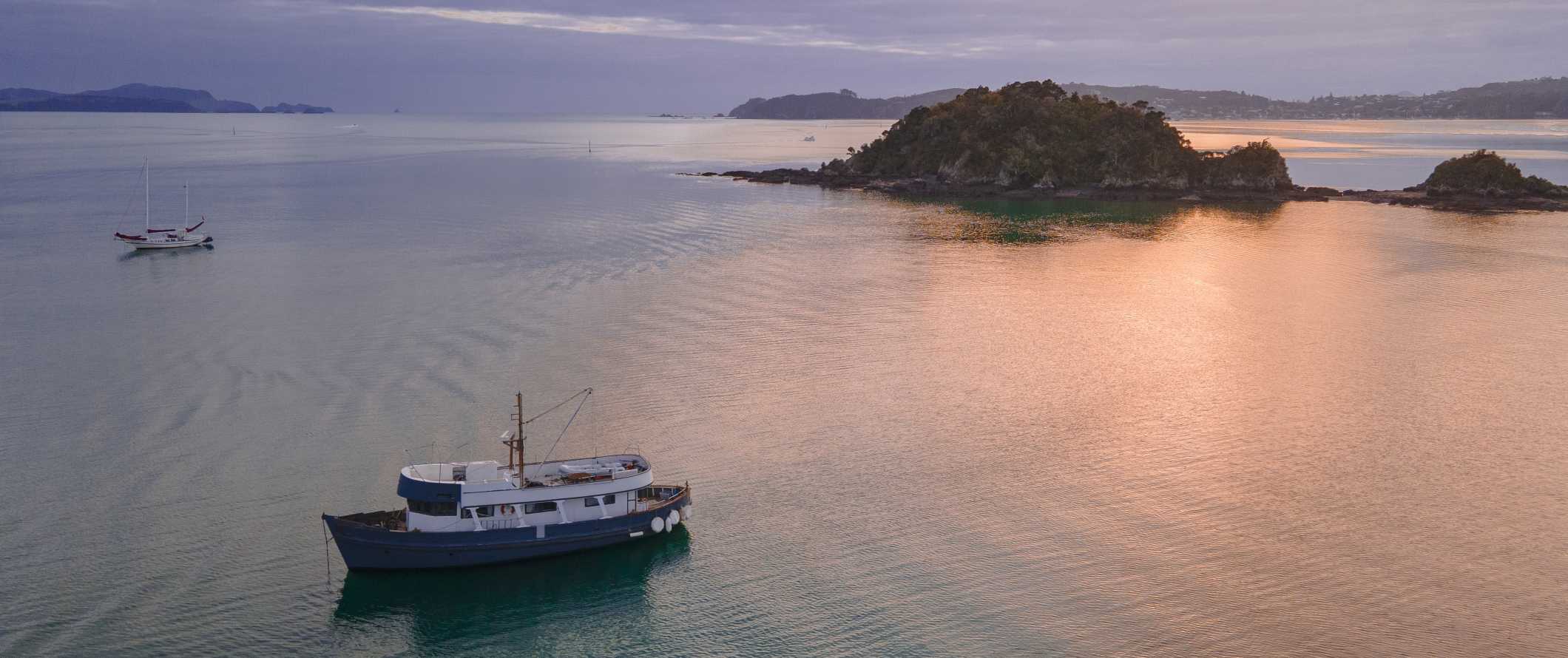 Public transportation – Since the Bay of Islands is a region and not a specific city or town, there is no public transportation to rely on. The main tourist hub Paihia is home to just 2,000 people so it's easy to navigate on foot or bicycle.
To get between towns by bus, use InterCity. They have routes between most towns in the region. Expect to pay around 34-43 NZD for a bus here from Auckland.
Bike rental – Bike rentals in Paihia start at 15 NZD per hour (50 NZD per day) for a basic bike that will get you around town. For a mountain bike, expect to pay 25 NZD for two hours (70 NZD per day).
Taxi – Taxis here are expensive (and not even available in all parts of the region). In general, they should be avoided. Rates start around 3.50 NZD and go up by 2.75 NZD per kilometer. Unless you have no other option or are splitting a ride with other travelers, I'd avoid using taxis.
Ridesharing – Rideshares here are only for long distances; there are no local single-city rideshare companies operating here (like Uber). If you're looking to share a ride with a local or traveler, use Craigslist or Carpool New Zealand. You can also ask around in your hostel; there are usually travelers who have space in exchange for gas money.
Car rental – Car rentals are the best way to explore this region. Your best bet is to rent a car in Auckland as you'll have more options and cheaper prices. Expect to pay around 45 NZD per day for a small car. If you want to rent a campervan, expect to pay between 75-120 NZD per day. An International Driver's Permit (IDP) is required for car rentals. You can get one before you leave your home country.
For the best car rental prices, use Discover Cars.
Hitchhiking – Hitchhiking is common and quite safe here (and everywhere else in the country). For information and tips on hitchhiking in the Bay of Islands, use Hitchwiki.
When to Go to Bay of Islands
Bay of Islands is located in the Northland region of the North Island. The climate here is sub-tropical and warm all year. Summer is from December-February and it's the most popular time to visit the area. Precipitation during this time is limited and it can get quite humid. Kiwis also take their holidays during this time, so things get busy. The average daytime temperature in the summer in the Bay of Islands is around 24°C (75°F).
Fall is from March-May, and it's a nice time to visit if you want to beat the crowds. The weather is still enjoyable, with daily averages around 20°C (68°F).
Winter is from June-August. This is the cheapest time to visit as accommodation is usually discounted. Temperatures hover around 16°C (61°F) so it's still warm enough for many outdoor activities such as hiking and adventure activities.
There's really no bad time to visit the Bay of Islands. If you're on a budget, the shoulder season is probably of the best time to visit. However, if you're looking for hot weather and a lively atmosphere, visit during the summer (just be prepared for it to be busy).
How to Stay Safe in Bay of Islands
Like the rest of the country, the Bay of Islands is a safe destination to visit. There is a relatively low crime rate so just take the normal precautions as you would at home, such as carrying a cellphone and being aware of your personal belongings at all times.
Don't leave any valuables on the beach when you're swimming (theft is rare but it's better to be safe than sorry).
The biggest risk to travelers in the Bay of Islands region is natural disasters. Earthquakes are common and can happen at any time. These can be particularly challenging if you're out visiting islands off the main island or if you're at sea fishing, diving, or engaging in other water activities. For added security, download a local weather app (like MetService NZ Weather) to stay up to date.
Also, consider downloading the Hazard App from the Red Cross. It has all kinds of advice and tips for natural disasters and also sends out warnings and notifications should a disaster occur.
Solo female travelers should generally feel safe here (however, the standard precautions apply (never leave your drink unattended at the bar, never walk home alone intoxicated, etc.).
If you're worried about travel scams, you can read about common travel scams to avoid here. There aren't many in New Zealand though.
If you do experience an emergency, dial 111 for assistance.
Always trust your gut instinct. Make copies of your important documents, like your passport. Forward your itinerary along to friends or family so they'll know where you are.
The most important piece of advice I can offer is to purchase good travel insurance. Travel insurance protects you against illness, injury, theft, and cancellations. It's comprehensive protection in case anything goes wrong. I never go on a trip without it as I've had to use it many times in the past. You can use the widget below to find the policy right for you:
Bay of Islands Travel Guide: The Best Booking Resources
These are my favorite companies to use when I travel. They consistently have the best deals, offer world-class customer service and great value, and overall, are better than their competitors. They are the companies I use the most and are always the starting point in my search for travel deals.
Skyscanner – Skyscanner is my favorite flight search engine. They search small websites and budget airlines that larger search sites tend to miss. They are hands down the number one place to start.
Hostelworld – This is the best hostel accommodation site out there with the largest inventory, best search interface, and widest availability.
Booking.com – The best all around booking site that constantly provides the cheapest and lowest rates. They have the widest selection of budget accommodation. In all my tests, they've always had the cheapest rates out of all the booking websites.
Get Your Guide – Get Your Guide is a huge online marketplace for tours and excursions. They have tons of tour options available in cities all around the world, including everything from cooking classes, walking tours, street art lessons, and more!
EatWith – This website allows you to eat home cooked meal with locals. Locals post listings for dinner parties and specialty meals that you can sign up for. There is a fee (everyone sets their own price) but this is a great way to do something different, pick a local's brain, and make a new friend.
bookme.co.nz – You'll get some really good last minute deals and discounts on this website! Just select what area you're traveling in, and see what activities are on sale.
treatme.co.nz – The locals use this website to find discount hotels, restaurants, and tours. You can save up to 50% off things like catamaran sailing lessons or three-course dinners.
SafetyWing – Safety Wing offers convenient and affordable plans tailored to digital nomads and long-term travelers. They have cheap monthly plans, great customer service, and an easy-to-use claims process that makes it perfect for those on the road.
LifeStraw – My go-to company for reusable water bottles with built-in filters so you can ensure your drinking water is always clean and safe.
Unbound Merino – They make lightweight, durable, easy-to-clean travel clothing.
Bay of Islands Travel Guide: Related Articles
Want more info? Check out all the articles I've written on backpacking/traveling New Zealand and continue planning your trip: