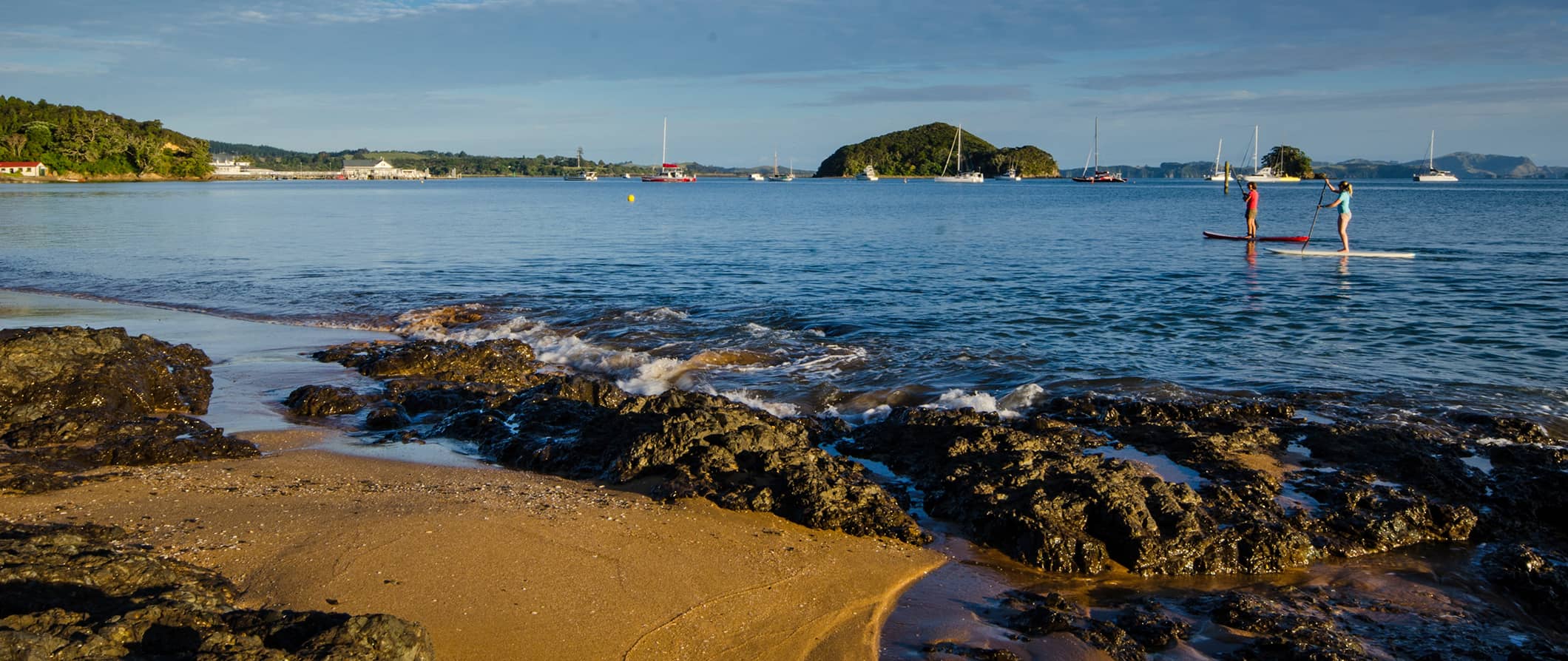 The Bay of Islands is one of the most popular destinations in all of New Zealand. Mile after mile of beach and rocky coastline surround the bay, which is dotted with 144 islands. Countless activities in the Bay of Islands are geared towards backpackers, from affordable cruises to fishing trips to sea kayaking. I loved my time here. It's one of the few great beach destinations in the country and a relaxing interlude before diving into all the adventurous activities the country has to offer.

Bay of Islands
Top 5 Things to See and Do in the Bay of Islands
1. Lounge on the beach
The Bay of Islands is a perfect destination for spending time on the beach. There are beautiful beaches through the bay, and many of them are secluded. During the summer months, however, you'll be hard pressed to find space as the beaches fill up quickly so be sure to arrive early to grab a spot!
2. Visit the Waitangi Treaty Grounds
The Waitangi Grounds give a fascinating insight into New Zealand's historic past. New Zealand's most significant document, The Treaty of Waitangi, was first signed here in 1840 between Maori chiefs and the British and became the basis for life in New Zealand. Admission is 50 NZD and for anyone over 18.
3. Make a day trip to Cape Reinga
Day trips to Cape Reinga and 90 Mile Beach take you to the northernmost point of New Zealand to Puketi Kauri Forest, which is filled with ancient, massive trees, and then sandboarding at Te Paki quicksand stream. A tour will cost you around 150 NZD. As an alternative, rent a vehicle and turn this into your own private tour!
4. See wild dolphins
Researchers have identified that around 450 dolphins live in the area and call the Bay of Islands their home. Dolphins are extremely friendly and love to get up close with visitors. Orcas are sometimes spotted in the bay, too! If you want to take a tour to swim with the wild dolphins, prices start at around 100 NZD.
5. Hit the trails
Though there are lots of smaller beach and walking trails, the two biggest are the Opua Forest Paihia Lookout and the Coastal Walkway, the latter being a more challenging route with moderate climbs. If you're looking to get out an exercise, this is a great way to do it!
Other Things to See and Do
(Click the title to expand the text)
1. Sail the bay
Sailing is popular activity here. There are many options for day sailing and most tours come with a snorkeling or swimming excursion. Expect to spend up to 110 NZD for a day trip.
2. Dive a shipwreck
The area has some of the best scuba diving in the country. Beautiful coral gardens, blue waters, and tons of reefs and fish fill the area. There are two noteworthy wrecks here, including the Rainbow Warrior, which was bombed in 1985 by covert French agents. For an open water dive, including all equipment, expect to pay around 300 NZD. Certification courses are available here, too!
3. Go fishing
This area is known for some great marlin, kingfish, and target snappers. Charter excursions run out of Paihia and Russell and start at around 100 NZD for a half-day excursion. It doesn't matter if you're a newbie or an experienced fisherman, you'll find a fishing tour for you. Bait and tackle is usually included.
4. Try parasailing
If you're looking for a great view or an adrenaline rush, there are a couple of companies that organize parasailing from Paihia Wharf. You can go solo or with a friend (and even with 2 friends!), soaring to heights of 1,200 feet above the water. Prices start at 115 NZD for a single rider and go up from there.
5. Visit Rainbow Falls
From Kerikeri, you can walk to Rainbow Falls, so named by the rainbow you can normally see at the base of the falls. Starting at the historic Stone Store and Mission House in the Kerikeri Basin, this walking track follows the banks of the Kerikeri River up to the Wharepuke and Rainbow Falls. Listen out for native birds like tui or fantails as you walk. There are viewing platforms at the top of the falls and bring your swimsuit as you can take a dip in the swimming hole below.
6. Tour Pompallier House
Pompallier House in Russell is a 19th-century French Catholic Mission House which now serves as a museum. Entrance costs 10 NZD (with discounts available) and exhibits detail aspects of the printing press, tannery, and factory that were previously operated by the mission.
7. Interact with Parrots
The Parrot Place, located in Kerikeri, contains over 300 species of birds, including blue and gold macaws, kakarikis, and king parrots. You can hold and feed some of them, and there is even a dancing macaw named Elmo. At 10 NZD, the price is a bit steep, but this would be a great activity if you're traveling with children (admission for children is 5 NZD).
8. Check out the Russell Museum
If you happen to be staying in Russell, you should consider popping in here. This museum contains Maori artifacts, artwork, a whaling boat, and photographs of the area, among other things. There's enough here to keep you busy for a good hour. Admission is 10 NZD.
9. Cruise around Piercy Island
Also known as "the hole in the rock," this natural wonder is home to gannets and other sea birds It was named Piercy Island by Captain Cook in honor of one of the Lords of the Admiralty – it is called Motukokako in the Maori language. The 210-foot hole at sea level was created over centuries by wind and waves making it one of the most naturally beautiful sites in New Zealand. Being a popular tourist destination, there are a multitude of tours offered and if the waters are calm and the tide is right the jet boats will go right through the hole.
10. Visit Tane Mahuta
This majestic tree stands over 50m tall and is located a couple hours away on the other side of the island, making for a great day trip. Referred to as the "Lord of the Forest," Tane Mahuta is a giant kauri tree that is around 2,500 years old. Located in Waipoua Forest, the massive tree is only a short walk from the road, making it an easy stop for any nature lover.