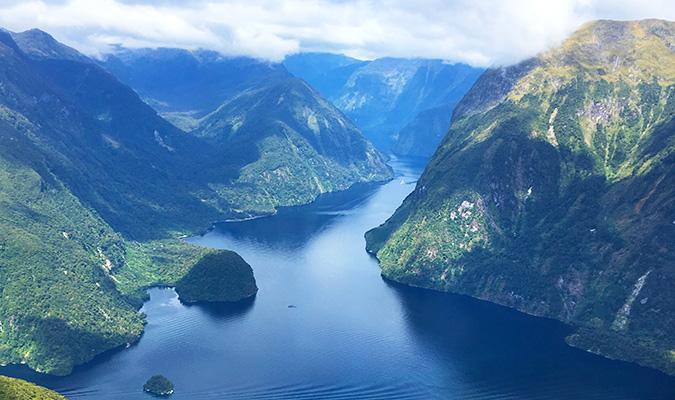 Posted: 4/5/18 | April 5th, 2018
"How do you do on boats?"
"I love 'em," I said gripping the seat of the plane tightly.
"Well, just picture turbulence as waves you can't see," the pilot said with a laugh.
"I know turbulence can't take down a plane, but that doesn't make this any more comfortable," I retorted with a glare.
The plane jolted as we passed some high mountains. None of the other passengers seemed to notice, but I cringed with the look of someone who just got a thousand needles stuck in his arm.
"If something goes wrong here, we just fall and die! That's just where my mind goes!"
The pilot looked at me, laughed again, and went back to talking to the other passengers.
I was in a tiny, six-seater seaplane three thousand feet above Doubtful Sound. Fiordland is located in the southwesternmost part of New Zealand and home to numerous Lord of the Rings film locations, the region is considered one of the country's most scenic and remote areas.
Filled with gigantic mountains, deep lakes, swelling rivers, untamed forests, and resplendent fjords, most of it has never been set upon by man. Save a few places where boats and planes can go, the government has made the land off-limits, ensuring that that will be the case for a long time to come.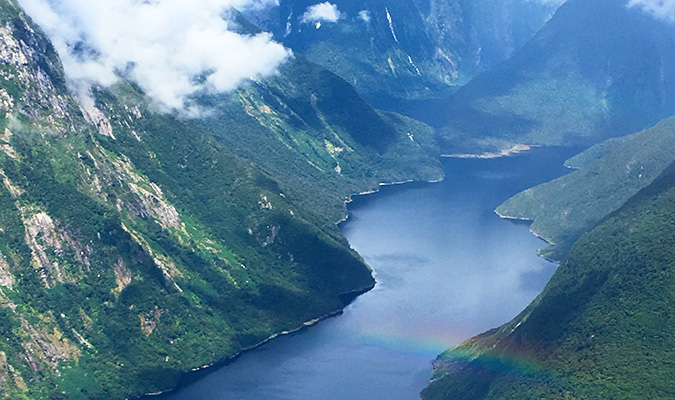 The day before, I had had the bright idea of seeing Doubtful Sound on a quick one-hour flight instead of a full-day bus/boat ride. I was running low on time and, despite my fear of heights and flying, I could only think of saving time and the views that I'd see.
Yet, as the teeny plane bounced around, the idea no longer seemed so bright.
Days earlier, I had hitched a ride to the area with Karin, a Swedish girl I'd met in Wanaka. After a few days partying in Queenstown, we had driven down to the region's launching pad, Te Anau, a small town of barely a few hundred people on a lake. It's the gateway for tourists who came to camp, hike the Kepler Track and Milford Sound trail, and visit the area's two biggest attractions: Milford Sound and Doubtful Sound.
Karin and I drove up to Milford Sound for the day. On the way, we passed giant granite mountains, crystal-clear blue rivers, and roaring waterfalls. Sheer cliffs rose above us as we followed the road to the sound. Tiny lakes dotted the way, and hiking trails — some of the country's "Great Walks" — crisscrossed the area.
This was wild New Zealand, where cellphone service didn't exist, you had to camp, and, to quote Doc Brown, "you don't need roads." You came here for one reason: to escape city life.
On our two-hour cruise on Milford Sound to the edge of the Tasman Sea and back again, water from the recent rains rushed in a torrent off the sides of the fjord, ice-covered the tops of the mountains, and seals frolicked nearby. It was a clear, bright, sunny day, the kind that makes you feel like you got the luckiest card in the traveler's deck.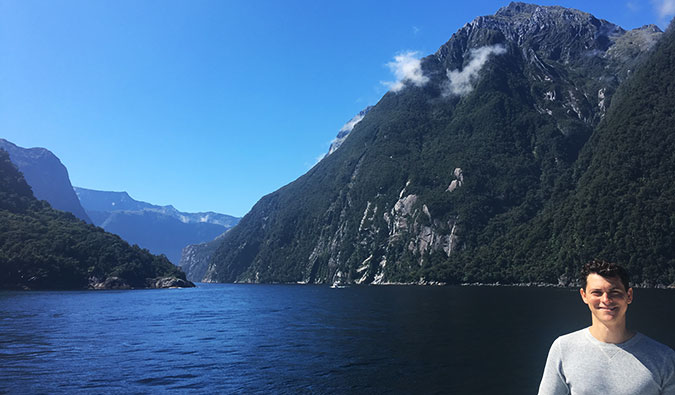 The next day, Karin left but I stayed on to keep exploring. I headed to Wings and Water, a small seaplane company run by Jim, a hard-nosed pilot who had a lot to say about the state of modern pilot training and airplane safety. He spouted off about the nanny state and government regulation not letting pilots be pilots, companies outsourcing maintenance, the overreliance on computers and technology, and pilots not going with their guts enough.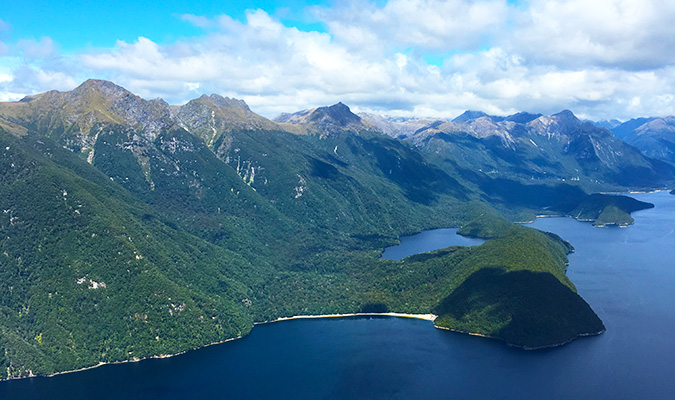 "There's not enough experience out there. A computer isn't going to save you."
He had strong opinions on every subject.
We headed to the plane to greet the other passengers.
"Matt is afraid of flying, but we'll make him a man," he said to the two other couples waiting to board our flight, slapping my back as he went to do another safety check on the plane.
I already regretted mentioning my fear of flying.
With a sputter of the engine, we coasted on the water and ascended smoothly into the air. Now, below us, the giant Lake Te Anau and mountains were splayed out over the landscape. There were lakes leaking down the sides of mountains, patches of ice dotting inaccessible mountaintops, and sheer, gray cliffs with trees seemingly hanging on by a root, ready to slide off at a moment's notice. We weaved so closely around the mountains I felt I could touch them.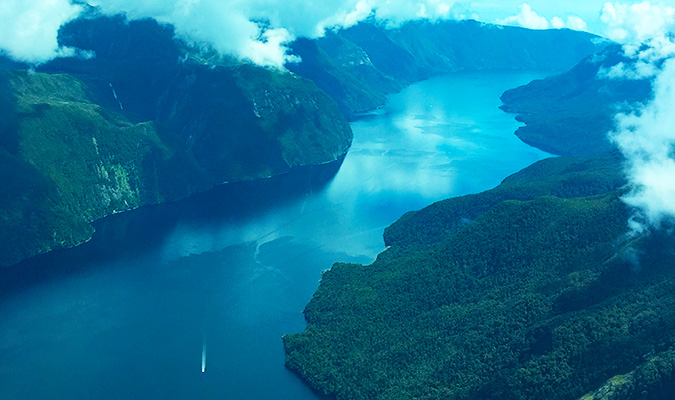 As the clouds rolled in, I became nervous. With clouds came wind and choppier air.
"How do you know when to turn back? Like is there a point when you go, 'OK, time to go!'?"
"You just know from experience," Jim replied.
"What happens if the weather worsens?"
"Well, you see those big bodies of water down there?"
"Yeah…"
"Well, we're in a seaplane. I'd just land the plane on the water and wait it out," he replied matter of factly, "But don't worry. That's never happened."
"Planes," he continued, "are stronger than people. You'll break before this baby does."
We cut through the clouds and did a loop around the Browne Falls, the world's tallest waterslide (since the water technically was always touching the ground, it wasn't a waterfall), through which the cascade poured incessantly from a large pool set in a depression of the mountain.
As we landed back in Te Anau and pulled up the to dock, Jim looked at me. "Not so bad, huh?"
"No, not so bad, but that didn't change my view of flying."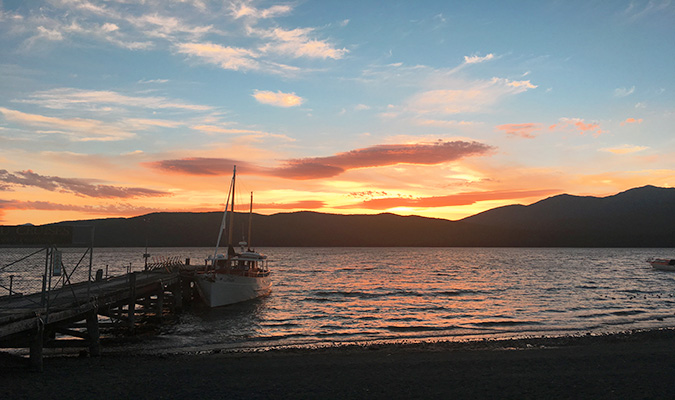 The next day, as I caught the early-morning bus, I watched the sky turn a pink as the sun rose. I was glad that, unlike my last visit, I didn't skip this area. Here in this little town on the edge of New Zealand, where tourists outnumbered locals, there was little else to do but enjoy nature. The region stripped away the distractions so common in other parts of the country.
And I also hoped that, when I come back, I'll show Jim I've overcome my fear of heights.
Book Your Trip to New Zealand: Logistical Tips and Tricks
Book Your Flight
Use Skyscanner or Momondo to find a cheap flight. They are my two favorite search engines because they search websites and airlines around the globe so you always know no stone is left unturned. Start with Skyscanner first though because they have the biggest reach!
Book Your Accommodation
You can book your hostel with Hostelworld as they have the biggest inventory and best deals. If you want to stay somewhere other than a hostel, use Booking.com as they consistently return the cheapest rates for guesthouses and cheap hotels. My favorite places to stay are:
If you're looking for more places to stay, here is a complete list of my favorite hostels in New Zealand.
Don't Forget Travel Insurance
Travel insurance will protect you against illness, injury, theft, and cancellations. It's comprehensive protection in case anything goes wrong. I never go on a trip without it as I've had to use it many times in the past. My favorite companies that offer the best service and value are:
Looking for the Best Companies to Save Money With?
Check out my resource page for the best companies to use when you travel. I list all the ones I use to save money when I'm on the road. They will save you money when you travel too.
Want More Information on New Zealand?
Be sure to visit our robust destination guide on New Zealand for even more planning tips!