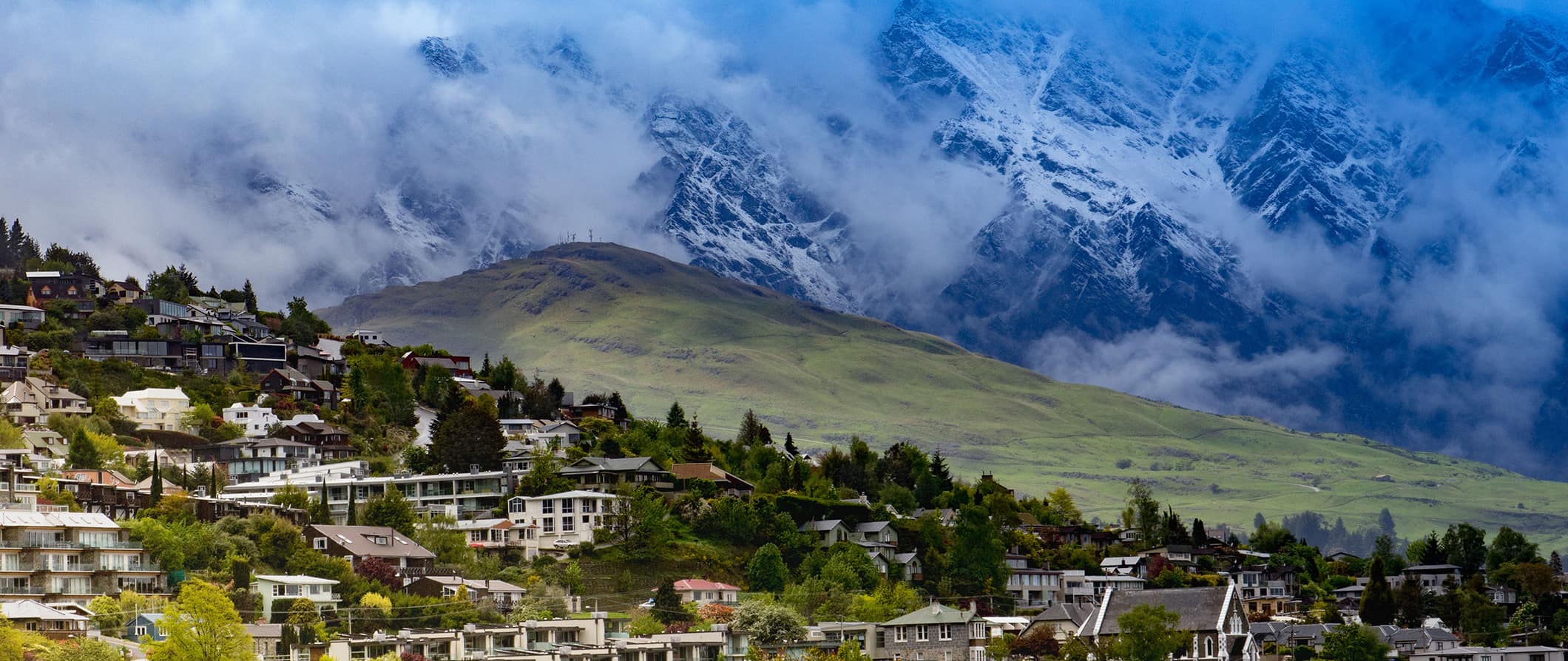 Queenstown is a small picturesque town surrounded by the Remarkables mountain range. Home to some 30,000 people, the town overlooks Lake Wakatipu and is filled with narrow pedestrian streets, wonderful food, and a crazy nightlife. It is also the "adventure capital" of New Zealand and the launching pad for every sort of adventure or adrenaline activity you can think of (as well as copious wine tours).
It's become quite popular since my first and tends to be a bit pricier than other destinations in the country. However, as popular as it is, I love sitting by the lake, watching the sunset with a bottle of wine, and hiking the nearby trails on Bob's peak, or heading into the mountains or out onto the lake. There's a ton of travelers here and it's always easy to meet people.
The crowds may have gotten bigger but the city remains the best base for exploring the Otago region. This Queenstown travel guide will help you get the most from your stay!
Top 5 Things to See and Do in Queenstown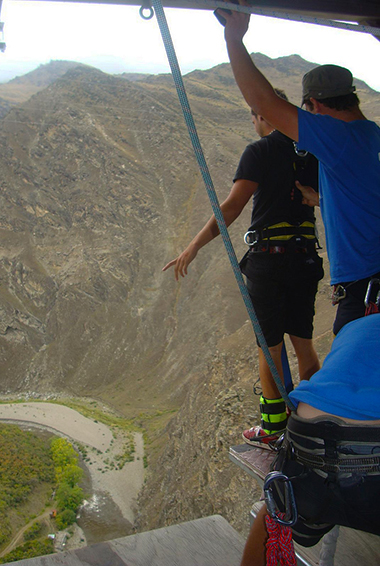 1. Do the Nevis Jump
This famous 500-foot jump is one of the highest in the world (you'll free fall for 8.5 seconds!). It's one of the most popular adrenaline activities in the country and a must for any adrenaline junkie. If you're ready to take the leap, it costs 275 NZD ($183 USD).
Here's what it looks like
.
2. Go ziplining
Ziplining courses in Queenstown are always expanding and changing routes so there's always something new to try. You'll zip down the mountain near the city's gondola, whizzing through the forest as you look down over the city and Lake Wakatipu. Prices vary.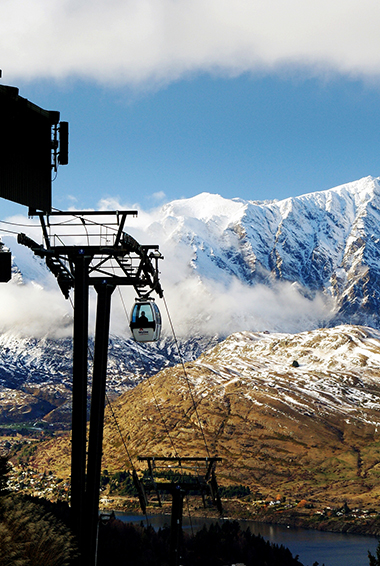 3. Hit the slopes
Queenstown is located right in the heart of the Southern Alps, making it an ideal spot for winter sports like skiing and snowboarding. The Remarkables (one of the ski areas) is a family-friendly slope, while Treble Cone offers uncrowded slopes and pristine vistas. A single day ski pass costs around 130 NZD ($85 USD).
4. Explore the vineyards
The Otago area is known for its white wines. If you plan to take an organized tour to visit the vineyards, expect to pay at least 80 NZD ($53 USD). Self-driving is cheaper and you can bike to a lot of the wineries on the Queenstown Wine Trail. My favorites include Waitiri Creek, Kinross, and Wet Jacket.
5. Go mountain biking
Exploring Queenstown by bike is an excellent way to get to the more remote areas around town. There's the gondola-accessed downhill Queenstown Bike Park or the 75-mile Queenstown Trail that takes you through Lake Wakatipu, Lake Hayes, and Gibbston. Full-day bike rentals start around 59 NZD ($39 USD).
Other Things to See and Do in Queenstown
1. Sail Lake Wakatipu
Lake Wakatipu surrounds the town, offering sailing, boating, swimming, and other water activities. One thing to note is that the lake is very, very cold, although around peak summer, it's what I would consider "refreshing." You can take a sightseeing boat tour out of Queenstown for as low as 25 NZD ($16 USD), and for 40 NZD ($26 USD) you can hop on board a 70's-themed party boat! Expect to pay around 25 NZD ($16 USD) for a kayak or stand up paddleboard rental.
2. Take a helicopter flight
Queenstown is set against a backdrop of The Remarkables mountain range. A scenic flight takes you over secluded alpine lakes, lush forests, and rugged mountain peaks. You can fly over the high points of Coronet Peak, Kawarau Gorge, Shotover River, and Skippers Canyon. For a 20-minute ride, you'll pay around 200 NZD ($133 USD), while a 50-minute ride is 615 NZD ($410 USD).
3. Visit the Kiwi Birdlife Park
Located near the Skyline Queenstown, this park is home to more than 10,000 native flora and fauna, various birds, and, most importantly, thousands of kiwis. Beyond a pleasant walk around the sanctuary, there is a cultural show put on by the local Maori. There's also a Honey Bee Center, with both an outdoor and indoor viewing hive. Admission is 60 NZD ($40 USD) for adults and 30 NZD ($20 USD) for children.
4. Go off-roading
Queenstown is surrounded by a rugged terrain that's perfect for off-roading adventures. Tour operators like Offroad and Everything Queenstown offer half-day off-roading adventures in 4WD vehicles. These tours take you through Skippers Canyon, where you'll encounter some amazing cliffside views and so some river crossings. Expect to pay between 100-200 NZD ($66-133 USD) per person for a tour.
5. Go skydiving
Queenstown is one of the best places in the world to skydive. You'll jump out of a plane at 15,000 feet and free fall towards the earth at 125 miles an hour for some 60 seconds, all while enjoying the stunning views over the mountains and lake. A dive from 9,000 feet will cost about 300 NZD ($200 USD), while dives up to 15,000 feet are around 479 NZD ($318 USD).
6. Visit the Underwater Observatory
If you want to see what lurks beneath the surface of Lake Wakatipu, head to the observatory. You can see massive trout, diving ducks, and slithering eels, all while learning about the Maori mythology and history of the lake. The lake, which spans 291 square kilometers (112 sq mi), was formed over 90 million years ago and has changed and evolved throughout the millennia. Admission is 10 NZD ($6.50 USD) for adults and 5 NZD ($3.25 USD) for kids.
7. Relax on the beach
Cool down in summer by taking a dip at one of the many beaches along Lake Wakatipu. Queenstown Bay, which looks out towards Cecil and Walter Peaks, is the main beach. Since it's right in town, it's always crowded so arrive early to beat the crowd. You can also visit Sunshine Bay, a small beach west of the city. It's quieter than Queenstown Bay and offers stunning views of Cecil Peak. There's also Kelvin Heights beach, located 20-30 minutes from central Queenstown which offers incredible views of The Remarkables.
8. Day trip to Wanaka
Located an hour away, Wanaka is a resort town surrounded by wineries. There's great hiking here, too (Rob Roy Glacier and Diamond Lake are two great trails to check out). It's the gateway to the Southern Alps' Mount Aspiring National Park, with some incredible mountains, alpine lakes, and glaciers. While I would spend a couple of days here, if you are short on time, this small town is still an easy day trip to do. Be sure to check out Puzzling World if you go. It's an outdoor maze and sculpture gallery.
9. Explore Milford Sound
Milford Sound is probably the most popular fjord in New Zealand (maybe even in the world). It's known for towering Mitre Peak, lush rainforests, stunning waterfalls, seal colonies, penguins and dolphins, and rare black coral. It's a long day from Queenstown with buses leaving at 6am and getting back around 7pm. While I think it is far better to go from Te Anau (which is much closer), if you are short on time, there's plenty of trips from Queenstown. If you don't have time but have more money, you can take a scenic flight over the area instead. Prices start from 440 NZD ($293 USD) and go up from there, depending on how long you want to fly for and whether you also want to land and take a cruise. If you'd rather take the bus for a day trip, you can find tours with companies like awesomeNZ and InterCity starting around 179 NZD ($119 USD).
10. Enjoy a jet boat ride
Jet boat rides are quite popular in New Zealand, but the one on the Shotover Canyon is one of the most iconic. For 25 minutes, you cruise along the river surrounded by canyon cliffs and admire unique scenery around you. The boat hits an exhilarating 50mph (80km/h), making it a nice mix of scenic beauty and adrenaline-pumping adventure. It's suitable for families and children too. Expect to pay 119 NZD ($79 USD) per person.
11. Hop on Skyline Gondola
Just 5 minutes from town, the Skyline Gondola will take you up the mountain for some stunning views of the area. Beyond the view, there is also plenty of hiking and biking to be done, as well as a luge track that you can try. You'll also find a restaurant with a panoramic view of Queenstown. Round-trip tickets for the gondola are 44 NZD ($29 USD) for adults, with discounts available for children and families.
12. Hike Ben Lomond
Looking for a view from the highest point of Queenstown? Hike Ben Lomond! It's a steep and challenging hike for experienced hikers only. It starts at the top of the Skyline Gondola and it takes 6-8 hours to complete. The hike allows you to enjoy breathtaking views of both the Remarkables and Coronet Peak. Once you reach the top of Ben Lomond, you'll have a 360-degree panoramic view of the region. Avoid climbing in the winter.
13.Climb Queenstown Hill
This hike is a lot easier than the one above and only takes about one hour from the city center to reach the top of Queenstown Hill. If you don't feel brave enough to hike Ben Lomond, climbing Queenstown Hill is just as interesting, especially if you climb the hill for sunrise. It's safe to do in the winter too.
14. Drive to Moke Lake
Located 30-minutes from Queenstown, this lake sees very few international tourists. It's a tranquil place surrounded by mountains in the middle of nowhere. You can swim or fish and hike around the lake. There's nothing else around, making it a good place to relax. You can camp here too, with basic blots starting at 13 NZD ($8 USD) per person.
15. Drive to Glenorchy
Glenorchy is a town 48km (30 mi) away from Queenstown. The main point of interest is actually not Glenorchy itself but the drive to get there. The road follows Lake Wakatipu and you can stop on your way there to admire the lake with the mountains in the background. Many locals say it's one of the most scenic drives of New Zealand. Once you get to Glenorchy, take some time to walk to the Glenorchy Walkway Scenic Point to take in the view. You can also visit the Glenorchy Animal Experience, where you can interact with animals (alpacas, llamas, sheep, goats, pigs) and learn about how livestock is raised in New Zealand. Admission is 20 NZD ($13 USD).
16. Enjoy Lake Hayes
Lake Hayes is located 15 minutes away from Queenstown by car and is another good place to disconnect and relax. The lake attracts runners, cyclists, walkers but also families looking BBQ. It's possible to swim, kayak, and fish here as well. You'll see many tables and chairs if you want to picnic, there's also a 5-mile walking trail along the lake too.
Queenstown Travel Costs
Hostel prices – Hostel dorms cost between 17-40 NZD ($11-26 USD) per night for an 8-10-bed dorm. Private rooms begin at 60 NZD ($40 USD). Free Wi-Fi is common, and a few hostels also include free breakfast. Most hostels in Queenstown have kitchens.
For those traveling with a tent, campgrounds like Twelve Mile Delta and Moke Lamp Campsite can be found outside the city. Expect to pay 13-40 NZD ($8-26 USD) for a basic plot. The facilities include non-powered sites, clean toilets, picnic tables, running water, and solar shower cubicle.
Budget hotel prices – Hotel rooms around Queenstown begin at 100 NZD ($66 USD) per night for a double bed, although if you book early you can find cheaper. For those who require a kitchen, self-catering facilities in hotels are available but rare (though they don't cost extra).
Airbnb is a great budget option here, with private rooms starting around 60 NZD ($40 USD) per night (though there are limited options). For an entire home or apartment, expect to pay at least 100 NZD ($66 USD) per night.
Food – A typical restaurant meal will cost around 23 NZD ($15 USD). You can find sandwiches for around 8 NZD ($5 USD) and fast food like McDonald's or Burger King will cost around 11 NZD ($7 USD). There's a lot of budget food options in the city so you'll find plenty of ways to save, especially during lunch. For a nicer meal in a mid-range restaurant, expect to pay at least 45 NZD ($30 USD).
My favorite places to eat out are Devil Burger (Fergburger is good but overrated), Left Bank Cafe, Yonder, Kappa, No. 5 Church Lane, World Bar, and 1876.
Expect to pay around 5 NZD ($3.25 USD) for a beer or a cappuccino. A bottle of water is around 2.75 NZD ($1.80 USD).
If you choose to buy your groceries and cook your own food, plan to spend about 65-85 NZD ($43-56 USD) per week.
Backpacking Queenstown Suggested Budgets
If you're backpacking, my suggested budget is 84-99 NZD ($55-65 USD) per day. This is a suggested budget assuming you're staying in a hostel, cooking most of your meals, limiting your drinking and adventure sports, and using local transportation. You can really spend a lot of money here if you do lots of activities so keep prices in mind.
A mid-range budget of about 237-282 NZD ($155-185 USD) per day will cover staying in a budget hotel, eat out at cheap restaurants for your meals, doing a few attractions per day (such as the gondola or ziplining), and renting a small car.
A luxury budget of about 520-725 NZD ($340-475 USD) per day will cover staying in a four-star hotel, eating at mid-range restaurants for every meal, drinking a lot of wine, enjoying all the activities Queenstown has to offer, taking private tours, and renting a nicer car.
You can use the chart below to get some idea of how much you need to budget daily, depending on your travel style. Keep in mind these are daily averages — some days you'll spend more, some days you'll spend less (you might spend less every day). We just want to give you a general idea of how to make your budget. Prices are in USD.
Accommodation
Food
Transportation
Attractions
Average Daily Cost
Backpacker
$20
$20
$10
$5-15
$55-65
Mid-Range
$70
$45
$30
$10-30
$155-185
Luxury
$125-175
$90-100
$50
$75-150
$340-475
Queenstown Travel Guide: Money-Saving Tips
Unless you plan on doing a lot of adventure tours in Queenstown, you can easily stick to your budget here. Here are some additional tips to help you save money in Queenstown:
Walk everywhere – Being a small town just 30,000 people, it doesn't take long to walk places. Save your money and walk everywhere if you're on a budget.
Cook your own meals – Most of the restaurants in this city aren't super cheap so you'll want to cook your own meals if you're on a tight budget. Four Square Supermarket is in the city center and the prices are reasonable. Just outside Queenstown, there's a New World Supermarket, which is bigger than Four Square and a little bit cheaper.
Find deals with bookme.co.nz  – You'll often find last-minute deals on tours and activities by using this website. As long as you're flexible on dates/times, you can save upwards of 30% off! Also try grabone.co.nz for more deals.
Limit your drinking – Drinking in Queenstown is expensive, and who wants to enjoy some outdoor adventure while hungover anyway? If you must drink, pick up your booze from the supermarket.
Couchsurf with a local – Even though Queenstown is small there are still a good number of hosts here. Just be sure to send requests early if you're visiting during the busier summer months.
Hitchhike – If you're heading out of town, hitchhiking is common and surprisingly easy on the main roads. It's perfectly safe too!
Where to Stay in Queenstown
How to Get Around Queenstown
Bus – You can go anywhere on the Queenstown network by bus. A one-way ticket is 5 NZD ($3.25 USD), you can pay directly on the bus. Otherwise, get a GoCard. It's 5 NZD ($3.25 USD) and the minimum top-up is 10 NZD ($6.50 USD). With your GoCard, a bus ride costs only 2 NZD ($1.25 USD). You can get a GoCard from the bus driver.
For intercity travel, buses are the cheapest option. For example, you can expect to pay around 24 NZD ($16 USD) to Wanaka, 10 NZD ($6.50 USD) to Te Anau, and 55 NZD ($36 USD) to Christchurch.
Ride share – Uber is available in Queenstown. However, you may wait quite some time to get one — plus it's not that cheap. Most of them stay around the airport area, get passengers to the city center, and go back to the airport.
Bicycle – If you want to rent a bike, expect to pay around 35 NZD ($23 USD) per day.
Taxis – Taking a taxi in Queenstown is not necessary since it's a small town. However, if you need to go out of town, you'll have to book one with companies like QueenstownTaxis or GreenCabs. A one-way ride from the airport to the city center costs around 40 NZD ($26 USD).
Car rental – For a small car, expect to pay around 53-61 NZD ($35-40 USD) per day.
When to Go to Queenstown
It's best to visit Queenstown in summer, from December to February (remember we're in the southern hemisphere). The weather is nice, averaging 21°C (70°F).
Autumn and spring are tricky because the weather is unpredictable. One day is rainy, then snowy, then cloudy, then sunny again. With such varying weather, it can be hard to plan ahead. Unsurprisingly, this is when the prices are the lowest since few people go there during that time.
If you're into winter sports, head to Queenstown wintertime (June to August). Expect temperatures ranging from -4°C to 12°C (25°F to 55°F).
How to Stay Safe in Queenstown
Queenstown is a safe city, the risk of violent crime is very low. Most thefts are car break-ins so don't leave your belongings in your vehicle (or hide them where they can't be seen). If you need emergency services, the emergency number in New Zealand is 111.
The most important piece of advice I can offer is to purchase good travel insurance, especially if you're participating in any adventure activities. Travel insurance will protect you against illness, injury, theft, and cancellations. It's comprehensive protection in case anything goes wrong. I never go on a trip without it as I've had to use it many times in the past. You can use the widget below to find the policy right for you:
Queenstown Travel Guide: The Best Booking Resources
These are my favorite companies to use when I travel to Queenstown. They are included here because they consistently find deals, offer world-class customer service and great value, and overall, are better than their competitors.
Momondo – This is my favorite booking site. I never book a flight without checking here first.
Skyscanner – Skyscanner is another great flight search engine which searches a lot of different airlines, including many of the budget carriers that larger sites miss. While I always start with Momondo, I use this site too as a way to compare prices.
Airbnb – Airbnb is a great accommodation alternative for connecting with homeowners who rent out their homes or apartments. (If you're new to Airbnb, get $35 off your first stay!)
Hostelworld – This is the best hostel accommodation site out there, with the largest inventory, best search interface, and widest availability.
Couchsurfing – This website allows you to stay on people's couches or spare rooms for free. It's a great way to save money while meeting locals who can tell you the ins and outs of their city. The site also lists events you can attend to meet people (even if you're not staying with someone).
Booking.com – The best all-around booking site that constantly provides the cheapest and lowest rates. They have a no money down policy, great interface, and the widest selection of budget accommodation. In all my tests, they've always had the cheapest rates out of all bookers.
Intrepid Travel – If you want to do a group tour around New Zealand, go with Intrepid Travel. They offer small group tours that use local operators and leave a small environmental footprint. If you go on a tour with anyone, go with them. And, as a reader of this site, you'll get exclusive discounts when you click the link!
Rome 2 Rio – This website allows you to see how to get from point A to point B the best and cheapest way possible. It gives you all the bus, train, plane, or boat routes that can get you there as well as how much they cost.
World Nomads – I buy all my travel insurance from World Nomads. They have great customer service, competitive prices, and in-depth coverage. I've been using them since I started traveling in 2003. Don't leave home without it!
Queenstown Gear and Packing Guide
If you're heading to Queenstown, here are my suggestions for the best travel backpack and tips on what to pack for your trip.
The Best Backpack for Queenstown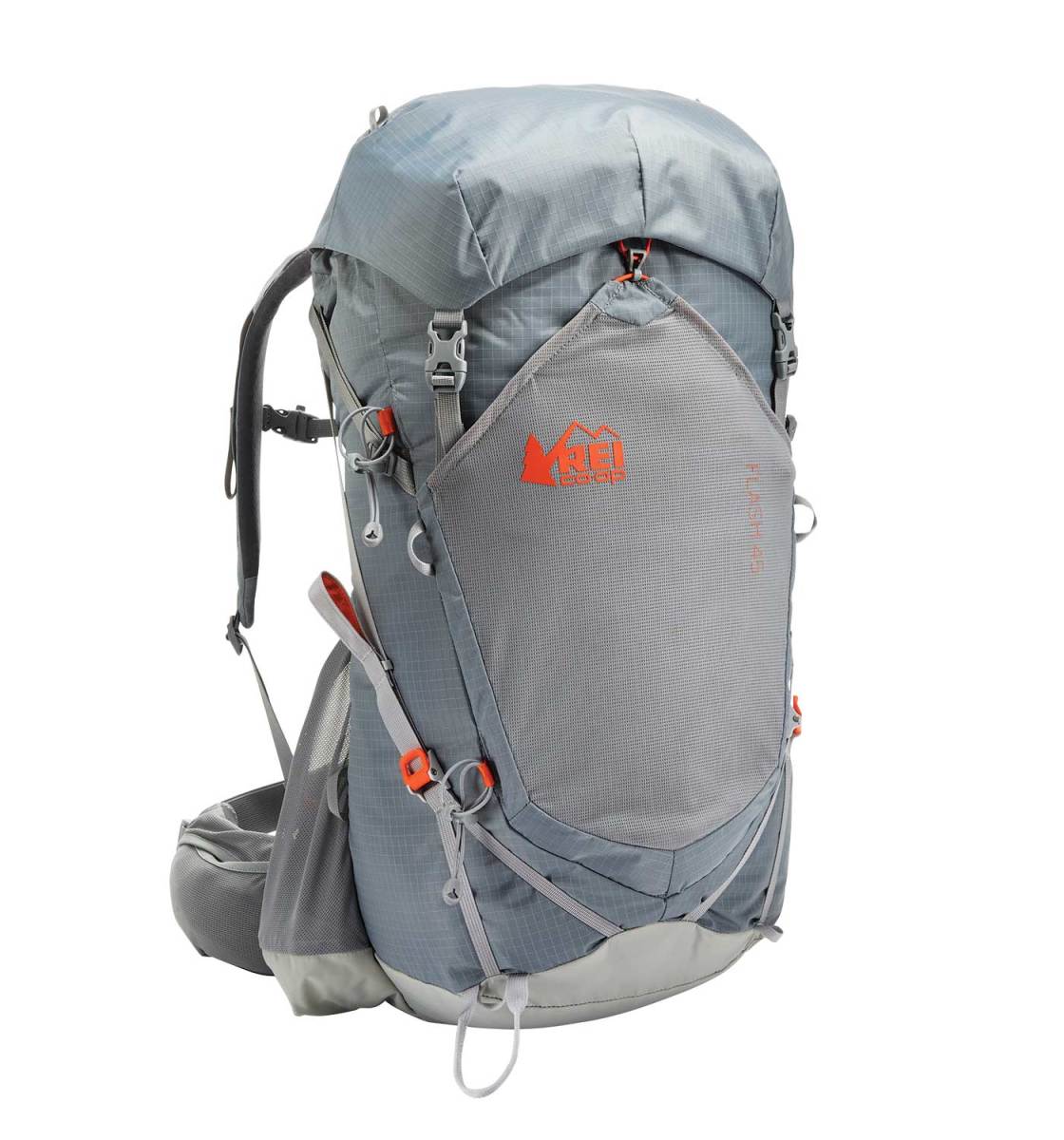 What's the best backpack for traveling around Queenstown? I recommend the
REI Flash 45 Pack
. It's light and comfy, front loading, and fits perfectly in an airplane's overhead bin.
Size:
45-47L
Straps:
Thick and cushy with compression technology that pulls the pack's load up and inwards so it doesn't feel as heavy.
Features:
Removable top lid, large pocket at the front, hydration compatible, contoured hip belt
If you want something different, refer to my article on how to choose the best travel backpack for tips on picking a pack and other backpack suggestions.
What to Pack for Queenstown
Clothes
1 pair of jeans (heavy and not easily dried, but I like them; a good alternative is khaki pants)
1 pair of shorts
1 bathing suit
5 T-shirts
1 long-sleeved T-shirt
1 pair of flip-flops
1 pair of sneakers
6 pairs of socks (I always end up losing half)
5 pairs of boxer shorts (I'm not a briefs guy!)
1 toothbrush
1 tube of toothpaste
1 razor
1 package of dental floss
1 small bottle of shampoo
1 small bottle of shower gel
1 towel
Deodorant
Small Medical Kit (safety is important!!!)
Miscellaneous
Female Travel Packing List
I'm not a woman, so I don't know what a woman wears, but Kristin Addis, our solo female travel guru, wrote this list as an addition to the basics above:
Clothing
1 swimsuit
1 sarong
1 pair of stretchy jeans (they wash and dry easily)
1 pair of leggings (if it's cold, they can go under your jeans, otherwise with a dress or shirt)
2-3 long-sleeve tops
2-3 T-shirts
3-4 spaghetti tops
1 light cardigan
Toiletries
1 dry shampoo spray & talc powder (keeps long hair grease-free in between washes)
1 hairbrush
Makeup you use
Hair bands & hair clips
Feminine hygiene products (you can opt to buy there too, but I prefer not to count on it, and most people have their preferred products)
For more on packing, check out these posts:
My Must Have Guides for Traveling to Queenstown
Queenstown Travel Guide: Related Articles
Want more info? Check out all the articles I've written on backpacking/traveling New Zealand and continue planning your trip: