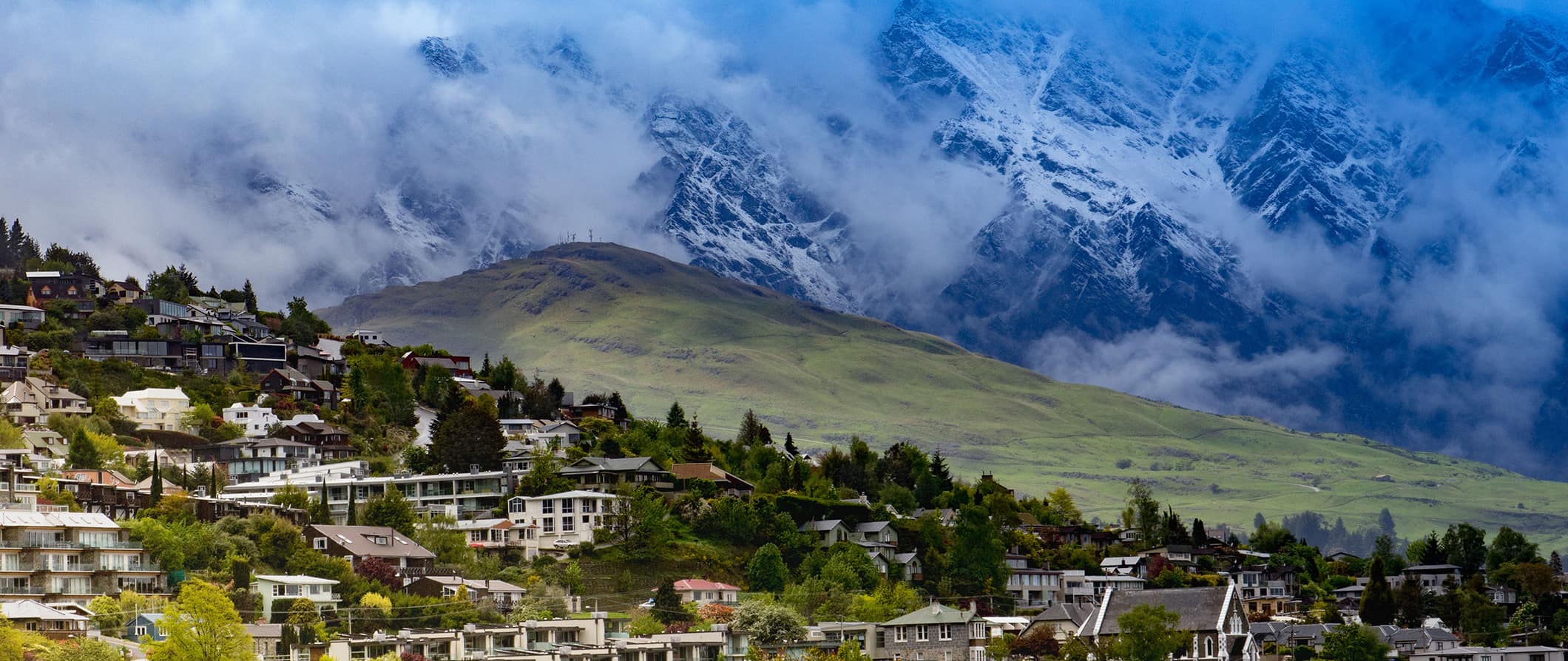 Queenstown is a phenomenal little town surrounded by The Remarkables, a picturesque mountain range. The town overlooks Lake Wakatipu and is filled with tiny pedestrian streets, wonderful food, and a crazy nightlife. It is also the "adventure capital" of New Zealand and the launching pad for every sort of adventure or adrenaline activity you can think of (as well as copious wine tours). Over the years, it has become very developed and tends to be pricier than other places in the country. However, as popular as it is, I love sitting by the lake, watching the sunset with a bottle of wine, hiking the nearby trails on Bob's peak, heading into the mountains, or indulging in an adventure activity. The crowds may have gotten bigger but the city still remains the best base for exploring the Otago region. This guide will help you get the most from your stay!
Top 5 Things to See and Do in Queenstown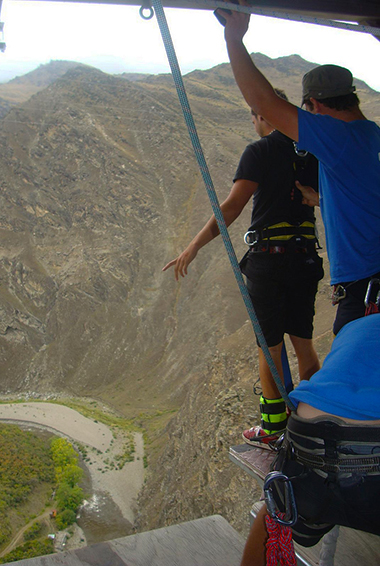 1. Do the Nevis jump
This famous 500 foot jump is one of the highest in the world (you'll free fall for 8.5 seconds!). It's one of the most popular adrenaline activities in the area and a must for any adrenaline junkie.
Here's what it looks like.
If you're ready to take the leap, it costs 275 NZD for a jump.
2. Go ziplining
Ziplining here is pretty cool as they are always expanding and changing the course. You zip on the mountain near the gondola, whizzing through the forest as you look down on the city and Lake Wakatipu. Prices vary depending how many lines you ride, but expect to pay around 100 NZD for a few lines.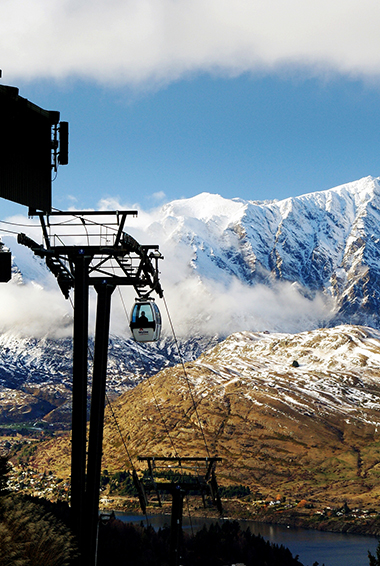 3. Hit the slopes
Queenstown is located right in the heart of the Southern Alps, making it an ideal spot for winter sports like skiing and snowboarding. There are four ski areas for you to choose from, with Coronet Peak being just 20 minutes from town. The Remarkables (one of the ski areas) is a family-friendly slope, while Treble Cone offers uncrowded slopes and pristine vistas.
4. Explore the vineyards
If you're a fan of white wine, the Otago area is especially known for its whites. If you plan to take an organized tour, prices will vary though you should expect to pay at least 80 NZD. Self-driving is cheaper and you can bike to a lot of the wineries on the Queenstown Wine Trail. My favorites include Waitiri Creek, Kinross, and Wet Jacket.
5. Go mountain biking
Exploring Queenstown by bike is an excellent way to get into the more remote areas around town. There's the gondola-accessed downhill Queenstown Bike Park or the 75-mile Queenstown Trail that takes you through Lake Wakatipu, Lake Hayes, and Gibbston. Full-day mountain bike rentals start around 52 NZD.
Other Things to See and Do
(Click the title to expand the text)
1. Sail Lake Wakatipu
Beautiful Lake Wakatipu surrounds the town, offering sailing, boating, swimming, and other activities. One thing to note is that the lake is very, very cold, although around peak summer it's what I would consider "refreshing." You can take a sightseeing boat tour out of Queenstown for as low as 25 NZD, and for 40 NZD you can hop onboard a 70's-themed party boat!
2. Take a helicopter flight
Queenstown is set against a backdrop of The Remarkables mountain range and a flight takes you over secluded alpine lakes, lush rainforest, and past rugged mountain peaks. You can fly over the high points of Lake Wakatipu, Coronet Peak, Kawarau Gorge, Shotover River, and Skippers Canyon. For a 20-minute ride you'll pay around 240 NZD, while a 50-minute ride is 585 NZD (discounts are available for children).
3. Visit the Kiwi Birdlife Park
Located near the Skyline Queenstown, this park is home to more than 10,000 native flora and fauna, various birds, and, more importantly, thousands of kiwis. Beyond a pleasant walk around the sanctuary, there is a cultural show to see, put on by the Maori locals. There's also a Honey Bee Center, with both an outdoor and indoor viewing hive. Admission is 49 NZD for adults and 24 for children (free for kids under 5).
4. Hit the trails on horseback
With so much beautiful scenery around, Queenstown makes for the perfect place to go trail riding. Half-day, full-day, and even multi-day tours are available. You can also try a ride through the mountains of Ben Lomond Station beside beautiful Moke Lake. Half-day rides begin around 185 NZD per person.
5. Get off-road
There are a few tour operators in the area that offer half-day off-roading adventures in 4WD vehicles. These tours take you through Skippers Canyon, where you'll encounter some amazing cliffside views. Expect to pay between 100-200 NZD per person for a tour.
6. Go skydiving
If you're brave enough to jump out of a plane at 15,000 feet and free fall towards the earth at a rate of 125 miles an hour, skydiving in Queenstown is one of the most popular activities here. Coming down over the lake and mountains on a clear day is one of the most breathtaking things you can do in a country full of breathtaking activities. A dive from 9,000 feet will cost about 300 NZD, while dives up to 15,000 feet are around 450 NZD.
7. Take in the view
Just 5 minutes from town, the Skyline Gondola will take you up the mountain for some stunning views of the area. Beyond the view, there is also plenty of hiking and biking to be done, as well as a luge track that you can try. Round-trip tickets for the gondola are 39 NZD for adults, with discounts available for children and families.
8. Visit the Underwater Observatory
If you want to see what lurks beneath the surface of Lake Wakatipu, head to the observatory. You can see massive trout, diving ducks, and slithering eels, all while learning about the Maori mythology and history of the lake. Admission is 10 NZD for adults and 5 NZD for kids.
9. Relax on the beach
Cool down in summer by taking a dip at one of the many beaches along Lake Wakatipu. Queenstown Bay is Queenstown's main beach, looking towards Cecil and Walter Peaks. Since it's right in town, it's always crowded. Sunshine Bay is a small beach located west of the city. It's quieter than Queenstown Bay and offers stunning views of Cecil Peak. There's also Kelvin Heights beach, located about 20-30 minute drive from central Queenstown with incredible views of The Remarkables.
10. Day trip to Wanaka
Located an hour away, Wanaka is a resort town set on the southern end of its namesake lake. On the way, you'll find tons of wineries and there is great hiking, too (Rob Roy Glacier and Diamond Lake are two great trails to check out). It's the gateway to the Southern Alps' Mount Aspiring National Park, with some incredible mountains, alpine lakes, and glaciers. While I would spend a couple of days here, if you are short on time, this small town is still an easy day trip to do. Be sure to check out Puzzling World if you go. It's an outdoor maze and sculpture gallery. Admission to the maze is 18 NZD for adults (14 NZD for children).
11. Explore Milford Sound
Milford Sound is probably the most popular fjord in New Zealand (maybe even in the world). It's known for towering Mitre Peak, lush rainforests, stunning waterfalls, seal colonies, penguins and dolphins, and rare black coral. It's a long day from Queenstown with buses leaving at 6am and getting back around 7pm. While I think it is far better to go from Te Anau (which is much closer), if you are short on time, there's plenty of trips from Queenstown. If you don't have time but have more money, you can take a scenic flight over the area instead. Prices start from 440 NZD and go up from there, depending on how long you want to fly for and whether you also want to land and take a cruise. If you'd rather take the bus for a day trip, you can find tours with companies like awesomeNZ and InterCity starting around 160 NZD.
Typical Costs
Hostel prices
– Hostel dorms cost between 27-40 NZD per night while private rooms begin at 75 NZD. Free WiFi is common, and a few hostels also include free breakfast. Most hostels in Queenstown have kitchens. For those traveling with a tent, campgrounds like Twelve Mile Delta and Moke Lamp Campsite can be found outside the city. Expect to pay 13-40 NZD for a basic plot. My suggested places are:
Avoid Base if you can.
Budget hotel prices – Hotel rooms around Queenstown begin at 80 NZD per night for a double bed, although if you're lucky you can find cheaper. For those who require a kitchen, self-catering facilities are available but rare. Airbnb is a great budget option here, with shared accommodation starting around 25 NZD per night (though there are limited options). For an entire home or apartment, expect to pay at least 100 NZD per night.
Average cost of food – A typical restaurant meal will cost around 23 NZD (though you can certainly spend more). You can find sandwiches for around 8 NZD and fast food like McDonald's or Burger King will cost around 11 NZD. There's a lot of budget food options in the city so you'll find plenty of ways to save, especially during lunch. If you choose to buy your groceries and cook your own food, plan to spend about 65-85 NZD per week. My favorite places to eat out are Devil Burger (Fergburger is good but overrated), Left Bank Cafe, Yonder, Kappa, No. 5 Church Lane, World Bar, and 1876.
Transportation costs – Queenstown is really small so there's no need to take the bus around the city center. If you want to rent a bike, expect to pay around 35 NZD per day. For intercity travel, buses are the cheapest option. For example, you can expect to pay around 24 NZD to Wanaka, 10 NZD to Te Anau, and 55 NZD to Christchurch. If you're planning to fly, you'll spend a lot more money. A flight to Christchurch, for example, will cost between 95-200 NZD.
Suggested daily budget
70-100 NZD / 50-70 USD (Note: This is a suggested budget assuming you're staying in a hostel, eating out a little, cooking most of your meals, limiting your drinking and adventure sports, and using local transportation. You can really spend a lot of money here if you do lots of activities so keep prices in mind.)
Money Saving Tips
Walk – Queenstown has its own set of natural scenic beauty which can be had for free in a walk around town. But, if you prefer tour, you can purchase a guided bus tour for around 70 NZD.
Cook your own food – If you're on a budget you will want to consider cooking some of your own meals. It may not be fancy, but it will keep your budget intact! Most of the restaurants in this city aren't that cheap.
Find deals with bookme.co.nz – You'll often find last-minute deals on tours and activities by using this website, as long as you're flexible on time. You can save upwards of 30% off! Also try grabone.co.nz for more deals.
Avoid drinking (much) – Drinking in Queenstown is expensive, and who wants to enjoy some outdoor adventure while hungover anyway? If you must drink, pick up your booze from the supermarket.
My Must Have Guides For Traveling to Queenstown
Photo credits: 6