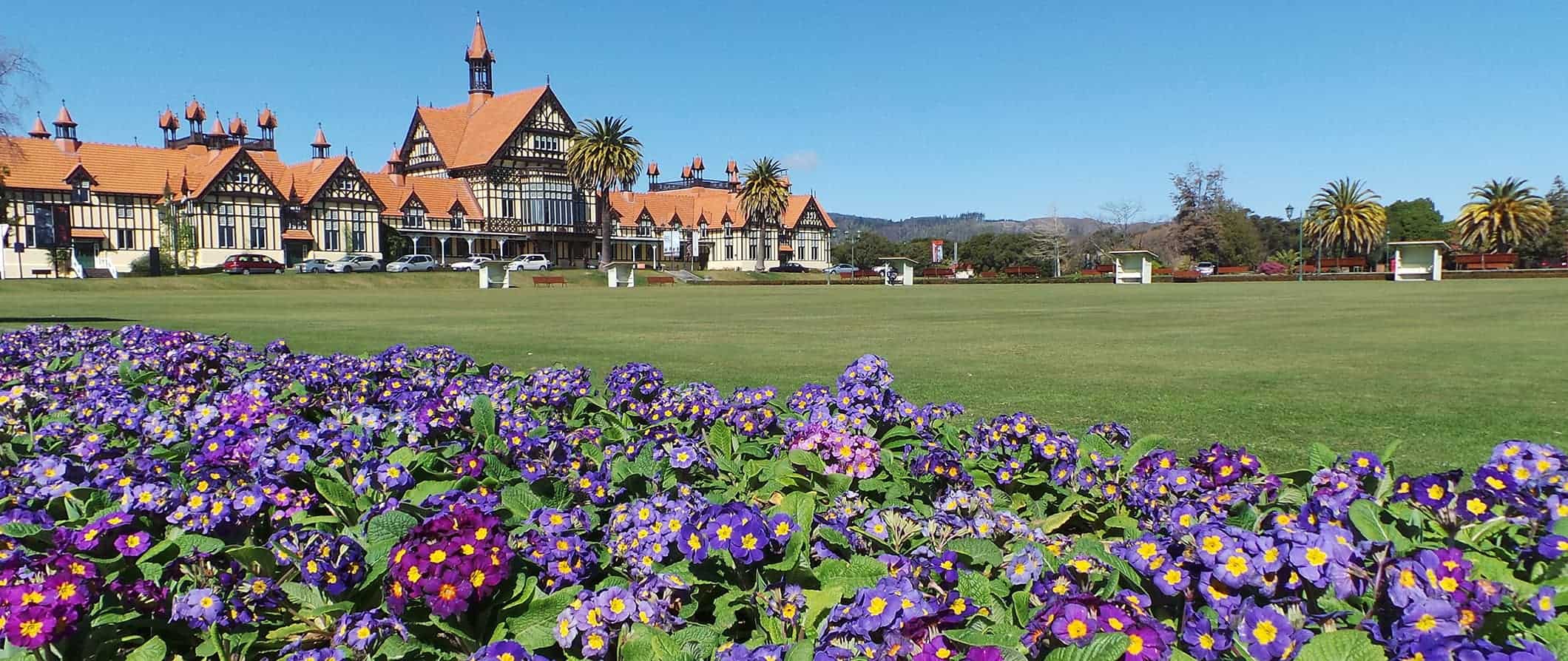 Rotorua is one of the most popular tourist destinations on the North Island of New Zealand. Tourists have been visiting Rotorua to bathe in the hot geothermal springs since the 19th century. The dynamic geothermal landscape makes for exciting nature walks, Maori cultural experiences, trips to smelly geysers, and soaks in luxury spas.
Everything from restaurants to accommodations is centrally located around a few streets as it is a small town. Since it's a small place, you only really need a couple of nights here to get your fun in. I didn't feel the need to stay and linger.
This travel guide to Rotorua can help you get the most out of your visit and save some money too!
Top 5 Things to See and Do in Rotorua
1. See the Whakarewarewa Thermal Reserve
The Maori Thermal Village is set against a backdrop of erupting geothermal activity. The reserve is split into two parts, with the more touristy one, Te Puia, closest to town. Prices start at $45 NZD ($29 USD) for adults and $20 NZD ($13 USD) for children. Guided tours are included.
2. Get to know Maori culture
If you are going to
learn about Maoris,
this area is the best to do it in. The cultural tours all are similar (some are smaller, some have better food, some are different length) so only see one. The Tamaki Maori Village tour is highly recommended and costs about $130 NZD ($84 USD).
3. Go Zorbing
This New Zealand-invented activity is popular with backpackers. You get put into a giant see-through ball and rolled down a hill. You also have the option to add water into your ball. Zorb experiences start at $45 NZD ($29 USD) per person, but you can add up to 3 people to your ride.
4. Explore Whakarewarewa Forest
Whakarewarewa Forest is a sprawling 5,600 hectares and provides a stunning environment for horseback riding, mountain biking, hiking, and more. The Redwood Grove has endless walking trails, while the variety of riding surfaces makes for some epic biking (there's more than 70 trails).
5. Visit the Rotorua Museum
Located inside an old bath house, this museum has exhibits on the culture and history of the area and houses many Maori artifacts. Admission is $20 NZD ($13 USD) for adults, with discounts available for seniors and children. Note: As of February 2020, the museum is currently closed.
Other Things to See and Do in Rotorua
1. Bathe at the Polynesian Spa
Soaking in the therapeutic waters of Rotorua has attracted tourists to the area for more than 200 years. There are 28 different pools to enjoy at the spa, including private sky view pools, along with a full range of spa services. Entrance fees start at $32 NZD ($21 USD).
2. Visit the Buried Village
This village, 20 minutes drive from Rotorua, was swamped with ash when the nearby Mt. Tarawera erupted in 1886, killing 153 people. Here you will see the remains of the village while learning about the history and the eruption. Admission is $30 NZD ($19) for adults, with discounts available for families and children. Grumpy's offers transfers starting at $7.5 NZD ($5 USD) per person.
3. Wander through the Government Gardens
This is a beautiful public park near the Sportsdrome (a sports arena) and is considered an important place for the local Maori. The Maori people gave 50 acres of the land here to the Crown, which has been turned into a large garden and nursery. It's also home to the Blue Baths, an elaborate Elizabethan Tudor style bathhouse that has been around for over a century which now hosts local weddings and events. You can enjoy the ornate geothermal baths there daily (unless there is an event going on) starting at $11 NZD ($7 USD) per person.
4. Do a canopy tour
These three-hour tours take you on zip lines and swing bridges through the nearby forest with 1000-year old trees. You'll learn about the native birds and plant life found in the forest along the way. Groups are always fewer than ten people. Expect to pay around $150 NZD ($97 USD) per person.
5. Hike around Mount Tarawera
Mount Tarawera is an awe-inspiring mountain, known for its violent 1886 volcanic eruption. Nowadays, the sleepy mountain and its lake serve as a getaway for people looking to hike or kayak. Because the Maori consider the mountain a sacred site, you'll have to book a tour with Kitiaki Adventures as they are the only company who are allowed to drive up the mountain. Their crater walks and geothermal tours start at $164 NZD ($106 USD) for a five-hour tour.
6. Velocity Valley Adventure Park
Get your adrenaline rush at Velocity Valley, home to the world's only human-powered monorail racetrack where you can race your friends in the shweeb racer. You can also try the Rotorua Bungy, hop aboard the Agrojet for the fastest jet boat experience in the country, or free-fall in the wind tunnel at Freefall Xtreme. Tickets start at $85 NZD ($55 USD) for two rides.
7. Relax in Kuirau Park
Kuirau Park is at the northern end of Rotorua and is New Zealand's only public geothermal park. Follow the walking trails leading down to bubbling, steaming pools of geothermal activity, and observe nature at work from behind the safety of the security fences. Take advantage of the free Kuirau Park Footbaths.
8. Raft the Kaituna
Just outside Rotorua the twirling Kaituna River offers grade 5 white water rafting. Thrill-seekers can hurtle over the seven-meter Kaituna waterfall, the tallest rafted waterfall in the world. There are a variety of rafting companies to choose from with excursions starting at $95 NZD ($62 USD) per person.
9. Enjoy the lakes of Rotorua
While Lake Rotorua is the largest in the area, there are 14 scenic lakes surrounding it making for lots of aquatic adventures. Hop aboard a traditional paddle steamer and cruise around Lake Rotorua: tickets for an hour-long cruise on the Lakeland Queen start from $37 NZD ($24 USD). Swim, relax, and barbecue with friends on Lake Tikitapu, a small circular lake known for its vivid blue color a 15-minute drive from Rotorua. You can enjoy the hot water beach and geothermal pools at Lake Tarawera on Te Rata Bay beach by hiking the trail from Buried Village or take a $30 NZD ($19 USD) from Rotorua proper.
Rotorua Travel Costs
Hostel prices – During peak season (December to February), a bed in a four to six-bed dorm costs $29 NZD ($19 USD) while an eight to ten-bed dorm bed will cost $22 NZD ($15 USD). A private room will cost around $70-100 NZD ($45-$65 USD) for a double bed.
In the off-season (June to August), a bed in a four to six-bed dorm costs $25 NZD ($16 USD) while an eight to ten-bed dorm bed will cost $19 NZD ($12 USD). A private room will cost around $55-90 NZD ($37-$58 USD) for a double bed.
Hostels here don't really offer free breakfast. Kitchens are available at most hostels though. For those traveling with a tent, there are campgrounds in the area. You'll pay between $13-36 NZD ($8-$23 USD) per night for a basic plot.
Budget hotel prices – Budget hotels start around $70 NZD ($45 USD) per night for a double room in a three-star property but average closer to $120 NZD ($78 USD).
Airbnb options are widely available in Rotorua, with shared accommodation starting around $20 NZD ($12 USD) per night, while a private room is about $100 NZD ($65) per night. For an entire home or apartment, expect to pay at least $200 NZD ($130 USD) per night.
Average cost of food – Eating out is not cheap in New Zealand and Rotorua is no exception. A typical meal with a drink will cost about $35-40 NZD ($25-$30 USD). You can find sandwiches around for $8 NZD ($5 USD) and even in a small place like Rotorua, there are lots of inexpensive Chinese, Thai and sushi restaurants ranging from $10 to $15 NZD ($7-$10 USD). Fast food like McDonald's or Burger King costs around $11 NZD ($7 USD).
The few higher-end dining options in Rotorua offer three-course dinners from $60 NZD ($39 USD) while a traditional Maori Hangi dinner and performance starts at $100 NZD ($65 USD).
A beer out at the bar will cost you around $8 NZD ($5 USD).
If you choose to cook your own food, plan to spend between $65-80 NZD ($45-$55) per week on basic groceries.
Backpacking Rotorua Suggested Budgets
If you're backpacking in Rotorua, expect to spend $100 NZD ($65 USD) per day. This budget will cover a hostel dorm, public transportation, cheap meals out and/or cooking your own food, and about one attraction per day. You can lower this number to about $60 NZD if you cook all your meals, walk, and limit your drinking.
A mid-range budget of about $305 NZD ($195 USD) per day will cover staying in a budget hotel, eating out for all of your meals, a few attractions per day, plenty of drinks, and public transit.
On a luxury budget of about $750 NZD ($480 USD) or more per day, you can get a four-star hotel, any meal you want, drinks, lots of attractions (like shows or tours), and Uber rides.
You can use the chart below to get some idea of how much you need to budget daily, depending on your travel style. Keep in mind these are daily averages – some days you'll spend more, some days you'll spend less (you might spend less every day). We just want to give you a general idea of how to make your budget. Prices are in USD.
Accommodation
Food
Transportation
Attractions
Average Daily Cost
Backpacker
$15
$20
$5
$25
$65
Mid-Range
$45
$45
$5
$100
$195
Luxury
$200
$100
$30
$150
$480
Rotorua Travel Guide: Money-Saving Tips
Like the rest of New Zealand, costs can rack up quickly in Rotorua. Activities and eating out will be your two biggest expenses here. Here are a few ways to save money when you visit:
See the free geysers – A lot of people go visit Te Puia, but while the hot springs and geysers there are nice, you can walk around town and see plenty for free. Save your money for a Maori show.
Cook your own food – Restaurants in New Zealand are not cheap. If you want to save your budget try cooking your own meals. Look out for grocery chains Parkn'Save and Countdown for cheaper groceries.
Stay with a local – While there are not many Couchsurfing hosts available in the area there are still some. Try staying with a local to cut down on your accommodation costs. You'll also get some valuable insight into the area from a local — and that is priceless!
Stay in a campervan – Exploring New Zealand via campervan is a popular way to save money and Rotorua is very motorhome friendly. There are half a dozen holiday parks to choose from ranging from $25-75 NZD ($16-$49 USD) per night. Download the Campermates app to find campsites, gas stations, and dump stations.
Avoid the high season – Prices will be higher during the summer months (from December through February) so avoid peak tourist season if you can!
WWOOF it – WWOOFing is a great way to work for your accommodation and food. In return for working on a farm or B&B, you get free food and board. It's a popular activity with travelers because it lets you stay in a place cheaper and longer. You can do it for a few days or a few months. Keep in mind, most farms will require you to have some experience, as too many inexperienced workers have caused trouble in the past.
Where To Stay in Rotorua
As a backpacker hotspot, there are several hostels in Rotorua. If you're not into hostel, you'll find a plenty of budget hotels here too. Here are my recommended places to stay:
How to Get Around Rotorua
Rotorua's center is small and can be walked around easily (it takes about 20 minutes to walk from end to end). If you don't mind a stroll, there are some two-hour walks that include the lake and nearby hot springs.
Bus -The bus system is called the Rotorua Urban with 11 bus routes that run seven days a week. A one-way fare cost $2.80 NZD ($1.80 USD) for an adult and children under 5 ride for free.
Taxis – Taxis start at $3 NZD ($2 USD), with normal tariff being $3 NZD ($2 USD) per additional kilometer. Since the town is small, you don't really need to take a
Ride-Sharing – Uber was just introduced to Rotorua so there are only a few cars that offer the service, but it is the best way to get around if you don't want to wait for the bus and it's cheaper than a taxi. You can save $15 USD off your first Uber ride with this code: jlx6v.
When to Go to Rotorua
Because New Zealand is in the southern hemisphere, the seasons are reversed in Rotorua. Peak season summer happens during the months of December to February and it's the most popular time to visit with an average daily temperature of 68-77°F (20-25°C). Kiwis also take their vacations during these months to be warned tours and adventure activities could book up in Rotorua. Velocity Valley Adventure Park will be particularly busy.
Winter is from June-August, and the best time to visit if you're into snow sports but Rotorua's temperatures stay within 48°F-60°F ( 9°C -16°C). The most pleasant time of year to visit is March through May when the crowds have lessened, but because of New Zealand's temperate climate and the consistent heat of the hot springs, there is never a bad time to visit Rotorua.
How to Stay Safe in Rotorua
On the whole, New Zealand is a very safe place to backpack and travel and Rotorua is no exception. The town is quiet even on Saturday night so even solo female travelers will feel safe. The crime rate is low in the country with a great healthcare system.
That said it is always best to trust your instincts when it comes to safe travel. Take normal precautions like you would at home, like carrying a cellphone and being aware of your personal belongings at all times. Make copies of your important documents, like your passport. Forward your itinerary along to loved ones so they'll know where you are.
The emergency number is 111.
Overall, you're unlikely to encounter anything problematic here.
Always trust your gut instinct. If a taxi driver seems shady, stop the cab and get out. If your hotel is seedier than you thought, get out of there. If that driver picking you up seems weird, don't get in the car!
If you don't do it at home, don't do it when you're in New Zealand. Follow that rule and you'll be fine.
The most important piece of advice I can offer is to purchase good travel insurance. Travel insurance will protect you against illness, injury, theft, and cancellations. It's comprehensive protection in case anything goes wrong. I never go on a trip without it as I've had to use it many times in the past. You can use the widget below to find the policy right for you:
Rotorua Travel Guide: The Best Booking Resources
Below are my favorite companies to use when I travel to Rotorua. They are included here because they consistently turn up the best deals, offer world-class customer service and great value, and overall, are better than their competitors. They are always my starting point when I need to book a flight, hotel, tour, train, or meeting people!
Momondo – This is my favorite flight search engine because they search such a wide variety of sites and airlines. I never book a flight without checking here first.
Skyscanner – Skyscanner is another great flight search engline which searches a lot of different airlines, including many of the budget carriers that larger sites miss. While I always start with Momondo, I use this site too as a way to compare prices.
Airbnb – Airbnb is a great accommodation alternative for connecting with homeowners who rent out their homes or apartments. The big cities have tons of listings! (If you're new to Airbnb, get $35 off your first stay!)
Hostelworld – This is the best hostel accommodation site out there, with the largest inventory, best search interface, and widest availability.
Intrepid Travel – If you want to do a group tour around New Zealand, go with Intrepid Travel. They offer good small group tours that use local operators and leave a small environmental footprint. If you go on a tour with anyone, go with them. And, as a reader of this site, you'll get exclusive discounts when you click the link!
STA Travel – A good company for those under 30 or for students, STA Travel offers discounted airfare as well as travel passes that help you save on attractions.
Rome 2 Rio – This website allows you to see how to get from point A to point B the best and cheapest way possible. Just enter your departure and arrival destinations and it will give you all the bus, train, plane, or boat routes that can get you there as well as how much they cost. One of the best transportation website out there!
Couchsurfing – This website allows you to stay on people's couches or spare rooms for free. It's a great way to save money while meeting locals who can tell you the ins and outs of their city. The site also lists events you can attend to meet people (even if you're not staying with someone).
bookme.co.nz – You'll get some really good last minute deals and discounts on this website! Just select what area you're traveling in, and see what activities are on sale.
treatme.co.nz – The locals use this website to find discount hotels, restaurants, and tours. You can save up to 50% off things like catamaran sailing lessons or three-course dinners.
World Nomads – I buy all my travel insurance from World Nomads. They have great customer service, competitive prices, and in-depth coverage. I've been using them since I started traveling in 2003. Don't leave home without it!
EatWith – This website allows you to eat home cooked meal with locals. Locals post listings for dinner parties and specialty meals that you can sign up for. There is a fee (everyone sets their own price) but this is a great way to do something different, pick a local's brain, and make a new friend.
Rotorua Gear and Packing Guide
In this section, I'll give you my suggestion for the best travel backpack and tips on what to pack for your trip to Rotorua.
The Best Backpack for Rotorua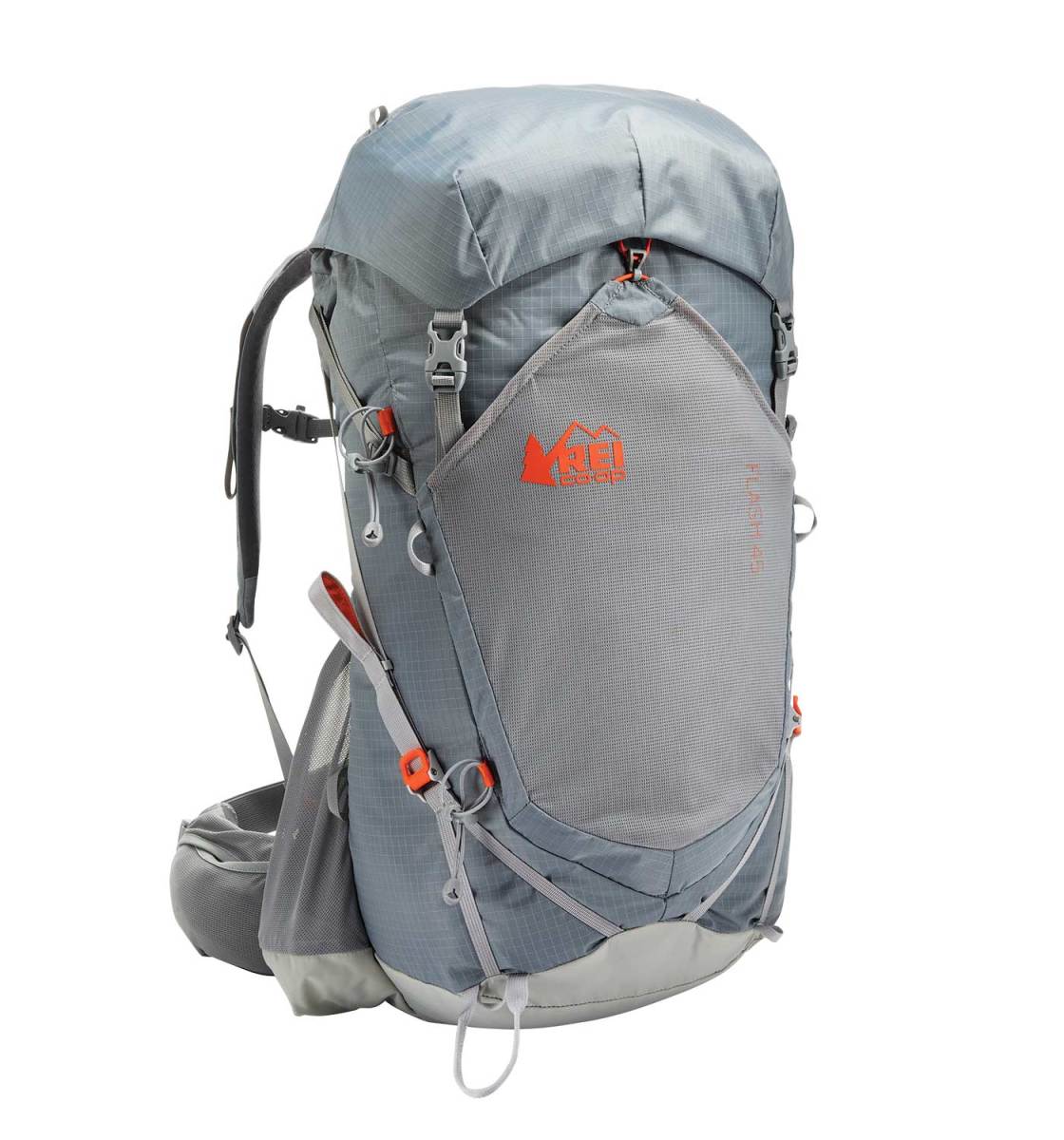 What's the best backpack for traveling around Rotorua? I recommend the
REI Flash 45 Pack
. It's light and comfy, front loading, and fits perfectly in an airplane's overhead bin.
Size:
45-47L
Straps:
Thick and cushy with compression technology that pulls the pack's load up and inwards so it doesn't feel as heavy.
Features:
Removable top lid, large pocket at the front, hydration compatible, contoured hip belt
If you want something smaller or different, refer to my article on how to choose the best travel backpack for more tips and tricks on how to pick a backpack – as well as more pack suggestions!
What to Pack for Rotorua
Clothes
1 pair of jeans (heavy and not easily dried, but I like them; a good alternative is khaki pants)
1 pair of shorts
1 bathing suit
6 T-shirts
1 long-sleeved T-shirt
1 pair of flip-flops
1 pair of sneakers
8 pairs of socks (I always end up losing half)
5 pairs of boxer shorts (I'm not a briefs guy!)
1 toothbrush
1 tube of toothpaste
1 razor
1 package of dental floss
1 small bottle of shampoo
1 small bottle of shower gel
1 towel
Deodorant
Small Medical Kit (safety is important!!!)
Doctor-prescribed antibiotics
Hand sanitizer (germs = sick = bad holiday)
Miscellaneous
Female Travel Packing List
I'm not a woman so I don't know what a woman wears, but Kristin Addis, our solo female travel guru, wrote this list as an addition to the basics above:
Clothing
1 swimsuit
1 sarong
1 pair of stretchy jeans (they wash and dry easily)
1 pair of leggings (if it's cold, they can go under your jeans, otherwise with a dress or shirt)
2-3 long-sleeve tops
2-3 T-shirts
3-4 spaghetti tops
1 light cardigan
Toiletries
1 dry shampoo spray & talc powder (keeps long hair grease free in between washes)
1 hairbrush
Makeup you use
Hair bands & hair clips
Feminine hygiene products (you can opt to buy there too, but I prefer not to count on it, and most people have their preferred products)
For more on packing, check out these posts:
My Must Have Guides for Traveling to Rotorua
Rotorua Travel Guide: Related Articles
Want more info? Check out all the articles I've written on Rotorua travel and continue planning your trip: