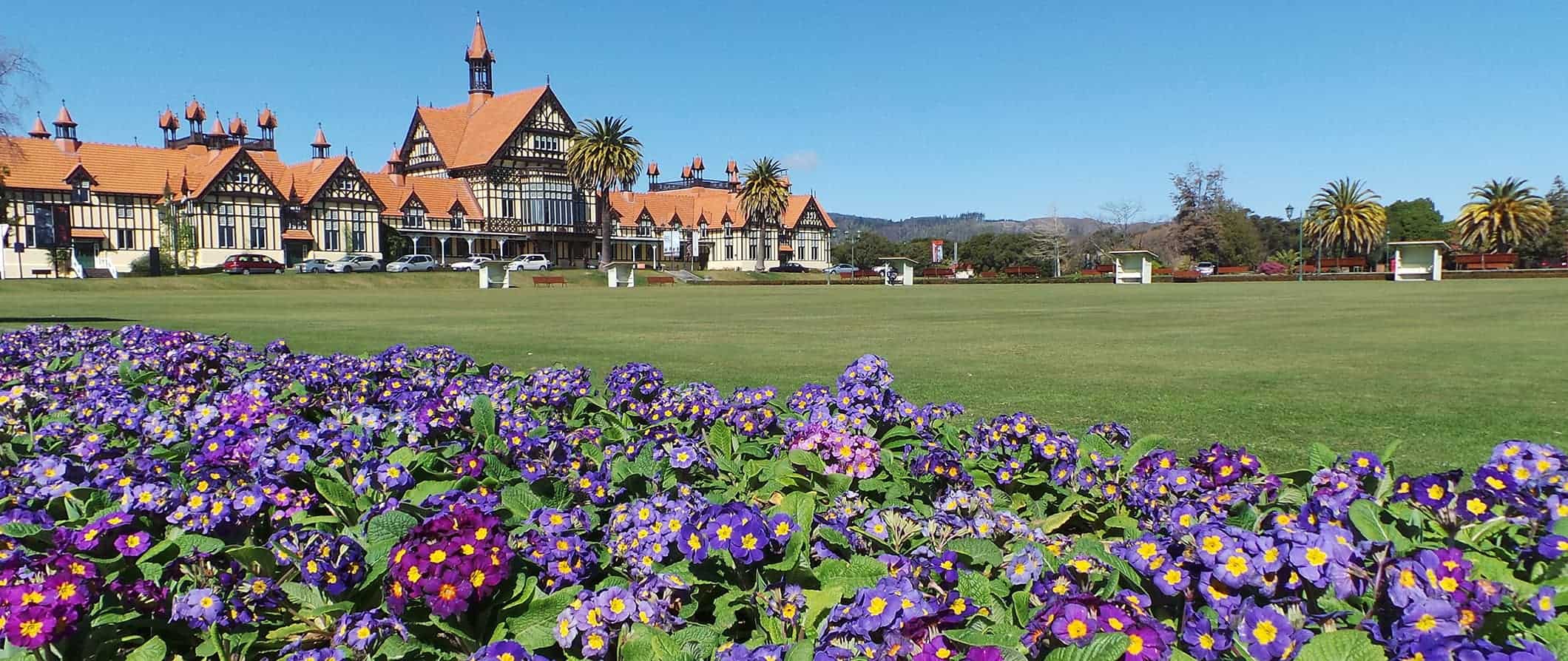 Rotorua is one of the most popular tourist destinations on the North Island. It's the launch pad for nature walks, Maori cultural experiences, trips to smelly geysers, and getaways to luxury spas. Everything is centrally located around a few streets as it is a small town. There is really not much to do in town other than a few bars and a handful of restaurants and shops. The real fun is all the activities you can do from the city.
Top 5 Things to See and Do in Rotorua
1. See the Whaka Thermal Reserve
The Maori Thermal Village is set against a backdrop of erupting geothermal activity. You can watch a Maori cultural performance. The reserve is split into two parts, with the more touristy one, Te Puia, closest to town. Prices start at 36 NZD for adults and 15.75 NZD for children. Guided tours are included.
2. Get to know Maori culture
There are a
variety of cultural shows
and educational tours in the area. If you are going to learn about Maoris, this area is the best to do it in. The cultural tours all are similar (some are smaller, some have better food, some are different length) so only see one. The Tamaki Maori Village tour is highly recommended and costs about 117 NZD.
3. Go Zorbing
This is a popular activity with backpackers. You get put into a giant see-through ball and rolled down a hill. It's pretty expensive for the 5 seconds you get. You also have the option to add water into your ball. Zorb experiences start at 30 NZD per person, but you can add up to 3 people to your ride.
4. Explore Whakarewarewa Forest
Whakarewarewa Forest is a sprawling 5,600 hectares and provides a stunning environment for horseback riding, mountain biking, hiking, and more. The Redwood Grove has endless walking trails, while the variety of riding surfaces makes for some epic biking (there's more than 70 trails).
5. Visit the Rotorua Museum
Located inside the beautiful old bath house building, this museum has exhibits on the culture and history of the area and houses many Maori artifacts. Admission is 20 NZD for adults, with discounts available for seniors and children. Note: As of April 2018, the museum is currently closed for repairs.
Other Things to See and Do
(Click the title to expand the text)
1. Enjoy the lakes
There are 14 scenic lakes throughout the area around Rotorua. Hop aboard a traditional paddle steamer and cruise around Lake Rotorua, or kayak the shores of Lake Rotoiti. You can also relax and barbecue with friends on Lake Tikitapu, a small circular lake known for its vivid blue color, or enjoy the geothermal pools at Lake Tarawera.
2. Visit the Buried Village
This village was swamped with ash when the nearby Mt. Tarawera erupted in 1886, killing 153 people. Here you will see the remains of the village while learning about the history and the eruption. Admission is 30 NZD for adults, with discounts available for families and children.
3. Wander through the Government Gardens
This is a beautiful public park near the Sportsdrome (a sports arena) and is considered an important area for the local Maori. The Maori people gave 50 acres of the land here to the crown which has been turned into a large garden and nursery. It's also home to the Blue Baths, an elaborate Elizabethan Tudor style bath house that has been around for over a century. If you feel like a stroll, this is a nice place to visit.
5. Do a canopy tour
If you haven't had a chance to do one elsewhere, this is a great place to give it a try. These three-hour tours take you on zip lines and swing bridges through the nearby forest with 1000-year old trees. You'll learn about the native birds and plant life found in the forest along the way! Groups are small and always fewer than ten people. Expect to pay around 150 NZD per person.
6. Hike around Mount Tarawera
Mount Tarawera is an awe-inspiring mountain, known for its violent 1886 volcanic eruption. Nowadays, the sleepy mountain and its lake serve as a getaway for people looking to hike or kayak. The area actually belongs to the local Maori tribe, which means you'll need to book a local guide from Kitiaki Adventures. There are creater walks and geothermal tours. Expect to pay around 164 NZD for a tour. If you don't want to pay for a guide, you can also walk the Tarawera Falls trail to see the stunning waterfalls in the Bay of Plenty, where they plunge 65 meters over a cliff and into the rapids below.
7. Velocity Valley Adventure Park
Get your adrenaline rush at Velocity Valley, home to the world's only human-powered monorail racetrack. You can also try the Rotorua Bungy, hop aboard the Agrojet for the fastest jet boat experience in the country, or free fall in the wind tunnel at Freefall Xtreme. Tickets start at 85 NZD for two rides.
8. Relax in Kuirau Park
Kuirau Park is at the northern end of Rotorua and is New Zealand's only public geothermal park. Follow the walking trails leading down to bubbling, steaming pools of geothermal activity, and observe nature at work from behind the safety of the security fences. You're welcome to take advantage of the free Kuirau Park Footbaths, however. Soak your feet and relax!
Typical Costs
Hostel prices
– Dorm rooms cost between 19-30 NZD per night. A private room will cost around 50-90 NZD for a double bed. Free WiFi is common, though don't expect any hostels here to offer free breakfast. Kitchens are available at most hostels for those looking to cook their own food. You can book your hostel with
Hostelworld
. For those traveling with a tent, there are campgrounds in the area. You'll pay between 13-36 NZD per night for a basic plot.
Budget hotel prices – Budget hotels start around 70 NZD per night for a double room, but average closer to 100 NZD. Free WiFi is generally included, and many hotels also offer free breakfast. Use Booking.com as they consistently return the cheapest rates. Airbnb is available in the area, with shared accommodation starting around 37 NZD per night. For an entire home or apartment, expect to pay at least 100 NZD per night.
Average cost of food – A typical restaurant meal with cost about 20-30 NZD (or more!). You can find sandwiches around for 8 NZD and fast food like McDonald's or Burger King costs around 11 NZD. If you choose to cook your own food, plan to spend between 65-80 NZD per week. A beer out at the bar will cost you around 8 NZD.
Transportation costs – The city is really small and can be walked around very easily (it takes about 20 minutes to walk from end to end). If you don't mind a stroll, there are some two-hour walks that include the lake and nearby hot springs. For intercity travel, buses are your cheapest option. A one-way ticket to Wellington will cost between 32-60 NZD, while a one-way ticket to Auckland generally costs between 21-44 NZD, but sometimes you can find fares for as little as 1 NZD if you book early.
Suggested daily budget
70 NZD / $50 USD (Note: This is a suggested budget assuming you're staying in a hostel, eating out a little, cooking most of your meals, and using local transportation. Using the budget tips below, you can always lower this number. However, if you stay in fancier accommodation or eat out more often, expect this to be higher!)
Money Saving Tips
See the free geysers – A lot of people go visit Te Puia, but while the hot springs and geysers there are nice, you can walk around town and see plenty for free. Save your money for a Maori show.
Cook your own food – Restaurants in New Zealand are not cheap. If you want to save your budget try cooking your own meals.
Stay with a local – While there are not many Couchsurfing hosts available in the area there are still some. Try staying with a local to cut down on your accommodation costs. You'll also get some valuable insight into the area from a local — and that is priceless!
Avoid the high season – Prices will be higher during the summer months so avoid peak tourist season if you can!
My Must Have Guides For Traveling to Rotorua