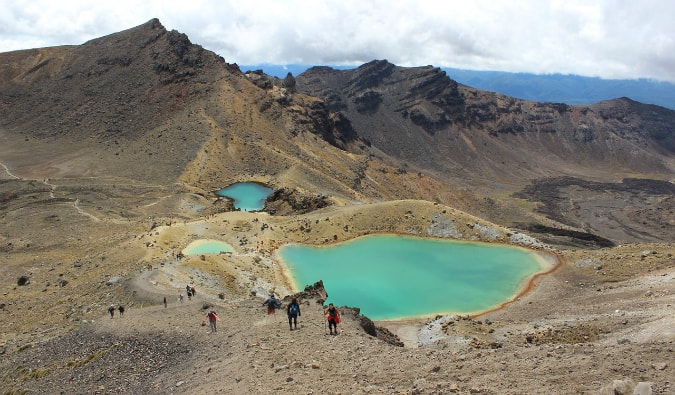 Last Updated: 8/23/22 | August 23rd, 2022
The Tongariro Alpine Crossing is not only considered the best one day hike in New Zealand but one of the best in the world. It is a 19.4 kilometer (12 mile) hike that takes you through the area where they filmed Mordor in The Lord of the Rings. It's a relatively easy walk, though there are a few places where the ascent and descent are pretty steep.
Located in Tongariro National Park, the trail is popular with both locals and tourists. Until 2007, the trail was just called the "Tongariro Crossing" however the name was officially changed to reflect the more challenging conditions on the trail (specifically during winter). The landscape is almost martian-like, offering some incredibly unique views as you tramp across the sparse hills and mountains.
Here's everything you need to know to trek the Tongariro Alpine Crossing.
My Experience Hiking the Tongariro Alpine Crossing
To give you a sense of just how epic this hike really is, here's a short video from my hike:
Unfortunately, it is no longer possible to hike Mount Ngauruhoe (which was used as Mount Doom in Lord of the Rings) or Mount Tongariro. The Department of Conservation has marked them as sacred places, and rangers are in place to keep people away.
Generally speaking, the hike will take between 6-11 hours depending on your pace. Most people in decent shape complete the hike in 6-9 hours.
How to Hike the Tongariro Alpine Crossing: Logistics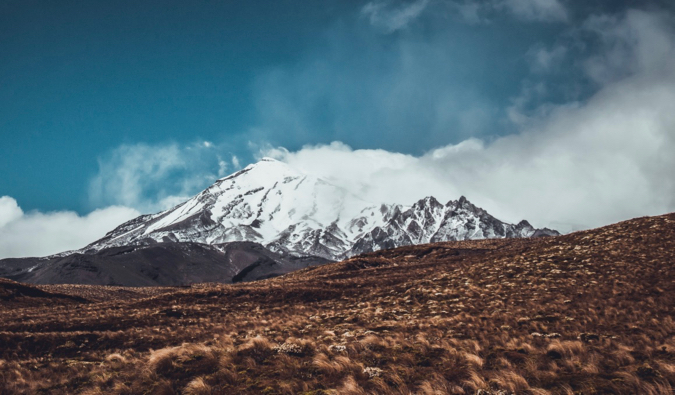 The Tongariro Alpine Crossing is not a circuit trail, which means you'll be starting and ending at different places. For that reason, you'll want to book a shuttle so that you can get dropped off at the start and picked up when you're done.
Shuttles run throughout the day, starting as early as 5am and ending around 5pm (times vary by company). For that reason, you'll want to start early so that you can make sure you're done in time for the last shuttle. Additionally, you'll want to make sure you book your shuttle in advance to secure a spot as it can get busy in the summer.
A return shuttle costs around 50 NZD per person (one-way shuttles cost 40 NZD). This includes a shuttle from the national park entrance to the trail, and then back from the end of the trail to the national park. If you're planning to start from nearby Taupo, a return shuttle costs 70 NZD per person.
If you plan on booking a guide for a winter hike, expect to pay around 195 NZD per person.
Tips for Hiking the Tongariro Alpine Crossing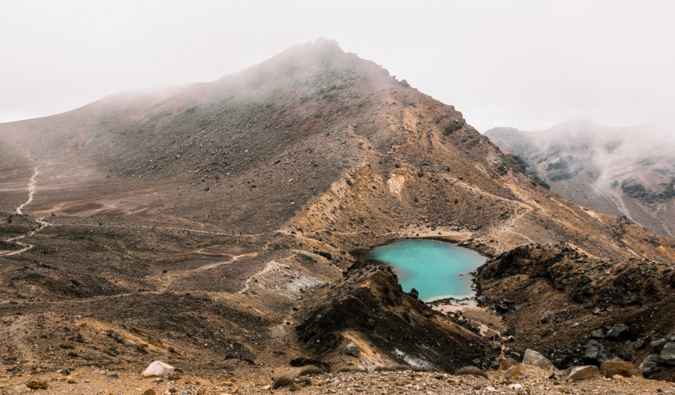 To help you make the most of your hike, here are some important tips you'll want to consider before you hit the trail:
Take lots of water (1.5-3L). There aren't places to get water until nearer the end and there's no shade from the sun. You'll use a lot of water on the trek.
Bring an umbrella. There's no cover until the end of the trail and the weather changes frequently.
Plan your time accordingly. Start early and know when your shuttle departs so you can complete your hike in time.
Walk quickly to Mount Ngauruhoe. This is the first third of the trek with nothing really to see. Getting there quickly gives you more time to see the craters and take the side trails.
You don't need hiking shoes to do this walk. I did it in sneakers (running shoes) and was fine. However, flips flops are a bad idea given the steep climbs and loose rocks. If you have sturdy footwear, it's best to wear them.
Bring a sweater and jacket. The weather can change rapidly so you want to have some options. If you don't bring an umbrella, bring a rain jacket.
Wear sunblock and bring a hat. It can get warm!
Pack a lunch and carry some snacks with you for when you get hungry. Just make sure to bring your garbage out with you!
If you're going in the winter, you will need crampons and an icepick. If you're not familiar with how to use that gear, make sure you go with a guide.
Bring a map and cellphone. The trail is pretty straightforward, but it's better to be safe than sorry! (Charge your phone in advance and bring an external battery just in case).
Pack some toilet paper. The bathrooms along the trail (which are few and far between) don't have any.
Bring gloves. Even in the summer, it can get chilly at higher altitudes.
The Tongariro Alpine Crossing: Frequently Asked Questions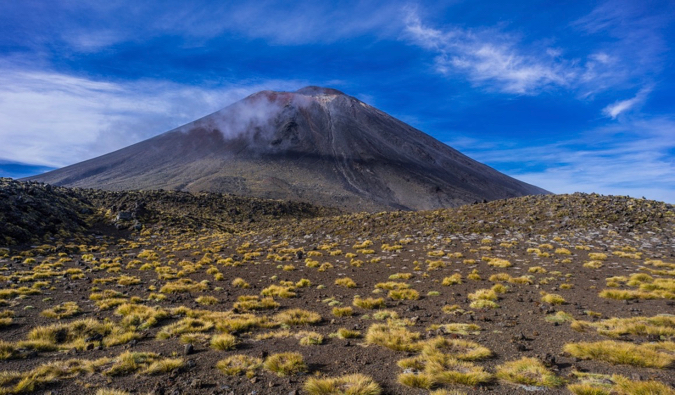 How long does it take to walk the Tongariro Crossing?
On average, it will take between 6-11 hours to hike the trail. Most people complete the hike in 6-9 hours.
When can you do the Tongariro Crossing?
You can hike the trail all year around, however, the easiest hiking with the most reliable weather will be in the summer. Hiking in the winter is possible, but since you'll need gear like crampons and ice picks you will want to do this with a guide unless you are an experienced alpine hiker/climber.
How long does it take to climb Mount Ngauruhoe and Mount Tongariro?
It is no longer permitted to climb these mountains as they are considered sacred by the local indigenous population. Respect local customs and don't climb them.
How do you prepare for a Tongariro Crossing?
While you don't need to be a professional hiker to complete the hike, being in relatively good shape will help. If walking 6-9 hours seems daunting, do some shorter practice hikes to help you prepare. Make sure you follow all the tips above and you'll have a great experience!
Are there toilets on the Tongariro Crossing?
There are public toilets at the start and finish of the trail, as well as a couple along the way. But they are few and far between, so make sure you keep that in mind. Bring your own toilet paper, as well, as the bathrooms do not have any.
Do you have to book the Tongariro Crossing?
You don't need to book to hike the trail, however, since the trail does not start and end in the same place you will want to book a shuttle in drop you off and pick you up. Expect to pay around 50 NZD for a return shuttle.
How high is the Tongariro Crossing?
The Tongariro Alpine Crossing is around 1,120 meters (3,670 feet) above sea level. The highest point is Red Crater, which sits at 1,886 meters (6,188 feet). The peak of Mount Ngauruhoe is 2,291 meters (7,516ft) above sea level while Mount Tongariro is 1,978 meters (6,489 feet).
Is the Tongariro Crossing hard?
The hike is a bit challenging, but it's not hard if you are in relatively good shape. Over 140,000 people hike the trail every summer so as long as you can manage hiking for a whole day then you should be fine!
***
This hike was one of the highlights of my trip and is something I suggest everyone do (especially if you're a fan of Lord of the Rings). The scenery is out of this world. The landscape is so unique and like nothing you'll see anywhere else in the world (except maybe in Iceland). Even if you're not an avid hiker, during the summer months you'll be able to complete this hike and enjoy the journey. It can definitely be a challenge, but the views are worth it. This is often rated as one of the best day hikes in the world. Don't miss it!
Book Your Trip to New Zealand: Logistical Tips and Tricks
Book Your Flight
Use Skyscanner to find a cheap flight. They are my favorite search engine because they search websites and airlines around the globe so you always know no stone is left unturned!
Book Your Accommodation
You can book your hostel with Hostelworld as they have the biggest inventory and best deals. If you want to stay somewhere other than a hostel, use Booking.com as they consistently return the cheapest rates for guesthouses and cheap hotels.
My favorite places to stay is Rainbow Lodge.
Don't Forget Travel Insurance
Travel insurance will protect you against illness, injury, theft, and cancellations. It's comprehensive protection in case anything goes wrong. I never go on a trip without it as I've had to use it many times in the past. My favorite companies that offer the best service and value are:
Looking for the Best Companies to Save Money With?
Check out my resource page for the best companies to use when you travel. I list all the ones I use to save money when I'm on the road. They will save you money when you travel too.
Want More Information on New Zealand?
Be sure to visit our robust destination guide on New Zealand for even more planning tips!