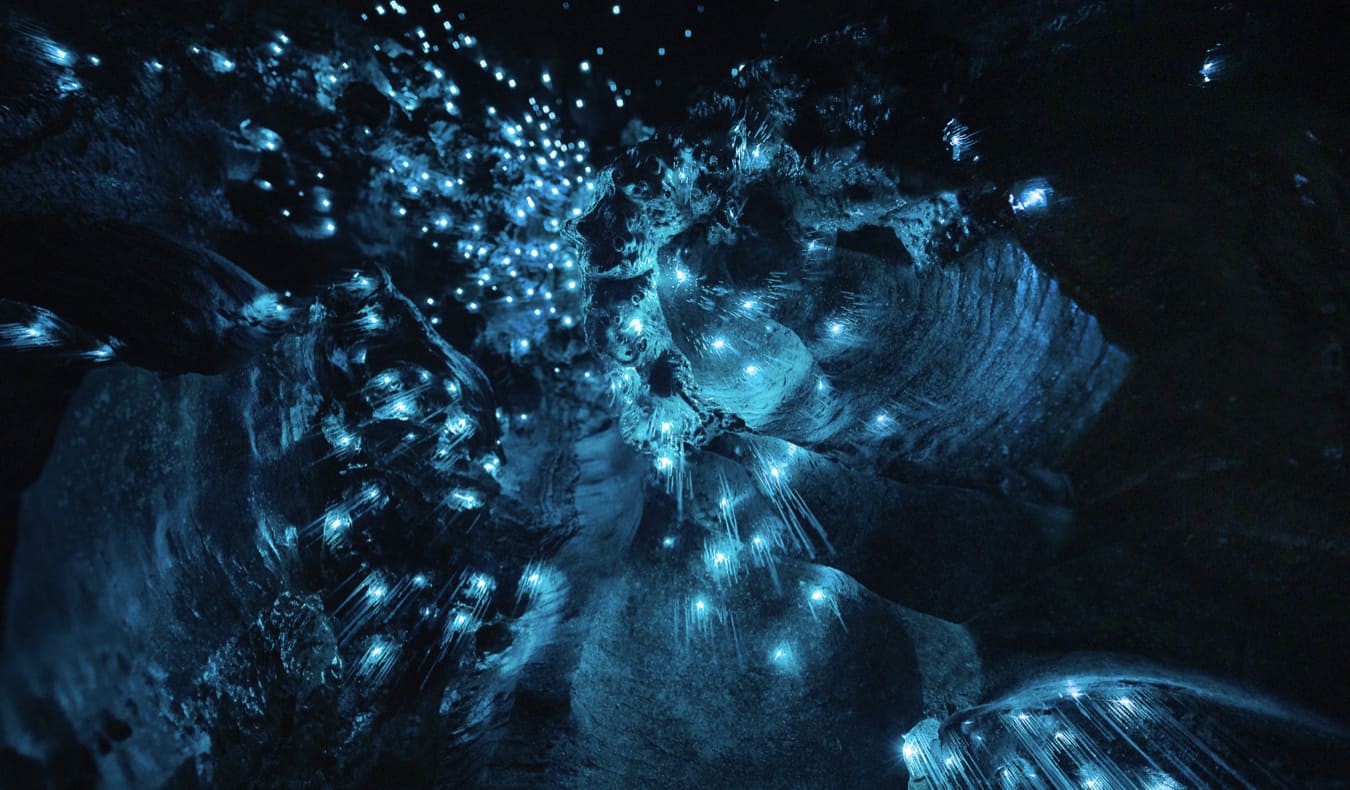 Last Updated: 9/19/22 | September 19th, 2022
Waitomo is famous for one thing: worms. And not just any old worms but glow worms! Every year thousands of travelers come here to see the famous glow worms that line the ceilings of the nearby caves.
The interesting thing about the glow worms here is that they aren't really worms at all. They're actually fly larvae that emit a phosphorescent glow that shines from the inside of the caves like a starry night, lighting up the ceiling. So, why do they glow if they're not glow worms? Well, it's actually their waste and snot that glows. The larvae developed this glow to attract prey into their sticky threads by making the prey believe they are outdoors. Since the cave ceiling looks like a starry night, the prey try to fly upwards and end up stuck in the larvae strands. The hungry larvae then devour their prey.
While seeing "glowing fly larvae" may not sound like an amazing activity, as you can see from the photos it's actually incredibly captivating and beautiful.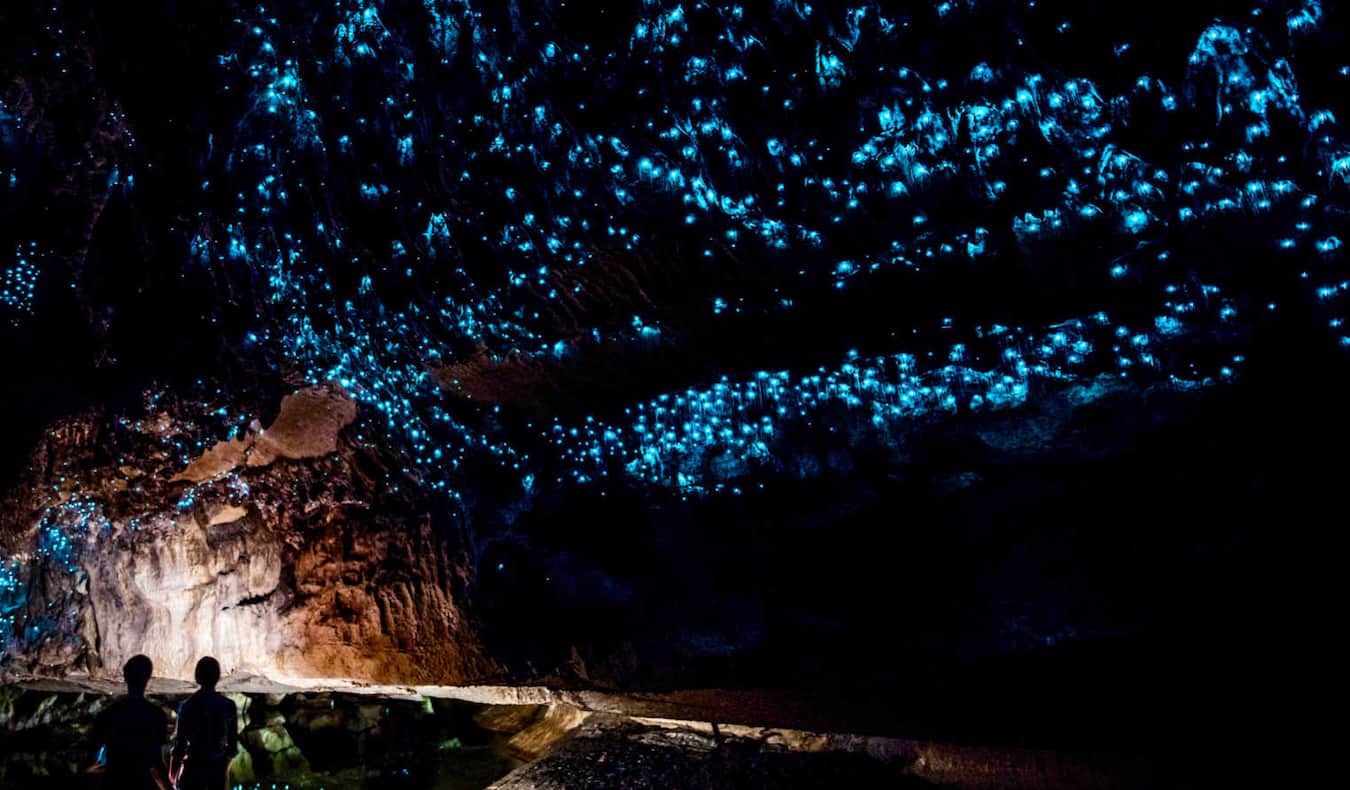 The caves were discovered in the late 19th century by a local Maori chief. They were opened to the public shortly thereafter, with local Maori acting as guides. While the caves were taken over by the government for many years, they were eventually returned to the Maori. In fact, some of the present-day workers are descendants of the original founders of the caves. The Ruakuri cave, in particular, has significant links to the spiritual traditions of the Maori.
These days, around half a million people visit the caves every year. A huge industry has built up to help people visit the Waitomo glow worm caves, with plenty of options available depending on what you're looking to do. There's the three-hour black-water tubing trip, the five-hour trip that includes abseiling and climbing, or if you like it easy, a boat ride through a bigger cave.

My Glow Worm Experience at Waitomo Caves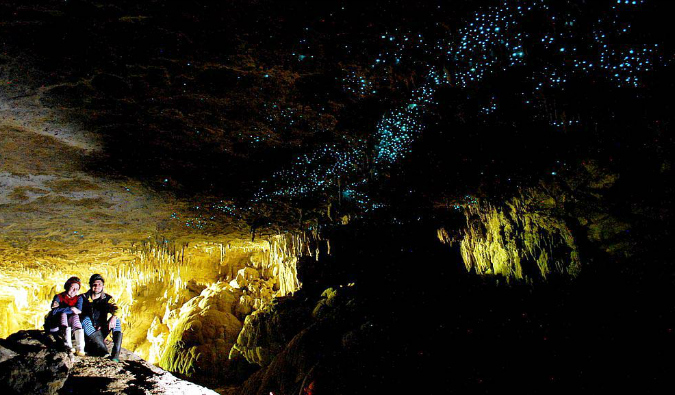 Waking up early in the morning, my group headed out to the cold waters of Ruakuri cave. We wetsuited up and practiced jumping into the inner tubes we would ride through the caves. I wasn't happy that I had to jump off not one, but two small waterfalls. Worse yet, this had to be done backward so I could land in my tube. The waterfalls are only a meter or two high, but I really hate heights. Yet at that moment, realizing a wetsuit doesn't keep you dry but simply wet, I found something I hated even more.
After our practice jump, we, a crowd of 12 wet-suit-wearing, boot-wearing, and helmet-wearing backpackers, marched gingerly towards our destination. After a short walk in the woods, we entered the glow worms' dominion and were given a quick tutorial about how the next few hours would go. Sadly, it felt like the tutorial lasted longer than the trip—away from the light, surrounded by darkness and the rushing chill of the water, the hours seemed to pass by in minutes. Just as I was adjusting to the experience, the end of the tunnel came and we were topside again.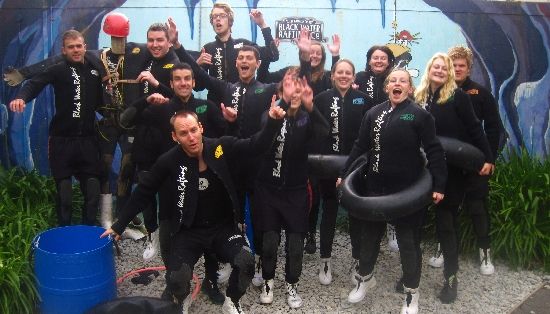 But the experience in between was amazing.
After our instructions, we began to descend into the cave. We walked through tight openings and tunnels and waded through quick-moving and very cold water. Sometimes the water was ankle deep, other times chest height. Eventually, we came to the first milestone: waterfall #1. I met the waterfall with trepidation. My group, knowing my fear, encouraged me to go first, but that wasn't going to happen. I went third. My fear was that I'd never jump far enough to clear the rocks. I didn't jump far enough. As my tube landed in the water, my foot lightly touched the bottom rock.
From there, it's an easy cruise through the cave, where above you, you begin to see glow worms like stars in the sky. They seemed limitless in number. It reminded me of my childhood when I used to put those glow-in-the-dark cosmos stickers on my ceiling and stare at them as they lit up my room.
But the day's biggest challenge lay ahead: waterfall #2. This waterfall was much higher than the first, and to me, it might as well have been Niagara Falls. I had to make everyone count twice before I was ready to jump. Closing my eyes, I jumped, and this time I jumped far enough. But I hated every minute of it. I still prefer to have my feet on the ground.
Yet from here until the end it was smooth sailing…or tubing in this case. The rest of the way was all glow worms. Leaning back in my tube, I floated down the river, marveling at the beauty of the light show and the tranquility of my surroundings. But the tunnel's end came too quickly, and I was left wanting to go back and stare upwards just a bit longer.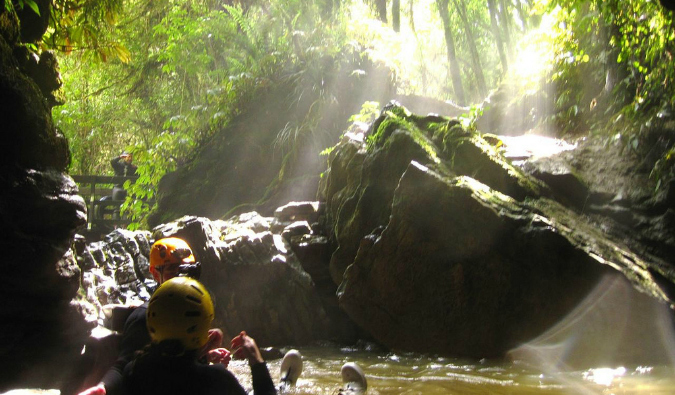 I can see why the glow worm caves are one of New Zealand's biggest tourist attractions. They're beautiful and peaceful. Overall, it was an amazing experience. Three hours seemed too short, but five hours might have been a bit too long.
Either way, I'd go back to see the glow worms again. Whether you abseil, tube, walk, or cruise in a boat, the glow worms are not to be missed.

How to Visit the Waitomo Glow Worm Caves
Waitomo is 200 kilometers (124 miles) south of Auckland. If you rent a car, it's around a 2.5-hour drive, while by bus it's closer to 3.5 hours. Expect to pay around 31-45 NZD for a one-way bus ticket from Auckland. A bus from Rotorua costs around the same.
Once you get to Waitomo, here are some suggested companies to visit the glowworm caves with:
Prices vary depending on the company and time of year but, generally, prices start at 55 NZD for a boat tour and go up to 265 NZD for extended 5-hour tours with abseiling.
While the glowworm caves in Waitamo are not a cheap activity, they are definitely one you should make an effort to do. You won't regret it!
Book Your Trip to Waitomo: Logistical Tips and Tricks
Book Your Flight
Use Skyscanner to find a cheap flight. They are my favorite search engine because they search websites and airlines around the globe so you always know no stone is left unturned!
Book Your Accommodation
You can book your hostel with Hostelworld as they have the biggest inventory and best deals. If you want to stay somewhere other than a hostel, use Booking.com as they consistently return the cheapest rates for guesthouses and cheap hotels.
Don't Forget Travel Insurance
Travel insurance will protect you against illness, injury, theft, and cancellations. It's comprehensive protection in case anything goes wrong. I never go on a trip without it as I've had to use it many times in the past. My favorite companies that offer the best service and value are:
Looking for the Best Companies to Save Money With?
Check out my resource page for the best companies to use when you travel. I list all the ones I use to save money when I'm on the road. They will save you money when you travel too.
Want More Information on Waitomo?
Be sure to visit our robust destination guide on Waitomo for even more planning tips!