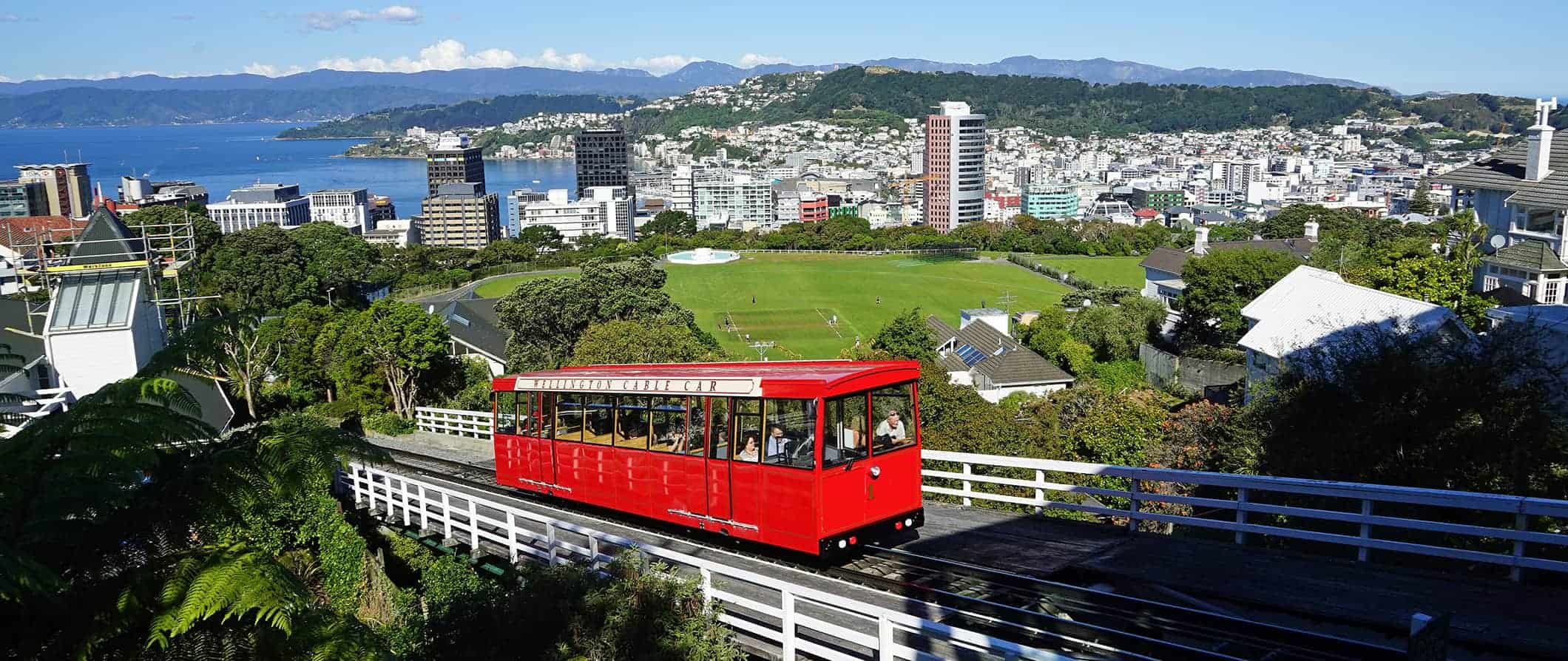 While everyone raves about Auckland (which, contrary to popular belief, is not the capital), the real magic happens in Wellington. Home to just over 210,000 people, the food scene, art scene, and eclectic murals give this capital city a hip vibe.
Located on the southwestern tip of the North Island, Wellington is actually my favorite city in the entire country. It has an incredible nightlife, tasty restaurants, world-class art exhibits, insightful museums, tons of activities, and a beautiful harbor! What more could you ask for?
This Wellington travel guide will help you plan your trip, save money, and make the most out of your visit to this cool capital!
Top 5 Things to See and Do in Wellington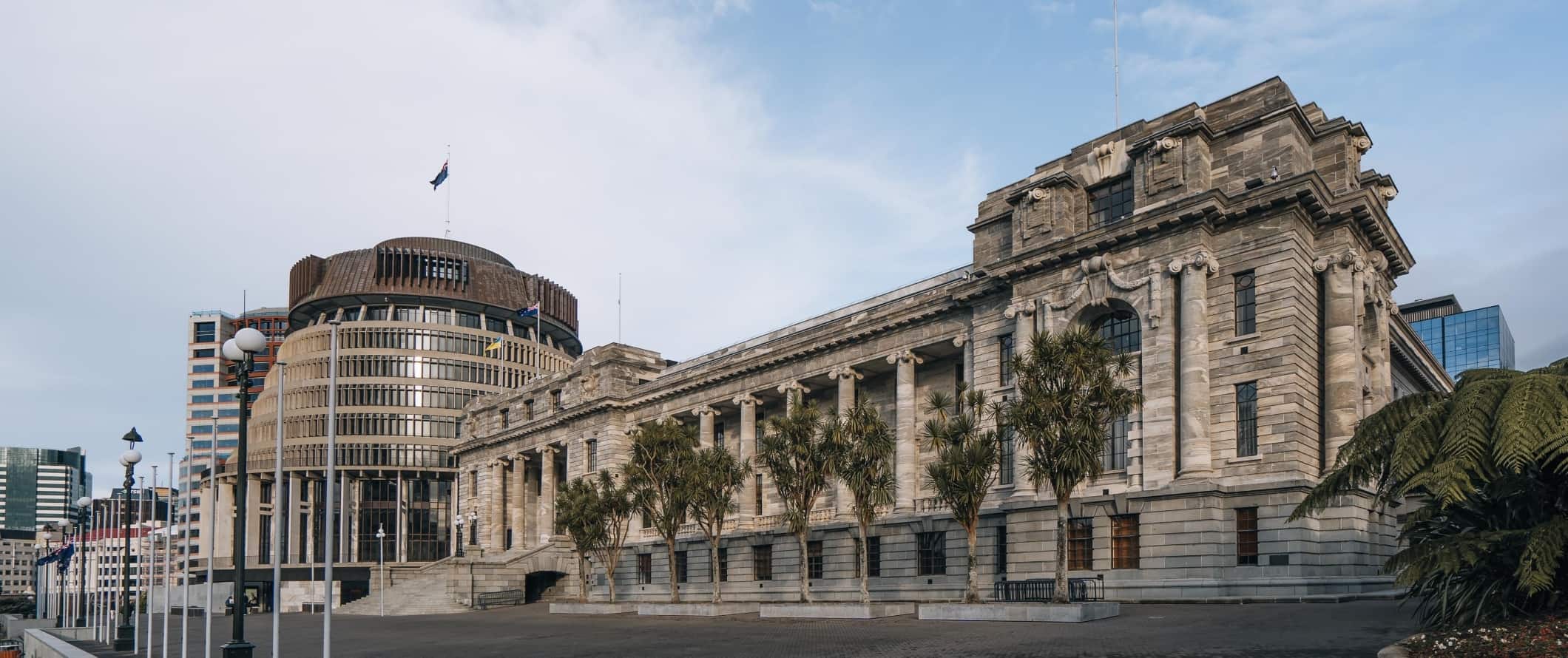 1. Tour the Beehive and Parliament House
New Zealand's Parliament meets in the Beehive (so-called because the building looks like one) and the adjoining Parliament House. You can visit on a free, one-hour guided tour, which takes place several times a day, seven days a week (advance booking is recommended as there are limited spots). You'll get to see the Banquet Hall, Debating Chamber, and Select Committee Room. Sometimes there are even art tours to see the Parliamentary art collection.
2. Hop on the Wellington Cable Car
This iconic funicular runs from the busy Central Business District (CBD) of Lambton Quay through the hillside neighborhood of Kelburn. At the top, there's a lookout, the Cable Car Museum, and Carter Observatory. It's just a five-minute trip, but it's worth it for the views over the city and the harbor. There's also a small free museum detailing the history of the cable car at the top. A return ticket costs 9 NZD.
3. Visit the Wellington Museum
This free museum chronicling the history of Wellington was voted by The Times as one of the best museums in the world. It's especially great for people who have an interest in maritime history as there's an entire floor dedicated to this part of Wellington's past, including an immersive Wahine shipwreck exhibition. Kids will love 'A Millennium Ago' which tells traditional Maori legends through holographs. More modern exhibitions include sets from New Zealand's award-winning vampire mockumentary What We Do in the Shadows.
4. Check out Te Papa
New Zealand's national museum (officially named the Museum of New Zealand Te Papa Tongarewa) covers all aspects of the country's history and culture over its six interactive floors. There are extensive exhibits dedicated to Maori culture, colonial history, local wildlife and biology, and even art installations that are innovative and interactive. There's also a giant squid exhibit as well as other touring exhibits (so check in advance to see what's on). It's great for kids, and best of all, it's free!
5. Walk the waterfront near Oriental Bay
Oriental Bay is Wellington's most popular beach, and the waterfront here is a walkable public space with cafes, parks, sculptures, bars, and ice cream vendors. Lots of people enjoy walking, jogging, skating, and cycling around here. There are a few markets open on the weekend, making this a great free way to spend a day in Wellington.
Other Things to See and Do in Wellington
1. See Old St. Paul's
Built in 1865, this cathedral is an excellent example of colonial Gothic architecture. Constructed entirely from native timbers, the glowing and ornate interior is lined by stunning stained glass. Join a guided tour and learn about the wonderful (and sometimes quirky) past of the church and its place in Wellington's journey from a colony to an independent nation. Entry is by donation, and guided tours start at 5 NZD.
2. Visit Wellington Zoo
This is New Zealand's oldest zoo, home to animals from Africa and Asia as well as native wildlife like emus, dingos, and all kinds of snakes. Check out the daily talks and get up close to red pandas, lions, meerkats, cheetah, lemurs, and giraffes to learn more about these amazing animals! Admission is 27 NZD.
3. Relax in the Wellington Botanic Garden
Spanning over 25 hectares (60 acres), this is a nice place to picnic or take an afternoon walk, surrounded by native and international species. Ride the cable car from Lambton Quay for a quick five-minute trip to the top or just walk up to the gardens. You'll be met with sprawling views, colorful flowers, lawns to hang out in, and pretty much everything you need to have a great day outside. Entry is free.
4. Visit Weta Workshop
Weta Workshop is an Academy Award-winning props and special effects studio based in New Zealand (it's named after the weta, one of the world's largest insects that's endemic to the country). Learn about the behind-the-scenes magic of Lord of the Rings, King Kong, District 9 and countless other films. The Weta Workshop Experience tour costs 49 NZD. You can also take tons of different classes, including special effects makeup, sculpting, armor-making, and miniature making, starting at 69 NZD (these classes occur less frequently, so be sure to plan ahead if you're set on one).
5. Stroll along Cuba Street
Nestled in the CBD, Cuba Street is a colorful, pedestrian-only street filled with unique and independent shops, fun bars, and quirky cafes. Street entertainers play music, put on funky marionette shows, do fire dances, and more. Be sure to snap a photo at Bucket Fountain, too (it's literally a fountain made of multi-colored buckets).
6. See Wrights Hill Fortress
This circular artillery embankment was built in the early 1940s and is made up of long underground tunnels. Completed in the final years of World War II, the fort was meant to house three guns (although only two were ever installed). Although the base never saw any action during the war, both of the guns were fired in the years following (they could shoot shells up to 30 kilometers/18 miles). Today the fortress has been restored and officially named a historic landmark. TV shows and movie scenes are often shot here, as were sound effects for the dwarven tunnels from the Fellowship of the Ring. On certain holidays, the tunnels are opened to visitors (8 NZD admission).
7. See the Carter Observatory
This planetarium is located in Space Place near the Botanic Gardens. Head out in the evening for some stargazing or pop in during the day for various displays about the cosmos. There are several exhibits to explore, including one on Maori starlore, as well as a neat gift shop. Admission is 14 NZD.
8. Visit Nga Taonga Sound & Vision (New Zealand Film Archive)
First established in 1981, this audiovisual library has a collection of over 800,000 items dating back to 1895, including 30,000 movies. What makes this place particularly awesome is that many of the movies can be seen free of charge on a big screen! Film screenings and talks are usually 5-10 NZD per person, but some are also free so be sure to check in advance.
9. Wander Zealandia
This world-renowned nature conservatory covers more than 225 hectares (500 acres) of land just west of Wellington. The Zealandia project is aiming to return the area to what it was like before humans arrived in New Zealand (it's named after the submerged land mass of Zealandia, of which New Zealand is a part). You can see (and hear!) kiwis, saddlebacks, kakas, and hihis in their natural habitats while strolling the paths. General admission is 22 NZD and two-hour tours with professional guides are 55 NZD. They also have guided tours at night.
10. See the Paddy the Wanderer Fountain
This fountain is a memorial to Paddy, arguably Wellington's most famous and beloved dog. This remarkable dog wandered the wharf and beyond, riding on ships throughout the country and to Australia. He was even said to have flown in a small two-seater airplane! Paddy became well-known by the locals as he wandered the city on his own, and was so popular that taxi drivers would drive him around and tram drivers would pick him up. When he died in 1939, hundreds of people came out to mourn him. In 1945, money was raised for his memorial: a water fountain for humans and dogs alike.

For more information on other destinations in New Zealand, check out these guides:
Wellington Travel Costs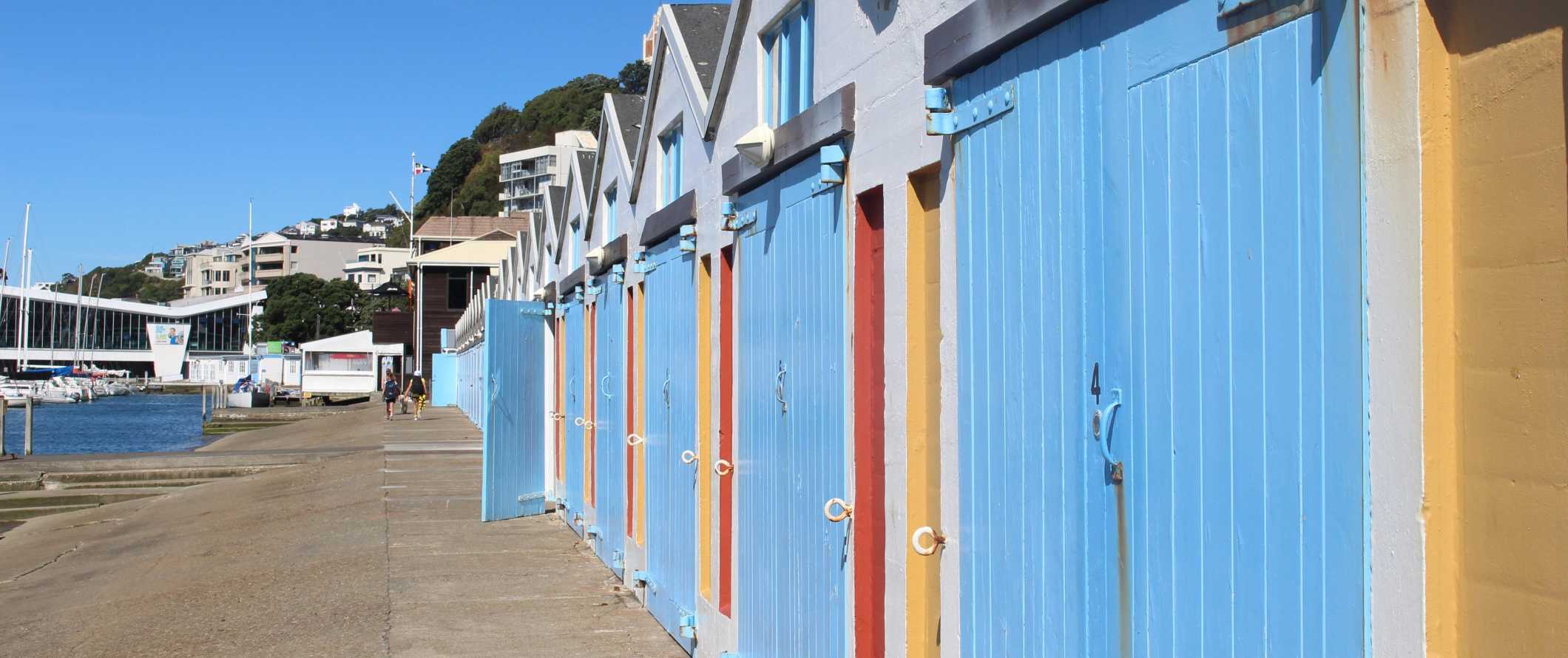 Hostel prices – Dorm rooms of any size cost 33-45 NZD per night. Rates go up by a few dollars per night in the high season. For a private room, expect to pay at least 90-100 NZD per night. Free Wi-Fi is standard and most hostels have a kitchen so you can cook your own food. Only one hostel (The Dwellington) includes free breakfast.
For those traveling with a tent, camping is available outside the city. A basic plot without electricity for two people costs around 15 NZD.
Budget hotel prices – Budget hotels are expensive and rare here, costing around 125 NZD per night for a double room in the off-season and 175 NZD in peak season. Free WiFi is standard, and many budget hotels also offer access to kitchen facilities. Free breakfast is almost never included.
Airbnb is available in the city, with private rooms starting at around 70-90 NZD per night. For an entire home or apartment, expect to pay at least 130 NZD. Prices can double if not booked early.
Food – Food in Wellington consists mostly of seafood, lamb, fish and chips, and specialties like Maori hangi (meat and vegetables cooked underground). Expect to indulge in things like roast lamb, muscles, scallops, oysters, and snapper. As the capital, Wellington also has a lot of options for eating out, including sushi, Korean, Thai, and Chinese food.
A typical meal at a casual restaurant costs about 20 NZD while a meal with a drink and an appetizer cost closer to 55 NZD. If you want to really splash out, a 6-course tasting menu at an upscale restaurant is 90-100 NZD.
Fortunately, thanks to the amazing coffee shop scene in Wellington, you can find filling sandwiches or meat pies for 10-12 NZD. There are also plenty of other cheap eats, including fish and chips for 8-10 NZD, fast food like McDonald's for 14 NZD, or takeout pizzas for 10-12 NZD.
There are also lots of cheap Asian restaurants with main dishes for around 15 NZD, and grab-and-go sushi joints abound, where you can make a meal of sushi rolls for 10-13 NZD.
A beer in a bar costs around 9-11 NZD, a glass of wine is 10-13 NZD, and a cocktail is 12-17 NZD. A latte or cappuccino costs 5 NZD while bottled water is 3 NZD.
If you choose to cook your own food, plan to spend about 70-85 NZD for a week's worth of groceries, including staples like rice, pasta, vegetables, and some fish or meat.
Backpacking Wellington Suggested Budgets
If you're backpacking in Wellington, expect to spend 70 NZD per day. On this budget, you stay in a dorm room, cook all of your meals, take public transportation to get around, and do mostly free activities (like visiting the free museums). If you plan on drinking, add 10-20 NZD to your daily budget.
A mid-range budget of 185 NZD per day covers staying in a private room in a hostel or Airbnb, eating out for a few meals at casual eateries, enjoying a couple of drinks, taking the occasional Uber to get around, and doing some affordable paid activities like riding the gondola or going to the zoo.
On a "luxury" budget of about 350 NZD or more per day, you can say in a hotel or Airbnb apartment, eat out for all your meals, rent a car to explore the region, drink as much as you'd like, and do as many paid activities as you want! This is just the ground floor for luxury though — the sky is the limit!
Accommodation
Food
Transportation
Attractions
Average Daily Cost
Backpacker
35
15
10
10
70
Mid-Range
90
50
20
25
185
Wellington Travel Guide: Money-Saving Tips
Like elsewhere in the country, costs can add up quickly in Wellington. Fortunately, there are lots of ways to save too. Here are a few tips to help you save money in Wellington:
Visit the free museums – The majority of Wellington's attractions like the Te Papa museum and the BeeHive have no admission fees, so hit them up first to save on your attractions budget.
Eat cheap – The city has a lot of great Asian food, so you can get a filling meal on the cheap. It's usually cheaper than more traditional foods.
Cook your own food – If you down want to blow your budget on eating out try cooking your own food. It's not as glamorous but it will save you a ton!
Stay with a local – While there are not a ton of Couchsurfing hosts available in the country, Wellington is one of the few places you should be able to find a host without too much trouble. Just be sure to send your request early as there will be a lot of competition during the summer.
Save money on rideshares – Uber is cheaper than taxis and the best way to get around the city if you don't want to wait for a bus or pay for a taxi.
Avoid the high season – Prices for accommodation (especially hotels) skyrocket during peak season. Avoid the summer if you're on a budget.
Get a temporary job – If you're running low on money and still have plenty of time left in New Zealand, check Backpackerboard.co.nz for short-term paying gigs.
Bring a reusable water bottle – The tap water in Wellington is safe to drink so bring a water bottle with you to save money and cut back on your single-use plastic usage. LifeStraw makes a reusable water bottle with a built-in filter so you can always be sure your water is clean and safe.
Where to Stay in Wellington
Wellington has a ton of budget options ranging from basic backpacker dorms to posh boutique hostels. Here are my suggested places to stay in Wellington:
How to Get Around Wellington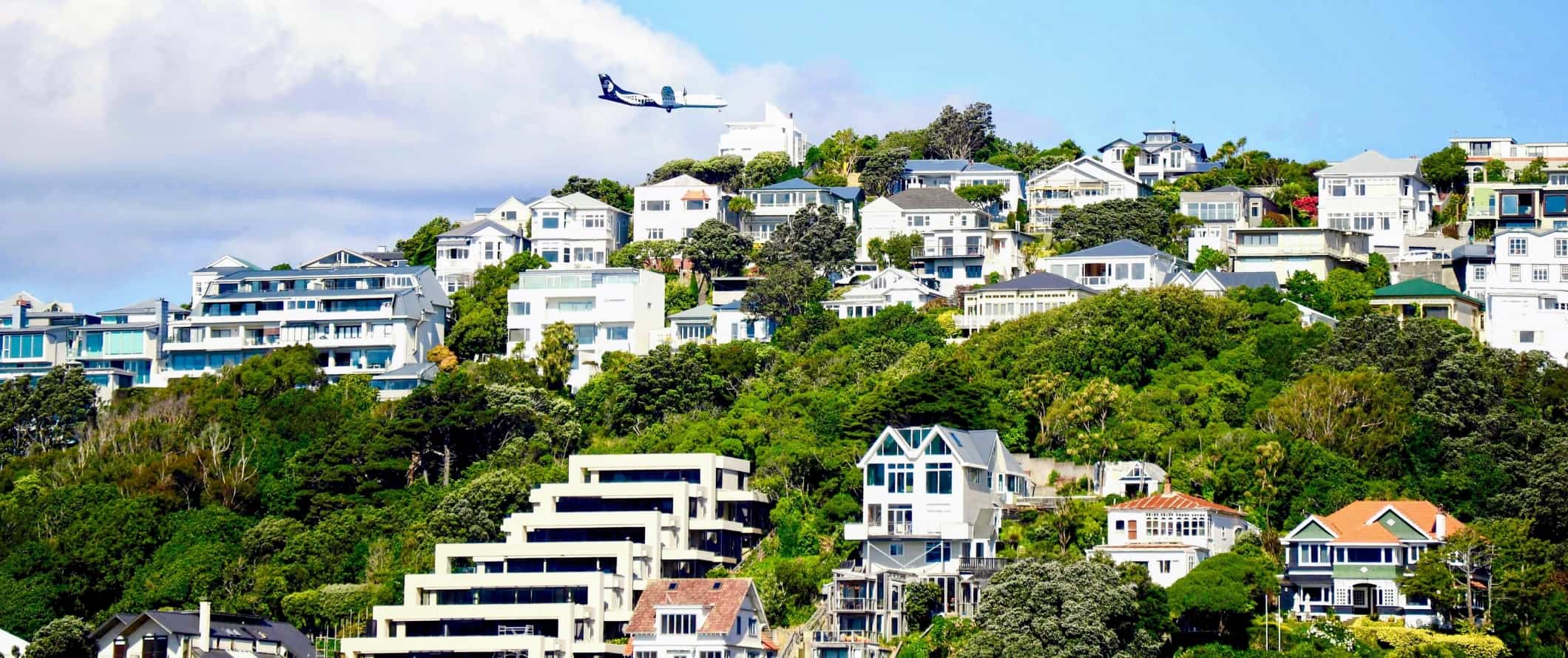 Public transportation – The public transportation system here is called Metlink. It's comprised of an interlinked network of buses, trolleys, cable cars, trains, and ferries. Fares start at 2.50 NZD vary depending on the type of system and how many zones you travel through. Day passes cost 10 NZD.
Get a Snapper card (a pre-paid card that you can load with money) to save around 25% off your fares.
Bike rental – Bike rentals are available in the city, but they are far from cheap. Expect full-day rentals to cost around 50 NZD per bike while half-day rentals are 40 NZD. E-bike rentals are 80 NZD for a full day or 70 NZD for a half-day.
Taxis – Taxis start at 3.75 NZD and cost 2.90 NZD per additional kilometer. Avoid them if you can!
Ridesharing – Uber is the best way to get around if you don't want to wait for the bus as it's cheaper than a taxi. If you need a ride, stick with Uber.
Car rental – While you don't need a car within the city if you want to rent a car to explore the region, expect to pay around 40 NZD per day for rentals of a week or more. For shorter rentals, prices are double. An International Driver's Permit (IDP) is required for car rentals. You can get one before you leave your home country.
For the best car rental prices, use Discover Cars.
When to Go to Wellington
Wellington is a notoriously cloudy and windy city all year round. During the winter (June-August), there are no crowds, however, it's not pleasant to be wandering around because of all the cold rainfall. Daily winter temperatures sit around 6-10°C (42-50°F). Prices are lower during this time so if you're on a super tight budget it might be worth visiting then.
Summer (December-February) brings the crowds, but it's still windy in Wellington. Temperatures hover between 17-21°C (63-70°F). February is the hottest month.
Personally, I think the best time of year to visit is in the fall (March-May) when temperatures hit between 15-20°C (59-68°F) but the crowds have dispersed. It offers the best balance of nice weather with fewer people.
How to Stay Safe in Wellington
Wellington is a very safe place to visit — even if you're traveling solo and even as a solo female traveler. Violent crime and petty theft are rare. That said, always keep your valuables secure just to be safe.
If you rent a vehicle, don't leave any valuables in it overnight or while out hiking. Break-ins are rare but they can happen so it's always better to be safe than sorry.
As earthquakes and tsunamis do occur in New Zealand, consider downloading the Hazard App from the Red Cross. It has all kinds of advice and tips for natural disasters and will also send out warnings and notifications should a disaster occur.
Solo female travelers should generally feel safe here, however, the standard precautions apply (never leave your drink unattended at the bar, never walk home alone intoxicated, etc.).
If you're worried about travel scams, you can read about common travel scams to avoid here. There aren't many in New Zealand though.
If you do experience an emergency, dial 111 for assistance.
Always trust your gut instinct. Make copies of your important documents, like your passport. Forward your itinerary along to friends or family so they'll know where you are.
The most important piece of advice I can offer is to purchase good travel insurance. Travel insurance will protect you against illness, injury, theft, and cancellations. It's comprehensive protection in case anything goes wrong. I never go on a trip without it as I've had to use it many times in the past. You can use the widget below to find the policy right for you:
Wellington Travel Guide: The Best Booking Resources
These are my favorite companies to use when I travel. They consistently have the best deals, offer world-class customer service and great value, and overall, are better than their competitors. They are the companies I use the most and are always the starting point in my search for travel deals.
Skyscanner – Skyscanner is my favorite flight search engine. They search small websites and budget airlines that larger search sites tend to miss. They are hands down the number one place to start.
Hostelworld – This is the best hostel accommodation site out there with the largest inventory, best search interface, and widest availability.
Booking.com – The best all around booking site that constantly provides the cheapest and lowest rates. They have the widest selection of budget accommodation. In all my tests, they've always had the cheapest rates out of all the booking websites.
Get Your Guide – Get Your Guide is a huge online marketplace for tours and excursions. They have tons of tour options available in cities all around the world, including everything from cooking classes, walking tours, street art lessons, and more!
EatWith – This website allows you to eat home cooked meal with locals. Locals post listings for dinner parties and specialty meals that you can sign up for. There is a fee (everyone sets their own price) but this is a great way to do something different, pick a local's brain, and make a new friend.
bookme.co.nz – You'll get some really good last minute deals and discounts on this website! Just select what area you're traveling in, and see what activities are on sale.
treatme.co.nz – The locals use this website to find discount hotels, restaurants, and tours. You can save up to 50% off things like catamaran sailing lessons or three-course dinners.
SafetyWing – Safety Wing offers convenient and affordable plans tailored to digital nomads and long-term travelers. They have cheap monthly plans, great customer service, and an easy-to-use claims process that makes it perfect for those on the road.
LifeStraw – My go-to company for reusable water bottles with built-in filters so you can ensure your drinking water is always clean and safe.
Unbound Merino – They make lightweight, durable, easy-to-clean travel clothing.
Top Travel Credit Cards – Points are the best way to cut down travel expenses. Here's my favorite point earning credit cards so you can get free travel!
Wellington Travel Guide: Related Articles
Want more info? Check out all the articles I've written on Wellington travel and continue planning your trip: