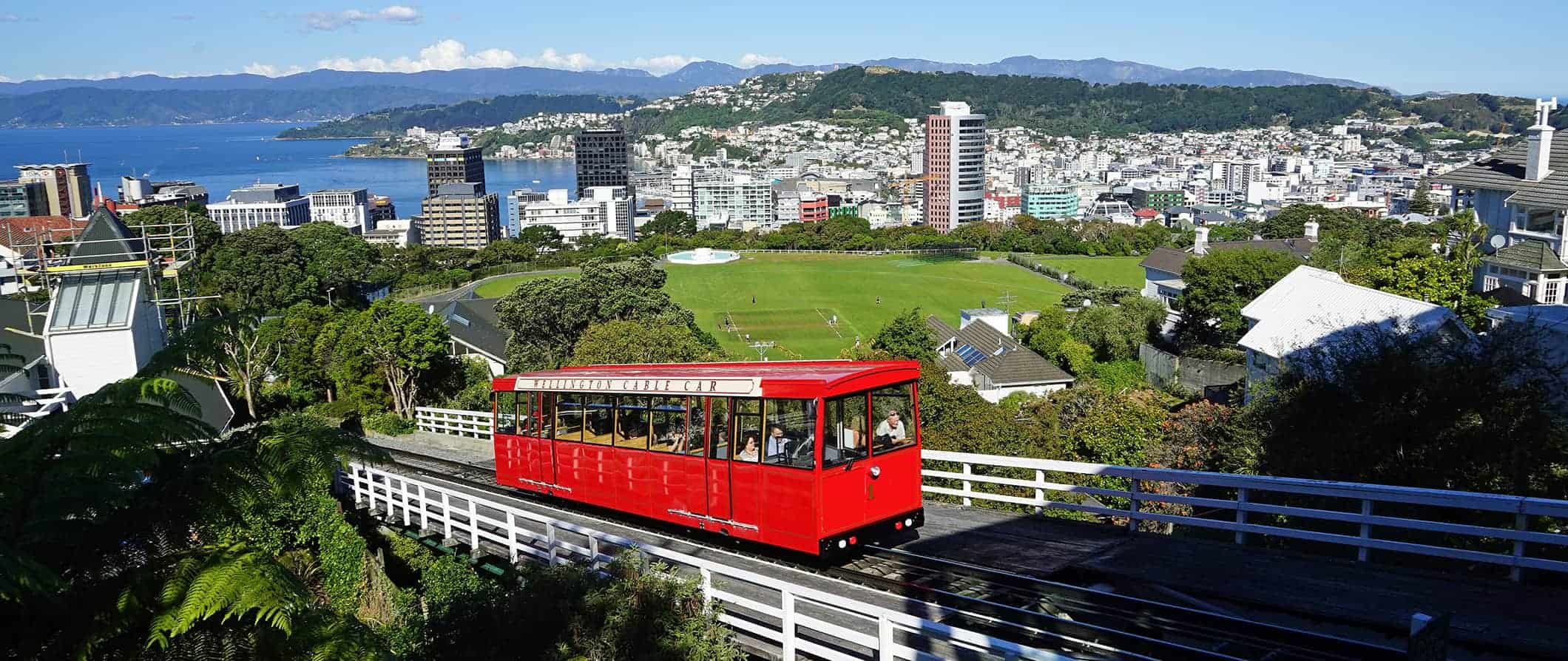 Wellington is the capital of New Zealand and the third most populous urban area in the country. While everyone talks about Auckland (which, contrary to popular belief, is not the capital), the real magic takes place in Wellington. The architecture and eclectic vibe give this city a great personality that should not be missed. This is a city with character, with incredible nightlife, restaurants, art exhibits, museums, activities, and a beautiful harbor. This travel guide will help you get the most out of your stay in this fabulous city.
Top 5 Things to See and Do in Wellington
1. Tour the Beehive and Parliament House
The Beehive (a government building) and the adjoining Parliament House have free guided tours seven days a week, at 10am and 4pm. You'll get to see the Banquet Hall, Debating Chamber, and Select Committee Room. Sometimes there are even art tours to see the Parliamentary art collection.
2. Hop on the Wellington Cable Car
This iconic ride runs from the busy central business district of Lambton Quay to Kelburn. At the top there's a lookout, the Cable Car Museum, and Carter Observatory (a virtual voyage to the stars). It's just a five minute trip, but it's worth it for the views over the city and the harbor Te Whanganui-a-Tara.
3. Museum of Wellington City
A free museum chronicling the history of Wellington. It's great for people who have an interest in maritime history. Don't miss the moving Wahine shipwreck exhibition, and kids will love 'A Millennium Ago' which tells traditional Maori legends. Admission is free, and guided tours are available for 2 NZD per person.
4. Check out Te Papa
The national museum covers Maori and colonial history. It's great for kids and has an extensive exhibits about the biological, cultural, and social history sections that are innovative and interactive. There's also a giant squid exhibit as well as other touring exhibits (so check in advance to see what's on). Best of all? It's free!
5. Relax in the Botanic Gardens
A nice place to go for a picnic or just an afternoon walk. You can take the cable car from Lambton Quay for a quick five-minute trip to the top, though you can walk up to the gardens. You'll be met with great views, colorful flowers, lawns to hang out in, and pretty much everything you need to have a great day outside. Entry is free.
Other Things to See and Do
(Click the title to expand the text)
1. Visit the National Archives
Many of New Zealand's most important documents are held in the National Archives. These include the original Treaty of Waitangi and the 1893 Women's Suffrage Petition. If you are into history, this is a good place to go. Free guided tours are also available, and they run Monday through Saturday (you'll want to call ahead to reserve a spot, however).
2. See Old St Paul's
This old cathedral is an excellent example of colonial Gothic architecture and was built from native timbers. Constructed entirely from native timbers, the glowing interior is enhanced by stunning stained glass. Join a guided tour and hear about the wonderful and sometimes quirky stories of the church, its site and its people on their journey from colony to independent nation. Guided tours start at 7.50 NZD.
3. Visit Wellington Zoo
New Zealand's oldest zoo has a large range of African, Asian, and native wildlife. Check out the daily talks and animal feedings, and get up close to red pandas, lions, merkats, cheetah, lemurs, and giraffes! You can also meet Tahi the one-legged kiwi and watch the keepers feed Sumatran tigers. Admission is 24 NZD for adults, and there are discounts available for seniors, students, children, and families.
4. Walk the waterfront near Oriental Bay
The waterfront is a walkable public space with cafes, parks, sculptures, bars, and ice cream vendors. Lots of people enjoy walking, jogging, skating, and cycling around here. There are a few markets open on the weekend, making this a great, free way to spend a day in Wellington.
5. Head to the lookout points
Wellington City is surrounded by hills, so there are a number of good vantage points. Head up to one of them by bike, bus, or cable car and get a stellar view of the surrounding hills. One of the best viewpoints is from Mount Victoria, with its 360-degree panorama views over the city. You can walk there or take a bus.
6. Look cool on Cuba Street
Come to Cuba Street to watch the hipsters, artists, and vintage-styled dressers. Cuba Street has a bohemian vibe with lots of colorful shops, bars, and cafes. Street entertainers play guitar, put on funky marionette shows, or do fire dances. Be sure to snap a photo at Bucket Fountain, too.
7. Wrights Hill Fortress
This circular artillery embankment was built in the early 1940s and is made up of long underground tunnels. (They were actually used to create the sound of the dwarven mines of in the Lord of the Rings movies!). Completed in the final years of World War II, the fort was meant to house three guns (although only two were ever installed). Although the base never saw any action during the war, both of the guns were fired in the years following. Today the fortress has been restored and officially named a historic landmark. TV shows and movie scenes are often shot here, as were scenes from the Fellowship of the Ring. On certain holidays, the tunnels are opened to visitors.
8. See the Carter Observatory
This planetarium is near the Botanic Gardens. Head out in the evening for some stargazing or pop in during the day for various displays about the cosmos. There are some exhibits to look at, as well as a neat gift shop. Admission is 12.50 NZD for adults, with discounts available for seniors, students, and children.
9. New Zealand Film Archive
First established in 1981, this library is home to over 30,000 movies. What makes this place particularly awesome is that many of them can be seen free of charge on a big-screen! There is also an interesting gallery to check out, as well a small café. Film screenings are usually 5-10 NZD per person, but some are also free so be sure to check in advance!
10. See the wildlife at Zealandia
This is a wildlife sanctuary that can be found just west of Wellington. There are several native birds living here, including the kiwi, hihi, saddleback, and more. This project is looking to return a 225-hectare section of bush to how it was before humankind came along. Take a walk and hear the songs of the flourishing native bird population. Guided tours are offered, but they are very expensive (55 NZD for adults). Regular admission to the park is 16.50 for adults, with discounts available for seniors, students, and children.
11. See the Great War Exhibition
This museum was created by Sir Peter Jackson to commemorate the contributions made by New Zealand during World War I. There are tons of photographs, movie sets that illustrate the progression of the war, massive tanks and guns, and detailed battles re-enacted with hand-painted figurines. The museum is open daily from 9am to 6pm, and admission is 15 NZD for adults, and free for children 16 and under.
12. Take the Wellington Writers Walk
Starting at Chaffers Marina, the walk follows the waterfront and highlights sculptures with quotes by well-known New Zealand writers, such as Katherine Mansfield, James K. Baxter, and Maurice Gee.
13. Go gallery hopping
This is one of the best art cities in the country. Actually, I lie. It's THE best! Check out some art while you are in town. City Gallery in Civic Square offers contemporary visual arts, Featherston and Victoria Streets have a few boutique galleries, and the Dowse Art Museum, which houses numerous works by Maori and Pacific Islander artists.
14. Mount Victoria Lookout
If you want to take in the view, hike up to the Mount Victoria look-out. At 196m above the city, you'll be rewarded with panoramic views of Wellington and beyond. If you're looking to stretch your legs, this makes for a nice walk up. There's also a cable car if you don't want to walk.
Typical Costs
Hostel prices
– Dorm rooms range from 20-35 NZD per night, while private rooms begin around 45 NZD per night (expect to pay closer to 80 NZD for a double). Both free WiFi and kitchen access are standard. For those traveling with a tent, there are campgrounds outside of the city. Prices start at 13 NZD per night for a basic plot without electricity. My suggested places are:
Budget hotel prices – Budget hotels cost between 80-150 NZD per night for a double room. Free WiFi is standard, and many budget hotels also offer access to kitchen facilities. Free breakfast is almost never included. Airbnb is available in the city, with shared accommodation prices starting around 90 NZD per night. For an entire home or apartment, expect to pay at least 100 NZD per night.
Average cost of food – A typical restaurant meal with cost you about 25 NZD, while a nice restaurant will cost between 40-50 NZD. Fortunately, you can find sandwiches around for 8 NZD and fast food like McDonald's or Burger King costs between 9-12 NZD. There are also lots of cheap Asian restaurants with dishes for around 10 NZD. If you choose to cook your own food, plan to spend about 65-85 NZD per week.
Transportation costs – The system, called Metlink, is comprised of an interlinked network of buses, trolleys, cable cars, trains, and ferries. Costs vary depending on type of system and distance of travel. A day pass is available which allows unlimited travel on the Metlink. It costs 21 NZD. Bus and train-specific passes are also available, costing 9.50 NZD and 14 NZD respectively. Bike rentals are available in the city, but they are far from cheap. Expect full-day rentals to cost around 70 NZD per bike.
Suggested daily budget
70 NZD / $50 USD (Note: This is a suggested budget assuming you're staying in a hostel, eating out a little, cooking some of your meals, and using local transportation. Using the budget tips below, you can always lower this number. However, if you stay in fancier accommodation or eat out more often, expect your actual budget to be higher!)
Money Saving Tips
Eat cheap Asian food – The city has a lot of great Asian food to satisfy the large student population, so you can get a filling meal on the cheap. There's also a little food market off Cuba street on the weekends where you'll find a cheap bite.
Cook your own food – If you down want to blow your budget on eating out try cooking your own food — you'll save a ton of money!
Stay with a local – While there are not a ton of Couchsurfing hosts available in the country, Wellington is one of the few places you should be able to find a host without too much trouble. Just be sure to send your request early as there will be a lot of competition during the summer.
Save money on rideshares – Uber is way cheaper than taxis and are the best way to get around a city if you don't want to wait for a bus or pay for a taxi. The Uber Pool option is where can you share a ride to get even better savings (though you can get your own car too). You can save $15 off your first Uber ride with this code: jlx6v.
My Must Have Guides For Traveling to Wellington