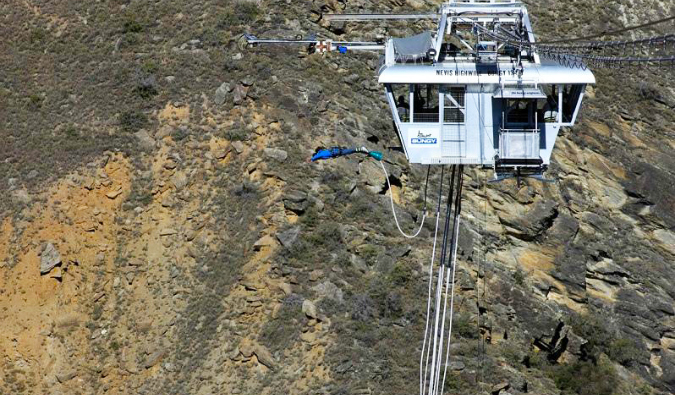 New Zealand is known for its adventure activities. People come from around the world to white water raft, hike, glacier trek, sky dive, and bungy jump. And one of the best places to do a bungy is in Queenstown, New Zealand. Queenstown is home to a lot of bungy operators, the most famous of which is AJ Hackett Bungy. AJ Hackett is the creator of bungy jumping and his company runs the biggest bungy in the region- the 134 meter high Nevis Bungy Jump.
Now I am really afraid of heights so I didn't do it. The thought of doing it made me sick. But luckily I went with some braver people than I and they allowed me to film their jumps. Take a look:
If you aren't looking to jump, you can go as an observer for $50 NZD. If $250 NZD is too expensive for you or the Nevis is too high for you, there are 2 smaller bungy jumps available. One of which also dunks you into a river.
Photo credit: 1
If you want to be braver than me and do this jump like my friend, check out my New Zealand guide to start planning your trip today.