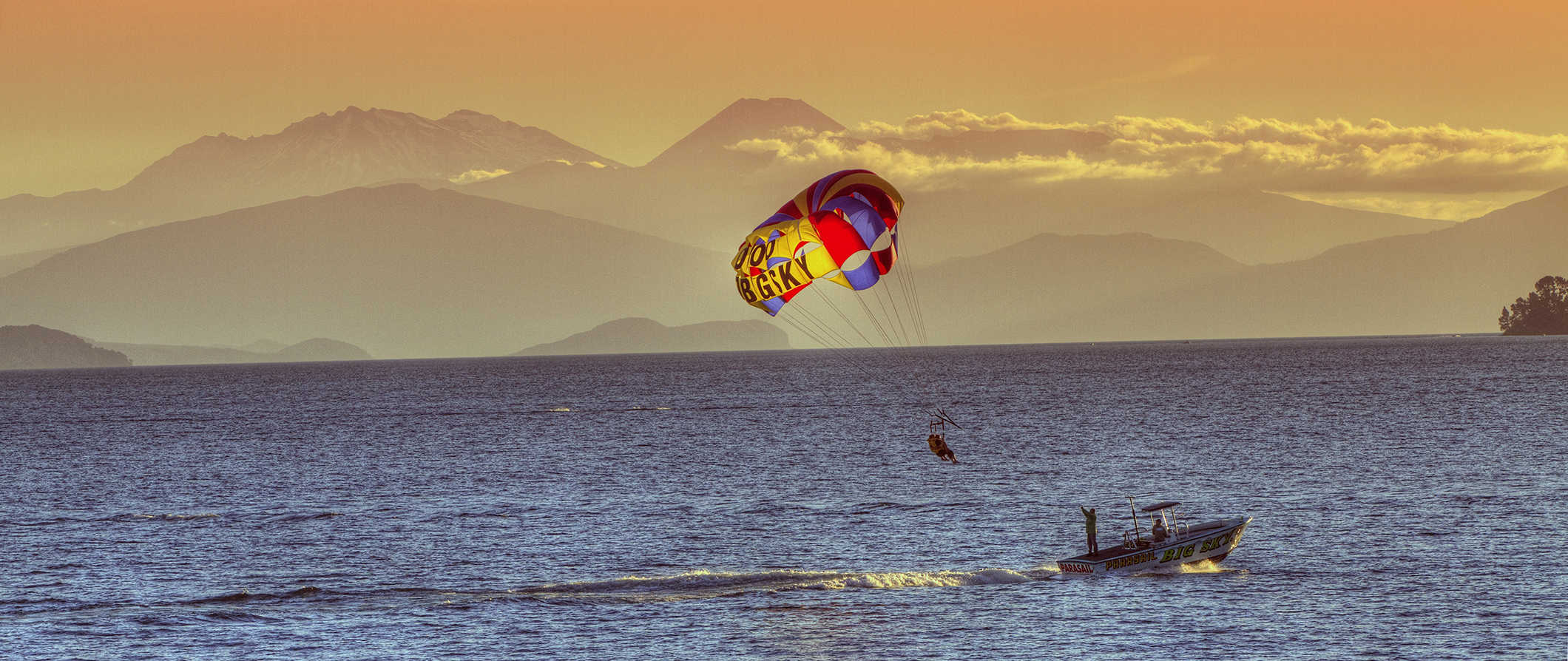 Taupo is on New Zealand's north island and is situated on the shores of Lake Taupo. It's like a quiet version of Queenstown (the south island's adventure and party capital) and is my favorite spot in the entire country. Taupo has a lot of incredible nearby hikes (it's the jumping-off point for the famous Tongariro Alpine Crossing), fishing, boating, markets, the impressive Huka Falls, and some great picnic areas. There's just a really good relaxed vibe here, one that says, "Come, stay awhile and chill out by the lake." I love the close proximity to nature, the good food, and warm locals. Don't miss Taupo on your visit!
Top 5 Things to See and Do in Taupo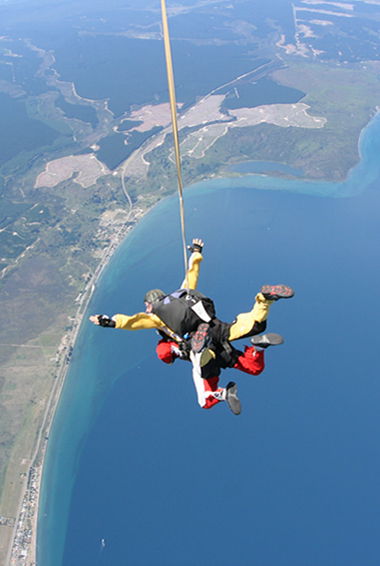 1. Go Taupo tandem skydiving
Taupo has the best skydiving in New Zealand. Lake Taupo provides an incredible backdrop as you free fall towards the earth, with snow-capped mountains and bright blue waters painting the canvas for your descent. A 12,000-foot jump will cost you between 250-300 NZD, and you'll pay more depending on how high you climb or how far you free fall.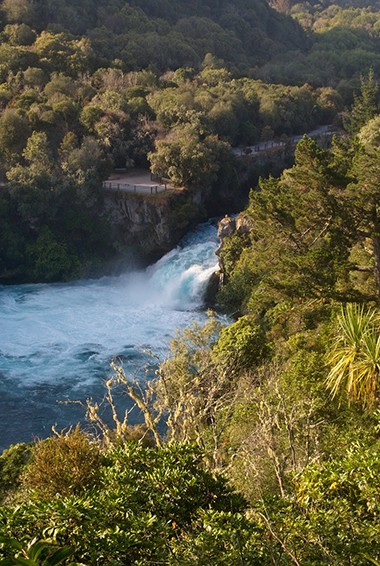 2. Visit the Huka Falls
This is one of the fastest-moving waterfalls in New Zealand, amounting to 220,000 litres per second (that's enough to fill an Olympic swimming pool in 11 seconds!). You can easily walk here from town, taking the walking trails along the river and stopping for photos at the different viewing platforms. You can hop on a boat tour to the base of the falls. Boat tickets cost 39 NZD.
3. Spend a day at Lake Taupo
The lake is the main attraction in town, the boardwalk brimming with great restaurants and some great lakeshore hikes. During the summer, it's a popular place to go trout fishing, sailing, jet-skiing, swimming, and boating. If you go fishing (a charter will cost around 150 NZD per hour), many of the restaurants in town will cook it for you for a small fee!
4. Hike the Tongariro Alpine Crossing
Considered the best day hike in all of New Zealand, the crossing takes you to the spot where they filmed Mordor from Lord of the Rings. You'll hike across forests, mountains, and volcanoes (don't worry, it's safe!). The hike itself is free, though you may need transportation to the area. Expect to pay around 40 NZD for transportation to and from the hike.
Here's a video of what to expect
.
5. Spend time at Waipahihi Botanical Reserve
Situated in 35 hectares of mature plantings, the Waipahihi Botanical Reserve is a haven for birdlife. Of special interest are the alpine garden, lemonwood walk, and the over 2,000 rhododendrons, azaleas, and camellias. There are numerous walkways, beautiful lake and mountain views, and attractive picnic areas. The reserve is open daily until dusk. The best time to see the spectacular floral displays is in spring (October/November). Donations are welcome.
Other Things to See and Do
(Click the title to expand the text)
1. Try bungy jumping
Bungy jumping is popular all over New Zealand. If you haven't tried it in any other region, do it while here. Taupo is home to New Zealand's highest water touch bungy — when you drop from 47 metres above the Waikato River, you can reach out and touch the water…or dunk yourself straight in! There's also the Cliffhanger Swing, which lets you swing up to 180 degrees reaching a speed of up to 70 kilometers per hour! Prices start around 169 NZD (this is one of the more affordable bungy options in New Zealand).
2. Go swimming at Turangi
Stroll around the Tokaanu thermal walk, where you can appreciate the geothermal activity free of charge. Make sure you stay on the trail, as wandering off route can be dangerous. The hot springs make for an excellent afternoon of swimming and relaxing in a therapeutic soak, especially during those chilly winter temperatures!
3. Visit Lake Taupo Museum and Art Gallery
This is a small museum located near the center of town, behind the Great Lake Center on Story Place. It contains exhibits on the Maori, volcanic events, and the early European history of Taupo. A Maori meeting house is also recreated within the building and exhibitions of art by local and New Zealand artists are ongoing. The "Ora" garden, which won the 2004 Chelsea Flower Show, has recently been added in a special outside area. Admission is 5 NZD for adults and 3 NZD for students and seniors. Children enter free.
4. Climb Mount Tauhara
This dormant volcano sits on the eastern edge of town and can be climbed fairly easily (get directions from your accommodation). You can simply start at the parking lot at the end of Mountain Road and follow the signs up the hill. The climb starts out a little steep, but wandering through the New Zealand bush is something special. You're likely to encounter plenty of birdlife, and the views at 1,008 metres above sea level over the lake are remarkable!
5. Relax in Butcher's Pool
This natural thermal spring is rarely crowded, and it's free! Other than the change room sheds and a simple deck, all you have around you is nature. Named for one of the first settlers in the area, Butcher's Pool fills from both hot and cold mineral springs, creating a process of continuously renewing and cleaning itself.
6. Hit up the Turoa Ski Area
Found in the Tongariro National Park, this is a marvelous place for skiers of all levels. Thanks to Mount Ruapehu's southwest slopes and its unique volcanic terrain, this area is famous for its steep chutes, dramatic drops, and snow-filled basins. There's also endless backcountry to explore. There is gear for rent or purchase, as well as a ski school. Snowboarding is not advised. Day passes begin at 125 NZD per person, but if you're sticking to the beginner's area they are only 85 NZD per person.
7. See the Craters of the Moon
Craters of the Moon is walkway that meanders through an other-wordly geothermal lunar landscape. The Main Track is an easy-going 45-minute loop through the area, but you can add an extra 20-minute hike for better views from a higher viewpoint. You'll see bubbling craters and steaming vents as you explore, and it's just 8 NZD to access the trail.
8.Go jet boating on the Waikato River
Not only is Waikato River the largest river in New Zealand, but it also happens to be the best spot for boating. Jet boating is popular because of the high-speed thrills and fun; you'll zip, zoom, and spin around the river's turquoise waters. Depending on your tour guide, you'll also hit up some rapids, or get up close to Huka Falls. Only certain areas of the river are open for this activity. Tickets start at 115 NZD for adults, with discounts available for families and children. .
9. Walk around Western Bay
Western Bay has some pleasant walking trails and scenic viewpoints. The Rimu Walking Track takes just 30 minutes, and is a pleasant loop though beautiful forests. Cross the bridge at the Kakaho Campground and follow the river around to a great swimming hole. From here there is a climb up to a lookout with good views of Mount Pureora. For something a little longer, try the three-hour Waihaha Tramping Track. This track starts on SH 32 beside the Waihaha River. The grade is generally easy with a few short steep sections. You'll meander through regenerating bush before sidling upwards along the edge of the Waihaha Gorge. At the top of the gorge the track diverts away from the river and climbs over a low hill to Pokaiora Clearing — a large heathland covered in tussocks and monoao.
10. Go trout fishing
Lake Taupo and the rivers in the Great Lake Taupo region are a trout fishing mecca. The town of Turangi is known as the 'Trout Fishing Capital of New Zealand' and is a great place to base yourself to experience the best that New Zealand trout and fly fishing has to offer. You can read about my experience trout fishing here.
11. Hike Mount Ruapehu
Mount Ruapehu is one of the world's most active volcanoes, and it's just a short drive from Lake Taupo. Skyline Ridge is a walk that can be done in approximately 1.5-2 hours, round trip. The route climbs up Skyline Ridge to an altitude of 2,300 meters, and you are rewarded at the top by sweeping views of Tongariro National Park and Lake Taupo. You can also hike Meads Wall, which is is a spectacular volcanic rock formation popular with rock climbers and sightseers. It has more recently become known as the location where parts of The Lord of the Rings trilogy were filmed. Meads Wall is a 30-minute walk on a marked trail leaving from the Whakapapa Ski Area.
Typical Costs
Hostel prices
– Dorm rooms cost between 18-33 NZD per night while private rooms average 65 NZD per night. Free WiFi is standard, and many hostels also have a kitchen. For those traveling with a tent, there are campgrounds in the area. At Great Lake Holiday Park Taupo, you'll pay 25 NZD for a basic tent plot (or 20 NZD if there are two of you sharing a tent). Turangi Kiwi Holiday Park is also 25 NZD for a basic tent plot. For hostels, my suggested place is:
Budget hotel prices – A double room with a private bathroom starts around 75 NZD per night (though prices average closer to 100 NZD per night). Free WiFi is generally standard, and free breakfast is quite common. Many budget hotels also have a kitchen for those looking to cook their own food. Airbnb is widely available. For a private room, prices start at 55 NZD per night. For an entire home or apartment, expect to pay around 110 NZD per night (but can go up to 220 NZD per night).
Average cost of food – Eating out in this town is more expensive than other places in the country. A restaurant meal with table service will cost around 30 NZD. You can find sandwiches for as little as 8 NZD and fast food like McDonald's or Burger King will cost between 10-15 NZD. Beers at the bar will cost around 8 NZD. If you choose to cook your own food, plan to spend between 65-80 NZD per week for basic items like rice, pasta, fruits and veggies, and chicken.
Transportation costs – If you need to get around the city, the Taupo Connector is the local bus. One-way fares start at 2 NZD, and there are three main routes: Central (Wharewaka to Tongariro Street), North (Heuheu Street to Wairakei Village), and West (Heuheu Street to Jarden Mile). You can also rent bikes to get round (including mountain bikes). Prices start at 60 NZD for a full-day rental companies like Pack&Pedal and Taupo Mountain Bike Hire. For intercity travel, buses will be your cheapest option for getting to and from here.
Suggested daily budget
70 NZD / 50 USD (Note: This is a suggested budget assuming you're staying in a hostel, eating out a little, cooking most of your meals, and using local transportation. Using the budget tips below, you can always lower this number. However, if you stay in fancier accommodation or eat out more often, expect this to be higher!)
Money Saving Tips
Explore for free – Taupo has heaps of free activities like hikes, visiting the lake, and going to the mountains. There's always something to do here for free, especially if you enjoy the outdoors!
Shop at the Saturday market – Every Saturday there is a riverside market (at Riverside Park) selling fresh produce and local crafts. There is also an art exhibition (located at Colonel Roberts Reserve at the lakefront) which you can wander around for free.
Cook your own meals – Restaurants in the town aren't that cheap. I would suggest cooking your own meals as often as you can. Otherwise, your food budget is going to go through the roof!
Stay with a local – While there are not many Couchsurfing hosts available in the area there are still some. Try staying with a local to cut down on your accommodation costs. You'll also get some valuable insight into the area from a local — and that is priceless!
Avoid the high season – Prices will be higher during the summer months so avoid peak tourist season if you can!
Find deals at bookme.co.nz – If you're looking for tours and activities and are flexible with your dates, this website often has great deals. (You can find activities for up to 50% off!)
My Must Have Guides For Traveling to Taupo
Photo credits: 2