Visitors to Franz Josef use it as popular jumping-off point for all the glaciers in the area (there is more than just the Franz Josef glacier). The town itself is tine and travelers spend just a night or two here as there's not much to do in the area.
The glacier is about 5km from town, and, with climate change eroding the face, is now a 40-minute walk from the parking lot to the glacier. Though the mountain town is beautiful and there are a few hikes to do, I wouldn't spend more than 2 nights here.
Also note that the weather changes very frequently here so be flexible with your plans. Your tour could get suddenly canceled even as you're getting on the helicopter if the wind and clouds change – and they do a lot!
Come, hike, leave. That's basically it here.
This guide to Franz Josef can help you plan your (short) trip to this spot on the New Zealand travel trail!
Top 5 Things to See and Do in Franz Josef
1. Go heli-hiking
With a heli-hike, you get a scenic flight over the glacier and taken to more remote parts of the glacier. You'll be able to get up close to amazing ice formations and many tour providers also throw in a complimentary soak in the Hot Pools. Expect to pay around $459 NZD ($273 USD) for a heli-hike, but it's worth every penny.
2. Raft on the Whataroa and Perth Rivers
These white-water rivers make for exciting day trips (or half day trips) during the summer. They both have Class IV & V rapids, and you'll paddle through lush forest and jagged gorges with experienced guides. Tours start from $135 NZD ($80 USD).
3. Visit the West Coast Wildlife Centre
Since it opened in 2010, this wildlife center has become one of the country's more popular attractions. You're guaranteed to see some kiwi birds from the forest boardwalk, and they also have hatching programs for two of the rarest species of kiwis in the country.
4. Go rainforest trekking
This area is home to a tropical rainforest with tons of trails and paths to explore. The forest is lush and full of plants endemic to New Zealand. The most popular walk is the Forest Walk in the Glacier Valley. The trailhead starts at the Glacier car park.
5. Walk the Historic Swinging Bridge
On the drive toward the glacier, you can stop at the historic swinging bridge. There's a nice view of the valley here, and the wobbly structure is fun for thrill seekers. A stop here won't take more than 15 minutes, but it can be a good opportunity to get out and stretch your legs.
Other Things to See and Do in Franz Josef
1. Take a helicopter tour
Seeing the glacier from such great heights really gives you a new perspective of the area, plus the photos you get are always stunning. Explore the awe-inspiring ice falls of the glacier, cross the Southern Alps, and circle the top of magnificent Mount Cook. Tours start around $245 NZD ($146 USD) per person and range from 15 minutes to 3 or more hours.
2. Soak in the Glacier Hot Pools
After all of the intense glacial hiking you are bound to do, head here for a soak (and maybe even a massage for good measure). For a soak and massage, expect to pay around $100 NZD ($60 USD). For just a soak, you'll pay $29 NZD ($17 USD). The pools are suitable for people of all ages.
3. Go horseback riding
There are several horseback riding tours that will take you on a leisurely trek through the area's farmlands and forests. Trips can be just an hour or a whole day, with prices starting at $90 NZD ($55 USD) per person. South Westland Horse Treks is a good company to go with, and they have tours ideal for beginners.
4. Visit Fox Glacier
If you're craving more glacier views, head over to Fox Glacier. The glacier is only about a 40-minute drive from Franz Josef Township, making it an easy day trip. The Fox Glacier Valley trail is only a 1-hour hike (return) and takes you to the base of the glacier. There are other fun things to do in the area too, like the Minnehaha Walk bush path to a fern grotto to see the glow worms, and stunning Lake Matheson with its glass-like surface perfectly reflecting the surrounding mountain peaks.
5. Get off road
Several tour operators in the area offer exciting cross-country excursions via ATVs where you'll be able to cross glacial pathways and rivers, and easily navigate the dense forests and muddy rivers on a 4WD. A tour with Across Country Quad Bikes starts at $180 NZD ($107 USD) for a two-hour trip (you can also be a passenger for just $80 NZD/$48 USD).
6. Skydive
Skydive Franz offers skydiving opportunities starting at around $339 NZD ($201 USD) for a 13,000ft jump. For a 20,000ft jump (the highest in New Zealand) expect to pay around $599 NZD ($356 USD) per person. That's 85 seconds of free-fall!
7. Kayak on Lake Mapourika
On Lake Mapourika, you can rent kayaks for around $60 NZD ($36 USD) for a half-day, or participate in a kayaking tour from about $120 NZD ($71 USD). You'll paddle across the calm reflective waters of Lake Mapourika and the narrow inlets of the Okarito Kiwi Sanctuary. The tour takes you across the lake, past glacial walls, and through the rainforest. They also offer a hike and kayak combo, allowing you to step foot on the Okarito Kiwi Sanctuary.
8. Walk the Tatare Tunnels
The track takes you to tunnels that were blasted through bedrock and used to supply water to the Waiho River during the historic gold rush. The whole walk takes about 80 minutes return. Take a flashlight so you can explore the old tunnel and see the glow worms. The trailhead in Franz Josef Glacier Village is at the cul-de-sac at the end of Cowan Street.
9. Hang out on Okarito Beach
This is a typical West Coast beach, more rugged and wild than calm and relaxing. It's a great place to watch the sun set over the water. Come here in the early mornings between October and April, and there's a good chance you'll see a kotuku (white heron). They like to feed at the lagoon, which backs onto Okarito beach.
10. Hike to the glacier
If you want to see the glacier but don't have the budget for a heli-hike, you can hit the trail to get a good view. The Glacier Valley Walk is a 90-minute hike (round trip) that will get you right up to the face of the glacier. For a shorter trek, the Sentinel Rock trail is only 20 minutes long and will give you a solid view of the glacier.
Franz Josef Travel Costs
Hostel prices – For such a small town, there are actually a lot of hostels here. Large hostel dorms with 8 beds or more will cost from $32 NZD ($19 USD) per night in the peak season, while a smaller dorm is from $42 NZD ($25 USD). In the off-season, you'll save between $8-12 NZD ($5-7 USD) on the same bed.
A private double hostel room is from about $100 NZD ($60 USD) in peak season, while the same room is from $74 NZD ($44 USD) in the off-season.
For those traveling with a tent, there is camping available in the area. For a basic plot without electricity expect to pay about $15 NZD ($9 USD) per night.
Budget hotel prices – There aren't many budget hotels in the Franz Josef area. Most hotels are 3-star or 4-star. A typical 3-star hotel room starts from about $120 NZD ($71 USD) in the peak season, but the same room can drop as low as $60 NZD ($36 USD) in the off-season.
Airbnb is limited here, but you can find a few shared rooms averaging $37 NZD ($22 USD) per night, or private rooms for around $128 NZD ($76 USD) per night. An entire home or apartment is about $230 NZD ($137 USD) per night.
Food – There aren't a whole lot of cheap food options in Franz Josef. Meals at a restaurant or a cafe will cost from about $12 NZD ($7 USD) for a sandwich or salad, but even a simple pad thai or a bowl of noodles can cost from $24 NZD ($14 USD). A beer will cost you about $11 NZD ($7 USD).
Most restaurants in Franz Josef are pretty expensive due to the large number of tourists in town and the cost of getting the food to this remote part of the country. You'll find pizzas, curries, or pasta dishes from $25 NZD ($15 USD). Seafood dishes are from about $30 NZD ($17 USD). A steak is from $36 NZD ($22 USD). A glass of wine is from $9.50 NZD ($5.65 USD).
If you choose to cook your own food, plan to spend between $60-80 NZD ($36-48 USD) per week for basic staples like rice, pasta, vegetables, and some meat. There's only one grocery shop in town.
Backpacking Franz Josef Suggested Budgets
On a backpacker budget, you can visit Franz Josef for $98 NZD ($58 USD) per day. On this budget, you'll stay in a dorm room or camp, cook most of your meals, do free outdoor activities, and walk everywhere. If you plan on drinking, I'd add another $10-20 a day since drinks are expensive here.
On a mid-range budget of about $419 NZD ($249 USD), you'll stay in a 3-star budget hotel or private hostel room, eat out, use the shuttle service, and do some light adventure activities like kayaking or off-roading. You can reduce this budget by at least $101 NZD ($60 USD) per day if you do fewer adventure activities.
On a luxury budget of $767 NZD ($456 USD), you can stay in a 4-star hotel or resort, eat out for every meal at mid-range restaurants, drink what you want, rent a car or mountain bike, and do more serious adventure activities like skydiving and heli-hiking.
If you come during the off-season, you can save up to 50% off accommodations.
You can use the chart below to get some idea of how much you need to budget daily, depending on your travel style. Keep in mind these are daily averages — some days you'll spend more, some days you'll spend less (you might spend less every day). We just want to give you a general idea of how to make your budget. Prices are in USD.
Accommodation
Food
Transportation
Attractions
Average Daily Cost
Backpacker
$20
$20
$18
$0
$58
Mid-Range
$71
$40
$18
$120
$249
Luxury
$150
$60
$36
$210
$456
Franz Josef Travel Guide: Money-Saving Tips
If you're planning on doing big adventure tours in Franz Josef, your budget will get depleted quickly. However, if you stay at cheap accommodations or Couchsurf, stick to drinking during happy hours, avoid eating out, and visit during the shoulder season, you'll be able to cut your costs. Here are some additional tips to help you save money in Franz Josef:
Cook your meals – There are limited dining options in town, and, since Franz Josef receives a lot of tourism traffic, you can expect to find high prices. You're better off preparing your own meals to save yourself some money. Honestly, the restaurants here aren't that great anyways. For the few nights you're here, just cook your food.
Hike – If you can't afford one of the guided glacier treks or helicopter rides, there are tons of free hiking trails around the area. You can try a rainforest trek on the Forest Trail, or hike to the glacier face from the car park (the Sentinel Rock trail, for example, is only 20 minutes).
Use bookme.co.nz – This website offers last minute deals for activities. if you're looking to do a heli-hike or some expensive tour, check this website first. If you're flexible, you can save upwards of 30%.
Hit happy hour at Monsoon Bar – If you're planning on drinking, this bar has $5 NZD ($3 USD) beers from 5-7pm. It will save you a few bucks, and in New Zealand every dollar counts!
Where to Stay in Franz Josef
Despite being a small town, Franz Josef has some nice hostel options. Here are my recommended places to stay in Franz Josef:
How to Get Around Franz Josef
Franz Josef is a tiny town so you can just walk everywhere. There's actually no public bus system or taxi companies. If you've booked tours, your transportation is usually included. Otherwise, you have a few other options.
Shuttles – The round-trip Glacier Shuttles bus to the glacier costs $12.50 NZD ($7.50 USD). It will pick up and drop off anywhere in town, though you can also walk to the glacier from town. It takes about 40 minutes to go from town to the park's gate.
The shuttle also offers round-trip routes to Lake Matheson for $30 NZD ($18 USD), Okarito for $30 NZD ($18 USD), and Lake Mapourika for $15 NZD ($9 USD).
Car rental – If you want more flexibility to explore the area, you need to rent a car. However, there are no car rental offices within Franz Josef. In New Zealand, car rentals can be found for as little as $35 NZD ($21 USD) per day (or $140 NZD/$83 USD per week). You may also want to consider a campervan.
Bicycle – Glacier Country Kayaks & SUPs rent mountain bikes for $60 NZD ($36 USD) per day.
When to Go to Franz Josef
Franz Josef experiences pretty mild temperatures year-round. You can even visit during the winter months.
The winter months are from June to August, with temperatures ranging between 41-57°F (5-15°C). There's rarely snow in town, although it does sometimes snow atop the glacier. The weather is pretty consistent meaning there's less chance of your heli-hike tour getting cancelled. You'll also avoid the typical crowds of visitors, and you'll save money on accommodations.
Summer is from December to February, and this part of New Zealand much more sun than other parts of the country. It doesn't get dark until 10pm, and temperatures range from 53-77°F (12-25°C). This makes summer one of the best times for enjoying outdoors activities like hiking (or patio drinks until late in the evening).
Keep in mind that the Franz Josef area gets a LOT of rainfall – up to 8 meters per year. Be sure to pack some raingear, but don't let the rain discourage you. The waterfalls are incredible after a full day of rain.
How to Stay Safe in Franz Josef
On the whole, New Zealand is a very safe place to backpack and travel and Franz Josef is no exception. There isn't a large resident population and people who visit here come to enjoy the laidback mountain life.
That said it is always best to trust your instincts when it comes to safe travel. Take normal precautions like you would at home, like carrying a cellphone and being aware of your personal belongings at all times. Make copies of your important documents, like your passport.
The emergency number is 111.
Overall, you're unlikely to encounter anything problematic here, but keep in mind that this is a mountainous, glacial terrain. If you're doing any adventure activities like heli-hiking, always respect your surroundings and your guide's instructions. They know the landscape better than anyone else, and if you don't want any broken bones (or worse), pay attention to what they have to say.
Always trust your gut instinct.
If you don't do it at home, don't do it when you're here. Follow that rule and you'll be fine.
The most important piece of advice I can offer is to purchase good travel insurance, especially if you're participating in any adventure activities. Travel insurance will protect you against illness, injury, theft, and cancellations. It's comprehensive protection in case anything goes wrong. I never go on a trip without it as I've had to use it many times in the past. You can use the widget below to find the policy right for you:
Franz Josef Travel Guide: The Best Booking Resources
These are my favorite companies to use when I travel to Franz Josef. They are included here because they consistently find deals, offer world-class customer service and great value, and overall, are better than their competitors.
Momondo – This is my favorite booking site. I never book a flight without checking here first.
Skyscanner – Skyscanner is another great flight search engine which searches a lot of different airlines, including many of the budget carriers that larger sites miss. While I always start with Momondo, I use this site too as a way to compare prices.
Airbnb – Airbnb is a great accommodation alternative for connecting with homeowners who rent out their homes or apartments. (If you're new to Airbnb, get $35 off your first stay!)
Hostelworld – This is the best hostel accommodation site out there, with the largest inventory, best search interface, and widest availability.
Couchsurfing – This website allows you to stay on people's couches or spare rooms for free. It's a great way to save money while meeting locals who can tell you the ins and outs of their city. The site also lists events you can attend to meet people (even if you're not staying with someone).
Booking.com – The best all-around booking site that constantly provides the cheapest and lowest rates. They have a no money down policy, great interface, and the widest selection of budget accommodation. In all my tests, they've always had the cheapest rates out of all bookers.
Intrepid Travel – If you want to do a group tour around Sweden, go with Intrepid Travel. They offer small group tours that use local operators and leave a small environmental footprint. If you go on a tour with anyone, go with them. And, as a reader of this site, you'll get exclusive discounts when you click the link!
STA Travel – A good company for those under 30 or for students, STA Travel offers discounted airfare as well as travel passes that help you save on attractions.
Rome 2 Rio – This website allows you to see how to get from point A to point B the best and cheapest way possible. It gives you all the bus, train, plane, or boat routes that can get you there as well as how much they cost.
World Nomads – I buy all my travel insurance from World Nomads. They have great customer service, competitive prices, and in-depth coverage. I've been using them since I started traveling in 2003. Don't leave home without it!
EatWith – This website allows you to eat home cooked meal with locals. Locals post listings for dinner parties and specialty meals that you can sign up for. There is a fee (everyone sets their own price) but this is a great way to do something different, pick a local's brain, and make a new friend.
Franz Josef Gear and Packing Guide
If you're heading to Franz Josef, here are my suggestions for the best travel backpack and tips on what to pack for your trip.
The Best Backpack for Franz Josef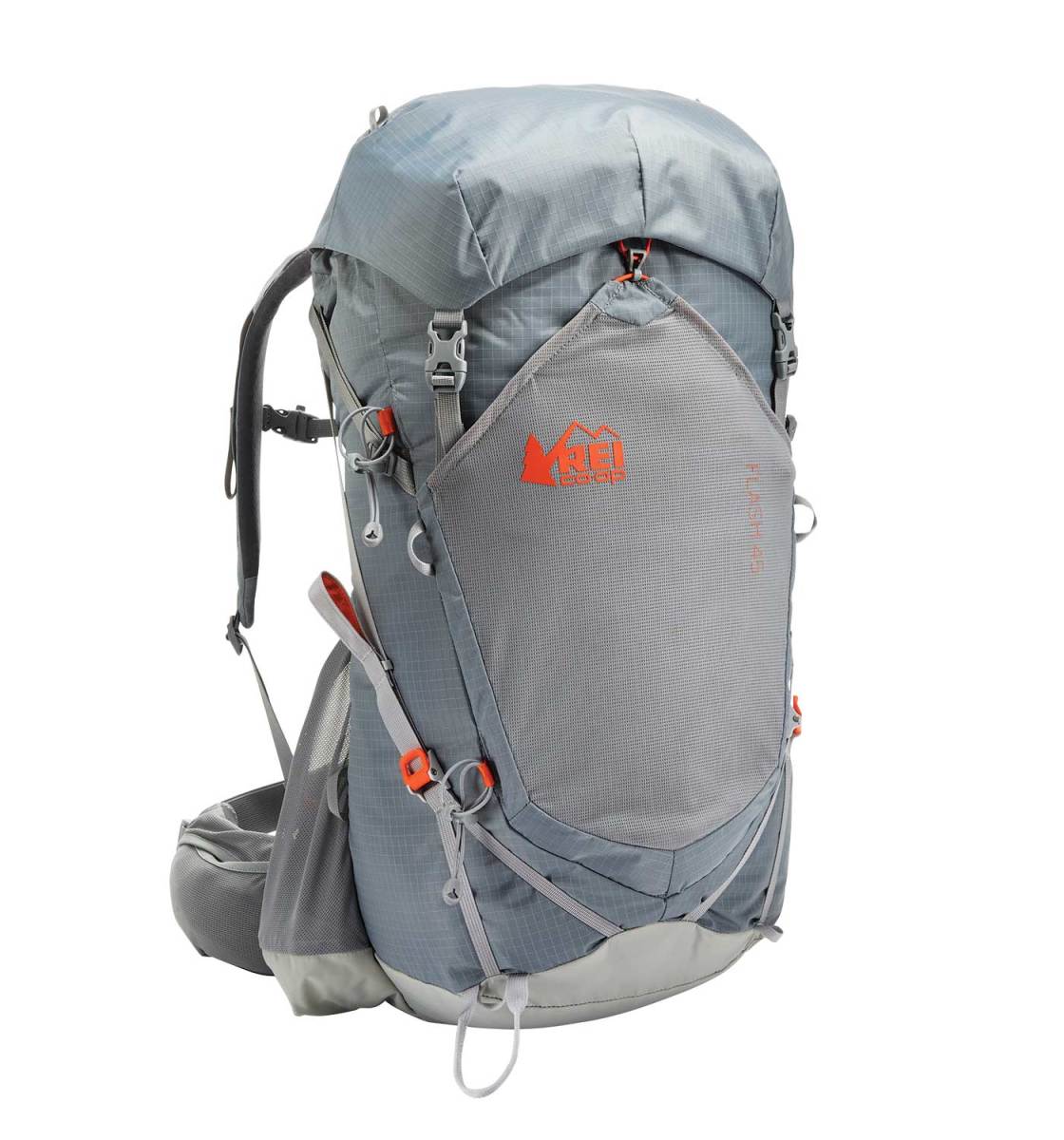 What's the best backpack for traveling around Franz Josef? I recommend the
REI Flash 45 Pack
. It's light and comfy, front loading, and fits perfectly in an airplane's overhead bin.
Size:
45-47L
Straps:
Thick and cushy with compression technology that pulls the pack's load up and inwards so it doesn't feel as heavy.
Features:
Removable top lid, large pocket at the front, hydration compatible, contoured hip belt
If you want something different, refer to my article on how to choose the best travel backpack for tips on picking a pack and other backpack suggestions.
What to Pack for Franz Josef
Clothes
1 pair of jeans (heavy and not easily dried, but I like them; a good alternative is khaki pants)
1 pair of shorts
1 bathing suit
5 T-shirts
1 long-sleeved T-shirt
1 pair of flip-flops
1 pair of sneakers
6 pairs of socks (I always end up losing half)
5 pairs of boxer shorts (I'm not a briefs guy!)
1 toothbrush
1 tube of toothpaste
1 razor
1 package of dental floss
1 small bottle of shampoo
1 small bottle of shower gel
1 towel
Deodorant
Small Medical Kit (safety is important!!!)
Miscellaneous
Female Travel Packing List
I'm not a woman, so I don't know what a woman wears, but Kristin Addis, our solo female travel guru, wrote this list as an addition to the basics above:
Clothing
1 swimsuit
1 sarong
1 pair of stretchy jeans (they wash and dry easily)
1 pair of leggings (if it's cold, they can go under your jeans, otherwise with a dress or shirt)
2-3 long-sleeve tops
2-3 T-shirts
3-4 spaghetti tops
1 light cardigan
Toiletries
1 dry shampoo spray & talc powder (keeps long hair grease-free in between washes)
1 hairbrush
Makeup you use
Hair bands & hair clips
Feminine hygiene products (you can opt to buy there too, but I prefer not to count on it, and most people have their preferred products)
For more on packing, check out these posts:
My Must Have Guides for Traveling to Franz Josef
Franz Josef Travel Guide: Related Articles
Want more info? Check out all the articles I've written on backpacking/traveling New Zealand and continue planning your trip:
Photo credits: 2
Photo credits: 2