Auckland is the largest and most populous city in New Zealand (and, contrary to popular belief, it is not the capital). Pretty much anyone coming to New Zealand is going to visit Auckland. As the country's main airport, all your long haul international flights are going to land here.
As a tourist destination, I don't think this is one of New Zealand's best places. I found the city to be a bit ugly, sprawling, and sort of bland. There's some fun activities, good restaurants, and a hip nightlife here so I wouldn't write the city off completely, but I also wouldn't spend a lot of time here as there are more exciting and more beautiful places in the country.
This travel guide to Auckland will help you get a feel for the city and figure out what to do when you visit.
Top 5 Things to See and Do in Auckland
1. Day trip to Waiheke Island
Waiheke Island is home to scenic beaches, wineries, hiking trails, and other fun outdoor activities. It's a great day trip from Auckland and is easy to explore by bike, bus, or rental car. The ferry to the island will cost 42 NZD (round trip) and takes 45 minutes.
2. Shop at Otara Flea Market
Every Saturday, this large Polynesian and Maori market takes place. Located 20km from downtown, it's the most popular market in the city and you'll find a bit overthing here. You can find some amazing deals here as well as delicious foods and snacks (mostly Polynesian/South Pacific dishes are available).
3. Head to Waitakere Ranges
The Waitakere Ranges are a chain of hills that stretches 25km across the North Island. It boasts 2,500km of walking trails and you'll find impressive waterfalls and scenic black sand beaches here. The Mercer Bay Loop Track and the Tasman Lookout Walk are two other easy strolls too.
4. Climb up Sky Tower
Standing over 328m (1,076 ft.) tall, Sky Tower is the tallest free-standing structure in the Southern Hemisphere. It not only offers panoramic views but also has a restaurant on top. Adult admission is 29 NZD. If you're feeling adventurous, you can bungy jump from an observation deck. Jumps are 225 NZD.
5. Hang out on the Auckland Domain
Created in the 1840s, the Auckland Domain is the city's oldest park. When the weather is nice, you'll find locals here running, playing sports, and reading. The Auckland Museum can be found here along with a monument to the first Maori king. There are a lot of serene walking trails and beautiful gardens too.
Other Things to See and Do in Auckland
1. Explore the Hauraki Gulf
Here you can scuba dive, fish, go boating, sail, and go whale watching. For some hiking, visit Rangitoto Island, a volcanic island in the gulf (it's Auckland's youngest volcano). You can reach the summit in four hours and there are also some lava caves near the peak that you can explore (bring a flashlight). For a more relaxing time, head to Motuihe Island and lounge on the beach. And, to learn about the region's past, visit the historic mansion house on Kawau Island. It dates to 1845. Waiheke (known as the "Island of Wine" for its numerous award-winning wineries) and Great Barrier are the largest islands in the gulf and are worth visiting as well.
2. Feed lambs at Sheepworld
New Zealand is known for having more sheep than people (there are approximate 6 times as many sheep than people in the country). Sheep play an important economic role in the country, which is why you should plan a visit to Sheepworld. It's a small family farm located 45 minutes from Auckland by bus. At Sheepworld, you'll be able to see how sheep are raised and sheared and you'll also learn about the wool-making processes that occur afterward. Admission is 34.50 NZD.
3. Visit the Auckland Zoo
Opened in 1922, the Auckland Zoo is a not-for-profit zoo that is home to over 1,400 animals. Covering almost 40 acres, the zoo has several different habitats, including rainforests and savannahs (the latter of which is home to giraffes, zebras, ostriches, cheetah, and other amazing animals from Africa). It's a fun and educational way to spend the day if you're traveling with children. The zoo is located just 10 minutes from downtown by car and admission is 24 NZD for adults.
4. Wander the North Shore
The North Shore is Auckland's main beach area. Swimming, kayaking, and surfing here are popular activities. Moreover, many of New Zealand's successful international sailors began their careers at North Shore yacht clubs so you can find a great sailing scene here too. You'll also also find a lively nightlife here if you stick around after sunset.
5. Check out MOTAT
The Museum of Transport and Technology is an interactive science and technology museum that's home to over 300,000 items and exhibits, including steam engines, historic trams, and aircraft dating back to the early 1900s (they also have the largest aviation display in the Southern Hemisphere). The MOTAT is located near the zoo so you could do both together. Admission is 19 NZD for adults.
6. Visit Howick Historical Village
The Howick Historical Village is a museum that recreates life in colonial New Zealand. Staff here are dressed in period costumes dating to the mid-1800s to really make it a historically accurate and immersive experience. Sure, it's a little cheesy but it's fun for kids (and educational too). They have a blacksmith, a mock classroom, and even a fake contingent of soldiers. Admission is 16 NZD.
7. Walk through Waikumete Cemetery
Spanning a massive 266 acres, this cemetery is the final resting place of over 70,000 people, including almost 300 Commonwealth soldiers from WWI and WWII. If you happen to be here on the first Sunday of a month, free guided tours that highlight the noteworthy people buried here and their contributions to the country are available.
8. See the Muriwai Gannet Colony
Here you can find thousands of breeding gannets (large white seabirds) nesting between the black sand dunes. They are here between August and March and there are two viewing platforms where you can watch the birds. If you're not a bird person, you can also come to Muriwai beach for the surfing. There are also trails for biking and hiking nearby. The colony is located around 40 minutes by car from Auckland.
9. Go bungy jumping
AJ Hackett, the man who invented modern-day bungy jumping, has two jumps available in Auckland for anyone looking to get their adrenaline pumping. First, there is a 40m plunge from the Harbour Bridge (which dunks you into the ocean). It costs 165 NZD. There is also a 192m jump from the Sky Tower. It costs 225 NZD. If you don't want to bungy jump, AJ Hackett also operates a Sky Walk on the Sky Tower, which lets you walk around the exterior of the tower for a 360-degree panorama of the city (you're attached to safety lines so there is no risk of falling).
10. Snorkel on Goat Island
Located just 800m from shore, Goat Island is a small island within a protected marine reserve. It's one of New Zealand's top snorkeling spots and home to abundant colorful fish. Expect to pay around 75 NZD for snorkeling gear and a guide. If you want to scuba dive, expect to pay around 110 NZD for equipment and a guide. If you'd rather stay dry, rent a "clearyak" (clear kayak). You can find rentals on the coast for around 60 NZD per 30 minutes.
Auckland Travel Costs
Hostel prices – Eight-bed dorms cost between 30-40 NZD per night. In the winter, you can find them for as little as 26 NZD per night. Private rooms begin at 80 NZD. Free Wi-Fi is common and most hostels have self-catering facilities if you want to cook your own food. Only a couple of hostels include free breakfast so be sure to book those hostels in advance if that's a priority for you.
Budget hotel prices – For a budget two-star hotel, prices start at 70 NZD per night. These usually include free Wi-Fi; however, two-star hotels are rare in Auckland. Three-star hotels are much more common, costing around 100 NZD per night.
Airbnb is widely available in the city with shared accommodation starting around 25 NZD per night. Private rooms will cost at least 35 NZD while entire homes/apartments will cost around 70 NZD per night.
There are also several campgrounds outside of the city. Prices start at 8 NZD per night for a basic plot (a flat space for a tent, usually without electricity). If you're driving a self-contained camper van (one with its own water supply and bathroom), there are plenty of free places to park overnight in and around the city as well (you can use the app "park4night" to find them).
Food – Eating out (like everything else in Auckland) is generally expensive. A cheap restaurant meal with a drink will cost around 20 NZD. For something fancier, like a mid-range restaurant with table service, expect to pay around 45 NZD for a meal with a drink. For the most budget-friendly restaurants, stick to Chinese, Korean, and Japanese cuisine (sushi is actually quite cheap). They usually cost around 10-15 NZD.
You can find sandwiches for 8 NZD and fast food like McDonald's or Burger King will cost around 12 NZD. A beer at the bar will cost around 10 NZD (though you can buy them for 5 NZD during happy hour, which is usually 4-6pm).
If you choose to cook your food, plan to spend between 60-80 NZD per week for basic staples like rice, pasta, vegetables, and some meat.
Backpacking Auckland Suggested Budgets
On a backpacker budget, you can visit Auckland for 80-105 NZD ($55-75 USD) per day. On this budget, you'll be staying in a dorm room or camping, cooking most of your meals, doing free walking tours or outdoor activities, visiting just a few paid attractions, and using public transportation. If you're on a tighter budget, you can lower this by staying in hostels that include free breakfast, Couchsurfing, or by limiting your drinking.
On a mid-range budget of about 290-330 NZD ($195-220 USD), you'll stay in a budget hotel or private hostel room, eat out at cheap restaurants, take the occasional taxi, enjoy some drinks, and do more paid activities like visiting museums, going snorkeling, and visiting half-day attractions. In short, you'll have the flexibility to do what you want. You're not going to live large but you'll be able to get by without worrying too much about your spending.
On a luxury budget of 670+ NZD ($450+ USD), you can stay in a 4-star hotel, eat out for every meal at mid-range restaurants, drink what you want, take taxis, visit museums, and do as many of the adventure activities that make the country famous as you'd like (such as bungy jumping and scuba diving). This is just the ground floor for luxury though — you can easily spend more if you really want to splash out!
You can use the chart below to get some idea of how much you need to budget daily, depending on your travel style. Keep in mind these are daily averages — some days you'll spend more, some days you'll spend less (you might spend less every day). We just want to give you a general idea of how to make your budget. Prices are in USD.
Accommodation
Food
Transportation
Attractions
Average Daily Cost
Backpacker
$15-30
$20
$10
$15
$55-75
Mid-Range
$50
$55
$15-40
$75
$195-220
Luxury
$150
$90
$110
$100
$450+
Auckland Travel Guide: Money-Saving Tips
Auckland is a pretty expensive city in a fairly expensive country (lots of stuff has to be imported). That said if you find cheap accommodation, stick to happy hours, and cook a lot of your meals, you'll be able to cut your costs a lot without limiting too much of what you do in the city. Here are some quick tips to help you save money in Auckland:
Learn to cook – The food scene in Auckland isn't that mind-blowing. Yes, there are nice cafes, some hip gastronomy, and really delicious meals but nothing blew my mind. There's good food but there's not great food. At least not great enough when you are trying to save money. If you want to really save, cook your own food. When it comes to buying groceries, the cheaper supermarkets are Pakn'Save or Countdown.
Hit happy hour – The backpacker bars have cheap happy hours offering 5 NZD drinks. Hit them up and drink for cheap. Otherwise, plan to spend 10 NZD for a beer at the bar.
WWOOF it – If you don't mind staying outside of the city, WWOOFing is a great way to work for your accommodation and food. In return for working on a farm or B&B, you get free room and board. It's a popular activity with travelers because it lets you stay in a place cheaper and longer. You can do it for a few days or a few months.
Clean in exchange for your room – Some hostels in the city will let you trade a few hours of cleaning and making beds for free accommodation.
Car share – If you plan on leaving the city, consider a rideshare. Rideshares are a popular transportation option for travelers looking to lower costs — all you need to do is chip in for gas. You can find rides on websites like Gumtree or Craigslist. Apps like Carpool New Zealand and Thumbs Up NZ are also great resources. Additionally, you'll see people asking for rides on hostel bulletin boards.
Couchsurf – While there are not a ton of options available in the country, there are hosts in all of the major cities. If you don't mind sleeping on a couch or floor, this is a great way to save some money and meet locals.
Take a free walking tour – Auckland Free Walking Tour has a fun and insightful tour that will show you all the highlights of the city. It's the best way to get the lay of the land — just be sure to tip your guide!
Find cheap activities – The book.me.nz website provides last-minute discounts on activities (and pub crawls) throughout the country. Most of the activities are last minute, but if you're flexible in when you want to do things, you can save up to 60% off attractions! I can't recommend it enough.
Enjoy nature – Remember that nature is free! New Zealand, home to the great walks of the world, has tons of free outdoor activities. While the adventure sports, wine tours, glacier treks, and boat cruises can eat into your budget, there are plenty of trails and walks to keep you busy!
Where To Stay in Auckland
Auckland has a few hostels and they're all pretty comfortable and sociable. These are my suggested and recommended places to stay in Auckland:
How to Get Around Auckland
Public transportation – Buses are the most common way to get around the city. Prices start at 1 NZD and you'll need exact change. You can buy an AT Hop card for 10 NZD which will cut ticket prices by 20-50% and save you having to fumble with change. You can purchase the AT Hop card at stores around the city (it's 10 NZD). A day pass (with the Hop card) is 18 NZD.
To reach the suburbs, you can take the local commuter train. Tickets start at 2.50 NZD (or 1.80 NZD with the Hop card). Also, there are ferries running between downtown Auckland, the North Shore, East Auckland, and the islands. Fares start at 6.20 NZD (4.50 with AT Hop card). Just keep in mind some ferries do not accept the Hop card so you'll need to check in advance.
The airport is around 45 minutes from the city and an express bus ticket will cost 17 NZD (one way).
Taxi – Taxis are expensive and should be avoided. Rates start at 3.50 NZD and go up by 2.60 NZD per kilometer. Unless you have no other option or are splitting a ride with other travelers, I'd avoid using taxis.
Ridesharing – Uber is available in Auckland and is usually much cheaper than taking a taxi. You can save $15 off your first Uber ride with this code: jlx6v
Car rental – Unless you're planning to leave the city, you likely don't need to rent a car here. Public transportation is clean, safe, and reliable. However, if you do need a car, expect to pay at least 30 NZD per day for a small vehicle. Automatics and manuals cost around the same price. Just keep in mind that they drive on the left.
An International Driver's Permit (IDP) is recommended for car rentals. You can get one before you leave your home country.
Bicycle – Bike rentals in Auckland aren't cheap. Expect to pay at least 25 NZD per day for a bike. For a touring or mountain bike, prices go as high as 100 NZD per day!
When to Go to Auckland
Auckland is in the Southern Hemisphere, meaning when most North Americans are dealing with snow and freezing temperatures, Kiwis are enjoying their beaches. Overall, the climate here is temperate. Summer is from December-February and it's the most popular time to visit the city. Kiwis also take their holidays during this time, so things get busy! Days are long and sunny, nights are mild. The average daytime temperature in the summer in Auckland is around 25°C (77°F).
Fall is from March-May, and it's one of the best times to visit the city. The crowds have dispersed, prices are lower, and the weather is still warm.
Winter is from June-August. This is the cheapest time to visit as flights and accommodation are usually discounted. Snow isn't common but it can be windy and wet, making it seem much cooler than it is. Temperatures hover around 7°C (45°F) during the day so make sure you dress for the weather.
There's really no bad time to visit Auckland but since New Zealand is so expensive, the shoulder season is probably of the best times to visit if you're on a budget.
How to Stay Safe in Auckland
Auckland is a safe city to backpack and travel — even if you're traveling solo, and even as a solo female traveler. There is a relatively low crime rate and the healthcare system is excellent should an emergency occur. Take the normal precautions as you would at home, such as carrying a cellphone and being aware of your personal belongings at all times. Also, download offline maps of the city in case you get lost and make copies of your important documents (passport) and forward your itinerary to loved ones so they'll know where you are.
The biggest risk to travelers in Auckland is natural disasters and unpredictable weather, including strong winds, heavy rain, and even hail. Earthquakes are common and can happen at any time (though they are not as destructive here as other places in the country).
The emergency number in New Zealand is 111.
Always trust your gut instinct. If a taxi driver seems shady, stop the cab and get out. If your hotel is seedier than you thought, get out of there. If that driver picking you up seems weird, don't get in the car. If you don't do it at home, don't do it when you're in New Zealand. Follow that rule and you'll be fine.
The most important piece of advice I can offer is to purchase good travel insurance. Travel insurance protects you against illness, injury, theft, and cancellations. It's comprehensive protection in case anything goes wrong. I never go on a trip without it as I've had to use it many times in the past. You can use the widget below to find the policy right for you:
Auckland Travel Guide: The Best Booking Resources
These are my favorite companies to use when I travel to Auckland. They are included here because they consistently find deals, offer world-class customer service and great value, and overall, are better than their competitors.
Momondo – This is my favorite booking site. I never book a flight without checking here first.
Skyscanner – Skyscanner is another great flight search engine which searches a lot of different airlines, including many of the budget carriers that larger sites miss. While I always start with Momondo, I use this site too as a way to compare prices.
Airbnb – Airbnb is a great accommodation alternative for connecting with homeowners who rent out their homes or apartments. (If you're new to Airbnb, get $35 off your first stay!)
Hostelworld – This is the best hostel accommodation site out there, with the largest inventory, best search interface, and widest availability.
Couchsurfing – This website allows you to stay on people's couches or spare rooms for free. It's a great way to save money while meeting locals who can tell you the ins and outs of their city. The site also lists events you can attend to meet people (even if you're not staying with someone).
Booking.com – The best all-around booking site that constantly provides the cheapest and lowest rates. They have a no money down policy, great interface, and the widest selection of budget accommodation. In all my tests, they've always had the cheapest rates out of all the booking websites.
Intrepid Travel – If you want to do a group tour around Sweden, go with Intrepid Travel. They offer small group tours that use local operators and leave a small environmental footprint. If you go on a tour with anyone, go with them. And, as a reader of this site, you'll get exclusive discounts when you click the link!
Rome 2 Rio – This website allows you to see how to get from point A to point B the best and cheapest way possible. It gives you all the bus, train, plane, or boat routes that can get you there as well as how much they cost.
World Nomads – I buy all my travel insurance from World Nomads. They have great customer service, competitive prices, and in-depth coverage. I've been using them since I started traveling in 2003. Don't leave home without it!
EatWith – This website allows you to eat home cooked meal with locals. Locals post listings for dinner parties and specialty meals that you can sign up for. There is a fee (everyone sets their own price) but this is a great way to do something different, pick a local's brain, and make a new friend.
Auckland Gear and Packing Guide
If you're heading to Auckland, here are my suggestions for the best travel backpack and tips on what to pack for your trip.
The Best Backpack for Auckland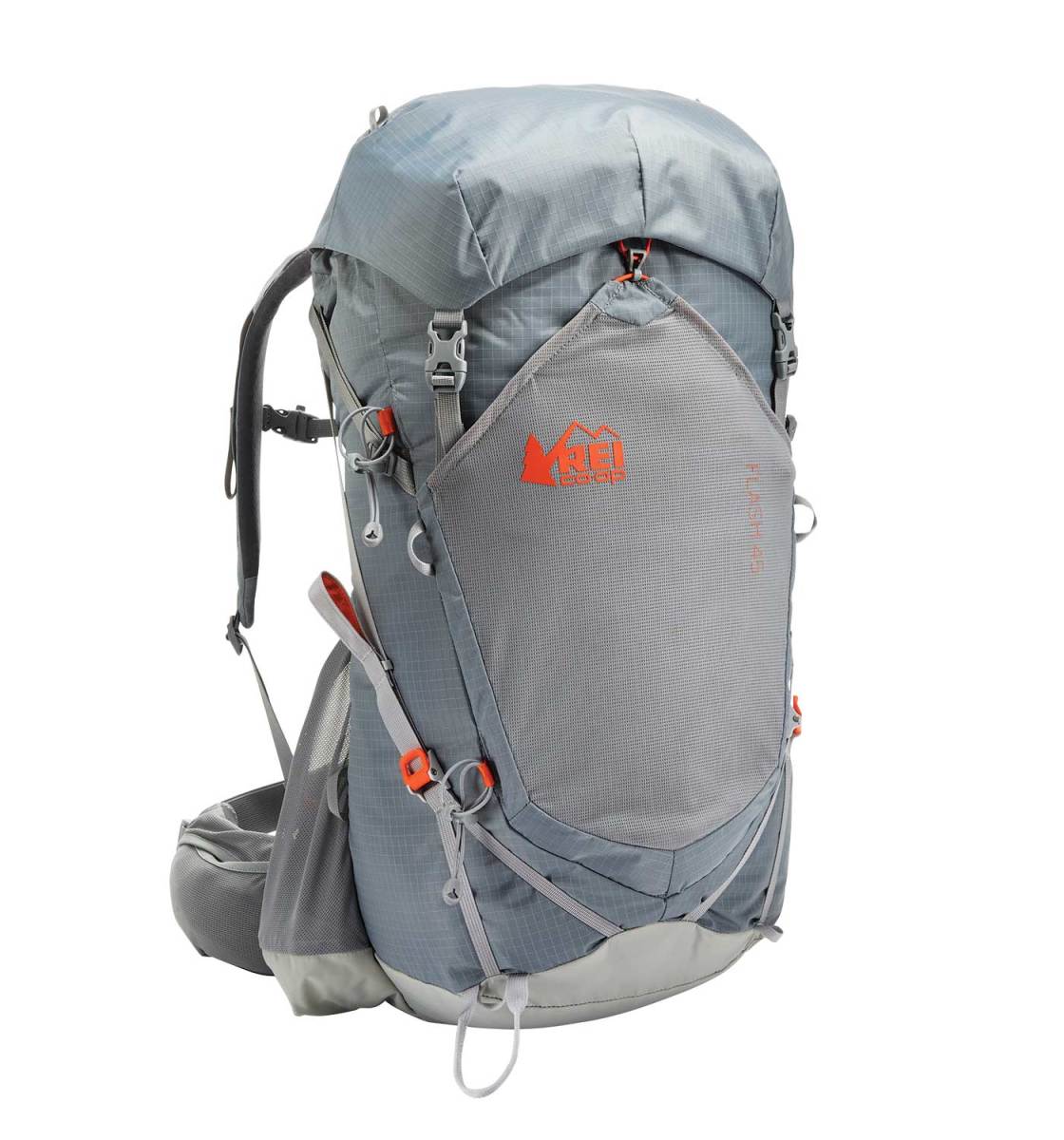 What's the best backpack for traveling around Auckland? I recommend the
REI Flash 45 Pack
. It's light and comfy, front loading, and fits perfectly in an airplane's overhead bin.
Size:
45-47L
Straps:
Thick and cushy with compression technology that pulls the pack's load up and inwards so it doesn't feel as heavy.
Features:
Removable top lid, large pocket at the front, hydration compatible, contoured hip belt
If you want something different, refer to my article on how to choose the best travel backpack for tips on picking a pack and other backpack suggestions.
What to Pack for Auckland
Clothes
1 pair of jeans (heavy and not easily dried, but I like them; a good alternative is khaki pants)
1 pair of shorts
1 bathing suit
5 T-shirts
1 long-sleeved T-shirt
1 pair of flip-flops
1 pair of sneakers
6 pairs of socks (I always end up losing half)
5 pairs of boxer shorts (I'm not a briefs guy!)
1 toothbrush
1 tube of toothpaste
1 razor
1 package of dental floss
1 small bottle of shampoo
1 small bottle of shower gel
1 towel
Deodorant
Small Medical Kit (safety is important!!!)
Miscellaneous
Female Travel Packing List
I'm not a woman, so I don't know what a woman wears, but Kristin Addis, our solo female travel guru, wrote this list as an addition to the basics above:
Clothing
1 swimsuit
1 sarong
1 pair of stretchy jeans (they wash and dry easily)
1 pair of leggings (if it's cold, they can go under your jeans, otherwise with a dress or shirt)
2-3 long-sleeve tops
2-3 T-shirts
3-4 spaghetti tops
1 light cardigan
Toiletries
1 dry shampoo spray & talc powder (keeps long hair grease-free in between washes)
1 hairbrush
Makeup you use
Hair bands & hair clips
Feminine hygiene products (you can opt to buy there too, but I prefer not to count on it, and most people have their preferred products)
For more on packing, check out these posts:
My Must Have Guides for Traveling to Auckland
Auckland Travel Guide: Related Articles
Want more info? Check out all the articles I've written on backpacking/traveling New Zealand and continue planning your trip: