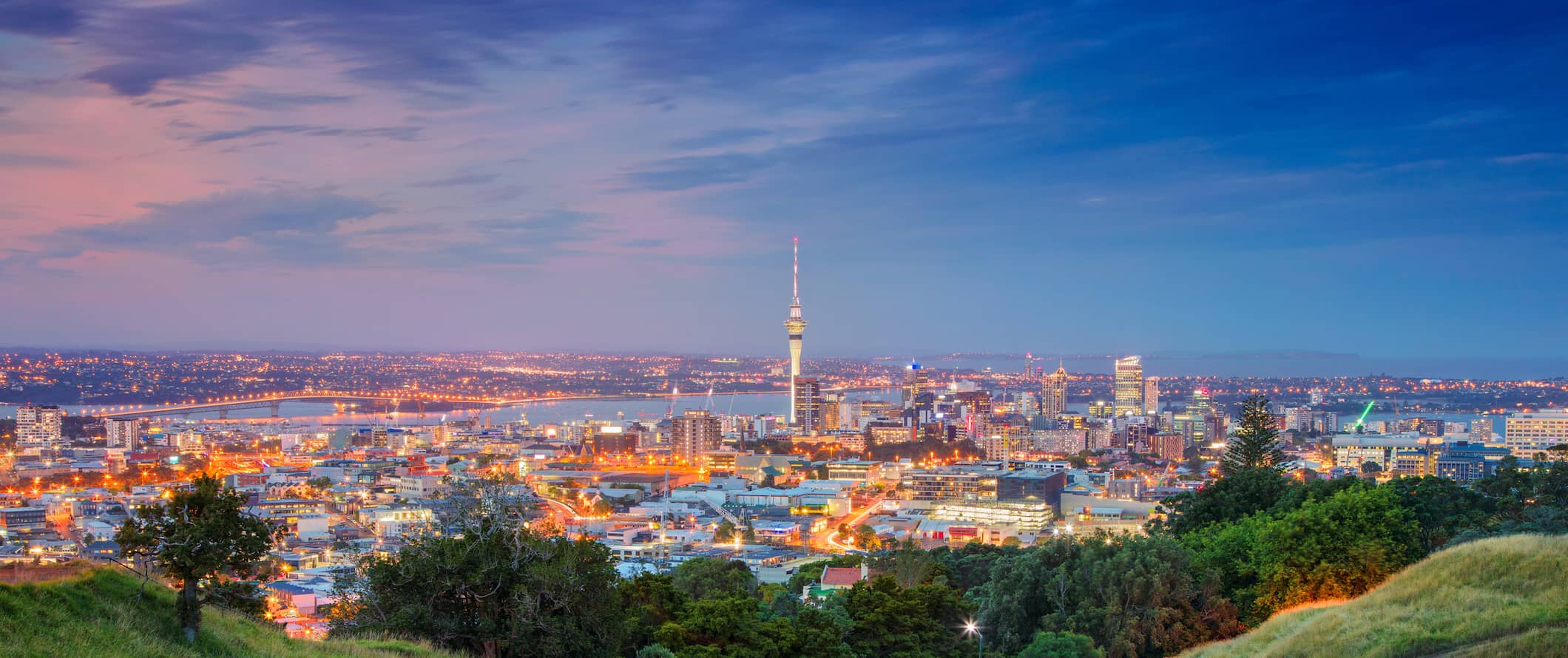 Auckland is the largest and most populous city in New Zealand (though contrary to popular belief, it is not the capital). Pretty much anyone coming to New Zealand is going to visit Auckland. As the country's main airport, all long-haul international flights are going to land here.
As a tourist destination, I don't think this is one of New Zealand's best places. I found the city to be a bit ugly, sprawling, and sort of bland. There are some fun activities, good restaurants, and hip nightlife here so I wouldn't write the city off completely.
But I also wouldn't spend a lot of time here as there are more exciting and more beautiful places in the country. I would spend three or four days here before moving on.
This travel guide to Auckland will help you plan your trip, save money, and make the most out of your time here.
Top 5 Things to See and Do in Auckland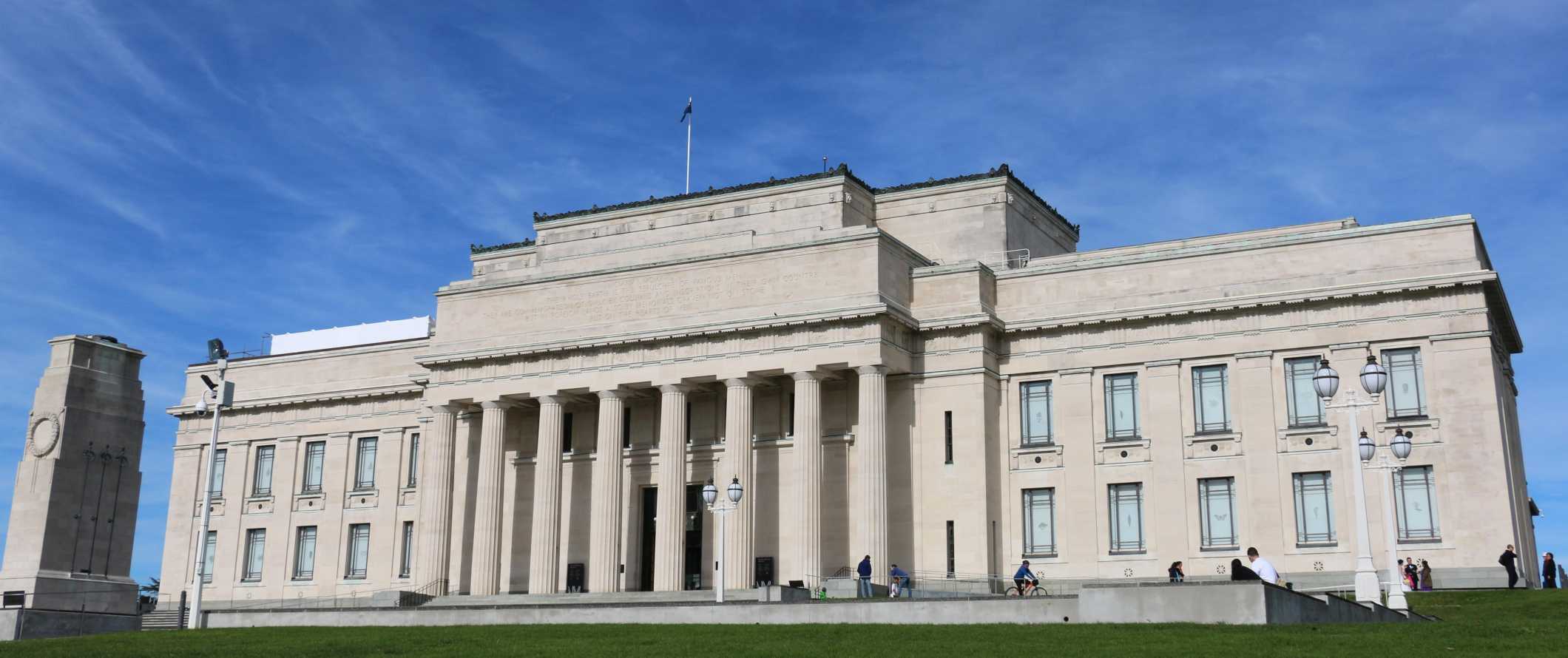 1. Day trip to Waiheke Island
Waiheke Island is just 21 kilometers (13 miles) from Auckland and is home to scenic beaches, wineries, hiking trails, and other fun outdoor activities. It's especially known for its wine and is even known as New Zealand's "Island of Wine," with dozens of vineyards to visit. Waiheke makes a great day trip from Auckland and is easy to explore by bike, bus, or rental car. There are regular ferries to the island which cost 35-46 NZD (round trip) and take 45 minutes.
2. Visit the Auckland Zoo
Opened in 1922, the Auckland Zoo is a not-for-profit zoo that is home to over 1,400 animals from 144 different species. Covering almost 16 hectares (40 acres), the zoo has several different habitats, including rainforests and savannahs (the latter of which is home to giraffes, zebras, ostriches, cheetah, and other amazing animals from Africa). Admission is 24 NZD.
3. Head to Waitakere Ranges
The Waitakere Ranges are a chain of hills that stretch 25 kilometers (15 miles) across the North Island. The Waitakere Ranges Regional Park boasts 2,500 kilometers (1,553 miles) of walking trails, such as The Mercer Bay Loop Track and the Tasman Lookout Walk (both easy strolls). There are also impressive waterfalls, scenic black sand beaches, and lush rainforests here. Unfortunately, all of the forested areas of the park are closed to reduce the spread of the uncurable kauri dieback disease which is killing the ancient kauri trees that are native to the area.
4. Climb up Sky Tower
Standing over 328 meters (1,076 feet) tall and completed in 1997, Sky Tower is the tallest free-standing structure in the Southern Hemisphere. It not only offers panoramic views over the city but also has a revolving restaurant on top. Adult admission is 32 NZD. If you're feeling adventurous, you can bungy jump from an observation deck or walk along the tightrope-walk-like deck while in a harness. Jumps start at 169 NZD while the SkyWalk is 113 NZD.
5. Hang out on the Auckland Domain
Created in the 1840s, the Auckland Domain is the city's oldest park. When the weather is nice, you'll find locals here running, playing sports, and reading. The Auckland Museum can be found here along with a monument to the first Maori king (admission is 28 NZD). At 75 hectares (190 acres), it's one of the largest parks in the city and offers a lot of serene walking trails and beautiful gardens too.
Other Things to See and Do in Auckland
1. Explore the Hauraki Gulf
This coastal area is where you can scuba dive, fish, go boating, sail, and go whale watching. For some hiking, visit Rangitoto Island, a volcanic island in the gulf (it's Auckland's youngest volcano). You can reach the summit in four hours and there are also some lava caves near the peak that you can explore (bring a flashlight). For a more relaxing time, head to Motuihe Island and lounge on the beach. And, to learn about the region's past, visit the historic mansion house on Kawau Island, which dates back to 1845. Waiheke (mentioned above) and Great Barrier are the largest islands in the gulf and are worth visiting as well.
2. Feed lambs at Sheepworld
New Zealand is known for having more sheep than people (there are approximately 6 times as many sheep as people in the country). Sheep play an important economic role in the country, which is why you should plan a visit to Sheepworld. It's a small family farm located 45 minutes from Auckland by bus. At Sheepworld, you'll be able to see how sheep are raised and sheared and you'll also learn about the wool-making processes that occur afterward. Admission is 22.50 NZD.
3. Shop at the Otara Flea Market
This large Polynesian and Maori market takes place every Saturday from 6am-12pm. Located 20 kilometers (12 miles) from downtown, it's the most popular market in the city and has been around since 1976. You'll find a bit of everything here, from secondhand and new clothing to traditional Maori bone carvings. There are some amazing deals here as well as delicious foods and snacks (mostly Polynesian/South Pacific dishes are available). Bring an appetite!
4. Wander the North Shore
The North Shore is Auckland's main beach area. Swimming, kayaking, and surfing here are popular activities. There's a great sailing scene here too, as many of New Zealand's successful international sailors began their careers at North Shore yacht clubs. You'll also find a lively nightlife here if you stick around after sunset.
5. Check out MOTAT
The Museum of Transport and Technology is an interactive science and technology museum that's home to over 300,000 items and exhibits, including steam engines, historic trams, and aircraft dating back to the early 1900s (they also have the largest aviation display in the Southern Hemisphere). The MOTAT is located near the zoo so you could do both together. Admission is 19 NZD.
6. Visit Howick Historical Village
The Howick Historical Village is a museum that recreates life in colonial New Zealand. Staff are dressed in period costumes dating to the mid-1800s to really make it a historically accurate and immersive experience. Sure, it's a little cheesy but it's fun for kids (and educational too). They have a blacksmith, a mock classroom, and even a fake contingent of soldiers. Admission is 16 NZD.
7. Walk through Waikumete Cemetery
Spanning a massive 108 hectares (266 acres), this cemetery is the largest in the entire country and the final resting place of over 70,000 people, including almost 300 Commonwealth soldiers from World War I and II. Friends of Waikumete offers daily guided walks of the cemetery to explain more about the grounds and the people buried in the cemetery. Tours are 5 NZD.
8. See the Muriwai Gannet Colony
At this coastal park you can find thousands of breeding gannets (large white seabirds) nesting between the black sand dunes. They are here between August and March and there are two viewing platforms where you can watch the birds. If you're not a bird person, you can also come to Muriwai Beach for surfing. There are also trails for biking and hiking nearby. The colony is located around 40 minutes by car from Auckland.
9. Go bungy jumping
AJ Hackett, the man who invented modern-day bungy jumping, grew up in Auckland and has two jumps available in the city for anyone looking to get their adrenaline pumping. First, there is a 40-meter (131-foot) plunge from the Harbour Bridge (which dunks you into the ocean) that costs 165 NZD. There is also a 192-meter jump from the Sky Tower that costs 169 NZD. If you don't want to bungy jump, AJ Hackett also operates a Sky Walk on the Sky Tower, which lets you walk around the exterior of the tower for a 360-degree panorama of the city (you're attached to safety lines so there is no risk of falling). The Sky Tower walk is 113 NZD.
10. Snorkel on Goat Island
Located just 800 meters (2,625 feet) from shore, Goat Island is a small island within a protected marine reserve. It's one of New Zealand's top snorkeling spots and home to abundant colorful fish. Expect to pay around 75 NZD for snorkeling gear and a guide. If you want to scuba dive, expect to pay around 110 NZD for equipment and a guide. If you'd rather stay dry, rent a "clearyak" (clear kayak). You can find rentals on the coast for around 60 NZD per 30 minutes (kayaks fit 2 people).
11. Travel to Hobbiton
Journey to Middle Earth with a visit to the Hobbiton movie set featured in The Lord of the Rings and The Hobbit movies. Expect crowds, as this is easily one of New Zealand's most famous attractions. You must go on a tour to see Hobbiton. It starts with a drive through the owners' 1,250-acre sheep farm with some epic views over the Kaimai Ranges. From here, you can explore Bag End, wander around the hobbit holes, and visit the Green Dragon Inn. If you're a LOTR fan, you can't pass this up. Tours start at 89 NZD. It's located 2 hours from Auckland, with many guided tours departing from the city.

For more information on other destinations in New Zealand, check out these guides:
Auckland Travel Costs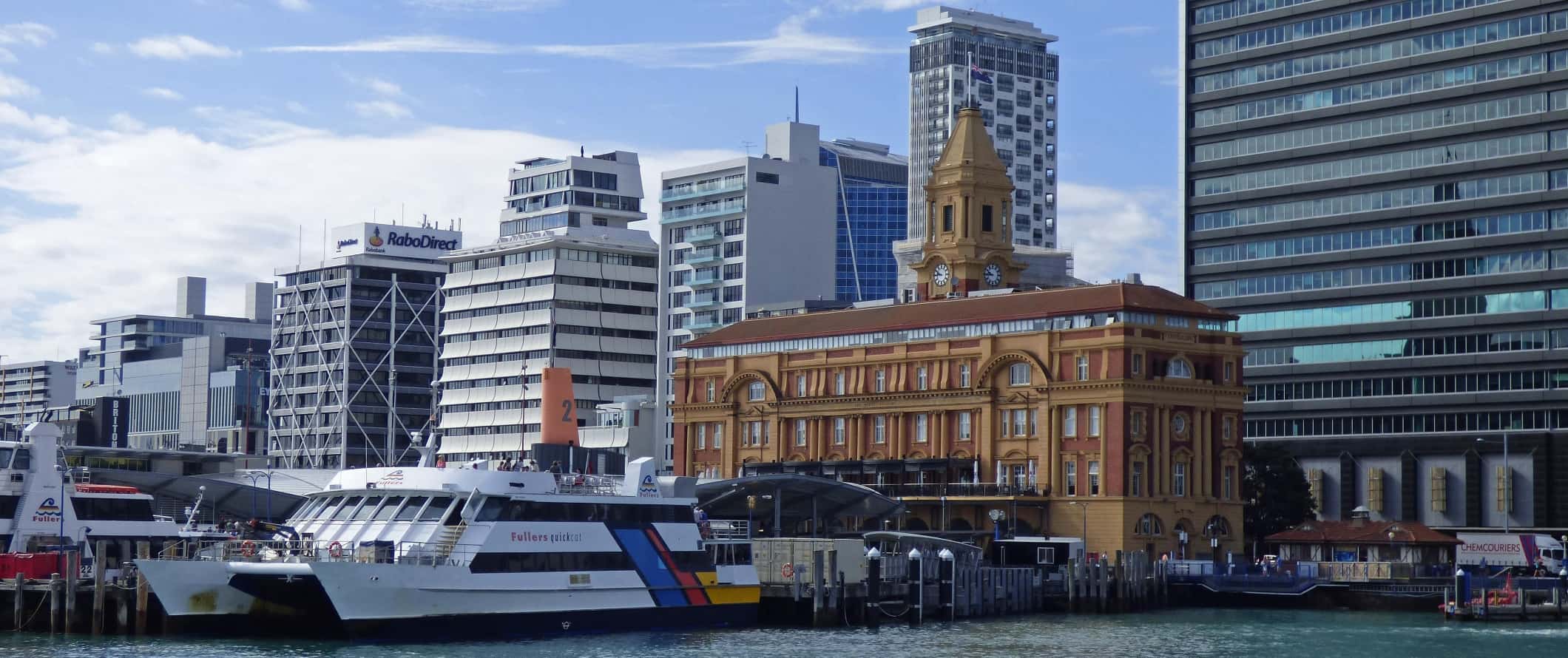 Hostel prices – Dorms with 4-6 beds cost 35-45 NZD per night while dorms with 8-10 beds cost 28-35 NZD. Free Wi-Fi is standard and most hostels have self-catering facilities if you want to cook your own food. Only a couple of hostels include free breakfast so be sure to book those hostels in advance if that's a priority for you. Private rooms are around 100-110 NZD. Prices for hostels don't fluctuate too much by season.
There are several campgrounds outside of the city with prices starting at 10 NZD per night for a basic plot (a flat space for a tent, usually without electricity). If you're driving a self-contained camper van (one with its own water supply and bathroom), there are plenty of free places to park overnight in and around the city as well.
Budget hotel prices – For a budget two-star hotel, prices start at 90 NZD per night. These usually include free Wi-Fi; however, two-star hotels are rare in Auckland. Three-star hotels are much more common, costing around 100 NZD per night.
Airbnb is available in the city with private rooms starting at 50 NZD, though they average closer to 80 NZD per night. For an entire home/apartment, expect to pay at least 90-100 NZD per night (double that if you don't book early).
Food – Food in Auckland consists mostly of seafood, lamb, fish and chips, and specialties like Maori hangi (meat and vegetables cooked underground). Expect to indulge on things like roast lamb, muscles, scallops, oysters, and snapper. As a large city, Auckland also has a lot of options for eating out, including sushi, Korean, Thai, and Chinese food.
A cheap meal of traditional cuisine costs around 20 NZD. A burger is around 11-15 NZD while fish dishes are 28-36 NZD. For upscale fine dining, a five-course restaurant meal with a drink costs about 140 NZD.
A fast-food combo meal (think McDonald's) costs around 13 NZD while takeaway fish and chips are 15-20 NZD. Chinese and Indian food can be found for 10-15 NZD while a small pizza costs around 14 NZD.
Beer costs 10-12 NZD, a glass of wine is 12-14 NZD, and a cocktail is 14-18 NZD. A latte/cappuccino costs 5 NZD while bottled water is 3 NZD.
If you choose to cook your own food, plan to spend around 75 NZD per week on basic foodstuffs like rice, pasta, vegetables, eggs, chicken, and some meat.
Backpacking Auckland Suggested Budgets
On a backpacker budget, you can visit Auckland for 85 NZD per day. On this budget, you'll be staying in a dorm room, cooking all of your meals, doing free walking tours or outdoor activities, visiting just a few paid attractions, using public transportation to get around, and limiting your drinking. If you plan on drinking, att 10-20 NZD to your daily budget.
On a mid-range budget of 185 NZD per day, you can stay in a private room in a hostel or Airbnb, eat out for a few meals, take the occasional taxi, enjoy a couple of drinks, and do more paid activities like visiting museums and going snorkeling. In short, you'll have the flexibility to do what you want. You're not going to live large but you'll be able to get by without worrying too much about your spending.
On a "luxury" budget of 355 NZD per day or more, you can stay in a hotel, eat out for every meal, drink more, take more taxis, visit museums, and do as many of the adventure activities that make the country famous as you'd like (such as bungy jumping). This is just the ground floor for luxury though — you can easily spend more if you really want to splash out!
Accommodation
Food
Transportation
Attractions
Average Daily Cost
Backpacker
40
20
10
15
85
Mid-Range
80
55
20
30
185
Auckland Travel Guide: Money-Saving Tips
Auckland is an expensive city to visit. Costs can add up here quickly, especially if you are eating out a lot. If you find cheap accommodation, stick to happy hours, and cook most of your meals, you'll be able to visit on a budget. Here are some ways to save money in Auckland:
Learn to cook – The food scene in Auckland isn't that mind-blowing. If you want to really save, cook your own food. When it comes to buying groceries, the cheaper supermarkets are Pakn'Save or Countdown.
Hit happy hour – The backpacker bars have cheap happy hours. Hit them up and drink for cheap. Otherwise, plan to spend 10 NZD for a beer at the bar.
WWOOF it – If you don't mind staying outside of the city, WWOOFing is a great way to work for your accommodation and food. In return for working on a farm or B&B, you get free room and board. It's a popular activity with travelers because it lets you stay in a place cheaper and longer. You can do it for a few days or a few months.
Get a temporary job – If you're running low on money and still have plenty of time left in New Zealand, check Backpackerboard.co.nz for temporary yet well-paying gigs.
Clean in exchange for your room – Some hostels in the city will let you trade a few hours of cleaning and making beds for free accommodation. Ask at the front desk if this is an option.
Stay with a local – While there are not a ton of options available in the city, it never hurts to check! If you don't mind sleeping on a couch or floor, Couchsurfing is a great way to save some money and meet locals.
Take a free walking tour – Auckland Free Walking Tour has a fun and insightful tour that will show you all the highlights of the city. It's the best way to get the lay of the land — just be sure to tip your guide!
Find cheap activities – The bookme.co.nz website provides last-minute discounts on activities (and pub crawls) throughout the country. Most of the activities are last minute, but if you're flexible in when you want to do things, you can save up to 60% off attractions! I can't recommend it enough.
Transport vehicles – Campervan and car relocation services provide a free vehicle and gas as you drive it from one destination to another. This can be a great way to save a lot of money if you're flexible with timing. Check Transfercar.co.nz to see what's available.
Enjoy nature – Remember that nature is free! New Zealand, home to the great walks of the world, has tons of free outdoor activities. While the adventure sports, wine tours, glacier treks, and boat cruises can eat into your budget, there are plenty of trails and walks to keep you busy!
Bring a reusable water bottle – The tap water in Auckland is safe to drink. To save money and reduce your plastic use, bring a reusable water bottle with you. LifeStraw make a reusable bottle with a built-in filter so you can be sure your water is always safe and clean.
Pet sit for free accommodation – House and pet sitting is very popular here since Kiwis often head abroad and need pet sitters. All you need to do is watch their pets/home while they're away and you'll get a free place to stay. Use a site like Trusted Housesitters to find the best gigs.
Where to Stay in Auckland
Auckland has a lot of hostels. They're all pretty comfortable and sociable. Here are my recommended places to stay in the city:
How to Get Around Auckland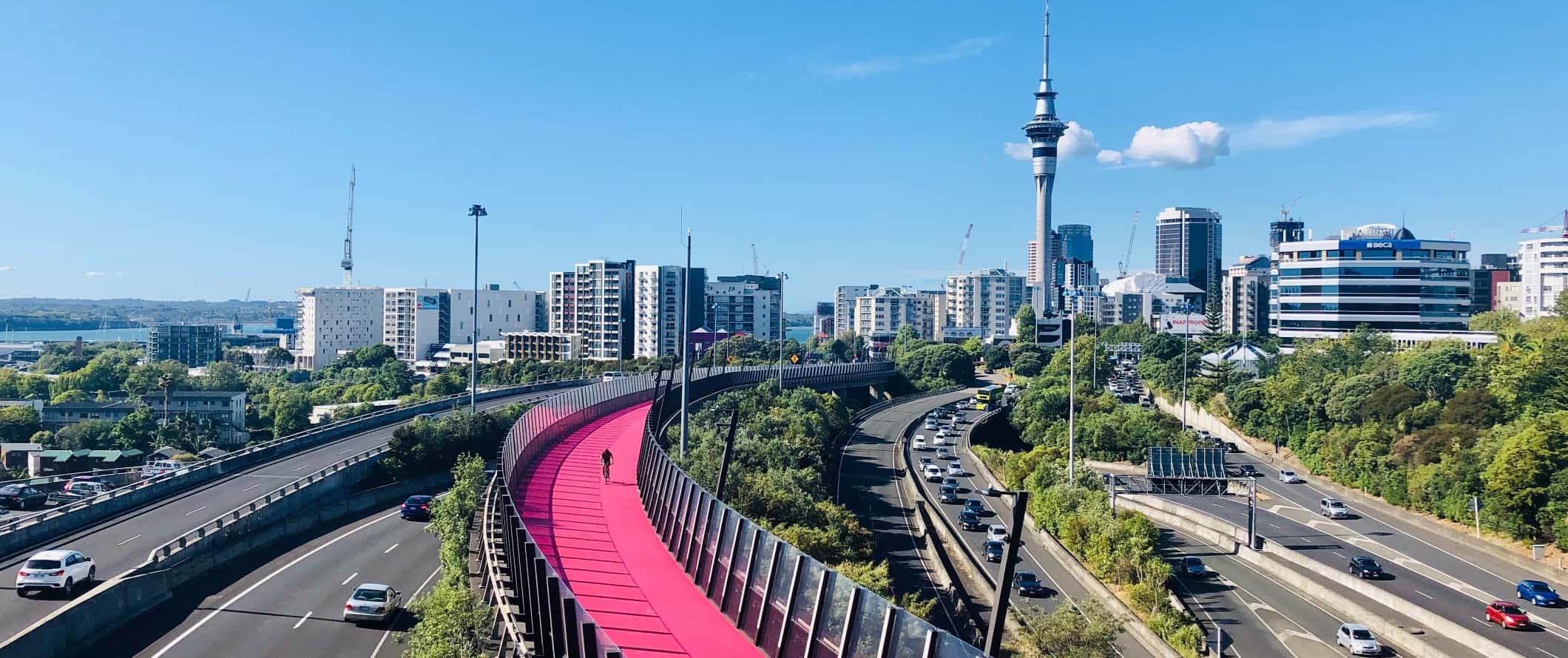 Public transportation – Buses are the most common way to get around the city. Prices are on a zone system, starting at 0.60 NZD within the city and going up depending on how far you travel. Cash is not accepted on buses, so you must get a AT Hop card for 10 NZD which also cuts ticket prices by 20-50%. You can purchase the AT Hop card at stores around the city. There is no day pass, but there is a daily fare cap (with the Hop card) of 20 NZD (this covers buses, trains, and local ferries).
To reach the suburbs, you can take the local commuter train, which uses the same fare system as the bus. Also, there are ferries running between downtown Auckland, the North Shore, East Auckland, and the islands. Fares start at 7.50 NZD (5 NZD with AT Hop card). Just keep in mind some ferries do not accept the Hop card so you'll need to check in advance.
The airport is around 45 minutes from the city and an express bus ticket will cost 17 NZD (one-way).
Taxi – Taxis are expensive and should be avoided. Rates start at 3.50 NZD and go up by 2.65 NZD per kilometer. A flat-rate ride from the airport to the city center is 65-70 NZD. Unless you have no other option or are splitting a ride with other travelers, I'd avoid using taxis.
Bicycle – NextBike is the dockless bike share operating in Auckland. The Auckland special pass is just 4 NZD for one week of 30-minute unlimited rides. If you want to rent your own bike, expect to pay 30-40 NZD per day for a bike. For an electric, prices go as high as 90-100 NZD per day!
Ridesharing – Uber is available in Auckland and is usually cheaper than taking a taxi.
Car rental – Unless you're planning to leave the city, you likely don't need to rent a car here. Public transportation is clean, safe, and reliable. However, if you do need a car, expect to pay at least 40 NZD per day for a small vehicle (prices are cheaper the longer you rent). Keep in mind that they drive on the left here. An International Driver's Permit (IDP) is required for car rentals.
For the best car rental prices, use Discover Cars.
When to Go to Auckland
Auckland is in the Southern Hemisphere, meaning when most North Americans are dealing with snow and freezing temperatures, Kiwis are enjoying their beaches. Overall, the climate here is temperate. Summer is from December-February and it's the most popular time to visit the city. Kiwis also take their holidays during this time, so things get busy! Days are long and sunny, nights are mild. The average daytime temperature in the summer in Auckland is around 25°C (77°F).
Fall is from March-May, and it's one of the best times to visit the city. The crowds have dispersed, prices are lower, and the weather is still warm.
Winter is from June-August. This is the cheapest time to visit as flights and accommodation are usually discounted. Snow isn't common but it can be windy and wet, making it seem much cooler than it is. Temperatures hover around 7°C (45°F) during the day so make sure you dress for the weather.
There's really no bad time to visit Auckland but since New Zealand is so expensive, the shoulder season is probably of the best times to visit if you're on a budget.
How to Stay Safe in Auckland
Auckland is a pretty safe city to visit. There's very little violent crime or theft. That said, it never hurts to always keep your valuables safe and secure just in case. But, in all my years visiting, I've never felt unsafe.
Solo female travelers should generally feel safe here. However, the standard precautions apply (never leave your drink unattended at the bar, never walk home alone intoxicated, etc.).
If you're worried about travel scams, you can read about common travel scams to avoid here. However, there are hardly any in this city that a traveler needs to be worried about.
The biggest risk to travelers in Auckland is often natural disasters and unpredictable weather, including strong winds, heavy rain, and even hail. Earthquakes are common and can happen at any time (though they are not as destructive here as in other places in the country).
Consider downloading the Hazard App from the Red Cross to stay updated about weather events. It has all kinds of advice and tips for natural disasters and also sends out warnings and notifications should a disaster occur.
If you do experience an emergency, dial 111 for assistance.
Always trust your gut instinct. Make copies of your important documents, like your passport.
The most important piece of advice I can offer is to purchase good travel insurance. Travel insurance protects you against illness, injury, theft, and cancellations. It's comprehensive protection in case anything goes wrong. I never go on a trip without it as I've had to use it many times in the past. You can use the widget below to find the policy right for you:
Auckland Travel Guide: The Best Booking Resources
These are my favorite companies to use when I travel. They consistently have the best deals, offer world-class customer service and great value, and overall, are better than their competitors. They are the companies I use the most and are always the starting point in my search for travel deals.
Skyscanner – Skyscanner is my favorite flight search engine. They search small websites and budget airlines that larger search sites tend to miss. They are hands down the number one place to start.
Hostelworld – This is the best hostel accommodation site out there with the largest inventory, best search interface, and widest availability.
Booking.com – The best all around booking site that constantly provides the cheapest and lowest rates. They have the widest selection of budget accommodation. In all my tests, they've always had the cheapest rates out of all the booking websites.
Get Your Guide – Get Your Guide is a huge online marketplace for tours and excursions. They have tons of tour options available in cities all around the world, including everything from cooking classes, walking tours, street art lessons, and more!
EatWith – This website allows you to eat home cooked meal with locals. Locals post listings for dinner parties and specialty meals that you can sign up for. There is a fee (everyone sets their own price) but this is a great way to do something different, pick a local's brain, and make a new friend.
bookme.co.nz – You'll get some really good last minute deals and discounts on this website! Just select what area you're traveling in, and see what activities are on sale.
treatme.co.nz – The locals use this website to find discount hotels, restaurants, and tours. You can save up to 50% off things like catamaran sailing lessons or three-course dinners.
SafetyWing – Safety Wing offers convenient and affordable plans tailored to digital nomads and long-term travelers. They have cheap monthly plans, great customer service, and an easy-to-use claims process that makes it perfect for those on the road.
LifeStraw – My go-to company for reusable water bottles with built-in filters so you can ensure your drinking water is always clean and safe.
Unbound Merino – They make lightweight, durable, easy-to-clean travel clothing.
Top Travel Credit Cards – Points are the best way to cut down travel expenses. Here's my favorite point earning credit cards so you can get free travel!
Auckland Travel Guide: Related Articles
Want more info? Check out all the articles I've written on backpacking/traveling in New Zealand and continue planning your trip: