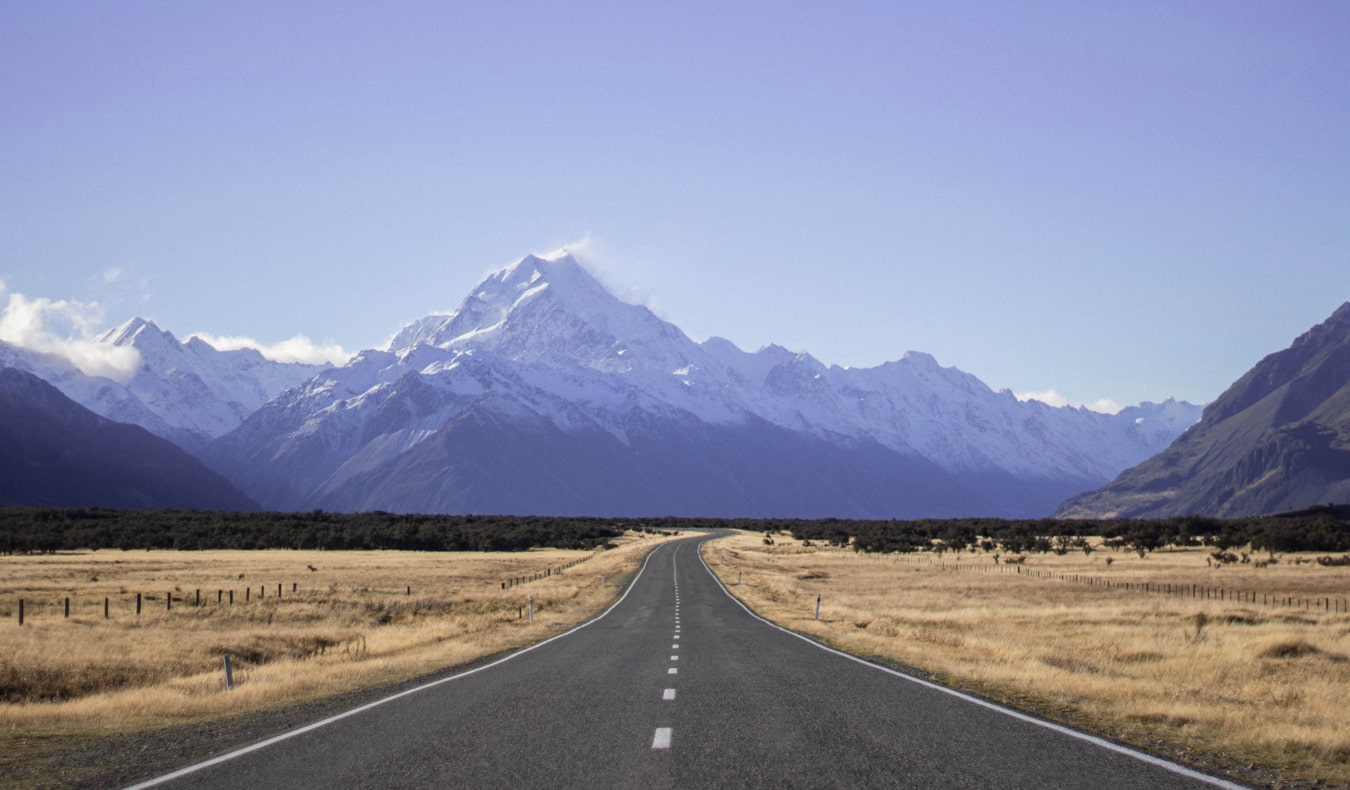 Last Updated: 2/8/23 | February 8th, 2023
New Zealand is an easy country to navigate. Buses go everywhere, cars constantly pick up hitchhikers, campervans are easy to rent, and backpacker bus tours zigzag around the country.
Plus, there are scenic trains and plenty of domestic flights for those needing to save time.
In short, there's no shortage of transportation options.
On my last trip to New Zealand, I used almost every one of these options. Today, I want to share the pros and cons of each (as well as some estimated prices) so you know how to get around New Zealand in the most cost-effective and efficient way possible!

Backpacker Tours
One of the most popular ways young travelers navigate New Zealand is by backpacker bus. These buses offer a hop-on/hop-off service that allows travelers both the flexibility to go at their own pace and the convenience of having activities and accommodations organized for them. New Zealand has two major hop-on/hop-off buses: The Kiwi Experience and Stray.
The Kiwi Experience – The Kiwi Experience is the biggest and most popular backpacker bus in New Zealand. It attracts mainly young gap-year travelers. I like how they go out of their way to make sure everyone socializes and gets to know each other: the drivers play a lot of games and icebreakers, and there are group dinners most nights.
The downside is that: (a) the buses seat around 55 people, and when they're full, they get a little bit cliquey (and during the busy season, the bus is pretty much always full); and (b) the passengers are really focused on getting drunk (the bus's affectionate nickname is "The Green Fuck Bus"), hence why so many young people take it. I'd say if you're 25 or younger (or just looking for a party), this bus is for you.
Tours range from 2-28 days and cost between 99-1,759 NZD per person for hop-on/hop-off tours while small group tours range from 2-18 days and cost between 1,649-3,949 NZD per person.
Stray Travel – Stray has smaller buses, providing a more intimate setting and making it easier to meet people. While there are many gap-year travelers on the bus, Stray also gets older, independent travelers. The bus drivers don't play as many games or have as many icebreakers, making it a bit awkward when you first step on the bus alone and aren't an extrovert.
If you aren't really looking to party a lot or want to spend time with more mature travelers, Stray is for you.
Tours range from 8-24 days and cost between 2,765-5,945 NZD per person.
For small-group tours that cater to more than just the backpacker crowd, check out Haka Tours. They offer some epic adventure tours all around the country and are a good choice for travelers looking to get their adrenaline pumping. Adventure and Snow Tours range from 3-23 days long and cost between 699-4,999 NZD. Their premium 20-day tour costs 7,499 NZD.

Trains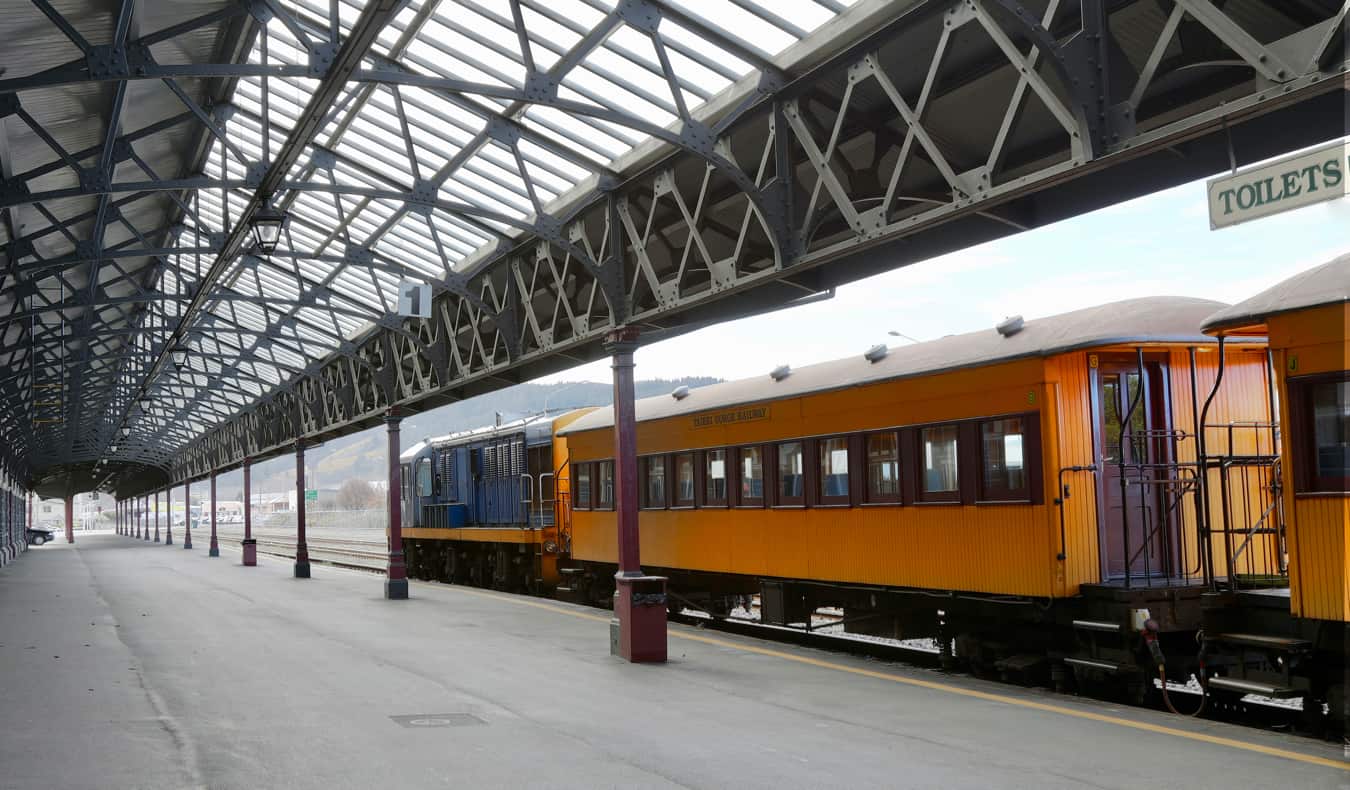 New Zealand has three train lines: Northern Explorer, Coastal Pacific, and TranzAlpine. These are not commuter trains but scenic train rides. They come with viewing platforms, audio commentary, information packets, and big windows for taking photos.
Here are some example prices (in NZD). Just keep in mind that prices vary each season:
Route
Adult (One-Way)
Child (One-Way)
Northern Explorer
(Auckland-Wellington)
189
162
Coastal Pacific
(Christchurch-Picton)
179
124
TranzAlpine
(Christchurch-Greymouth)
189
142

Prices vary based on when you book and whether you'll be traveling in high or low season. Expect prices to be upwards of 50% more expensive if booked last minute (if there are even spots available, as these fill up fast).
I took the TranzAlpine across the South Island. It had been a dream of mine to do since my first visit in 2010 and I loved every minute of it. It lived up to all the hype. You pass rivers and mountains, cross gorges, and roll through vibrant green farmland. It was a really peaceful, informative, and scenic way to get across the South Island, and made me wish there were more trains around the country (come on, NZ, you can do it!).
This isn't the most efficient or cheapest way to get around (heck, the Northern Explorer from Auckland to Wellington is 11 hours!) but it's worth every penny. It's an incredibly scenic way to see the country.
Buses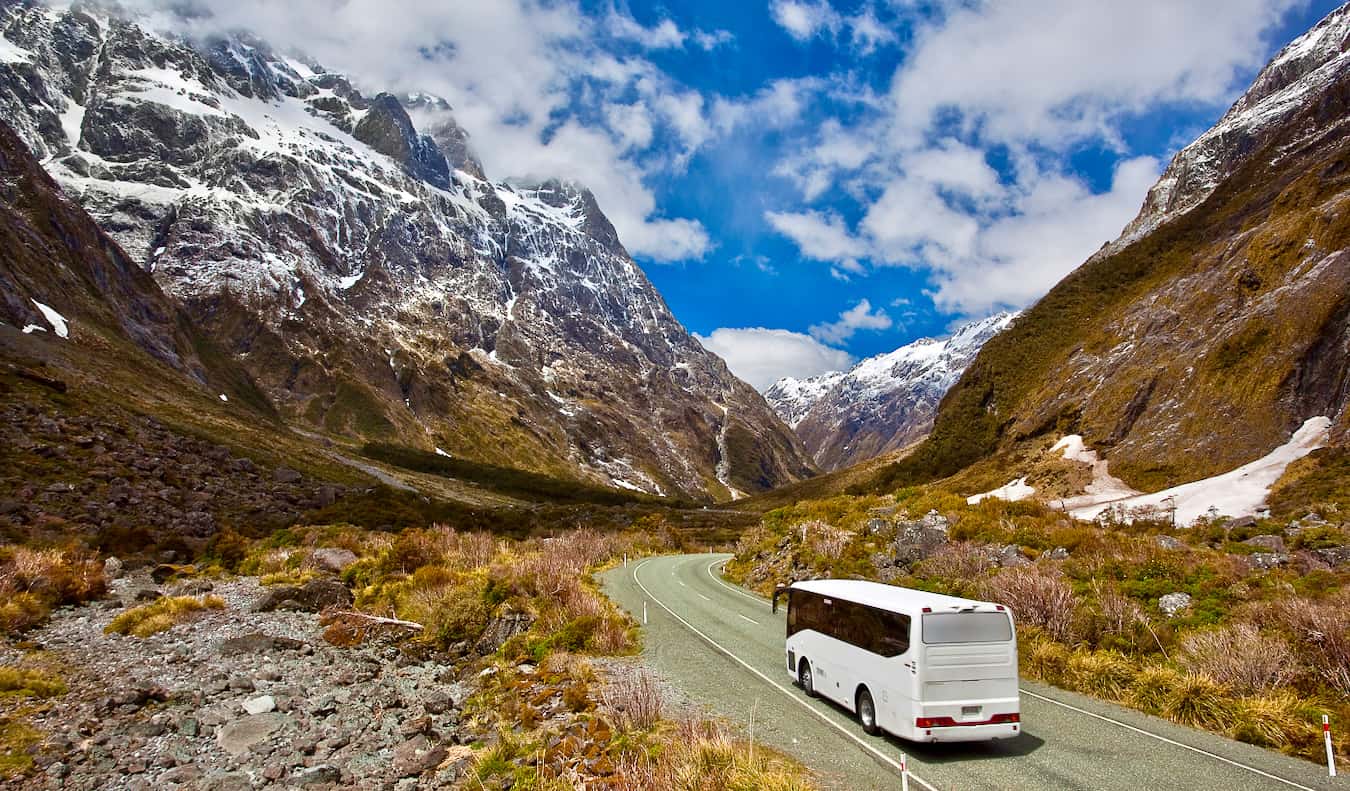 If you aren't renting a car, buses are the best and cheapest way to get around New Zealand. Buses stop in every town, and there are frequent departures from even the smallest cities.
InterCity, New Zealand's largest public bus network, is your main option. Skip Bus, a low-cost coach bus similar to Megabus, is available on the North Island and has over a dozen stops, making it another budget-friendly choice if you're shopping for tickets. Keep in mind they have specials on "Go tickets" so you can get discounts between certain destinations and routes.
These are some example InterCity ticket costs for sample routes to help you budget (prices in NZD):
Routes (One-Way)
Last-Minute Booking
Advanced Booking
Christchurch-Picton
63
47
Christchurch-Queenstown
98
60
Auckland-Wellington
76
57
Franz Josef-Wanaka
125
125
Auckland-Bay of Islands
51
34
Prices exclude booking fees.
InterCity has two travel passes, both of which valid for up to 12 months: FlexiPass, an hours-based bus pass (10-80 hours) designed for backpackers and independent travelers; and the TravelPass, a fixed-route pass that's only good for spots on that specific route.
FlexiPasses range from 10 hours (139 NZD) to 80 hours (641 NZD). You can top up your hours if you run out. The TravelPass has 14 different options and costs between 125-1,045 NZD.
With the InterCity TravelPass, you can stop anywhere along the route. For example, if your pass includes travel between Picton and Christchurch, you could do Picton to Blenheim, Blenheim to Kaikoura, and Kaikoura to Christchurch all on one trip.
I bought a 15-hour FlexiPass. Adding up my journeys on the South Island individually, the price of my tickets would have been 172 NZD. I paid 136 NZD so the pass did save me money. However, there's a caveat: you can only use the FlexiPass on InterCity buses, and on the South Island they contract out a lot of routes, so I couldn't use my pass on most of the routes to Milford Sound, Mt. Cook, or Bluff (to get to Stewart Island).
So what's a traveler to do?
If you're booking far in advance and getting the cheap discount fares, don't buy a pass. I'd also skip the big fixed-route pass, as they don't offer value when compared to other giant passes or tour operators.
I'd buy a FlexiPass since it is hours-based and valid for up to twelve months. Combine that with other cheap tickets bought far in advance, ridesharing, or anything else. Mix and match what you do for optimal savings. Use the pass for expensive routes and cheaper options for other, shorter routes!

Flying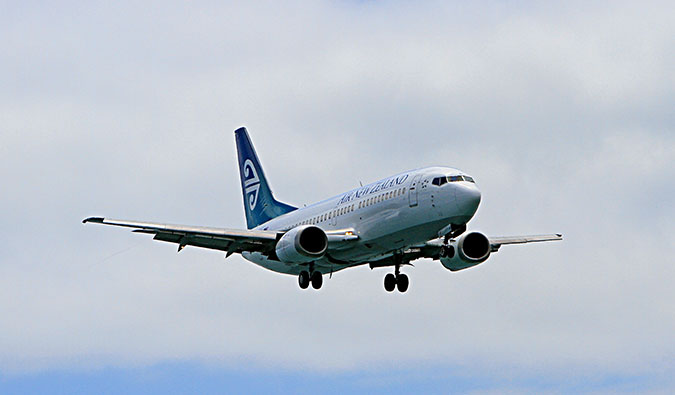 Flying in New Zealand isn't that cheap, as there are only two companies that dominate the entire market: Air New Zealand and Jetstar — and on most routes, it's just Air New Zealand. While you can find some cheap fares on shorter routes or by booking a few months in advance, unless you are really pressed for time or traveling from island to island, I'd skip flying.
Here are prices for some popular one-way routes when booked in advance (prices in NZD):
Routes (One-Way)
Air NZ
Jetstar
Auckland-Queenstown
99
66
Auckland-Christchurch
97
63
Auckland-Wellington
69
56
Queenstown-Christchurch
71
N/A
Queenstown-Wellington
112
70
Christchurch-Wellington
59
56
Campervans and Car Rentals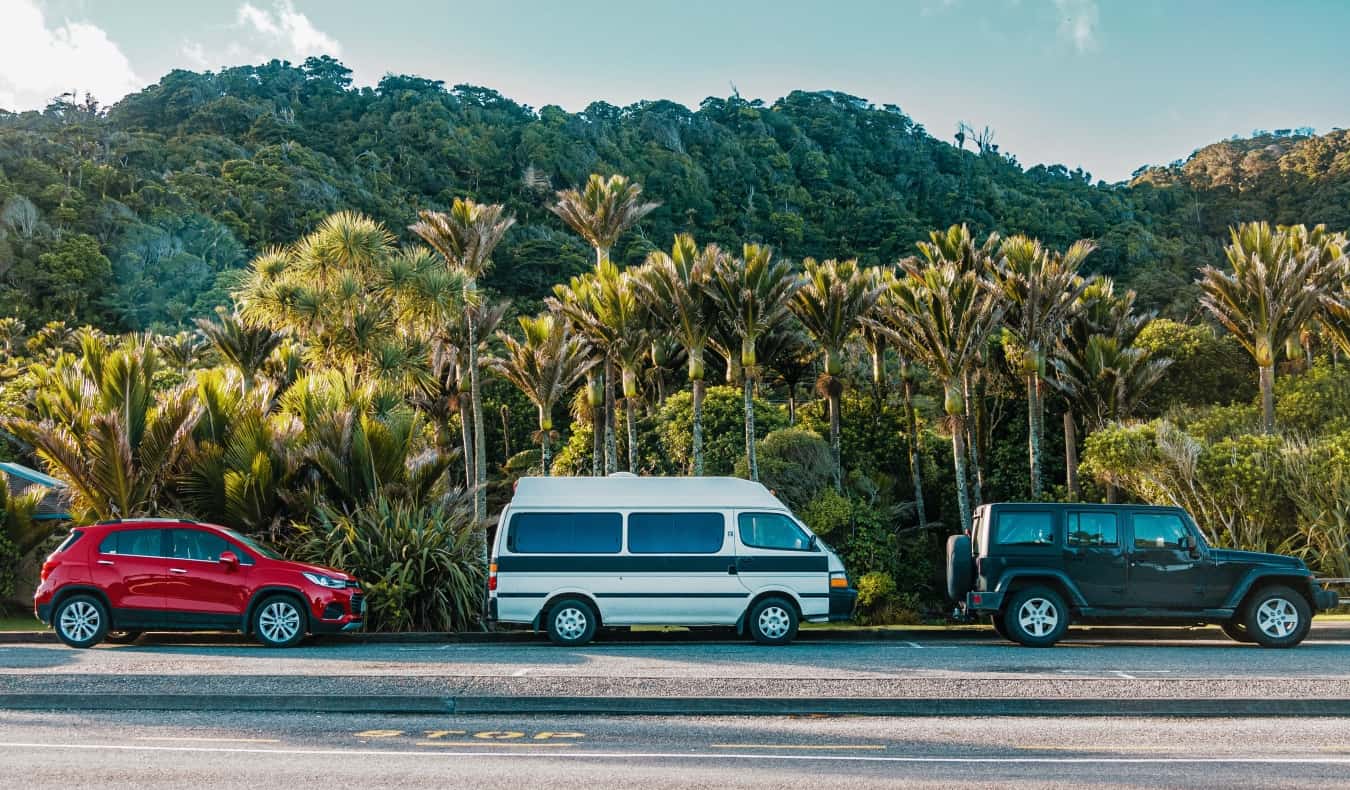 Campervans litter New Zealand, especially on the nature-heavy South Island, where people hike and camp because they serve as accommodation and transportation all in one. There are five main rental agencies:
Jucy is the most dominant in the country; I saw more of its cars and vans than any other company.
Prices vary a lot. Your daily rate will change depending on where you pick the vehicle up, if you are dropping it off at a different place, how long you are renting it for, how far in advance you book, and when you book (going during the high season? Prices seem to double!). You need a degree in accounting to figure out how these companies price their cars!
Here are sample daily rates for when you pick up and drop off at the same location (prices in NZD):
Rental Type
Jucy
Wicked
Spaceships
Britz
Traveller's Autobarn
Car
58/day
for a week
84/day
for a month
N/A
N/A
N/A
39/day
2-Person
Camper
50/day
for a week
42/day
for a month
65/day
52/day
for a week
49/day
for a month
260/day
for a week
269/day
for a month
39/day
for a week
35/day
for a month
3-Person
Camper
118/day
for a week
109/day
for a month
N/A
N/A
189/day
for a week
180/day
for a month
79/day
for a week
68/day
for a month
4-5-Person
Camper
90/day
for a week
82/day
for a month
N/A
N/A
213/day
for a week
202/day
for a month
99/day
for a week
84/day
for a month

Here are sample daily rates for when you pick up and drop off at a different location. Keep in mind some places charge you a flat drop-off fee or a one-way fee (150-250 NZD) in addition to the daily price:
Rental Type
Jucy
Wicked
Spaceships
Britz
Traveller's Autobarn
Car
N/A
N/A
N/A
N/A
35/day
2-Person
Camper
42/day
65/day
49/day
229/day
52/day
3-Person
Camper
129/day
N/A
N/A
189/day
68/day
4-5-Person
Camper
82/day
for a month
N/A
N/A
90/day
84/day
If you drive, getting a campervan is one of the most economical ways to get around. You'll be able to use your van/car as accommodation, pick up travelers to split the cost of gas, and maybe find travel partners to split the cost of the vehicle itself.
If you are spending 70 NZD per day for a Jucy campervan that can fit three people, that's a savings of up to 50% compared to a hostel and daily bus ride, which will set you back 30-50 NZD a day.
If you use a campervan, be sure to download the awesome Campermate app, which helps you find nearby campsites, gas stations, and dump stations.

Hitchhiking/Ridesharing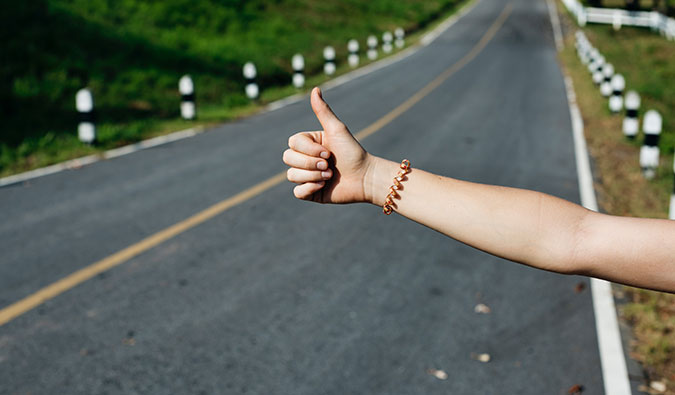 Hitchhiking is easy in New Zealand. It's one of the main ways to get around and there are plenty of people who will pick you up — if you're traveling solo or with someone. Groups bigger than two people will struggle to find a ride.
Additionally, you can just ask around any hostel for a ride — everyone is doing the same circuit and will be happy to have another person to split gas costs with. Hostels usually have boards where you can find rideshare offers as well. I hitchhiked from Wanaka to Queenstown to Fiordland on a whim and didn't have any trouble (I saw tons of other backpackers doing the same thing as well).
You can find rides on websites like Craigslist, CoSeats, and Carpool World. Check out HitchWiki for more tips.
***
There are a lot of ways to get around New Zealand. If you're OK driving, rent a car or campervan. Don't want to drive? Bus it or get rides with other travelers — someone is always looking to split the cost of gas!
No matter what, you're not going to have trouble getting from point A to B, even if you wake up and need transport that very day! New Zealand is an easy country to travel and, with some planning, it doesn't have to break the bank!
Book Your Trip to New Zealand: Logistical Tips and Tricks
Book Your Flight
Use Skyscanner to find a cheap flight. They are my favorite search engine because they search websites and airlines around the globe so you always know no stone is left unturned!
Book Your Accommodation
You can book your hostel with Hostelworld as they have the biggest inventory and best deals. If you want to stay somewhere other than a hostel, use Booking.com as they consistently return the cheapest rates for guesthouses and cheap hotels. My favorite places to stay are:
If you're looking for more places to stay, here is a complete list of my favorite hostels in New Zealand.
Don't Forget Travel Insurance
Travel insurance will protect you against illness, injury, theft, and cancellations. It's comprehensive protection in case anything goes wrong. I never go on a trip without it as I've had to use it many times in the past. My favorite companies that offer the best service and value are:
Looking for the Best Companies to Save Money With?
Check out my resource page for the best companies to use when you travel. I list all the ones I use to save money when I'm on the road. They will save you money when you travel too.
Want More Information on New Zealand?
Be sure to visit our robust destination guide on New Zealand for even more planning tips!