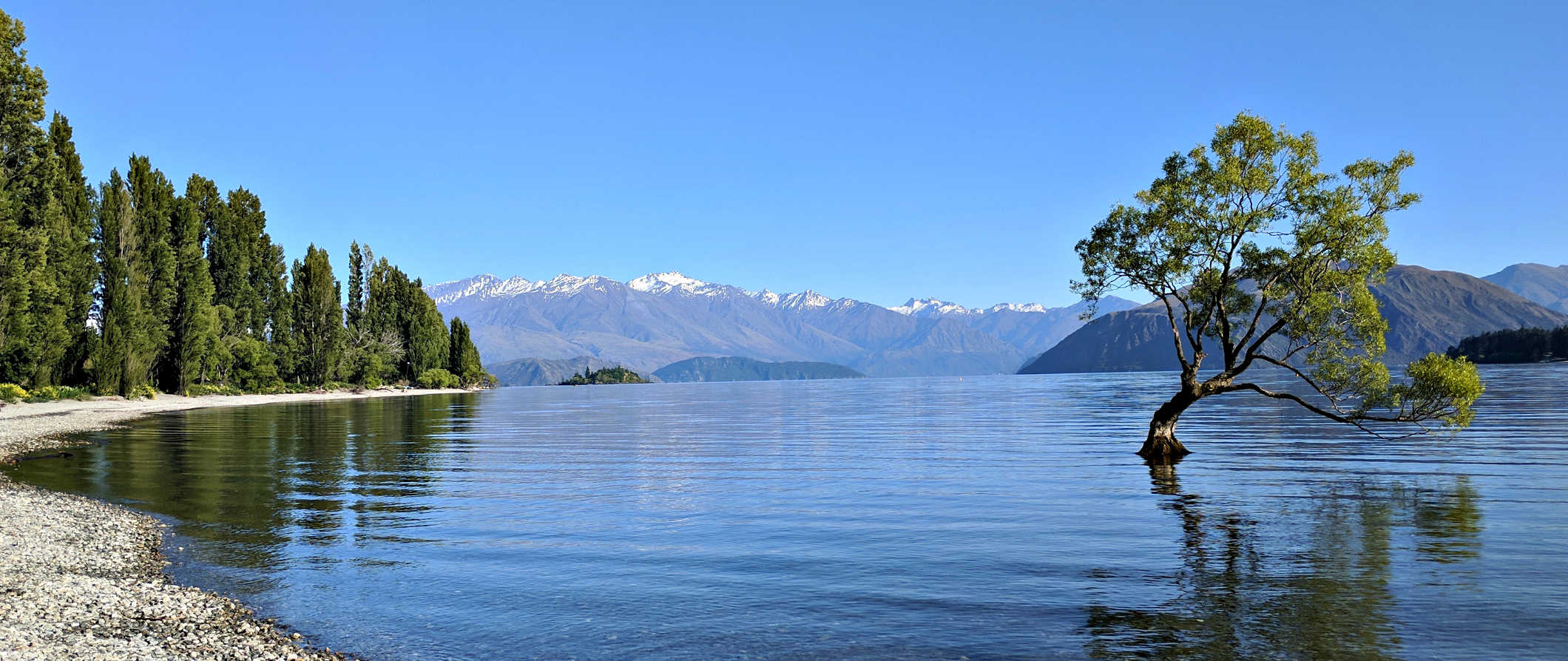 Wanaka is a resort town on New Zealand's South Island, set on Wanaka Lake and framed by snowcapped mountains.
From here you can explore the Southern Alps' Mount Aspiring National Park, hike Rob Roy Glacier, go skiing, boat or kayak on the lake, hike one of the many trails around town, or just chill out. You'll also find vineyards and wineries in the famed Otago Valley, home to mountains, dramatic skies, and picturesque lakes.
As nearby Queenstown has become overcrowded in recent years, travel to Wanaka has exploded and this sleepy little town has become popular with backpackers and outdoor enthusiasts.
It's a really cool little town but there's not a ton to do here beyond enjoying the outdoors. You can easily see everything in a day or two. Most people come here for a few nights to hike, relax, and move on.
This Wanaka travel guide will help you make the most of your time here — and help you save money in the process!

Wanaka
Top 5 Things to See and Do in Wanaka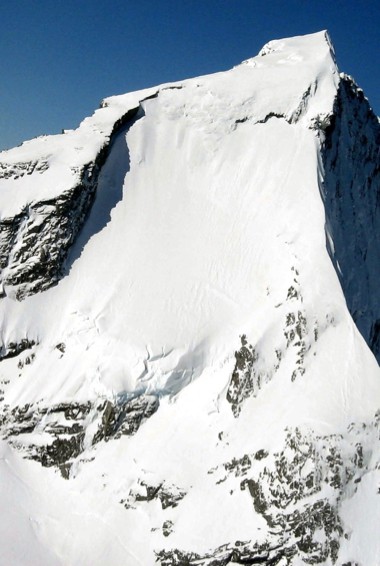 1. Go skiing
If you're a skier or snowboarder, check out the Treble Cone, Snow Farm, and Cardrona ski resorts. They are all located within a 40-minute drive from Wanaka and offer excellent skiing/snowboarding. Lift passes cost around 140 NZD.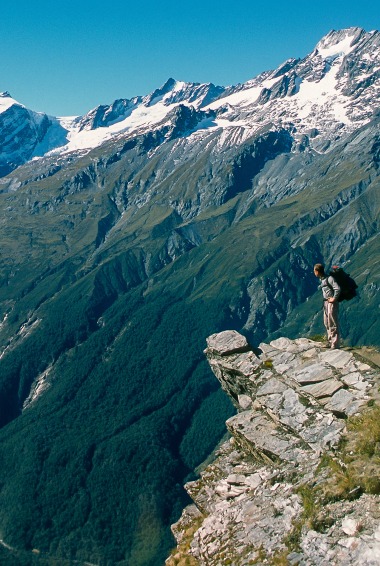 2. Trek Around Diamond Lake
There are several trails around Diamond Lake, including the 45-minute loop and a 1-hour hike to the lookout. The hiking is easy and suitable for all levels. For a longer hike, the Rocky Mountain Summit Track is 7km and takes 3-hours (return).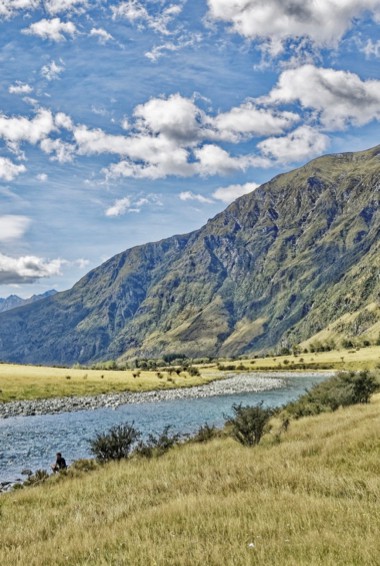 3. Explore Mount Aspiring National Park
Mount Aspiring National Park is full of pristine lakers, tall mountains, and epic glaciers. The mountain stands 3,000m in the middle of it all, covered in glaciers, waterfalls, rivers, and beech forest. There is excellent hiking here, including the 1-hour Blue Pools Track and the 4-hour Roby Roy Track.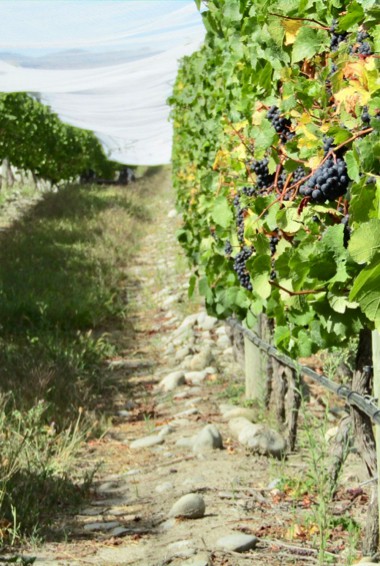 4. Visit wineries
The climate here is ideal for growing grapes. You can do a guided tour anytime throughout the year. If you decide to do a full-day tour, you'll get to do some tastings in the Wanaka Region and then into Central Otago. The best way to see the wineries is to rent a car and go on your own. The wine tours are overpriced (they cost around 200 NZD).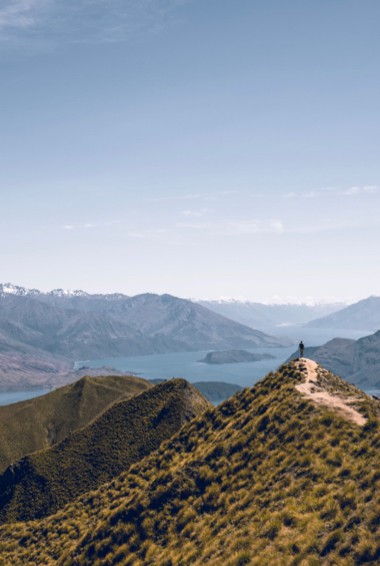 5. Hike Roy's Peak
With beautiful Wanaka as the backdrop, you can climb from lake-level through farmland and then up to the 1578-meter summit. The peak offers spectacular views of Lake Wanaka, its islands, bays, and the snow-capped mountains of the Southern Alps/Tiritiri-o-te-Moana, including Mount Aspiring. It's a 16km (return) hike and takes 5-7 hours.
Other Things to See and Do in Wanaka
1. Visit Puzzling World
For some quirky fun, visit Puzzling World just outside town. It's an outdoor maze and sculpture gallery that's a quick and entertaining visit, especially if you have kids! It's probably the best family activity in town. Admission to the maze is 18 NZD and the optical illusion space is 20 NZD. A combo ticket for both is 25 NZD.
2. Go horseback riding
Wanaka offers some of the best horse trekking in New Zealand. You can ride with cowboys in the high country and get an idea of what farm life is all about, or you can just enjoy an easy jaunt around Lake Wanaka. A ride along the Gold Discovery Trail in the Cardrona Valley is a great way to learn about the gold rush in the area as well, and you don't need horseback riding experience to do it. Most two-hour treks are around 160 NZD.
4. Cruise Wanaka Lake
Take a boat cruise with Eco Wanaka to the remote and magical Mou Waho Island nature reserve, which is home to the rare flightless Buff Weka (extinct on the mainland since 1920). A one-hour return guided bush walk is included, which takes you up to a lake right on top of the island! Tours last 8 hours and cost 204 NZD.
5. Go jet boating on the Matukituki River
The glacial Matukituki River is the best place for experiencing river jet boating in New Zealand. Enjoy a 50-minute remote walk through moss-covered forest, waterfalls, and glacier-fed streams. Wander beneath Avalanche Glacier (when conditions permit) or into McGills Creek to explore one of the most beautiful and serene forest walks. Tours cost 249 NZD.
6. Bike the Glendhu Bay track
From Waterfall Creek the Glendhu Bay track follows the terraces above Lake Wanaka, offering spectacular views. Eventually, it leads to a small north-facing beach — Damper Bay — which is ideal for swimming in the summer. This first section of the track is hilly with some short, steep sections so you'll want a reasonable level of fitness to do this. There are some really amazing views of Mount Aspiring from Glendhu Bay. You can rent mountain bikes in the area for about 70 NZD a day.
7. Attend the TUKI Festival
If you happen to be in Wanaka in February, attend the Tuki Festival (formerly the Rippon Festival). TUKI showcases some of the best New Zealand musical talent in a beautiful setting at Glendhu Bay. The stage is literally just 50 meters from the lake. A lot of people camp out at Glendhu Bay Motor Camp across the road, but you'll have to book super quick because all the spots sell out fast. Tickets start from around 123 NZD.
8. Hike Rob Roy Glacier
Take the Rob Roy Glacier Track into Mount Aspiring National Park, where you'll get to experience the stunning mountains, glaciers, alpine lakes, and river valleys of the area. This route is an easy 10km trek, suitable even for children — and it's doable in just a few hours. You should check ahead on the national park's website to make sure there are no avalanche warnings or road closures. The hike starts at the Raspberry Creek car park which is about 54km west of Wanaka.
9. See Bremner Bay
Bremner Bay is where the locals like to hang out, especially families who like to take advantage of the bay's sheltered and shallow waters for swimming and picnicking in the warmer months. There's a long, peaceful stretch of sandy white beach, and the water is clear and perfect for fishing and water sports. There isn't a whole lot going on here; it's definitely a place to relax!
10. Trek Mount Iron
This trek is just slightly more difficult than the Rob Roy Glacier Track, but it's still an easy track! The hike itself is only 4.5km and shouldn't take you longer than 90 minutes to do the whole loop. Mount Iron is a glacier-carved mountain rising 250m above the countryside, so when you summit you'll get panoramic views over the Pisa Range.
11. Take the Outlet Track
The Outlet Track is an easy 3km walk following the clear waters of the Clutha River, stretching from the Lake Wanaka Outlet to Albert Town. It's an easy route for families (even those with strollers), as well as cyclists and runners. It takes about an hour to do each way.
13. See the Famous Wanaka Tree
The Wanaka Willow is all that is left from a fence that is now on the shore of Lake Wanaka. It's pretty overrated — it's just a photogenic tree. Talk about good marketing, right? But if you're doing the lake walk, you'll pass it so you might as well stop and snap a photo!
For more information about other destinations in New Zealand, check out these guides!
Wanaka Travel Costs
Hostel prices – Hostel dorms cost between 30-35 NZD per night for a bed in a 6-bed dorm. Free Wi-Fi is standard and most hostels here have kitchens for cooking your own meals. None offer free breakfast. Private rooms start at 75 NZD per night.
Camping in Wanaka is affordable with tent sites starting from 10 NZD per night for a basic plot (for two people) without electricity.
Budget hotel prices – Budget hotels and motels begin around 90 NZD per night, though most costs over 100 NZD. Expect free Wi-Fi, TV, and coffee/tea makers. Free breakfast is almost never included.
There are only a handful of Airbnb properties around Wanaka, with private rooms starting at 70 NZD per night (but averaging double that). For an entire home or apartment, expect to pay at least 120 NZD.
Food – Food in Wanaka consists mostly of seafood, lamb, fish and chips, and meat pies. Expect to indulge on things like roast lamb, muscles, scallops, oysters, and snapper. Like everywhere else in the country, eating out here isn't cheap (though it's a little cheaper here than in other cities).
A meal of traditional cuisine costs around 16 NZD while a three-course restaurant meal with a drink costs about 40 NZD. There are no McDonald's (or similar fast-food chains) here. You can find burritos and pizza though, which cost around 12-15 NZD.
Beer at the bar is 8 NZD while a latte/cappuccino costs 4.75 NZD. Bottled water is 2.75 NZD.
If you choose to cook your food, plan to spend between 70-85 NZD per week for basic foodstuffs like rice, pasta, vegetables, and some meat.
Some of my favorite places to eat here are Federal Diner, WGK, Spice Room, and Water Bar.
Backpacking Wanaka Suggested Budgets
On a backpacker budget of 60-75 NZD per day, you can sleep in a hostel dorm, cook all of your meals, limit your drinking, and do free activities like hiking. If you camp or Couchsurf you can lower this by 20 NZD per day. If you plan to drink, you'll need 10-20 NZD more per day.
On a mid-range budget of 165 NZD a day, you can stay in an Airbnb or cheap motel, enjoy the occasional drink, eat out for a few meals, do some paid activities (like visit Puzzling World), and take the occasional taxi to get around.
On a "luxury" budget of 375 NZD a day or more, you can stay in a nice hotel, do any activities you want, take a self-guided wine tour, eat out as much as you want, enjoy as many drinks as you want, and rent a car. This is just the ground-floor for luxury though — the sky is the limit!
This chart can give you a rough idea of day to day costs (prices are in NZD):
Accommodation
Food
Transportation
Attractions
Average Daily Cost
Backpacker
30
15-20
5
10-20
60-75
Mid-Range
90
40
10
25
165
Wanaka Travel Guide: Money-Saving Tips
In Wanaka, it's not too hard to stay on a budget. All that surrounding nature is free! You'll end up spending most of your money on any adventure sports, wine tours, meals, or nights out! But you can save money here and reduce your costs! Here are all the high impact ways you can save money in Wanaka:
Learn to cook – Wanaka receives a lot of tourist traffic, you can expect to find high prices. You're better off preparing your own meals to save yourself some money.
Take a hike – There are tons of free hiking trails around the area. Rob Roy Glacier and Diamond Lake are two popular trails to try.
WWOOF it – WWOOFing is a great way to work for your accommodation and food. In return for working on a farm or B&B, you get free food and board. It's a popular activity with travelers because it lets you stay in a place cheaper and longer. You can do it for a few days or a few months. Keep in mind, most farms will require you to have some experience, as too many inexperienced workers have caused trouble in the past.
Clean in exchange for your room – Many hostels let you trade a few hours of cleaning and making beds for free accommodation. Ask when you check in if this is possible — it might just save you some money!
Couchsurf – Couchsurfing is pretty popular in Wanaka. If you don't mind sleeping on a couch or floor, this is a great way to save some money and meet locals.
Find cheap activities – The book.me.nz website provides last minute discounts on activities (and pub crawls) throughout the country. Most of the activities are last minute, but if you're flexible in when you want to do things, you can save up to 60% off attractions! I can't recommend it enough. You can also check out backpackerguide.nz/deals for great deals.
Visit off-season – Wanaka is at its busiest in the months of March, June, and July. The area receives the least amount of tourism traffic in November, meaning you'll find much cheaper prices!
Walk everywhere – Wanaka is a small pedestrian friendly town so you will be able to walk everywhere within the town.
Get the multi-day ski pass – If skiing or snowboarding is your main priority, go for the multi-day passes rather than single passes. They offer pretty decent savings.
Bring a water bottle – The tap water in Wanaka is safe to drink so bring a reusable water bottle to save money and lower your plastic use. LifeStraw makes a reusable bottle with a built-in filter so you can ensure your water is clean and safe.
Where To Stay in Wanaka
Here are some of my favorite places to stay in Wanaka for your visit:
How to Get Around Wanaka
Wanaka is a small pedestrian friendly town so you will be able to walk everywhere within the town.
Buses – Wanaka is small (under 10,000 people live here) so there is no public city bus. You can arrive/depart via Intercity (the main bus service). The bus to Queenstown takes two hours and costs 15 NZD while the bus from Christchurch takes around nine hours and costs 50 NZD.
Car rental – Small cars can be rented for around 69 NZD per day (49 NZD per day if you rent for 5 days or more). You'll need an International Driving Permit to rent a vehicle here, which you can get in your home country before you leave.
Taxis/Rideshares – Taxis start at 3.25 NZD and go up by about that much for every kilometer. Avoid them if you can as they aren't cheap! There are no ridesharing services here.
Bike rental – You can rent bikes in Wanaka for around 50 NZD per day (and 20 NZD for kids).
Hitchhiking – Hitchhiking is easy in Wanaka, and it's one of the main ways to get around. There are plenty of people who will pick you up. Additionally, you can just ask around any hostel for a ride — everyone is doing the same circuit. Check out these apps:
When to Go to Wanaka
New Zealand is in the Southern Hemisphere, meaning when most North Americans are dealing with snow and freezing temperatures, Kiwis are enjoying their beaches. The climate here is temperate. Summer is from December-February and is the most popular time to visit. Kiwis also take their holidays during this time, so things get busy! Days are long and sunny, nights are mild. The average daytime temperatuer is 68-77°F (20-25°C).
Fall is from March-May, and it's one of the best times to visit. The crowds have dispersed, prices are lower, and the weather is pleasant.
Winter is from June-August, and it's a great time to visit if you're into snow sports. Temperatures in Wanaka can drop as low as 50°F (-10°C). Spring (September-November) is also a nice time to visit as the weather is getting warmer but you still have a good chance of snow. It is also very quiet at this time of year.
There's really no bad time to visit Wanaka, depending on the sort of things you'd like to do. Since New Zealand is so expensive, shoulder season is one of the best times to visit.
How to Stay Safe in Wanaka
Wanaka is super safe — even for solo female travelers. Theft and petty crime are very rare, however, you'll still want to take the standard precautions. Make copies of your important documents, like your passport, and forward your itinerary along to loved ones so they'll know where you are.
If you have a vehicle, be sure to never leave valuables in it overnight or while hiking. Break-ins are rare, but it's always better to be safe than sorry.
If you're going hiking or spending time outdoors, bring water and always check the weather in advance so you can dress and prepare accordingly.
The emergency number is 111. As earthquakes and tsunamis do occur in New Zealand, consider downloading the Hazard App from the Red Cross. It has all kinds of advice and tips for natural disasters and will also send out warnings and notifications should a disaster occur.
Always trust your gut instinct though. If you don't do it at home, don't do it when you're in Wanaka. Follow that rule and you'll be fine.
The most important piece of advice I can offer is to purchase good travel insurance. Travel insurance will protect you against illness, injury, theft, and cancellations. It's comprehensive protection in case anything goes wrong. I never go on a trip without it as I've had to use it many times in the past. You can use the widget below to find the policy right for you:
Wanaka Travel Guide: The Best Booking Resources
Below are my favorite companies to use when I travel to Wanaka. They are included here because they consistently turn up the best deals, offer world-class customer service and great value, and overall, are better than their competitors.
Momondo – This is my favorite flight search engine because they search such a wide variety of sites and airlines. I never book a flight without checking here first.
Skyscanner – Skyscanner is another great flight search engline which searches a lot of different airlines, including many of the budget carriers that larger sites miss. While I always start with Momondo, I use this site too as a way to compare prices.
Airbnb – Airbnb is a great accommodation alternative for connecting with homeowners who rent out their homes or apartments. The big cities have tons of listings!
Hostelworld – This is the best hostel accommodation site out there, with the largest inventory, best search interface, and widest availability.
Intrepid Travel – If you want to do a group tour around New Zealand, go with Intrepid Travel. They offer good small group tours that use local operators and leave a small environmental footprint. If you go on a tour with anyone, go with them. And, as a reader of this site, you'll get a discount when you click the link!
Couchsurfing – This website allows you to stay on people's couches or spare rooms for free. It's a great way to save money while meeting locals who can tell you the ins and outs of their city. The site also lists events you can attend to meet people (even if you're not staying with someone).
bookme.co.nz – You'll get some really good last minute deals and discounts on this website! Just select what area you're traveling in, and see what activities are on sale.
treatme.co.nz – The locals use this website to find discount hotels, restaurants, and tours. You can save up to 50% off things like catamaran sailing lessons or three-course dinners.
Rome2Rio – This website allows you to see how to get from point A to point B the best and cheapest way possible. It gives you all the bus, train, plane, or boat routes that can get you there as well as how much they cost.
World Nomads – I buy all my travel insurance from World Nomads. They have great customer service, competitive prices, and in-depth coverage. I've been using them since I started traveling in 2003. Don't leave home without it!
Wanaka Gear and Packing Guide
If you're heading on the road and need some gear suggestions, here are my tips for the best travel backpack and for what to pack!
The Best Backpack for Travelers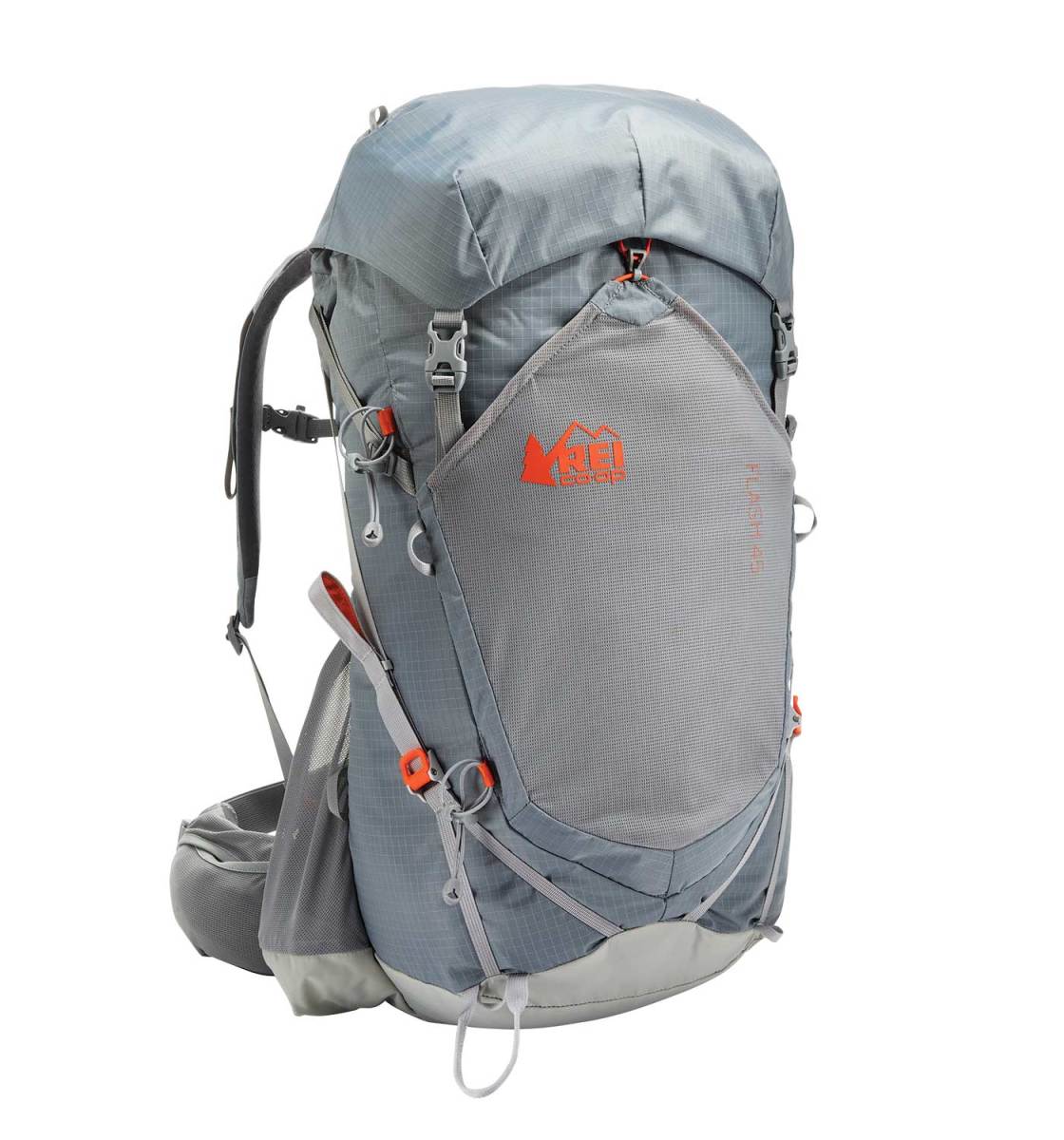 What's the best backpack for traveling long-term? I recommend the
REI Flash 45 Pack
. It's light and comfy, front loading, and fits perfectly in an airplane's overhead bin.
Size:
45-47L
Straps:
Thick and cushy with compression technology that pulls the pack's load up and inwards so it doesn't feel as heavy.
Features:
Removable top lid, large pocket at the front, hydration compatible, contoured hip belt
If you want something different, refer to my article on how to choose the best travel backpack for tips on picking a pack and other backpack suggestions.
What to Pack for Your Trip
Clothes
1 pair of jeans (heavy and not easily dried, but I like them; a good alternative is khaki pants)
1 pair of shorts
1 bathing suit
5 T-shirts (Unbound Merino is my preferred company. If you're a member of NM+, you can get 15% off your purchase)
1 long-sleeved T-shirt
1 pair of flip-flops
1 pair of sneakers
6 pairs of socks (I always end up losing half)
5 pairs of boxer shorts (I'm not a briefs guy!)
1 toothbrush
1 tube of toothpaste
1 razor
1 package of dental floss
1 small bottle of shampoo
1 small bottle of shower gel
1 towel
Deodorant
Small Medical Kit (safety is important!!!)
Miscellaneous
Female Travel Packing List
I'm not a woman, so I don't know what a woman wears, but Kristin Addis, our solo female travel guru, wrote this list as an addition to the basics above:
Clothing
1 swimsuit
1 sarong
1 pair of stretchy jeans (they wash and dry easily)
1 pair of leggings (if it's cold, they can go under your jeans, otherwise with a dress or shirt)
2-3 long-sleeve tops
2-3 T-shirts
3-4 spaghetti tops
1 light cardigan
Toiletries
1 dry shampoo spray & talc powder (keeps long hair grease-free in between washes)
1 hairbrush
Makeup you use
Hair bands & hair clips
Feminine hygiene products (you can opt to buy there too, but I prefer not to count on it, and most people have their preferred products)
For more on packing, check out these posts:
Wanaka Travel Guide: Suggested Reading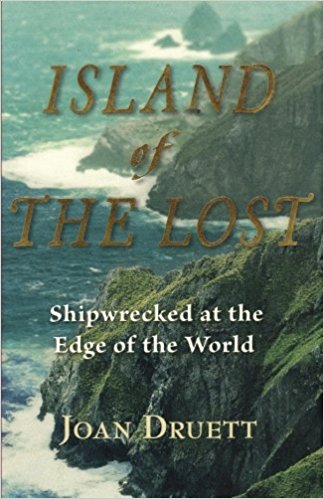 Island of the Lost: Shipwrecked at the Edge of the World, by Joan Druett
Auckland Island, located 285 miles south of New Zealand, is a place with year-round freezing rain, wind, and little food (but apparently a lot of seals). Simply put, it's not a place you want to get shipwrecked on. Yet in 1864, Captain Thomas Musgrave and his crew did just that — and a few months later, on the opposite side of the island, so did the crew of the Scottish ship Invercauld. This well-written account of how the two crews survived (and didn't survive) offers insight into leadership, camaraderie, and coming together in crisis.



The Luminaries, by Eleanor Catton
Eleanor Catton's Man Booker Prize-winning book is a parody of the 19th-century novel and is considered a modern classic. The year is 1866, and Walter Moody has come to New Zealand to get involved in the gold rush. When he arrives, he happens upon 12 men who have met in secret to talk about several mysterious events, including the disappearance of a wealthy man and a prostitute's attempt to end her life. Moody is drawn into the circle, and the book soon turns into a thrilling page-turner that will keep you hooked the whole way through.



Squashed Possums: Off the Beaten Track in New Zealand, by Jonathan Tindale
This one is a fun, humorous travelogue that will get you super excited about your trip. In Squashed Possums, Tindale shares his adventures (and misadventures) from a year spent exploring the lesser-explored areas of New Zealand. He makes himself a home in an abandoned caravan, and then lives out four seasons getting acquainted with the terrain – including the coldest winter in decades.





A Land of Two Halves, by Joe Bennett
After having spent ten years in New Zealand, Joe Bennett decides to figure out why he's still living there. A notorious restless traveler, Bennett finds himself examining all the reasons why these two islands have captivated him for a decade — so he packs his bags and heads out on a hitchhiking adventure around the North and South Islands. His encounters along the way are an enlightening look at life in New Zealand!
Wanaka Travel Guide: Related Articles
Want more info? Check out all the articles I've written on New Zealand travel and continue planning your trip:
Photo credits: 5 – Donnie Ray Jones