Nelson may be small town, but it's really cool and your visit to Nelson will be filled with excellent cafes, restaurants, wonderful mountains and beaches, and, obviously, the nearby Abel Tasman National Park. Other than hiking, visiting the park, or going to the beach, there's not much to do in town but most people don't come here to hang out in town, they come here for the nature.
This guide to Nelson and the surrounding area can help you plan your visit.
Top 5 Things to See and Do in Nelson
1. Explore Abel Tasman National Park
The pristine beaches and turquoise waters of this park makes it feel like you're in the tropics rather than New Zealand. There are a lot of single and multi-day hikes here. The best way to see the park is by kayak. This lets you explore the tiny little coves and beaches that really make the area special.
2. Visit Founders Heritage Park
Located near the city center, this park has a replica historical village of Nelson from when it was first founded in the mid-1800s. It has manicured gardens, a museum, a brewery, a bakery, and even a train to ride. Adult admission is $10 NZD ($6.40 USD). Children under 12 are free.
3. Take a wine tour
There are over 23 wineries around Nelson. Tasman Tours, for example, will take you around the Moutere Hills and Waimea Plains. Prices will vary depending on where you go and for how long, but expect to pay between $100-125 NZD ($65-80 USD) for a half-day tour.
4. Go hiking
The mountain trails around Nelson are well-marked and some start right from the city. The Wainui Falls Track will take you across bridges and through jungles, eventually leading to a stunning waterfall, while the four-hour Medlands Beach – Abel Tasman route leads to the Torrent Bay inlet.
5. Wander the Nelson Market
Every Saturday the stalls overflow with local fresh organic fruit and veggies, flowers, locally-farmed organic salmon, and many kinds of crafts including silk painting, jewelry, pottery, weaving, and wood turning.
Other Things to See and Do in Nelson
1. Stop by the Suter Art Gallery
New Zealand's third-largest art museum has a large collection by mainly Kiwi artists like Gordon Walters and Ralph Hotere. The experience is enhanced by the contemporary space of light-filled rooms and giant windows. There's also an art-house cinema, a gift shop, and a cozy riverside cafe. Admission is free.
2. See the Miyazu Japanese Garden
Inspired by Nelson's sister city Miyazu in Japan, this traditional Japanese garden is ideal for a quiet and contemplative stroll. During the spring, the cherry blossoms come out in full force. There's also a century-old camellia tree and the Yen abstract garden with raked sand. Entry is free.
3. Go to Nelson Provincial Museum
This space is home to an array of cultural heritage exhibits and natural history displays with a strong focus on local work. That includes greenstone human-figure pendants, ancient stone statues, and even the christening gown worn by Nobel winning scientist (and local) Ernest Lord Rutherford. There is usually a rotating main exhibit. Admission is $5 NZD ($3 USD) for adults and $3 NZD ($2 USD) for children.
4. Visit WOW
WOW (The World of Wearable Art and Collectable Cars) is a unique museum with no real particular theme, which showcases work from local artists (including fashion). It's an entirely bizarre collection; for example, there's a whole room dedicated to unique bras, and then there's also 100+ classic cars on display. Admission is $24 NZD ($15 USD) for adults. Discounts are available for students, seniors, and children.
5. Swim in Mapua Leisure Park
Just outside of Nelson, this is an outdoor park open in February and March. It's a great place to swim because the warm waters from the Waimea Estuary. There's also a swimming pool, some sporting areas, a café, and a sauna/spa. Park entry is free.
6. Visit Farewell Spit
At the northernmost point on the South Island, Farewell Spit is a strip of natural land that runs into the sea. It's a large bird sanctuary, with over 90 species that you can view by arranging a 4WD tour from operators in Collingwood. Various tours are available so prices will vary, however, the Farewell Spit Eco Tour will cost you about $160 NZD ($103 USD).
7. Hang out at Thunanui beach
Thunanui Beach is the most popular beach in Nelson. The beach is wide and sandy and the water is usually calm and very warm due to its shallowness, making it an ideal place for swimmers of all ages. Kitesurfing and other sports (like volleyball) are also popular here.
8. See Te Waikoropupu Springs (Pupu Springs)
Te Waikoropupu Springs (also known as Pupu Springs) is the largest cold water springs in the Southern Hemisphere. It pumps out huge amounts of pure water — up to 14,000 liters per second, or enough to fill 2,400 bathtubs per minute. It's free to visit.
9. Try some whitewater rafting
Just outside of Nelson, the Murchison "four rivers plain" offers some of the best whitewater rafting (and kayaking) opportunities in New Zealand. Ultimate Descents will take you out for four hours of rafting as well as seeing the Ariki waterfalls and the pink granite canyon for $160 NZD ($102 USD).
Nelson Travel Costs
Hostel prices – For such a small town, there's actually a lot of hostels here (it's a big spot on the backpacker circuit). Large hostel dorms with 8 beds or more will cost from $20 NZD ($13 USD) per night in the peak season, while a smaller dorm is from $24 NZD ($15 USD).
A private double hostel room is from about $65 NZD ($42 USD) in peak season, while the same room is from $60 NZD ($39 USD) in the off-season.
For those traveling with a tent, there are campgrounds near Nelson. Expect to pay around $20 NZD ($13 USD) per person, per night for a basic plot (amenities like electricity will cost extra). Check out Marahau Beach Camp or Bethany Park.
Budget hotel prices – Most hotels in the Nelson area are 3-star or 4-star. A typical 3-star hotel room starts from about $85 NZD ($55 USD) in the peak season, but the same room can drop as low as $75 NZD ($48 USD) in the off-season.
Airbnb is limited here, but you can find a few private rooms averaging around $130 NZD ($84 USD) per night. An entire home or apartment is about $224 NZD ($144 USD) per night.
Food – Around Nelson, you will find sandwiches for about $10 NZD ($6.40 USD) and fast food like McDonald's or Burger King will cost around $11 NZD ($7 USD). You can grab kebabs for as little as $5 NZD ($3.20 USD), or picked up baked goods (like scones and muffins) for $4.50 NZD ($3 USD).
For mid-range meals, expect to pay from $12 NZD ($8 USD) for soup and sandwich combos, as well as big salads. A pizza or a burger with fries is from $14 NZD ($9 USD). Beers at the bar will cost around $10 NZD ($6.50 USD).
There are several higher-end options as well. If you want fresh seafood, it'll cost you about $25 NZD ($16 USD) for a main. Other dishes like risotto or pasta are also from $25 NZD ($16 USD), while a steak or roasted lamb is from $40 NZD ($26 USD). A glass of wine is from $10 NZD ($6.50 USD).
If you choose to cook your food, plan to spend about 65-80 NZD ($42-52 USD) per week for your basic staples (rice or pasta, vegetables, meat, etc.).
Backpacking Nelson Suggested Budgets
On a backpacker budget, you can visit Nelson for about $60 NZD ($39 USD) per day. On this budget, you'll stay in a dorm room, cook most of your meals, do free outdoor activities (including Abel Tasman National Park), and visit the free museums and historical sites. If you plan on drinking a lot, your budget will increase by around $30 NZD ($20 USD) per day.
On a mid-range budget of about $206 NZD ($132 USD), you'll stay in a 3-star budget hotel or private hostel room, eat out all your meals, take some tours, and do some activities. You'll be really comfortable on this budget.
On a luxury budget of $480 NZD ($308 USD), the sky is the limit here. There's nothing you can't do here if you're spending that much!
Prices here are pretty consistent year-round.
You can use the chart below to get some idea of how much you need to budget daily, depending on your travel style. Keep in mind these are daily averages — some days you'll spend more, some days you'll spend less (you might spend less every day). We just want to give you a general idea of how to make your budget. Prices are in USD.
Accommodation
Food
Transportation
Attractions
Average Daily Cost
Backpacker
$13
$30
$6
$0
$49
Mid-Range
$55
$40
$22
$15
$132
Luxury
$120
$60
$48
$80
$308
Nelson Travel Guide: Money-Saving Tips
Unless you plan on doing a lot of adventure tours in Nelson, you can still do a lot here on budget. Here are some additional tips to help you save money in Nelson:
Hike for free – The park has great hiking trails set out which may be the best attraction in and around Nelson. Just be sure to take good insect repellent or the sand flies will eat you alive!
Cook for yourself – Save your budget by cooking for yourself. Most hostels, and even a few hotels, offer self-catering facilities so you can buy your own groceries and cook your own food.
Stay with a local – While there are not many hosts available, Couchsurfing is still a possibility if you search in advance. You'll save money on accommodation and have yourself a local guide! Win-win!
Use bookme.co.nz – This website offers last minute deals for activities. if you're looking to do a heli-hike or some expensive tour, check this website first. If you're flexible, you can save upwards of 30%.
Where to Stay in Nelson
Despite being a small town, Nelson has some nice hostel options. Here are my recommended places to stay in Nelson:
How to Get Around Nelson
Nelson is a super tiny town so it's easy to just walk everywhere. If you've booked tours, your transportation is usually included. Otherwise, you have a few other options.
Bus – The main bus line in the area is the Nelson Suburban Bus Lines which has local services between Nelson and Richmond (with stops in Tahunanui and Bishopdale). There's also a night bus along this route. Ticket price depends on where you're headed, but you won't pay more than $4 NZD ($2.60 USD).
Car rental – If you want more flexibility to explore the area, renting a car is very recommended. Car rentals can be found starting from $75 NZD ($48 USD) per day year-round. You may also want to consider a campervan.
Bicycle – There are a few bicycle rental companies in Nelson, like Nelson Cycle Hire & Tours and Kiwi Journeys. Prices start from $35 NZD ($22 USD).
Taxis – Nelson City Taxis and Sun City Taxis are the two cab companies in town, but you'll rarely need to use them. Base fare is $3 NZD ($2 USD) and then $2.80 NZD ($1.80 USD) per kilometer after that. A 5-kilometer journey will cost you about $18 NZD ($12 USD).
When to Go to Nelson
Nelson experiences pretty mild temperatures year-round, making it a pleasant place to visit even in the winter months. Because of this, tourism is consistent here so you won't see much variation in prices for peak season or off season. It rarely rains and there's almost always sunshine.
The hottest months are from December to February, with daily highs around 75°F (24°C). The winter months are from June to August, with temperatures averaging between 53-61°F (2-16°C). Even then, you'll see people out paddling around Tasman Bay, and the temperatures are ideal for hiking. There's really no bad time to visit.
March to May are the autumn months, and while temperatures are slightly cooler, you'll still be able to do all the activities you want – even swimming.
How to Stay Safe in Nelson
On the whole, Nelson is a very safe place to backpack and travel, just like the rest of the country. The resident population here is very laidback.
That said it is always best to trust your instincts when it comes to safe travel. Take normal precautions like you would at home, like carrying a cellphone and being aware of your personal belongings at all times. Make copies of your important documents, like your passport.
The emergency number is 111.
Overall, you're unlikely to encounter anything problematic here, but keep in mind that any adventure activity comes with its own risks. Whether you're on a simple guided hike or rafting some rapids, pay attention to what your guide is telling you. They know the landscape better than anyone else, and if you don't want any broken bones (or worse), pay attention to what they have to say.
Always trust your gut instinct.
If you don't do it at home, don't do it when you're here. Follow that rule and you'll be fine.
The most important piece of advice I can offer is to purchase good travel insurance, especially if you're participating in any adventure activities. Travel insurance will protect you against illness, injury, theft, and cancellations. It's comprehensive protection in case anything goes wrong. I never go on a trip without it as I've had to use it many times in the past. You can use the widget below to find the policy right for you:
Nelson Travel Guide: The Best Booking Resources
These are my favorite companies to use when I travel to Nelson. They are included here because they consistently find deals, offer world-class customer service and great value, and overall, are better than their competitors.
Momondo – This is my favorite booking site. I never book a flight without checking here first.
Skyscanner – Skyscanner is another great flight search engine which searches a lot of different airlines, including many of the budget carriers that larger sites miss. While I always start with Momondo, I use this site too as a way to compare prices.
Airbnb – Airbnb is a great accommodation alternative for connecting with homeowners who rent out their homes or apartments. (If you're new to Airbnb, get $35 off your first stay!)
Hostelworld – This is the best hostel accommodation site out there, with the largest inventory, best search interface, and widest availability.
Couchsurfing – This website allows you to stay on people's couches or spare rooms for free. It's a great way to save money while meeting locals who can tell you the ins and outs of their city. The site also lists events you can attend to meet people (even if you're not staying with someone).
Booking.com – The best all-around booking site that constantly provides the cheapest and lowest rates. They have a no money down policy, great interface, and the widest selection of budget accommodation. In all my tests, they've always had the cheapest rates out of all the booking websites.
Intrepid Travel – If you want to do a group tour around Sweden, go with Intrepid Travel. They offer small group tours that use local operators and leave a small environmental footprint. If you go on a tour with anyone, go with them. And, as a reader of this site, you'll get exclusive discounts when you click the link!
Rome 2 Rio – This website allows you to see how to get from point A to point B the best and cheapest way possible. It gives you all the bus, train, plane, or boat routes that can get you there as well as how much they cost.
World Nomads – I buy all my travel insurance from World Nomads. They have great customer service, competitive prices, and in-depth coverage. I've been using them since I started traveling in 2003. Don't leave home without it!
Nelson Gear and Packing Guide
If you're heading to Nelson, here are my suggestions for the best travel backpack and tips on what to pack for your trip.
The Best Backpack for Nelson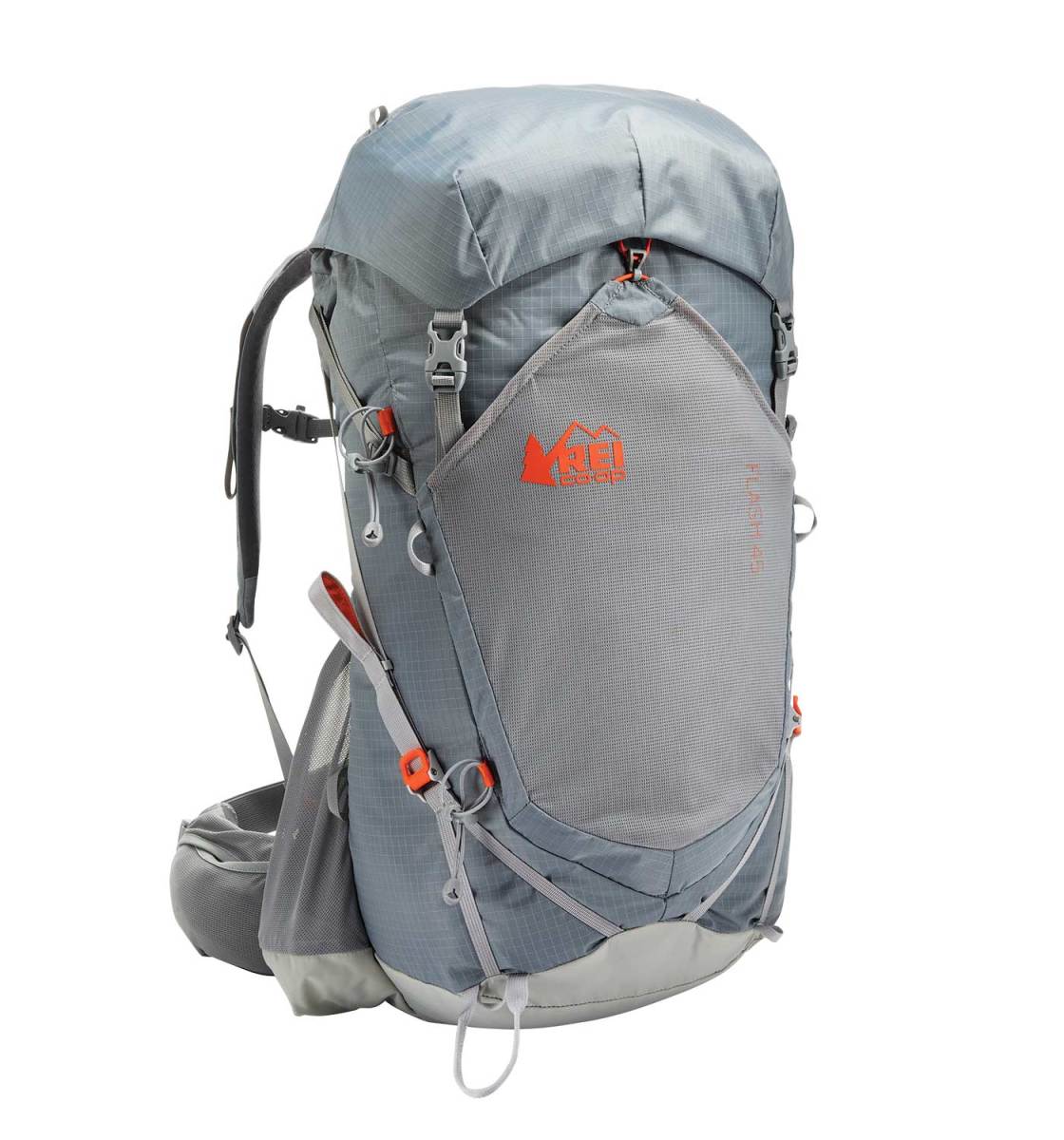 What's the best backpack for traveling around Nelson? I recommend the
REI Flash 45 Pack
. It's light and comfy, front loading, and fits perfectly in an airplane's overhead bin.
Size:
45-47L
Straps:
Thick and cushy with compression technology that pulls the pack's load up and inwards so it doesn't feel as heavy.
Features:
Removable top lid, large pocket at the front, hydration compatible, contoured hip belt
If you want something different, refer to my article on how to choose the best travel backpack for tips on picking a pack and other backpack suggestions.
What to Pack for Nelson
Clothes
1 pair of jeans (heavy and not easily dried, but I like them; a good alternative is khaki pants)
1 pair of shorts
1 bathing suit
5 T-shirts
1 long-sleeved T-shirt
1 pair of flip-flops
1 pair of sneakers
6 pairs of socks (I always end up losing half)
5 pairs of boxer shorts (I'm not a briefs guy!)
1 toothbrush
1 tube of toothpaste
1 razor
1 package of dental floss
1 small bottle of shampoo
1 small bottle of shower gel
1 towel
Deodorant
Small Medical Kit (safety is important!!!)
Miscellaneous
Female Travel Packing List
I'm not a woman, so I don't know what a woman wears, but Kristin Addis, our solo female travel guru, wrote this list as an addition to the basics above:
Clothing
1 swimsuit
1 sarong
1 pair of stretchy jeans (they wash and dry easily)
1 pair of leggings (if it's cold, they can go under your jeans, otherwise with a dress or shirt)
2-3 long-sleeve tops
2-3 T-shirts
3-4 spaghetti tops
1 light cardigan
Toiletries
1 dry shampoo spray & talc powder (keeps long hair grease-free in between washes)
1 hairbrush
Makeup you use
Hair bands & hair clips
Feminine hygiene products (you can opt to buy there too, but I prefer not to count on it, and most people have their preferred products)
For more on packing, check out these posts:
My Must Have Guides for Traveling to Nelson
Nelson Travel Guide: Related Articles
Want more info? Check out all the articles I've written on backpacking/traveling New Zealand and continue planning your trip:
Photo credits: 2
Photo credits: 2