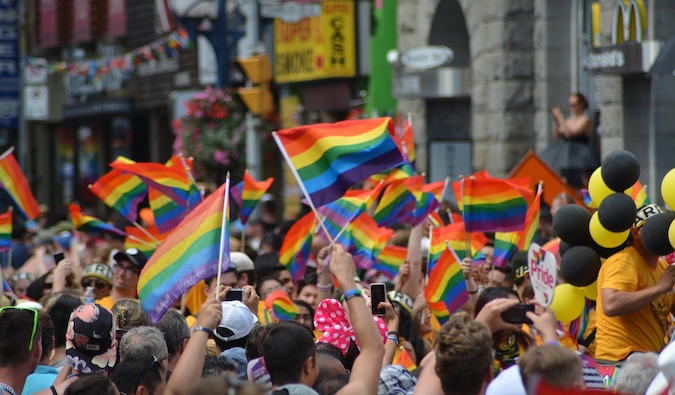 Updated: 11/24/20 | November 24th, 2020
I've added an LGBTQ column to the website to make it more inclusive and talk about issues that affect some members of our community. In this column, we hear from voices in the LGBTQ community about their experiences on the road, safety tips, events, and overall advice for other LGBTQ travelers. Returning this month is our column leader, Adam from travelsofadam.com.
The great thing about travel today is that more of the world is accessible and open — no matter your sexuality or gender identity. While there have been ups and downs in the political movement for lesbian, gay, bi, trans, and queer (LGBTQ) equality, major cities still provide the safest and friendliest spots for members of these communities.
I've been traveling around the world since 2009 and have visited some of the world's most popular LGBTQ-friendly destinations along the way. I've marched and danced in Gay Pride parades from Sydney to Stockholm and been to more queer music festivals than I ever even imagined existed. And as the Orlando Pulse shooting reminded us, clubs are still important places to find culture and community.
Many cities really strut their LGBTQ history and queer identity. Using some of my favorite LGBTQ travel resources, I've compiled this list of 12 great gay-friendly destinations. There are, of course, many more such hot spots around the world, but these are my favorites because of their history of activism, the number of diverse LGBTQ events they host, and the fact that they're just really cool cities.
If you're a gay, lesbian, bi, trans, or queer traveler looking for a city that has it all, check out one of these:

1. New York City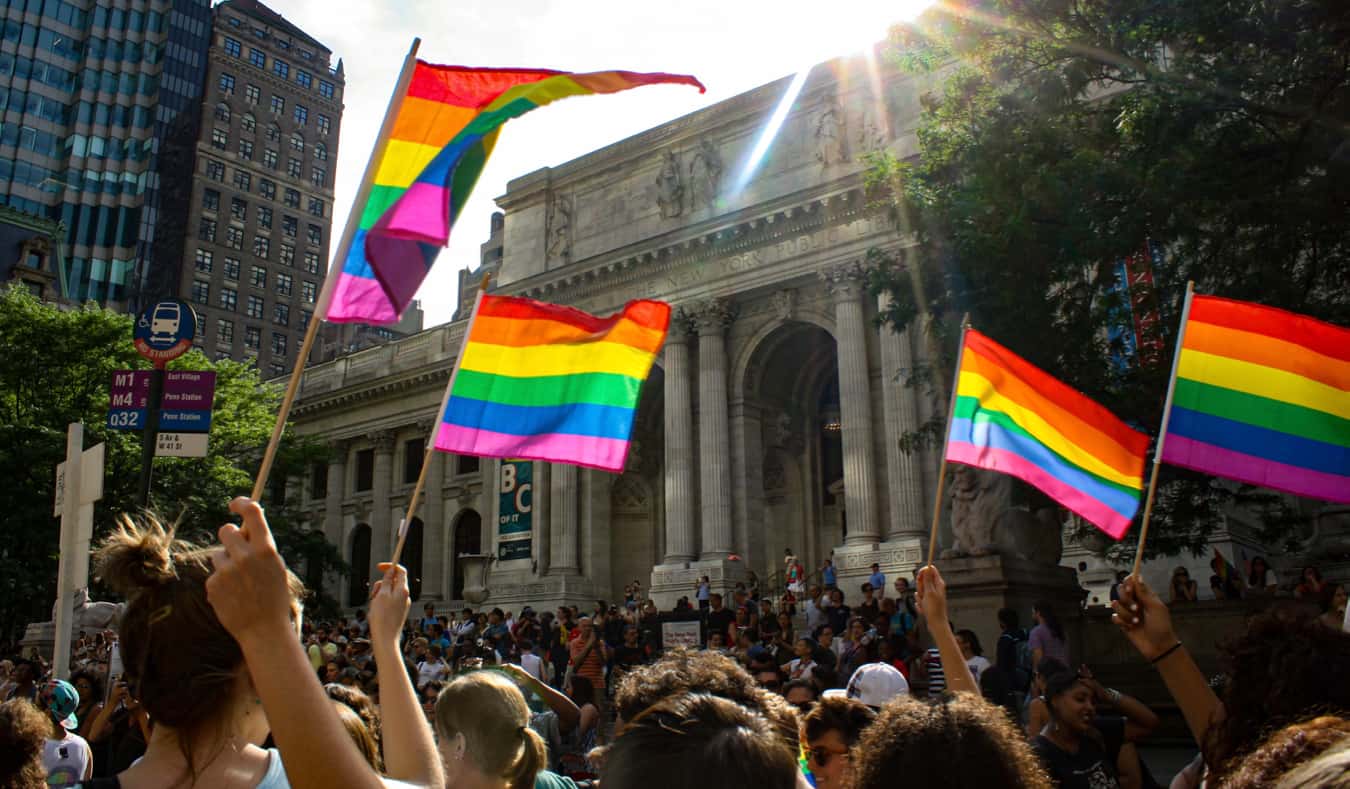 New York City is one of the most LGBTQ-friendly cities in the world — and there's no denying it's a special place for queer people. It's the birthplace of the modern gay rights movement, which began in 1969 when the Stonewall Inn was (again) raided by police, and the crowd inside and out rebelled and rioted. Located in the West Village (part of Greenwich Village), the Stonewall still operates as a bar and club today and was recognized as a national historic landmark, with a plaque and statue commemorating its history.
Greenwich Village is home to countless other LGBTQ venues. While it's easy and enjoyable enough to wander the area on your own, there are several guided tours that mingle the history and present, including the long-running and popular Oscar Wilde Tours.
Besides the Stonewall, other Village gay clubs and hangouts are Julius' Bar (serving cheap but tasty bar food), the site of Mattachine Society events in the past and present; and Pieces, known for its legendary drag performances.
There are also LGBTQ scenes scattered around the city, with many bars located in Hell's Kitchen (near Broadway), Chelsea, and the East Village, as well as other boroughs, including in Astoria (Queens) and Williamsburg (Brooklyn).
Organizations that regularly host LGBTQ special events include the gender-neutral clothing store and event space The Phluid Project, the Leslie Lohman Museum of Art, and the city's LGBTQ Community Center. Look for LGBTQ events, news, and special things to see and do in the city's gay newspaper, Metrosource.
When to visit: June is National Pride Month in the United States, and NYC hosts the nation's largest Pride event, always during the last weekend of June. Millions of visitors flock to the city for a parade that weaves through Manhattan (always passing by the iconic Stonewall Inn) and ends with an outdoor music festival on one of the city piers. Halloween is also an equally queer-friendly time to visit New York City, because there's a massive Halloween parade that marches through Greenwich Village. For movie lovers, the NewFest queer film festival takes place in October.

2. Berlin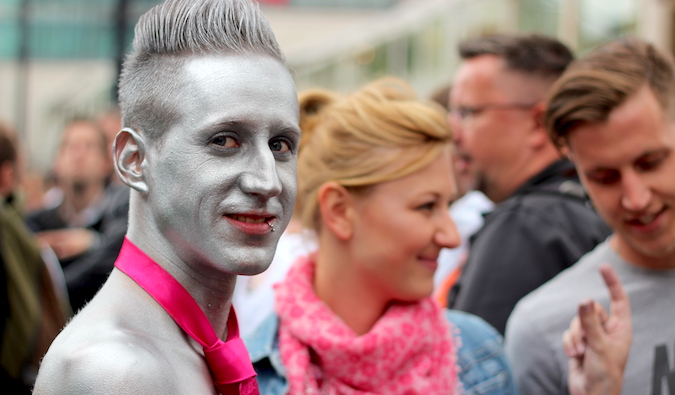 Germany's capital has a unique place in gay history. In the 1920s Weimar era, it was one of Europe's most liberal cities — home to gaudy cabaret and the site of one of the first gay villages. Today, Berlin's free-spirited attitude has propelled it to the top of many "best of" lists thanks to 24-hour nightlife, a burgeoning art and food scene, and a diverse, international population.
Historically, the gay center of Berlin was around Nollendorfplatz in Schöneberg, an area still popular for its fetish clubs and leather bars, not to mention the legendary Folsom Europe street party each September and a gay history museum. But in today's Berlin, the new hot spots are found throughout the Kreuzberg and Neukölln neighborhoods, in indie bars and clubs such as SchwuZ, SilverFuture, or Tristeza — all popular spots for drag shows.
Berlin's legendary nightlife shines through queer parties that are increasingly not just for LGBTQ people — everything from the techno-fueled weekends at Berghain to KitKat Club's open and accepting fetish atmosphere.
When to visit: Visit Berlin during the summer, when the city comes alive with countless festivals, open-air parties, and queer events. The annual Christopher Street Day parade (Gay Pride) is celebrated by hundreds of thousands of locals and tourists each July.

3. Manchester
While London still holds an important place in the UK's LGBTQ scene, Manchester plays host to a number of the biggest and best queer events in the country. Once the home to iconic gay hero Alan Turing, Manchester became internationally famous thanks to the 1990s TV series Queer as Folk set in and around the city's gay neighborhood, Canal Street.
Today, Canal Street is still filled with bars, clubs, and other gay-owned businesses — from the pretty and glitzy Richmond Tea Rooms to popular nightclubs like G-A-Y and Via Manchester. The city's Northern Quarter, with its trendy bars, underground rock clubs, and small indie art galleries, has also become a queer-friendly hot spot a little further removed from the twinky, tank top–filled Canal Street.
When to visit: Manchester Pride each September is the UK's largest, but other queer events happen year-round, such as the trans-focused Sparkle Festival in July and the Queer Contact arts and theater festival each February.

4. Dallas
Maybe it's not the first LGBTQ-friendly place you think of in the United States, but Dallas, Texas, has become a hot spot in the past decade. The Oak Lawn neighborhood is the epicenter of queer culture there, with many gay bars and LGBTQ-owned businesses on Cedar Springs Road, as well as in the nearby Bishop Arts District.
Legendary nightlife venues like Station 4 and the Round-Up Saloon attract big crowds each weekend with their drag shows, square dancing, and other special events. And for those looking for slightly more offbeat travel adventures, the nearby Wildcatter Ranch is a gay-friendly cowboy resort.
The city of Fort Worth (just a 35-minute drive from Dallas if you get really lucky with traffic) is also home to a handful of LGBTQ bars and venues, though without the distinct "gayborhood" you'll find in Dallas.
When to visit: Dallas Pride takes place each September, but the Oak Lawn neighborhood also comes alive, full of color and costumes, each Halloween for the annual Oak Lawn Halloween Block Party.

5. Los Angeles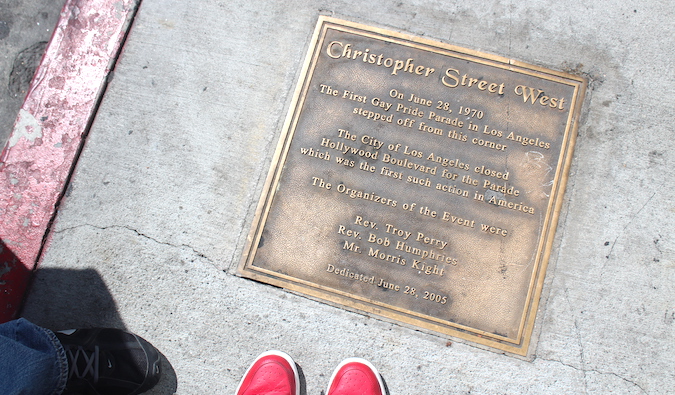 With its seemingly endless warm weather, sunshine, and meticulously manicured population, Los Angeles has been one of the United States' most gay-friendly cities for a long time. So much so that since 1969 there's been an LGBT center in the city that now boasts it serves more queer people than any other organization in the world. You'll also find the ONE Archives Foundation here, tasked with recording LGBTQ history by preserving historical artifacts, publications, and testimonies.
Then there's the nightlife, including West Hollywood's gay clubs and bars, such as crowd favorites The Abbey and Rocco's. Besides the "gay ghetto" of "WeHo," Silver Lake is also a popular hot spot. There you'll find The Black Cat, site of the first documented LGBTQ civil rights demonstration in the US and now a popular brunch hangout. For nightlife in Silver Lake, AKBAR draws the bearded hipster crowd with its small dance parties.
When to visit: The LA Pride Music Festival and Parade takes place each June in West Hollywood, with hundreds of thousands of spectators. But if summertime is too hot, the biggest gay party of the year is the free Halloween Carnival, a street party on Santa Monica Boulevard.

6. Tel Aviv
One of the Middle East's most vibrant and welcoming cities, Tel Aviv has fashioned itself into a popular LGBTQ travel destination, especially during the summertime. Tel Aviv Pride is popular for Europeans and Americans, attracting hundreds of thousands of visitors each June with beach parties, street fairs, and an inclusive parade with celebrity attendees. The Tel Aviv Municipal LGBTQ Center, located in Meir Park, hosts small community events for locals (occasionally in international languages as well).
Hilton Beach is the city's primary gay beach, with men (and occasionally women) spending their days playing beach volleyball or the local favorite sport maktot (a beach version of tennis or ping pong). Nearby Frishman Beach and all the beachside restaurants, bars, and cafés are very welcoming.
Just down the street from Tel Aviv's biggest tourist attraction, the Carmel Market (Shuk HaCarmel), is the popular LGBTQ bar and café Shpagat. Operating as a café and small restaurant by day, it turns into a lively bar great for dates or occasional dancing (often spilling out onto the sidewalk in front) at night. Other bar and nightlife venues include Lima Lima Bar (with a nice outdoor space), the hipster Kuli Alma art and club space, and Uganda Bar (which used to be located in Jerusalem).
When to visit: With its party beaches, impressive culinary scene, and rich history, Tel Aviv is one of the hottest cities in the Middle East, and therefore it's oftentimes a summer destination. Tel Aviv Pride takes place in mid-June each year and is without question the gayest time of year to visit, but the city's many other attractions, temperate climate, and occasional LGBTQ events make it worthwhile visiting in the spring and autumn as well. Be mindful of the Jewish high holidays (in September) and spring holidays, which affect opening hours and access to transportation.

7. Buenos Aires
Argentina was the first South American country to legalize same-sex marriage and adoption rights, putting the country at the forefront of LGBTQ equality since 2010. The capital Buenos Aires has benefited, with a large and vibrant queer culture.
The areas of Recoleta, Palermo, and San Telmo are where you'll find the largest concentration of gay bars and nightlife. Palermo, with trendy bars, cafés, shops, and restaurants in its Soho district, offers a lot of cool things to see and do — from the Latin pop and drag at Jolie Club (Fiesta Jolie) every Wednesday to the video bar Peuteo Palermo in Soho.
The gay community in Buenos Aires is relatively out and open, but the culture is more subdued than other over-the-top gay destinations. But you'll still find LGBTQ life fairly well integrated in society, with many tango bars and clubs even offering queer tango lessons and dance nights.
When to visit: Buenos Aires Pride takes place in November, at the beginning of the southern hemisphere's summer season.

8. Bangkok
A longtime favorite for LGBTQ tourists, Bangkok has a lot to offer, making it one of Asia's most popular gay destinations. The fun and friendly gay scene is centered around the Silom neighborhood, specifically the streets known as Soi 2 and Soi 4.
Bangkok's best gay nightlife is at DJ Station every weekend, specifically the midnight drag shows each Friday. Telephone Pub on Soi 4 serves as an early evening hangout with drag shows and pub food, while G.O.D. (Guys on Display) draws the after-hour crowds when all the other gay bars close down for the night (so it's best after 2 a.m.). Also, look out for gay events at Bangkok's luxury hotels such as the Sofitel So, which runs regular gay parties on its rooftop bar and pool lounge.
While Thailand hasn't recognized many LGBTQ rights, many tourists will find the city surprisingly open-minded. (In summer 2020, though, a bill was introduced to legalize same-sex marriage.) And while you'll find some seedy sex clubs throughout the city, Bangkok's legendary shopping and culinary scenes make it equally interesting for travelers with more discerning tastes.
When to visit: One of the biggest and best events in Bangkok is the annual Songkran water festival in April, with the largest circuit party, called gCircuit, in Silom — with all the trappings of every other international circuit party (think: hunky shirtless guys and lots of electronic music raging day and night).

9. Stockholm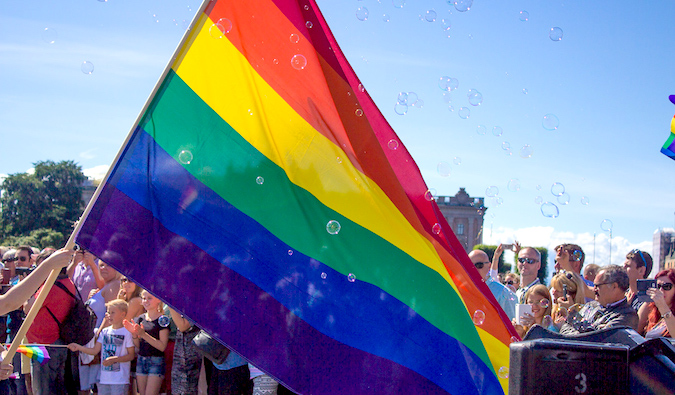 Famous for cold winters, sunny summers, and trendsetting Swedes all year long, Stockholm has an eclectic mix of art, fashion, culture, and design — and one of Scandinavia's best queer scenes. Sweden is also one of the most progressive countries in the world when it comes to queer and women's rights.
The gay scene is spread throughout the city. From the cozy Chokladkoppen café (with rainbow flags out front) to the kitschy ABBA Museum, there's something for everyone. Open only during the summer months, the Mälarpaviljongen restaurant (located on a set of floating docks) hosts a number of LGBTQ events, fundraisers, and parties.
When to visit: Stockholm Pride each August is the biggest gay event of the year, with big music acts, parties, and public seminars on everything from fetish training to human rights.

10. Madrid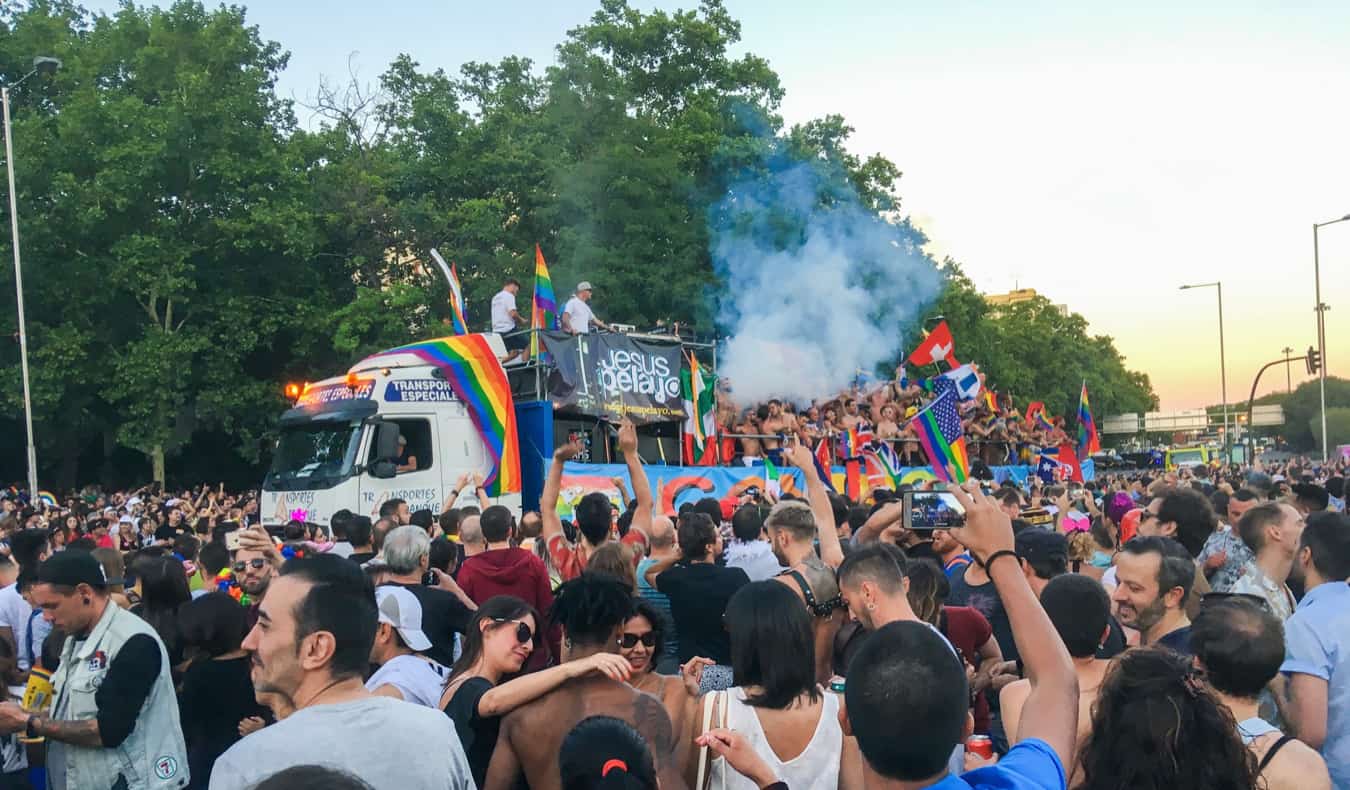 Spain has a long history as an accepting country and is often considered one of the most gay-friendly in the world. Much of Spanish literature, film, and culture includes references to queer life dating back to the Middle Ages.
Madrid, Spain's capital, is understandably a hot spot for LGBTQ life and culture because of that history and its welcoming population. In fact, Madrid's annual Pride festival is the largest in Europe!
Madrid's gayborhood of Chueca is just north of the Gran Via shopping street and has countless gay bars, clubs, and shops catering to every type of LGBTQ individual. Why Not is a small, unassuming cocktail bar, while Bearbie disco plays pop music and caters to the bear community.
When to visit: Madrid Pride takes place the first Saturday of every July, though there are lots of additional parties and events surrounding the main parade. The Madrid-based WeParty promoters run many gay events in Madrid, as well as occasional festivals and parties abroad, so that's a useful resource when looking for circuit parties or other DJ-focused events.

11. Toronto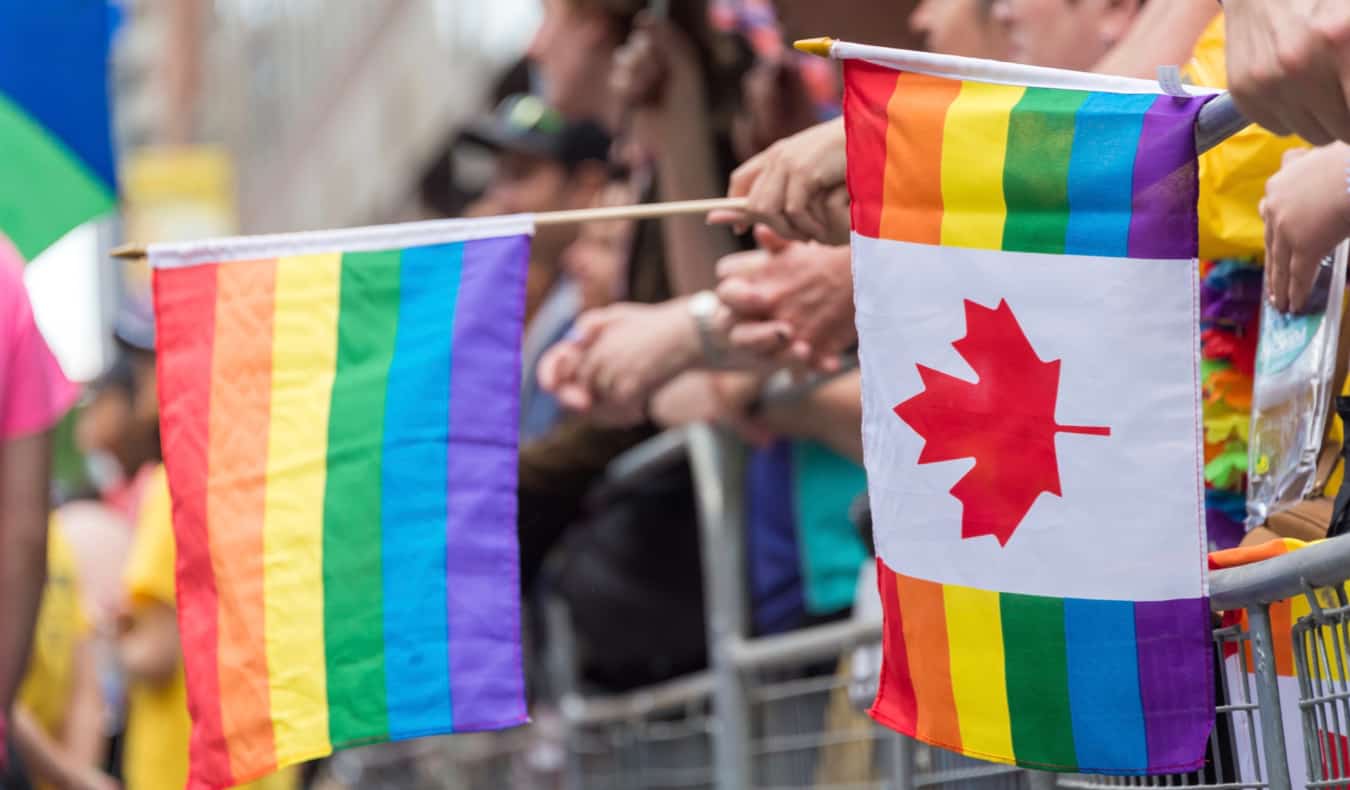 Home to Canada's largest LGBTQ community, Toronto has a vibrant and lively gay village. The intersecting streets of Church and Wellesley feature a number of queer-owned bars and businesses. The area comes alive each night with locals and visitors, most famously at Woody's, one of the best clubs on Church Street.
But Toronto's gay-friendliness extends elsewhere in the city, such as the West Queen West and Trinity Bellwoods neighborhoods. Take a walk down Ossington Avenue, College Street, or Queen Street West (bordering these neighborhoods) for a number of cool, queer-friendly businesses, from Toronto's best macaroons at Nadege Patisserie to the monthly Yes Yes Y'all queer hip-hop and dancehall party.
When to visit: Too cold in the winter, Toronto is best in the summer when it's sunny and full of color. Pride Toronto — one of the world's largest such celebrations — attracts hundreds of thousands of visitors every June. Other popular events include the Inside Out film festival, which takes place over two weeks at the beginning of each summer, showcasing more than 200 queer-themed films alongside artist talks, premieres, and industry panels.

12. Sydney
Australia legalized same-sex marriage equality back in 2017, and while most Australian cities are very welcoming to LGBTQ tourists, Sydney stands out a beacon of gay-friendliness on the continent. Sydney's progressive attitudes, beautiful beaches, and active arts scene make the city is as vibrant as ever.
The Darlinghurst neighborhood, just south of Hyde Park on Oxford Street, serves as the unofficial gay neighborhood. Many bars, cafés, and shops are located around Taylor Square, with Stonewall Hotel and Oxford Hotel (both are bars, not hotels) hosting some of the more lively crowds each evening.
But the areas of Surrey Hills and Newtown further out from the city center, with their cool cafés, trendy bars, and small, indie basement clubs (like the Imperial Erskineville pub), are also accessible and mostly gay-friendly areas with plenty of drag and cabaret shows on offer each weekend.
When to visit: Sydney's annual Pride takes the form of Mardi Gras (February/March). It's one of the world's largest Pride parades and features weeks of events and parties. It's a colorful event, with crowds that fill the streets and parks of Sydney all day and night.
***
Here's the thing: just about any city in the world can be a "gay hot spot" — it's always a matter of knowing where is safe and how to meet locals. Planning your visit around LGBTQ events — from film festivals and Pride parades to political activist seminars — is a pretty solid way to make any holiday that much more gay.
Adam Groffman is a travel writer based in Brooklyn, New York. He's a gay travel expert, writer, marketer, and blogger and publishes a series of LGBTQ-friendly Hipster City Guides from around the world on his gay travel blog, Travels of Adam. When he's not out exploring the coolest bars and clubs, he's usually enjoying the local arts and culture scene. Find more of his travel tips (and embarrassing stories) on Twitter.
Book Your Trip: Logistical Tips and Tricks
Book Your Flight
Find a cheap flight by using Skyscanner. It's my favorite search engine because it searches websites and airlines around the globe so you always know no stone is being left unturned.
Book Your Accommodation
You can book your hostel with Hostelworld. If you want to stay somewhere other than a hostel, use Booking.com as it consistently returns the cheapest rates for guesthouses and hotels.
Don't Forget Travel Insurance
Travel insurance will protect you against illness, injury, theft, and cancellations. It's comprehensive protection in case anything goes wrong. I never go on a trip without it as I've had to use it many times in the past. My favorite companies that offer the best service and value are:
Want to Travel for Free?
Travel credit cards allow you to earn points that can be redeemed for free flights and accommodation — all without any extra spending. Check out my guide to picking the right card and my current favorites to get started and see the latest best deals.
Need Help Finding Activities for Your Trip?
Get Your Guide is a huge online marketplace where you can find cool walking tours, fun excursions, skip-the-line tickets, private guides, and more.
Ready to Book Your Trip?
Check out my resource page for the best companies to use when you travel. I list all the ones I use when I travel. They are the best in class and you can't go wrong using them on your trip.