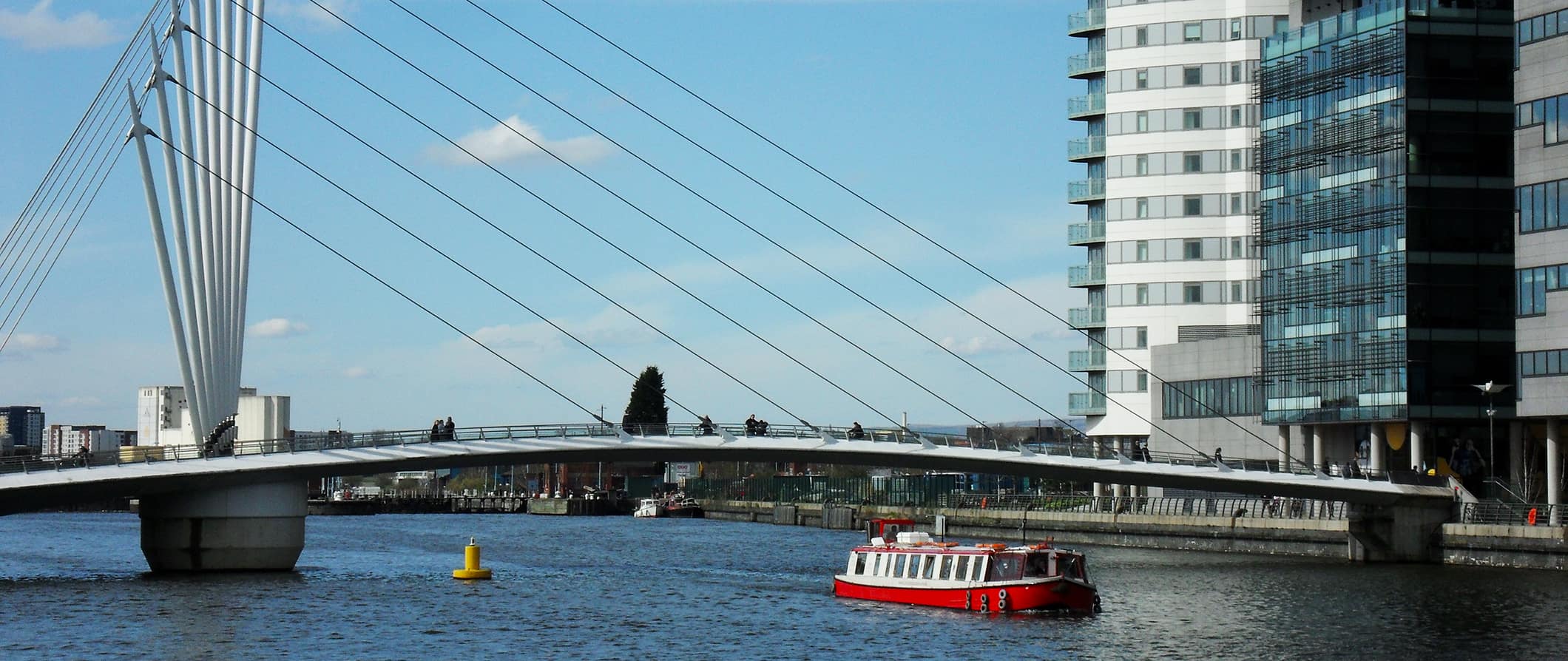 Manchester, England is full of interesting history. It's also full of passion for soccer! The city boomed in the 19th century when it became the first industrialized city, but then faced a steep decline as manufacturing left England. Today it is full of culture, restaurants, and a thriving business district. The city is most famous for its football (soccer) teams. It has two — Manchester United and Man City — and there's a big rivalry between the two sides. Manchester is a "rough and tumble" city worth a few days of exploring.
Top 5 Things to See and Do in Manchester
1. Manchester Art Gallery
This gallery was designed by the same architect who constructed the House of Parliament. The art collection here isn't as good as what you will find in London but they have a decent sized collection of 17th and 18th century works. Admission is free!
2. Godlee Observatory
Built in 1902, this observatory is one of the most interesting places to see in town. The telescope housed here is original and still fully operational and in exceptional condition. The views of the city from the top are awesome.
3. Albert Square
Albert Square is in the heart of the city. Most of the important landmarks and sights are within walking distance, and you'll find old historic buildings and classic English architecture here. If you're going to explore the city, start here.
4. Manchester Cathedral
This cathedral is the largest in England and an interesting piece of architecture. The inside isn't as elaborate as some other cathedrals in England but the size is really awe-inspiring.
5. Become a football fanatic
With two of England's top Premier League teams (Manchester United and Man City), you can't come to Manchester and not see a football game. Buy your tickets early as they often sell out. Otherwise, watch it in a pub with the rowdy local fans. Just make sure you don't go to a Man U pub wearing a Man City shirt!
Other Things to See and Do
(Click the title to expand the text)
1. University of Manchester
More than just a beautiful campus to walk through, the university is also the place where the first computer was built and where radio astronomy was created. There are tours of this sprawling campus that are really interesting.
2. Walk along Curry Mile
Take a walk along Curry Mile, a main street lined with restaurants, sari shops, and jewelry stores. Manchester has a lot of South Asian immigrants, and you will find great Indian food and curries here (hence the name).
3. Stroll down Market Street
Market Street is lined with shops and is popular with younger people. You'll find bagpipers on the streets and good outdoor cafes.
4. Visit Castlefield
This site of the original Roman settlement is a good place for history buffs. The walls that still stand over two meters high are from as late as the 16th Century. It is the center of Manchester's canal network and a transport nexus of unique historical importance.
5. Manchester Town Hall
This beautiful neo-Gothic masterpiece is a symbol of the wealth and power of Manchester during the Industrial Revolution. Free tours can be arranged and the state rooms are open to visitors when not in use. This place was built during the height of Manchester's industrial influence.
6. The Lesbian & Gay Heritage Trail
The gay scene in Manchester is considered to be unsurpassed outside of London. At the tourist office, you can pick up the Gay & Lesbian Village Guide, which lists tons of bars, galleries, clubs, and groups that cater to the community. The trail itself is a 90 minute walking tour of the city's pink links.
7. Shop til you drop at the Trafford Center
Just outside of town, this is the largest shopping center in the UK. There are over 280 stores and even overnight accommodations. It's easy to spend days here as there is a vast variety of shops to check out. There is also an exceptional selection of international cuisine in the center.
8. Experience the nightlife
The club scene here is one of the biggest in England. Many big names, such as Chemical Brothers and Daft Punk, started out playing at places like Sankey's and FAC 251. For those of you not so interested in dancing, there are plenty of quieter places to spend your evening. Britons Protection is a great place to grab a meal and sample any number of their 200 different kinds of whisky.
Typical Costs
Hostel prices – Hostel dorms in Manchester start at 20 GBP a night. Several are close to the Piccadilly train station, and most offer free wifi, too. If you're looking for a private room, expect to pay around 45 GBP. Campgrounds are plentiful outside the city, though you may need a vehicle to reach them. If you have a tent, they will cost you between 10-20 GBP per night. You can book your hostel with Hostelworld.
Budget hotel prices – You can find a private twin/double room in a budget hotel starting around 45 GBP per night. They all offer free wifi and most include breakfast. Use Booking.com as they consistently return the cheapest rates. For a cheaper option, try Airbnb. You can find shared accommodation (of which there is few) in the city for around 18 GBP per night. There are a ton of apartments available for rent and they begin around 50 GBP per night.
Average cost of food – Manchester is filled with markets selling local and fresh meats, cheeses, wine, fruits, and vegetables. If you choose to cook and take advantage of these markets, groceries will cost you between 30-50 GBP per week. Eating out will cost you a bit more, but to eat out as cheaply as possible stick to the cafes and pubs where you can eat lunch for 8 GBP. Fast food (think McDonald's) will cost you around 5 GBP. If you want to splurge and get a decent meal in a sit-down restaurant, expect to pay around 22 GBP, including a drink.
Transportation costs – Taxis cost up to 16 GBP within the city, and bus journeys vary in cost depending on where you are going, but are relatively affordable. You can buy a unlimited daily ticket on the bus for 5.60 GBP. If you want to see the city by bicycle, expect to pay around 15 GBP for a day rental.
Suggested daily budget
45 GBP / 55 USD (Note: This is a suggested budget assuming you're staying in a hostel, eating out a little, cooking most of your meals, and using local transportation. Using the budget tips below, you can always lower this number. However, if you stay in fancier accommodations or eat out more often, expect this to be higher!)
Money Saving Tips
Eat lunch out, dinner in – If there's one consistency in food prices in England, it's that the best deals can be found by eating pub lunches. While dinners can cost upwards of 20 GBP, you can normally find lunch in a pub for 6-10 GBP. Eat your lunches out, and cook your own dinners.
Buy a day ticket for bus travel – A variety of bus companies in the Manchester area offer day passes which can save a lot of money on your transportation costs. A day pass varies in price from 5-11 GBP.
Couchsurf – If you want to save money and get some local insight into the city, be sure to try couch surfing! Staying with a local is the best way to get a feel for the city, and they will no doubt have some tips and tricks to make the most out of your visit.
Take a free walking tour – If you want to get a sense of the city, try a free walking tour. You'll learn the history of Manchester while getting to explore on foot. Tours usually last a couple hours, and they often don't need to be booked in advance. Free Manchester Walking Tours offers a 3 hour tour several times per week covering all the main sights and you don't need to book in advance — just show up!
Save money on rideshares – Uber is way cheaper than taxis and are the best way to get around a city if you don't want to wait for a bus or pay for a taxi. The Uber Pool option is where can you share a ride to get even better savings (though you can get your own car too). You can save $15 off your first Uber ride with this code: jlx6v.
My Must Have Guides For Traveling to Manchester