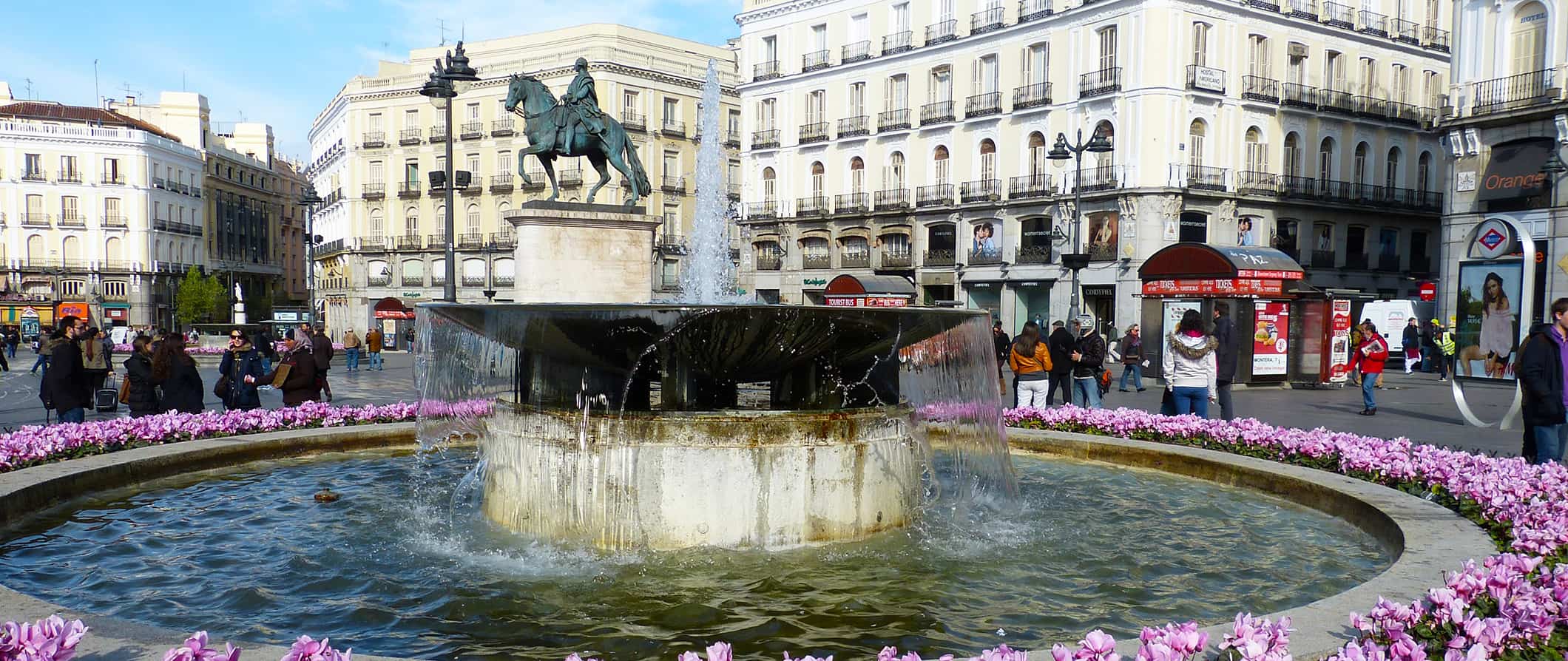 Madrid is the capital of Spain and its largest city. With electric energy, world-class food, and a wild nightlife that stretches until dawn, it's a city that shouldn't be missed.
Like its rival Barcelona, Madrid is a city that embraces the night. Dinner doesn't happen until 9pm or 10pm and the partying doesn't kick off until several hours after that. It's a city for night owls; the early bird doesn't get the worm in Madrid.
Though it's somewhat sprawling, Madrid's numerous neighborhoods are perfect for getting lost in, binging on tapas, and drinking sangria. The warmth of the locals and the slowness of the meals will keep you out late as you soak in the city's pace. If you embrace the late (and long) meals and the late-night partying and live your life of Madrid's terms you'll have a much deeper, enriching visit.
This Madrid travel guide will give you everything you need to know to eat well, save money, and see the best sights the city has to offer!
Click Here for City Guides

Madrid
Top 5 Things to See and Do in Madrid
1. Stroll Plaza Mayor
The Plaza Mayor, which dates to the 15th century, is Madrid's main square. While walking this plaza, don't miss Ayuntamiento (the impressive city council building), the Church of San Pedro, San Francisco el Grande Basilica, and Calle de Cuchilleros (a popular place to eat, but expect tourist prices).
2. Visit the Prado Museum
The Prado Museum is one of the world's greatest art galleries. Its dazzling display of around 20,000 works by the great European masters is housed in an 18th-century building that opened as a museum in 1819. Admission is 15 EUR.
3. Unwind in El Retiro Park
The main park of Madrid, this UNESCO Site is the perfect place to relax on a sunny day. There is a large lake where you can hire a rowboat, a monument to the victims of the Madrid terrorist bombings, and the Crystal Palace (a 19th-century conservatory that once held a human zoo).
4. Visit the Palacio Real
This is the official residence of the King of Spain, though it is now only used for state ceremonies. The palace is partially open to the public and is free for EU citizens on Wednesdays. Admission is 12 EUR for self-guided tours and 16 EUR for a guided tour.
5. Watch a Real Madrid soccer match
Madrid's soccer team is one of the best, not only in Spain but in the world. If you want to see soccer (or football as they say in Europe) at its best, come watch a game. The stadium is always full and the crowds are wild! Tickets start at 35 EUR.
Other Things to See and Do in Madrid
1. Take a free walking tour
Free walking tours are one of my favorite activities to do in a new city. You'll get the lay of the land, learn about the history and culture, and connect with a local guide who can answer all your questions. Sandeman's New Europe Walking Tours, Free Walking Tours Madrid, and Cat's Hostel Walking Tours are the three best free tours in the city. Just remember to tip your guide at the end!
2. Check out Puerta del Sol
This is Madrid's most famous and central square. Originally, it was the site of one of the east-facing city gates and was adorned with an image of the sun, hence the square's name ("The Sun Gate"). The square is actually semi-circular in shape and owes its current form to the major renovation work carried out between 1854-60. There's a stone slab on the ground in front of Casa de Correos' main entrance (the current headquarters of the Madrid regional government) to mark kilometer 0 as this is also the center of Spain's radial road network. People congregate here on New Year's Eve to celebrate under the clock on top of the Casa de Correos building. It's tradition to eat a "lucky" grape for each of the 12 strokes of midnight.
3. See flamenco dancers
Madrid has been enjoying flamenco, Spain's most famous style of dancing, since the early 19th century. Flamenco shows take place in many bars and taverns across the city, such as Las Carboneras where you can enjoy a flamenco show with a glass of wine and some tapas for 39 EUR. The historic Corral de la Morería offers shows for 50 EUR, including a drink.
4. Visit the National Archaeological Museum
This museum houses an incredible collection of archaeological finds from across the Iberian Peninsula. There are items from ancient Greece and Rome, along with artifacts from Egypt and Mesopotamia. Don't miss the famous La Dama de Elche (a bust of a 5th-century Iberian woman) and the Altamira pre-historic cave paintings. The Guanche Mummy of Madrid is also here. He was embalmed by the indigenous people of the Canary Islands between the 11th and 13th centuries. Admission is 3 EUR.
5. Explore the Naval Museum of Madrid
When you think back on the world's historical naval powers, the Spanish Armada is sure to come to mind. You can come here to learn about the nation's rich naval history through historic maps from as early as the year 1500. It also has lots of old drawings, weapons and navigation equipment, and a really interesting and detailed section on the Spanish Armada. Admission is free but donations of 3 EUR per person are suggested. It's closed on Mondays.
6. Admire some modern art
The Museo Nacional Centro de Arte Reina Sofía offers a fantastic collection of modern art. Works by masters like Picasso, Miró, Kandinsky, Dalí, and Bacon can all be found here. The centerpiece of the exhibit is Picasso's famous Guernica painting. While I don't love modern art, even I enjoyed this museum. Admission is 10 EUR (free from 7pm-9pm on Mondays, Wednesdays, and Saturdays).
7. Shop at the Mercado de San Miguel
This iconic indoor market is a fun spot to do your grocery shopping. It's the oldest covered food market in the city, boasting beautiful 20th-century architecture. It's a fantastic spot to eat some cheap tapas, pick up ingredients for supper, or do some people-watching. Open seven days a week, the market is a five-minute walk from Plaza Mayor and attracts the after-work drinks crowd in the evenings.
8. See the ancient Temple of Debod
The Temple of Debod is an Egyptian temple from the 2nd century BCE. It was given as a gift to Spain by the Egyptian government as a thank you for helping them relocate monuments from the Aswan Dam site. The temple can now be found in Madrid's Cuartel de la Montaña Park. Although the inside of the temple is off-limits, you can still walk along the outside. It's closed on Mondays and admission is free.
9. Spend time in the Barrio de La Latina
This upbeat neighborhood and its maze of narrow lanes and streets lined with tapas bars, restaurants, and cantinas are perfect for exploring on foot. If you're here on a Sunday, peruse the offerings at the El Rastro flea market and stuff your face at one of the many food stalls. Be sure to step inside the San Francisco el Grand Basilica or the Moorish San Pedro el Real church.
10. See the Plaza de Cibeles
Plaza de Cibeles is a famous plaza in Madrid, located along the central Calle de Alcalá and adjacent to Paseo del Prado. Here you can find the Palace of Communications, the city's mayor's office, and a fountain dedicated to the Roman goddess Cybele (the mistress of wild nature). There is an observation deck at the mayor's office as well. Admission is 3 EUR. It's closed on Mondays.
11. Take a food tour
Learn about the culinary culture of Spain by taking a food tour. You'll learn about the food, the culture around it, and how it's prepared. Take the three-hour Madrid Gourmet Tapas and Wine Tasting tour with Devour Madrid, which includes authentic tapas at three different bars for just 109 EUR!
12. See the Monasterio de las Descalzas Reales
The Convent of Las Descalzas Reales (which means "Monastery of the Royal Barefooted") was built in the 16th century and was the former palace of Emperor Charles V and Empress Isabel of Portugal. Unmarried princesses came here to live as nuns and they brought any wealth they had accumulated with them. These days, just a few nuns look after the grounds and its relics, which include (alleged) pieces of Jesus's cross and the bones of St. Sebastian. Inside the building, you can see many works of art. For example, the main staircase is decorated with murals that date to the 16th and 17th centuries. Admission is 6 EUR.
13. Stroll Around the Royal Botanical Garden
These botanical gardens have more than 5,000 species of plants and trees spread out over four picturesque terraces. There are also greenhouses, sculptures, and some immaculately landscaped gardens here too. Founded in 1755, the park has lakes, labyrinths, fountains, and lots of flowers that make it a serene and beautiful place to relax. Admission is 4 EUR.
14. Explore the Museo de la Historia de Madrid
Madrid's Museum of History opened in 1929 and sheds light on the city's evolution from the 16th century (when it became the capital) to World War I. It showcases daily life throughout the ages and offers a nuanced look at Madrid via artifacts, maps, paintings, and sculptures. Admission is free.
15. Learn Spanish
If you have the time, learning the local language is the best way to immerse yourself in the culture, meet people, and deepen your understanding of the city. Spanish courses can last for a single week or longer. Many language schools offer a variety of affordable housing options, including staying with a local family. A one-week intensive course starts at as little as 140 EUR and there are usually discounts for packages and multi-week courses.
For more information on other cities in Spain, check out these guides:
Madrid Travel Costs
Hostel prices – Hostel dorms in Madrid vary in price depending on how close the hostel is to the Plaza Mayor. Generally, a bed in a 4-6-bed dorm during peak season (June-August) costs about 24 EUR, while a bed in a room with 8 beds or more costs 19 EUR.
During the off-season, a bed in a room with 8 beds or more costs from 14 EUR per night while smaller rooms cost about 18 EUR. Free Wi-Fi is standard, and many hostels in the city also include free breakfast.
A basic private room for two with a private bathroom costs 50-90 EUR per night during both peak season and off-season.
There are a few options for camping outside the city, though the prices are often more than hostels. Most charge around 20 EUR per night for a basic tent plot without electricity.
Budget hotel prices – A budget hotel near Plaza Mayor costs 80-120 EUR per night during peak season. Expect to pay between 60-100 EUR per night in the off-season.
Airbnb is available for those wishing to have more privacy or kitchens to cook their own food. Private rooms start at 40 EUR per night while an entire home/apartment averages 130 EUR per night.
Food – Spain has a strong food culture, where meals can last hours and dinner often isn't served until after 8pm. Each region in the country has its own local dishes and food culture, all of which you can find in Madrid as it's something of a culinary hub. Be sure to try local favorites such patatas bravas (spicy potatoes), beef stew, tortilla de patatas (Spanish omelet), and of course churros.
You can get cheap tapas and meals for around 8-15 EUR. If you want wine included, expect to spend about 18 EUR. If you go out for paella, drinks, or appetizers, then you should plan to spend around 25 EUR for a meal.
Like any city, Madrid has a lot of expensive restaurants, and meals there begin around 35 EUR. On the other end of the spectrum, cheap fast food (think McDonald's) costs around 8 EUR for a combo meal. Chinese food is around 9 EUR while pizza costs 8-10 EUR for a large.
Beer costs 3-4 EUR while a latte/cappuccino is around 2 EUR. Bottled water is less than 1 EUR.
If you buy your own food, expect to spend about 40-50 EUR for a week's worth of groceries. This gets you basic staples like pasta, rice, seasonal produce, and some meat.
Backpacking Madrid Suggested Budgets
If you're backpacking Madrid, expect to spend around 55 EUR per day. This budget covers a hostel dorm, cooking most of your meals, limiting your drinking, taking public transportation, and doing mostly free activities like free walking tours and relaxing in the parks. Add 10-20 EUR per day to your budget if you plan on drinking or partying a lot.
On a mid-range budget of about 125 EUR per day, you can stay in a private Airbnb or private hostel room, eat out at cheap restaurants for most meals, have a few drinks, take the occasional taxi, and do more paid activities like cooking classes and museum visits.
On a "luxury" budget of 250 EUR or more per day, you can stay in a hotel, eat out anywhere you want, drink as much as you'd like, take more taxis, and do as many guided tours as you want. This is just the ground floor for luxury though. The sky is the limit!
You can use the chart below to get an idea of how much you need to budget daily. Keep in mind these are daily averages – some days you spend more, some days you spend less (you might spend less every day). We just want to give you a general idea of how to make your budget. Prices are in EUR.
Accommodation
Food
Transportation
Attractions
Average Daily Cost
Backpacker
20
15
10
10
55
Mid-Range
50
40
15
20
125
Madrid Travel Guide: Money-Saving Tips
Madrid can be an expensive city, especially if you indulge in food and drinks. Fortunately, you can trim your costs if you follow a few simple rules. Here are some general ways to save money in Madrid:
Eat a large lunch – Lunch is much cheaper than dinner in Madrid and you can find "menu del día" which costs around 10-15 EUR for a large meal with a glass of wine or beer.
Get the Madrid tourist card – The often-overlooked Madrid Card offers free public transportation, free access to Prado and other museums, as well as all sorts of discounts at nightclubs, entertainment facilities, shops, and restaurants. You can purchase a 24-hour card for 47 EUR, a 48-hour card for 60 EUR, a 72-hour card for 67 EUR, or a 120-hour card for 77 EUR.
Embrace free museum days – Lots of museums in Madrid are free on certain days or at certain times throughout the day. Be sure to check before you go because it's far better to see sights like the Prado for free! You can ask at the tourism office as they hold a list there.
Stay with a local – Couchsurfing is a great way to save money on accommodation while also getting some insight from the locals. While hostels aren't too expensive in the city, this is still the best way to save money and connect with an insider who can share their expert tips and advice.
Take a free walking tour – This is one of my favorite ways to get to know a new destination — and you can't beat the price! New Europe Walking Tours and Cat's Hostel Walking Tours are the two most popular free tours in the city.
Grocery shop at the markets – Fresh food can be bought for cheap at some of the daily markets in the city. Check out the Mercado de la Paz or Mercado de Maravillas for fresh produce and meat. You'll save a ton compared to the supermarket.
Bring a water bottle – The tap water here is safe to drink so bring a reusable water bottle to save money and reduce your plastic use. LifeStraw is my go-to brand as their bottles have built-in filters to ensure your water is always clean and safe.
Where to Stay in Madrid
Madrid has a ton of hostel choices for any budget. Here are the best hostels in Madrid:
How to Get Around Madrid
Public transportation – The best way to get around Madrid is to use the subway. The base fare is 1.50 EUR for the first five stations (one-way) then an additional 0.10 EUR for each additional station up to a 2 EUR maximum in central Madrid.
Public buses run all over Madrid from 6:30am-11:30pm (with some night routes also) and they cost the same as the metro. You can also get 10-journey cards from 11.20 EUR depending on your zones.
Tourist passes are available for unlimited usage on all public transportation, ranging from 1-7 days. They cost 8.40-70.80 EUR.
Bicycle – Madrid has an electric bike-sharing program called BiciMAD. Rentals start at 2 EUR per hour and then it's 4 EUR per extra hour.
Taxis – Taxis start at 3 EUR and then 1.05 EUR per additional kilometer. Skip them if you can as prices add up fast!
Ridesharing – Uber is available in Madrid but it's not going to save you much money. Public transportation is clean and reliable so skip the ridesharing if you're on a budget.
Car rental – Car rentals can be found for as little as 10 EUR per day for a multi-day rental, however, you don't need a car to get around the city. Unless you're going to explore the surrounding region, skip the car rental.
When to Go to Madrid
Madrid is a year-round destination like the rest of Spain, but during peak season (June-August) crowds are heavy, prices are highest, and the heat is oppressive — daily temperatures soar above 30°C (86°F). The city is lively, but you'll need to book everything in advance.
Personally, I think the shoulder season is the best time to visit Madrid (April-May and September-October). Tourist sites are much less congested and prices for accommodation are lower. Temperatures are pleasant, with average temperatures hovering around 64°F (18°C). Just bring a raincoat.
Visiting in the winter is also doable, though the days can be chilly. While the weather isn't great, you'll get much of the sights to yourself and prices will be lower. Expect daily highs around 10°C (50°F).
How to Stay Safe in Madrid
Madrid is a safe city. Violent crime is very rare here, though pickpocketing and petty theft are common, especially in the major tourist areas and on the metro. You need to be really careful with your stuff and always watch your pockets when you're out and about. The pickpockets here (and in Spain in general) a very talented!
If you go out at night, only bring the money you need. Leave the rest in your accommodation. Never walk home alone at night if intoxicated and always keep an eye on your drink at the bar.
Tourist scams are super prevalent as well so keep an eye out for groups of kids trying to distract you, as they're probably trying to take your money. Moreover, be wary of people trying to carry your luggage as they may try to charge you a large fee.
Read more about major travel scams to avoid so you don't fall for one.
If you experience an emergency, dial 112.
Remember, if you wouldn't do it at home, don't do it when you're in Madrid.
The most important piece of advice I can offer is to purchase good travel insurance. Travel insurance protects you against illness, injury, theft, and cancellations. It's comprehensive protection in case anything goes wrong. I never go on a trip without it as I've had to use it many times in the past. You can use the widget below to find the policy right for you:
Madrid Travel Guide: The Best Booking Resources
These are my favorite companies to use when I travel around Madrid. They are included here because they consistently find deals, offer world-class customer service and great value, and overall, are better than their competitors. They are the ones I use the most and are always the starting points in my search for travel deals.
Skyscanner – Skyscanner is my favorite flight search engine. They search small websites and budget airlines that larger search sites tend to miss. They are hands down the number one place to start.
Momondo – This is my other favorite flight search engine because they search such a wide variety of sites and airlines. I never book a flight without checking here too.
Airbnb – Airbnb is a great accommodation alternative for connecting with homeowners who rent out their homes or apartments. The big cities have tons of listings!
Hostelworld – This is the best hostel accommodation site out there, with the largest inventory, best search interface, and widest availability.
Couchsurfing – This website allows you to stay on people's couches or in their spare rooms for free. It's a great way to save money while meeting locals who can share the ins and outs of their city. The site also lists events you can attend to meet people (even if you're not staying with someone).
Booking.com – The best all-around booking site that constantly provides the cheapest and lowest rates. They have a no money down policy, great interface, and the widest selection of budget accommodation. In all my tests, they've always had the cheapest rates out of all the booking websites.
Eurail – If you are going to Europe and taking a lot of high speed or long distance trains, get a rail pass. I've used a rail pass three times and saved hundreds of dollars each time. The math just works.
Intrepid Travel – If you want to do a group tour around Europe, go with Intrepid Travel. They offer good small group tours that use local operators and leave a small environmental footprint. If you go on a tour with anyone, go with them. And, as a reader of this site, you get a discount when you click the link!
The Man in Seat 61 – This website is the ultimate guide to train travel anywhere in the world. They have the most comprehensive information on routes, times, prices, and train conditions. If you are planning a long train journey or some epic train trip, consult this site.
Rome2Rio – This website allows you to see how to get from point A to point B in the best and cheapest way possible. It gives you all the bus, train, plane, and boat routes that can get you there as well as how much they cost.
FlixBus – Flixbus has routes between 20 European countries with prices starting as low 5 EUR. Their buses include Wi-Fi and electrical outlets too.
BlaBlaCar – BlaBlaCar is a ridesharing website that lets you share rides with vetted local drivers by paying a small fee. You simply request a seat, they approve, and off you go! It's a cheaper and more interesting way travel than by bus or train.
Take Walks – This is my go-to walking tour company. They use expert local guides and their tours are entertaining and insightful. If you want something in-depth, go with them!
World Nomads – I buy all my travel insurance from World Nomads. They have great customer service, competitive prices, and in-depth coverage. I've been using them since I started traveling in 2003. Don't leave home without it!
Madrid Gear and Packing Guide
If you're heading on the road and need some gear suggestions, here are my tips for the best travel backpack and for what to pack!
The Best Backpack for Travelers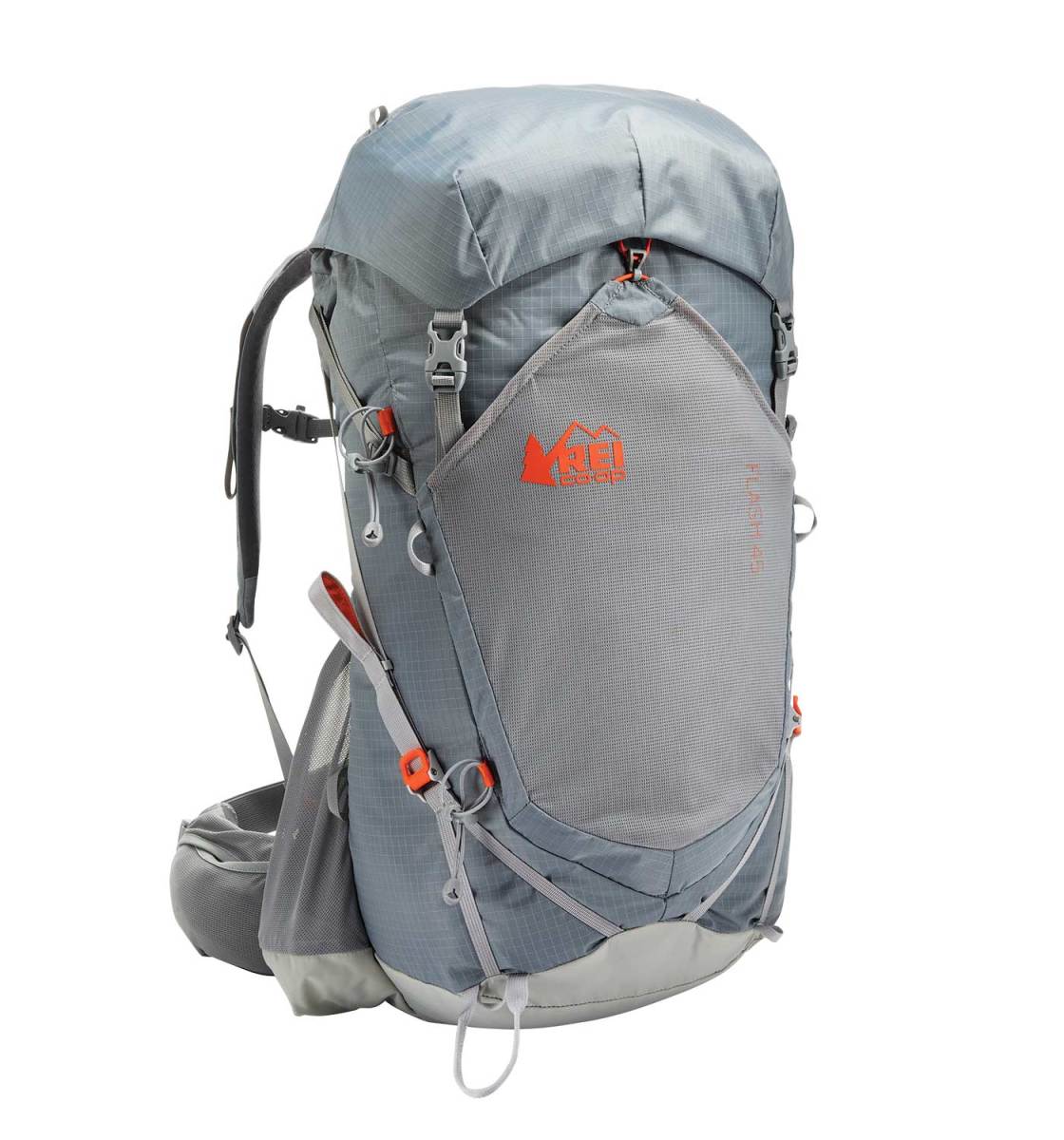 What's the best backpack for traveling long-term? I recommend the
REI Flash 45 Pack
. It's light and comfy, front loading, and fits perfectly in an airplane's overhead bin.
Size:
45-47L
Straps:
Thick and cushy with compression technology that pulls the pack's load up and inwards so it doesn't feel as heavy.
Features:
Removable top lid, large pocket at the front, hydration compatible, contoured hip belt
If you want something different, refer to my article on how to choose the best travel backpack for tips on picking a pack and other backpack suggestions.
What to Pack for Your Trip
Clothes
1 pair of jeans (heavy and not easily dried, but I like them; a good alternative is khaki pants)
1 pair of shorts
1 bathing suit
5 T-shirts (Unbound Merino is my preferred company. If you're a member of NM+, you can get 15% off your purchase)
1 long-sleeved T-shirt
1 pair of flip-flops
1 pair of sneakers
6 pairs of socks (I always end up losing half)
5 pairs of boxer shorts (I'm not a briefs guy!)
1 toothbrush
1 tube of toothpaste
1 razor
1 package of dental floss
1 small bottle of shampoo
1 small bottle of shower gel
1 towel
Deodorant
Small Medical Kit (safety is important!!!)
Miscellaneous
Female Travel Packing List
I'm not a woman, so I don't know what a woman wears, but Kristin Addis, our solo female travel guru, wrote this list as an addition to the basics above:
Clothing
1 swimsuit
1 sarong
1 pair of stretchy jeans (they wash and dry easily)
1 pair of leggings (if it's cold, they can go under your jeans, otherwise with a dress or shirt)
2-3 long-sleeve tops
2-3 T-shirts
3-4 spaghetti tops
1 light cardigan
Toiletries
1 dry shampoo spray & talc powder (keeps long hair grease-free in between washes)
1 hairbrush
Makeup you use
Hair bands & hair clips
Feminine hygiene products (you can opt to buy there too, but I prefer not to count on it, and most people have their preferred products)
For more on packing, check out these posts:
Madrid Travel Guide: Related Articles
Want more info? Check out all the articles I've written on Spain travel and continue planning your trip: