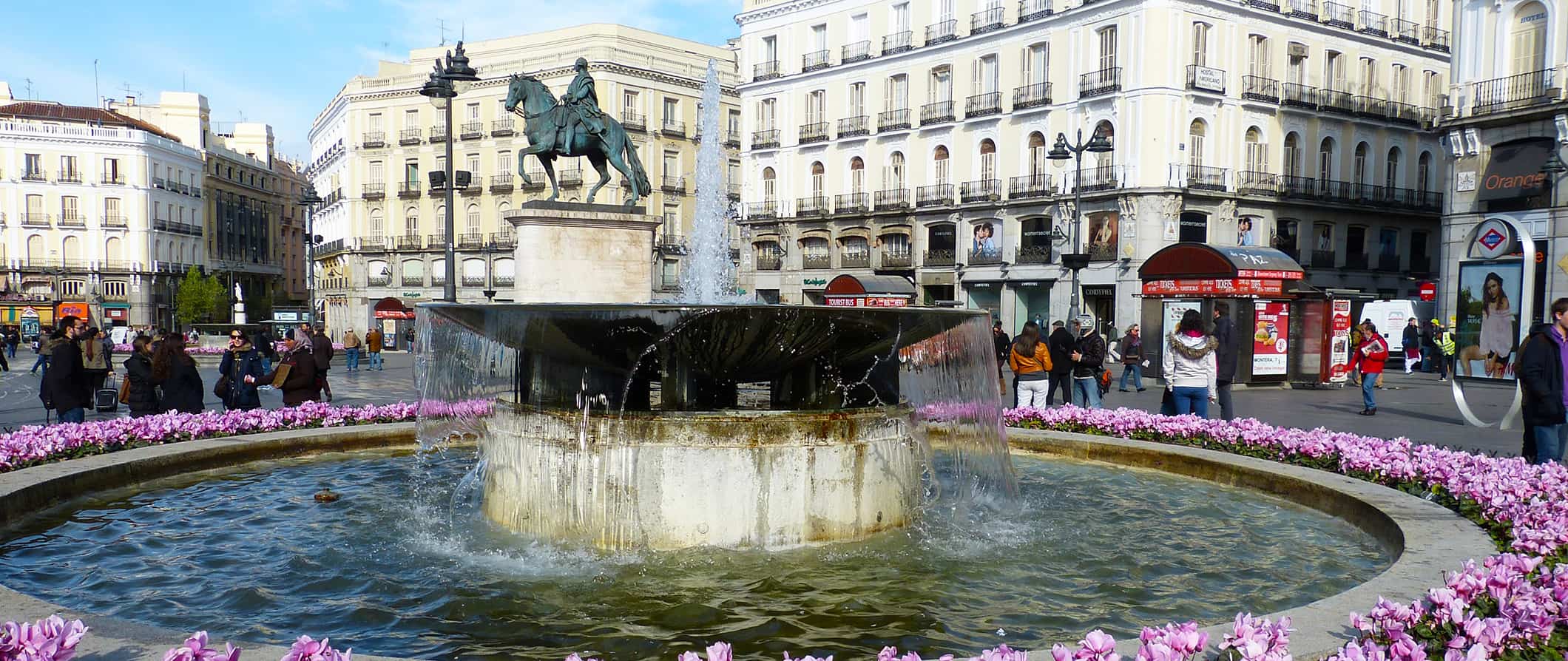 Madrid is the capital of Spain, as well as its largest city. Even though Madrid possesses a modern infrastructure, it has also preserved the look and feel of many of its historic neighborhoods and streets. In Madrid, you will be sure to find wonderful food, fashion, and nightlife. And like its rival city Barcelona, this is a city that starts late — dinner doesn't happen until 9 or 10pm at night! A slightly sprawling place, the tiny neighborhoods of the city are a great place to get lost in, eat tapas, and drink sangria. The warmth of the locals and the slowness of the meals will keep you out late, and the nightlife, even later! Don't say I didn't warn you!
Top 5 Things to See and Do in Madrid
1. Stroll Plaza Mayor
The Plaza Mayor is Madrid's main square, located in the middle of the city. Winding streets will take you past churches, tapas bars, and give you insight into royal history and architecture. While walking this plaza, don't miss the following: Ayuntamiento, San Pedro, San Francisco el Grande, and Calle de Cuchilleros. This is a popular place to eat and relax but be prepared for "tourist" prices.
2. Visit the Prado Museum
The Prado Museum is Madrid's top cultural sight, and one of the world's greatest art galleries. Its dazzling display of works by the great European masters such as Velázquez, Goya, Raphael, Rubens, and Bosch (among other major Italian and Flemish artists), is housed in an 18th-century building that opened as a museum in 1819. Admission is 15 EUR.
3. Unwind in El Retiro Park
The main park of Madrid, this is the perfect place to take a rest during a sunny day, or take part in the drum circles around the statue of Alphonso XII on summer evenings. There is a large boating lake where one can hire a rowing boat. Check out the monument to the victims of the Madrid 3/11 terrorist bombings, the Forest of the Absent, and the Crystal Palace.
4. Visit the Palacio Real
Also known as the Royal Palace, this is the official residence of the King of Spain, though it is now only used for state ceremonies. The palace is partially open to public except when it is being used for official business and on Sundays (when it is also closed). The Palace is free for EU citizens on Wednesdays, and guided tours in English are also available (admission is 11 EUR, and 15 EUR if you want a guided tour).
5. Watch a Real Madrid soccer match
Madrid's soccer team is one of the best not only in Spain but in the world. If you want to see soccer (football) at its best, come visit a game. The stadium is always full and the crowds are always wild!
Other Things to See and Do
(Click the title to expand the text)
1. Check out Puerta del Sol
This is Madrid's most famous and central square, located just a short walk from the Plaza Mayor. Originally it was the site of one of the city's gates, which faced the east and was adorned with an image of the sun, hence the square's name (the "sun gate"). The square is actually almost semi-circular in shape and owes its current form to the major renovation work carried out between 1854 and 1860.
2. See flamenco dancers
Madrid has been enjoying flamenco since the early 19th century and has seen the best artists triumph here. Flamenco can be seen in many bars and taverns in Madrid. Normally you go for an evening meal to one of these places and listen to the music afterward.
3. National Archeology Museum
This well-designed museum houses an incredible collection of archaeological finds from across the peninsula. It leaves the visitor with a sense of the chronology of civilization in Spain. There are also a few pieces from ancient Egypt and Mesopotamia. The museum is closed on Mondays, and admission is free.
4. Explore Madrid's Naval Museum
When you think back on the world's historical naval powers, Spain is sure to come to mind. If it weren't for Spain, who knows when the New World would have been discovered! Come here to learn about the nation's rich naval history. Admission is 3 EUR.
5. Go on a free walking tour
What better way to orientate yourself in this city than by beginning your visit with a free walking tour? This is one of my favorite ways to get to know a new place. New Madrid Walking Tours and Cat's Hostel Walking Tours are the two most popular free tours in the city.
6. Admire some modern art
The Museo Nacional Centro de Arte Reina Sofía offers a fantastic collection of modern art. I'm not a modern art fan myself, but it's still interesting to see some of the big names here: Picasso's, Miró, Kandinsky, Dalí, and Bacon. The centerpiece of the exhibit is Picasso's famous Guernica painting. Admission is 8 EUR. Closed on Tuesdays.
7. Shop at the Mercado de San Miguel
This indoor market is a really trendy spot to get your grocery shopping done, to eat some cheap meals, or to just take in the people. It's located near Plaza Mayor, and attracts the after-work drinks crowd in the evenings.
8. Temple of Debod
The Temple of Debod is an Egyptian temple from the 2nd century BC, donated by the Egyptian government and relocated to Madrid's Cuartel de la Montaña Park. The Meroë King Adijalamani built this temple dedicated to the god Amun and the goddess Isis, and the entire thing is decorated with beautiful high reliefs. Although the inside of the temple is currently closed, you can still walk along the outside walkway.
9. Spend time in the Barrio de La Latina
Get out on foot a and explore the upbeat La Latina barrio and its maze of narrow lanes and streets lined with tapas bars, restaurants, and cantinas. If you're here on a Sunday, peruse the offerings at the El Rastro flea market, and stuff your face at a food stall. Otherwise, step inside the San Francisco el Grand Basilica or the Moorish San Pedro el Real church.
10. Visit the El Rastro flea market
Every Sunday, there's a giant flea market in the Embajadores neighborhood, where dozens of stalls sell second-hand clothes, vinyl records, jewelry and just about any object you can imagine. Go early in the morning if you want to beat the crowds.
11. See the Plaza de Cibeles
Plaza de Cibeles is a famous plaza in Madrid, located along the central Calle de Alcalá and adjacent to Paseo del Prado. Here you'll find the Palace of Communications, the city's mayor's office, and a fountain dedicated to the Roman goddess Cybele. There is an observation deck at the mayor's office as well. Admission is 2 Euros.
Typical Costs
Hostel prices
– Hostel dorm rooms are between 12-25 EUR per night depending how close the hostel is to the Plaza Mayor. Private rooms are around 25-65 EUR for a double room. Free WiFi is standard, and many hostels in the city also offer free breakfast. There are a few options for camping outside the city, though the prices are often more than hostels — most charge around 19 EUR per night. My suggested place is:
Budget hotel prices – A typical budget hotel room for two is between 40-100 EUR per night, depending on the location and time of year. Prices are generally cheaper outside of the summer months. Airbnb is another option for those wishing to have more privacy. Shared rooms usually go for around 22 EUR per night, while an entire home or apartment in the city will cost you around 96 EUR.
Average cost of food – You can get cheap tapas and meals for around 6-13 EUR. That will include about 3 or 4 tapas. If you want wine included, expect to spend about 18 EUR per meal. A good restaurant meal will set you back around 24 EUR. Cheap food like McDonalds and Maoz cost around 7 EUR. If you buy your own food, expect to spend about 35-40 EUR for a week's worth of groceries.
Transportation – Metro ticks costs 1.50 EUR per trip within the more central area of the city unless you travel to more than 5 stations (prices will increase the more zones you cross). Getting to and from the airport costs 2.60 EUR each way, via train. Flights from Madrid stretch all across the continent and the world, and it's a great hub for extending your travels. Renting a bike is another great way to see the city, with prices around 15 EUR for the day.
Suggested daily budget
40-50 EUR / 42-52 USD (Note: This is a suggested budget assuming you're staying in a hostel, eating out a little, cooking most of your meals, and using local transportation. Using the budget tips below, you can always lower this number. However, if you stay in fancier accommodation or eat out more often, expect this to be higher!)
Money Saving Tips
Eat a large lunch – Lunch is much cheaper in Madrid, and everywhere you will find "menu del dia" which will cost around 10-15 EUR.
Free museum days – Lots of museums in Madrid are free on certain days and certain times throughout the day. Be sure to check before you go because it's far better to see sights like the Prado for free!
Couchsurf – Couchsurfing is a great way to save money on accommodation while also getting some insight from the locals. While hostels aren't too expensive in the city, this is still the best way to save money.
Go on a free walking tour – This is one of my favorite ways to get to know a new place, and you can't beat the price! New Madrid Walking Tours and Cat's Hostel Walking Tours are the two most popular free tours in the city.
My Must Have Guides For Traveling to Madrid