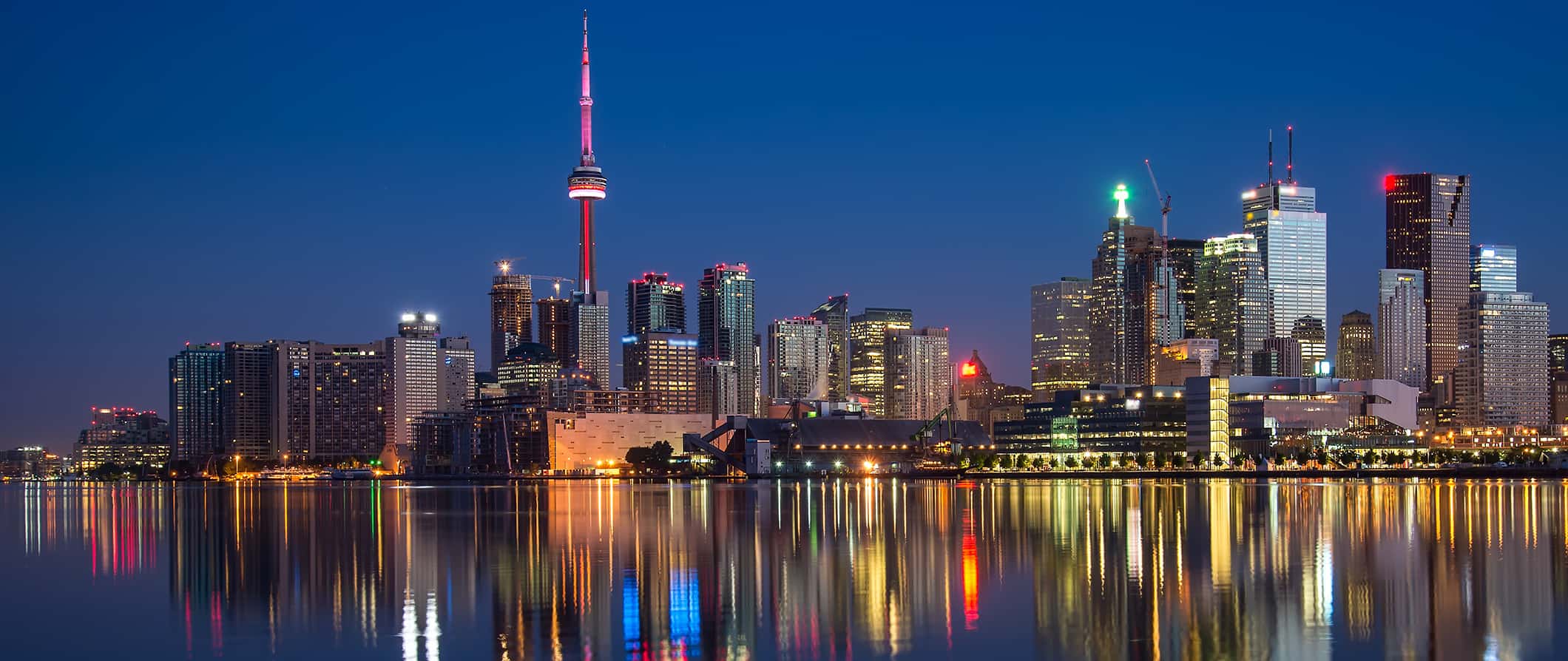 Toronto. While the city lacks the charm of Montreal and Vancouver, it's still an incredible city to visit with tons of markets, ethnic food, wonderful art museums, funky bars and speakeasies, and delicious Asian food (so much great Asian food). Although Toronto has a higher cost of living than most other Canadian cities, there are many free and low-cost activities that can make this an affordable place to visit. It's also one of the most multicultural cities in the world. The more I visit the more I love it. It's perfect for 3-4 days!
Top 5 Things to See and Do in Toronto
1. Visit the CN Tower
This iconic 550m tower is a fixture of the skyline. You can head up to the top to get panoramic views of the city, shopping, and 360-degree dining in its (expensive) restaurant. If the weather is accommodating (and you have a lot of extra money to spend) you can also walk along the exterior edge of the tower.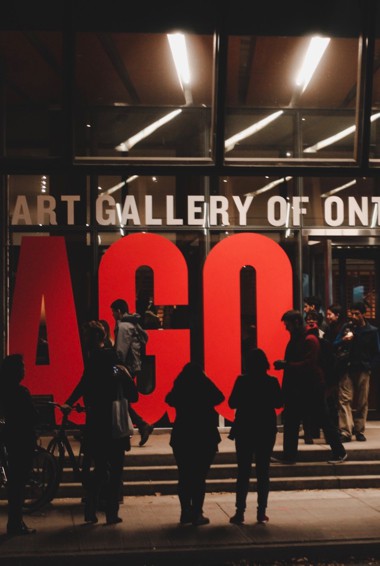 2. The Art Gallery of Ontario
Known as the AGO, it houses thousands of pieces worth of art. It's one of the biggest museums in Canada, and admission is free on Wednesday nights.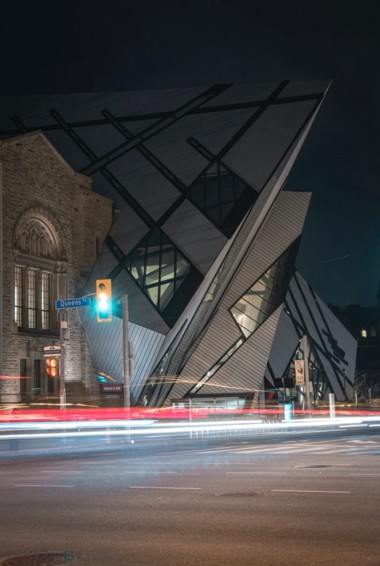 3. Royal Ontario Museum
This museum holds thousands of artifacts and specimens over 20 exhibits. There's stuff on dinosaurs, ancient China, Native Canadians, Medieval Europe, Art Deco, Ancient Egypt, textiles, the world's largest totem pole, and a ton of other stuff. It's the best museum in the city.
4. Spend the day at the beach
The beaches near Lake Ontario are a relaxing way to spend the day during the summer. You can stroll along the boardwalk, eat at one of the many restaurants, or rent a boat and head out on the lake.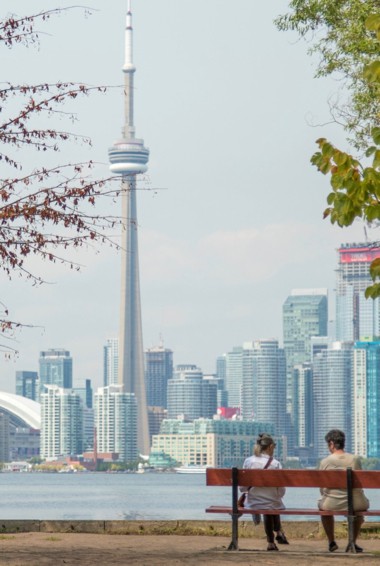 5. Toronto Island Park
Spend an inexpensive day at Toronto Island Park and enjoy the beach, play volleyball, and dip your feet in its wading pool. Also here is the Gibraltar Lighthouse which has a museum that highlights the history and myths of the area.
Other Things to See and Do
(Click the title to expand the text)
1. The Harborfront Center
This area is a great spot to visit during the warm summer months. There is often free admission to Toronto festivals and music concerts.
2. Bike the Don Valley
These trails are perfect for any outdoorsy travelers. They aren't far from the city, and trails range from easy to very hard.
3. Go ax throwing
If you're looking for a unique way to spend an afternoon, this is it. You'll compete against your friends in an axe-throwing tournament that will make a game of darts seem like child's play. They even have an axe-throwing league! Don't worry – you don't need to bring your own ax (but you can!).
4. Kensington Market
This bohemian hub offers an eclectic mix of alternative restaurants and shops. It gets quite bustling in the summer, and they often have free concerts too. It's one of my favorite places to wander around.
5. Hockey Hall of Fame
Canadians take two things seriously: hockey and hockey. Hockey is life. Dedicated to the history of their favorite sport, it is both a museum and a hall of fame.
6. St. Lawrence Market and Gallery
This market has endless rows of local treats to taste and buy. Go inside the building to take a look at the gallery. They always have a good collection of art. Admission to both is free.
7. Eat Chinese food
Chinatown in Toronto is gigantic and still retains a lot of the authenticity that's missing in many other Chinatowns around the world. Definitely visit here and eat a few meals—they are delicious and super cheap. This is also the best place to get Asian fruit that is not normally found in local supermarkets.
8. Ontario Science Center
Lots of hands-on science exhibits, including a rainforest, a tornado machine, sound proof tunnel, balance testing machines, and more. It also contains Ontario's only Omnimax movie theater.
9. Steam Whistle Brewery
Starting at 10 CAD you can take a tour of the brewery, which includes a sample of their famous pilsner. Tours operate on a first-come, first-served basis on Fridays, Saturdays, and Sundays.
10. Casa Loma
This is the former estate of Sir Henry Mill Pellatt, an entrepreneur and romantic. Touring this real life 'medieval' castle is awesome. There are four levels to check out through a self-guided multimedia tour.
11. Canada's Wonderland
Filled with rides, coasters, food, games, shops, theaters, a water park, and live shows, this summer attraction is loads of fun. Tickets start at 42 CAD for a 1-day pass, and you can save money by buying online in advance. Be sure to arrive early as the park fills up quickly in the summer!
12. Catch a ball game
Toronto's major league baseball team, the Blue Jays, have been doing quite well in recent years and their fan base has exploded. Nose-bleed seats at the Skydome (officially known as Rogers Centre) can be found for quite cheap, making this a great activity for sports fans.
13. Word on the Street
Every September, usually around the 24th, Queen's Park is host to Canada's largest annual, outdoor book and magazine festival. You can browse through hundreds of books, magazines, and literacy exhibitor booths.
14. Toronto International Film Festival
Toronto plays host to the stars every September, so if you're in town be sure to grab tickets—there's a good chance you'll see some great films, and you might just bump into a star, too!
15. Winterlicious
Every year during Toronto's WinterCity festival, several restaurants offer special menus of high-end meals at a majorly reduced price. This event is great because it allows many the opportunity to try gourmet foods that are usually expensive. Plates range from 10-40 CAD, and are typically multi-course dinners. There is also now a summer version, aptly titled Summerlicious!
Typical Costs
Hostel prices
– Dorm rooms begin at 25 CAD and private rooms start around 55 CAD. Free WiFi is standard, and a few hostels even offer free breakfast. For a city of six-million people, there are surprisingly few hostels so be sure to book in advance during the summer months, as that is when tourism is booming. If you have a tent, there are a few campgrounds outside the city (though they are not very convenient to reach). Expect to pay 20-30 CAD for a camp site, with most campgrounds closed for the winter.
Here's a list of my favorite hostels in Toronto
.
Budget hotel prices – You can expect to spend an average of 85 CAD a night for a twin/double, though don't expect anything fancy. You wont get any noteworthy amenities until you reach the three-star level, though WiFi is standard. If you book your stay in the fall and springtime, prices tend to be cheaper. Airbnb is a great option all in the city, as well, with shared accommodation going for around 30 CAD per night. If you want an entire home or apartment, you'll be paying closer to 75 CAD per night. Again, prices will be higher in the summer so be sure to book early!
Average cost of food – If you are going to cook your own food, expect to pay between 50-90 CAD per week. Eating out will cost you an average of 19-24 CAD for an entree and drink, though at nicer restaurants it will be at least 32 CAD. Cheap, on-the-go-meals cost around 9 CAD. The super cheap eats are hot dogs which cost about 2.50-4 CAD depending on your sausage preference (most vendors have veggie dogs, too!).
Transportation costs – Fare for public transportation is 3.25 CAD for adults and 2 CAD for students. A day pass is available for 12 CAD and a weekly pass 42.25 CAD for adults, 33 CAD for students. Taking the shuttle from the airport will cost 12 CAD, though if you have time you can take the regular city transit bus, which will take much longer but is a fraction of the price. Bike rentals are available in the city, though they are not that cheap. Expect to pay 20-35 CAD per day.
Suggested daily budget
75-85 CAD / 55-65 USD (Note: This is a suggested budget assuming you're staying in a hostel, eating out a little, cooking most of your meals, and using local transportation. Using the budget tips below, you can always lower this number. However, if you stay in fancier accommodation or eat out more often, expect this to be higher!)
Money Saving Tips
Free activities – With plenty of free museums and beaches to choose from in every part of the city, you can see the sights easily without spending a lot of money. The local tourism office will have a list for you.
Get a City Pass – Tourists can purchase a City Pass for 72 CAD that includes admission to the ROM, CN Tower, Casa Loma, Ontario Science Centre, and the zoo. If you plan to do all of these things, you'll save a lot of money with this pass.
Take a free tour – The Heritage Toronto Walks are free and are offered from May-October each year. They're a wonderful way to learn about the city, and you don't have to make reservations.
Use Airbnb – Airbnb has taken the city by storm, and you'll have an easy time finding budget accommodation. Shared rooms in the heart of the city can be found for as little as 40 CAD. You can find entire apartments for as little as 100 CAD.
Save money on rideshares – Uber is way cheaper than taxis and is the best way to get around a city if you don't want to wait for a bus or pay for a taxi. The Uber Pool option is where you can share a ride to get even better savings (though you can get your own car too). You can save $15 off your first Uber ride with this code: jlx6v.
My Must Have Guides For Traveling to Toronto