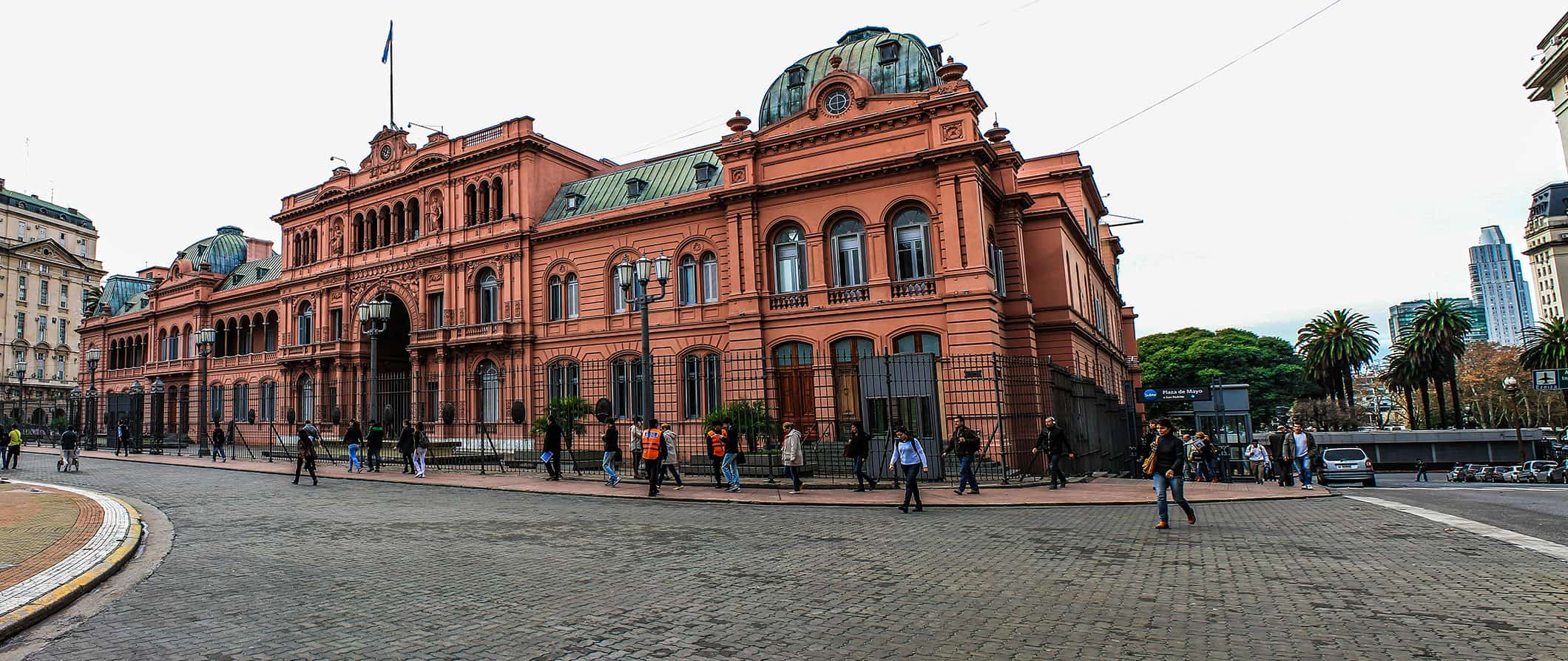 Buenos Aires, known as the "Paris of South America", lives up to its nickname with an overwhelming café culture, grand boulevards, and food scene to rival its European counterpart.
The city is a hot spot for those who love music, food, dancing, and just all-around beautiful, warm, and friendly people.
Visiting Buenos Aires is an incredible experience. Here you'll find history, beautiful architecture, verdant parks, quirky book stores, and fantastic nightlife, particularly if you like clubs that open at 2am.
This is a city that rises late and stays out late.
When you travel to Buenos Aires, you'll find the quality of life is very high here and during my stay, I just floated from cafe to cafe, park to park, and wine bar to wine bar! Explore the markets, the many bookshops and cafes, and just relax!
I especially loved the growing international expat community in the Palermo district.
This Buenos Aires travel guide can help you plan a trip to the city, get off the beaten path, and save money!
Top 5 Things to See and Do in Buenos Aires
1. National History Museum
This palatial building encapsulates Argentina's history from the 1500s to the early 1900s. Most of the exhibits focus on the Argentine War of Independence from 1810-1818 and the May Revolution which also took place in 1810. It's open from 11am-6pm and closed Mondays and Tuesdays.
2. San Telmo Market
For the best cultural and shopping experiences, make your way to the Sunday antiques fair at Plaza Dorrego. Artisans, musicians, stilt walkers, and other street performers line the streets. Souvenirs such as silver, paintings, and sculptures can be bought for reasonable prices!
3. Casa Rosada
Dominating the city's Plaza de Mayo is Casa Rosada, arguably the city's most notable landmark. The building has played a starring role in the country's history, quite literally. It was where Madonna re-enacted Eva Perón's addressing of the crowds of workers in Evita. Open weekends from 10am-6pm.
4. Recoleta Cemetery
It might seem a bit morbid to visit a cemetery for pleasure, but this place is the final resting place of many of the city's most notable citizens, including Eva Perón and the Paz family. Also worth seeing is the exquisite tomb of Rufina Cambaceres. It's open daily from 7am-5:30pm.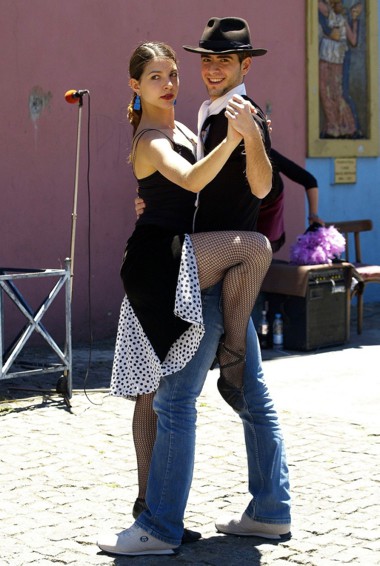 5. Tango
The tango is Argentina's national dance, and you wouldn't leave Buenos Aires with the true local flavor without hitting the dance floor. There are plenty of places offering lessons, and you can even chase down a Milonga, or tango event, that begins in the afternoon and carries into the wee hours of the night.
Other Things to See and Do in Buenos Aires
1. Take in a fútbol game
Fútbol (what Americans call soccer) is big business in Argentina, and aside from having a fantastic national team, the country also has plenty of top class league teams. There are two great stadiums in the city, La Bombonera and El Monumuenta. For the best experience, try to catch a match between the city's two rival teams, River Plate and Boca, but plan ahead because tickets can be hard to come by.
2. Museo Evita
Argentina is known as the home of Eva Perón or Evita, and this museum explores Evita's life from childhood through her career as an actress, onto her role as the First Lady and ultimately, ending with her death. This museum will leave you with an appreciation and understanding as to why she is such a significant figure to the Argentine people. Admission is 200 ARS ($5 USD) and includes an audio guide. It's open 11am-7pm daily except for on Mondays.
4. Círculo Militar
This is the former home of the Paz family, the wealthy owners of the La Prensa newspaper. Built by a French architect, the building has more than a subtle French influence, but strangely, a few rooms are also in the Tudor style. As one of Argentina's most beautiful buildings, this is definitely an essential stop on your city tour. Admission is 80 ARS ($2 USD).
5. Falkland Islands War Memorial
Under the military dictator Leopoldo Galtieri, Argentina declared war on Great Britain in 1982. The museum contains a monument inscribed with the names of all the Argentines killed in the four months of conflict over the Falkland Islands (or "Islas Malvinas," as they're known in Argentina).
6. La Fería Mataderos
The Mataderos fair is an interesting alternative to the other Sunday markets. Located on the southwestern edge of Capital Federal, Mataderos offers a less touristy atmosphere. Simply put, the tango dancers there are not doing it for show — they are dancing because it's their pastime and passion. The fair also offers live music, great food, and plenty of handmade crafts to browse and purchase.
7. Palacio Barolo
Tour this landmark building of Argentina (themed around Dante's Inferno) and take in the amazing history and panoramic views of Buenos Aires. This building has fascinating architecture and offers the best viewpoint of the city. It's open Tuesday through Saturday from 12pm-8pm. A guided tour costs 260 ARS ($6.50 USD).
8. Temaiken Park
This Zoological park offers a huge variety of animal exhibits, with African, Asian, and South Americas zones. Just a short drive outside of the city, it is considered to be one of the major attractions of the area. Admission is 800 ARS ($20 USD).
9. Recoleta
This is a high-class, fashionable neighborhood, lined with various boutiques, cafes, and galleries. There is also a street fair every weekend. As a central location in the city, it's a great area to check out and explore while catching your breath.
10. Museo Nacional de Bellas Artes
This fine art museum is host to many significant works, from European masters to pre-Renaissance days. Additionally, there is an expansive collection of 19th and 20th-century Argentinian paintings and sculptures that make up one of the most impressive collections in the country. It's open 11am-8pm daily but closed on Mondays. Admission is 120 ARS ($3 USD).
11. Jardin Botanico Carlos Thays
This garden is full of winding paths, statues, creeks, flora, and fauna from all over the world. Take a stroll alongside the resident cats for an enjoyable, relaxing afternoon outside—or stop by for a quick picnic to get out of the hustle and bustle.
12. Reserva Ecologica
Trash turns into treasure at this former dump site turned oasis in the middle of the city. This ecological reserve is made up of nearly 900 acres of green area and lagoons and is perfect for birdwatching, jogging, biking, or simply walking. The reserve is free and takes over an hour to get around the reserve on one of the well-trodden paths, but it's tranquil and a great escape from the noise of the city. Be sure to bring water. Guided tours are available on weekends and the reserve is closed on Mondays.
13. La Bomba de Tiempo
This must-see captivating 17-person percussion group provides 3-hours of lively, wild, pulsing entertainment in the form of music. Nearly 1,500 people pack into the Konex Cultural Center each Monday as the group performs improvisational music with African and South American rhythms. Doors open at 7 with an opening act playing until 8. You don't need to buy tickets in advance but get there early to avoid standing in long lines and possibly missing the beginning of La Bomba's set. Standing room tickets start from 200 ARS ($5 USD).
14. Jardin Japones
In a city as noisy as Buenos Aires, the Japanese gardens provide a beautiful, calm retreat. Open daily year-round, the gardens have peaceful lagoons adorned with bright red bridges. For a small fee, you can buy food to feed the koi fish.
15. Tigre
Dubbed "The Undeveloped Venice" with its plentiful canals, this city is only 45 minutes away from central Buenos Aires. It's green and lush and seemingly a world away from the chaos of the city — which is likely the reason why it's a common retreat for Buenos Aires' more affluent residents. Tigre makes for a great day trip and has museums, a market, artist workshops, restaurants, and even an amusement park to explore. Getting there is cheap, too: the train is less than 2 ARS (less than 0.15 USD) and the ferry is about 200 ARS ($5 USD).
16. Day trip to Uruguay
Country-hop over to Uruguay by going to Colonia del Sacramento, which is just one hour from Buenos Aires via ferry. The historic quarter, rife with Portuguese influence, is a UNESCO World Heritage site and a big change of pace from Buenos Aires. It's the perfect town to meander about as you'll find tons of quaint houses, plazas, and cobblestone roads. Make sure to see the lighthouse while you're here. The ferry cost can seem steep at more than 5,100 ARS ($130 USD) round-trip, but you can save money by taking the slower one that gets you there in three hours.
17. El Ateneo Grand Splendid Bookstore
El Ateneo Grand Splendid is one of the biggest bookstores on the continent and built in an old theater. It's beautiful, there's a huge English language section, and the old stage is now a cafe. Definitely don't miss it.
Buenos Aires Travel Costs
Hostel prices – Hostels start at about 275 ARS ($7 USD) range for a large 10-person dorm room. The more popular hostels are around 520 ARS ($13 USD) for a 6-8 bed dorm. Private rooms with a shared bath start at around 1,100 ARS ($30 USD) a night.
For more quiet hostels, check out the ones in San Telmo or Palermo.
Budget hotel prices – Centrally-located hotels start around 1,100 ARS ($28 USD) for a twin/single room and 1,300 ARS ($33 USD) for a double room. Most include breakfast, free WiFi, and many include air-conditioning. There's a good number of Airbnb hosts here and you can get a shared room (i.e. couch) for as low as 400 ARS ($10 USD), while prices for a private room start around 717 ARS ($18 USD).
Average cost of food – In most of the cafes around the city, you're looking at 240-280 ARS ($6-7 USD) per dish, though you can find lunch specials at the cafes downtown for 160 ARS ($4 USD). Pizza is really popular in the city and costs around 320 ARS ($8 USD). Steaks begin at 400 ARS ($10 USD), bottles of wine at 320 ARS ($8 USD), and pasta at 280 ARS ($7 USD). If you are looking for a really nice sit-down meal with good steak and wine, expect to pay around 840 ARS ($21 USD). You can buy a week's worth of groceries (including bottles of wine) for around 1,315 ARS ($33 USD). For super cheap food, be sure to eat at the choripan (sausage and bread sandwiches) stalls for 40 ARS (less than $1 USD). Empanadas, the staple of to-go food in the country, also cost around 40 ARS ARS (less than $1 USD). Some good restaurants to eat at Don Julio, The Burger Joint, Origen cafe, La Cabrera, and Freddo for ice cream.
Backpacking Buenos Aires Suggested Budgets
On a backpacker's budget, you will spend 1,600-2,400 ARS ($40-60 USD) per day. On this suggested budget, you're staying in a hostel dorm bed, taking advantage of street food (empanadas!), cooking most of your meals, and using the subway to get around. It's a tight budget but the city is doable on it!
On a mid-range budget of 4,000 ARS ($100 USD) per day, you can afford a budget hotel or private room at a hostel, eat out at cafes or cheap restaurants for all your meals (even afford a nice steak once in a while), take taxis everywhere, and enjoy more paid attractions and activities.
For a luxury budget of 10,000+ ARS ($200+ USD) per day, you can do anything you want! Enjoy nice 4 star hotels, eat at fancier sit-down restaurants with all the steak and wine you could want, do any tour, visit any attractions, and just live it up here!
Accommodation
Food
Transportation
Attractions
Average Daily Cost
Backpacker
$10
$10-20
$10
$10-20
$40-60
Mid-Range
$30
$30
$20
$20
$100
Luxury
$100
$75
$30
$50
$255+
Buenos Aires Travel Guide: Money Saving Tips
How do you save money in Buenos Aires? Here are a few hacks to cut down your costs – because all those tours, wine, and steak dinners can add up if you aren't careful!
Learn to tango for free – Instead of forking over cash for tango lessons, be bold and head to a Milonga where there will be plenty of locals keen to show you the ropes for free. On Sundays, the San Telmo market has free tango lessons at 8pm. Many of the hostels also offer free tango lessons too!
Discounts on attractions – Most museums and attractions offer either discounts or free entrance to students, teachers, and seniors.
Discounted fútbol tickets – If you're going to a fútbol (American soccer) match, choose tickets in the standing room lower level terrace, called "las populares" seating. These are half the price of the standard seats, and the casual fan atmosphere is much better.
Specialty discount cards – La Nacion Club and La Nacion Premium Club Cards are associated with the La Nacion Newspaper, one of the biggest newspaper publications in Argentina (written in Spanish). Every week La Nacion Club Card website lists participating establishments who give discounts to card members. Although many of the restaurants offer the deals on Tuesday or Wednesday only, the discounts can range from 5-50% off and are definitely worth it.
Join a free walking tour – There are a number of companies that offer free walking tours throughout the city. They are very comprehensive and the best way to get a history of the city! You can also take free walking tours of the Congress during the week. Two companies to try out are Buenos Aires Free Tour and Free Walks Buenos Aires.
Eat at restaurants for lunch – Most of the cafes (especially those downtown) offer a set lunch menu for around 100 ARS (often times including steak). If you want to eat at the city's many restaurants, it's best to do it during lunch!
Refill your water bottle – The tap water in Buenos Aires is safe to drink. Save money on lots of bottles of water and refill from the tap!
Couchsurf – Nothing's cheaper than sleeping for free. Couchsurfing connects you with locals who will give you not only a free place to stay, but also a local tour guide who can introduce you to all the great places to see.
Use the free public bikes – Buenos Aires has excellent biking lanes and a FREE 24-hour public bike share scheme! With Ecobici, you use a bicycle for up to one hour from Monday to Friday, and up to two hours on the weekends. (This doesn't limit how often you can use the bicycle throughout the day, though.)
Save money on rideshares – Uber is way cheaper than taxis and is the best way to get around a city if you don't want to wait for a bus or pay for a taxi. The Uber Pool option is where you can share a ride to get even better savings (though you can get your own car too). You can save $15 off your first Uber ride with this code: jlx6v.
Stay at a Hola Hostel – Hola Hostels is a network of hostels with locations in South America and Europe. They offer a 10% discount to their members, as well as other discounts for local restaurants, transportation, and activities. Joining is free, and their hostels are also committed to environmentally sustainable practices.
Where To Stay in Argentina
Need a place to rest your head? Here are some of my favorite places to stay in Buenos Aires:
How to Get Around Buenos Aires
Subway – Buenos Aires is the only city in Argentina with a subway system (the Subte). A one-way fare is between 8.35-9.10 ARS (0.22-0.24 USD). To travel by subway, you'll need to pick up a rechargeable SUBE travel card and load it with credit. You can find SUBE cards at tourist centers and kiosks throughout the city, and then you can load them at subte stations, lottery outlets, and some kiosks with automatic terminals.
Bus – Like the subway, you can use your SUBE travel card to get around. The bus system in Buenos Aires runs 24 hours a day and covers the entire city.
Taxi – Taxis around the city are metered and most trips will range between 200-275 ARS ($5-7 USD). You can hail taxis as you would anywhere else (and the wait is never too long), or you can use the government's mobile app named BA Taxi.
Bicycle – Buenos Aires has excellent biking lanes and a FREE 24-hour public bike share scheme! With Ecobici, you use a bicycle for up to one hour from Monday to Friday, and up to two hours on the weekends.
To use Ecobici, you need register at a bike station (there are 32 around the city). Bring a photocopy of your passport and immigration stamp. You'll also need the address and contact info of your accommodation and you'll have to sign an agreement.
If you'd rather have a bike for a longer period of time, you can rent bikes from companies like La Biclecleta Naranja. A rental will cost you 520 ARS ($13 USD) for the full day.
When to Go to Buenos Aires
The weather in Buenos Aires is most pleasant in fall (March to May), and spring (September to November). Many people love to visit in October and November when the jacaranda trees are blooming. High season is from December to the end of February, while low season is from June to August. But if you come between April and June, you'll get the best travel deals.
Buenos Aires is at its hottest in January and February. It's humid, and temperatures often leap into the high 90s to over 100°F (38°C). Winter can be chilly and rainy at times, but it rarely snows. Temperatures do not get extreme, but they can drop to 46°F (8°C).
How to Stay Safe in Buenos Aires
Argentina is an incredibly safe place to backpack and travel but petty crime can be a problem. Don't flaunt expensive jewellery or belongings. Cell phone theft is incredibly common, and thieves will sometimes literally snatch the phone right from your hand in broad daylight. Be aware of the "mustard scam" – where someone on public transit will point out a stain on your clothes and then try to wash it out while someone steals your wallet/belongings.
Always trust your gut instinct. If a taxi driver seems shady, stop the cab and get out. If your hotel is seedier than you thought, get out of there. Make copies of your personal documents, including your passport and ID.
If you don't do it at home, don't do it when you're in Buenos Aires. Follow that rule and you'll be fine.
The most important piece of advice I can offer is to purchase good travel insurance. Travel insurance will protect you against illness, injury, theft, and cancellations. It's comprehensive protection in case anything goes wrong. I never go on a trip without it as I've had to use it many times in the past. You can use the widget below to find the policy right for you:
Buenos Aires Travel Guide: The Best Booking Resources
These are my favorite companies to use when I travel. They consistently have the best deals, offer world-class customer service and great value, and overall, are better than their competitors. They are the companies I use the most and are always the starting point in my search for travel deals.
Skyscanner – Skyscanner is my favorite flight search engine. They search small websites and budget airlines that larger search sites tend to miss. They are hands down the number one place to start.
Momondo – This is my other favorite flight search engine because they search such a wide variety of sites and airlines. I never book a flight without checking here too.
Hostelworld – This is the best hostel accommodation site out there with the largest inventory, best search interface, and widest availability.
Booking.com – The best all around booking site that constantly provides the cheapest and lowest rates. They have the widest selection of budget accommodation. In all my tests, they've always had the cheapest rates out of all the booking websites.
Couchsurfing – This website allows you to stay on people's couches or spare rooms for free. It's a great way to save money while meeting locals who can tell you the ins and outs of their city. The site also lists events you can attend to meet people (even if you're not staying with someone).
Intrepid Travel – If you want to do group tours, go with Intrepid. They offer good small group tours that use local operators and leave a small environmental footprint. And, as a reader of this site, you'll get exclusive discounts with them too!
Grassroots Volunteering – For volunteering, Grassroots Volunteering compiles a list of good local volunteer organizations that keep the money within the community.
Get Your Guide – Get Your Guide is a huge online marketplace for tours and excursions. They have tons of tour options available in cities all around the world, including everything from cooking classes, walking tours, street art lessons, and more!
SafetyWing – Safety Wing offers convenient and affordable plans tailored to digital nomads and long-term travelers. They have cheap monthly plans, great customer service, and an easy-to-use claims process that makes it perfect for those on the road.
Buenos Aires Gear and Packing Guide
If you're heading on the road and need some gear suggestions, here are my tips for the best travel backpack and for what to pack!
The Best Backpack for Travelers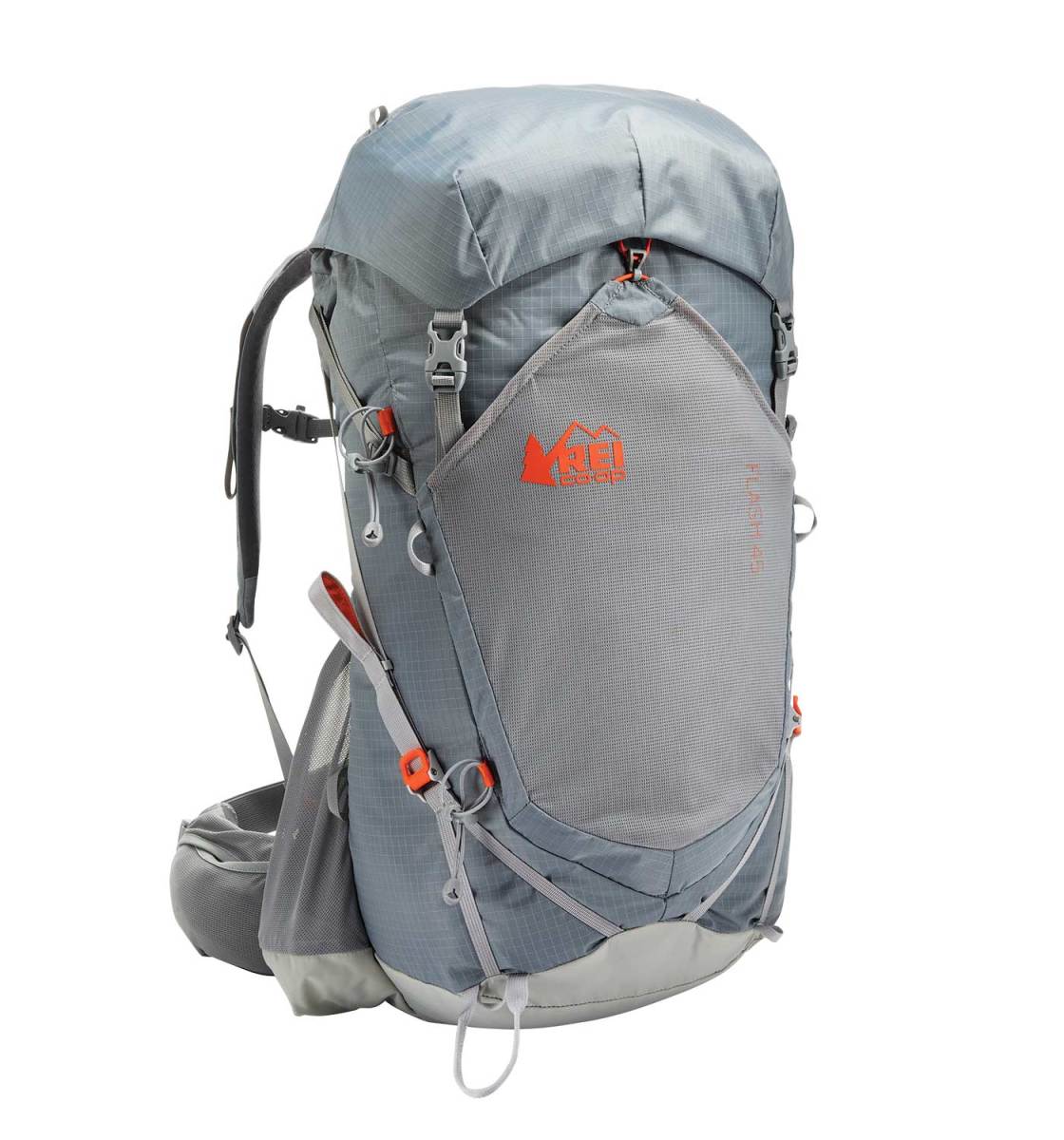 What's the best backpack for traveling long-term? I recommend the
REI Flash 45 Pack
. It's light and comfy, front loading, and fits perfectly in an airplane's overhead bin.
Size:
45-47L
Straps:
Thick and cushy with compression technology that pulls the pack's load up and inwards so it doesn't feel as heavy.
Features:
Removable top lid, large pocket at the front, hydration compatible, contoured hip belt
If you want something different, refer to my article on how to choose the best travel backpack for tips on picking a pack and other backpack suggestions.
What to Pack for Your Trip
Clothes
1 pair of jeans (heavy and not easily dried, but I like them; a good alternative is khaki pants)
1 pair of shorts
1 bathing suit
5 T-shirts (Unbound Merino is my preferred company. If you're a member of NM+, you can get 15% off your purchase)
1 long-sleeved T-shirt
1 pair of flip-flops
1 pair of sneakers
6 pairs of socks (I always end up losing half)
5 pairs of boxer shorts (I'm not a briefs guy!)
1 toothbrush
1 tube of toothpaste
1 razor
1 package of dental floss
1 small bottle of shampoo
1 small bottle of shower gel
1 towel
Deodorant
Small Medical Kit (safety is important!!!)
Miscellaneous
Female Travel Packing List
I'm not a woman, so I don't know what a woman wears, but Kristin Addis, our solo female travel guru, wrote this list as an addition to the basics above:
Clothing
1 swimsuit
1 sarong
1 pair of stretchy jeans (they wash and dry easily)
1 pair of leggings (if it's cold, they can go under your jeans, otherwise with a dress or shirt)
2-3 long-sleeve tops
2-3 T-shirts
3-4 spaghetti tops
1 light cardigan
Toiletries
1 dry shampoo spray & talc powder (keeps long hair grease-free in between washes)
1 hairbrush
Makeup you use
Hair bands & hair clips
Feminine hygiene products (you can opt to buy there too, but I prefer not to count on it, and most people have their preferred products)
For more on packing, check out these posts: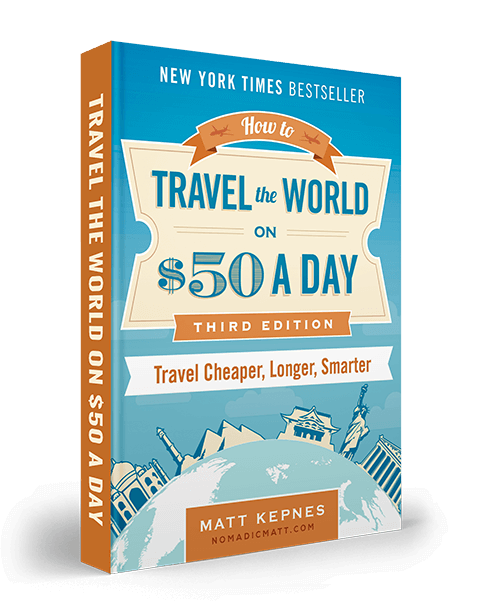 My best-selling book will teach how to master the art of travel so that you'll save money and have a more local, richer travel experience.