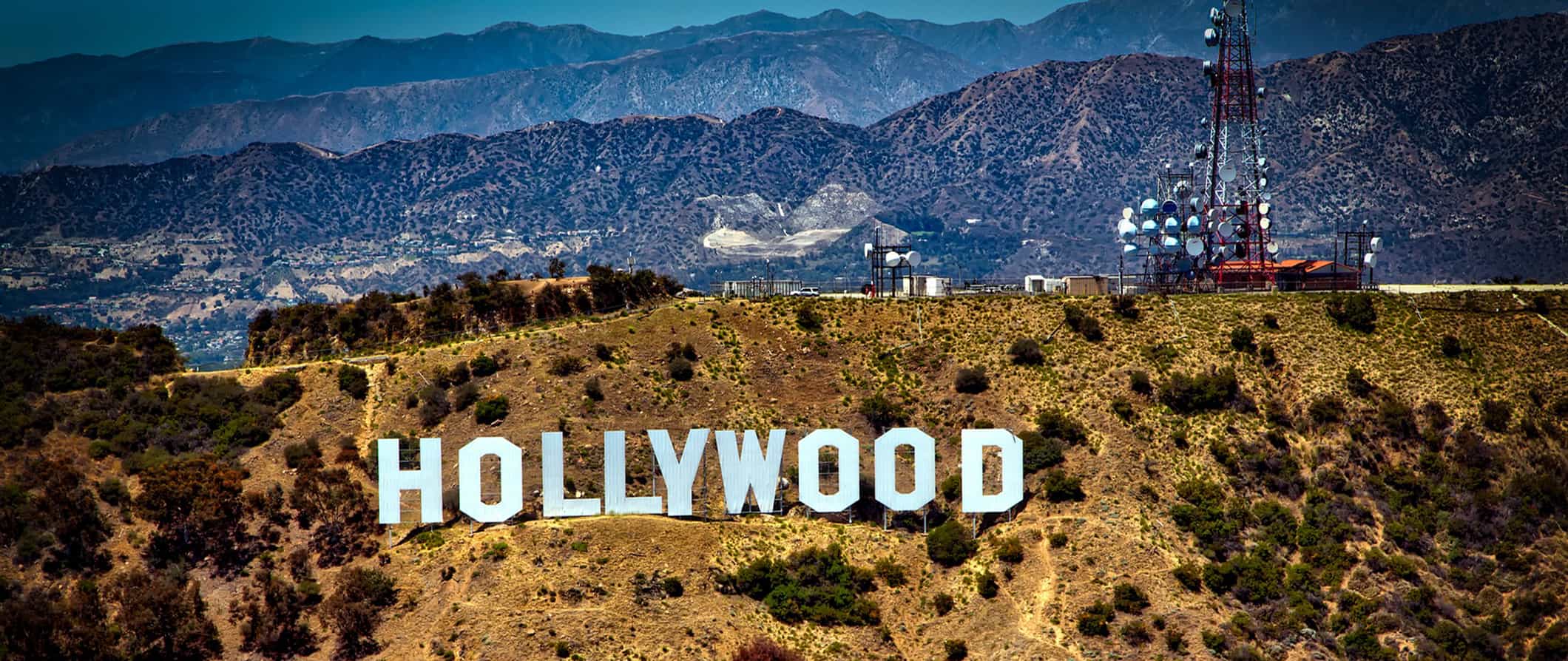 Los Angeles is the second-largest city in the United States and the largest city in California. It is a sprawling metropolis full of movie stars, aspiring actors, musicians, surfers, and lots and lots of traffic.
Los Angeles takes some getting used to. It's a love/hate city for most people. When I first visited Los Angeles, I hated it. The city was too big, too vapid, and too expensive.
But, the more I came here, I the more I saw that this isn't a city for tourists — it's a city for residents. With only a few tourist attractions, this is a city where you enjoy life: eat, drink, go to the beach, go for a run, and see a concert. It's a city for living.
Once you take the pressure of trying to fit Los Angeles into the tourist box, you see the magic of the city. Come here, relax, eat, listen to music, go for a hike, and just enjoy the little area you find yourself in.
This travel guide to Los Angeles will help you plan your trip, save money, and make the most of your time in this iconic destination.
Top 5 Things to See and Do in Los Angeles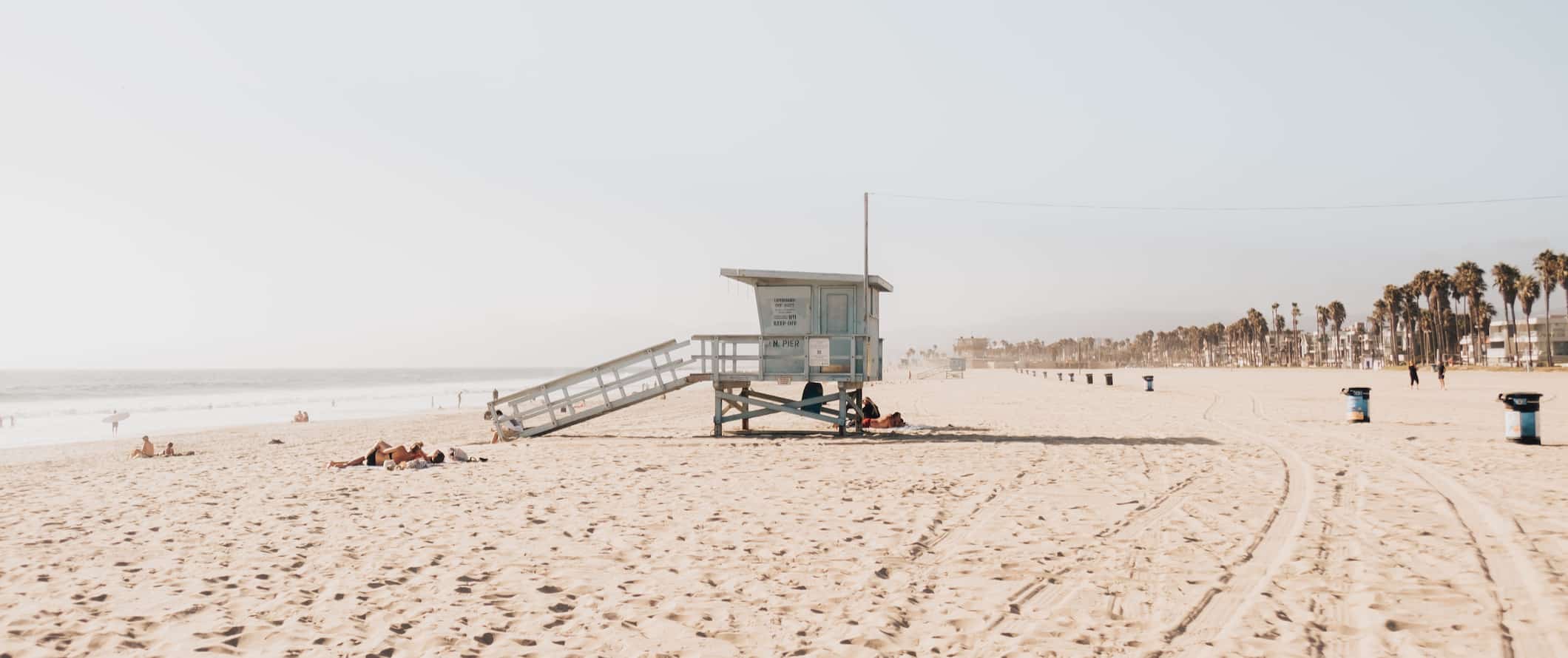 1. Take a day trip to Disneyland
Visit the "Happiest Place on Earth" in nearby Anaheim. I love the rides — like Haunted Mansion and Space Mountain — and just feeling like a kid. Don't miss the new Star Wars: Galaxy's Edge, with its popular Rise of the Resistance ride (it's worth the price). Other popular rides include the Pirates of the Caribbean, Jungle Cruise, and Indiana Jone's Adventure. A one-day/one-park ticket starts $104 USD.
2. See Hollywood Boulevard
Hollywood Boulevard has recently gone through some urban renewal and renovation. See the sidewalk street performers and enjoy the Walk of Fame (with over 2,700 celebrities' handprints and footprints), Grauman's Chinese Theatre (now known as TCL Chinese Theatre, which features one of the largest movie screens in the country), and much more. You can also hop on a tourist bus to see where the rich and famous live and work.
3. Tour the Getty Museum
The Getty Museum is amazing for four reasons: its impressive art collection, its dramatic Richard Meier architecture, its ever-changing gardens, and the sweeping views of the city. Opened in 1997, the museum focuses on pre-20th-century European art as well as and 19th- and 20th-century American and European photographs. It features work by Van Gogh, Gauguin, and other masters. Visiting here was a highlight of my time in LA. It's free to enter, however, you have to pay to park ($20 USD). It's closed on Mondays.
4. Explore Griffith Park
This place is great for hiking, picnics, and hanging around with friends. The hiking trails lead up to Mulholland Drive and provide great views of the city. Griffith Park has many activities, including the LA Zoo, the Autry Western Museum, pony rides, a golf course, a driving range, and an observatory. Think of it like Central Park in New York City but much larger (it spans 4,310 acres versus Central Park's 843 acres) and much more rugged. There's also plenty of wildlife here, including mountain lions, rattlesnakes, and coyotes. Guided hikes are available too if you prefer to go with a group.
5. Relax at Venice Beach
Besides the sand and waves, Venice Beach has street performers, surfers, skaters, and intense basketball games (some of the best streetball players in the world can be found here). Wander around, take in the street art, and eat and drink at many of the restaurants that line the beach. Avoid the weekends if you're heading to the beach as it gets crowded. It's just one of the best places to hang out in the city.
Other Things to See and Do in Los Angeles
1. Tour Universal Studios Hollywood
Universal Studios Hollywood is the only working movie studio and theme park in the world. Their Studio Tour lasts one hour and gives you a behind-the-scenes look at Hollywood, including a visit to the plane crash scene from War of the Worlds, Peter Jackson's King Kong, the Bates Hotel from Psycho, and cars from Fast & Furious (the tour is hosted by Jimmy Fallon on video). The theme park is home to the Wizarding World of Harry Potter, Jurassic World, The Simpsons ride, special effects shows, and more. A one-day ticket costs $109 USD while a two-day pass starts at $149 USD. Get your tickets in advance here.)
2. Party on Sunset Boulevard
Perhaps one of the world's most famous streets in the world, Sunset Blvd began as a route between the stars' posh neighborhoods and the Hollywood studios. It runs from downtown to the ocean, passing through the "Sunset Strip" with its beaches and movie studios on its way. Spend some time cruising the street and see if you can spot any celebs!
3. Explore Old Town Pasadena
Historic downtown Pasadena is located just ten minutes from Los Angeles. Its pedestrian-friendly zone is designated as a National Register Historic District and stretches for twenty-two blocks. It's filled with boutique shops and restaurants and is also a popular nightspot for all of you party animals out there. It's an eclectic area where people of all ages come to hang out.
4. Shop at the Farmers Market & The Grove
There's a great farmer's market here with loads of fresh bread, fruit, veggies, and a delicious food court. Nearby is an outdoor shopping area featuring all the major brands as well as a movie theater. It's a nice place to spend an afternoon. You can also learn the history of the farmers market while sampling some of its food with Melting Pot Tours (tours are $85 USD).
5. Take a walk on the beach
Los Angeles beaches are a great place to go for a walk, people-watch, or just lounge in the sun. Venice Beach and Santa Monica are two of the most famous beaches. The Santa Monica Pier, built in 1909, is also a fun way to spend an afternoon thanks to its carnival-like atmosphere right on the beach (it has several rides, greasy food stalls, and carnival games). Huntington Beach, Redondo Beach, and Playa del Rey are some of the other popular beaches around the city as well.
6. Visit the Huntington Library
This beautifully-designed library in nearby Pasadena includes a Chinese and Japanese garden. Additionally, the library has some incredibly rare and valuable books, including a copy of The Canterbury Tales from the 15th century and a 14th-century Gutenberg Bible (which you can see on display in the Main Exhibition Hall). It's open 10am-5pm Wednesday-Monday (closed Tuesdays) and tickets are $25 USD during the week and $29 USD on weekends.
7. Explore the California Science Center
This kid-friendly attraction has a variety of educational exhibits on topics ranging from ecosystems (complete with forest, river, and island habitats) to space and aviation. The biggest highlight is the American space shuttle, Endeavor, which ran 25 space missions between 1992-2011 for NASA. It's free to visit but parking costs $15-18 USD and you have to pay extra for special exhibits and IMAX movies (usually $10-20 USD).
8. Go for a hike
Los Angeles has a lot of wonderful hiking and running trails, the most famous being Runyon Canyon. There are some well-marked routes, including a 1.9-mile (3-kilometer) loop and a 2.6-mile (4-kilometer) loop (with higher elevation gain). There's also a more strenuous 3.3-mile (5-kilometer) hike to the top of the park too. Caballero Canyon (3.4 miles), Fryman Canyon Park (2.5 miles), and Los Liones Trail (3.5 miles) are three other easy trails around the city you can hike too.
9. See the iconic Hollywood Sign
You can hike up to the famous Hollywood sign using trails that are open from sunrise until sunset in Griffith Park. From the sign, you get a sweeping view of Hollywood (which is especially beautiful at sunset with the city lights spread out in front of you). The three trails to get here (from easiest to hardest) are the Mt Hollywood Trail, the Brush Canyon Trail, and the Cahuenga Peak Trail. Expect to spend at least a couple of hours hiking. If you'd rather go with a group, guided hikes from Get Your Guide last 2.5 hours and cost $25 USD.
10. Visit the Grammy Museum
With exhibits, interactive experiences, artifacts and costumes, and numerous films, this museum walks you through the entire music industry and its history as well as the careers of previous Grammy winners. It's not a highlight of the city, but if you're a music aficionado, it's one of the best things to do. Admission is $18 USD.
11. Browse The Last Bookstore
This is one of my favorite bookstores in the country (and one of the few remaining big independent ones). They sell books and music records, have art displays, and there's a cool upstairs area too with books for as little as $1 USD. Located downtown, this space is huge, and you can get lost browsing the shelves for hours. Come here, get a coffee, and buy some books! It's a must see.
12. Visit LACMA
The Los Angeles County Museum of Art is the largest museum in the western United States. It boasts a massive collection of artwork including works by Rembrandt, Cézanne, Ansel Adams, and Magritte. There's also ancient artwork from around the world, including Egyptian, Greek, and Roman sculptures. There's modern art here too, including Michael Heizer's 340-ton boulder which is wedged over a narrow walkway. Tickets are $25 USD.
13. See La Brea Tar Pits
These natural tar pits are in Hancock Park, where the tar has been trapping and fossilizing animals since the Ice Age. More than 3.5 million fossils have been found here, ranging from small honeybees to giant mammoths. This includes thousands of dire wolves! And scientists are still uncovering fossils here nearly every day of the year. It's right next to LACMA too so you can do both together. Admission is $15 USD (closed Tuesdays).
14. Explore downtown
Downtown has experienced a complete revitalization in recent years, including a brand-new pedestrian center with museums, concert halls, theaters, and dining options. If you do just one thing here, visit the Grand Central Market. It's home to 40+ of downtown's best food vendors, including the original Eggslut. You can find literally any type of food here. I love it.
15. Walk Abbot Kinney Blvd.
Near Venice Beach, this boulevard is chock full of diverse shops, galleries, restaurants, and bars. There are all kinds of quirky businesses to pop into and on First Friday (the first Friday of each month), the street gets taken over by live music and food trucks. This is one of the hippest spots in the city. There's a ton of things going on here and it's filled with locals at all hours of the day.
16. Visit the Beyond Baroque Literary Arts Center
This center is one of the most successful literary arts incubators in the country, with alumni like Tom Waits and Wanda Coleman. There's regular programming here like readings, workshops, and musical performances, as well as a bookstore and archive with over 40,000 books. If you're a book nerd like me, you'll love this place!
17. Hang out in Palisades Park
Palisades Park in Santa Monica is a eucalyptus-filled park between the beach area and Ocean Avenue, where you get scenic views over the ocean and of the Santa Monica Mountains. It's a chill spot to relax and explore. Make sure you stop by the Camera Obscura, an antiquated camera that offers a unique view of the world outside. It's free to visit and closed on Sundays. (Camera currently closed for COVID).
18. Admire Greystone Mansion
Located in Beverly Hills, this is a Tudor Revival surrounded by landscaped English gardens. Also known as Doheny Mansion, the mansion was built in the 1900s as a gift from oil tycoon Edward L. Doheny to his son (the film There Will Be Blood is loosely based on Doheny). It eventually became a public park in the 1970s and was added to the National Register of Historic Places in 1976. The mansion has a whopping 55 rooms and cost around 70 million dollars (adjusted for inflation), making it the most expensive home in California at the time. The mansion is open to the public on the first Sunday of every month but the grounds are free to visit anytime. It's a beautiful, relaxing place to go for a stroll or sit with a book when the sun is shining.
19. Enjoy Koreatown
This is one of the most fun spots to enjoy the city's nightlife. There are tons of tasty BBQ restaurants, lively bars and clubs, and fun karaoke places. It's a must for foodies though, with over 500 restaurants in the area. The neighborhood was established in the early 1900s by Korean immigrants and has grown into a vibrant part of town that spans over 150 blocks. Don't miss Dawooljung, the first traditional Korean monument built in the city, and be sure to feast on mouth-watering Korean BBQ while you're here.
20. Explore Silver Lake
This hip neighborhood is home to cool cafes, trendy shops, vegan restaurants, and boutique galleries. It's essentially the Brooklyn of LA, named after the Silver Lake Reservoir, which offers a nice 2.25-mile loop where locals walk and jog. It's a laid-back spot that most tourists skip so you won't be surrounded by tourists!
21. Do a Studio Tour
Warner Bros., Universal, Sony, and Paramount all offer studio tours where you can see famous sound stages like the one used in The Wizard of Oz, props from hit movies (like the bench from Forrest Gump), and so much more. Most tours last 1-2 hours and either involve walking or riding a tram/bus. Prices vary but start around $70 USD per person. Tickets sell out fast so be sure to book in advance. You can get tickets for Warner Bros. here and tickets for Universal here.

For more information on other cities in the United States, check out these guides:
Los Angeles Travel Costs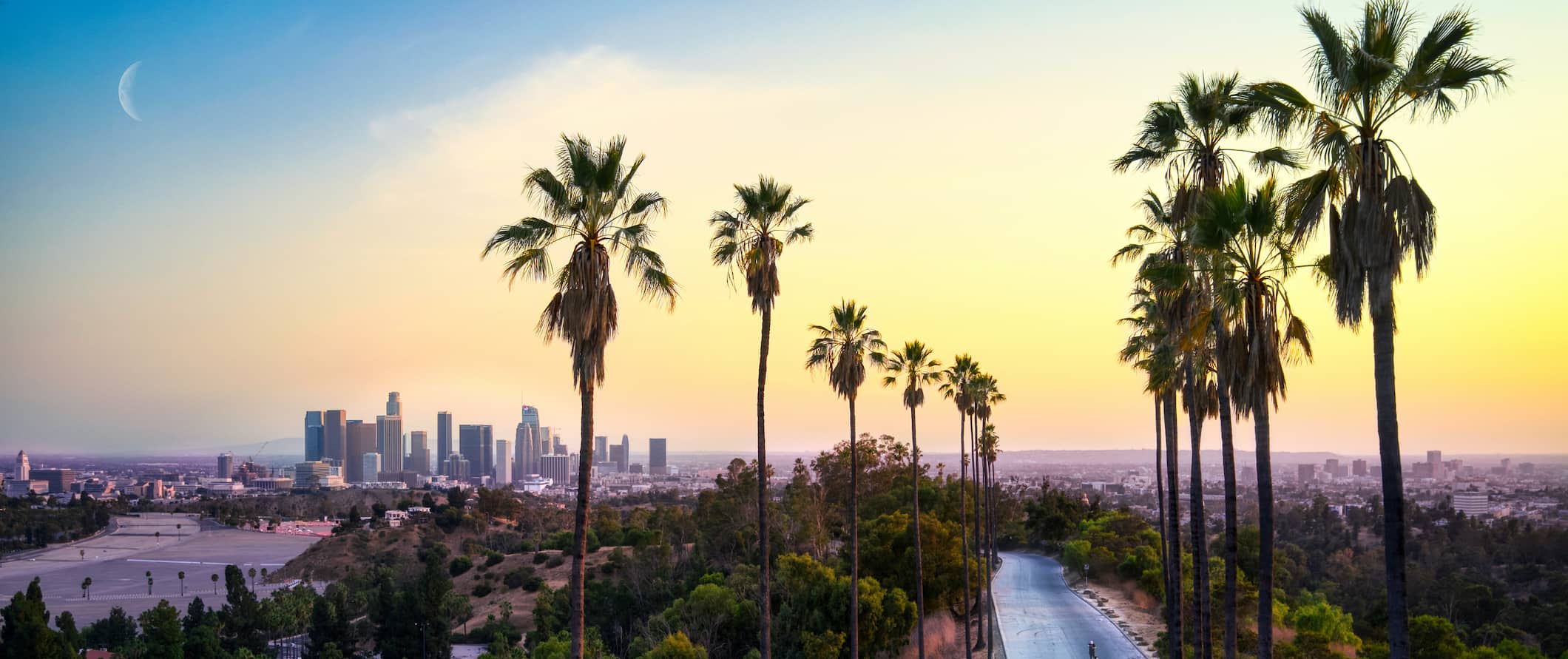 Hostel prices – Prices here vary widely depending on where you stay in the city, though the prices are fairly consistent year-round. Unfortunately, prices aren't cheap. Dorm rooms start around $30-50 USD per night and go as high as $80 USD. A basic private room with an ensuite bathroom costs around $80-100 USD per night. Free Wi-Fi is standard and most hostels also have self-catering facilities. Only a couple of hostels offer free breakfast.
Budget hotel prices Budget two-star hotels cost around $100 USD per night, though most are closer to $125-150 USD. Expect basic amenities like Wi-Fi, AC, TV, and a tea/coffee maker. Three-star hotels start around $130 USD but most cost between $160-200 USD per night. These generally include free breakfast too.
There are also lots of Airbnb options in Los Angeles. A private room starts around $85 USD per night (but averages double that) while entire homes/apartments start around $150 USD per night (if you don't book early you should expect to pay double or even triple that price).
Food – Los Angeles has lots of food trucks and fast food options for under $10-15 USD. It's the city of food trucks and anything and everything can be found here. You can get a hearty crepe or sandwich for around $10-12 USD while tacos go for about $3-5 USD each.
At casual restaurants, most main dishes cost around $15-18 USD. If you want to splash out on a three-course meal, expect to pay at least $50-60 USD.
For fast food (think McDonald's), a combo meal is around $9 USD. A large pizza is $10-15 USD while Chinese food is $11-13 USD.
Beer is around $8 USD while a latte/cappuccino costs around $4.75 USD. Bottled water is $2 USD.
Some of my favorite places to eat are Jitlada, Cafe Los Feliz, The Butcher's Daughter, Uzumaki Sushi, Frank & Musso's, Dan Tana's, Bay Cities Italian Deli, and Meals by Genet. For drinks, check out No Vacancy, Hotel Cafe, Roosterfish, Firestone Water Brewery, and Good Times at Davey Wayne's.
If you cook your own food, expect to pay $50-75 USD per week for groceries. This gets you basic staples like pasta, rice, vegetables, and some meat.
Backpacking Los Angeles Suggested Budgets
If you're backpacking Los Angeles, expect to spend around $75 USD per day. This budget covers a hostel dorm, using public transportation, cooking your own meals, and free attractions like the beaches and hiking. If you plan on drinking, add $10-20 USD more per day.
On a mid-range budget of $190 USD per day, you can stay in a private hostel room or Airbnb, eat out for most of your meals, enjoy a couple drinks, take the occasional taxi to get around, and do more paid activities like visiting some museums or going to Disneyland for a day.
On a "luxury" budget of $390 USD or more per day, you can stay in a hotel, eat out anywhere you want, drink as much as you'd like, rent a car to get around or take more taxis, and do as many tours and activities as you want. This is just the ground floor for luxury though. The sky is the limit!
Accommodation
Food
Transportation
Attractions
Average Daily Cost
Backpacker
$35
$20
$10
$10
$75
Mid-Range
$100
$45
$20
$25
$190
Luxury
$185
$115
$40
$50
$390
Los Angeles Travel Guide: Money-Saving Tips
Los Angeles can be super expensive. After all, some of the country's wealthiest people live here! But, thanks to all the food trucks and starving artists, you don't have to be rich to visit. Here are some ways to save money in Los Angeles:
Purchase a Go Los Angeles Card – If you are going to do lots of sightseeing, this card provides discounts to 40 museums, tours, and attractions. It's priced to save you money when compared to buying separate tickets. A one-day unlimited pass is $99 USD while the two-day unlimited pass is $149 USD. You can also build your own pass, with one-day/two-attraction passes starting at $83 USD.
Avoid celebrity hangouts – Hollywood and Beverly Hills are the two areas you can see the most celebrities but also the two areas where you can spend the most money. While they're fun to explore, avoid shopping and eating there!
Redeem hotel points – Be sure to sign up for hotel credit cards before you go and use those points when you travel. This is especially helpful in big cities like LA, where accommodation is expensive. If you have lots of points, use them here and get free rooms! Be aware that most hotels charge parking fees if you have a car. This post has more information on how to get started travel hacking.
Stay with a local – There are plenty of Couchsurfing hosts throughout the city who can show you around and let you stay for free. In an expensive and ever-changing city like LA, having a local guide can be extremely helpful! Just make sure to send your requests early since it's a popular destination.
Take a free walking tour – This is a great way to learn the history behind the places you are seeing and to avoid missing any must-see stops. Free Tours By Foot has a few interesting walking tours that can show you what the city has to offer. Just make sure to tip your guide!
Save money on rideshares – Uber and Lyft are cheaper than taxis and are the best way to get around a city if you don't want to take a bus or pay for a taxi. The shared/pool option (where you share a ride with other people) offers the best savings.
Bring a reusable water bottle – The tap water here is safe to drink so bring a reusable water bottle to save money and reduce your single-use plastic consumption. LifeStraw makes a reusable bottle with a built-in filter that ensures your water is always safe and clean.
Where to Stay in Los Angeles
Accommodation is expensive in Los Angeles. Since the city is so spread out, before you book, make sure you have a spot in the location where you want to spend most of your time. Otherwise, you'll be driving a lot. Here are some recommended places to stay in Los Angeles:
For more hostel suggestions, check out my complete list of the best hostels in Los Angeles.
And, for a list of the best neighborhoods in the city, check out my post on where to stay in LA.
How to Get Around Los Angeles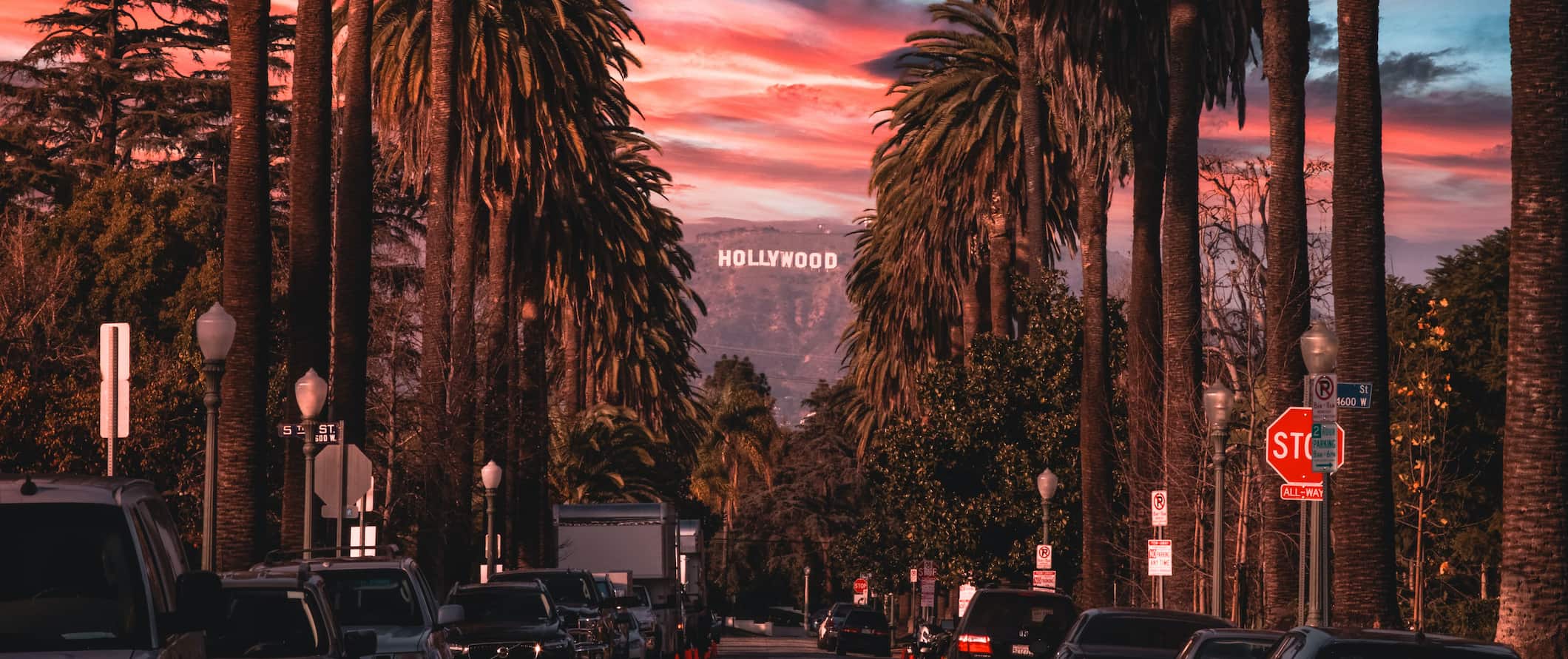 Public Transportation – The Los Angeles Metro involves both rail and bus service. It's the most accessible and affordable way to get around the city, with tickets costing just $1.75 USD each way.
Get a TAP Card (you can find them at TAP machines within bus or train stations) so you can load a preset cash value onto the card to be used on all buses and trains. You can get a day pass for $7 USD or a seven-day pass for $25 USD. The subway is kind of sketchy though but super convenient if you are staying downtown or in Hollywood. The line from downtown to Santa Monica takes as long as driving because of all the stops.
Flyaway buses go from LAX to downtown and Hollywood for $9.75 USD one-way.
Taxis – Taxis can be hard to flag down, but you can download the Curb app to request one in advance. Everything is meter-based, starting at $4 USD and then $2.70 USD per mile.
Ridesharing – Uber and Lyft are way cheaper than taxis and are the best way to get around a city if you don't want to take a bus or pay for a taxi.
Bike rental – While I wouldn't recommend renting a bike if you're in the middle of the city (traffic is terrible), once you get out to the coast then renting a bike might be a fun way to explore. Expect to pay around $30 USD per day for a rental. There is also a bike share program called Metro Bike Share that offers $5 USD daily rentals as long as each ride is less than 30 minutes.
Car Rental – Everything in Los Angeles is super spread out so renting a car can make your trip a lot more enjoyable. You can rent cars for as low as $50 USD per day. However, keep in mind that parking is a real hassle (spaces are limited and spots are expensive). Use apps like BestParking or ParkMe to find parking spots around downtown L.A., Hollywood, Santa Monica, and Long Beach. For the best rental car deals, use Discover Cars.
When to Go to Los Angeles
Summer is the peak season for tourism in LA, with temperatures soaring to 85°F (30°C). This drives everybody to the beaches. Attractions get crowded during the summer and accommodation prices increase so be sure to book early. On the plus side, it hardly ever rains during the summer.
March-May and September-November (the shoulder seasons) are my favorite times to visit Los Angeles. It's warm, but there's no sticky heat and the crowds are less oppressive. Temperatures during these months are between 69-80°F (21-27°C), with very little rain.
December is the coldest month overall, but it's much cheaper for accommodation if you want to save some cash. Just pack some rain gear if you're coming in the winter. Expect daily highs around 68°F (21°C).
How to Stay Safe in Los Angeles
Overall, Los Angeles is a safe place to visit. If you stick to touristy areas like Hollywood, Santa Monica, and Beverly Hills, you'll be fine. There are some questionable areas downtown (like Skid Row) as well as nearby South Central, which should be avoided. Avoid Compton too.
You're biggest issue is going to petty crime, like theft and bag snatching. Petty crime has been on the rise over the last couple of years and it's something you definitely want to watch out for. As a general rule, don't wear flashy jewelry, wave around cash, and just keep your valuables secure and hidden when you are eating outside. Don't bring anything valuable to the beach just in case as theft can occur.
If you have a vehicle, keep it locked at all times and don't leave any valuables in it overnight.
Solo female travelers should feel safe here, however, the standard precautions apply (don't leave your drink unattended at the bar, never walk around at night intoxicated, etc.).
Los Angeles also has some pretty unique scams. For example, if you're approached by someone who says they're a Hollywood producer, director, or casting agent, they could be legit. However, chances are they're just trying to scam you into paying fees upfront. Ask for a business card and do your due diligence.
Additionally, be wary of people offering Hollywood tours or discounts on open-air bus tours. Do your research and stick to well-known providers to avoid getting ripped off.
To avoid getting ripped off, read about common travel scams to avoid here.
If you experience an emergency, dial 911 for assistance.
Always trust your gut instinct. Make copies of your personal documents, including your passport and ID.
The most important piece of advice I can offer is to purchase good travel insurance. Travel insurance protects you against illness, injury, theft, and cancellations. It's comprehensive protection in case anything goes wrong. I never go on a trip without it as I've had to use it many times in the past. You can use the widget below to find the policy right for you:
Los Angeles Travel Guide: The Best Booking Resources
These are my favorite companies to use when I travel. They consistently have the best deals, offer world-class customer service and great value, and overall, are better than their competitors. They are the companies I use the most and are always the starting point in my search for travel deals.
Skyscanner – Skyscanner is my favorite flight search engine. They search small websites and budget airlines that larger search sites tend to miss. They are hands down the number one place to start.
Hostelworld – This is the best hostel accommodation site out there with the largest inventory, best search interface, and widest availability.
Booking.com – The best all around booking site that constantly provides the cheapest and lowest rates. They have the widest selection of budget accommodation. In all my tests, they've always had the cheapest rates out of all the booking websites.
Get Your Guide – Get Your Guide is a huge online marketplace for tours and excursions. They have tons of tour options available in cities all around the world, including everything from cooking classes, walking tours, street art lessons, and more!
SafetyWing – Safety Wing offers convenient and affordable plans tailored to digital nomads and long-term travelers. They have cheap monthly plans, great customer service, and an easy-to-use claims process that makes it perfect for those on the road.
LifeStraw – My go-to company for reusable water bottles with built-in filters so you can ensure your drinking water is always clean and safe.
Unbound Merino – They make lightweight, durable, easy-to-clean travel clothing.
Top Travel Credit Cards – Points are the best way to cut down travel expenses. Here's my favorite point earning credit cards so you can get free travel!
Los Angeles Travel Guide: Related Articles
Want more info? Check out all the articles I've written on United States travel and continue planning your trip: