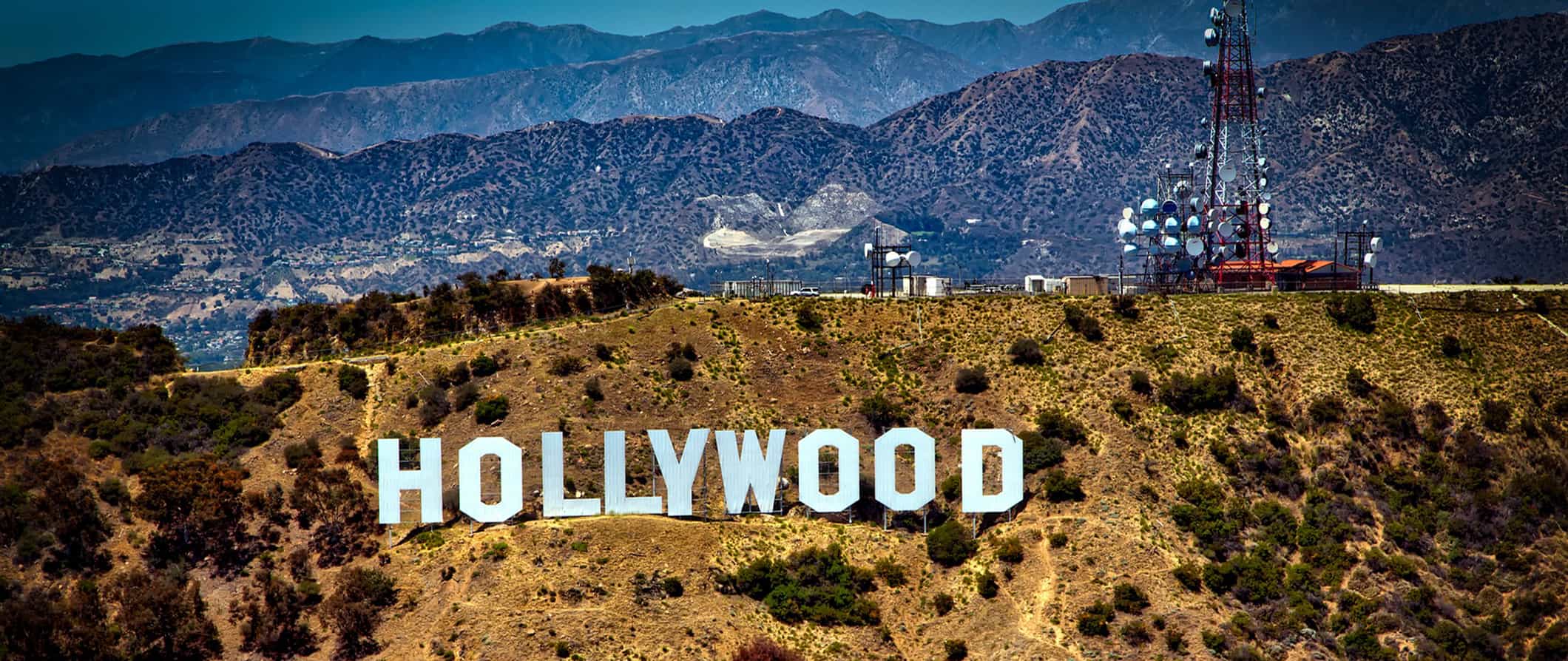 Los Angeles is the second largest city in the United States and the largest city in California. It is a sprawling metropolis full of movie stars, wannabe actors, musicians, surfers, and lots and lots of traffic.
Los Angeles takes some getting used to. It's a love/hate city for most people. When I first visited Los Angeles, I hated it. The city was too big, too vapid, and too expensive. But the more I came here, I the more I saw that this isn't a city for tourists, it's a city for residents. With only a few tourist attractions, this is a city where you enjoy life: eat, drink, go to the beach, go for a run, see a concert. It's a city you visit liked you lived in.
And, once you take the pressure of trying to fit Los Angeles into the tourist box, you see the magic of the city.
This travel guide to Los Angeles will give you everything you need to plan an affordable and enjoyable trip here!
Click Here for City Guides

Los Angeles
Top 5 Things to See and Do in Los Angeles
1. Take a day trip to Disneyland
Visit the "Happiest Place on Earth" in nearby Anaheim. I love the rides, the Haunted Mansion, Space Mountain, and just feeling like a kid. A one-day/one-park ticket ranges from $105-149 (depending on if it's peak season or not).
2. See Hollywood Boulevard
Hollywood Boulevard has recently been going through some urban renewal and renovation. See the sidewalk street performers and enjoy the Walk of Fame, Grauman's Chinese Theatre (with celebrities' handprints and footprints) and much more.
3. See the Getty Museum
The Getty Museum is amazing for fourreasons: its impressive art collection, its dramatic Richard Meier architecture, its ever-changing gardens, and the sweeping views of the city. Visiting here was a highlight of my time in LA and it's free! (You do have to pay for parking.)
4. Relax in Griffith Park
This place is great for hiking, picnics or hanging around with friends. The hiking trails lead up to Mulholland Drive and provide great views of the city. Griffith park has many activities, including the LA Zoo, the Autry Western Museum, pony rides, a golf course, a driving range, and The Observatory.
5. Venice Beach
Besides the sand and waves, you'll encounter street performers, surfers, skaters, and intense basketball games. Wander around, take in the street art, and eat and drink at many of the restaurants that line the beach.
Other Things to See and Do in Los Angeles
1. Tour Universal Studios Hollywood
Universal Studios Hollywood is the only working movie studio and theme park in the world. The Studio Tour lasts for one hour and gives you a behind-the-scenes look at how Hollywood is made, including a visit to the plane crash scene from War of the Worlds and Bates Hotel from Psycho. The theme park is amazing! It's home to the Wizarding World of Harry Potter, Jurassic World, and The Simpsons ride. A one-day ticket costs $110-190. If you don't want to pay to go into the parks, you can also enjoy shops, restaurants, and atmosphere at Universal's City Walk (though with so much to do in LA, I'm not sure going here just for this is worth it).
2. Party on Sunset Boulevard
Perhaps one of the world's most famous streets, it began as a route between the stars' posh neighborhoods and the Hollywood studios. It runs from downtown to the ocean, passing through the "Sunset Strip" with its beaches and movie studios on its way.
3. Explore Old Town Pasadena
Historic downtown Pasadena is located just ten minutes from downtown Los Angeles and is a pedestrian-friendly zone stretching for twenty-two blocks. It's filled with over excellent boutique shops and restaurants. It is also a very popular nightspot for all of you party animals out there. It's an eclectic area where people of all ages come to hang out.
4. Shop at the Farmers Market & The Grove
There's a great farmer's market here with loads of fresh bread, fruit, veggies, and a delicious food court. Nearby is an outdoor shopping area featuring all the major brands as well as a movie theater. It's a very nice way to spend an afternoon. You can also learn the history of the farmers market while sampling some of its food for $50 with Melting Pot Tours.
5. Take a walk on the beach
Los Angeles beaches are a great place to go for a walk, people-watch, or just lounge in the sun. Venice Beach and Santa Monica are two of the most famous beaches. The Santa Monica Pier is also a fun way to spend an afternoon, thanks to its carnival-like atmosphere right on the beach.
6. Visit the Huntington Library
This beautifully-designed library in nearby Pasadena includes a Chinese and Japanese garden. Moreover, the library has some very valuable holdings, such as a copy of The Canterbury Tales, and a Gutenberg Bible (which you can see on display in the Main Exhibition Hall). It's $25 to visit or $29 on the weekends.
7. Explore the California Science Center
This is a kid-friendly attraction, with a variety of educational exhibits on topics ranging from an Ecosystems exhibit (complete with forest, river, and island habitats) to exhibits on space and aviation. The biggest highlight is the American space shuttle, Endeavor. It's free to visit, but parking is between $12-15, and you'll have to pay extra for special exhibits and IMAX movies.
8. Go for a hike
Los Angeles has a lot of wonderful hiking and running trails, the most famous being Runyon Canyon Park. There are some well-marked routes, including a 1.9-mile (3-kilometer) loop and a 2.65-mile (4-kilometer) loop (with higher elevation gain). There's also a more strenuous 3.3-mile (5-kilometer) hike to the top of the park too.
9. See the iconic Hollywood Sign
You can hike up and behind the famous Hollywood Sign using trails that are open from sunrise until sunset in Griffith Park. You'll get a sweeping view of Hollywood and a special view of the city's iconic letters, which is especially beautiful at sunset with the city lights spread out in front of you. The three trails (from easiest to hardest) are the Mt Hollywood Trail, the Brush Canyon Trail, and the Cahuenga Peak Trail.
10. The Grammy Museum
With exhibits, interactive experiences, and numerous films, this museum walks you through the entire music industry and its history as well as the careers of previous Grammy winners. It's not a highlight of the city, but if you're an extreme music fan, it's one of the best things to do. Admission is $12.
11. The Last Bookstore
This is one of my favorite bookstores in the country (and one of the few remaining big independent ones). They sell books and music records, have art displays, and there's a cool upstairs area too with books all priced at $1 each. Located downtown, this space is huge, and you can get lost in the space for hours. Come here, get a coffee, read and buy a book!
12. Visit LACMA
The Los Angeles County Museum of Art is the largest museum in the western United States, with a massive collection of artwork from the greats including Rembrandt, Cézanne, Ansel Adams, and Magritte. There's also 1,000 years worth of ancient artwork from the world, including Egyptian, Greek, and Roman sculptures. Looking for something more modern? There's always something to admire, like Michael Heizer's artwork featuring a 340-ton boulder wedged over a narrow walkway. Tickets are $25.
13. See La Brea Tar Pits
These natural tar pits are in Hancock Park, where the tar has been trapping and fossilizing animals since the Ice Age. More than 3.5 million fossils have been found here, ranging from small honeybees to giant mammoths. This includes over 200,000 dire wolf specimens! And scientists are still uncovering fossils here nearly every day of the year. It's $14 to visit. It's right next to LACMA too so you can do both together!
14. Explore downtown L.A.
Downtown L.A. has experienced complete revitalization in recent years, with a brand new pedestrian center with museums, concert halls, theaters, and excellent dining. If you do just one thing here, visit the Grand Central Market. It's a 30,000 square-foot area crammed with some of downtown's best known food vendors, including the original Eggslut and Press Brothers. You can find literally any type of food here. I love it.
15. Walk Abbot Kinney Blvd.
Near Venice Beach, this boulevard is chocked full of diverse shops, galleries, restaurants, and bars. There are all kinds of quirky businesses to pop into, including Waraku for its limited edition Japanese clothing, and Mystic Journey, a speciality bookshop that regularly hosts readings from up-and-coming authors. On First Fridays (of each month), the street gets taken over with live music and food trucks.
16. Visit the Beyond Baroque Literary Arts Center
This center is one of the most successful literary arts incubators in the country, with alumni like Tom Waits and Wanda Coleman. There's regular programming here like readings, workshops, and musical performances, and a bookstore and archive with over 40,000 books. If you're a book nerd, you'll love this place.
17. Hang out in Palisades Park, Santa Monica
Palisades Park is a eucalyptus-filled park between the beach area and Ocean Avenue, where you'll get scenic views over the ocean and of the Santa Monica Mountains. It's a chilled out spot to explore, and make sure you stop by the Camera Obscura—an antiquated camera that offers a unique view of the world outside. It's free to visit.
Los Angeles Travel Costs
Hostel prices – During peak season, a bed in a four-six bed room will cost from about $50. For a room with eight beds or more, expect to pay around $45. During the off-season, a bed in a room with eight beds or more will cost from about $40 each night, while smaller rooms will cost about $45.
A basic private room with an ensuite bathroom for two costs from $145 per night during peak season. Prices are about $130 in the off-season.
Budget hotel prices – Nightly rates for a budget two-star hotel room start at about $180 in peak season. In the off-season, budget rooms start from about $150.
There are lots of Airbnb options in Los Angeles. A shared room (like a bed in a dorm) averages about $35 per night, while a private room is about $70 per night. A full apartment averages about $180 per night.
Food – Los Angeles has lots of street and fast food options for under $10. It's the city of ethnic food trucks and anything and everything can be found here. You can get a hearty crepe or sandwich for about $9, or an El Salvadorian pupusa for $4. Tacos go for about $3 each. A bowl of ramen starts from $7, and a McMeal or a burrito goes for about $8.
At casual restaurants, you'll get a big plate of chicken and fries from $10, or noodle dishes from $11. A cheeseburger with a side goes for $15, while pasta dishes are also from $15. You can also find healthy salads and buddha bowls from $12. A beer is about $6.
Since Los Angeles is the home of the wealthy elite, you can find some incredibly expensive dining options here. I mean, at Sushi Ginza Onodera they fly in fish twice weekly from Japan — and their omakase costs $300. If you want a more reasonable splurge, expect to spend between $85-160 on a 4-6 course menu. Otherwise, expect steak and seafood dishes to start from $35 and pasta/veggie dishes to start from $28. A glass of wine will cost at least another $9.
If you cook your own food, expect to pay $70 per week for groceries that will include pasta, vegetables, chicken, and other basic foods. Try to shop at Trader Joes or the farmer's markets for cheaper food.
Backpacking Los Angeles Suggested Budgets
If you're backpacking Los Angeles, expect to spend about $95 per day. This budget will cover a hostel dorm, public transportation, cheap local eats, and mostly free attractions.
A mid-range budget of about $237 will cover staying in a 2-star hotel, eating out for all of your meals, any attractions you want, some nice nights out, and Ubers to wherever you need to go.
On a luxury budget of about $600 or more per day, you can do what you want! You can get a four-star hotel in Hollywood, any meal you want, drinks, tours, and whatever else you want! The sky is the limit!
You can use the chart below to get some idea of how much you need to budget daily, depending on your travel style. Keep in mind these are daily averages – some days you'll spend more, some days you'll spend less (you might spend less every day). We just want to give you a general idea of how to make your budget. Prices are in USD.
Accommodation
Food
Transportation
Attractions
Average Daily Cost
Backpacker
$45
$20
$5
$25
$95
Mid-Range
$145
$35
$7
$50
$237
Luxury
$330
$100
$60
$110
$600
Los Angeles Travel Guide: Money Saving Tips
Los Angeles can be super expensive. After all, some of the country's wealthiest people live here! But, thanks to all the ethnic neighborhoods, food trucks, and starving artists, you don't have to be rich to visit LA. You can find lots of ways to visit on a budget. If you want to lower your costs, here are some ways to save money in Los Angeles:
Purchase a Go Los Angeles Card – If you are going to do lots of sightseeing this will give you discounts to 40 top museums, tours, and attractions. It is priced to save you money when compared to buying separate tickets. A day pass costs $92 and the price increases from there (you can build your own pass).
Avoid celebrity hangouts – Hollywood and Beverly Hills will be the two areas you'll see the most celebrities but also the two areas where you will spend the most money.
Redeem hotel points – Be sure to sign up for hotel credit cards before you go and use those points when you travel. This is especially helpful in big cities like LA, where accommodation is expensive. If you have lots of points, use them here and get free rooms! Be aware that most hotels charge parking fees if you have a car, and adjust your budget accordingly.
Couchsurf – You'll find plenty of hosts throughout the city who will show you around and let you stay for free. I've used it plenty of times and have enjoyed it as a way to meet people. In an expensive and ever-changing city like L.A., having a local guide can be extremely helpful!
Take a free walking tour – This is a great way to learn the history behind the places you are seeing and to avoid missing any must-see stops. Free LA Tour has a few interesting walking tours that can show you what the city has to offer.
Save money on rideshares – Uber and Lyft (my preferred company) are way cheaper than taxis and are the best way to get around a city if you don't want to take a bus or pay for a taxi. The shared/pool option (where you share a ride with other people) offers even better savings. You can save money off your first rides with the following codes: Lyft (MATTHEW999 to save $10) and Uber (jlx6v to save $15).
Where To Stay in Los Angeles
Accommodations are expensive in Los Angeles, and they're very spread out. Before you book, make sure you have a hostel in the location where you want to spend most of your time. Here are my recommended places to stay in Los Angeles:
For more hostel suggestions be sure to check out my list of the 6 favorite hostels in Los Angeles.
How to Get Around Los Angeles
Public Transportation – The Los Angeles Metro involves both rail service and a bus service. It's the most accessible and most affordable way to get around the city, with tickets costing just $1.75 each way.
It's easiest just to get a TAP Card (you'll find them at TAP machines within bus or train stations) where you can load a preset cash value onto the card to be used on all buses and trains. You can get a day pass for $7 or a seven-day pass for $25.
You can also use Flyaway buses to get from LAX to downtown and Hollywood for just $8.
Car Rental – Everything in Los Angeles is super spread out, so getting a rental car will make your trip a lot more enjoyable. You can get rental cars for as low as $30 per day. However, keep in mind that parking is a real hassle in L.A., with limited spaces costing between $0.50-6 per hour. You can use apps like BestParking or ParkMe to find parking spots around downtown L.A., Hollywood, Santa Monica, and Long Beach. ParkMe even lets you reserve a parking spot in advance.
Taxis – Taxis can be hard to flag down, but you can download the Curb app to request one in advance. Everything is meter-based, starting at $2.85 and then $2.70 per mile.
Ride-Sharing – Uber and Lyft are way cheaper than taxis and are the best way to get around a city if you don't want to take a bus or pay for a taxi. The shared/pool option (where you share a ride with other people) offers even better savings. You can save money off your first rides with the following codes: Lyft (MATTHEW999 to save $10) and Uber (jlx6v to save $15).
When to Go to Los Angeles
March to May and then September to November (the shoulder seasons) are the best time to visit Los Angeles. It's warm, but there's no sticky heat, and the crowds are less oppressive. Temperatures during these months are somewhere between 50-80°F (10-27°C), with very little rain. December is the coldest month overall, but it's much cheaper for accommodations if you want to save some cash. Just pack some rain gear if you're coming in the winter months.
Summer is the peak season for L.A., and high temperatures in the 80s°F (upper 20s-30s°C) drive everybody to the coast. Attractions get more crowded, and accommodation rates increase. One plus side: it hardly ever rains!
How to Stay Safe in Los Angeles
Overall, Los Angeles is a safe place to backpack and travel. If you stick to touristy areas like Hollywood, Santa Monica, and Beverly Hills, you'll be fine. But there are some dangerous areas downtown (like Skid Row) as well as nearby South Central, which should be avoided entirely. Avoid Compton too.
You may encounter petty crime, like theft, especially around famous tourist landmarks so keep an eye on your belongings at all times, especially on public transportation. Lock your car at all times.
L.A. has some pretty unique scams. If you're approached by someone who says they're a Hollywood producer, director, or casting agent, they could be legit. On the other hand, they could be trying to scam you into paying fees upfront. Ask for a business card and do your research. Also, be wary of people offering Hollywood tours or discounts on open-air bus tours. Do your research and stick to well-known providers.
Worried about travel scams? Read about these 14 major travel scams to avoid. There aren't many here in the states though.
Always trust your gut instinct. If a taxi driver seems shady, stop the cab and get out. If your hotel is seedier than you thought, get out of there. Make copies of your personal documents, including your passport and ID.
If you don't do it at home, don't do it when you're in Los Angeles. Follow that rule, and you'll be fine.
The most important piece of advice I can offer is to purchase good travel insurance. Travel insurance will protect you against illness, injury, theft, and cancellations. It's comprehensive protection in case anything goes wrong. I never go on a trip without it as I've had to use it many times in the past. You can use the widget below to find the policy right for you:
Los Angeles Travel Guide: The Best Booking Resources
Below are my favorite companies to use when I travel around Los Angeles. They are included here because they consistently turn up the best deals, offer world-class customer service and great value, and, overall, are better than their competitors.
Momondo – This is my favorite flight search engine because they search such a wide variety of sites and airlines. I never book a flight without checking here first.
Skyscanner – Skyscanner is another great flight search engline which searches a lot of different airlines, including many of the budget carriers that larger sites miss. While I always start with Momondo, I use this site too as a way to compare prices.
Airbnb – Airbnb is a great accommodation alternative for connecting with homeowners who rent out their homes or apartments. The big cities have tons of listings!
Hostelworld – This is the best hostel accommodation site out there, with the largest inventory, best search interface, and widest availability.
Hotwire – This is probably the hotel site I use most. I really enjoy its blind booking process. They essentially say "we have a super rate on a 3-star hotel in Los Angeles Hollywood," and you book it without knowing the hotel name. While that sounds scary, I've never ended up in a bad hotel and have saved a ton of money in the process. Highly recommended.
Priceline – I like this website because it allows you to bid on hotels and save a lot more money than by booking directly. When used in conjunction with the bidding site Better Bidding, you can substantially lower the cost of your hotels — by as much as 60%.
Intrepid Travel – If you want to do a group tour around the United States, go with Intrepid Travel. They offer good small group tours that use local operators and leave a small environmental footprint. If you go on a tour with anyone, go with them. And, as a reader of this site, you'll get a discount when you click the link!
EatWith – This website allows you to eat home cooked meal with locals. Locals post listings for dinner parties and specialty meals that you can sign up for. There is a fee (everyone sets their own price) but this is a great way to do something different, pick a local's brain, and make a new friend.
World Nomads – I buy all my travel insurance from World Nomads. They have great customer service, competitive prices, and in-depth coverage. I've been using them since I started traveling in 2003. Don't leave home without it!
Los Angeles Gear and Packing Guide
If you're heading on the road and need some gear suggestions, here are my tips for the best travel backpack and for what to pack!
The Best Backpack for Travelers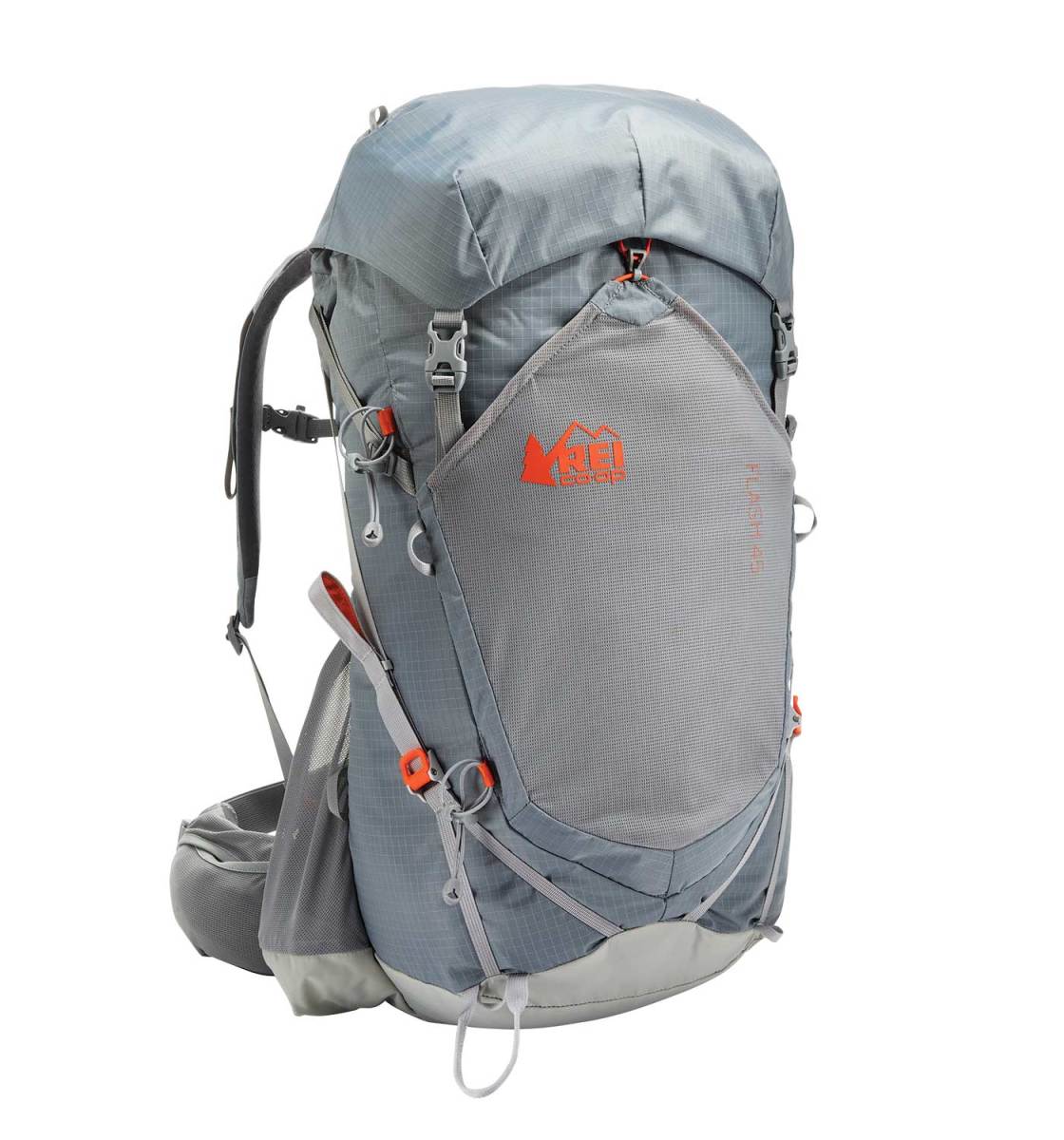 What's the best backpack for traveling long-term? I recommend the
REI Flash 45 Pack
. It's light and comfy, front loading, and fits perfectly in an airplane's overhead bin.
Size:
45-47L
Straps:
Thick and cushy with compression technology that pulls the pack's load up and inwards so it doesn't feel as heavy.
Features:
Removable top lid, large pocket at the front, hydration compatible, contoured hip belt
If you want something different, refer to my article on how to choose the best travel backpack for tips on picking a pack and other backpack suggestions.
What to Pack for Your Trip
Clothes
1 pair of jeans (heavy and not easily dried, but I like them; a good alternative is khaki pants)
1 pair of shorts
1 bathing suit
5 T-shirts
1 long-sleeved T-shirt
1 pair of flip-flops
1 pair of sneakers
6 pairs of socks (I always end up losing half)
5 pairs of boxer shorts (I'm not a briefs guy!)
1 toothbrush
1 tube of toothpaste
1 razor
1 package of dental floss
1 small bottle of shampoo
1 small bottle of shower gel
1 towel
Deodorant
Small Medical Kit (safety is important!!!)
Miscellaneous
Female Travel Packing List
I'm not a woman, so I don't know what a woman wears, but Kristin Addis, our solo female travel guru, wrote this list as an addition to the basics above:
Clothing
1 swimsuit
1 sarong
1 pair of stretchy jeans (they wash and dry easily)
1 pair of leggings (if it's cold, they can go under your jeans, otherwise with a dress or shirt)
2-3 long-sleeve tops
2-3 T-shirts
3-4 spaghetti tops
1 light cardigan
Toiletries
1 dry shampoo spray & talc powder (keeps long hair grease-free in between washes)
1 hairbrush
Makeup you use
Hair bands & hair clips
Feminine hygiene products (you can opt to buy there too, but I prefer not to count on it, and most people have their preferred products)
For more on packing, check out these posts:
Los Angeles Travel Guide: Suggested Reading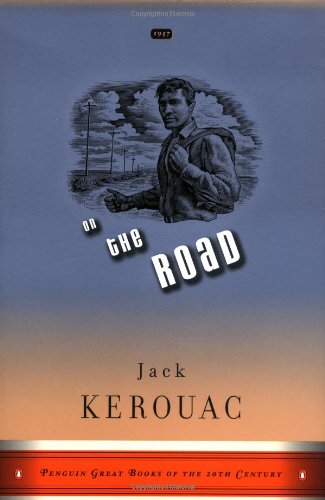 On the Road, by Jack Kerouac
Written in 1957, Jack Kerouac's Beat Generation classic is a classic travel novel. Kerouac's character's (who he modeled after himself) frustration, desire to see the world, and adventures resonate with all of us who need a little relief from modern life. The story follows his character, Sal, as he leaves New York City and heads west, riding the rails, making friends, and partying the night away. He finds thrills, adventure, love, sex, drugs, poverty, and excitement while moving from a weak character into someone whose life experience brings confidence. It's a true American classic.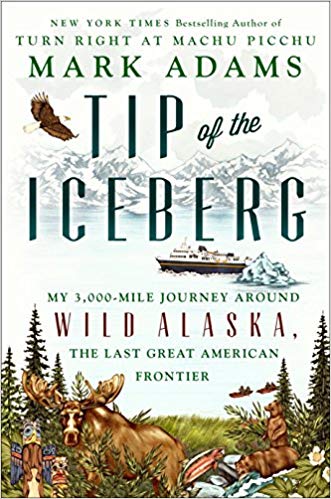 Tip of the Iceberg, by Mark Adams
1899, Edward H. Harriman (a rich railroad magnate) converted a steamship into a luxury cruise for some of America's best scientists and writers and embarked on a summer voyage around Alaska. Now, author Mark Adams retraces that expedition, traveling over 3,000 miles along the coast of the state. Mark is one of my favorite writers, and this book is very reminiscent of Turn Right at Machu Picchu. Mark brings insight into the people, history, and culture of the state in a way he did with his other book.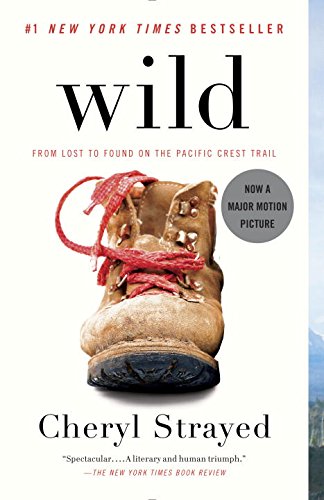 Wild, by Cheryl Strayed
Forgetting the hype of the book (and the subsequent movie), I really did like this book. Cheryl Strayed's book is about her journey along the Pacific Crest Trail when she was 26. She sets off in hopes of finding herself and coming to grips with the death of her mother, break-up of her marriage, and drug use. She's looking for a fresh start. Along the way, she encounters kindness, happy fellow hikers, and a deep sense of belong. Filled with wonderful prose, I found this book deeply moving. It's easy to see why the book became such a hit.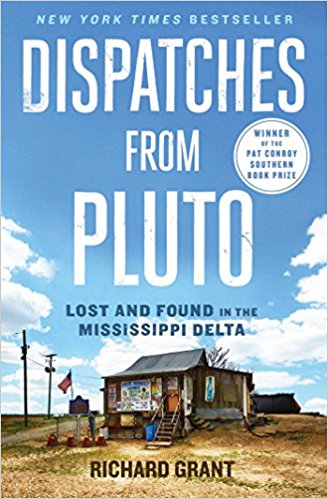 Dispatches from Pluto: Lost and Found in the Mississippi Delta, by Richard Grant
As a big fan of the state of Mississippi, I was really keen to read this book. The state is an often-overlooked tourist destination with eccentric but wonderful people; beautiful parks, rivers, and swamps; stunning architecture; and a complex and rich history for history buffs like myself. In this book, English writer Richard Grant and his girlfriend move to rural Pluto, Mississippi, to live a better life, escape the big city, lower their cost of living, and try something new. They learn to hunt, garden, fend off wild animals, handle snakes, and befriend interesting characters along the way.



The Not-Quite States of America, by Doug Mack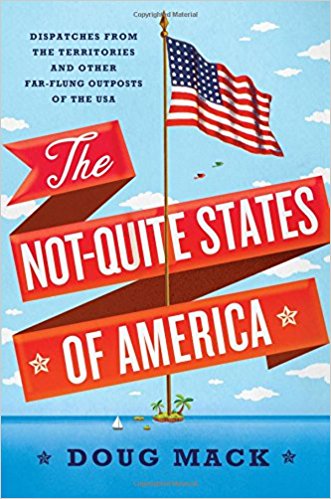 The United States of America is more than just 50 states. There's also the non-states of American Samoa, Guam, the Northern Mariana Islands, Puerto Rico, and the US Virgin Islands. In this funny, detailed, fact-rich book, Doug Mack explores these territories largely forgotten by the rest of the country, which play a more important role in our country than we realize. I had the pleasure of listening to Doug talk about his book in NYC, and he's a wealth of knowledge — just like his book! This one of those travel books that expands your mind about the place you don't really know.


Blue Highways: A Journey into America, by William Least Heat-Moon

This is a deep dive into America's unknown tiny towns scattered across the country map, like New Hope (Tennessee), Remote (Oregon), Why (Arizona), and Whynot (Mississippi). Yes, those are real town names! Heat-Moon's book is considered a masterpiece in American travel writing, and you'll love his adventures and the incredible people he encounters as he reveals the "real" American experience.
Los Angeles Travel Guide: Related Articles
Want more info? Check out all the articles I've written on United States travel and continue planning your trip: