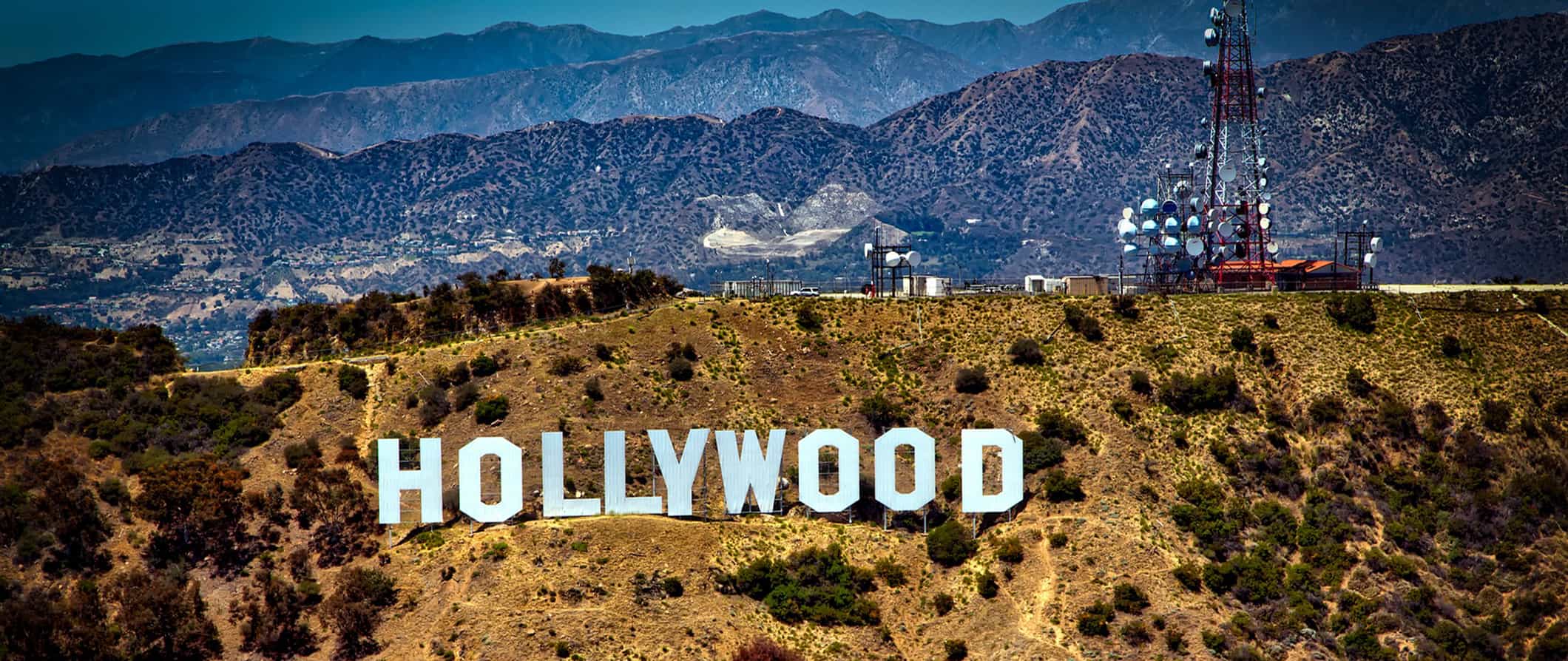 Los Angeles is the second largest city in the United States and the largest city in California. LA is a sprawling metropolis full of movie stars, wannabe actors, musicians, surfers, and lots of traffic. Some of the metro areas that include Santa Monica and Venice tend to be more popular among travelers as they are closer to the beach and have cheaper accommodation. Los Angeles takes some getting used to. It's a love/hate city for most people. You'll need a car as there isn't any widespread public transportation which makes it difficult to get around. The heavy traffic is typically the main thing people hate the most, so if you can get past that, you can see what makes LA such a special city.
Top 5 Things to See and Do in Los Angeles
1. Take a day trip to Disneyland
Visit the "Happiest Place on Earth" in Anaheim, which is less than 30 miles from Los Angeles. I love the rides, the Haunted Mansion, Space Mountain, and just feeling like a kid. Being a kid is all about playing pretend, and at Disney, it's not just welcome but encouraged. Disney may be expensive and artificial, but hey, what's wrong with simply enjoying yourself in a make-believe fantasy land for a bit? A one-day/one-park ticket ranges from $95-120 (depending on if it's peak season or not). See both Disneyland and California Adventure in one day for an additional $50.
2. See Hollywood Boulevard
Hollywood Boulevard has recently been going through some urban renewal and renovation. See the sidewalk street performers and enjoy the Walk of Fame, Grauman's Chinese Theatre (with celebrities' handprints and footprints) and much more.
3. See the Getty Museum
The Getty's architecture is so beautiful that it keeps me fascinated. They have a great art exhibit but what I like the best are the sweeping views of the city and the building's architecture. Visiting here was a highlight of my time in LA.
4. Relax in Griffith Park
This is the second largest park in the U.S, this place has a great place for hikes, picnics or hanging around with friends. The hiking trails lead up to Mulholland Drive and provide great views of the city. Griffith park has many activities in it, including the LA Zoo, the Autry western museum, pony rides, a golf course, driving range, and The (Space) Observatory.
5. Venice Beach
This is not your ordinary beach. Yes, there's sand and waves, but there are also all kinds of interesting characters, too. You'll find street performers, surfers, skaters, and intense basketball games. Wander around, take in the street art and eat some food at any of the many eateries located along the strip.
Other Things to See and Do
(Click the title to expand the text)
1. Tour Universal Studios Hollywood
This famous studio offers tours of the premises plus a theme park for one package price. It's the most famous place to take a studio tour. (Also, they recently opened The Wizarding World of Harry Potter). A one-day ticket costs $99-110. If you don't want to pay to go into the parks, you can also enjoy shops, restaurants, and atmosphere at Universal's City Walk.
2. Party on Sunset Boulevard
Perhaps one of the world's most famous streets, it began as a route between the stars' posh neighborhoods and the Hollywood studios. It runs from downtown to the ocean, passing through the "Sunset Strip" on its way.
3. Explore Old Town Pasadena
Historic downtown Pasadena is filled with shops and restaurants. It is also a very popular nightspot for all of you party animals out there.
4. Shop at the Farmers Market & The Grove
There's a great farmer's market here with loads of fresh bread, fruit, veggies, and a delicious food court. Nearby is an outdoor shopping area featuring all the major brands as well as a movie theater. It's a very nice way to spend an afternoon.
5. Take a walk on the beach
Los Angeles beaches are a great place to go for a walk, people-watch, or just lounge in the sun. Venice Beach and Santa Monica are two of the most famous beaches.
6. Visit the Huntington Library
Books probably aren't the first thing you think of when it comes to LA, but the city has a beautifully-designed library with pleasant grounds, which include a Chinese and Japanese garden. On top of that, the library itself has some very valuable holdings, such as a copy of The Canterbury Tales, and a Gutenberg Bible.
7. Explore the California Science Center
This is a kid-friendly place, with a variety of educational exhibits on topics ranging from the ecosystem, the "world of life," to space and aviation. The new highlight is the American space shuttle, the Endeavor.
8. Go for a hike
Another activity that you might not associate with the glitz and glamor of LA is hiking. A great place to get some exercise with the famous and beautiful is Runyon Canyon Park. Get your daily dose of uphill exertion before heading down to the beach area.
9. See the iconic Hollywood Sign
You can hike up and behind it using trails that are open from sunrise until sunset. You'll get a great view of Hollywood and a special view of the city's iconic letters.
10. Catch a game
If you're in town during a game, be sure to head to Dodger Stadium or the Staples Center and cheer on the local team. Even if you don't like the sport (whatever the sport), the locals will happily take you in, explain the game, and drink a beer with you.
11. The Grammy Museum
With exhibits, interactive experiences, and numerous films, this museum walks you through the entire music industry and its history as well as the careers of previous Grammy winners. It's not a highlight of the city but if you're a extreme music fan, it's one of the best things to do! Admission is $13 and it's open daily from 10:30am-6:30pm.
12. The Last Bookstore
This is one of my favorite bookstores in the country (and one of the few remaining big independent ones). They have books, sell records, have art, and there's a cool upstairs area too. Located downtown, this space is huge and you can get lost in the space for hours. Come here, get a coffee, read and buy a book! It's open daily from 10am-10pm.
Typical Costs
Hostel prices
– On average, you can find a dorm with 4-8 beds starting around $25-35. You can find a private room that sleeps two for around $80-100. Hostels in Los Angeles typically include free linens, free towels, free WiFi, and many offer free breakfast. My suggested places are:
Budget hotel prices – You can find a room in a budget hotel starting around $65 per night. Hotels at this price point typically include private bathrooms, air-conditioning, and free WiFi. On Airbnb, you can find shared rooms starting around $20 per night and entire homes starting around $60 per night.
Average cost of food – Any kind of food you can think of from any place on earth, Los Angeles has it. As long as you are not in the middle of Beverly Hills, you can find many sit down restaurants meals are $20. Fast food and sandwiches will cost between $7-10. LA is home to many farmers markets for some fresh fruit and veggies so you can get plenty of cheap eats at the market. If you cook your own food, expect to pay $60 per week for groceries that will include pasta, vegetables, chicken, and other basic foods. Mid-range sit-down restaurants will cost between $10-15 for a meal and drink. Prices go up from there and the sky is the limit.
Transportation costs – LA is very big and sprawling. Even if something seems close, distances can be deceiving as traffic is heavy. Although public transportation exists, LA is not a public transportation-friendly city. LA has a metro but it doesn't go too many places. The bus system is better but it is also subject to the heavy traffic. A single fare valid on the bus or the metro is $1.75 and be purchased from ticket vending machines in the stations. Week-long passes can be bought using the TAP card system, a rechargeable system. If you want to get out of the city center, you'll need a car. If you're not renting a car, then Uber or Lyft aren't too bad on the wallet if used sparingly. For example, Beverly Hills to Hollywood costs about $7-10 (UberX costs about $1 per mile). Taxis are expensive and have a base fare of $3 and cost about $3 per mile. For shorter distances, you can use Lime or Bird, two ridesharing companies that provide dockless scooter rentals around the city. Just download the app for either Bird or Lime and find a nearby scooter. They cost 1 USD to rent and then fifteen cents for every minute after. It's a great budget-friendly way to go shorter distances in the city.
Suggested daily budget
$60-90 (Note: This is a suggested budget assuming you're staying in a hostel, eating out a little, cooking some of your meals, keeping the partying to a minimum, and using local transportation. L.A. is expensive so watch out!)
Money Saving Tips
Purchase a Go Los Angeles Card – If you are going to do lots of sightseeing this will give you discounts to 40 top museums, tours, and attractions. It is priced to save you money when compared to buying separate tickets.
Rent a car – Since everything in Los Angeles is spread out, you'll need to rent a car. The car rental places at the airport offer good advance booking deals.
Avoid celebrity hangouts – Hollywood and Beverly Hills will be the two areas you'll see the most celebrities but also the two areas where you will spend the most money.
Redeem hotel points – Be sure to sign up for hotel credit cards before you go and use those points when you travel. This is especially helpful in big cities like LA, where accommodation is expensive. If you have lots of points, use them here and get free rooms! Be aware that most hotels charge parking fees if you have a car, and adjust your budget accordingly.
Couchsurf – You'll find plenty of hosts throughout the city who will show you around and let you stay for free. I've used it plenty of times and have really enjoyed it as a way to meet people. In an expensive and ever changing city like L.A., having a local guide can be extremely helpful!
Go on a free walking tour – This is a great way to learn the history behind the places you are seeing and to avoid missing any must-see stops. Free LA Tour has a few interesting walking tours that can show you what the city has to offer.
Get free water or free refills – If you order a drink, most restaurants allow free refills while you eat your meal or refills at a low cost. If you ask, water is usually provided for free.
Save money on rideshares – Uber and Lyft (my preferred company) are way cheaper than taxis and are the best way to get around a city if you don't want to take a bus or pay for a taxi. The shared/pool option (where you share a ride with other people) offers even better savings. You can save money off your first rides with the following codes: Lyft (MATTHEW999 to save $10) and Uber (jlx6v to save $15).
My Must Have Guides For Traveling to Los Angeles