New York is probably the most visited city in the United States. Famous for fashion, nightlife, art, food, and theater, to me, New York is the heart of the world. Every culture, language, and food is represented here. You can spend a lifetime exploring and never really see it all.
New York City is one of the most amazing places in the world (it's why I called it for six years) – and the city basically sells itself.
But, as a budget traveler, visiting NYC can be tough, especially when you don't know the hidden gems that makes living here affordable for so many. There are plenty of things to do that won't cost you a few months of your savings!
This travel guide to NYC can help you plan an affordable and wonderful trip here!
Click Here for City Guides

New York City
Top 5 Things to See and Do in New York City
1. Meander through Central Park
It's free, there are lots of little paths to walk, and, since it covers over 40 blocks, it's easy to spend hours upon hours wandering around. During the summer months, there are often free concerts and theater productions. From the spring to the fall, there are free walks run by the parks service on Saturdays at 11am.
2. Visit the 9/11 Memorial and Museum
The Freedom Tower gives you a panoramic view of the city and a lot of information about 9/11. On the elevator up, you can also see images of the historical development of NYC. At the bottom of the tower is a park commemorating the victims of the 9/11 attacks along with an extensive museum. Tickets are $28 USD.
3. Visit The Metropolitan Museum of Art
The Met is one of the foremost collections of fine art in the world. It is huge and, if you want to see it all, spend at least a full day. You'll find a lot here! The museum is open from 10am-5:30pm with extended hours on Fridays and Saturdays. Admission is $25 USD.
4. See the Statue of Liberty/Ellis Island
The Statue of Liberty is spectacular to see up close (she's as big as you imagine), but the real highlight of this combo is Ellis Island, where you can learn about the immigrant experience and get a sense of the people who helped build NYC. The ferry fee and crown access together are $21.50 USD.
5. Walk the High Line
Made from a converted train track, the High Line is an urban walking park on the west side of NYC. The area covers eight blocks and is extremely popular. Lined with overlooks, gardens, public art, food stalls, and greenery, this walk is one of the best things to do in the city, especially on a nice day.
Other Things to See and Do in New York City
1. Take the Staten Island Ferry
That two-hour-long line to see the Statue of Liberty not appealing? Well, walk a few blocks to the Staten Island ferry. The free ferry will take you across the harbor and give you a good view of both the Statue of Liberty and the city skyline. The ride takes about 20 minutes.
2. Walk the Brooklyn Bridge
Walk across the Brooklyn Bridge to experience an interesting view of the New York skyline and harbor. It's a long walk, but good food and drinks (like the brewery) await you on the other side. Stopping to take photos and meandering along the way will make the walk about 40 minutes. I enjoy doing this walk at night when downtown Manhattan is all lit up.
3. Museum hop
While the MET is a category of its own, New York City has dozens of museums worth visiting. The Natural History Museum, the MoMA, and Guggenheim are just three of the big ones. There are 11 museums on the museum mile near Central Park that would take days to really see. Pick the ones you want to see the most and visit those unless you have weeks in New York to see them all.
4. Visit Radio City Music Hall
Is there a more American theater than Radio City Music Hall? This timeless testament to entertainment has captivated visitors since the 1930s. Tours run daily from 9:30am-5pm and cost $27 USD (you can get a discount by purchasing your tickets online).
5. Take in the theater
You can't come to NYC and not see a Broadway show. There are many great shows here from musicals to Shakespeare to offbeat shows. There's nothing better than witnessing NYC theater, and it's such an integral part of life here you should check it out. Visit the TKTS booth in Times Square to get half-price tickets.
6. See Times Square
No matter when you go to Times Square, it will be packed with people (usually other tourists). There are pedestrian areas where you can sit and hang out. If you aren't shopping or eating or seeing a show, there isn't much to do in the area (and no New Yorker hangs out there), but it's still a fabulous place to people-watch for a few minutes from the top of the red steps of the TKTS kiosk.
7. Experience the Prohibition Bars
I love the 1920s — a lot. And that's one of the reasons I love NYC so much — there are a lot of other people here who love the Jazz Age. There are lots and lots of Prohibition-style bars serving classic drinks while pumping out live jazz and swing music. While the fancy cocktails they serve may not be cheap ($12–15), I'm hooked on the atmosphere. Stepping into these bars with the music playing, people dancing, and everyone dressed the part transports me back in time to an era when things were classy, carefree, and fun. Some of my favorites are The Back Room, Bathtub Gin, and the Mulberry Project.
8. Visit the Lower East Side Tenement Museum
You'll learn how immigrants from around the world lived during the late 1800s and early 1900s as they tried to make it in America. It's a good follow-up to what you'll see on Ellis Island. You can only visit this museum via guided tours, and they need to be booked in advance. I like the "Meet the Residents" tour, where live actors portray and share the story of newly arrived immigrants. Admission is $27 USD, and it's open daily from 10am-6:30pm with extended hours on Thursdays.
9. Visit Trinity Church
A colonial-era church, this is where many of the founding fathers of America worshiped. It's free to enter, and the surrounding graveyard has many of the original leaders of the country, including Alexander Hamilton, who was the first secretary of the treasury.
10. Head to Top of the Rock
This area is always filled with hustle and bustle. Wander around Rockefeller Center to see where they film The Today Show, shop, snack, and take the elevator to the "Top of the Rock" for another bird's-eye view of the city (which I personally think it better than the Empire State Building, since from the top of here you can get that building in your picture too!). Tickets cost $38, and it's open daily from 8am-12am (midnight).
11. Just wander
Walk from the east side to the west side and marvel at the beautiful New York City architecture such as Grand Central Station, Union Square, the New York Times building, the Chrysler Building, and much more. There are so many historic buildings in New York City that just wandering around and looking at them is a good afternoon activity.
12. Go to Battery Park
Named Battery Park for the old batteries (cannons) that defended the city, stop here for music and street performers, people-watching, relaxing, and all other park-related activities. You can also explore the ruins of the old fort that kept watch over the city. Battery Park is large and hectic, but I still love walking through here. There are tremendous views of the harbor, too.
13. Visit Wall Street
Take a photo with the famous bull and then walk to Wall Street and see where all those bankers destroyed the economy. There's heavy security in the area, but you can sit and watch people whiz in and out of buildings on their way to cause some other financial disaster.
14. See Federal Hall
One of the most overlooked museums in the city sits across the street from the NY Stock Exchange (NYSE). Federal Hall, built in 1700, is where George Washington took his oath of office (you can see the Bible he was sworn in on), was the first capitol building of the US, and was the site of the US Customs House in the late 1700s. It's one of my favorite attractions in the area. I especially love the old vaults of Customs House. I highly recommend you visit. Admission is free, and it's open Monday-Friday from 9am-5pm, and it's open Saturdays during the summer.
15. See Grand Central Terminal
Grand Central Terminal is the city's historic train station. It was going to be torn down in 1975 but was saved by Jacqueline Kennedy, who raised money for its preservation. There are free historical tours on Wednesdays. I love coming to the main concourse and looking up at the "stars" in the ceiling and people-watching as everyone races to and fro. All those people — where do they go? What do they do? Also, there's an amazing eatery in the basement called the Grand Central Oyster Bar & Restaurant. And for fancy (and expensive) cocktails, visit the Campbell Apartments and step back into the 1920s (dress code enforced). It was once the office of John W. Campbell, a member of the New York Central Railroad's board of directors and finance tycoon from the 1920s.
16. Visit The Cloisters
Few people make it up to the Cloisters (it's up near 204th Street), a branch of the Met devoted to medieval Europe. It took me years to finally see it, and I kicked myself for waiting so long. It was built with Rockefeller money from parts of five European abbeys between 1934 and 1939. (They even stipulated that the land across the river would forever remain undeveloped so the view would be unspoiled!). The building and its stunning cloistered garden are very, very peaceful, and beautiful. It's one of the best things to do in the city. There are free tours each day that explain the history of the museum and the paintings and exhibits. To get in, there's a suggested donation of $25 USD (which includes same-day entrance to the Metropolitan Museum of Art). It's open daily from 10am-5:15pm with extended hours in the summer.
17. Museum of Modern Art (MoMA)
Head over to the MoMA for lots of beautiful (and weird) modern art and some vivid impressionist art. I hate modern art. I just don't "get" it. How is shovel on a wall art? I dislike modern art, BUT this museum does have Van Gogh's Starry Night as well as other post-impressionist art, so I can't hate it completely. If you love modern and contemporary art, this (I'm told) is one of the best in the world. It's open daily from 10:30am-5:30pm with extended hours on Fridays. Admission is $25 USD. On Fridays after 4pm, the museum is free (and I like seeing Van Gogh for free)!
18. Hang out in Prospect Park
Get out of Manhattan and explore Brooklyn's version of Central Park and the cool Brooklyn Museum right near it. Spend the afternoon discovering its vast collection of both historical and contemporary art and artifacts.
19. Visit Bronx Zoo
Head north for a look at one of the oldest and biggest zoos in the United States. It's an incredible experience for kids too. It's open daily from 10am-4:30pm. Admission is $29 USD. (Budget tip: Go on pay-what-you-want Wednesdays to save money.)
20. See a Yankees/Mets/Rangers/Knicks game
Like sports? NYC has some world-class sports teams. I'm not a big sports fan (the Yankees play soccer, right?), but games are fun when you have friends to share the experience with. If you have a chance and the desire, don't miss a sporting event, because New Yorkers are serious about their local teams!
21. Attend a taping
TV shows like Saturday Night Live, The View, Late Night with Stephen Colbert, The Daily Show, Last Week Tonight, and Late Night with Jimmy Fallon offer free tickets to their tapings (although they must be reserved well in advance). See each show's website for details and to make reservations.
22. Take a walking tour
A great way to orient yourself to the city is with a walking tour. You'll learn some history, find out where the major sites are, and explore all those nooks and crannies. I think free walking tours are a wonderful first activity in any city. I recommend Free Tours by Foot. For paid tours, go with Take Walks. They have specific tours in the city that focus on art, food, and history, and they are pretty affordable too, starting from about $80 USD. (I wrote a whole blog post about New York City walking tours that you can check out here.)
(Hey there! Wait one second! Did you know I also wrote an entire guidebook to New York City filled with – not only even more detailed information on the things included on this page but also itineraries, practical information (i.e., hours of operation, phone numbers, websites, prices, etc.), cultural insights, and so much more? It has everything you want in a guidebook – but with a focus on budget and cultural travel! If you want to go into more depth and have something to take on your trip, click here for more about the book!)
New York City Travel Costs
Hostel prices – During peak season, a bed in a four-six bed room will cost from about $50 USD. For a room with eight beds or more, expect to pay around $45 USD. During the off-season, a bed in a room with eight beds or more will cost from about $40 USD each night, while smaller rooms will cost about $45 USD.
A basic private room with an ensuite bathroom costs from $115 USD per night during peak season. Prices are about $85 USD in the off-season.
Budget hotel prices – Nightly rates for a budget two-star hotel room start at about $130 USD in peak season. In the off-season, budget rooms start from $95 USD.
There are lots of Airbnb options in New York City. A shared room (like a bed in a dorm) averages about $40 USD per night, while a private room is about $67 USD per night. A full apartment averages about $162 USD per night.
Food – New York has food at every price range. Pizza slices can be found as little as a dollar, though typically cost about $3 USD. A bagel with cream cheese or a hot dog is usually $1.50–$2.00 USD. There are plenty of street vendors with meals around $5-8 USD. Sandwich shops, kebabs, salad shops, and cafe meals generally are less than $10 USD.
You can eat a mid-range restaurant for $15-25 USD per the main course, including vegetarian dishes. Dinner for two with drinks usually averages around $50-70 USD, and a beer is about $7 USD.
Prices just go straight up from there as NYC has some really fancy and expensive restaurants. I mean, you can pay upwards of $335 USD for a prix-fixe dinner! But you can find main courses at many high-end restaurants for about $45 USD each, or $125 USD for a few courses and drinks
If you cook your own food, expect to pay around $60 USD per week for groceries that will include pasta, vegetables, chicken, and other basic foods. Here's a list of some of my favorite places to eat in NYC.
Backpacking New York City Suggested Budgets
If you're backpacking New York City, expect to spend between $70-80 USD per day. This budget will cover a hostel dorm, a few subway rides, street food and cheap local eats, and free attractions. If you couchsurf, you can visit on about $40–50 a day.
A mid-range budget of about $180 USD will cover staying in a private hostel room, eating out for all of your meals, a few attractions per day, more public transit, and about one museum a day.
On a luxury budget of about $460 USD or more per day, you can get a four-star hotel in Manhattan, any meal you want, drinks, tours, unlimited public transit, and a few Uber rides. If you want to spread out your budget, you can take a tour every other day and reduce your daily spend by about $40 USD.
If you come in the low season, you'll pay about 25% less for accommodations.
You can use the chart below to get some idea of how much you need to budget daily, depending on your travel style. Keep in mind these are daily averages – some days you'll spend more, some days you'll spend less (you might spend less every day). We just want to give you a general idea of how to make your budget. Prices are in USD.
Accommodation
Food
Transportation
Attractions
Average Daily Cost
Backpacker
$45
$20
$7
$0-10
$72-80
Mid-Range
$115
$40
$10
$25
$180
Luxury
$260
$80
$40
$80
$460
New York City Travel Guide: Money Saving Tips
New York City can easily drain your wallet. It is expensive, even for those who live here. You can go through money really, really quickly if you aren't careful. But New Yorkers have become experts at living in one of the world's most expensive city on a budget. If you want to lower your costs, here are some ways to save money in New York City:
Take a free tour – New York is a great place to walk around. However, only seeing New York from the outside is half the story. Take some of the tours to see the other half. On Wednesday, there is a free tour of Grand Central Terminal offered by the Municipal Art Society (they offer a lot of other tours around the city too). Trinity Church offers free daily tours when there are no services. The Brooklyn Brewery offers free tours on Saturday. There also Big Apple Greeters, whp will pair you with a local New Yorker to show you around for a day with advance notice.
Get cheap theater tickets – Tickets though can run hundreds of dollars, especially for the new and popular shows. Luckily, there's a way to get discount tickets. The TKTS stand in Times Square offers 40-50% off select shows. You need to arrive at the counter the same day to see what they have but it's usually a widespread and good selection. Be prepared to wait in line for about an hour. TKTS also have offices at the South Street Seaport and in Brooklyn.
BYOB – There are many restaurants that don't have a license to serve alcohol (like Panna II Garden, Tartine, Left Bank, Wondee Siam, etc.), but you can bring your own and drink it there. So on your way to dinner, grab a bottle of wine from the shop and head to the restaurant. This is a great way to save money (one glass of house wine in N.Y.C. can easily be $8–15!).
Visit the museums for free – NYC is littered with some of the best museums in the world from the Met to the MoMA to the Guggenheim. Many museums offer free entry certain days of the week. The Whitney Museum of American Art is free on Friday, the Solomon R. Guggenheim has "suggested" donations after 5pm on Fridays, the Museum of American Folk Art is free, the Cooper-Hewitt National Museum of Design is free on Tuesday evenings free, the Steuben Galler is free, the MET is free (suggested donation is $20) and the Museum of Modern Art is free after 4pm on Friday.
Get a MetroCard – You'll be taking the train a lot and fares can add up. Get one of the Unlimited MetroCards and save yourself a bundle during your trip.
Eat on the cheap – Between the food carts, dollar slice shops, kebab places, and ethnic eateries (Indian, Chinese, Vietnamese, and Thai are some of the cheapest places in the city) you can eat really cheap in NYC. Avoid the expensive restaurants (OK, maybe one), and you'll never bust your budget on food. Yelp!, Google Maps, and Foursquare are three good places to find cheap eats.
Consider getting the New York Pass – This pass allows you free entry to over 80 attractions and includes a hop-on/hop-off tour pass. A one-day pass is $139 USD per person, and a three-day pass is $209 USD per person. You can save money by purchasing your tickets online.
Redeem hotel points – Be sure to sign up for hotel credit cards before you go and use those points when you travel. This is especially helpful in big cities. Be aware that most hotels charge parking fees if you have a car, and adjust your budget accordingly.
$1 oyster happy hours – Love oysters? Eat them during the $1 USD happy hours that happen each night all over the city. The best deals are the John Dory Oyster House and Jeffery's Grocery, which offers all their oysters for $1 USD.
Couchsurf – Accommodation is expensive in NYC and, with few hostels, there aren't many options for a budget traveler. Use a hospitality website like Couchsurfing and stay with locals for free. There is a huge network in the city with tons and tons of hosts. To increase the chance of success, request as far in advance as possible!
Save money on rideshares – Uber, Lyft, and Via are way cheaper than taxis and are the best way to get around a city if you don't want to take a bus or pay for a taxi. The shared/pool option (where you share a ride with other people) offers even better savings. Via is the cheapest option. You can save money off your first rides with the following codes: Lyft (MATTHEW999 to save $10) and Uber (jlx6v to save $15).
Where To Stay in New York City
Accommodations are expensive in New York, and there aren't a lot of hostels in the city. If you stay outside Manhattan, accommodation will cost about 30% or more less. Here are my recommended places to stay in NYC:
For more hostel suggestions be sure to check out my list of the top 15 hostels in New York City. And, to find out exactly where in the city you should stay, here's a post that breakdowns the best neighborhoods in New York City.
How to Get Around New York City
Subway – New York and its boroughs (and parts of New Jersey) are really well-connected by the subway. You can get to wherever you need to go, or close to it, with public transportation. Think about downloading an app or using the trip planner on the MTA website because the subway, with 24 different lines, can be intimidating and confusing at first.
You'll need a MetroCard to get around, and you must put a minimum of $5.50 USD on the card. Fare for each journey is $2.75 USD. You can also buy a 7-day unlimited transit pass for $33 USD. The MTA charges a $1 USD fee on each metro or bus pass.
Bus – If you can't get to where you're going by subway, the bus will get you there. Like the subway, the fare is also $2.75 USD on the MetroCard for the bus, but an express ride is $6.
Ferry – The Staten Island Ferry is a staple of morning commuters and will take you to and from Staten Island. It operates 24/7, and it's free!
The NYC Ferry Service is also a reliable way to commute and connect in Manhattan, Brooklyn, Queens and the Bronx along the East River. The ferries make many stops along the East River and are the same price as a subway ride!
Bicycle – You can bike just about anywhere in New York City, especially if you want to explore the big parks like Central and Prospect. Citi Bike is the bike-sharing system, starting from $3 USD per 30-minute ride, or $12 USD for the full day. There are about 10,000 bikes all over the city, so you're always within reach!
Taxis – Taxis are definitely not the cheapest option for getting around New York City. The minimum fare starts at $2.50 USD, with an additional $0.50 USD for every fifth of a mile or for every minute, depending on how fast you're going.
Ride-Sharing – Uber, Lyft, and Via are way cheaper than taxis and are the best way to get around a city if you don't want to take a bus or pay for a taxi. The shared/pool option (where you share a ride with other people) offers even better savings. Via is the cheapest option. You can save money off your first rides with the following codes: Lyft (MATTHEW999 to save $10) and Uber (jlx6v to save $15).
When to Go to New York City
The best time to visit New York is….anytime. Each season in Gotham offers visitors plenty of reasons to visit. Early fall offers crisp breezes, bright sun, and comfortable temperatures while late fall and winter make merry with the Macy's Thanksgiving Day Parade and holiday decorations. Deep winter – January and February – is cold, with temperatures ranging between 18-23°F (-7 to -5°C). But coming in winter means better hotel rates.
Spring is glorious, and New Yorkers celebrate the thaw by taking to the streets, shopping at outdoor markets, frolicking in Central Park, and dining outside. Summer is hot (with average daily temperatures being about 85°F/30°C), but hey, so are lots of places, and at least this is New York.
Personally, I think the shoulder seasons (April–May and September–October) offer the best experience: there will be fewer crowds and the weather will be more bearable – walking around N.Y.C. snapping photos is a great way to see the city, but doing so when it's sweltering hot can be challenging. If you love the heat, however, then summer is the time to visit!
(Hey there! Wait one second! Did you know I also wrote an entire guidebook to New York City filled with – not only even more detailed information on the things included on this page but also itineraries, practical information (i.e., hours of operation, phone numbers, websites, prices, etc.), cultural insights, and so much more? It has everything you want in a guidebook – but with a focus on budget and cultural travel! If you want to go into more depth and have something to take on your trip, click here for more about the book!)
How to Stay Safe in New York City
New York City is a safe place to backpack and travel – even if you're traveling solo, and even as a solo female traveler. Violent attacks tend to be confined to certain areas (especially where drug and gang violence are a problem). You may encounter petty crime, like theft, especially around popular tourist landmarks. Keep an eye on your belongings at all times, especially while taking public transportation.
But, really, in Manhattan, most of Brooklyn, and Queens, the city is really safe and you're unlikely to encounter any real problem. In all my years living in the city, I don't know anyone that has had something really bad happen to them.
I mean it does happen and you should always watch people pour your drinks, keep an eye out for pickpockets, and stay vigilant if you're using the subway late at night but this is true for every major city.
Beware of anything that seems to good to be true in Times Square — It probably is. Try not to buy any tickets, massages, facials, or experiences from hawkers in the area. They prey on tourists here. If you do, you risk getting your credit card charge multiple times, getting less than you paid for, or getting ripped off all together. Also, if you want to take a photo with the life-sized costumed characters in Times Square, they will demand money from you.
Worried about travel scams? Read about these 14 major travel scams to avoid. There aren't many here in the states though.
Always trust your gut instinct. If a taxi driver seems shady, stop the cab and get out. If your hotel is seedier than you thought, get out of there. Make copies of your personal documents, including your passport and ID. Forward your itinerary along to loved ones so they'll know where you are.
If you don't do it at home, don't do it when you're in New York City. Follow that rule and you'll be fine.
The most important piece of advice I can offer is to purchase good travel insurance. Travel insurance will protect you against illness, injury, theft, and cancellations. It's comprehensive protection in case anything goes wrong. I never go on a trip without it as I've had to use it many times in the past. You can use the widget below to find the policy right for you:
New York City Travel Guide: The Best Booking Resources
Below are my favorite companies to use when I travel around New York City. They are included here because they consistently turn up the best deals, offer world-class customer service and great value, and overall, are better than their competitors.
GO DEEPER: Nomadic Matt's In-Depth Budget Guide to New York City!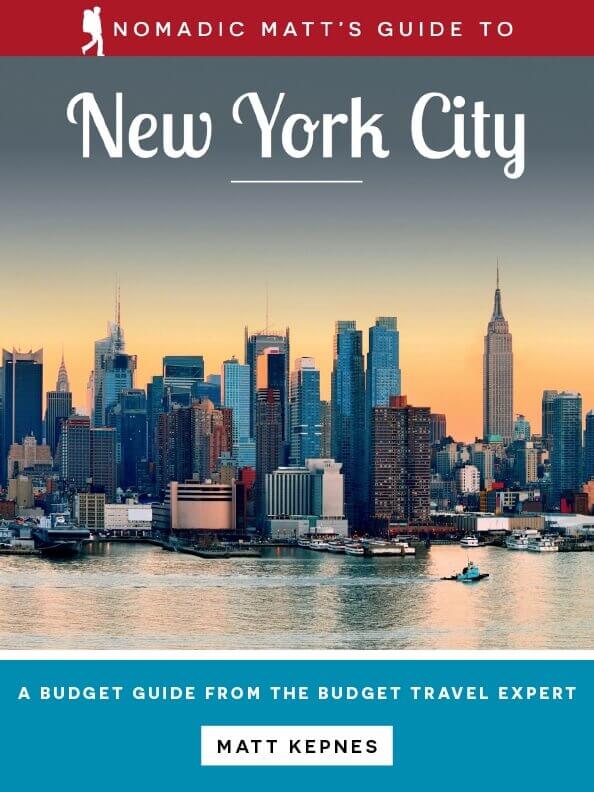 There's a lot of free information online but do you want to spend days searching for information? Prob not! That's why guidebooks exist.
While I have a lot of free tips on New York City, I also wrote an entire book that goes into great detail on everything you need to plan a trip here on a budget! You'll get suggested itineraries, budgets, even more ways to save money, my favorites restaurants, prices, practical information (i.e. phone numbers, websites, prices, safety advice, etc etc), and cultural tips.
I'll give the insider view of New York City that I got from living here! The downloadable guide can be used on your Kindle, iPad, phone, or computer so you can have it with you when you go.
New York City Gear and Packing Guide
If you're heading on the road and need some gear suggestions, here are my tips for the best travel backpack and for what to pack!
The Best Backpack for Travelers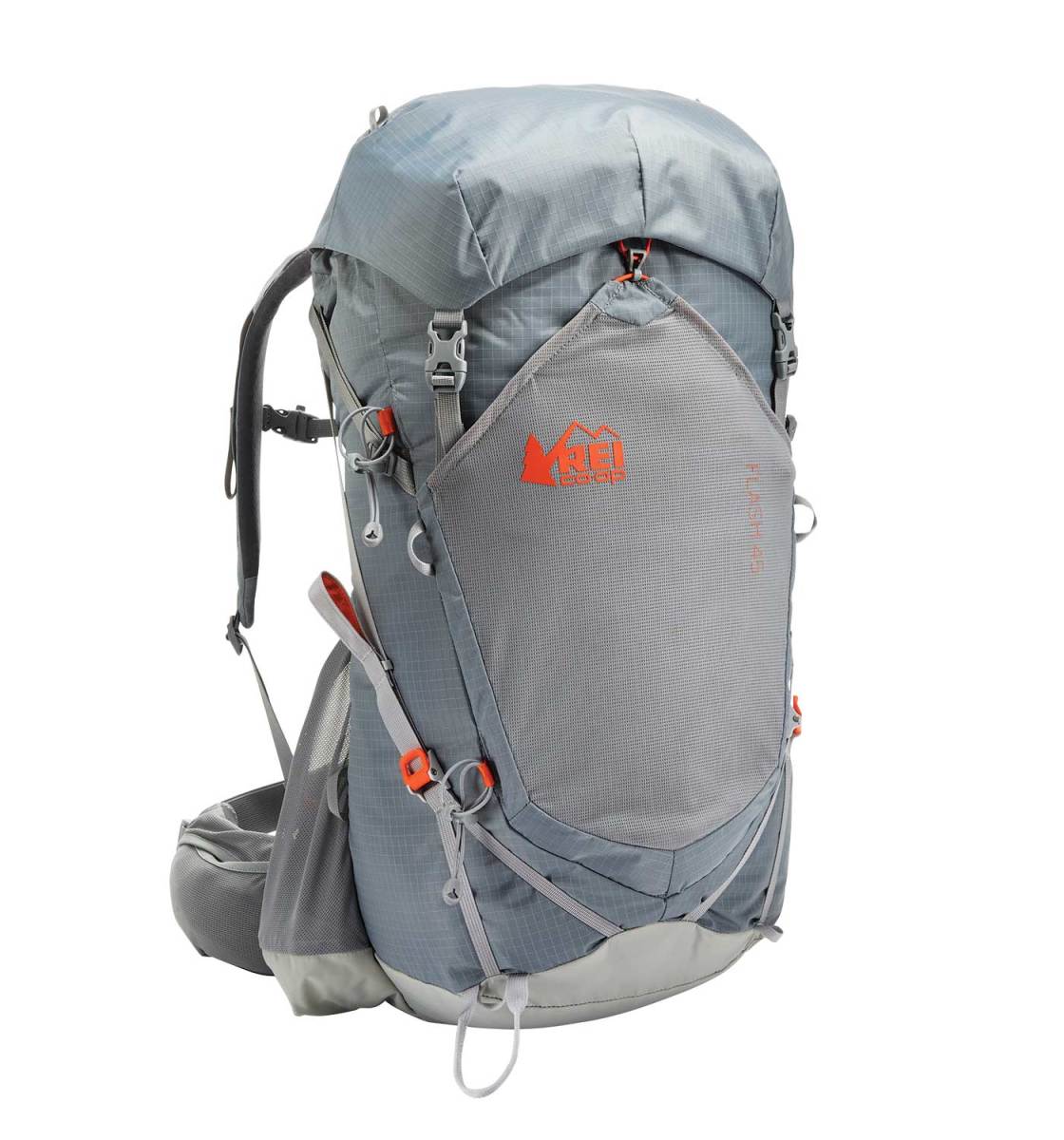 What's the best backpack for traveling long-term? I recommend the
REI Flash 45 Pack
. It's light and comfy, front loading, and fits perfectly in an airplane's overhead bin.
Size:
45-47L
Straps:
Thick and cushy with compression technology that pulls the pack's load up and inwards so it doesn't feel as heavy.
Features:
Removable top lid, large pocket at the front, hydration compatible, contoured hip belt
If you want something different, refer to my article on how to choose the best travel backpack for tips on picking a pack and other backpack suggestions.
What to Pack for Your Trip
Clothes
1 pair of jeans (heavy and not easily dried, but I like them; a good alternative is khaki pants)
1 pair of shorts
1 bathing suit
5 T-shirts
1 long-sleeved T-shirt
1 pair of flip-flops
1 pair of sneakers
6 pairs of socks (I always end up losing half)
5 pairs of boxer shorts (I'm not a briefs guy!)
1 toothbrush
1 tube of toothpaste
1 razor
1 package of dental floss
1 small bottle of shampoo
1 small bottle of shower gel
1 towel
Deodorant
Small Medical Kit (safety is important!!!)
Miscellaneous
Female Travel Packing List
I'm not a woman, so I don't know what a woman wears, but Kristin Addis, our solo female travel guru, wrote this list as an addition to the basics above:
Clothing
1 swimsuit
1 sarong
1 pair of stretchy jeans (they wash and dry easily)
1 pair of leggings (if it's cold, they can go under your jeans, otherwise with a dress or shirt)
2-3 long-sleeve tops
2-3 T-shirts
3-4 spaghetti tops
1 light cardigan
Toiletries
1 dry shampoo spray & talc powder (keeps long hair grease-free in between washes)
1 hairbrush
Makeup you use
Hair bands & hair clips
Feminine hygiene products (you can opt to buy there too, but I prefer not to count on it, and most people have their preferred products)
For more on packing, check out these posts:
New York City Travel Guide: Suggested Reading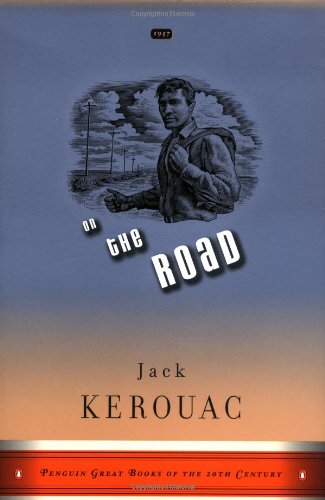 On the Road, by Jack Kerouac
Written in 1957, Jack Kerouac's Beat Generation classic is a classic travel novel. Kerouac's character's (who he modeled after himself) frustration, desire to see the world, and adventures resonate with all of us who need a little relief from modern life. The story follows his character, Sal, as he leaves New York City and heads west, riding the rails, making friends, and partying the night away. He finds thrills, adventure, love, sex, drugs, poverty, and excitement while moving from a weak character into someone whose life experience brings confidence. It's a true American classic.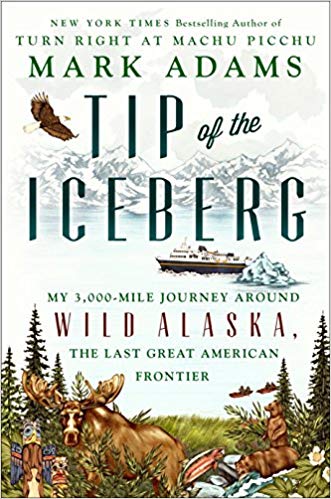 Tip of the Iceberg, by Mark Adams
1899, Edward H. Harriman (a rich railroad magnate) converted a steamship into a luxury cruise for some of America's best scientists and writers and embarked on a summer voyage around Alaska. Now, author Mark Adams retraces that expedition, traveling over 3,000 miles along the coast of the state. Mark is one of my favorite writers, and this book is very reminiscent of Turn Right at Machu Picchu. Mark brings insight into the people, history, and culture of the state in a way he did with his other book.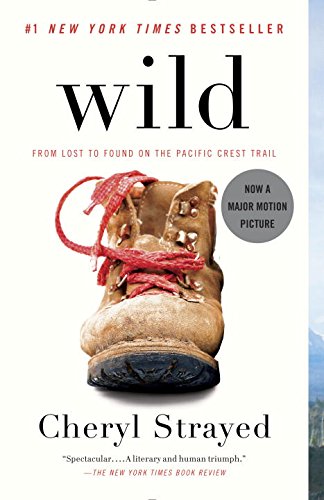 Wild, by Cheryl Strayed
Forgetting the hype of the book (and the subsequent movie), I really did like this book. Cheryl Strayed's book is about her journey along the Pacific Crest Trail when she was 26. She sets off in hopes of finding herself and coming to grips with the death of her mother, break-up of her marriage, and drug use. She's looking for a fresh start. Along the way, she encounters kindness, happy fellow hikers, and a deep sense of belong. Filled with wonderful prose, I found this book deeply moving. It's easy to see why the book became such a hit.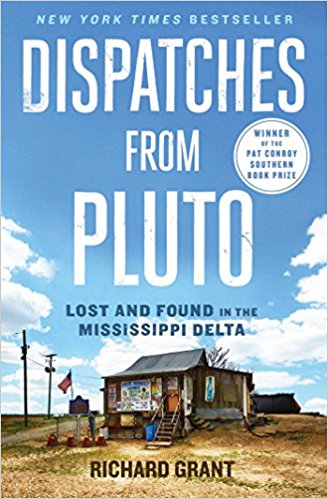 Dispatches from Pluto: Lost and Found in the Mississippi Delta, by Richard Grant
As a big fan of the state of Mississippi, I was really keen to read this book. The state is an often-overlooked tourist destination with eccentric but wonderful people; beautiful parks, rivers, and swamps; stunning architecture; and a complex and rich history for history buffs like myself. In this book, English writer Richard Grant and his girlfriend move to rural Pluto, Mississippi, to live a better life, escape the big city, lower their cost of living, and try something new. They learn to hunt, garden, fend off wild animals, handle snakes, and befriend interesting characters along the way.



The Not-Quite States of America, by Doug Mack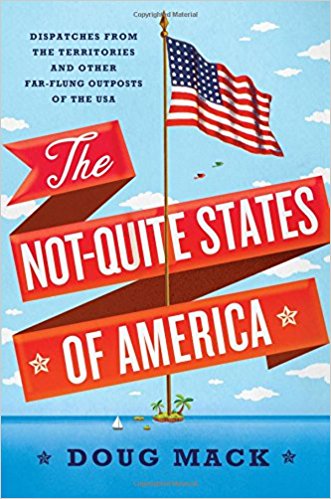 The United States of America is more than just 50 states. There's also the non-states of American Samoa, Guam, the Northern Mariana Islands, Puerto Rico, and the US Virgin Islands. In this funny, detailed, fact-rich book, Doug Mack explores these territories largely forgotten by the rest of the country, which play a more important role in our country than we realize. I had the pleasure of listening to Doug talk about his book in NYC, and he's a wealth of knowledge — just like his book! This one of those travel books that expands your mind about the place you don't really know.


Blue Highways: A Journey into America, by William Least Heat-Moon

This is a deep dive into America's unknown tiny towns scattered across the country map, like New Hope (Tennessee), Remote (Oregon), Why (Arizona), and Whynot (Mississippi). Yes, those are real town names! Heat-Moon's book is considered a masterpiece in American travel writing, and you'll love his adventures and the incredible people he encounters as he reveals the "real" American experience.
New York City Travel Guide: Related Articles
Want more info? Check out all the articles I've written on United States travel and continue planning your trip: