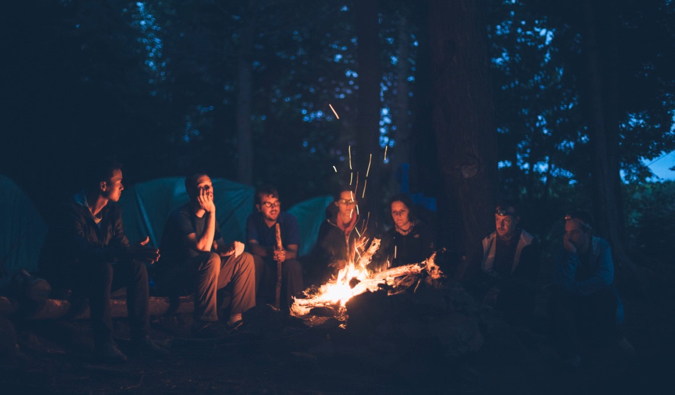 Last Updated: 3/1/2023 | March 1st, 2023
It wasn't until my third visit to Sweden that I felt I finally got a sense of the country's culture.
During that visit, I watched a giant bonfire ceremony for Valborg, the Swedish celebration of spring, I received a lesson in red and green working days and got schooled in Swedish fashion (black, unsurprisingly, is the color of choice), and I spent Swedish Easter at my friend's grandmother's house, where I went on an egg hunt (Grandmother insisted) and played a game called "tipspromenad." (It's a trivia contest combined with a scavenger hunt — incredibly fun, though I didn't know any of the answers).
That three-week trip provided me with more insight into the Swedish culture than any of the past ones combined.
Why?
Because locals welcomed me into their private lives and became my guides.
In my years on the road, I've made friends from around the world.
I can go to countless countries and stay with friends (locals) who are happy to show me around, friends who will take me to Easter at Grandmother's house, an impromptu town BBQ event, a birthday party, or Christmas at their in-laws. It's easy for me to get a taste of local life because I have many people willing to show it to me. It's the same for anyone who has traveled — you're going to meet people from all around the world that you can visit.
But, when you're in a new destination and don't know anyone, how do you, the intrepid newbie, do that?
Travel writing is often filled with stories of chance encounters in subways and cafés that end up with the writer jetting off to some event or celebration that opens a window into local life that other travelers rarely get to see. While these are great stories, they create a romantic picture that makes people think that all travel is like that.
And they are mostly bullshit stories.
It's true that locals want to show the best their country has to offer, so they give advice, converse, and share a few pints at the bar.
But that is different than being brought into their personal space. Bonding over beers with some guys you meet at the pub is different than being asked if you want to join the family for dinner on Sunday. One is in a public space, the other private.
In order to be invited into a local's private space, you will probably have to meet the person a few times before an invitation is extended. People like to know the person they are inviting first. Yes, a first-time invite can happen, but it is the exception, not the rule.
Think about your own life. How often do you invite the stranger you gave directions to your family dinner? Probably not very often.
So why would someone else do that?
While it's not as easy to make friends with locals, it's a lot easier than it used to be. Thanks to the Internet, there are ways to overcome the difficulty of meeting a nice local who will invite you to Sunday dinner — besides asking your friends if they know anyone there (which you should be doing).
Here's how I meet locals (and other travelers) when I'm abroad:

1. Embrace Couchsurfing
Couchsurfing is a great app for finding free accommodation. It's a cultural exchange platform where you can connect with locals who have free places to stay. Sometimes, these are entire rooms while other times it's just a spot on the couch.
But where Couchsurfing really shines is its app. If you want to meet locals but don't want to sleep on someone's couch, you can use the Couchsurfing app to meet locals to grab a coffee, go to an event, visit a museum, etc. Moreover, there are all kinds of groups and events you can join on the app (such as language exchanges and traveler meet-ups).
I've used Couchsurfing a bunch over the years, including one time when I attended a Couchsurfing meet-up in Denmark that ended up with me at a family's weekly dinner. Sadly, the site isn't as used as much now that it's behind a paywall but there's enough activity there to make it a worthwhile option.

2. Use Meetup.com
Meetup.com is another great site for meeting people. Though more "formal" than Couchsurfing, there are a wide variety of groups on this site where you can meet those with the same interests as you.
Love wine? Why not go to a wine lovers' meet-up in France?
Want to do crafts in Australia? Go to a knitting meet-up.
Interested in meeting business people in Hong Kong? Find a business-related event and go!
This way, you find people who are interested in the same subject as you are, which helps lower the awkward barrier. Plus, how cool is it to meet someone from across the world with the same interest? I love Prohibition-era bars, and if I met someone from Sydney who did too, I would want to chat about the scene in Sydney for hours!

3. Attend Language Exchanges
Every major city has an expat community and those expats likely have a language group. Try to attend language exchanges during your trip. Not only will you get to connect with people who live in the destination but you'll get some insider tips and advice about the language, allowing you to better engage with locals as you explore.
Additionally, don't hesitate to join language groups while you're at home. It's a great way to meet people who have recently moved to your city (as well as travelers just stopping by). Not only will you help people hone their language skills but you'll make connections with people from all around the world — people who might be able to help you have a local experience when you visit their homeland.

4. Try Bumble BFF
Bumble is a dating app but they also have a feature called Bumble BFF. Just download the app, make a quick profile, and browse for people who have similar interests as you. Make plans to grab a coffee, visit a museum, or do whatever else you want to do. While this feature is predominately used by solo female travelers, there is an option for men to use it too.
5. Join Facebook Expat Groups
Facebook is a great resource for finding expat groups in cities all around the world. Not only are these groups useful for getting tips and information but most groups hold regular meetups too. Expats who have been in a city for a while know the best places to eat, and the best hidden gems to see, and will likely have language tips to help you fit in and explore.
Simply search Facebook for "expats in X" and you'll get plenty of groups. This is a great option if you're staying in a destination for a long time.

***
The rise of the sharing economy in the last few years has made it super easy to get to know locals. This has been a boon to budget travelers — not only do you save money but you get to hang out and meet locals in a wide variety of settings.
When I left to travel the road, I had visions of interacting with locals everywhere, but that didn't happen as much as I wanted. It's not impossible to have that chance encounter on the street but it's also not that common. However, the number of social platforms out there now has made it a lot easier to find out about events and meet people in other destinations, thus making connections that will eventually lead to those invitations to Easter dinner.
Book Your Trip: Logistical Tips and Tricks
Book Your Flight
Find a cheap flight by using Skyscanner. It's my favorite search engine because it searches websites and airlines around the globe so you always know no stone is being left unturned.
Book Your Accommodation
You can book your hostel with Hostelworld. If you want to stay somewhere other than a hostel, use Booking.com as it consistently returns the cheapest rates for guesthouses and hotels.
Don't Forget Travel Insurance
Travel insurance will protect you against illness, injury, theft, and cancellations. It's comprehensive protection in case anything goes wrong. I never go on a trip without it as I've had to use it many times in the past. My favorite companies that offer the best service and value are:
Want to Travel for Free?
Travel credit cards allow you to earn points that can be redeemed for free flights and accommodation — all without any extra spending. Check out my guide to picking the right card and my current favorites to get started and see the latest best deals.
Ready to Book Your Trip?
Check out my resource page for the best companies to use when you travel. I list all the ones I use when I travel. They are the best in class and you can't go wrong using them on your trip.