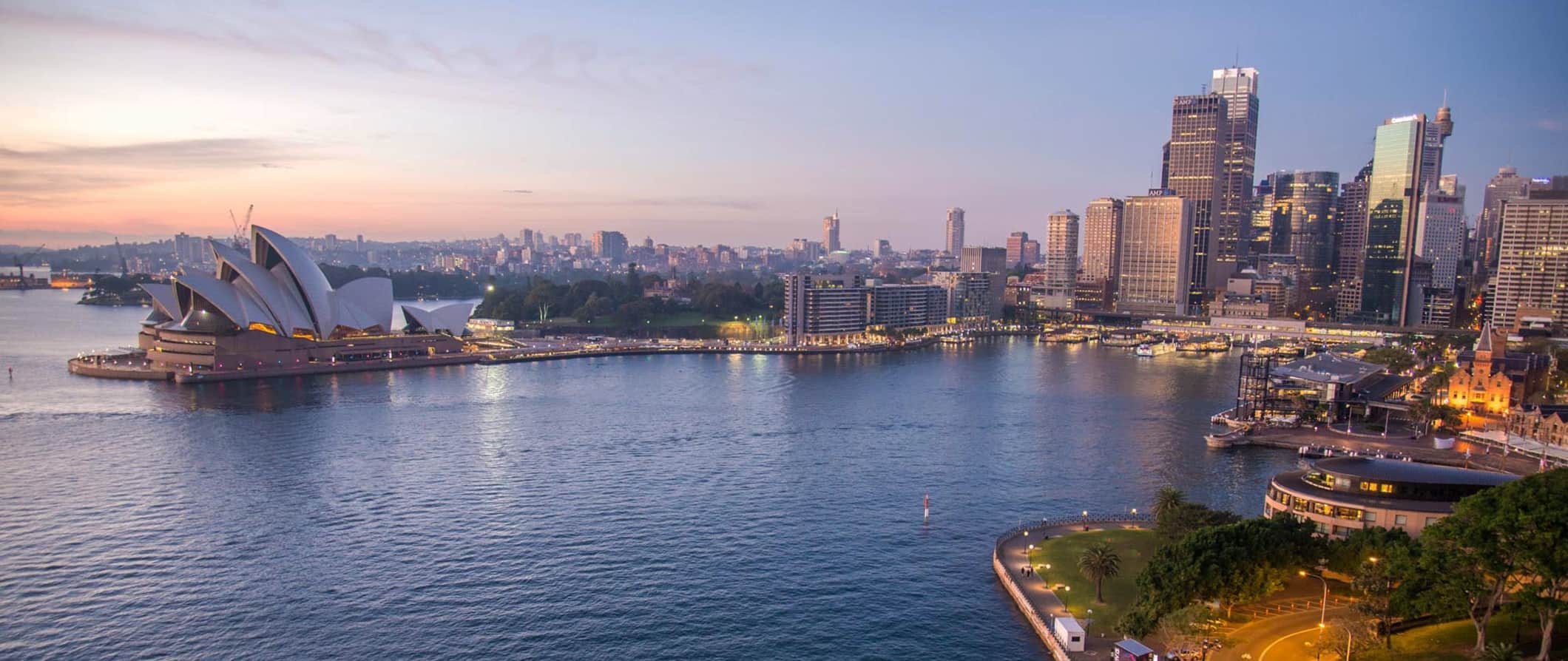 Sydney is a cosmopolitan city surrounded by iconic beaches, world heritage sites, and acclaimed wine regions.
Besides being Australia's largest city, Sydney is also its most visited. (And, contrary to popular belief, not the country's capital!). Few people skip the city — and why would they?
With an incredible variety of attractions, beaches, restaurants, and sights to see, it's easy to see why people come here and stay a while! There's so much to do here. Try to stay at least a week if you can. I never, ever get tired of visiting Sydney! It's amazing. Be sure to also spend some time on the lesser-visited North Shore beaches.
This Sydney travel guide will help you make sense of all the things to see, show you where to stay, and help you save money.
Top 5 Things to See and Do in Sydney
1. Hang out at the beaches
From Palm Beach and Manly to the famous Bondi and Coogee, Sydney has a beach for everyone. All the beaches are easy to get to via public transportation and there are tons of restaurants around. My favorite beaches are Manly (wide and beautiful) and Bronte (small and quiet).
2. See the Blue Mountains
Over the millennia, the sandstone here has been weathered into gorges lined by steep cliffs and narrow ridges. See the magnificent rock formation the Three Sisters or hike the many trails for excellent views of sheer rock walls, tumbling waterfalls, and magnificent forests. The park is free and you can get there by train from Sydney (90 minutes).
3. Visit Wild Life Sydney Zoo
The Wild Life Sydney Zoo is set up with highly detailed, "natural" environments for birds, wallabies, reptiles, and more. There are various guided tours and animal feedings all day. This is a good family activity. Admission costs is 36.80 AUD($28 USD).
4. See the Sydney Opera House
The Opera House is famous for its white-shelled roof. It's an architectural delight and feat of engineering as getting the roof to stay up took the creation of a complex support system. Guided tours cost 42 AUD ($32 USD) and last one hour, providing tons of insight into how this iconic building came to be.
5. Walk the Sydney Harbour Bridge
The bridge was built in 1932 as a government employment project during the Great Depression. Its steel frame has become an iconic symbol of the city. While tours that climb the bridge are expensive (198 AUD/$150 USD), it's free to walk or bike across it for panoramic views of the harbor and Opera House.
Other Things to See and Do in Sydney
1. Visit The Rocks
The Rocks is the oldest part of Sydney. With its narrow lanes, colonial buildings, sandstone churches, and Australia's oldest pubs, this neighborhood is where Sydney started when the British first landed. It was almost torn down in the 1970s for modern high-rises, but, luckily, citizen action got it preserved instead. The Rocks' weekend markets, art museums, street entertainment, delicious (and sometimes overpriced) restaurants, and beautiful views of the harbor, Opera House, and bridge make this is one of the coolest areas of the city. I love heading up to the Sydney Observatory Hill Park for a good view of the city, wandering the harbor promenade, and hitting the bars at night.
2. Botanic Gardens & Mrs. Macquarie Chair
You'll find Australia's first vegetable garden and a treasure trove of trees, ferns, flowers, and gardens at the Royal Botanic Gardens. On a sunny day, you'll find locals sprawled out all over the lawns soaking up the sun. You can also see Mrs. Macquarie's Chair, a seat carved into a stone cliff, where you can sit and gaze out at the harbor. There are also free one-hour volunteer-guided tours of the garden, too! Admission is free.
3. Ferry to Manly Beach
The ferry ride to Manly offers sweeping views of the harbor, Sydney Harbour Bridge, and the world-famous Opera House. It's a picturesque 30-minute ride each way that puts you in one of the coolest parts of the north end of the city. Manly is famous for its wide beach, giant waves, surfing, and kick-ass nightlife. Ferry tickets are 9.90 AUD ($7.50 USD).
4. Take the Town Hall tour
Built in 1889, Sydney's beautiful Town Hall is a picturesque Victorian building. They offer a detailed two-hour tour for only 10 AUD. It's a great way to learn some extra history about the building and its place in the greater tapestry of Sydney's history. Tours only available on weekdays.
5. Go to the museums
Like most cities, Sydney has a wide variety of museums. And, luckily, thanks to Australia's Commonwealth past, all the public museums in the city are free, making it a great and inexpensive activity in an otherwise expensive city. My favorite museum in Sydney is the Hyde Park Barracks. Set in the old convict barracks from the 18th century, it does an amazing and detailed job of chronicling colonial life in Sydney, using the stories of the early settlers, historical information, artifacts, and historical recreations. It's well worth the 19.20 AUD entrance fee. It's always the highlight of my trip. Few people visit, making it one of the best non-touristy things to do in the city!
Other museums in Sydney worth visiting are the Art Gallery of New South Wales (modern art), the Museum of Contemporary Art Australia at The Rocks (contemporary art), the Australian National Maritime Museum (maritime history), the White Rabbit Gallery (contemporary Chinese art; also has a teahouse), the Hyde Park Barracks Museum (local, criminal, and judicial history), and the Museum of Sydney (local history).
6. Learn to surf
Sydney is often the place travelers bite the bullet and learn the art of Australia's famous national pastime. There are many companies here that offer lessons. While Bondi is the most popular beach, Manly on the north shore of Sydney has better waves (though you can find good waves up and down the coast!). Surfboard rentals start at 12 AUD ($9 USD) per hour while two-hour group lessons cost around 75 AUD ($57 USD). Umina Beach, Collaroy Beach, and Corrimal Beach are good beaches for beginners.
7. Visit the Hunter Valley
North of town is one of Australia's premier wine regions. The Hunter Valley is home to amazing wineries that produce luscious reds. While it's not as easy on the budget, it is an excuse to get out of the city and see the countryside. Day tours are offered from Sydney but they are expensive (150-200 AUD/$115-152 USD) and you'll spend a lot of time on a bus. It's best to stay for at least a night out in the valley to get the full experience.
If you have a car, you can base yourself in Newcastle or Cessnock, but you'd have a more unique experience if you booked a secluded cabin or home on Airbnb as there are plenty in the area, including some that are also vineyards.
8. The Tower Sky Walk
At 286m, the Sydney Tower Skywalk is as tall as the Eiffel Tower and twice as high as the Harbour Bridge. It offers amazing panoramic views of the city from its Skywalk at the top. I'm not a fan of heights but even I was impressed by the view! At 59.80 AUD ($45 USD), it's cheaper and easier than climbing the bridge itself (and the views are actually better).
9. Do a coastal walk
There are a number of stunning coastal walks that allow you to take in the breathtaking natural beauty of Sydney Harbor. While tons of people follow the two-hour Coogee-to-Bondi walk (skip the weekends when it's overly crowded), I found both the shorter walk in Watson's Bay and the Split-to-Manly walk quieter and more breathtaking.
10. Attend a Cultural Event
Since Sydney has a complex about Melbourne being called the cultural capital of Australia, it tries to outdo its rival by hosting over tons of official festivals and events each year. It offers art gallery nights, concerts, festivals, and much more. It wants to be seen as more of a beach destination. No matter what time of the year you visit, you will find something going on in the city! Most of the events are free and a list of what's going on soon can be found on the Sydney tourism website. It will give you dates, prices, times, and everything in between.
11. Party in King's Cross
If you're looking to go out and get wild on the cheap, then go to King's Cross. This is where the beer is inexpensive and the backpackers (and locals) party late. The famous World Bar is where most of the action happens (cheap drinks and a large dance floor). For a less traveler-centric time, head to Manly, The Rocks, or the CBD (Central Business District) where there are more locals and fewer travelers (but more expensive cocktails and beers).
12. Visit the Markets
Sydney has many amazing markets to explore. At Paddington Markets, the Fish Market, Bondi Farmers Market, the Flower Market, and a whole lot more seasonal markets, it's really easy to spend a lot of time wandering and shopping. I love Paddington Markets and the Farmers Market the best — they draw an eclectic crowd and the farmers market makes me want to cook nonstop. Other markets worth checking out are Glebe Market (vintage clothes, eclectic local handicrafts, delicious food stalls), Rozelle Collectors Market (antiques, clothing, DVDs), and Orange Grove Organic (produce and food stalls).
For more information on specific cities in Australia, check out these guides:
Sydney Travel Costs
Hostel prices – Dorms start at 20 AUD ($15 USD) per night for larger rooms with 8-14 beds and are between 25-40 AUD ($19-30 USD) per night for smaller dorms (4-6 beds). Private rooms start at 60 AUD ($46 USD) per night but are usually between 80-100 AUD ($60-75 USD).
Camping is available outside the city for 20-40 AUD ($15-30 USD) per night for a basic plot without electricity. Wild camping on the beaches is illegal.
Budget hotel prices – Budget hotels begin at 100 AUD ($75 USD) per night. Expect to pay upwards of double that for a more central hotel. Wi-Fi, TV, and AC are all standard amenities.
Airbnb is also widely available around the city with private rooms starting at 60 AUD ($46 USD) but averaging more than double that. For an entire home or apartment, prices start at 120 AUD ($91 USD) but average closer to 250 AUD ($190 USD) so be sure to book in advance to find the cheapest places!
Average cost of food – Cheap meals like sandwiches, burgers, and sushi can be found for under $15 AUD ($12 USD). An average restaurant meal will run you about 20-30 AUD ($15-20 USD). These are usually meat-based dishes, pasta, or seafood. For a three-course meal with a drink, expect to pay around 50 AUD ($38 USD). A fast-food combo from somewhere like McDonald's costs 12 AUD ($9 USD) while a pizza costs around 18 AUD ($14 USD). For cheap eats, Thai/Chinese/Indian meals can all be found for under 14 AUD ($11 USD).
A beer is around 8 AUD ($6 USD). A latte or cappuccino costs around AUD ($3.75 USD). For a bottle of water, expect to pay almost 3 AUD ($2.25 USD).
If you cook your meals, expect to pay around 100 AUD ($76 USD) per week for groceries that will include pasta, vegetables, chicken, and other basic foodstuffs.
Backpacking Sydney Suggested Budgets
On a backpacker budget, you can visit Sydney for 75-90 AUD per day. This is a suggested budget assuming you're staying in a large hostel dorm, cooking most of your meals at the hostel, using public transportation to get around, and limiting your drinking, and doing mostly free activities like visiting free museums and hanging out on the beach. See below for ways to lower this daily average.
On a mid-range budget of about 220 AUD per day or more, you'll be able to stay in a budget hotel or Airbnb, eat out what you want, have a few drinks out, do more with your Opal card (like a ferry ride to Manly), and enjoy more expensive activities like the Sydney Zoo or a tour of the Opera House.
On a "luxury" budget of 430 AUD or more, you're able to sleep at a 4-star hotel, eat all your meals out and have as many drinks as you want, do more extravagant activities (like the Sydney Sky Walk), and hire a rental car to get around!
Here is a chart with some suggested budgets to help you plan. Prices are in AUD:
Accommodation
Food
Transportation
Attractions
Average Daily Cost
Backpacker
25-30
20-25
15
15-20
75-90
Mid-Range
110
50
20
40
220
Sydney Travel Guide: Money-Saving Tips
Sydney is one of the most visited places in Australia and the prices are steep. But that doesn't mean there aren't ways to save. Here are my favorite ways to save money while in the city:
Attend free local events – "What's On Sydney" has a list of free and cheap current events. Check it out for the most up-to-date details.
Couchsurf – Accommodation in Sydney is pricey. If you plan ahead, you can usually find really nice Couchsurfing hosts all throughout the country. This way, you not only have a place to stay, but you'll have a local host that can tell you the best places to go and things to see.
Work for your room – Many hostels offer travelers the chance to work for their accommodation. In exchange for a few hours a day of cleaning, you get a free bed. Commitments vary but most hostels ask you to stay for at least a week.
Get an Opal card – This metro card is free – you just need to load it with money. It offers cheaper tickets as well as discounts and fare caps so you can save money as you explore.
Free walking tours – I Am Free runs a free daily tour of the city center and The Rocks, Sydney's original settlement. Additionally, you can use Sydney Greeters (advanced booking required!), which is a free service that connects you with a local who will show you around their neighborhood!
Visit the markets – Sydney has many amazing markets to walk through. At Paddington Markets, the fish market, Bondi Farmers Market, the flower market, and a whole lot more seasonal markets, it's really easy to spend a lot of time wandering and shopping. I love Paddington Markets and the farmers market the best!
Explore the free museums – Australia has a lot of expensive museums, but it also has a ton of free ones. Some free museums worth considering: The Mint (a small exhibit on how they used to make money), Australia Center for Photography, White Rabbit Gallery (beautiful art), Manly Art Museum, Sydney Observatory, and the Rocks Discovery Museum.
Drink goon (box wine) – Goon is infamous on the Australian backpacker hostel trail. This cheap box of wine is the best way to drink, get a buzz, and save a lot of money at the same time.
Cook often – The best way to reduce your costs is to cook as many meals as possible. ALDI is the cheapest supermarket in the country, followed by Coles and then Woolworths.
Save money on rideshares – Uber is way cheaper than taxis and is the best way to get around a city if you don't want to wait for a bus or pay for a taxi.
Bring a reusable water bottle – The tap water in Sydney is safe to drink so bring a reusable water bottle with you to save money and lower your plastic use. LifeStraw makes a bottle with a built-in filter to ensure your water is always clean and safe.
How to Get Around Sydney
Bus – Like other major cities in Australia, bus fares depend on the number of zones you travel with adult fares beginning at 2.25 AUD ($1.70 USD) for off-peak travel. Fares vary slightly based on the time of day (there are off-peak and on-peak times).
You have to get an Opal card (or an Opal single-use card) to use the system. With an Opal card, you'll never pay more than 16.10 AUD ($12.25 USD) a day, 50 AUD ($38 USD) a week, or 8.05 AUD ($6 USD) on weekends or public holidays.
Train – The City Circle is Sydney's train that runs in a loop, stopping at all the main stations. It's the best way to get around the city center! Like the bus, you can use Opal to pay for your ride.
Sydney also has a light rail that goes from Central Station to Dulwich Hill and is good to use when you want to check out Chinatown or Darling Harbour. A single fare starts at 4 AUD ($3 USD) for on-peak travel or 2.25 AUD ($1.70 USD) for off-peak travel. The airport express train is 18.50 AUD ($14 USD).
Ferry – Ferries run around Sydney Harbour from Circular Quay to a handful of destinations, including Manly, the Olympic Park, and Taronga Zoo. You can use your Opal card for ferry services (just the public ones), and fares start at 7.40 AUD ($5.25 USD) or 6.01 AUD ($4.28 USD) with the Opal card. Otherwise, you can purchase tickets from the wharf.
Bike share – There are a couple of bicycle-sharing programs in Sydney that allow you to use a mobile app to locate a bike share station and then use it for short distances. Prices vary, but the average is about 2 AUD ($1.50 USD) per 30 minutes.
Car rental – You can find a small car to rent in Sydney starting from about 60 AUD ($46 USD) per day. You'll find all the usual car rental companies here.
Taxi – Taxis are fairly easy to flag down but expensive. Uber has become a really popular form of transportation around the city and is much cheaper than a taxi.
When to Go to Sydney
September to the end of November and March to May are the best months to visit Sydney. These are the shoulder seasons, when temperatures are pleasant and you don't have to contend with the huge tourist crowds. Airfare is also cheaper during this time.
September to the end of November is right before peak season, so there will be some crowded places. But overall the temperatures are between the low 50s°F (10°C) to the mid-70s°F (24°C). Fall season (March-May) is much the same, so you'll want to pack a light jacket for those chillier days.
The high season in Sydney is December through February, which is Australia's summer. Temperatures are often in the high 70s°F (high 20s°C) each day, so people flock here to take advantage of the heat. This makes it a very expensive time to visit as this is when most tourists come here.
How to Stay Safe in Sydney
Sydney is safe, even if you're traveling solo, and even as a solo female traveler. People are quite friendly and helpful and you're unlikely to get into trouble.
When in doubt, always trust your instincts. If a taxi driver seems shady, get out. If your hotel or accommodation is seedier than you thought,go somewhere else. Make copies of your personal documents, including your passport and ID, before you travel in case of an emergency.
As a general rule, if you wouldn't do it at home, don't do it when you're in Sydney. Follow that rule and you'll be fine.
Most incidents around here tend to occur because visitors are not used to Sydney's unique climate, so be sure you have plenty of sunscreen and stay as hydrated as possible. If you're venturing out in the suburbs, you'll have to take heed to wildlife. Be on the lookout for snakes and spiders, and if you're bitten, seek immediate care. Furthermore, if you're swimming, heed the red and yellow flags. Yellow flags indicate swimming conditions may be dangerous; red flags mean the beach is closed. If you're swimming in the ocean between November to May, only swim where there is a beach stinger net otherwise you risk getting stung by jellyfish.
The most important piece of safety advice I can offer is to purchase good travel insurance. Travel insurance will protect you against illness, injury, theft, and cancellations. It's comprehensive protection in case anything goes wrong. I never go on a trip without it as I've had to use it many times in the past. You can use the widget below to find the policy right for you:
Sydney Travel Guide: The Best Booking Resources
These are my favorite companies to use when I travel. They consistently have the best deals, offer world-class customer service and great value, and overall, are better than their competitors. They are the companies I use the most and are always the starting point in my search for travel deals.
Skyscanner – Skyscanner is my favorite flight search engine. They search small websites and budget airlines that larger search sites tend to miss. They are hands down the number one place to start.
Hostelworld – This is the best hostel accommodation site out there with the largest inventory, best search interface, and widest availability.
Booking.com – The best all around booking site that constantly provides the cheapest and lowest rates. They have the widest selection of budget accommodation. In all my tests, they've always had the cheapest rates out of all the booking websites.
Intrepid Travel – If you want to do group tours, go with Intrepid. They offer good small group tours that use local operators and leave a small environmental footprint. And, as a reader of this site, you'll get exclusive discounts with them too!
Get Your Guide – Get Your Guide is a huge online marketplace for tours and excursions. They have tons of tour options available in cities all around the world, including everything from cooking classes, walking tours, street art lessons, and more!
Rome2Rio – This website allows you to see how to get from point A to point B the best and cheapest way possible. Just enter your departure and arrival destinations and it will give you all the bus, train, plane, or boat routes that can get you there as well as how much they cost. It's one of the best transportation websites out there!
SafetyWing – Safety Wing offers convenient and affordable plans tailored to digital nomads and long-term travelers. They have cheap monthly plans, great customer service, and an easy-to-use claims process that makes it perfect for those on the road.
Sydney Gear and Packing Guide
If you're heading on the road and need some gear suggestions, here are my tips for the best travel backpack and for what to pack!
The Best Backpack for Travelers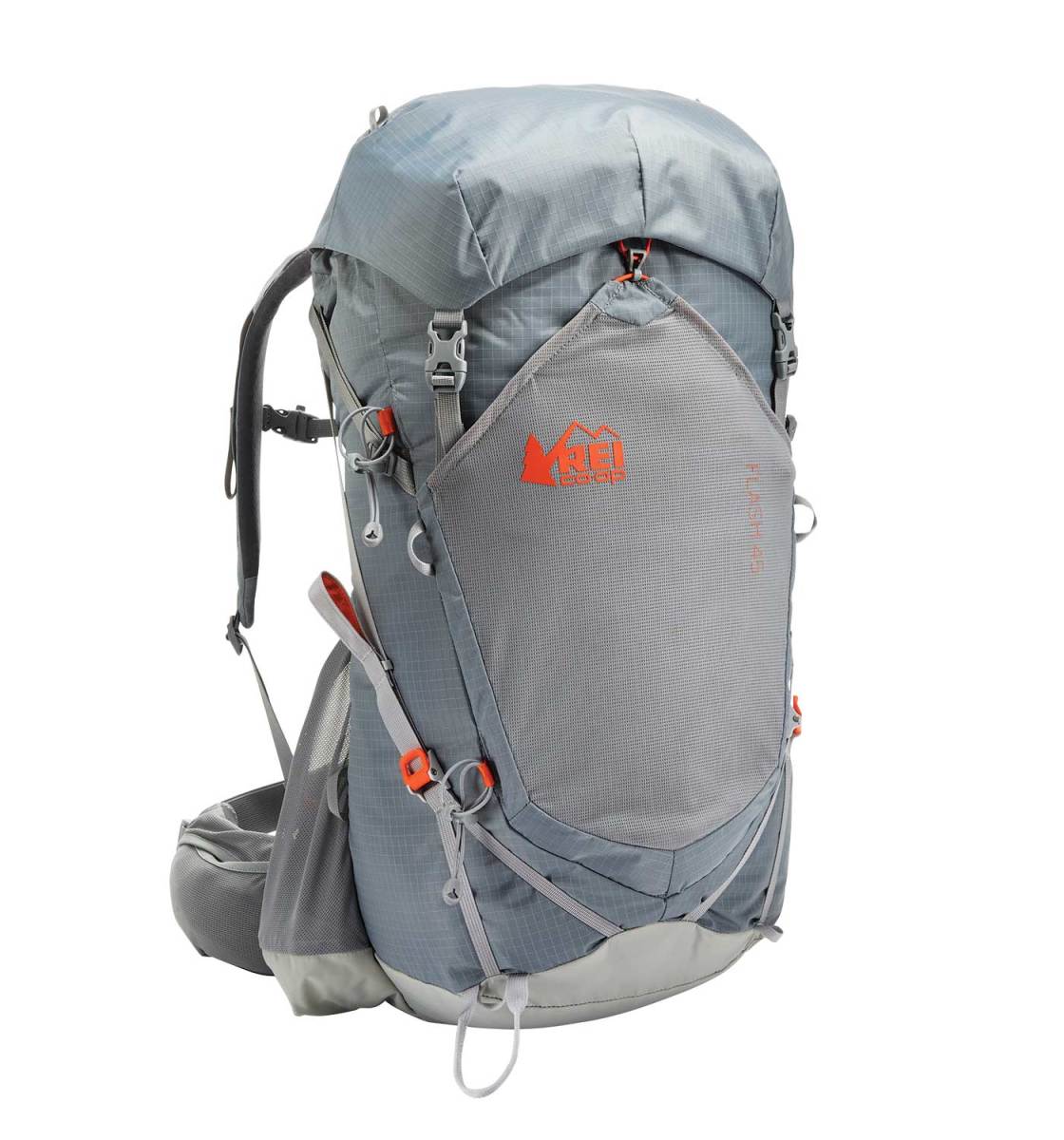 What's the best backpack for traveling long-term? I recommend the
REI Flash 45 Pack
. It's light and comfy, top loading, and fits perfectly in an airplane's overhead bin.
Size:
45-47L
Straps:
Thick and cushy with compression technology that pulls the pack's load up and inwards so it doesn't feel as heavy.
Features:
Removable top lid, pocket at the front, hydration compatible, contoured hip belt
If you want something different, refer to my article on how to choose the best travel backpack for tips on picking a pack and other backpack suggestions.
What to Pack for Your Trip
Clothes
1 pair of jeans (heavy and not easily dried, but I like them; a good alternative is khaki pants)
1 pair of shorts
1 bathing suit
5 T-shirts (Unbound Merino is my preferred company. If you're a member of NM+, you can get 15% off your purchase)
1 long-sleeved T-shirt
1 pair of flip-flops
1 pair of sneakers
6 pairs of socks (I always end up losing half)
5 pairs of boxer shorts (I'm not a briefs guy!)
1 toothbrush
1 tube of toothpaste
1 razor
1 package of dental floss
1 small bottle of shampoo
1 small bottle of shower gel
1 towel
Deodorant
Small Medical Kit (safety is important!!!)
Miscellaneous
Female Travel Packing List
I'm not a woman, so I don't know what a woman wears, but Kristin Addis, our solo female travel guru, wrote this list as an addition to the basics above:
Clothing
1 swimsuit
1 sarong
1 pair of stretchy jeans (they wash and dry easily)
1 pair of leggings (if it's cold, they can go under your jeans, otherwise with a dress or shirt)
2-3 long-sleeve tops
2-3 T-shirts
3-4 spaghetti tops
1 light cardigan
Toiletries
1 dry shampoo spray & talc powder (keeps long hair grease-free in between washes)
1 hairbrush
Makeup you use
Hair bands & hair clips
Feminine hygiene products (you can opt to buy there too, but I prefer not to count on it, and most people have their preferred products)
For more on packing, check out these posts:
Australia Travel Guide: Related Articles
Want more info? Check out all the articles I've written on Australia travel and continue planning your trip: