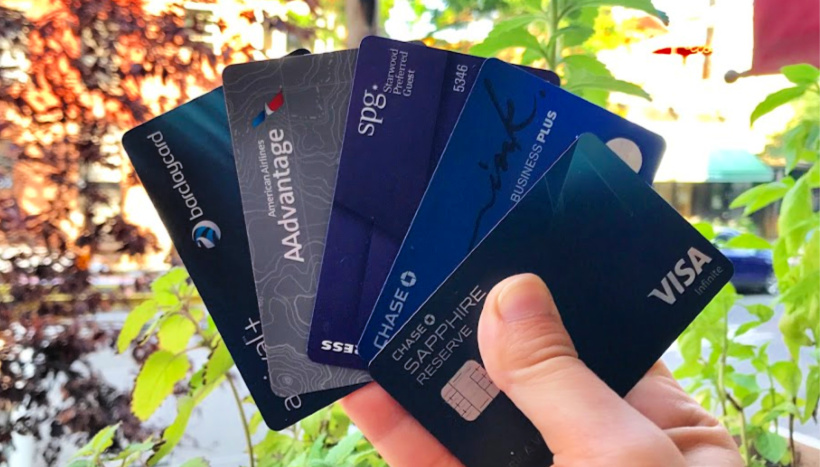 Updated:
12/09/2019 | December 9th, 2019
Nomadic Matt has partnered with CardRatings for our coverage of credit card products. Nomadic Matt and CardRatings may receive a commission from card issuers. Opinions, reviews, analyses & recommendations are the author's alone, and have not been reviewed, endorsed or approved by any of these entities.
Credit cards are omnipresent in modern-day society.
People use them to pay for everything from cars to groceries to sticks of gum.
The US is a credit card loving country and you've probably seen all the ads for welcome offers if you sign up with this or that credit card advertised by some celebrity. I can't count how many unsolicited card offers I get in the mail — and no matter how often I say stop sending them to me, they continue like a deluge.
There are HUNDREDS of travel rewards credit cards to choose from.
With so many cards to choose from, it's hard to know which one is actually good for travel and which one is total BS. It can be especially confusing trying to navigate all the welcome offers, loyalty programs, perks, offers, arcane rules and hidden fees of credit cards.
It's so complex most people just give up and end up using a debit card.
But that's a terrible idea. You're leaving money on the table. Credit cards aren't about spending money you don't have. They are a way to get perks for the spending you already do!
In this article, I am going to tell you how to easily pick the best credit card for travel.
Quick Hit: The Best Travel Rewards Cards for 2019
Travel credit cards offer a great opportunity to earn free points that can be redeemed for airfares, hotels or cold hard cash. In the race to get customers, credit card issuing companies partner with various travel brands (or just simply offer their own card) that entice consumers with a welcome offer, loyalty points, special discounts, and more. Their desire to get you, the consumer, is really your gain. By milking the system, you can get tons of free air tickets, hotel rooms, vacations, and even cash back.
I've accumulated close to one million points through welcome offers alone. I use so many points each year; it would take an entire book to just list them off to you. I am cash poor, miles rich man!
All those points and miles have allowed me to travel the world on the cheap. And they can do that for you too, which is why signing up for a travel credit card is so important. It's your gateway to free travel.
So how do you pick the best travel-related credit card?
Step 1: Know There is No Perfect Card
There is no perfect travel card. Every card offers different benefits that fit different people. I use an AMEX card for booking flights (3x per dollar spent), Chase Sapphire Reserve for my everyday spending, a different Chase card for my phone bills (5x points), and a Chase Ink for my business expenses! I have friends who only want cash back and others who only want United miles. There is only the perfect card for YOU!
Ask yourself "what is your goal?"
Are you interested in loyalty to a brand, free rewards, or avoiding fees? Do you want to milk the rewards and welcome offers to get free flights or do you just want a card that won't charge you a fee for using it at that restaurant in Brazil? Is elite status the most important perk for you? Do you want points you can use for anything like cash?
For example, if you're a loyal flier with American Airlines, the best cards to start off with would be the Citi American AAdvantage card (50,000 point welcome offer) and the Starwood American Express card (75,000 point welcome offer plus 20% transfer bonus that you can use with your AA account).
If you just want points to spend wherever you choose, get the Chase or American Express cards because you can use their points with a variety of travel companies. They each have their own rewards programs (Chase Ultimate Rewards and American Express Membership Rewards), and points can be transferred to multiple airlines or hotel partners and used to book travel directly through their sites.
Just want free hotel rooms? Sign up for hotel cards.
Want points that can be used like cash? Get a Barclays Arrival Plus or Capital One Venture Card.
By first focusing on what you want, you can maximize your short-term goals and get the hang of travel hacking. For example, I tend to avoid hotel cards since I rarely stay in hotels. I dislike Hilton and never fly United so I don't waste time getting their points. I don't like cash back cards because I travel so often that points – not cash back – is more useful for me. Using credit cards that get me airline miles or that have good transfer bonuses to airline programs is what I go for.
Find your goal and then find the cards that match your goal as well as your spending habits.
Step 2: 5 Really Important Things to Look for in a Travel Rewards Credit Card
Here's a video on how to pick a credit card:

I recommend getting travel credit cards that include the six following things:

1. A huge welcome offer — A big introductory offer (after you meet the minimum spending requirement) is what jump-starts your mileage account and gets you closer to a free flight or hotel stay. Sometimes these offers even get you a few free flights. Don't sign up for a card unless it offers a high welcome offer.
Welcome offers work like this: in order to get the large intro offer, you must make either a single purchase or meet a minimum spending threshold in a certain time frame. After that, depending on the card, you can earn 1-5x points per dollar spent.
Typical travel credit card welcome offers range between 25,000 to 50,000 points, though sometimes they can be as high as 100,000. That's why cards are so great—you get an instant balance of thousands of points for very little work.
2. Added category spending bonus — Most credit cards offer one point for every dollar spent. However, the good credit cards will give you extra points when you shop at specific retailers, or, if it is a branded credit card, with a particular brand. This will help you earn points much more quickly. I don't want one dollar to equal just one point. I want the ability to get two or three points every time I spend a dollar. For example, with the Chase Sapphire Reserve card you get 3x points for travel and dining at restaurants, the Chase Ink gives you 5x points for office spending, and the American Express Premier Rewards Gold card 3x points on airfare. I can get added points when I use a company card to book with the company (i.e. Delta flights with a Delta card).
That's what you want. Never accept one point per dollar spent. Look for at least two. Some cards even off up to 6 points per dollar spent!
3. Low spending minimum — Unfortunately, in order to get the great bonuses these cards offer, there is usually a required spending minimum. While there are ways to temporarily boost your spending, it's best to be able to get the bonus using normal day-to-day spending. I typically sign up for cards with a minimum spending requirement of $1,000–3,000 USD in a three- to six-month period. Though, my favorite spending minimums are the offers that require you to make one purchase in order to unlock the bonus. Alaska and American Airlines currently offer those.
While you shouldn't necessarily avoid high-minimum spending cards as they have substantial rewards, it's a good idea to start small because you don't want to get stuck with so many cards that you can't meet the minimum spends. Once you get the card, you can't reapply for the card, so don't go overboard and miss out on the welcome offer.
That's why having a goal and starting small is important with credit cards. You don't want to dive into the deep end before you're ready because one mistake in this game can leave you stuck with spending requirements you can't meet (and bonus points you can't earn)!
It's easy to go crazy and sign up for 10 cards in a short amount of time. But then to get the bonus points, you might find yourself stuck with having to spend $10,000-30,000 USD in a very short period of time. That's a lot of pressure.
Managing your ability to meet the minimum spending requirements is key because if you are spending more money than you usually do just to get these points, the points are no longer free. Only spend what you normally would and not a penny more.
If you're looking for ways to meet your minimum spending requirements, there are plenty of creative ways to become a travel hacker.

4. Have special perks – All of these travel credit cards offer great perks. Many will give you a special elite loyalty status or other extra perks. I want cards without foreign transaction fees, free checked baggage, priority boarding, free nights, and much more. It's not just about just getting miles; it's about what else comes with the card that makes my life easier!
5. Low Annual fees – No one likes paying annual fees for credit cards. Many of the fees for company branded credit cards range from $50-$95 per year. I pay an annual fee. For those who travel a lot and fly a lot, I think it is worth it to get a card with a fee. Fee-based cards tend to give you a better rewards scheme, where you can accumulate points faster, get better access to services and special offers, and get better travel protection. With these cards, I have saved more money on travel than I have spent on fees.
6. No foreign transaction fees – Credit cards are great to use when you are overseas because you get the best possible exchange rate from them but if you are paying a fee every time you use the card, then it doesn't become as good. Nowadays there are so many cards offering no foreign transaction fees that you should never, ever, ever get a credit card with a foreign transaction fee. NEVER!
Does Opening A Lot of Credit Cards Hurt My Credit?
While it's true that opening and closing a lot of credit cards at once can hurt your credit, applying for a few credit cards over a period of time won't kill your credit score. Your credit score will slightly dip every time there is an inquiry into whether that is a credit card or home loan or car loan. It's how the system is set up. But so long as you space out your applications and maintain good credit, you won't find any long-term damages to your credit. Your credit rating rises over time as long as you maintain it, you aren't going to have a bank officer tell you years from now, "Sorry, because you canceled three credit cards in 2012, your loan is denied." I once canceled 4 credit cards in one day and the impact on my score? Nothing.
I currently have a few dozen credit cards, a credit score of 825, and was recently approved for a mortgage. This does not hurt your credit. Having lots of credit does actually help your credit because you improve your debt to credit ratio.
What If You Have Poor Credit?
Many travel rewards cards are only available to those with a high credit score, and if you have a low score (650 or less), you may find yourself being declined often and limited in your options.
There's no magic bullet to suddenly fixing your credit score. If you have a low credit score, you need to build it up. There are ways to do that and point-earning cards that can get you there.
Here are five ways to improve your credit score:
Go to AnnualCreditReport.com and get a free copy of your credit report. This site lets you know what your credit score is so you can see what areas you need to work on.
Dispute any incorrect information on your credit report with the credit reporting agencies—Experian, Equifax, and Transunion. Don't let mistakes bring you down.
Get a secured credit card. These cards require you to put down a cash deposit, think of it like a pre-paid credit card (or a credit-card-in-training). If you decide to put $500 USD in your secured credit card, you can use up to $500 USD each month and then pay it off. Spending and paying off your balance in full each month is a good way to build up your trustworthiness. A good secured card will have automatic reporting to the three major credit bureaus. This will help you build a good credit history and increase your score. For example, HSBC offers a secured Visa card with a $0 annual fee for the first year and $200 USD minimum deposit. Check with your local bank or any credit card issue to see what they offer and get it. Over time, you can raise the limit and this will raise your score allowing you to move to a regular credit card.
Become an additional cardholder (authorized user) on the card of someone else with good credit—you will inherit their score. It's like they're vouching for you. This can instantly improve your score. Warning: Your missed payments will also appear on their account, so don't add someone or have someone add you if they aren't on top of their finances. This works both ways
Pay all current bills on time and don't get into more debt (and move your current debt to low- or zero-interest cards. I love the Discover and Chase Slate cards for this.
Credit scores improve over time but they don't take forever….and you don't need to be debt-free to make it happen. A few smart months of money management and you'll see your score rise.
For those with low or no credit, Capital One, Barclays, and Discover all offer cards for people with little or bad credit. Moreover, ask your local credit union (or call one of the banks above) if they have any prepaid cards you can get, call up the major banks or walk into a branch and ask the teller. All financial institutions have products for people with poor credit. Get them and constantly work at it. If you're passive, it won't improve, but if you push the banks and prove you're not a risk, you'll soon be getting the good cards that include better offers!
You may not get the best deals or cards right away, but you will eventually. It just takes time.
The Best Travel Rewards Credit Cards
With so many credit cards to choose from, which ones do you pick? Well, the short answer is all of them. Grab as many as you can. Why put a limit on how many points you can get?
But the longer answer is don't get more than you can manage. Build it all up slowly. Here is a list of my favorite travel credit cards:
A longer list of my favorite credit cards — along with all their sign-up details and perks — can be found by clicking here.
***
Getting a travel credit card is simple and easy to do when you follow the steps above. Once you know your goal, you can easily find the card that matches the goal and the perks you want. The process highlighted in this article will help you get the best credit card all the time. Don't leave money on the table! Get a card, collect points, save money when you travel, and learn to travel for free!
FURTHER READING
Learn How to Travel for FREE!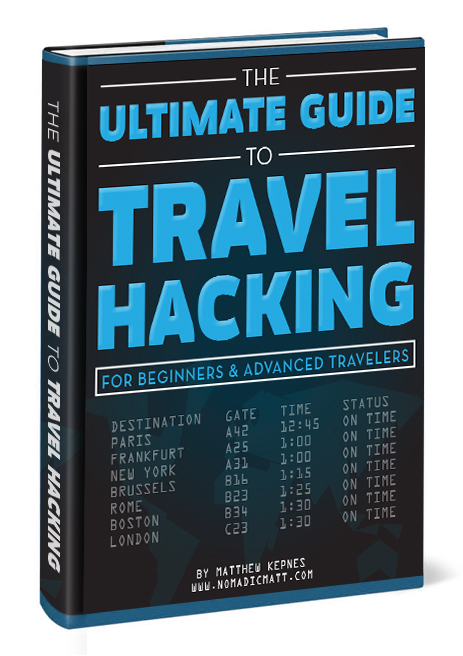 Want to fully maximize your travel credit cards? From taking your family to Europe, flying first class, to sleeping in an overwater bungalow in the Maldives, I wrote a book that will teach you how to master frequent flier and hotel loyalty programs to gain hundreds of thousands of points per year so you can travel for free. In this book, you'll get:
How to spot and get the best earning cards
How to master the ins and outs of loyalty programs
How to maximize your everyday spending for bonus points
The secret art of earning points for free
How to always find an award flight or hotel room
Where to discover the best travel deals
The tools and resources travelers use to unlock secret fares and deals
Step-by-step cheat sheets

NomadicMatt has partnered with CardRatings for our coverage of credit card products. NomadicMatt and CardRatings may receive a commission from card issuers. Opinions, reviews, analyses & recommendations are the author's alone, and have not been reviewed, endorsed or approved by any of these entities.
Photo Credit: 1