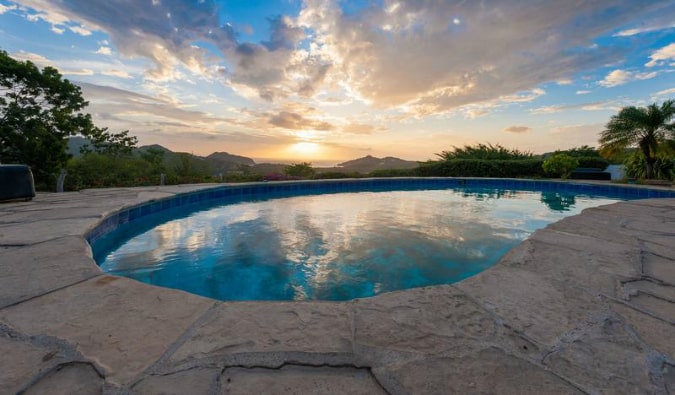 Last Updated: 03/31/2022 | March 31st, 2022
As a budget backpacker, I've stayed in a lot of hostels all around the world.
Some good, some bad, and many that were just plain terrible.
While I've written about my favorite hostels in cities all around the world, today, I want to highlight my all-time favorites. Hostels that really made my travels memorable and helped me make the most of my time abroad.
These hostels embody the traits I love: friendly staff, a warm atmosphere, competitive prices, comfy beds, clean facilities, and that special je ne se quoi that makes a place memorable.
With some 100 countries and ten years of backpacking under my belt, I've likely stayed in over a thousand hostels. Some were so bad that I've blocked them out of my memories. But out of those hundreds, I have some clear favorites, places I'll never forget, and will go out of my way to stay in.
Here are the hostels that, in my opinion, are the best in the world.

1. Los Patios (Medellin, Colombia)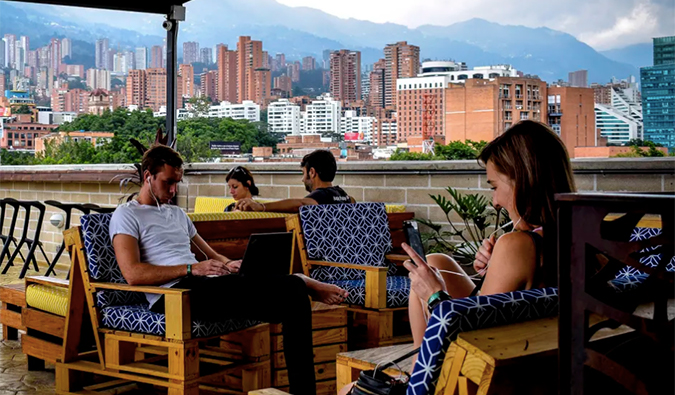 This stylish hostel has themed floors inspired by Colombia's natural surroundings: mountains, jungles, sea, and plains. It's part of a massive two-building complex that also has a co-working space, a gym, rooftop bars, an organic garden (whose herbs you can use), a Spanish school, and communal kitchens. It was by far my favorite hostel in the entirety of the city.
Each dorm bed comes with a privacy curtain, and the private rooms are as comfortable as hotels. The bathrooms were amazing and the beds super comfy — I got some of my best nights' sleep here. It offers free tea and coffee, great happy hours, amazing parties, and activities like salsa classes and street art tours, plus there are free bike rentals. The staff is also super friendly and welcoming. Overall, this hostel just gets it.
Los Patios at a glance:
Tons of great amenities (co-working space, gym, rooftop bar)
Organizes lots of activities
Free perks (free tea/coffee, free bike rentals)
Book Los Patios here!
2. Franceso's (Ios, Greece)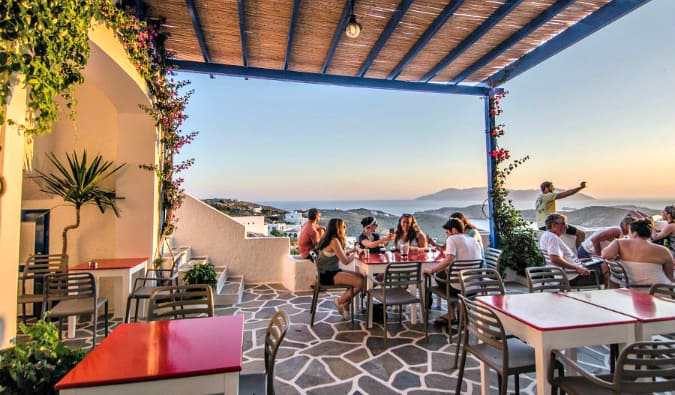 Francesco's is one of two main places to stay on Ios (the other being Far Out Beach Resort). I personally like Francesco's better because it is closer to town (no late-night walks home) and the staff gets everyone together at night to interact. It's a much more social place than Far Out. It's impossible not to meet people here. Plus, there's a pool.
Francesco's is also next to the most wonderful milkshake-making place on the entire planet. The rooms are quite nice and the beds comfy, but what really makes this place so wonderful is its central location and the fact you make tons of new friends every night.
Franceso's at a Glance:
Great staff
Pool for chilling out
Convenient location
Book Francesco's here!
3. Kabul (Barcelona, Spain)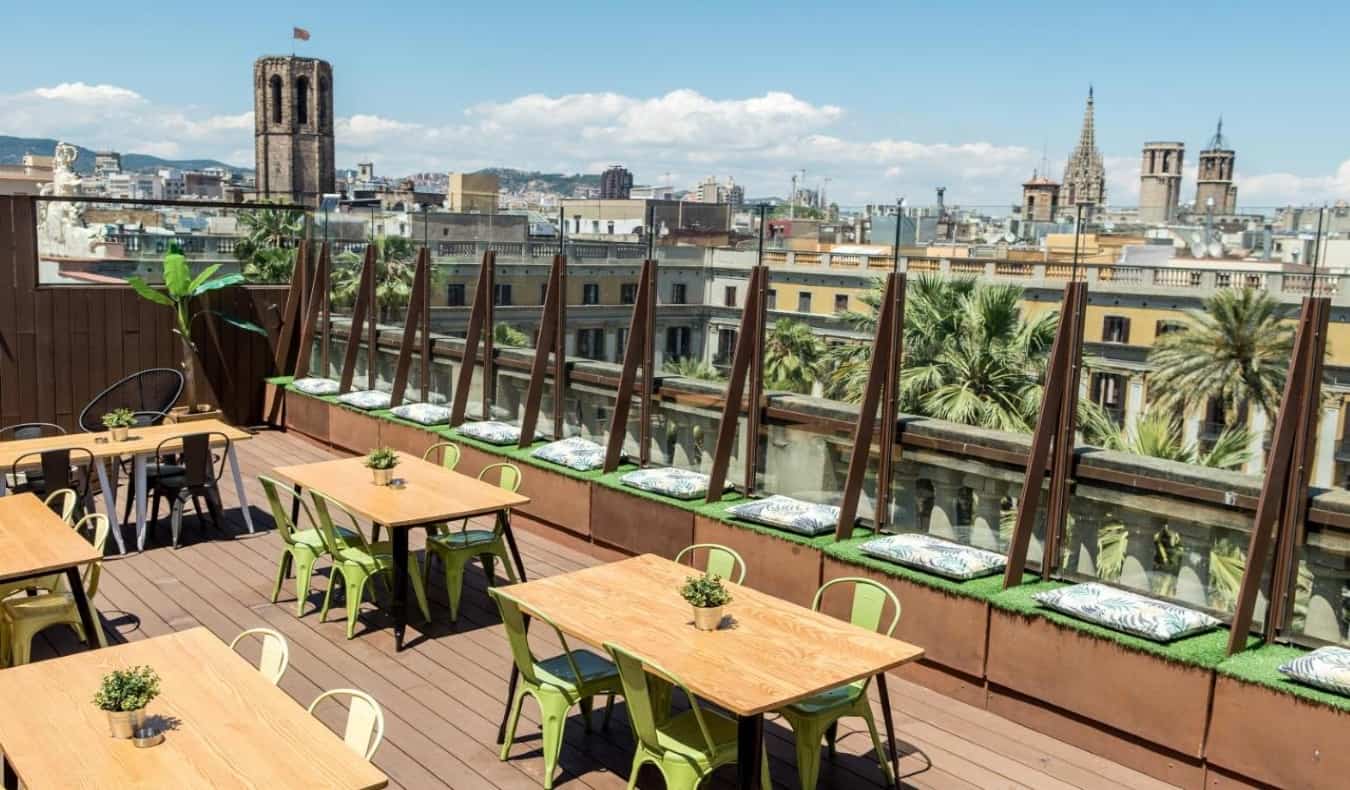 Arguably one of the best hostels in the world, Kabul is just an all-out fun-filled place, but only if you are looking to spend your nights partying. You don't come to Kabul to sleep.
It is so well known for its atmosphere and parties that it's always fully booked, and during the summer, it's booked months in advance. Everyone socializes in the halls and dorms, getting to know other travelers, playing card games, drinking, and listening to music, or heads downstairs to the giant common room to enjoy dirt-cheap beer and pool. Kabul also offers a small free dinner each night. I haven't been there in a long time (I like sleeping more partying these days), but if you are young and like to drink, or just like to drink, or are just young at heart (whatever!), stay here.
Kabul at a Glance:
Rowdy parties
Easy to meet people
Lots of nightly activities
Book Kabul here!
4. Nomads (Queenstown, New Zealand)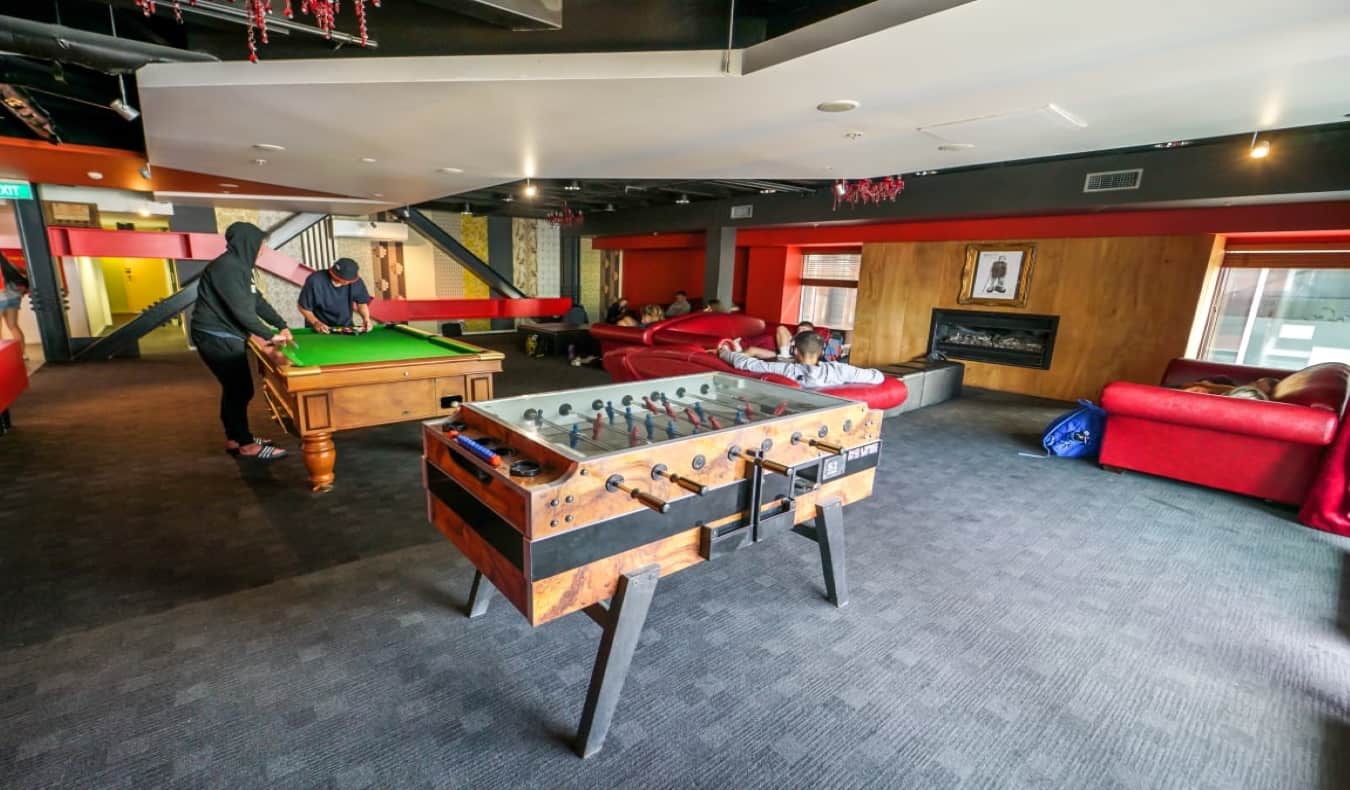 This was a new hostel when I was there in 2009, and I got to stay there as a guest of Nomads. I was traveling with a group of people who were already staying there, and this place blew my mind. The hostel has a huge kitchen (restaurant-sized), top-notch showers (with great water pressure) and toilets, and a large lounge, and most rooms have balconies. The pillows are thick — the manager told me they change them every few months to keep them fluffy. How about that for service?
Moreover, unlike most hostels in New Zealand, this one doesn't have a bar, which means you can drink in the hostel. This meant that a lot of people stay around socializing at night instead of spending money at the bars. Moreover, the hostel hosts activities every night (including a $10 pub crawl) and has a free dinner and quiz night on Sunday.
Kabul at a Glance:
Organizes lots of activities and events
Huge kitchen (so you can cook and save money)
Fun social atmosphere
Book Nomads here!
5. The Flying Pig (Amsterdam, The Netherlands)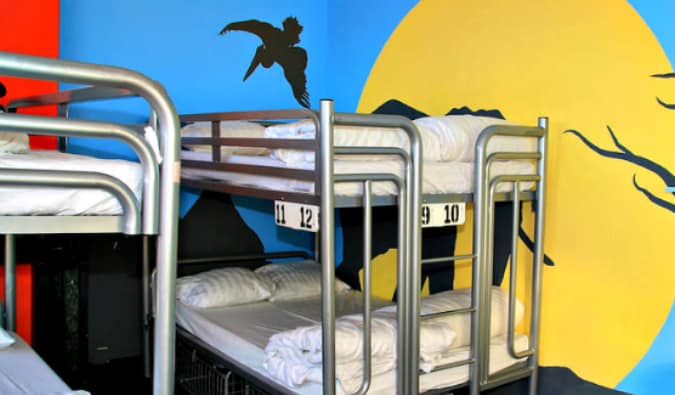 What I love about this place is the people. The facilities here are standard (except the pillows, which are like sleeping on air), and the prices are on the expensive side, but I love the atmosphere here. While this hostel is popular with travelers looking to chill and smoke weed, the bar area gets very busy at night with those who don't. It's not all about smoking here. The staff (a mix of locals and travelers) is what sets this place apart from the rest. They hang out with guests, are experts on the city, and will always help you. They want to have fun as much as you do.
The Flying Pig has three locations in the city (uptown, downtown, and the new beach location), and I prefer the uptown location because it's smaller and easier to meet people. I never stay anywhere else in Amsterdam.
The Flying Pig at a Glance:
Lively bar
Knowledgeable staff can help you plan your trip
Easy to meet people
Book The Flying Pig here!
6. Base St. Kilda (Melbourne, Australia)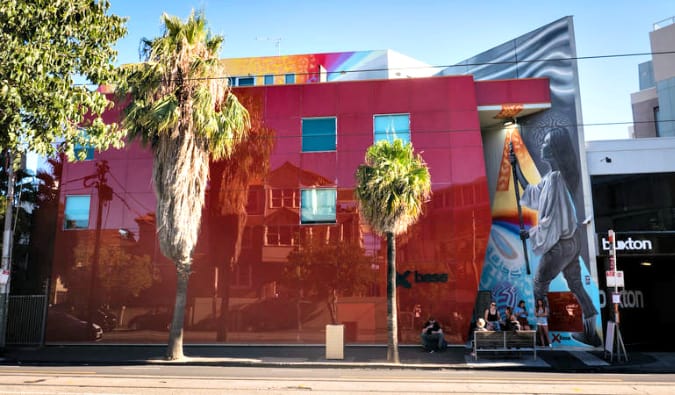 I've said in the past that Base is like the McDonald's of hostels. You leave full but you're not really satisfied. Yet McDonald's (Base) outdid themselves with their Melbourne hostel. It is my favorite hostel in Australia. The bar is lively every night, and there are BBQs and events during the week.
Additionally, the rooms and bathrooms are clean and very well maintained. Most people stay here for the atmosphere and location. Within moments of my arrival in the dorm, I met a group of friends to spend time with. I stayed there during my first trip to Australia and went back this year to see if it was still as good as I remembered. It was.
Base St. Kilda at a Glance:
Clean and well maintained
BBQs (and other events)
Friendly atmosphere makes it easy to meet people
Book Base St Kilda here!
7. Hostel Mostel (Bulgaria)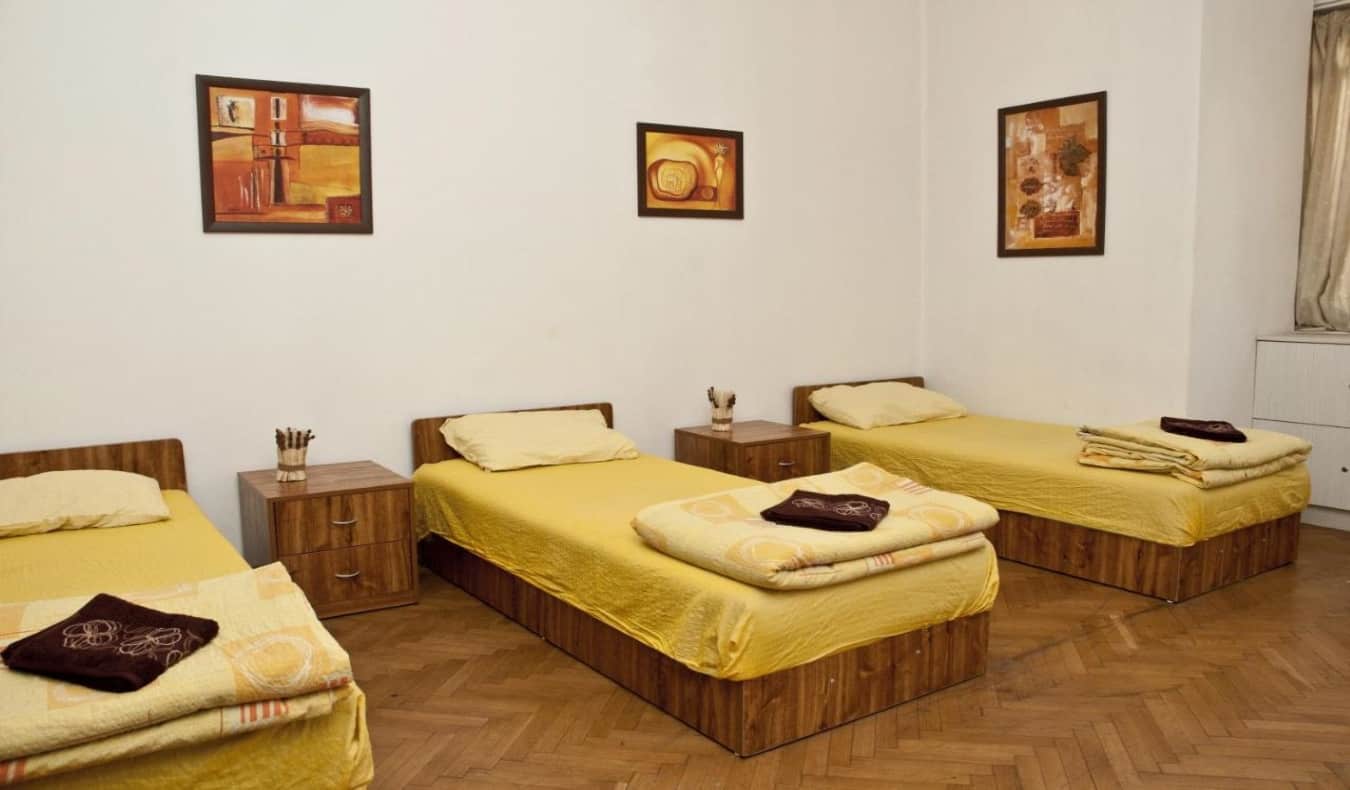 This hostel has locations in two cities in Bulgaria (Sofia and Veliko Tarnovo), and they all follow the same principles: comfy beds, free breakfast, free dinner, free beer, fee shots, a pool table, and free, fast Wi-Fi. And you know, it's hard not to like a place that gives you a delicious breakfast, free beer, and pasta each night. The beds are super comfortable, but the best part of staying here is just the friendly, social atmosphere.
I especially loved their location in Veliko Tarnovo, as it had great views of the old castle and the surrounding mountains. This hostel was my favorite during my recent six-month trip through Europe.
Hostel Mostel at a Glance:
Tons of free perks
Comfy beds
Great location
Book Hostel Mostel Veliko Tarnovo here!
Book Hostel Mostel Sofia here!
8. Goodnight Hostel (Lisbon, Portugal)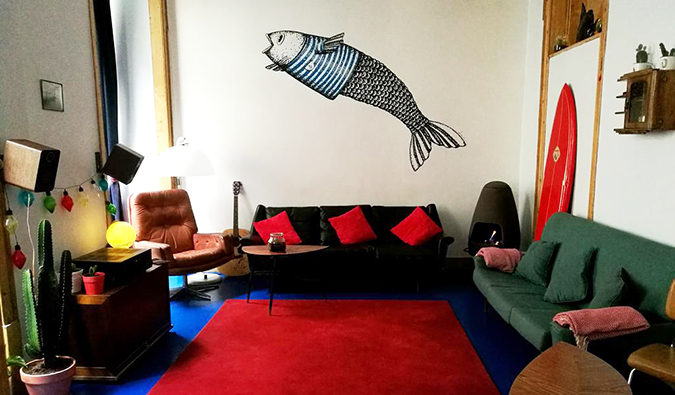 I stumbled across this hostel in Lisbon (mostly because it was super cheap), and I'm really glad I did. This downtown hostel offers free sangria, free breakfast, and 10 EUR dinners once a week. The showers have amazing water pressure, and the beds are very cozy. The small setting is very intimate due to its small space, making it easy to meet fellow travelers!
They also organize nights out, as well as a number of walking tours through Alfama, Bairro Alto, and Baixa-Chiado. It's a great way to get oriented with Lisbon! This was one of the best hostels I stayed at that entire year.
Goodnight Hostel at a glance:
Organizes lots of activities (pub crawls, walking tours)
Free breakfast
Intimate atmosphere makes it easy to meet people
Book Goodnight Hostel here!
9. Green Tortoise (Seattle, USA)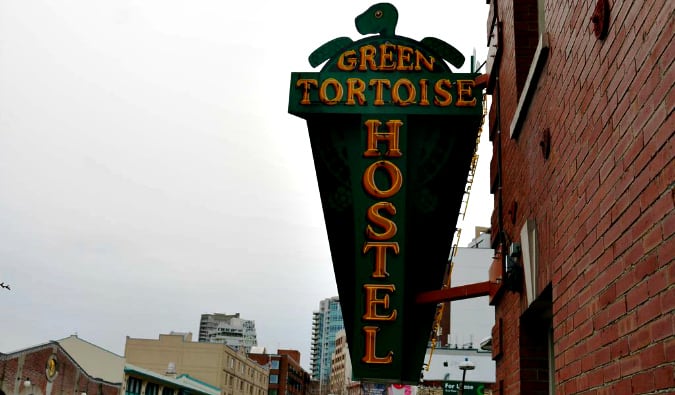 The Green Tortoise has hostels in San Francisco and Seattle. They offer a robust breakfast (I'm always impressed by how much food they have), run lots of activities and events for people who stay there, have friendly staff, and comfy beds. They are really solid places that combine the best of the hostel spirit. These folks get hospitality. I rarely stay elsewhere.
Green Tortoise at a Glance:
Awesome free breakfast
Organizes lots of events and activities
Comfy beds
Book Green Tortoise here!
10. Les Piaules (Paris, France)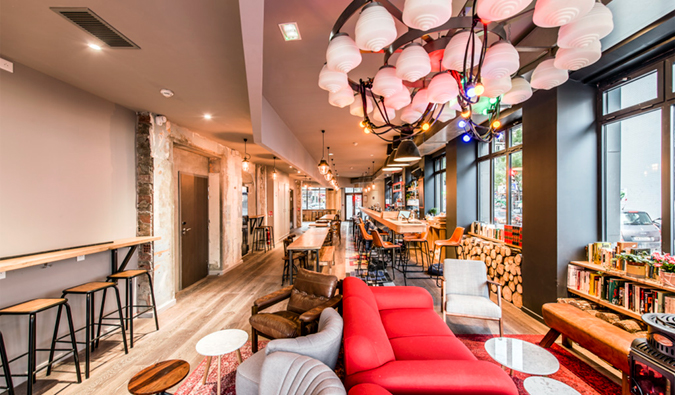 Located in Paris's Belleville neighborhood, this hostel is in a beautifully renovated art deco building. It has a fantastic chimney lounge, a rooftop terrace, and a cool bar/restaurant on the ground floor that's popular with locals too (I saw a paint-and-drink club here).
The rooms are super modern, the beds are comfy, and you can pay extra for either a basic breakfast (3 EUR) or a "badass" breakfast (7 EUR). It's my favorite hostel in Paris and one of the best places to meet people! I can't recommend it enough!
Les Piaules at a glance:
Cool rooftop for hanging out
Bar on-site to make meeting people easy
Organizes lots of events and activities
Book Les Piaules here!
11. Gallery Hostel (Porto, Portugal)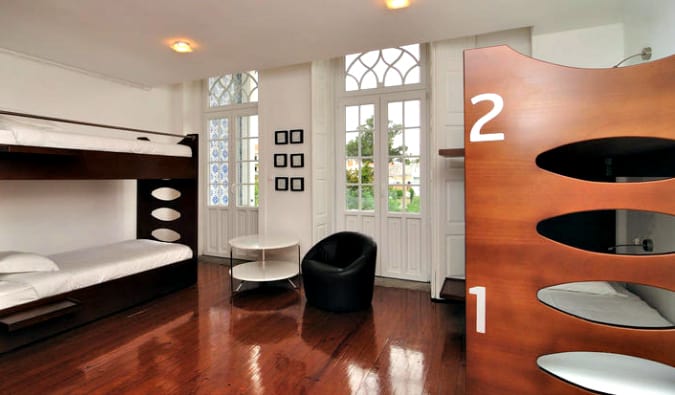 This "luxury" hostel in Porto is not the cheapest in Porto, but this hostel/art gallery features home-cooked Portuguese food, a backyard, free after-dinner drinks, a game room, and friendly staff committed to making sure everyone gets to know each other. The art on the walls is from local artists and is for sale (for those not traveling on a budget). I loved the nightly dinners they organized the best.
Gallery Hostel at a Glance:
Free drinks
Boutique design
Nightly dinners for socializing
Book Gallery Hostel here!
12. City Backpackers (Stockholm, Sweden)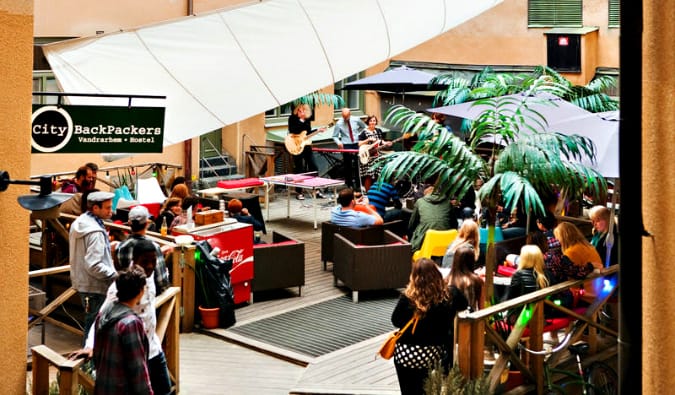 I stayed here years ago and recently returned when I was in Stockholm. The place was just as amazing as I remember. They still have a very nice café and an outdoor eating/sitting area. Their beds and pillows are still super cozy and comfortable, plus they have a huge kitchen, common room, free sauna, and laundry facilities.
And you can't turn a corner without bumping into a public computer. City Backpackers was and still is one of the top hostels in Europe.
City Backpackers at a Glance:
Free sauna (and other free perks)
Lots of common space
Central location
Book City Backpackers here!
13. Milhouse (Buenos Aires, Argentina)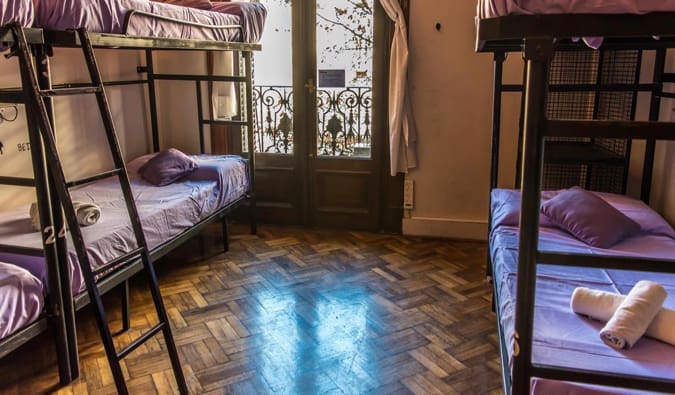 This amazing hostel in Buenos Aires offers free coffee and tea, paid breakfast has an awesome bar and rooftop, a kitchen, free lockers, a pool table, and board games. Not only that, they host amazing dinners on said rooftop and at night this place becomes a wild party. Thankfully, you can't hear the noise from the rooms that wrap around a beautiful inner courtyard (so even if you don't want to party, this is a good place to stay). The staff here is super knowledgeable and can help organize a plethora of activities in the city and around the country.
Milhouse at a Glance:
Chill rooftop area
Awesome communal meals
Lively bar on-site
Book Milhouse here!
14. Fabrika (Tbilisi, Georgia)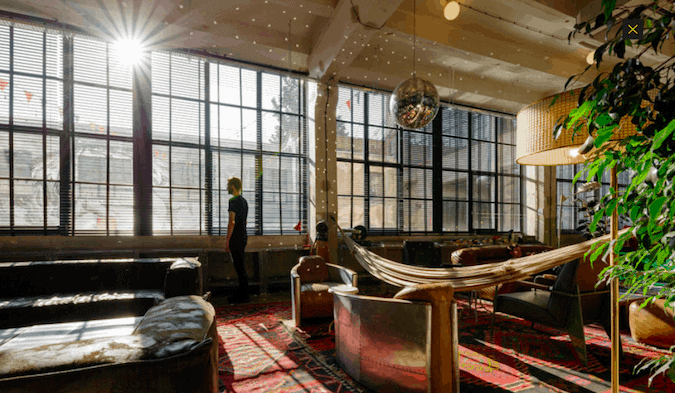 One of my more recent stays, this old Soviet area factory has been turned into a multi-use building featuring a restaurant, bar, hostel, mini-apartments, co-working space. Outside the courtyard, you'll find an array of bars and restaurants. The dorms are very spacious with soft beds and your own light and electric outlet. This multi-use space is also extremely popular with locals and is one of the hip places to be in the city.
Fabrika at a Glance:
Tons of amenities (restaurant, bar, co-working space)
Spacious dorms
Popular with locals
Book Fabrika here!
***
So there you have it. These are my favorite hostels in the world and the ones I would highly recommend staying at. Of course, there are many, many, many other great hostels in the world, but for me, these are the cream of the crop.


How to Travel the World on $50 a Day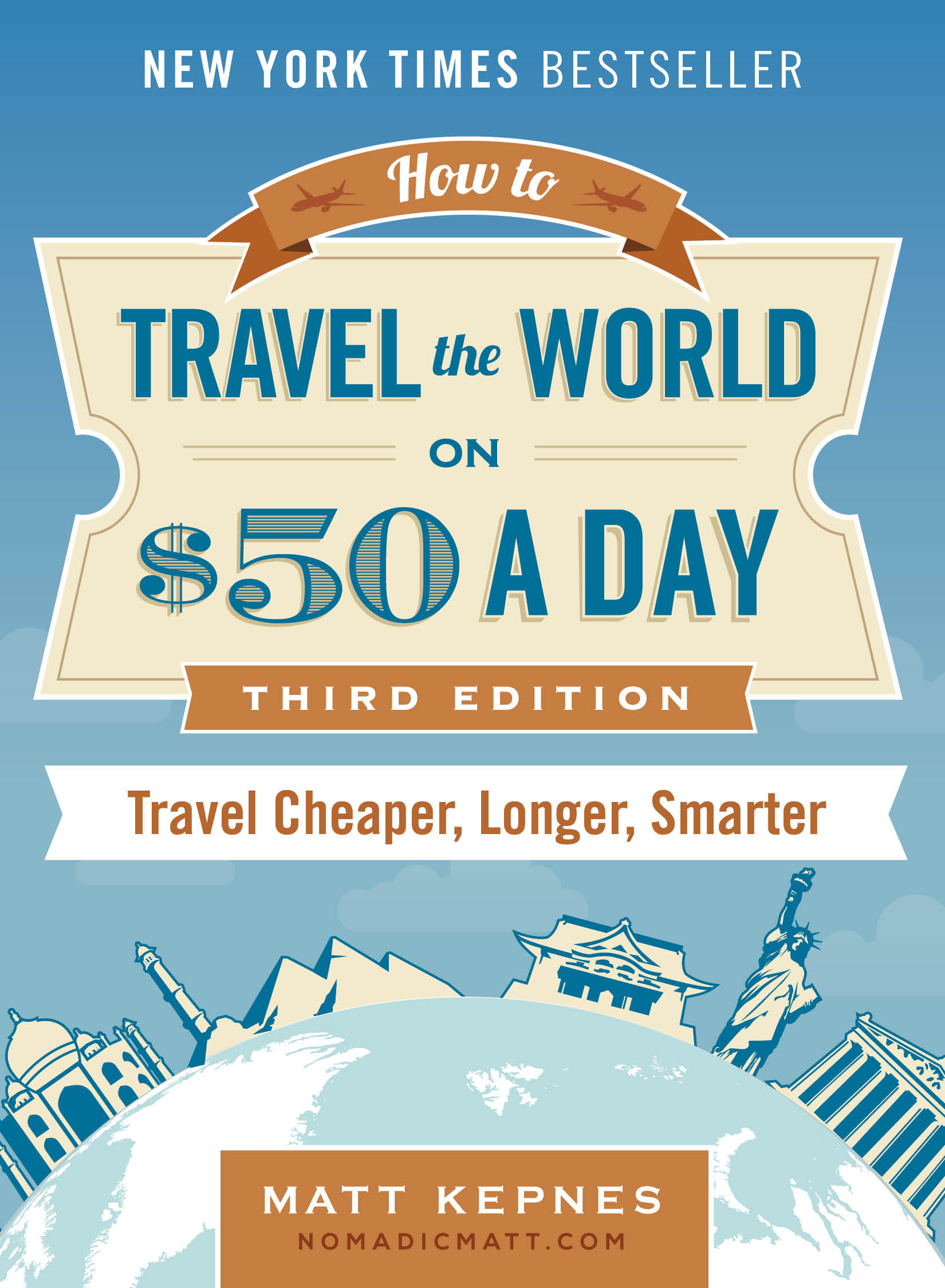 My New York Times best-selling paperback guide to world travel will teach you how to master the art of travel so that you'll get off the beaten path, save money, and have a deeper travel experience. It's your A to Z planning guide that the BBC called the "bible for budget travelers."
Book Your Trip: Logistical Tips and Tricks
Book Your Flight
Find a cheap flight by using Skyscanner. It's my favorite search engine because it searches websites and airlines around the globe so you always know no stone is being left unturned.
Book Your Accommodation
You can book your hostel with Hostelworld. If you want to stay somewhere other than a hostel, use Booking.com as it consistently returns the cheapest rates for guesthouses and hotels.
Don't Forget Travel Insurance
Travel insurance will protect you against illness, injury, theft, and cancellations. It's comprehensive protection in case anything goes wrong. I never go on a trip without it as I've had to use it many times in the past. My favorite companies that offer the best service and value are:
Want to travel for free?
Travel credit cards allow you to earn points that can be redeemed for free flights and accommodation. They are what keep me traveling so much for so little. Check out my guide to picking the right card and my current favorites to get started and see the latest best deals.
Ready to Book Your Trip?
Check out my resource page for the best companies to use when you travel. I list all the ones I use when I travel. They are the best in class and you can't go wrong using them on your trip.
Photo credits:
1 – Naked Tiger Hostel
,
2 – Los Patios
,
3 – Francesco's
,
4 – Kabul Hostel
,
5 – Nomads Queenstown
,
6 – Flying Pig
,
7 – Base Backpackers
,
8 – Hostel Mostel
,
9 – Goodnight Hostel
,,
10 – Green Tortoise
,
11 – Les Piaules
,
12 – Gallery Hostel
,
13 – City Backpackers
,
14 – Milhouse
,
15 – Fabrika