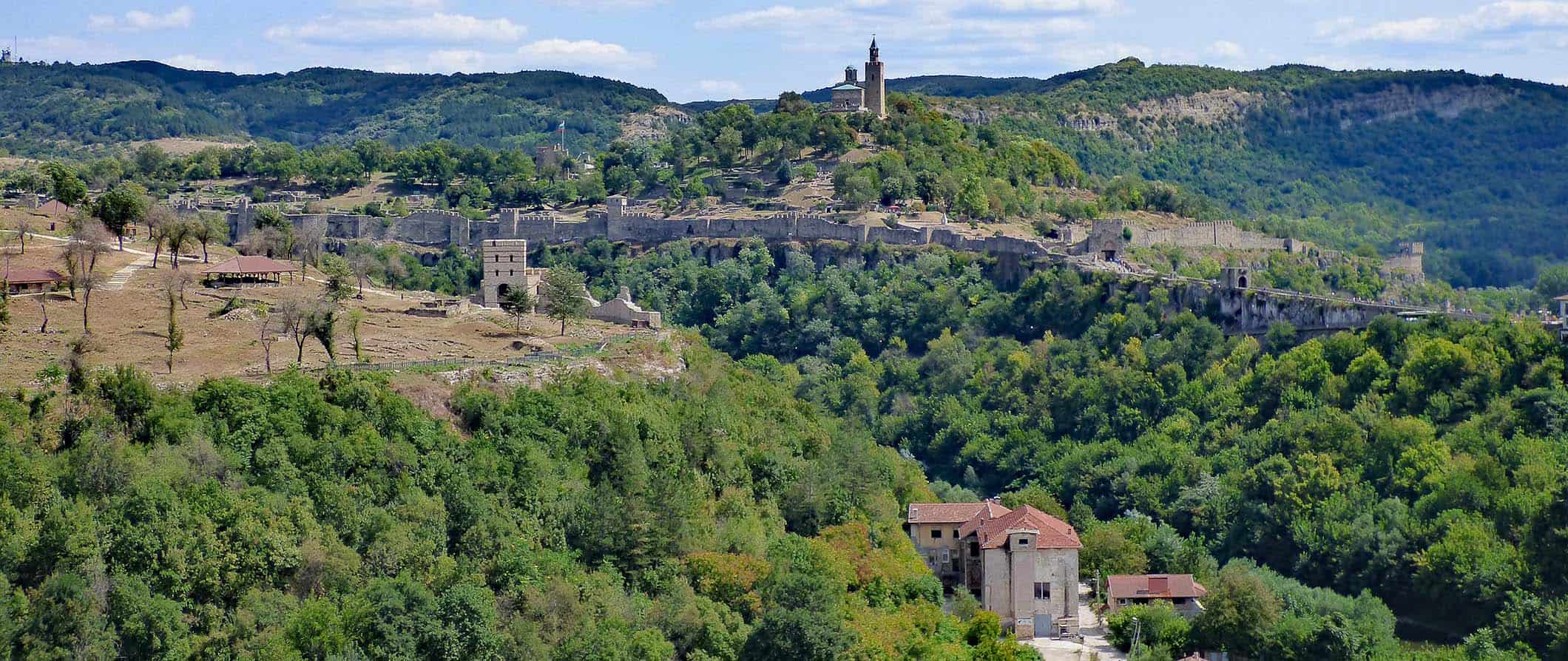 Veliko Tarnovo was the capital of the Second Bulgarian Empire (1185-1396). During the Middle Ages, it was a bustling cultural and economic hub. Today, it's a popular stopping point for travelers as they make their way from one end of Bulgaria to the other.
This quiet little town still has its medieval castle dominating the skyline (which is the main draw for tourists). There are also nearby hiking trails and monasteries worth exploring too.
It's a peaceful mountain town and a hub for university students. I loved the cobblestone streets, the views from the castle, the little cafes in the city, and the accessible hiking trails. Visiting here was one of the highlights of my visit to Bulgaria.
This travel guide to Veliko Tarnovo can help you plan your trip, save money, and make the most out of your time in this quiet destination.
Top 5 Things to See and Do in Veliko Tarnovo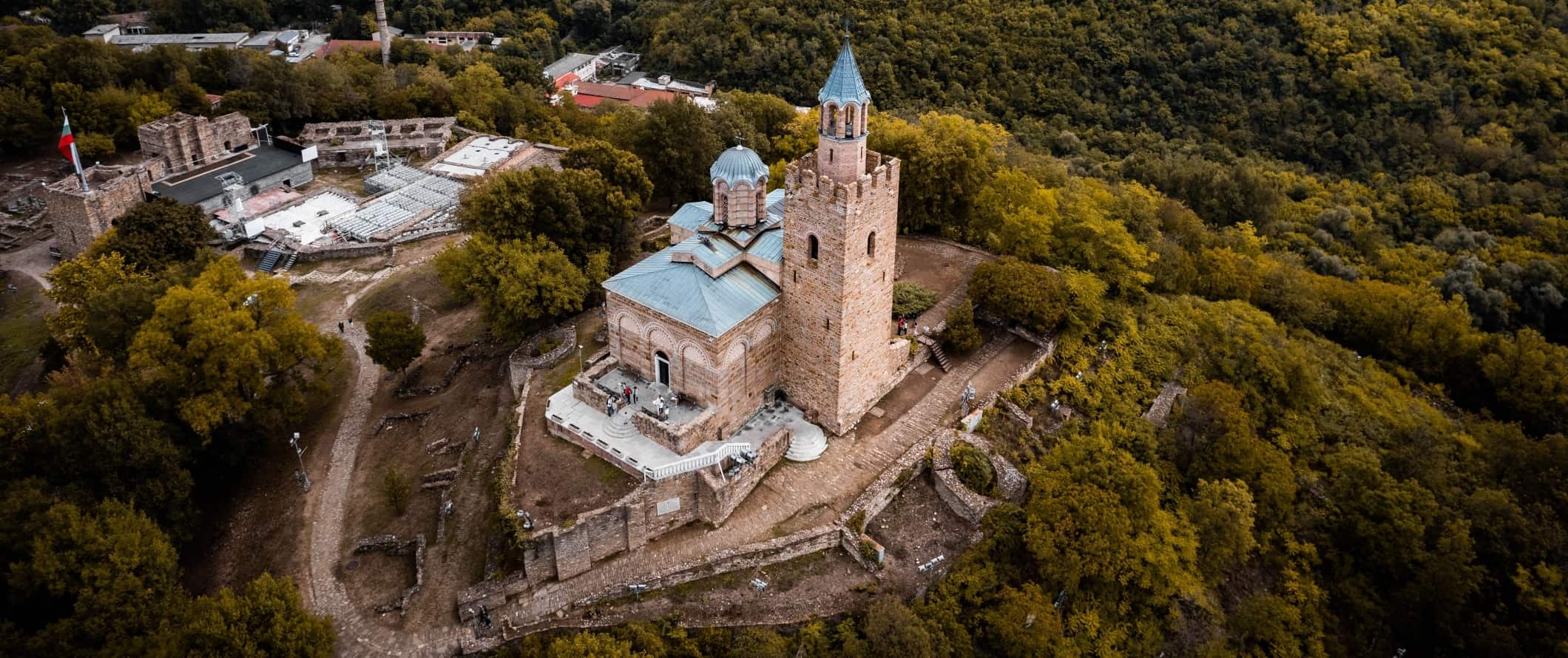 1. Go hiking
The area around Veliko Tarnovo is covered in hiking paths, with the climb to Sveta Gora Park being one of the most accessible routes from town (You can start from wherever you're staying and end with incredible views overlooking the city). The hike is mostly uphill and takes a few hours to complete. For something more challenging, hike the Lyaskovets monastery trail. It's moderate to challenging and makes a great full-day adventure. The Kartala waterfalls trail is another awesome option, and you can start from the city or from a path near the monastery for a shorter option. You'll be surrounded by lush greenery, and there are plenty of places to stop and relax en route. The tourist center provides maps and trail conditions if you want to learn more.
2. Visit Arbanasi
Although now it's home to just 500 people, at one point Arbanasi was a bustling town full of gold, copper, and silk producers. The tiny village, which dates back to the Middle Ages, is located on a plateau just outside of Veliko Tarnovo. Here you can view historic churches from the 17th and 18th centuries and houses built in the Bulgarian National Revival Style. Visit the Convent of the Dormition of The Virgin for more local history and some impressive religious icons, such as a silver sculpture of The Virgin with the Three Hands. The Sveti Nikolai Monastery and Church actually allow visitors to spend the night too. Be sure to check out the frescoes at the churches, watch the craftspeople at work, and simply wander the narrow streets taking in the local pace of life.
3. Stroll down Samovodska Charshia
This is one of the most famous streets in Veliko. It's been a popular place for shopping since the 19th century when it was a bustling marketplace that attracted farmers and craftspeople from the surrounding villages. In the 1980s, the entire neighborhood underwent an extensive restoration, and the lively market was recreated. Now the area serves as an epicenter for local artisans to share their goods and teach their craft. There are a ton of antique shops to check out, as well as bakeries, pastry shops, and craft workshops. Stroll down the street and watch as the locals work on their pottery, copper-working, weaving, painting, and textiles.
4. Tour Tsarevets Fortress
This medieval castle served as the Second Bulgarian Empire's primary fortress from 1185-1393. The Ottoman forces finally took the fortress in 1393 after a three-month battle which marked the fall of the Bulgarian Empire. Restoration on the impressive complex began in the 1930s and was completed in the 1980s. It's now the main tourist attraction in Veliko. Having once been the site of both the royal and patriarchal palaces, you'll find the remains of 400 houses, nearly 20 churches, an execution area, and a palace. Underneath the modern ruins, archeologists have uncovered even older signs of civilization dating back almost 4,000 years. You can also walk the castle walls for views over the surrounding valley. Admission is 6 BGN.
5. Wander Gurko Street
On the way to the fortress, you'll pass through the town's oldest district. Gurko Street is named after the 19th-century Russian General Gurko in honor of his contribution during the Turkish invasion. The area is incredibly picturesque with many historical homes and buildings built during the Revival Period. The crumbling homes here seem ancient as they cling to the hillside practically on top of one another, but they retain all the charm of the old city with flowers on every windowsill, ivy-covered stone walls, and cobblestone streets. There are some great views of the Asen's monument across the Yantra River too. It's a beautiful area.
Other Things to See and Do in Veliko Tarnovo
1. Take a free walking tour
The first thing I do when I arrive in a new destination is take a free walking tour. It's the best way to see the main highlights and learn about the culture from a local. Free Veliko Tarnovo Walking Tours offers regular free tours in English that act as a great introduction to the city. Just be sure to tip your guide at the end!
2. Visit the Boris Denev Art Gallery
This gallery showcases work by Bulgarian artists from the National Revival Period of the 20th century through to the present day. There is a permanent exhibition on the ground floor featuring paintings, drawings, and sculptures all related to life in the region, including works by locally renowned artists like Nikolai Pavlovich, Marko Markov, and Ivan Funov. Admission is 4 BGN.
3. Admire the Church of Sveti Petar and Pavel
The Church of Saint Peter and Paul has been in operation since the Middle Ages. The murals inside date from the 13th to 17th centuries and the church blends both Byzantine and Bulgarian architectural styles, including a high dome, lots of arches, and columns decorated with carvings. Entrance is an optional 7 BGN donation, with an additional 4 BGN for if you want to take pictures.
4. Drink coffee at Shekerdzinitsa
This is a quirky little café in the old market filled with antique Bulgarian furniture. Shekerdzinitsa is the best place in town to get Turkish coffee prepared the right way — in a miniature copper pot that is run across a basin of heated sand. Come here to relax, try the coffee, and take in the local pace of life.
5. Visit Preobrazhenski Monastery
Also known as the Monastery of the Transfiguration, the Preobrazhenski Monastery is located about 7 kilometers (4.3 miles) outside of town and dates to the 11th century. With its scenic clifftop views and its fascinating 19th-century murals by painter Zahari Zograf (including detailed portrayals of demons), the journey here is worth it. You can take the bus but be prepared for the 3-kilometer (2-mile) hike to the top. Admission is just 2 BGN.
6. Explore Tryavna
Tryana is located about one hour outside of Veliko Tarnovo. It's famous for its wood carving artisanship, which is used in architecture across Bulgaria. Walk Tryana's cobbled streets and its old bridges, and admire the 19th-century National Revival mansions. You can also pop into some wood carving shops or visit the Daskalov House which contains the Museum of Woodcarving and Icon Painting (admission is 2 BGN).
7. See the Asen's Monument
This epic monument is dedicated to the Asen Tsars that ruled Bulgaria from Veliko Tarnovo. After Ivan and Peter Asen led a murderous rebellion against the Byzantine rulers in 1186, the Asen family established their dynasty and ruled the country for 100 years. The monument commemorates the 800th anniversary of the Second Bulgarian Kingdom, with the statues depicting the first four Asen rulers: Ivan, Peter, Kaloyan, and Asen II. Each one holds a sword while riding a rearing horse, all circling a sword that points skyward.
8. Go to Trapezitsa
On top of Trapezitsa hill, you'll find a ruined fortress with restored ramparts. Unlike Tsarevets, this fort is mainly in ruins. It's a massive site with a museum detailing an interactive history of Trapezitsa, including artifacts (like jugs and tools) uncovered from the hill. The entrance is from the Asenov quarter in Veliko Tarnovo and there's lots of signage so you won't get lost. They have funicular open during the summer but I think hiking up to the top through the main entrance is much more exciting. The funicular costs 10 BGN while entrance to the site is 6 BGN.

For more information on other cities in Bulgaria, check out these guides:
Veliko Tarnovo Travel Costs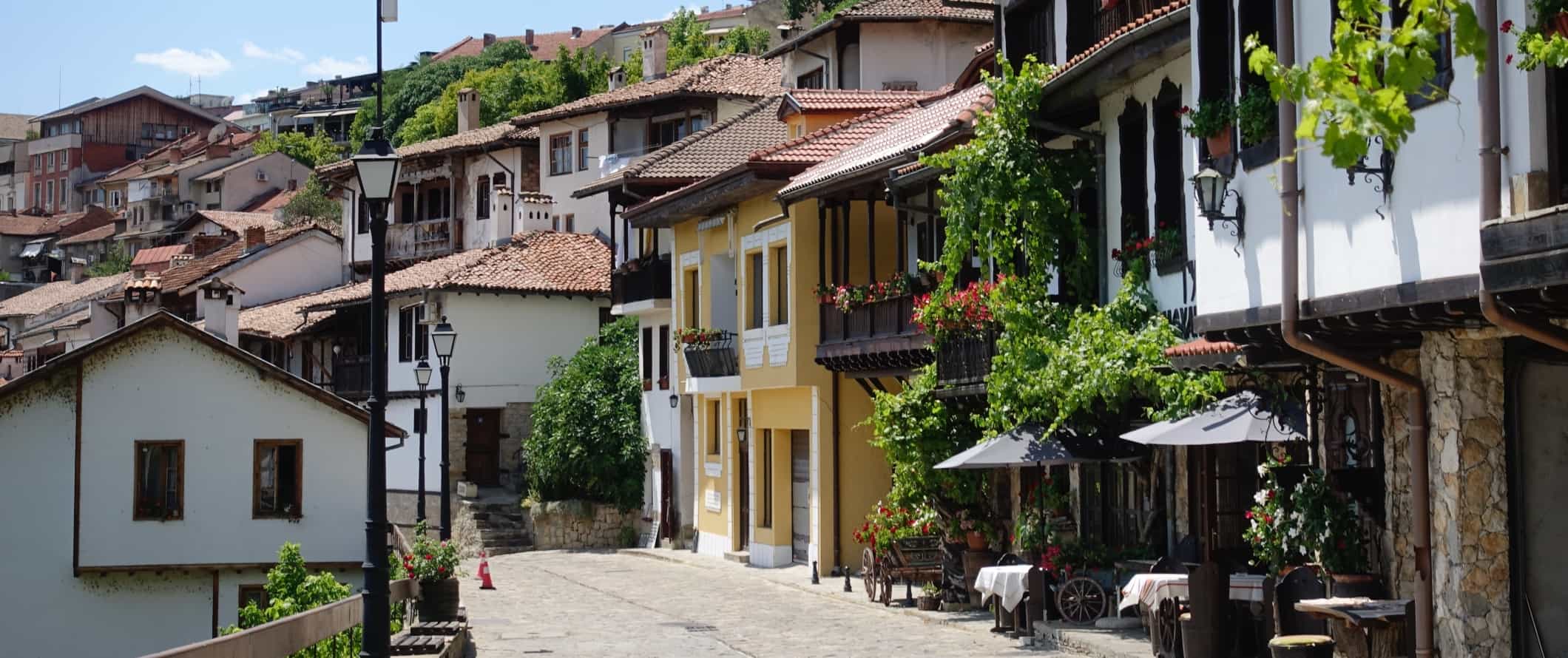 Hostel prices – Hostel dorms with 6-8 beds cost 15-22 BGN per night. Private rooms cost 35-55 BGN. Free Wi-Fi is standard and most hostels have self-catering facilities.
For those traveling with a tent, campgrounds can be found outside the city for 5 BGN per night. Just keep in mind that wild camping is not permitted in Bulgaria.
Budget hotel prices – Budget two-star hotels range from 50-90 BGN. Expect basic amenities like free Wi-Fi and TV. Some also include free breakfast.
Airbnb is limited in Veliko Tarnovo, with private rooms starting at 30-55 BGN per night, while an entire home or apartment costs closer to 90-150 BGN per night. Book early to find the best deals.
Food – Bulgarian cuisine is hearty and similar to that of its Balkan neighbors. Meaty stews with lamb, goat, or chicken are common, as are sausages and all kinds of yogurts (dairy products are big here). Popular dishes include kebapche (grilled mincemeat), shopska salad (similar to Greek salad), and moussaka.
You'll find the cheapest food in Veliko Tarnovo at the many bakeries and pastry shops. Food like banica (cheese pastry) are as little as 1 BGN.
A meal at a casual restaurant serving traditional cuisine with a drink costs around 15 BGN. Fast food (think McDonald's) costs around 13 BGN for a combo meal.
If you want to splash out, a meal at a high-end restaurant with wine costs around 35 BGN.
Beer is around 3-4 BGN while a latte/cappuccino costs around 3.17 BGN. Bottled water is 1.50 BGN.
If you plan on cooking your own food, a week's worth of groceries costs 40-55 BGN. This gets you basic staples like rice, pasta, seasonal produce, and some meat.
Backpacking Veliko Tarnovo Suggested Budgets
If you're backpacking Veliko Tarnovo, expect to spend about 55 BGN per day. This assumes you're cooking all your meals, limiting your drinking, staying in a hostel dorm, taking public transportation to get around, and doing mostly free activities like hiking and visiting the churches. If you plan on drinking, add 5-10 BGN to your daily budget.
On a mid-range budget of 130 BGN per day, you can stay in a private Airbnb, eat out for most meals at fast food places, have a few drinks, take the occasional taxi to get around, and do more paid activities like visiting the fortress and the museums.
On a "luxury" budget of 220 BGN per day or more, you can stay in a hotel, eat out for all your meals, drink more, rent a car or take more taxis, and do whatever paid tours and activities you want. This is just the ground floor for luxury though. The sky is the limit!
Accommodation
Food
Transportation
Attractions
Average Daily Cost
Backpacker
20
15
10
10
55
Mid-Range
50
35
20
25
130
Veliko Tarnovo Travel Guide: Money-Saving Tips
Veliko Tarnovo is an affordable place to visit as there are numerous cheap and free things to do around town. You don't need to worry about breaking the bank here. That said, here are some extra ways to save money in Veliko Tarnovo:
Stay with a local – Use Couchsurfing to find a local who can host you for free. You'll save money on accommodation and get to connect with a local insider who can share their tips and advice with you. There are not many hosts here, but you can also use the app to just meet up with other locals and travelers too.
Take a free walking tour – Walking tours are a great way to get familiar with a city and its culture. Free Veliko Tarnovo Walking Tours takes you all around town to show you the best highlights. Just be sure to tip!
Skip the taxis – Taxis in Bulgaria are cheap, but they can add up if you overuse them. Skip the taxis as much as you can.
Cook your own food – Restaurants here are affordable, but cooking your own meals is even cheaper. Head to the grocery stores and markets if you're on a budget.
Eat at the bakeries – Bakeries in Bulgaria have inexpensive pastries and other baked goods that can fill you up in the morning. Two of my favorite snacks there are banica and krenvirshka.
Bring a water bottle – The tap water here is safe to drink so bring a reusable water bottle to save money and reduce your plastic use. LifeStraw is my go-to brand as their bottles have built-in filters to ensure your water is always clean and safe.
Where to Stay in Veliko Tarnovo
There are only a handful of hostels in Veliko Tarnovo but they're all affordable and comfortable. Here are my suggested places to stay:
How to Get Around Veliko Tarnovo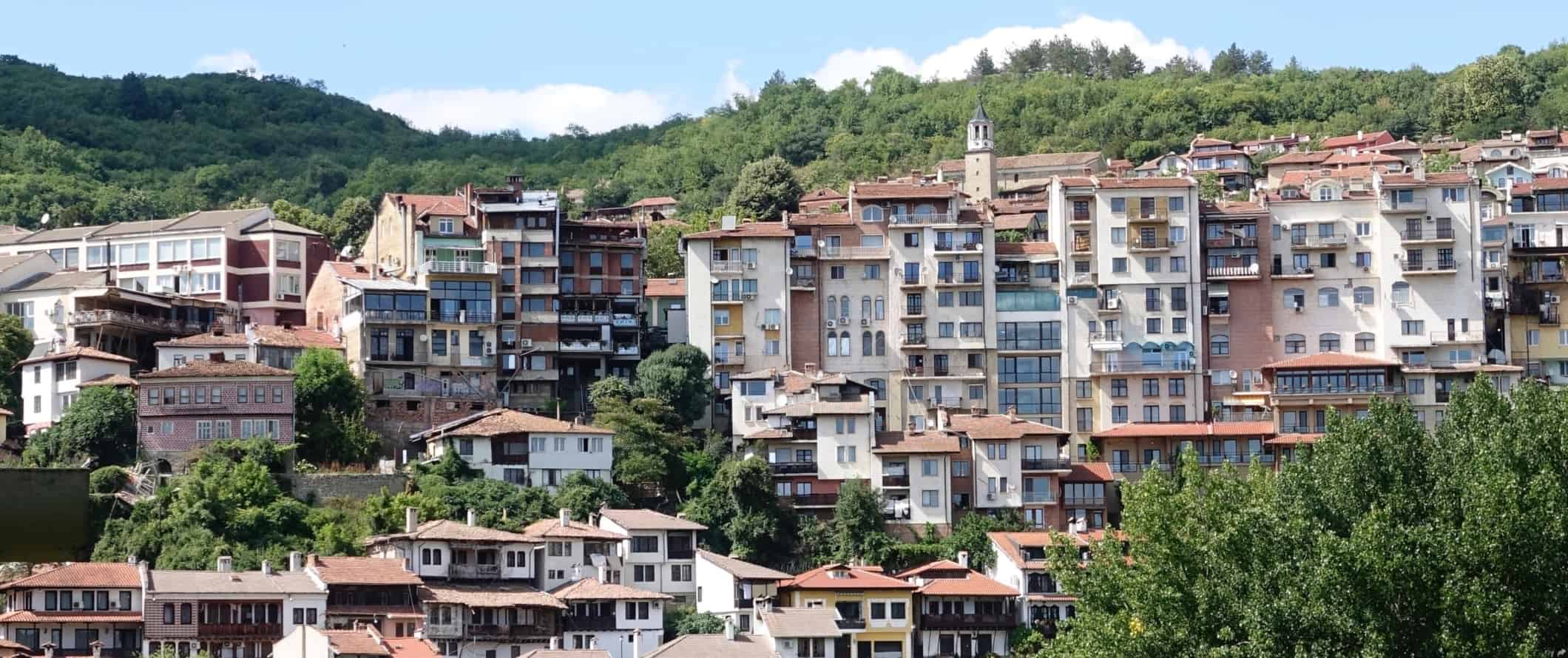 Public transportation – It's easy get around Veliko Tarnovo on foot as it's pretty small but there is also a small public bus network here in case you need it. You can buy a ticket on board from the driver for 1 BGN.
Taxi – A taxi in Veliko Tarnovo begins at 1.90 BGN and then is 1.60 BGN per kilometer. Uber does not operate here.
Bicycle – Veliko Tarnovo is easy to bike around, with rentals costing around 12 BGN per day.
Car rental – Car rentals are super affordable here, costing as little as 35 BGN per day for a multi-day rental. You won't need one to get around town but if you want to explore the region at large having a car might be helpful. Just keep in mind that drivers need to be 21 and have an IDP (International Driving Permit).
For the best car rental prices, use Discover Cars.
When to Go to Veliko Tarnovo
Summer in Veliko Tarnovo is warm and sunny, with temperatures between June to mid-September ranging from 16-24°C (60-76°F). This is also the busiest time of year for tourists. If you visit during this time, make sure you book your accommodations in advance as hostels are limited.
Fall (September-November) and spring (March-May) are the shoulder seasons, with temperatures rarely dropping below 6°C (43°F) or going above 24°C (76°F). This is an excellent time to visit if you want to avoid the crowds and if you want to do some hiking.
December to February are the coldest months, with temperatures dropping to below freezing. Since tourism dies out for the winter, keep in mind that some businesses and tourist attractions may be closed for the season.
How to Stay Safe in Veliko Tarnovo
Being a small town, Veliko Tarnovo is very safe. Violent crime is rare, as is pretty theft. That said, it's always a good idea to keep your valuables secure and out of reach just to be safe.
Solo female travelers should generally feel safe here, however, the standard precautions apply (never leave your drink unattended at the bar, never walk home alone intoxicated, etc.).
While scams here are rare here, you can read about common travel scams to avoid right here.
If you experience an emergency, dial 112 for assistance.
The most important piece of advice I can offer is to purchase good travel insurance. Travel insurance will protect you against illness, injury, theft, and cancellations. It's comprehensive protection in case anything goes wrong. I never go on a trip without it as I've had to use it many times in the past.
Veliko Tarnovo Travel Guide: The Best Booking Resources
These are my favorite companies to use when I travel. They consistently have the best deals, offer world-class customer service and great value, and overall, are better than their competitors. They are the companies I use the most and are always the starting point in my search for travel deals.
Skyscanner – Skyscanner is my favorite flight search engine. They search small websites and budget airlines that larger search sites tend to miss. They are hands down the number one place to start.
Hostelworld – This is the best hostel accommodation site out there with the largest inventory, best search interface, and widest availability.
Booking.com – The best all around booking site that constantly provides the cheapest and lowest rates. They have the widest selection of budget accommodation. In all my tests, they've always had the cheapest rates out of all the booking websites.
HostelPass – This new card gives you up to 20% off hostels throughout Europe. It's a great way to save money. They're constantly adding new hostels too. I've always wanted something like this and glad it finallt exists.
Get Your Guide – Get Your Guide is a huge online marketplace for tours and excursions. They have tons of tour options available in cities all around the world, including everything from cooking classes, walking tours, street art lessons, and more!
The Man in Seat 61 – This website is the ultimate guide to train travel anywhere in the world. They have the most comprehensive information on routes, times, prices, and train conditions. If you are planning a long train journey or some epic train trip, consult this site.
Rome2Rio – This website allows you to see how to get from point A to point B the best and cheapest way possible. It will give you all the bus, train, plane, or boat routes that can get you there as well as how much they cost.
FlixBus – Flixbus has routes between 20 European countries with prices starting as low 5 EUR! Their buses include WiFi, electrical outlets, a free checked bag.
SafetyWing – Safety Wing offers convenient and affordable plans tailored to digital nomads and long-term travelers. They have cheap monthly plans, great customer service, and an easy-to-use claims process that makes it perfect for those on the road.
LifeStraw – My go-to company for reusable water bottles with built-in filters so you can ensure your drinking water is always clean and safe.
Unbound Merino – They make lightweight, durable, easy-to-clean travel clothing.
Top Travel Credit Cards – Points are the best way to cut down travel expenses. Here's my favorite point earning credit cards so you can get free travel!
Veliko Tarnovo Travel Guide: Related Articles
Want more info? Check out all the articles I've written on backpacking/traveling Bulgaria and continue planning your trip: