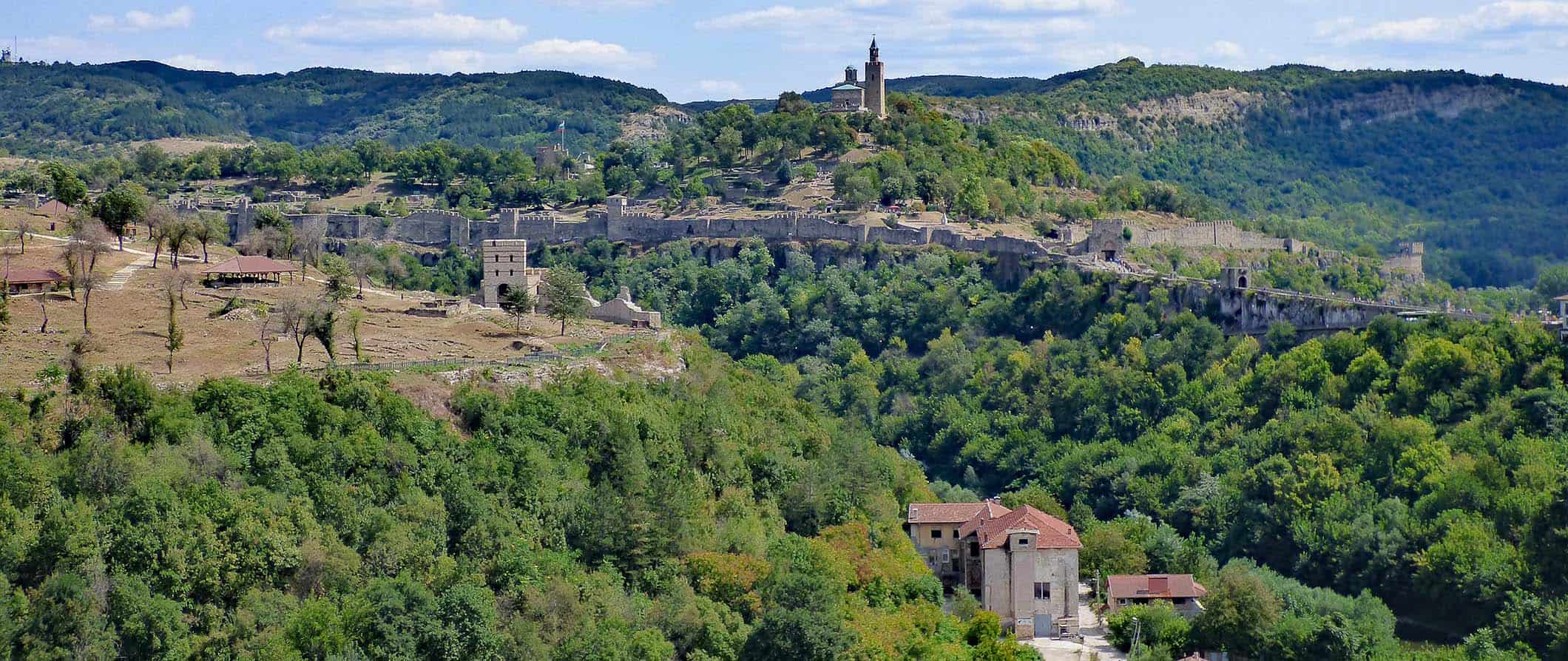 Veliko Tarnovo was once the capital of the Second Bulgarian Empire and is now a popular stopping point for travelers as they make their way from one end of Bulgaria to the other.
This quiet little town has a medieval castle (the main draw for tourists) dominating the skyline, nearby hiking trails, and monasteries worth exploring.
Not much happens here – it's a peaceful mountain town and a hub for university students.
But I loved the cobblestone streets, the views from the castle (which is the main draw here), the little cafes in the city, and the nearby hiking trails. Visiting here was one of the highlights of my visit to Bulgaria.
This travel guide to Veliko Tarnovo will help point the way by giving you tips on what to see, costs, suggested budgets, and ways to save money.

Veliko Tarnovo
Top 5 Things to See and Do in Veliko Tarnovo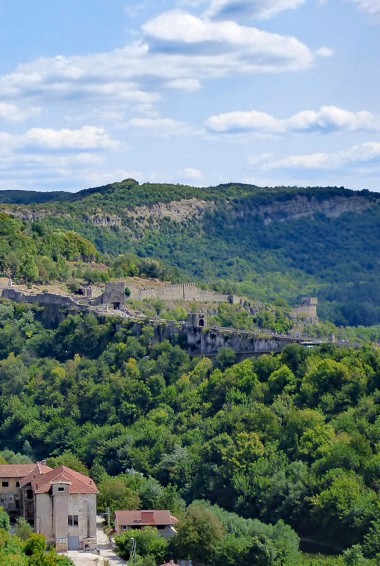 1. Go hiking
The area around Veliko Tarnovo are covered in hiking paths, with the climb to Sveta Gora Park being one of the most accessible routes from town (the route starts behind the Asenevtsi Monument). For something more challenging, hike the Lyaskovets monastery trail or the Kartala waterfalls trail. The Tourist Information Center provides maps and trail conditions.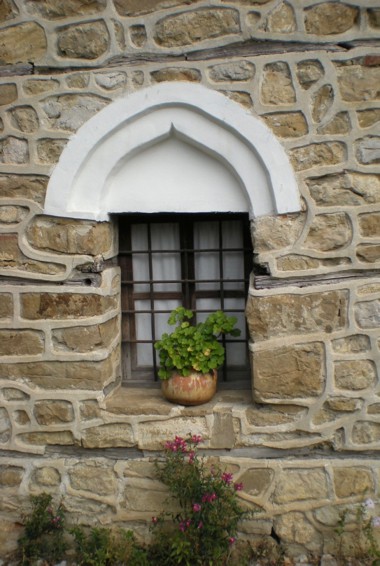 2. Visit Arbanasi
Take a day trip to the small village of Arbanasi outside of Veliko Tarnovo. Although now it's home to just 500 people, at one point it was a bustling town full of gold, copper, and silk producers. Check out the frescoes of the Church of the Nativity of Christ, watch the craftspeople at work, or simply wander the narrow streets.
3. Stroll down Samovodska Charshia
This is one of the most famous streets in Veliko. There are a ton of antique shops to check out, as well as bakeries, pastry shops, and craft workshops. Stroll down the street and watch as the locals work on their pottery, copper working, weaving, painting, and textiles.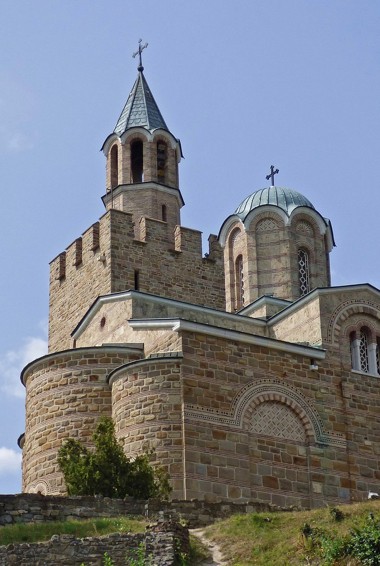 4. Visit Tsarevets Fortress
This medieval castle served as the Second Bulgarian Empire's primary fortress from 1185-1393. Inside you'll find the remains of 400 houses, nearly 20 churches, an execution area, and a palace. You can also walk the castle walls for views over the surrounding valley. Admission costs 6 BGN ($3.40 USD), and it's open daily from 8am-7pm (with reduced winter hours).
5. Wander Gurko Street
On the way to the fortress, you'll pass through the town's oldest district overlooking. The crumbling homes here seem ancient as they cling to the hillside, practically on top of one another. There are some great views of the Asen's monument across the river too. It's a beautiful area.
Other Things to See and Do in Veliko Tarnovo
1. Visit the Boris Denev Art Gallery
This well-organized gallery showcases work by Bulgarian artists from the National Revival Period of the 20th century through to present day. There is a permanent exhibition on the ground floor featuring paintings, drawings, and sculptures all related to life in the region, including works by locally renowned artists like Nikolai Pavlovich, Marko Markov, and Ivan Funov. Entrance is 4 BGN ($2.25 USD). It's free on Thursdays, and it's open daily (except Monday) from 10am-6pm.
2. Admire the Church of Sveti Petar and Pavel
This church has been in operation since medieval times. The murals here inside date between the 13th to 17th centuries and the church blends both Byzantine and Bulgarian architectural styles, including a high dome, lots of arches, and columns decorated with carvings. Entrance is an optional 7 BGN ($4 USD) donation, with an additional 4 BGN ($2.25 USD) for photography. It's open from 9am-6pm daily.
3. Drink coffee at Shekerdzinitsa
This is a quirky little café in the old market filled with antique Bulgarian furniture. Shekerdzinitsa is the best place in town to get Turkish coffee prepared the right way — in a miniature copper pot that is run across a basin of heated sand.
4. Visit Preobrazhenski Monastery
Also known as the Monastery of the Transfiguration, the Preobrazhenski Monastery is located about 4.3 miles (seven kilometers) outside of town and dates back to the 11th century. With its scenic clifftop views and its fascinating murals by painter Zahari Zograf (including detailed portrayals of demons) from the 19th century, the journey here is worth it. You can take bus 10 but be prepared for the (shaded) two-mile (three-kilometer) hike to the top. It's open daily between 7am-7pm, and admission is 2 BGN ($1.15 USD).
5. Explore Tryavna
Tryana is located about 60 minutes outside of Veliko Tarnovo. It's legendary for its woodcarving artisanship, which is used in architecture all across Bulgaria. Walk Tryana's cobbled streets and its old bridges, and admire the 19th-century National Revival mansions. You can also pop into some woodcarving shops or visit the Daskalov House which contains the Museum of Woodcarving and Icon Painting (open daily from 9am-6pm, and admission is 2 BGN ($1.15 USD)).
6. See the Asen's Monument
This epic monument is dedicated to the Asen Tsars that ruled Bulgaria from Veliko Tarnovo. After Ivan and Peter Asen led a murderous rebellion against the Byzantine rulers in 1186, the Asen family established their dynasty and ruled the country for 100 years. The monument commemorates the 800th anniversary of the Second Bulgarian Kingdom, with the statues depicting the first four Asen rulers: Ivan, Peter, Kaloyan, and Asen II. Each one holds a sword while riding a rearing horse, all circling a sword that points skyward.
7. Go to Trapezitsa
This is actually the best thing to do in the city but I wanted to write a lot about it. On top of Trapezitsa hill, you'll find a ruined fortress with restored ramparts on top of a Roman site dating back to the 13th century B.C. It's a massive site and the main reason people come to this town. There's also a museum detailing an interactive history of Trapezitsa, with artifacts (like jugs and tools) uncovered from the hill. The entrance is from the Asenov quarter in Veliko Tarnovo and there's lots of signage so you won't get lost. They have funicular open in during the summer but I think hiking up to the top through the main entrance is much more exciting. The funicular costs 10 BGN ($5.65 USD), while entrance to the site is 6 BGN ($3.40 USD).
Veliko Tarnovo Travel Costs
Hostel prices – Most hostel dorms in Veliko Tarnovo cost between 21-23 BGN ($12-13 USD) per night for a room with four-six beds. A bed in a dorm with eight beds or more costs about 20 BGN ($11 USD) per night.
Private single hostel rooms start from about 46 BGN ($26 USD) per night, while a double private room starts from about 62 BGN ($35 USD). Some hostels also have plots for you to pitch a tent, starting from 18 BGN ($10 USD) per night.
Budget hotel prices – Nightly rates for a budget two-star hotel room with a private ensuite bathroom start at about 53 BGN ($30 USD).
Airbnb is limited in Veliko Tarnovo, with shared accommodation (like a dorm) starting at 20 BGN ($11 USD) per night. For a private room, expect to pay about 44 BGN ($25 USD) per night, while a full house or apartment starts from about 80 BGN ($45 USD) per night.
Food – You'll find the cheapest food in Veliko Tarnovo at the many bakeries and pastry shops. Food like banica (dough, cheese, and butter) or banitsa (a breakfast pastry) are as little as 0.90 BGN ($0.50 USD), while lunch or a fast food meal shouldn't cost more than 7 BGN ($4 USD).
A meal at a mid-range restaurant with a drink will cost you about 10 BGN ($6 USD), while a local beer is about 2 BGN ($1.15 USD). A meal at a higher-end restaurant with wine will cost no more than 27 BGN ($15 USD).
Grocery shopping is very cheap, costing about 30-35 BGN ($17-20 USD) per week for bread, meat, fruits, and other basics. Lidl has the best prices.
Backpacking Veliko Tarnovo Suggested Budgets
If you're backpacking Veliko Tarnovo, expect to spend about 60 BGN ($34 USD) per day. This is assuming you're staying in a hostel, eating local food, cooking some of your meals, walking most places, and taking an occasional bus. You can visit some museums and historical attractions per day on this budget.
On a mid-range budget of 108 BGN ($61 USD) per day, you can stay in a private hostel room or a private Airbnb room, eat out for all your meals, drink what you want, and visit more paid attractions or take some tours.
On a luxury budget of 196 BGN ($110 USD) per day in Veliko Tarnovo, you'll stay in a four-star hotel, eat out for all your meals, drink whatever you want, take more trips outside of town, and take taxis wherever you want. Really, on this budget, there won't be anything you can't do.
You can use the chart below to get some idea of how much you need to budget daily, depending on your travel style. Keep in mind these are daily averages – some days you'll spend more, some days you'll spend less (you might spend less every day). We just want to give you a general idea of how to make your budget. Prices are in USD.
Accommodation
Food
Transportation
Attractions
Average Daily Cost
Backpacker
$12
$10
$3
$10
$34
Mid-Range
$26
$15
$5
$15
$61
Luxury
$45
$35
$10
$20
$110
Veliko Tarnovo Travel Guide: Money Saving Tips
Veliko Tarnovo is an affordable place visit, especially because there are so many cheap or free things to do here. And, given the lack of a party scene, not a lot of opportunities to drink away your money. Here are some of my ways to save money in Veliko Tarnovo:
Couchsurf – There are lots of Couchsurfing hosts in Veliko Tarnovo. This way, you not only have a free place to stay, but you'll have a local host that can tell you the best places to go and things to see.
Take a free walking tour – Walking tours are a great way to get familiar with a city and the culture. Free Veliko Tarnovo Walking Tours will take you all around town to show you the best highlights. (Be sure to tip!)
Eat at the bakeries – Bakeries in Bulgaria have a great, inexpensive range of pastries and foods which will fill you up in the morning. Two of my favorite snacks there are banica and krenvirshka.
Pack a water bottle – A water bottle with a purifier will come particularly in handy here. Save money and thousands of plastic bottles and get a bottle that can purify the tap water for you. My preferred bottle is LifeStraw ($49.99).
Where To Stay in Veliko Tarnovo
There are only a handful of hostels in Veliko Tarnovo but they're all small and comfortable. Here are my suggested places to stay:
How to Get Around Veliko Tarnovo
Bus – You'll likely get around most places in Veliko Tarnovo on foot, but there is also a small public bus network. Buses 20, 50, and 40 go to Tsarevets, and nearly all buses go through the city center. You have to buy a ticket on board from the driver for 1 BGN ($0.56 USD).
Taxi – The base rate for a taxi in Veliko Tarnovo is 0.80 BGN ($0.45 USD) and then 0.60 BGN ($0.34 USD) per kilometer afterwards. Most trips within the city will cost you between 4-5 BGN ($2.25-2.80 USD).
When to Go to Veliko Tarnovo
Summer in Veliko Tarnovo is hot and sunny, with the average daily temperature between June to mid-September being above 75°F (24°C). This is also the busiest time of year for tourists, so be prepared for bigger crowds. If you visit during this time make sure you book your accommodations in advance, as hostels are limited.
December to February are the coldest months, with temperatures dropping to the 30s°F (around -1°C). Fall (September to November) and spring (March-May) are the shoulder seasons, with temperatures rarely dropping below 43°F (6°C). This is an excellent time to visit if you want to avoid the crowds and if you want to do some hiking. Keep in mind that some businesses and tourist attractions may be closed for the season.
How to Stay Safe in Veliko Tarnovo
Being a small town, Veliko Tarnovo is very safe. Petty crime like pick-pocketing is the most common danger you'll face, but even that is rare here. I never once felt unsafe while here, even at night.
If you're worried about getting scammed, you can read about the 14 travel scams to avoid right here.
Always trust your gut instinct. If a taxi driver seems shady, stop the cab and get out. If your hotel is seedier than you thought, find a new one.
If you don't do it at home, don't do it in Veliko Tarnovo! Follow that rule, and you'll avoid being the victim of petty crime.
The most important piece of advice I can offer is to purchase good travel insurance. Travel insurance will protect you against illness, injury, theft, and cancellations. It's comprehensive protection in case anything goes wrong. I never go on a trip without it as I've had to use it many times in the past.
Veliko Tarnovo Travel Guide: The Best Booking Resources
These are my favorite companies to use when I travel to Veliko Tarnovo. They are included here because they consistently find deals, offer world-class customer service and great value, and overall, are better than their competitors.
Momondo – This is my favorite booking site. I never book a flight without checking here first.
Skyscanner – Skyscanner is another great flight search engine which searches a lot of different airlines, including many of the budget carriers that larger sites miss. While I always start with Momondo, I use this site too as a way to compare prices.
Airbnb – Airbnb is a great accommodation alternative for connecting with homeowners who rent out their homes or apartments. (If you're new to Airbnb, get $35 off your first stay!)
Hostelworld – This is the best hostel accommodation site out there, with the largest inventory, best search interface, and widest availability.
Couchsurfing – This website allows you to stay on people's couches or spare rooms for free. It's a great way to save money while meeting locals who can tell you the ins and outs of their city. The site also lists events you can attend to meet people (even if you're not staying with someone).
Booking.com – The best all around booking site that constantly provides the cheapest and lowest rates. They have a no money down policy, great interface, and the widest selection of budget accommodation. In all my tests, they've always had the cheapest rates out of all the booking websites.
Intrepid Travel – If you want to do a group tour around Europe, go with Intrepid Travel. They offer good small group tours that use local operators and leave a small environmental footprint. If you go on a tour with anyone, go with them. And, as a reader of this site, you'll get a discount when you click the link!
The Man in Seat 61 – This website is the ultimate guide to train travel anywhere in the world. They have the most comprehensive information on routes, times, prices, and train conditions. If you are planning a long train journey or some epic train trip, consult this site.
Rome 2 Rio – This website allows you to see how to get from point A to point B the best and cheapest way possible. It will give you all the bus, train, plane, or boat routes that can get you there as well as how much they cost.
World Nomads – I buy all my travel insurance from World Nomads. They have great customer service, competitive prices, and in-depth coverage. I've been using them since I started traveling in 2003. Don't leave home without it!
Veliko Tarnovo Gear and Packing Guide
If you're heading on the road and need some gear suggestions, here are my tips for the best travel backpack and for what to pack!
The Best Backpack for Travelers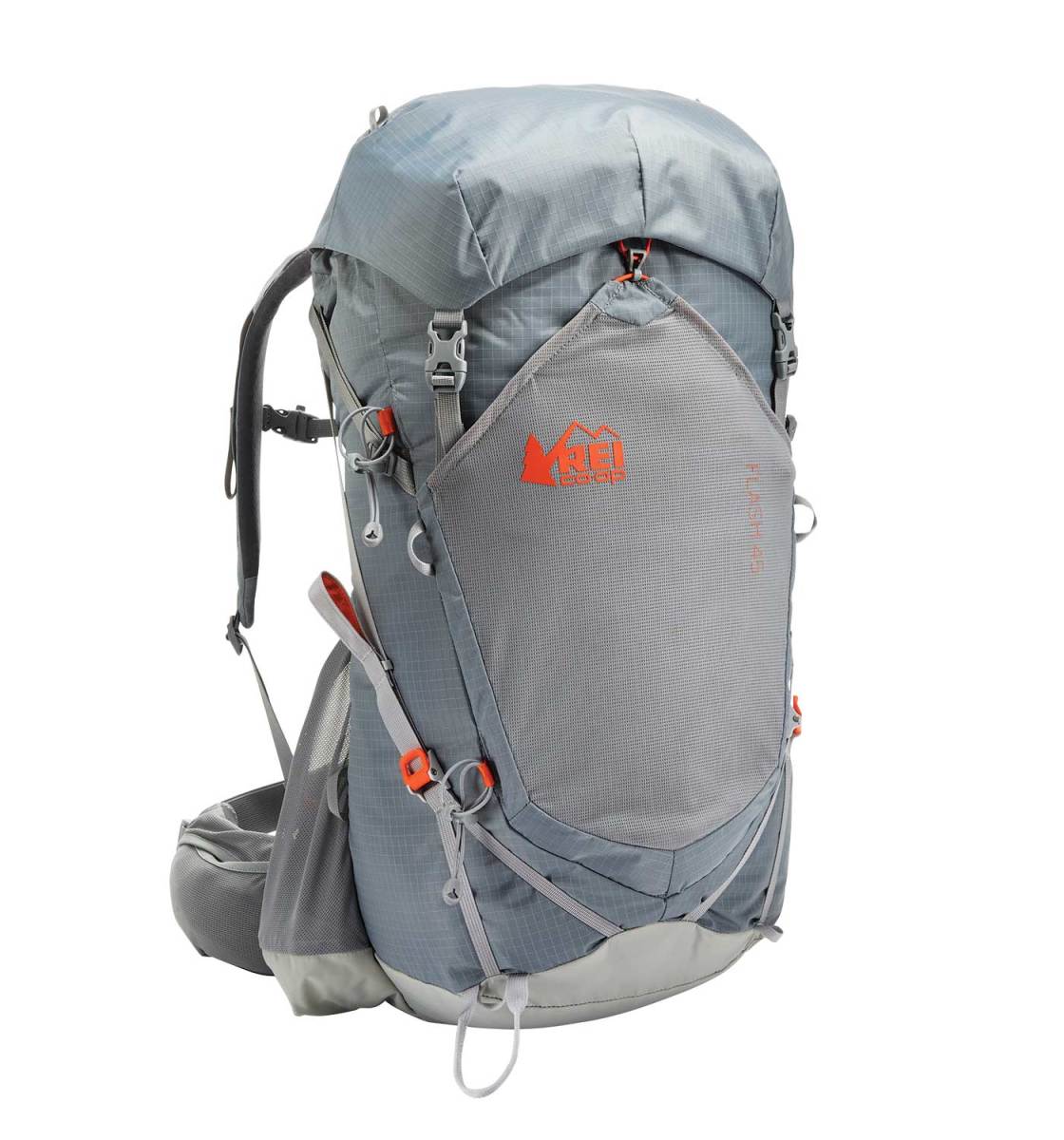 What's the best backpack for traveling long-term? I recommend the
REI Flash 45 Pack
. It's light and comfy, front loading, and fits perfectly in an airplane's overhead bin.
Size:
45-47L
Straps:
Thick and cushy with compression technology that pulls the pack's load up and inwards so it doesn't feel as heavy.
Features:
Removable top lid, large pocket at the front, hydration compatible, contoured hip belt
If you want something different, refer to my article on how to choose the best travel backpack for tips on picking a pack and other backpack suggestions.
What to Pack for Your Trip
Clothes
1 pair of jeans (heavy and not easily dried, but I like them; a good alternative is khaki pants)
1 pair of shorts
1 bathing suit
5 T-shirts (Unbound Merino is my preferred company. If you're a member of NM+, you can get 15% off your purchase)
1 long-sleeved T-shirt
1 pair of flip-flops
1 pair of sneakers
6 pairs of socks (I always end up losing half)
5 pairs of boxer shorts (I'm not a briefs guy!)
1 toothbrush
1 tube of toothpaste
1 razor
1 package of dental floss
1 small bottle of shampoo
1 small bottle of shower gel
1 towel
Deodorant
Small Medical Kit (safety is important!!!)
Miscellaneous
Female Travel Packing List
I'm not a woman, so I don't know what a woman wears, but Kristin Addis, our solo female travel guru, wrote this list as an addition to the basics above:
Clothing
1 swimsuit
1 sarong
1 pair of stretchy jeans (they wash and dry easily)
1 pair of leggings (if it's cold, they can go under your jeans, otherwise with a dress or shirt)
2-3 long-sleeve tops
2-3 T-shirts
3-4 spaghetti tops
1 light cardigan
Toiletries
1 dry shampoo spray & talc powder (keeps long hair grease-free in between washes)
1 hairbrush
Makeup you use
Hair bands & hair clips
Feminine hygiene products (you can opt to buy there too, but I prefer not to count on it, and most people have their preferred products)
For more on packing, check out these posts:
Veliko Tarnovo Travel Guide: Related Articles
Want more info? Check out all the articles I've written on backpacking/traveling Bulgaria and continue planning your trip:
Photo credits: 4 – Andrey