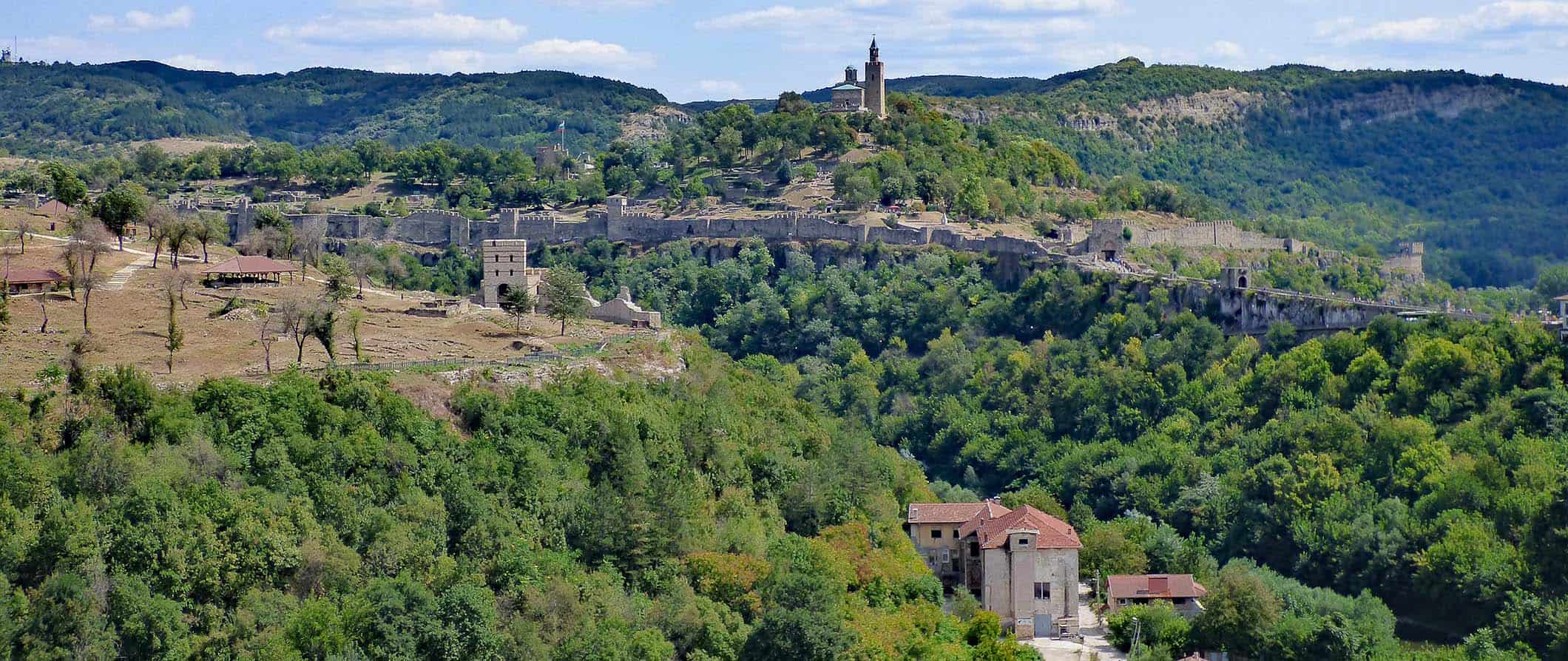 A town with a very rich history and long traditions, Veliko Tarnovo was the capital of the Second Bulgarian Empire. The city is a popular stopping point for travelers as they make their way from one end of the country to the other. This quiet little town has a beautiful castle, nearby hiking trails, and monasteries worth exploring. Not much happens here – it's a peaceful little mountain town. But I loved the cobblestone streets, the views from the castle, the little cafes, and mountain hikes nearby. It was one of the highlights of my visit to Bulgaria and I hope it is yours too!
Top 5 Things to See and Do in Veliko Tarnovo
1. Go hiking
This is a great place to get some hiking in. There are a number of beautiful places to go. The Tourist Information Center has a very helpful staff that can provide maps and point you in the right direction of the trails. Guided hiking is also available. The Sveta Gora hill is a nice place to start for an easy trek.
2. Arbanasi
Take a day trip to this small village outside of Veliko Tarnovo. tou will have wonderful views of the city since the village resides on a hill, and there is a lot of interesting architecture to check out. There is also a large courtyard in the center of town with a quaint restaurant.
3. Stroll down Samovodska Charshia
This is one of the most famous streets in Veliko. There are a ton of antique shops to check out, as well as local craft shops. There are also many photo opportunities here as the surrounding architecture is quite interesting.
4. Tsarevets Fortress
This medieval castle compound served as the Second Bulgarian Empire's primary fortress from 1185-1393. Spend all day exploring the various buildings, churches, and enjoy the view of surrounding valley as you tour the castle walls. Admission costs 6 BGN and it's open from 8am-7pm, except in the winter when it's open 9am-5pm.
5. Wander Gurko Street
On the way to the fortress, you pass through the town's oldest district — there are a ton of really old houses and buildings here. This is a great place to take photographs and just enjoy the view. There are also many hostels here as well, and it's a nice place to stay.
Other Things to See and Do
(Click the title to expand the text)
1. Visit the Boris Denev Art Gallery
This is a nicely organized gallery that showcases work by Bulgarian artists from the National Revival Period through to present day. There is a permanent exhibition on the ground floor of paintings, drawings, and sculptures—all emanating a local flavor. Entrance is a mere 4 BGN. It's free on Thursdays and it's open every day (except Monday) from 10am-6pm.
2. Admire the Church of Sv. Petar and Pavel
This is one of the few churches in this city that has been in operation since medieval times. Originally built during the 13th century, this is truly a fascinating piece of history. Inside the church, there are three layers of paintings—the newest being from the 17th century. Entrance is an optional 7 BGN, with an additional 4 BGN for photo taking. It's open from 9am-6pm daily.
3. Drink coffee at Shekerdzinitsa
This is a great little café in the old market filled with traditional furniture. The atmosphere is very interesting and it is one of the best places to get Turkish coffee prepared the right way — in a miniature copper pot that is run across a basin of heated sand. It just tastes better!
4. Visit Preobrazhenski Monastery
This monastery, also known as the Monastery of the Transfiguration, dates back to the 11th century, although it didn't become autonomous until the 14th century. It lies about 10 miles outside of town. It costs about 7 BGN to get there. Admission is 2 BGN. It's open daily from 7am-7pm.
5. Explore Tryavna
Another little village in the area is Tryavna. It has some characteristic old buildings, lots of woodworking workshops, and a collection of antique stores to check out. It takes about an hour to get there and costs around 4-5.50 BGN to get there.