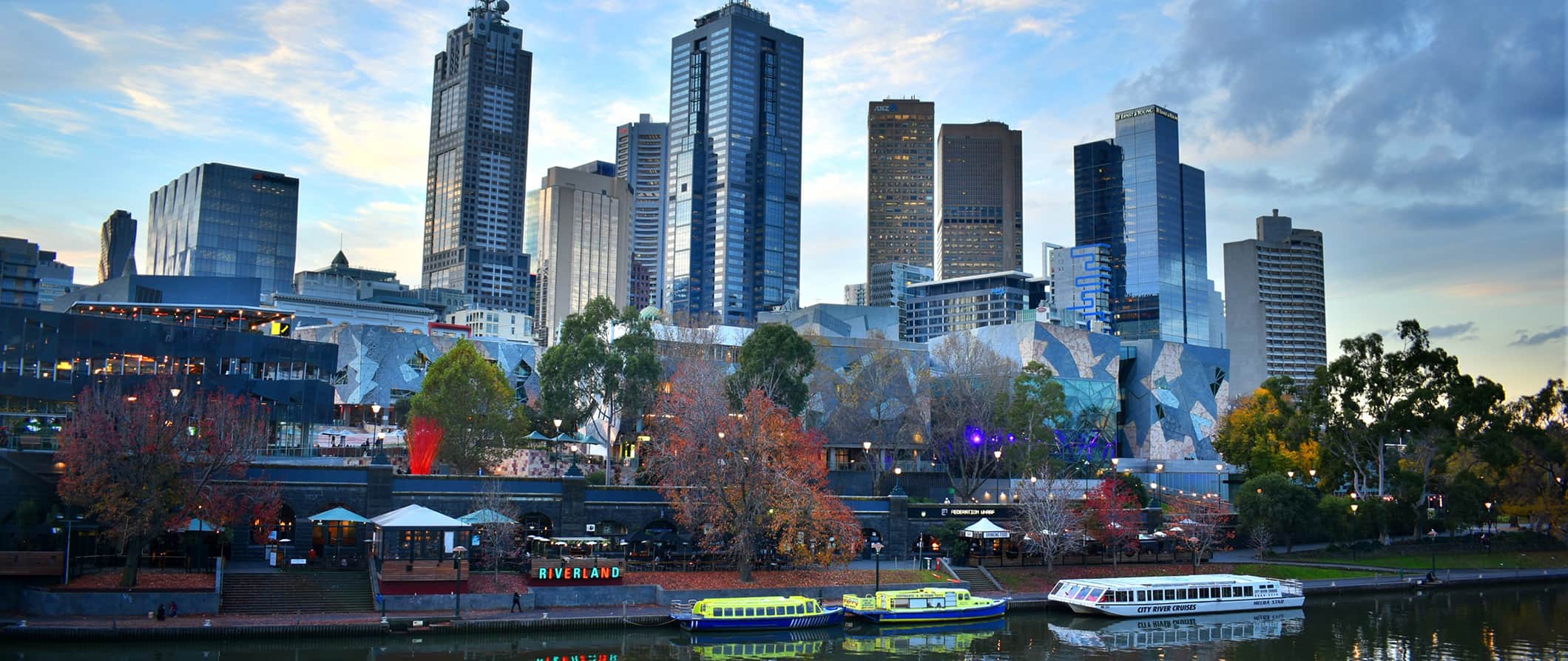 Melbourne is Australia's bar capital and hub of live music—often called the country's "European enclave". The central business district not only serves its after-work drinkers, but also attracts a young, trendy crowd. Many of the city's smarter bars are tucked away in the city's numerous narrow lanes. Across the Yarra River, Southgate provides the arts precinct with a strip of bars and riverside views. With plenty of culture, activities, art exhibitions, and live music, you could easily spend over a week here and not regret it. Heck, you might end up like so many other travelers and never leave! This travel guide for Melbourne can help you figure out everything you need to know! This is my favorite city in Australia and most people have a hard time leaving it's so good!
Top 5 Things to See and Do in Melbourne
1. Street art tour
I love this tour run by graffiti artists from Blender Studies. It's pricey at 69 AUD, but the price helps support local artists and includes drinks. You'll learn about the art scene in the city and develop a deeper appreciation for why Melbourne attracts so many artists into its orbit. I can't recommend this tour enough.
2. Fitzroy Gardens
Fitzroy Gardens is one of Melbourne's most historic and beautiful gardens. Created in 1848, this is a Victorian-era garden is meant to look like the English gardens the early settlers left behind. A free guided walking tour departs from the visitor center every Saturday at 10am.
3. Royal Botanic Gardens
The Royal Botanic Gardens contains gardens covering 86 acres and feature thousands of flowers, shrubs, and trees from across the country and around the world. Hanging out here and wandering around is one of my favorite activities in Melbourne! Free guided walks or self-guided audio tours are available from the visitor's center.
4. Watch the sunset from the beach
Down in St. Kilda, you can head to the beach to watch the sunset. It's a beautiful, wide beach, but the water is a little too cold for me! However, it faces due west, so you get some stellar sunsets before you head out for a night on the town!
5. Queen Victoria Market
This outdoor market is a mix of food sellers and knick-knack vendors — think flea market meets food market. During the week, the food hall is the main draw, but the weekend offerings are bigger, as sellers fill up the outdoor vending space. When you're in the food hall, be sure to get some free wine samples from Swords Wines.
Other Things to See and Do
(Click the title to expand the text)
1. Enjoy the cafés
The café culture in this city is part of its soul. Everyone here loves to have coffee or tea and a snack while doing some work or chatting in some arty café. Don't miss doing this either. You can take the café tour with Melbourne Coffee Tours or Café Culture Walk to learn more about why Melbournians love their cafés so much and then spend an afternoon with a good book at your new favorite spot. I really enjoy the café 1000 £ Bend in the CBD.
2. Party in St. Kilda
Melbourne's famous nightlife area is home to inexpensive restaurants, bars, and clubs — it's the place to see and be seen. If you want to find Melbourne's wild side, this is where it will be. (Base Melbourne is one of my favorite places to go party if you want to hang out with other travelers — and a few locals! Their downstairs bar is popular and has cheap drinks.)
3. Moonlight movies in the park
During the summer months, there are nightly movies (most of them major Hollywood features) in the Royal Botanic Gardens. Admission is 19 AUD to the movie, and you can bring food and wine for a little evening picnic. (Bring a jacket too, because it gets cold at night!)
4. Ride the City Circle Tram
More than just a means of free transportation, the City Circle Tram provides "hop on, hop off" service between Melbourne's sightseeing attractions, including Federation Square, the Old Treasury Building, Parliament House, and the Princess Theater. There's a running recorded commentary as you pass or stop at a place of historical, cultural, or architectural significance.
5. Flinders Street Station
Flinders Street Station is a major landmark and popular meeting place in central Melbourne. Built in the late 19th century, the station features Victorian architecture and large clock faces. It is said to be the busiest suburban railway station in the Southern Hemisphere, and it's a lovely imposing building to admire.
6. Hang out in Federation Square
Right along the route of the free City Circle Tram and across the street from Flinders Street Station lies Federation Square. This open square also serves up stellar people-watching. I like to take lunch here and just watch the city go by. Below the square on the river are also a number of restaurants and outdoor bars.
7. NGV Australia
Located in Federation Square, this is the home of the National Gallery of Victoria's Australian art collection. Admission to the permanent collection is free (but fees apply to special exhibitions). It's one of the best free activities in the city. The collection only takes a couple of hours to see. It's open daily from 10am-5pm.
8. State Library of Victoria
The State Library of Victoria is a historic institution that sees 8 million visitors a year. Originally built in 1856, the library has grown into an event space that's a source of pride for city residents. Come here before it opens and you'll see a queue of people ready to pounce on the open desks. The famous central rotunda with its octagonal shape, original dark wood furniture, and book-lined walls is definitely something not to miss. There are a number of free tours of the library to teach you more about its history and striking architecture. It's open 10am-9pm Monday-Thursday and 10am-6pm Friday-Sunday.
9. Como House and Gardens
Now over 160 years old, this estate is a mix of classic Italianate architecture and Australian regency, and it is considered the best of the historic houses in the city. It costs 15 AUD and it's open 9am-5pm every day (except Sundays, when it opens at 10am).
10. Immigration Museum
The Immigration Museum is located in the Old Customs House and primarily features relics of Australia's immigration history. I really enjoyed learning about the people who left their homes to move to Melbourne and, knowing the current political situation, found it slightly ironic, given that Australia, like the US, has recently become very outspoken about keeping its doors shut. It's open daily from 10am-5pm and costs 14 AUD.
11. Melbourne Museum
The Melbourne Museum showcases Australian social history, indigenous cultures, science, and the environment. It's located next to the Royal Exhibition Building and Carlton Gardens. The highlight of the museum, for me, was the extensive Bunjilaka Aboriginal Culture Center, which highlighted aboriginal culture, art, and history. It's open daily from 10am-5pm and costs 14 AUD.
12. Indulge in a wine tour
Wine tours are very popular in this area. The Mornington Peninsula is a famous wine-producing region about 45 minutes from Melbourne and is home to more than 40 wineries. There are a lot of day trips available to the Yarra Valley too (which is where most tours take you). If you don't have your own car or don't feel like spending the night in the area, day trips from Melbourne cost 150-200 AUD.
13. Plan a day trip to Phillip Island
Located a few hours from the city, Phillip Island is a weekend hot spot for locals looking to enjoy some beach time. The island is renowned for the nightly penguin parade (when thousands of penguins return from the sea to nest), its koala sanctuary, and the huge seal colony that lives offshore. The island can be visited as a day trip, but due to infrequent buses, I would recommend spending at least a night here! The trip there costs about 15 AUD.
Typical Costs
Hostel prices
– Dorm rooms with 8-10 beds are about 25 AUD and smaller dorms (4-6 beds) are around 30 AUD. Private rooms that sleep 2 range from around 85-120 AUD, depending on things like shared bathrooms vs. private bathrooms. Most hostels included linens and WiFi in the price and many offer free breakfast. My suggested place is:
It is a great hostel to stay at and one of my favorite hostels in the country, and even the world! Definitely stay here if you can.
Budget hotel prices – You'll find a bit of everything in this large city, with doubles starting at 120 AUD per night. A room that sleeps 2 in a centrally-located 2 or 3-star hotel is about 220 AUD. These rooms include air-conditioning, a private bathroom, and a TV. Many hotels also offer free breakfast. There are a lot of Airbnb options in this city and they are much more economical than a hotel! On Airbnb, a shared room in a home averages about 29 AUD. You can find whole apartments starting around 100 AUD.
Average cost of food – You can easily find pizza parlors, noodle bars, and cafes where you can eat for under 14 AUD. Melbourne is probably the best place to eat cheaply in Australia, especially if you like Asian food. I've had some of the best sushi experiences here. However, expect to pay around 20 AUD for most sit down restaurants meals (without a drink). There is also a lot of wine in this region that is very affordable. A week's worth of food is 65-100 AUD for basic groceries like pasta, vegetables, chicken, and other basic foodstuffs. Grab and go places cost around 8-10 AUD for sandwiches. Fast food (think McDonald's) is around 15 AUD for a meal.
Transportation costs – The bus to and from the airport with Skybus costs 18-36 AUD (one-way vs. round-trip). In the city, you'll need a Myki card (it can be bought practically anywhere — from train stations to 7-Elevens – and costs 6 AUD) and money on it. Melbourne has a zone based system. A trip on Myki is good for 2 hours of unlimited travel within your chosen zones. Weekday travel within zones 1-2 ranges between 2.70-3.90 AUD. Maximum daily fare on weekdays is 7.80 AUD, and it's 6 AUD on the weekends. Within the CBD (Central Business District), there is free tram service. If you need to get around via cab, skip it! Taxis cost a minimum of 4.20 AUD and fares are 1.66 AUD per km. UberPool is 1/3rd less and a better option for getting around than a taxi! In Melbourne, an UberX ride has a base fare of 2 AUD and costs 1 AUD per km.
Suggested daily budget
50 AUD / 36 USD (Note: This is a suggested budget assuming you're staying in a hostel, eating out a little, cooking most of your meals, and using local transportation. Using the budget tips below, you can always lower this number. However, if you stay in fancier accommodation or eat out more often, expect this to be higher!)
Money Saving Tips
Get free transportation – A free tourist shuttle bus runs around the city and part of the inner suburbs from 10am to 4pm. Free city circle trams run in both directions around the perimeter of the central business district and through Docklands from 10am-6pm at 10–minute intervals.
Watch the sunset from the beach – Down in St. Kilda, you can head to the beach to watch the sunset. It's a beautiful, wide beach, but the water is little too cold for me! However, it faces due west, so you get some stellar sunsets!
Couchsurf – Accommodation in Australia can be quite pricey. If you plan ahead, you can usually find really nice Couchsurfing hosts all throughout the country. This way, you not only have a place to stay, but you'll have a local host that can tell you the best places to go and things to see.
Read The Age – Every Saturday and Sunday, The Age newspaper has a supplement with "what's on" in Melbourne (A2 on Saturdays and M Magazine on Sundays). You can count on a great list of free and interesting events and activities.
Work for your room – Many hostels offer travelers the chance to work for their accommodation. In exchange for a few hours a day of cleaning, you get a free bed. Commitments vary but most hostels ask you to stay for at least a week.
Save money on rideshares – Uber is way cheaper than taxis and is the best way to get around a city if you don't want to wait for a bus or pay for a taxi. The Uber Pool option is where you can share a ride to get even better savings (though you can get your own car too). You can save $15 off your first Uber ride with this code: jlx6v.
My Must Have Guides For Traveling to Australia
Photo credits: 4